Now that Halloween is over, you're probably looking for a vegan Thanksgiving meal plan with a plan ahead guide that will make everyone happy, you've come to the right place. We're giving you three main course options and the best appetizers, sides, and desserts, plus tips and tricks to make your day a stress-free success. If you need a gluten-free vegan Thanksgiving menu, we've got that, too.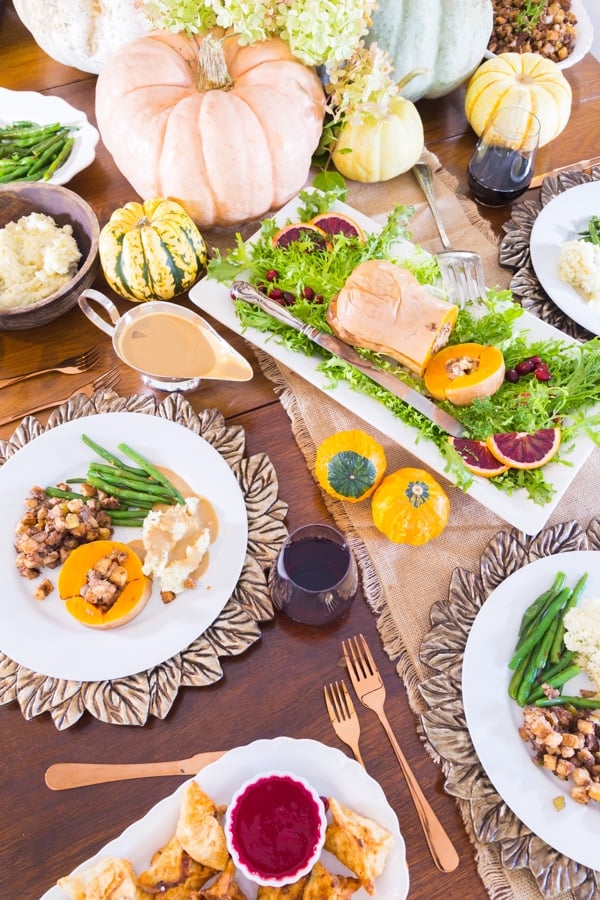 Published Nov. 19, 2015 and updated Nov. 9, 2020.
Welcome to Veganosity, where we recreate your favorite comfort foods into a vegan version. We're so happy you're here, and we encourage you to scroll through our menu bar or type in any recipe that you're looking for in our search bar.
If you don't find the recipe you're looking for, please email us and ask us to create it for you. We're always up for a challenge.
What to Expect
Whether you're cooking for two or a dozen people this Thanksgiving, having a menu and a plan will make your day stress-free.
Our mission is always to help you cook the tastiest vegan food, while enjoying the process, especially during the holidays.
To make your day happy and fun, we've rounded up our traditional Thanksgiving recipes and created a guide to help you get everything on the table with a smile.
Here's what you'll find in this vegan Thanksgiving menu and planner post.
What do Vegans Eat on Thanksgiving?
What Do You Serve for a Thanksgiving Meal?
Gluten-Free?
Vegan Turkey Roast
The Menu
Prep Ahead
Cooking Schedule
Shopping List
Entertaining Tips
More Vegan Holiday Meals You'll Love
What do Vegans Eat on Thanksgiving?
We could give you a list a mile long, so to make this easy, let's talk about what vegans DON'T eat on Thanksgiving.
The obvious answer is turkey.
There are no animal carcasses on a vegan's dinner table. Instead, you'll find plant-based mains that are delicious and beautiful.
Additionally, you won't find mashed potatoes made with dairy, gravy made with animal fat, or desserts made with eggs.
What you will find is all (except turkey) of the traditional Thanksgiving foods that you usually serve, made with vegan substitutions, such as vegan butter, plant milk, and egg replacers.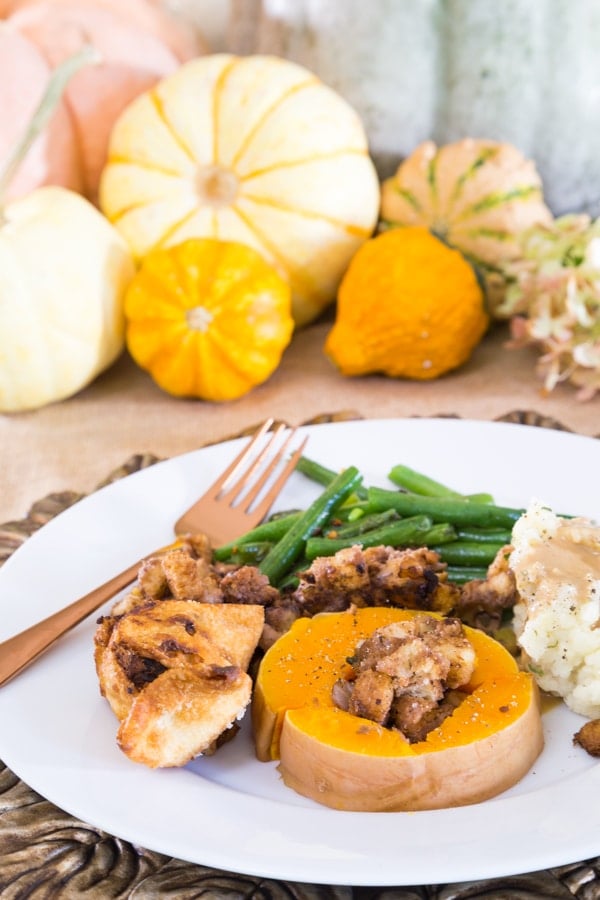 What Do You Serve for a Thanksgiving Meal?
We like to build the side dishes around the main course, because then you'll get a well rounded menu with lots of flavor and texture.
For example, if you make our lentil loaf, you'll want to make our vegan apple sage and sausage stuffing, not our tarragon stuffing, because the herbs and spices are too similar.
Or, if you decide to make a store-bought vegan holiday roast that has stuffing in the center, you might not want to make stuffing at all.
You get the idea.
So, to answer the original question, vegans can eat everything they used to eat for Thanksgiving, except for turkey.
Gluten-Free?
We have so many great gluten-free recipes for your holiday meal.
In fact, if you're set on making a fully gluten-free dinner, we suggest checking out our Gluten-Free Thanksgiving Meal Plan. Just click the link to get it.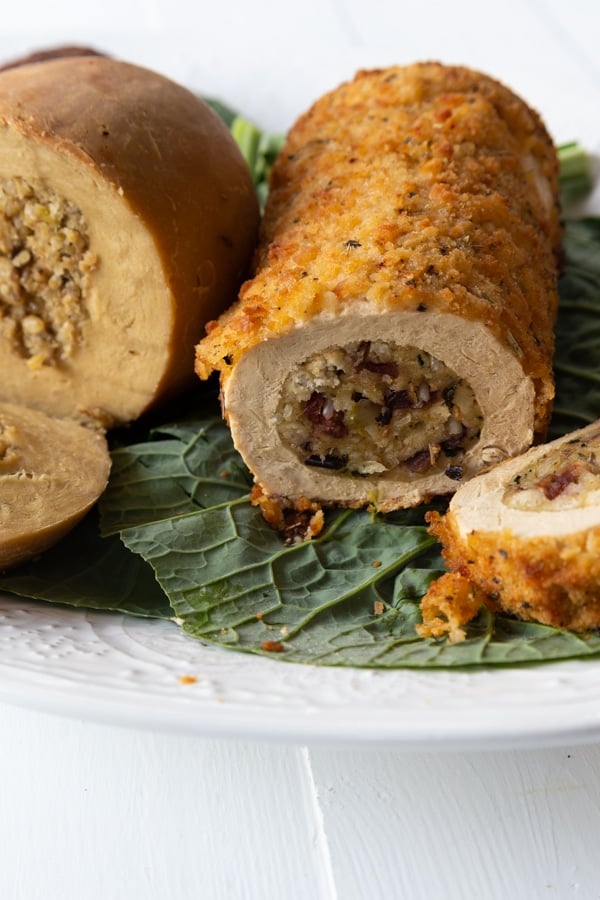 Vegan Turkey Roast
If you're thinking about buying a holiday roast instead of making a main dish, we can help.
We've reviewed the three top selling roasts and broke them down in regard to taste, texture, and cooking time.
There is definitely a favorite!
Click HERE to read the review.
The Menu
Choose your main course, and then choose your sides.
If you're cooking for a small group, just make a few sides, if you're cooking for several people, make more, or assign a dish to each guest.
When it comes to dessert, you can't go wrong with two or three. Who doesn't like pie for breakfast the next morning?
Appetizer
We believe in making a light appetizer to nibble on while we wait for dinner. Our homemade cashew cheese or savory sweet potato bruschetta are great options.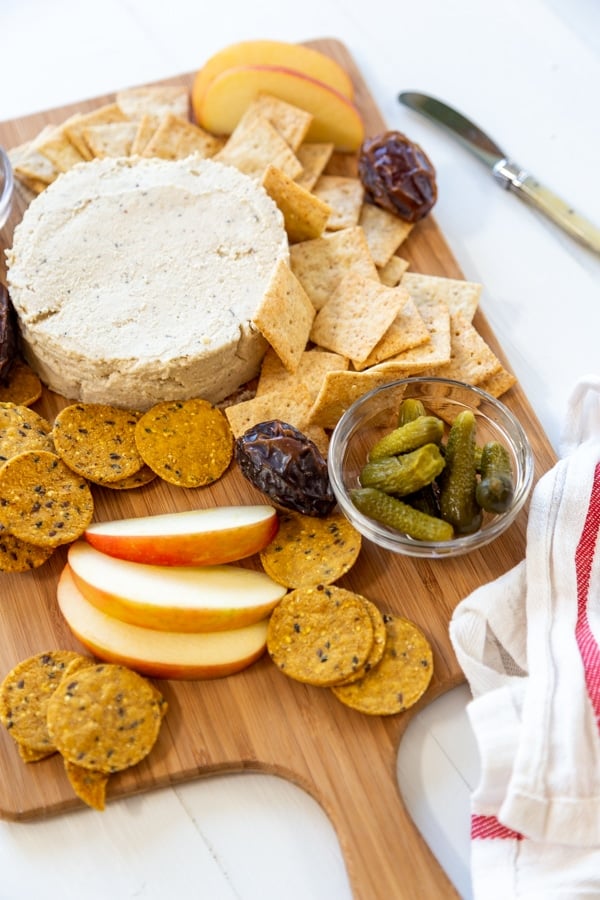 This is made with cashews, lemon juice, Italian seasoning, and salt and pepper.
You can make it a day or two ahead of time and then pair it with crackers, sliced veggies, nuts, dates, olives, pickles, or any of your favorite cheese platter foods.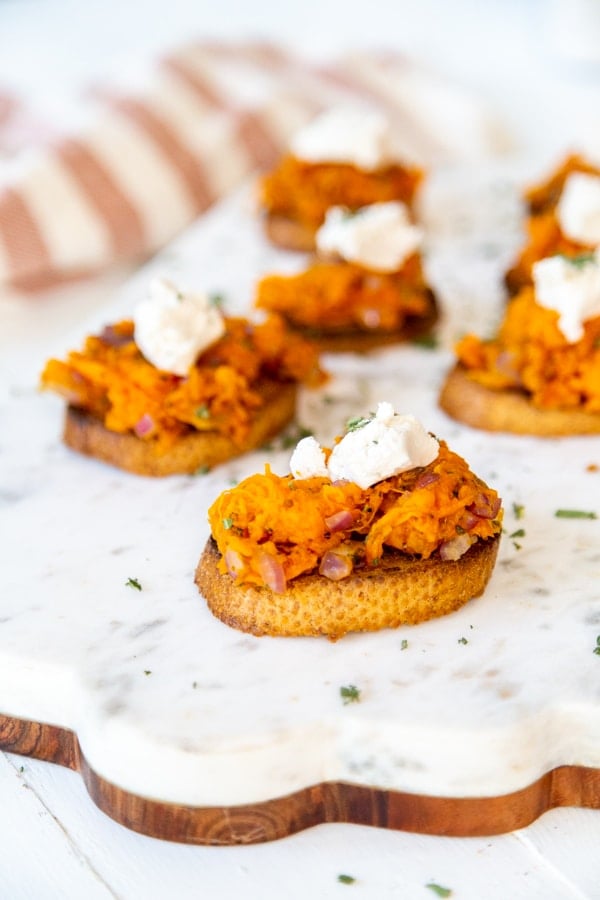 Savory Sweet Potato Bruschetta
Sweet potatoes are a Thanksgiving must, but not necessarily as a side dish.
We love this new and delicious way to use sweet potatoes.
The crispy bread and the creamy potatoes, along with the spices and the vegan ricotta, are a true treat.
The Main Course
As we mentioned above, we're sharing three of our favorite holiday mains, so you can choose which one is best for you.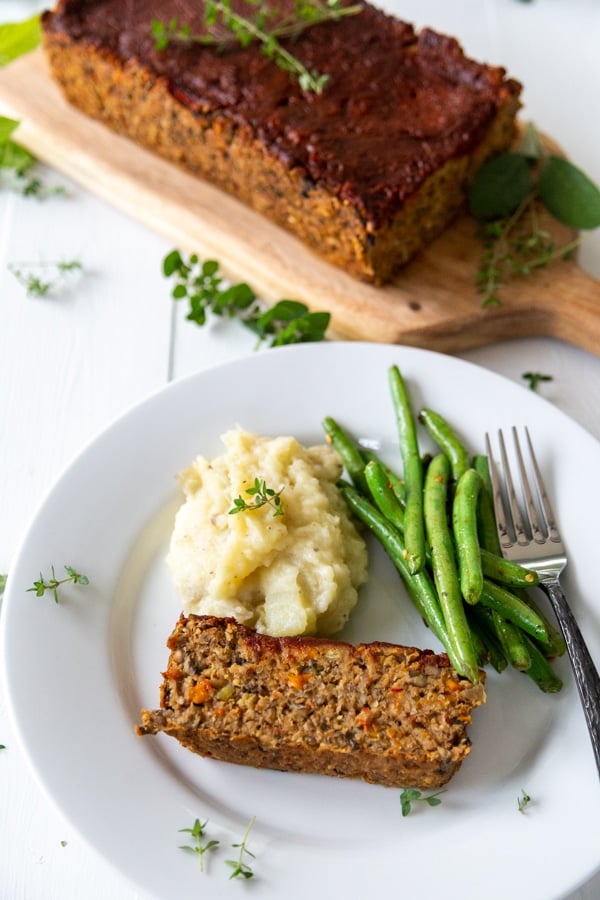 This delicious, savory, protein packed lentil loaf is such a great Thanksgiving main course.
You can prep it the day before and bake it before serving. Bonus, you can use gluten-free breadcrumbs to make it GF.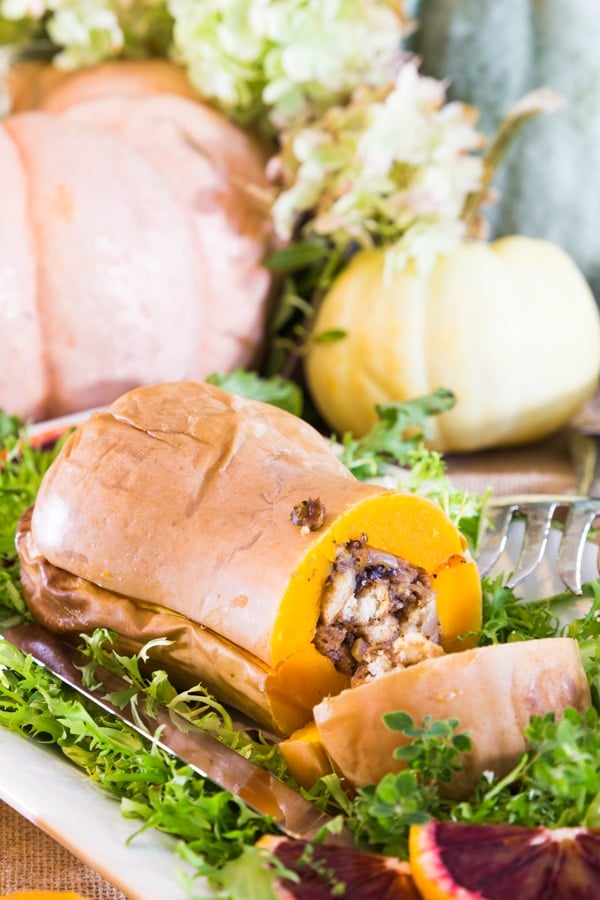 This stuffed squash recipe is as delicious as it is beautiful.
You can stuff it with our tarragon and pecan stuffing or our apple, sage, and sausage stuffing. Both are great with this.
We haven't tried making gluten-free stuffing, but if you have a good recipe, feel free to use it.
This is such a beautiful and festive main, and it's so good!
Tender and savory vegetables and herbs are wrapped up in crispy and light phyllo dough, so there is so much texture and flavor in this dish.
Unfortunately, this can't be made gluten-free.
Breaking Bread
In our family, we don't eat a ton of bread, except for when we make a big fancy dinner, then we do it right.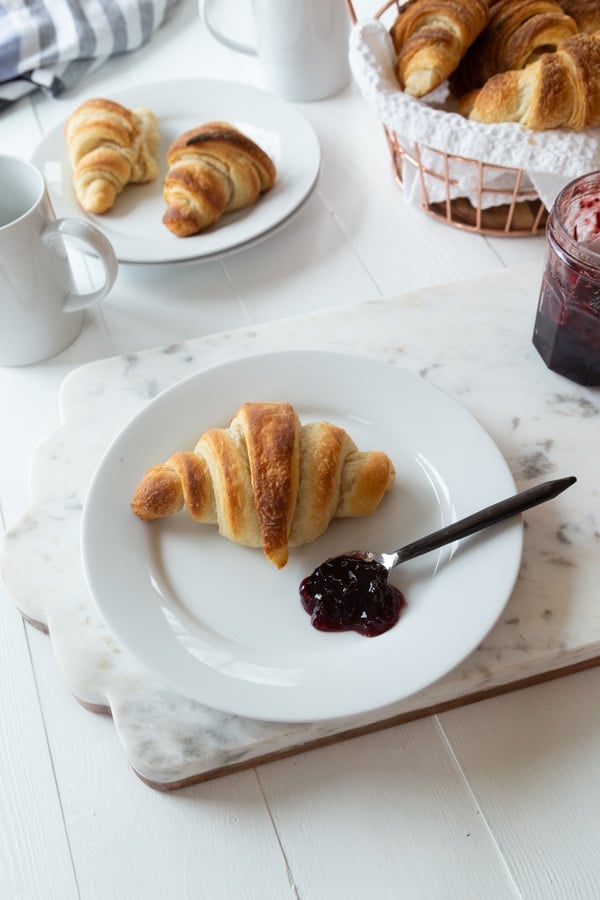 If you're feeling ambitious, make these flaky and buttery rolls.
They're worth the time and effort, and our readers love them.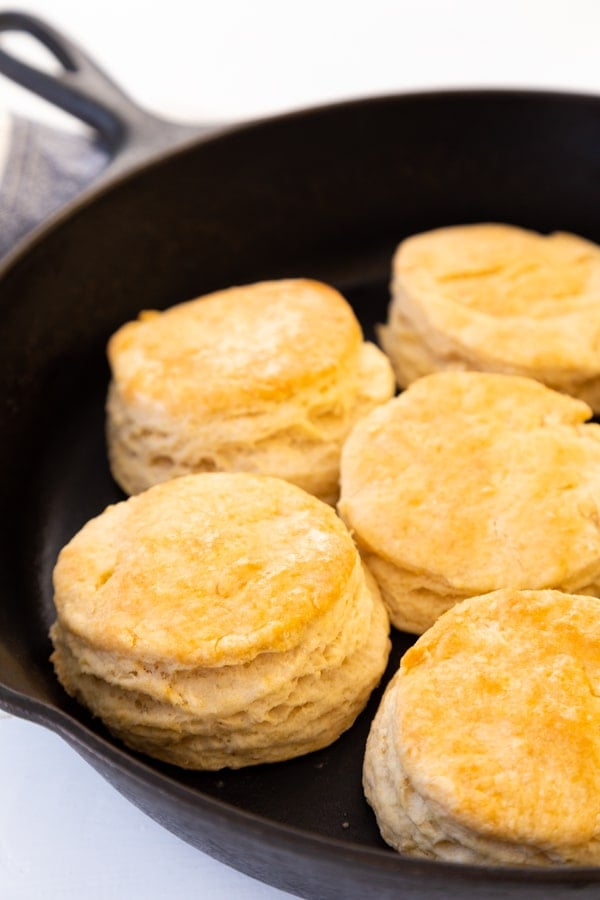 Healthier Homemade Vegan Biscuits
Forget packaged biscuits, these are easy to make and so much better.
You only need flour, baking powder, sugar, salt, vegan butter, and plant milk to make them.
Tip: If you like buttery biscuits, you might want to make a double batch so you have leftovers for breakfast.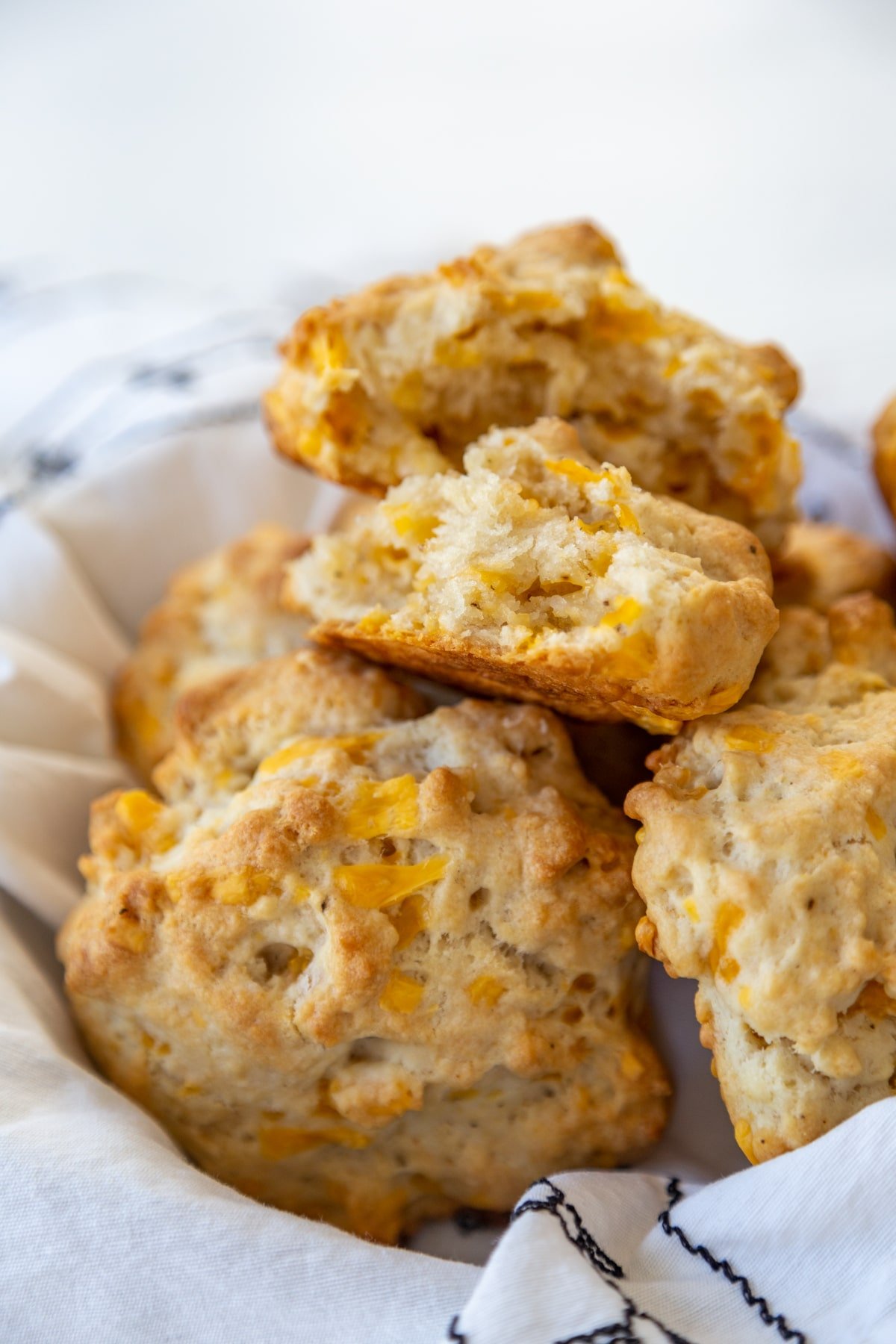 When we shared this recipe with our subscribers, it didn't take long (less than 12 hours) before the great reviews flooded our inbox.
These are super easy and so delicious.
Give Me the Stuffing
Next to cranberries, stuffing is another dish that is mandatory at our Thanksgiving table.
FYI. Our stuffing recipe has great texture and isn't mushy in the middle, because, yuck.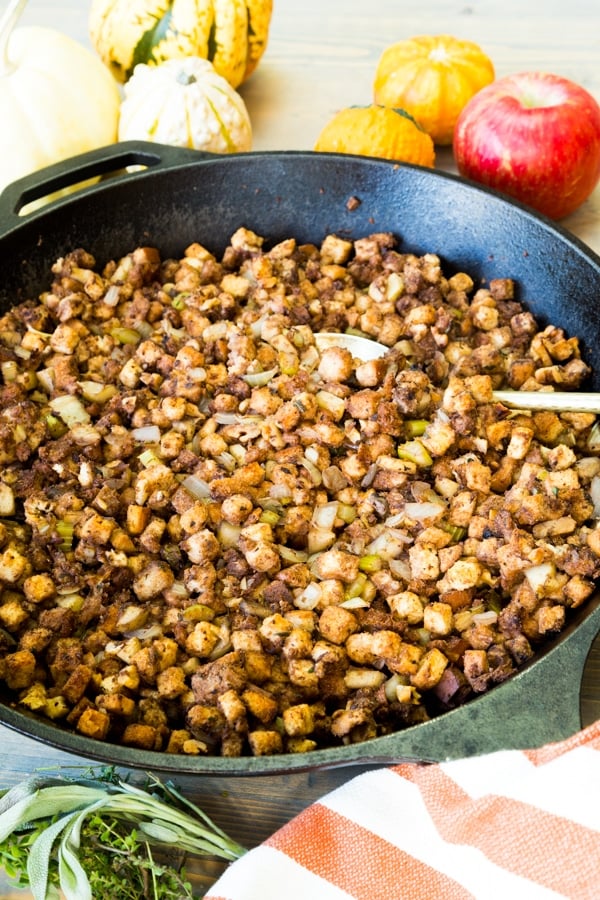 Vegan Apple, Sage, and Sausage Stuffing
This is a little sweet, a little spicy, and a little savory, so it pairs well with all three of the mains we shared with you.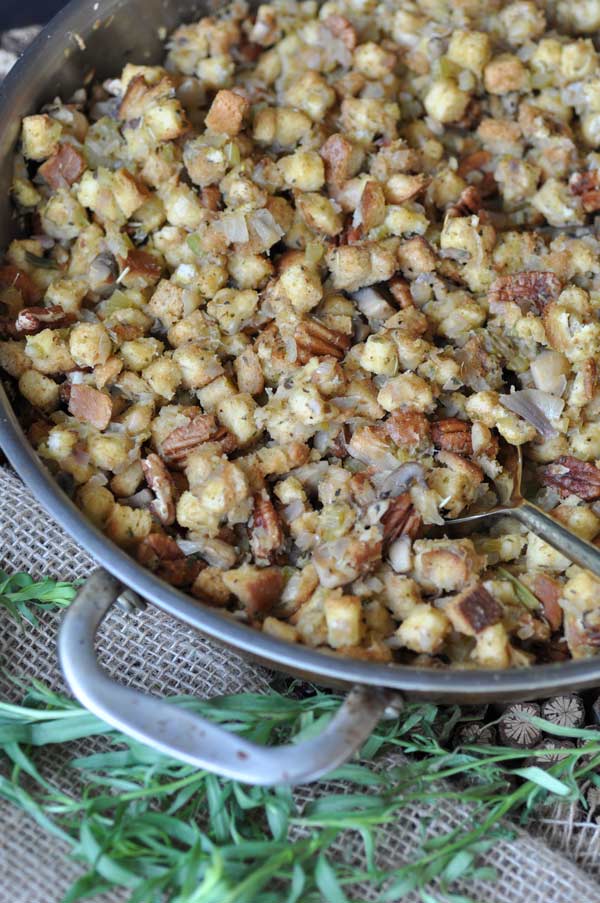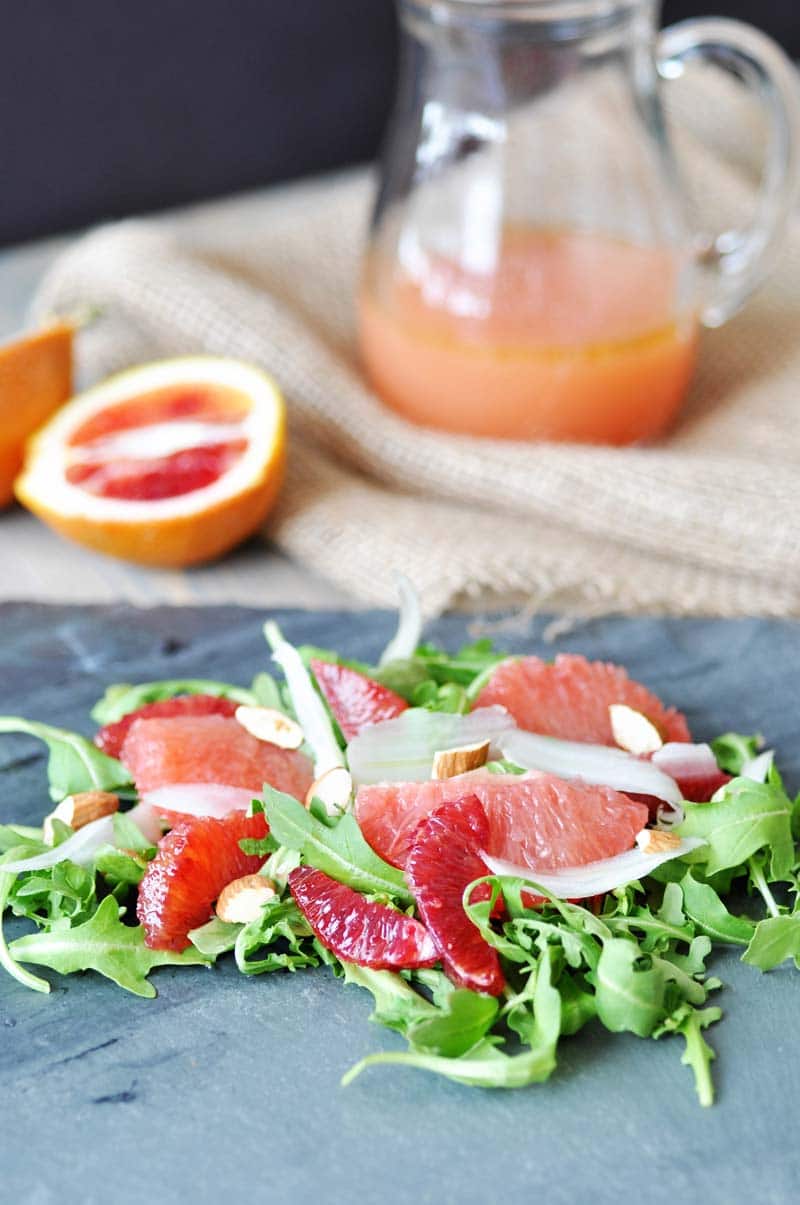 Winter Citrus and Arugula Salad
A refreshing salad balances the heavier dishes on the table.
This salad has peppery arugula and citrus with a cranberry orange dressing.
Vegan Thanksgiving Sides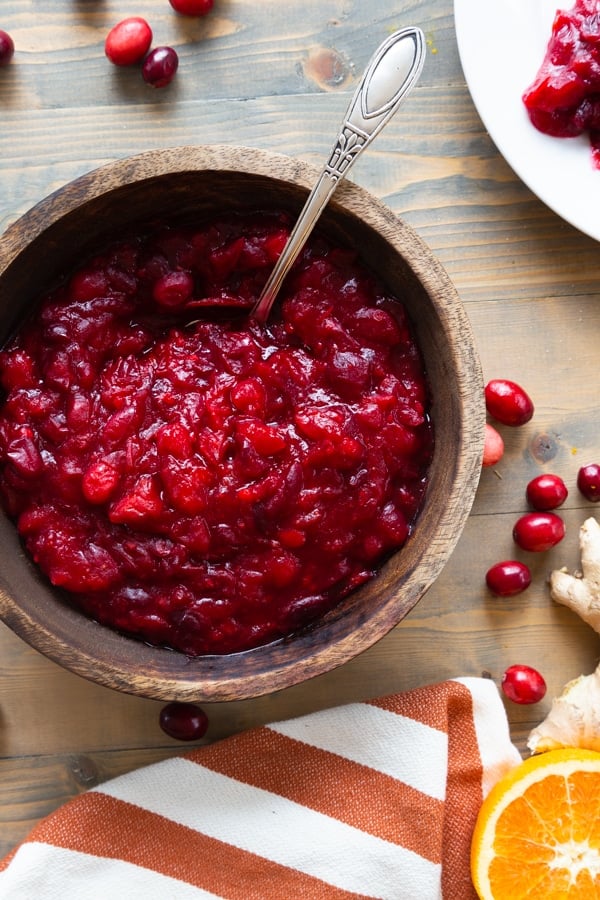 It's not Thanksgiving without homemade cranberry sauce, and this recipe is the best.
There isn't a lot of sugar in this (you can add more if you like it sweet), so it's tangy with a bit of orange.
The cranberries cook until they pop, which gives the sauce great texture.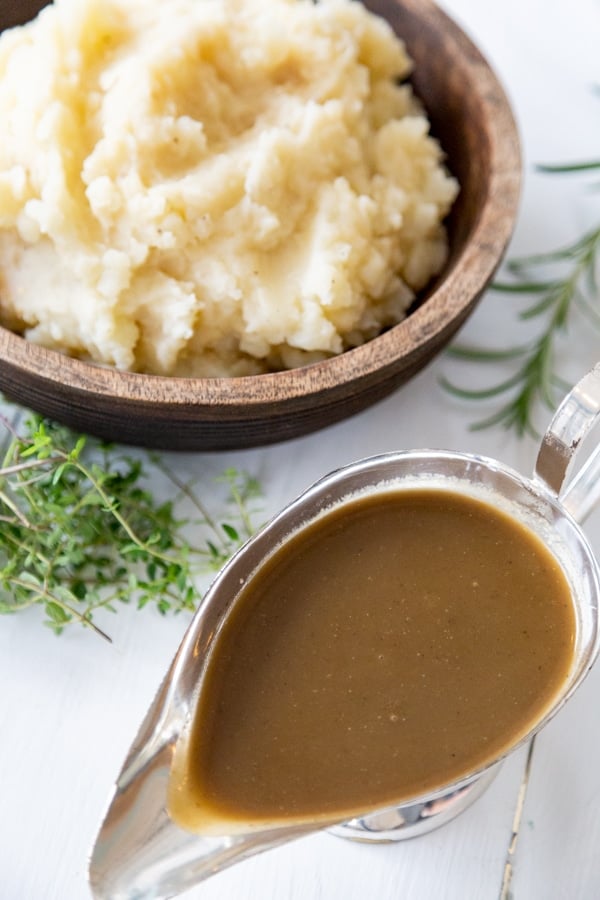 Our porcini mushroom gravy is so good on our garlic mashed potatoes and our lentil loaf.
If you decide to go with a store-bought holiday roast, trust us when we say that our gravy is so much better than the gravy that comes with the roasts.
It takes a little time and effort to make it, but it's so worth it, and you can make it up to a few days ahead of time.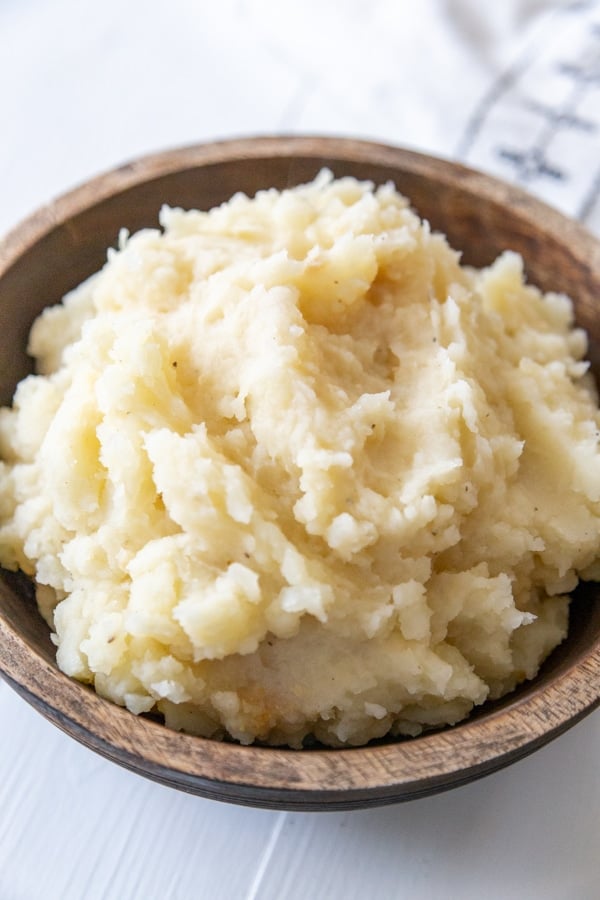 Our creamy vegan mashed potatoes with roasted garlic are amazing!!
The garlic is so soft and buttery, and it takes the potatoes to another level of flavor.
You'll definitely want to smother them with our mushroom gravy.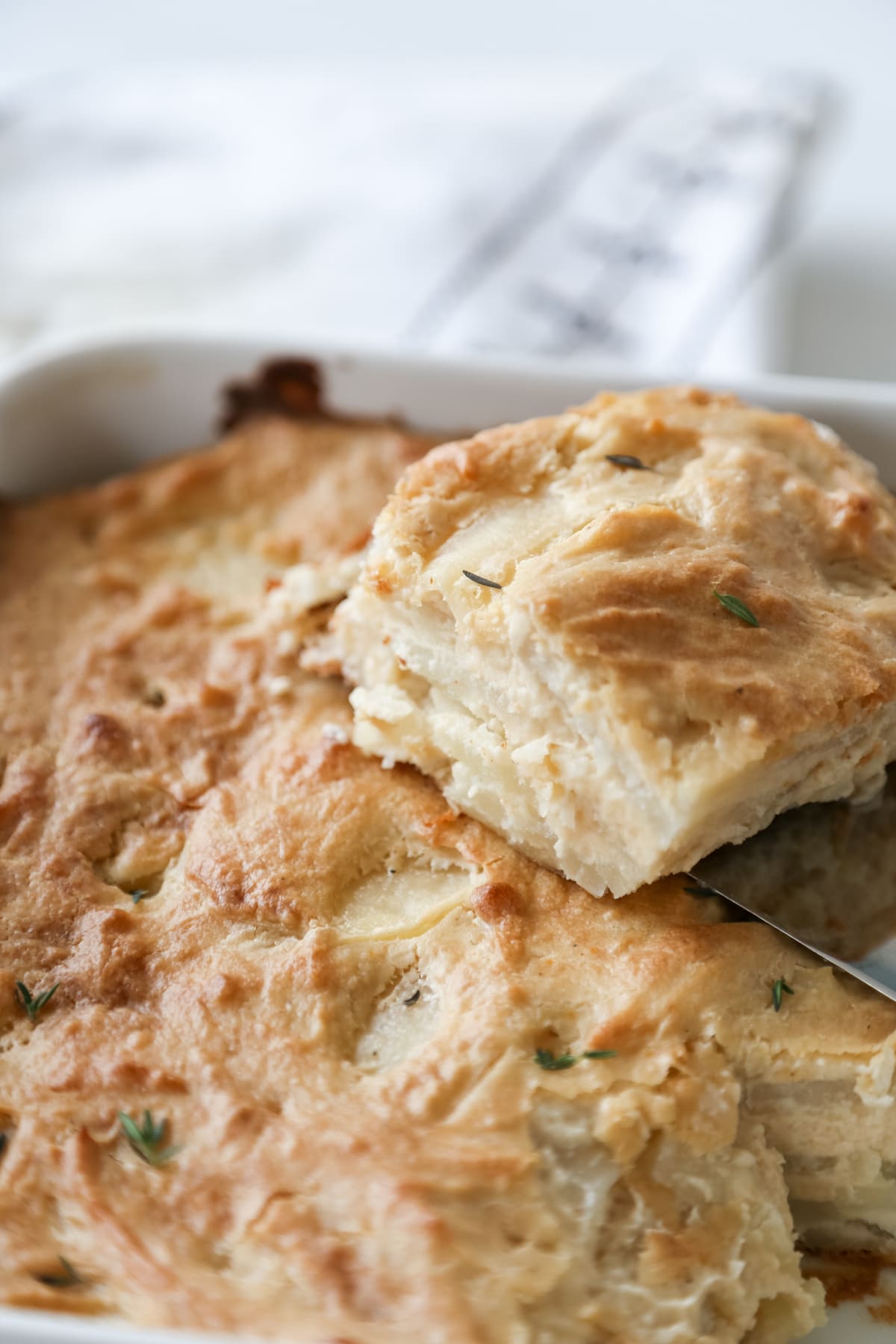 Creamy Vegan Au Gratin Potatoes
If you're looking for something a little fancier than mashed potatoes, make these.
They're cheesy, crispy on the outside, creamy on the inside, and just delicious.
Roasted Brussels Sprouts
We have two recipes to choose from.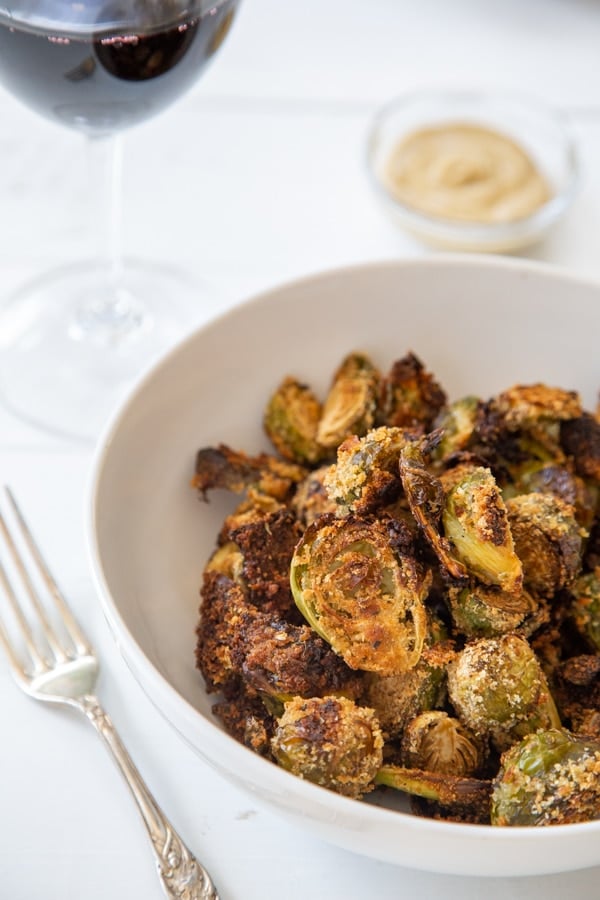 Breaded Maple Glazed Brussels Sprouts
If you like maple, then our maple glazed roasted brussels sprouts are for you.
They have a sweet maple flavor and are nice and a crispy breading. They're great for a side or an appetizer.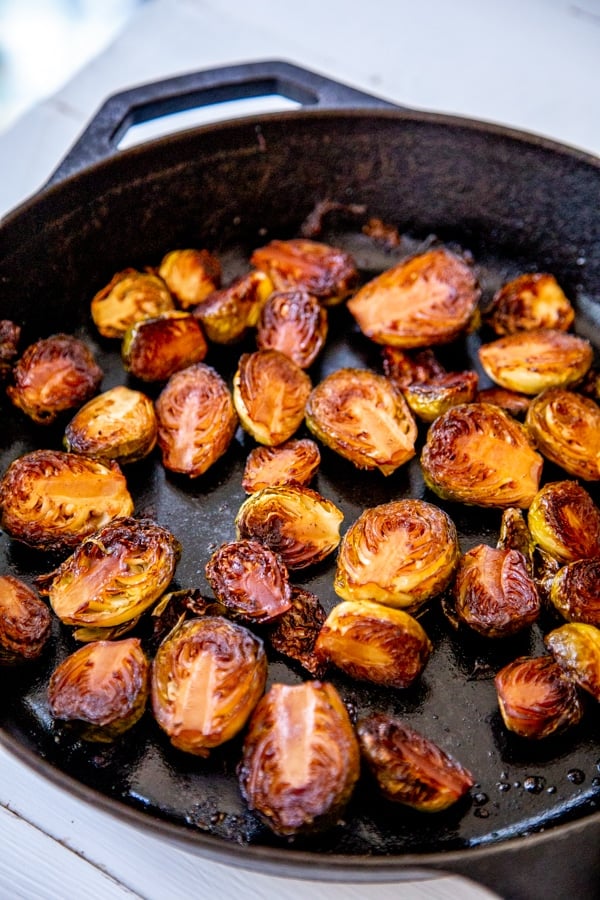 Crispy Roasted Balsamic Brussels Sprouts
These are roasted to perfection with a balsamic glaze that gives them a delightfully sticky and slightly acidic and sweet flavor.
They're the perfect holiday side dish.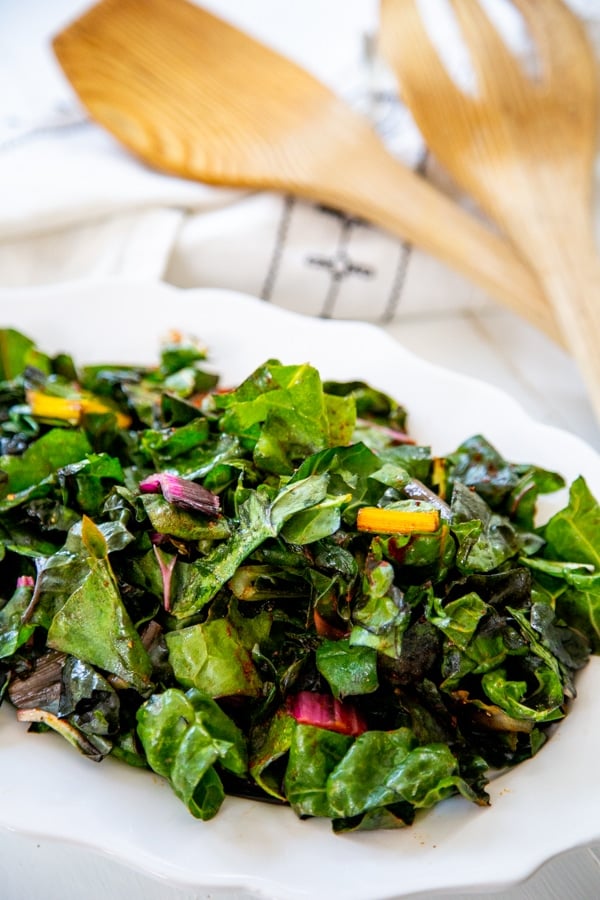 Easy Sautéed Rainbow Swiss Chard
We love this simple recipe.
The chard is so beautiful and adds great color to your plate.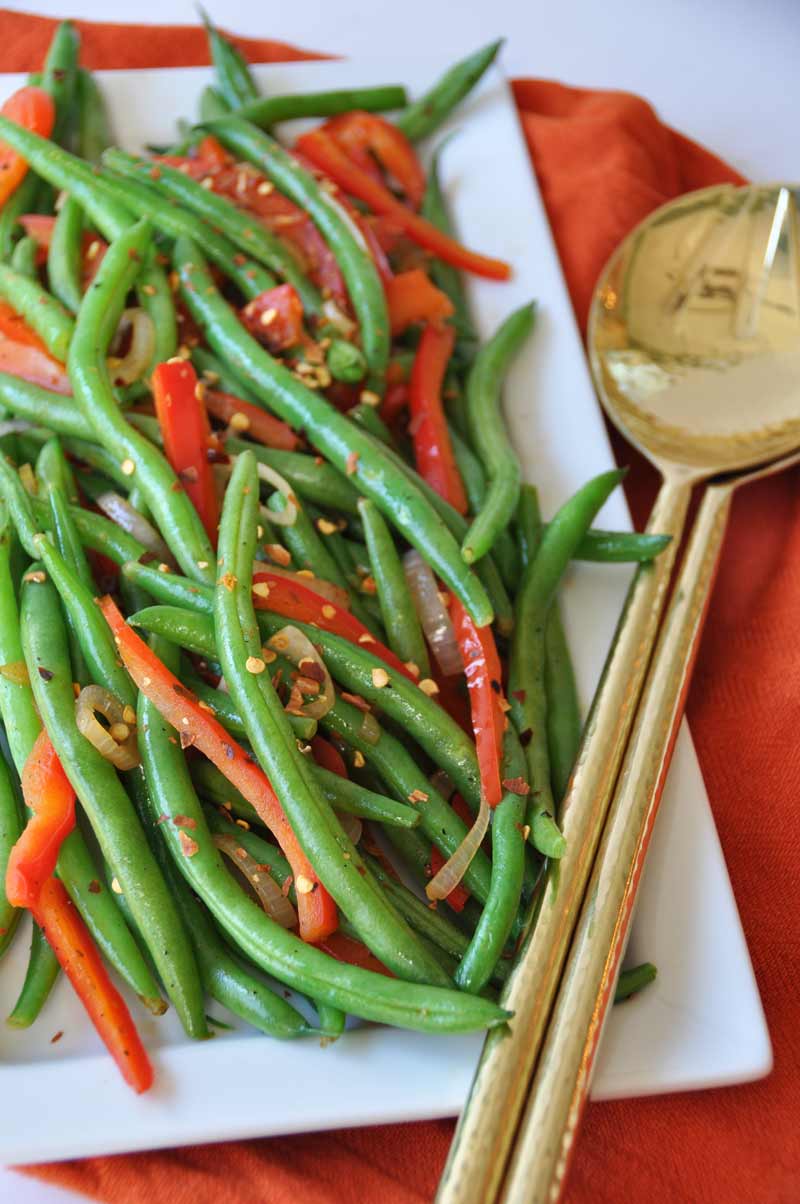 This is another super easy recipe, and if you don't like spicy food, you can tone down the peppers or just omit them.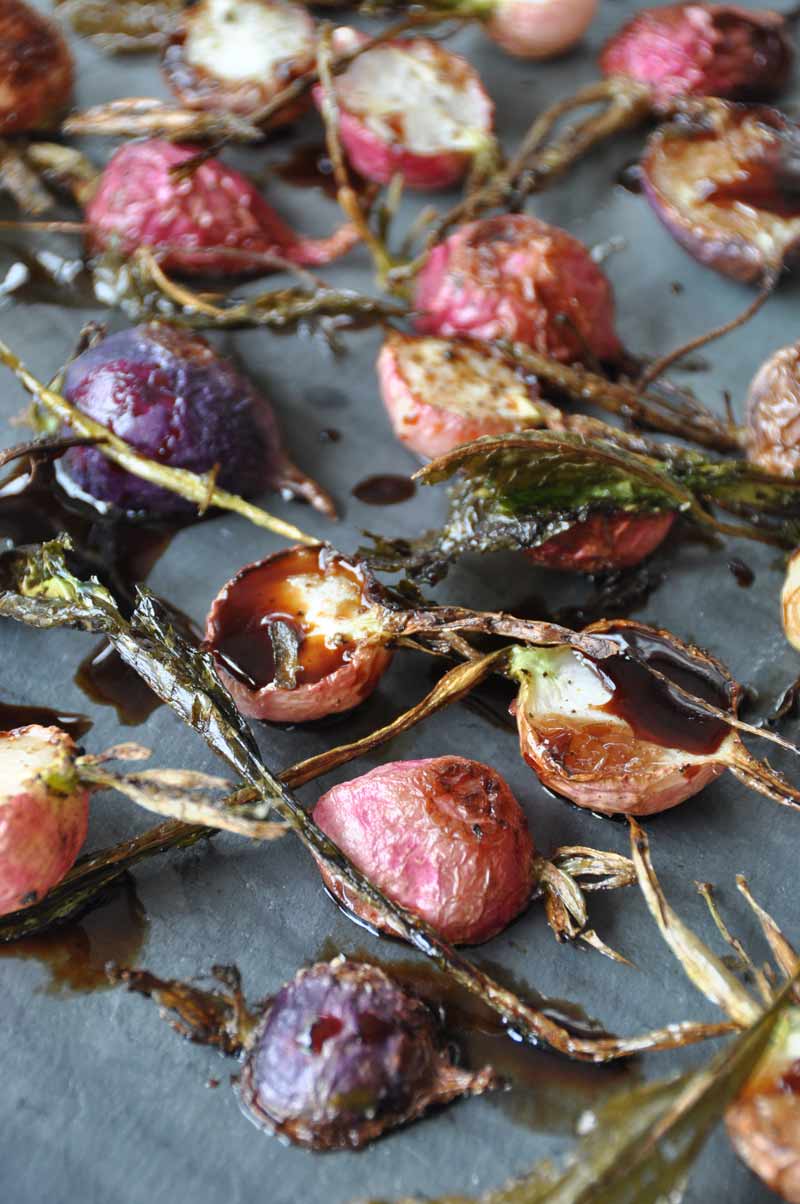 Simple Roasted Radishes with Balsamic Glaze
If you've never roasted radishes, you're missing out.
Roasting them brings out their sweetness and tones down the sharp peppery flavor.
They also bring a pop of color to your plate.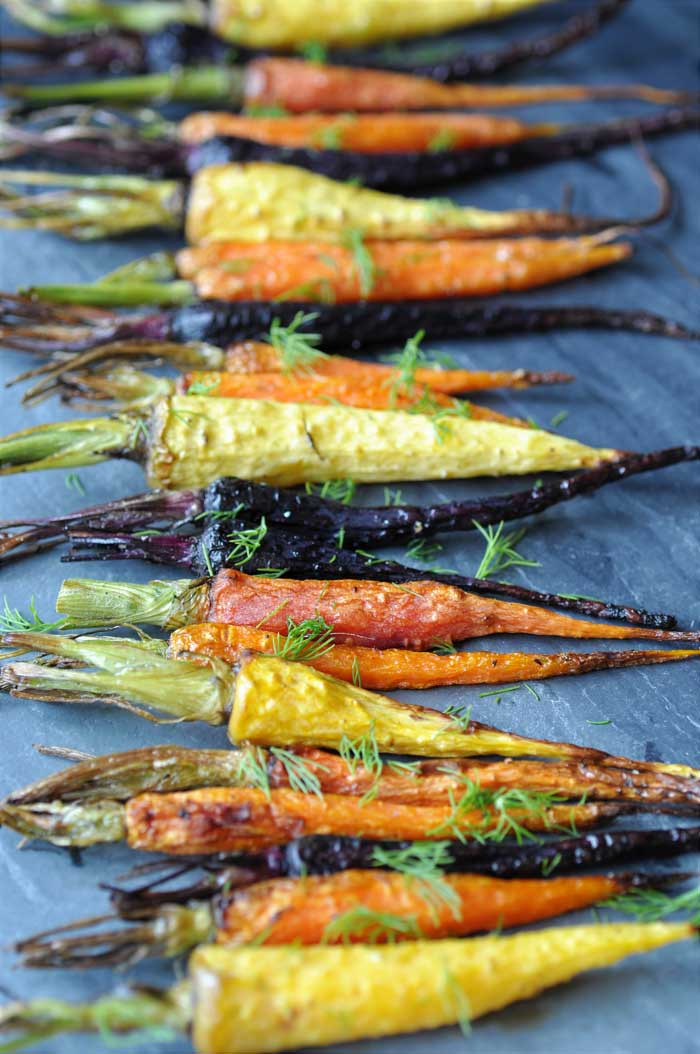 Again, an easy recipe that tastes so good.
Roasted vegetables are the highlight of our holiday table, we just can't get enough.
Desserts
Are you a one dessert or two dessert person?
We are definitely a two, and sometimes three dessert family.
There's nothing better than waking up to a slice of pie and a cup of coffee the morning after Thanksgiving.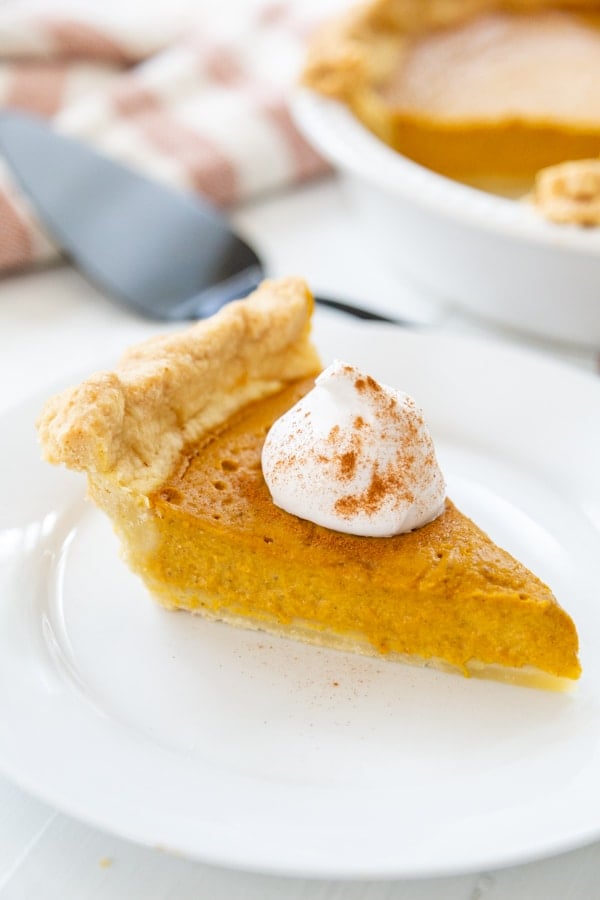 This quintessential Thanksgiving dessert tastes exactly like the kind made with dairy.
Our non-vegan family and friends are always amazed that it's vegan, because it doesn't taste like it at all.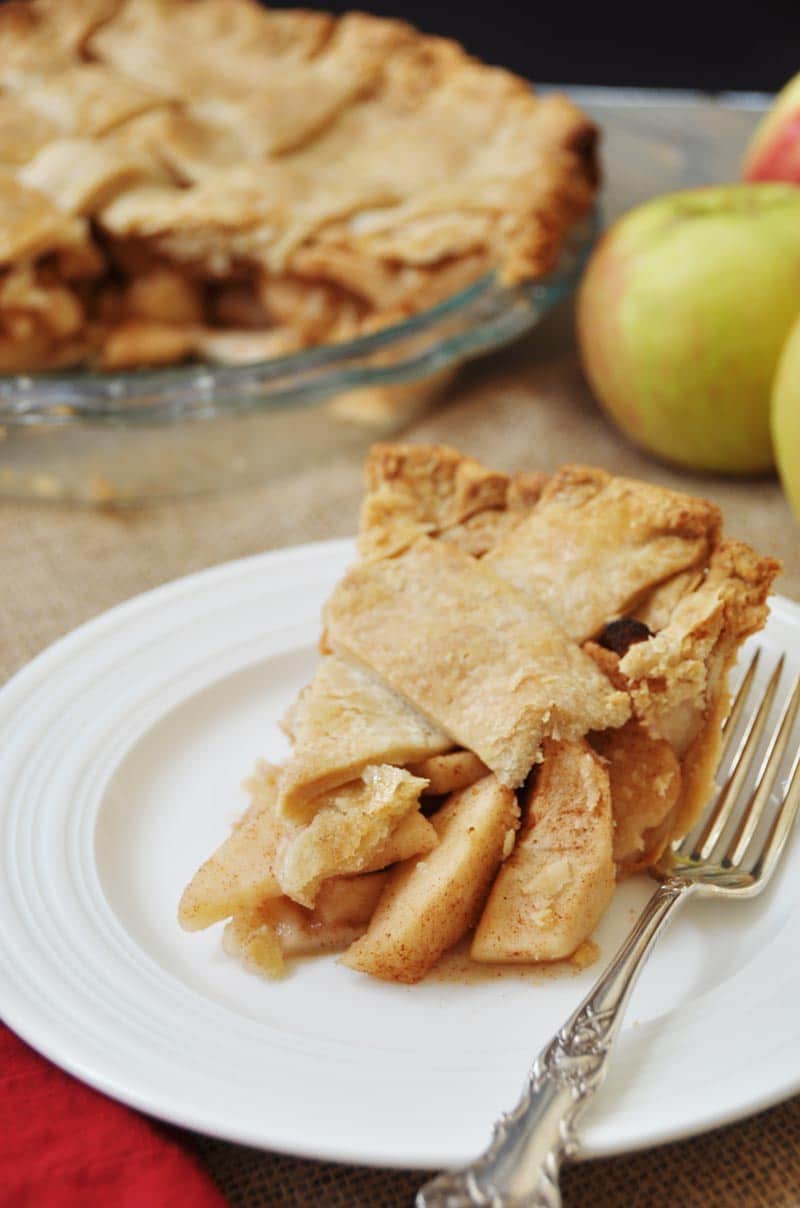 Another American classic, this pie gets great reviews, as does our vegan pie crust.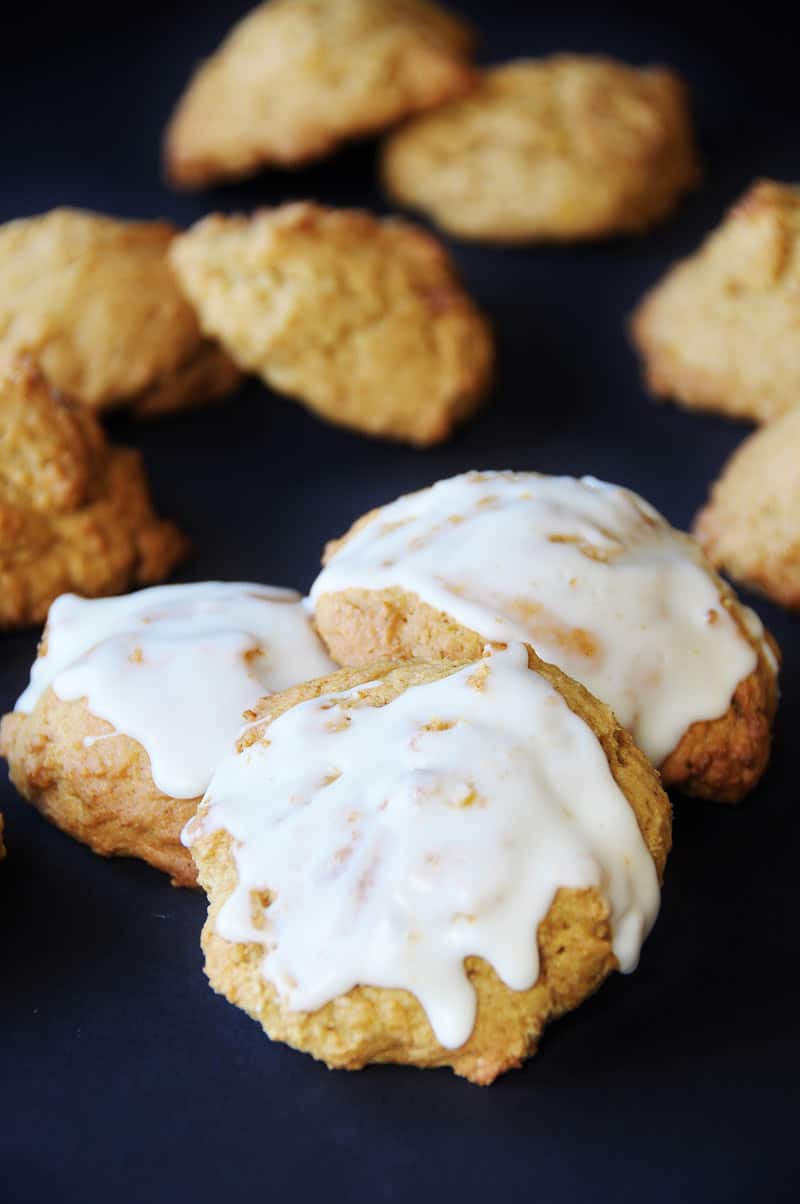 If you're not a pumpkin pie person, then try these soft and chewy cookies.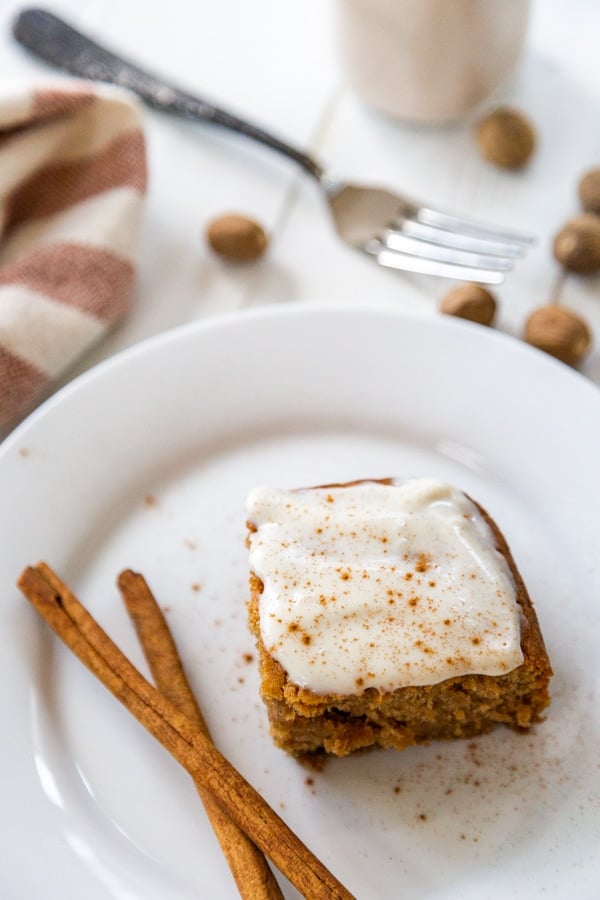 Vegan Spice Cake with Cream Cheese Frosting
We make this easy cake recipe from Thanksgiving to Christmas.
It's warm and savory with a tangy and sweet cream cheese frosting that's so incredibly good.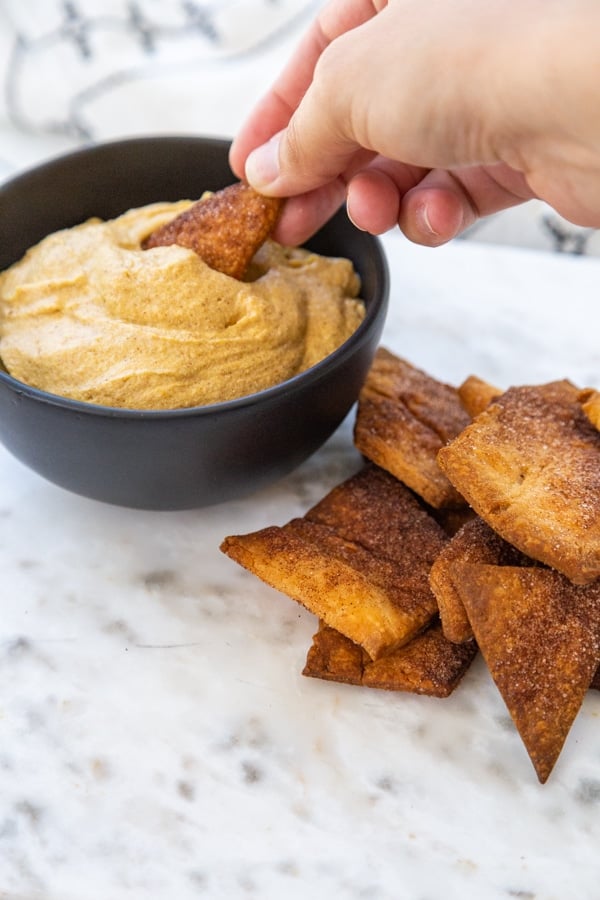 Easy Pumpkin Dip with Pie Crust Chips
If you have leftover pumpkin puree and pie crust from your pumpkin pie, then whip up this yummy dessert.
We love to nibble on this while we watch the first Christmas movie of the season.
Whipped cream is a must! Try our easy vegan whipped topping with the pies!
Prep Ahead
Choose your recipes and follow our guide. Ignore the prep and day of recipes you're not making.
These are the recipes you can make a day or more ahead of time.
When you start cooking earlier in the week, it makes Thanksgiving Day so much more enjoyable.
We suggest that you do your grocery shopping early this year, especially if you're ordering them.
MONDAY
Make the following:
Cranberry Clementine Sauce – Store it covered in the refrigerator.
Porcini Mushroom Gravy – Store it covered in the refrigerator.
TUESDAY
Make the following:
Cashew Cheese – Store covered in the refrigerator.
Pumpkin Pie – Cover and store in the refrigerator.
Pie Crust Chips – Store in an airtight container to keep fresh.
Cranberry Orange Dressing for the citrus salad. Don't add the oil until you're ready to dress the salad. Store in the refrigerator.
Cook the vegetable filling for the Wellington - Store covered in the refrigerator.
WEDNESDAY
Make the following:
Apple Pie – Cover and store in the refrigerator - Warm in the oven before serving.
Spice Cake – Make the cake and wrap in foil or plastic to keep fresh - Make the frosting on Thursday morning.
Pumpkin Spice Cookies – Store in an airtight container.
Pumpkin Dip – Store covered in the refrigerator.
Lentil Loaf – Make the loaf (don't bake it) and store it covered in the refrigerator. Bake it on Thanksgiving Day.
Roast the garlic for the mashed potatoes and store in the refrigerator.
Prepare the following:
Vegan Croissants – begin the process of making these so they're ready to bake on Thanksgiving Day.
Clean and cut the Brussels sprouts. Store in the refrigerator.
Wash and snap the ends off of the green beans and slice the bell pepper. Store in the refrigerator.
Prep the radishes and/or carrots.
Make the balsamic glaze. Store in the refrigerator.
Bake the sweet potatoes for the bruschetta and store in the refrigerator.
Set the table so it's ready to go.
Thanksgiving Day Cooking Schedule
Obviously, you'll need to adjust the suggested schedule to work with whatever time you plan on serving dinner.
MORNING
Chill the wine and beverages you'll be serving, if they're not already cold.
Make the cream cheese frosting for the spice cake and frost it. Keep it in the refrigerator until 30 minutes before serving.
Peel and cut the potatoes and cover them with cold water in the pan you're going to cook them in. This will prevent them from browning.
Bake the croissants.
Make the biscuits if you didn't make the croissants.
EARLY AFTERNOON
Make the stuffing and cover it with foil, keep it warm in the oven. If you don't have double ovens or a warming drawer, refrigerate it and then heat it up while the main course finishes baking.
Prepare the cheese platter and/or the sweet potato bruschetta.
Make the Au Gratin Potatoes is you're not making mashed potatoes. Cover and keep warm until dinner is served.
Make the citrus salad, but don't dress it until you're ready to serve it.
LATE AFTERNOON
Make the Wellington, or the Lentil Loaf, or the Stuffed Squash.
Bring the potatoes to a boil and make the mashed potatoes.
Heat the gravy.
Bring the cranberries to room temperature if you don't like to eat them cold.
Make the Whipped Coconut Cream and put it in the refrigerator.
Prepare the coffee for dessert.
Cook your vegetable sides. The roasted veggies will take longer than the sautéed chard or the green beans, so plan accordingly.
JUST BEFORE SERVING DINNER
Take the apple pie and the spice cake out of the refrigerator and bring to room temperature.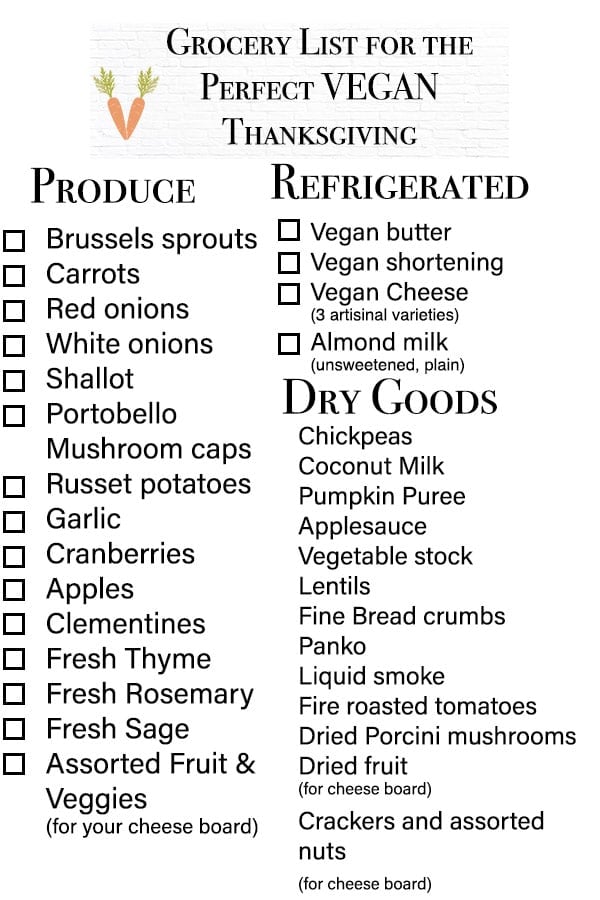 This is an example of our list.
SHOPPING LIST
It's impossible to create a list for you, because we don't know how many people you'll be cooking for, or which recipes you've chosen for your dinner.
However, we can help you organize your list so you can breeze through the supermarket.
FIRST
When you're writing your list from our recipes, make sure to check off the boxes in front of each ingredient. This will ensure that you don't miss anything.
We suggest doing the same when you're following the step-by-step instructions.
SECOND
Look at the recipes to see how many servings they make, and then adjust according to how many people you're cooking for.
Divide your grocery list by department. For example, Produce, bakery (flour, sugar…), dry good (canned, boxed), refrigerated (butter, milk…), frozen, etc.
Break it down within categories. For example, Produce is divided by vegetables, then greens, root vegetables, etc., then fruit.
This will prevent you from having to go in circles in the produce section.
Check off each item as you fill your cart.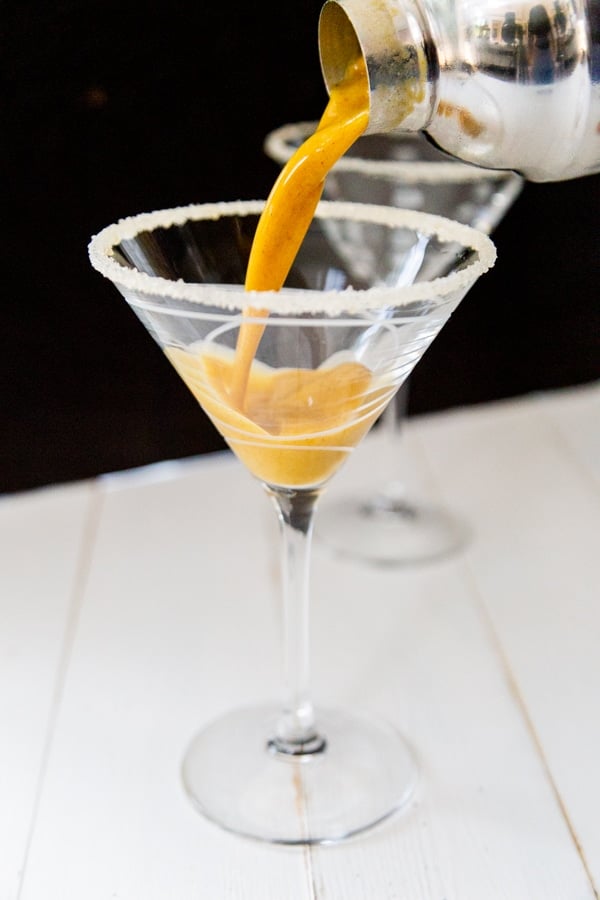 Entertaining Tips
1. We love making a signature cocktail to have ready as guests arrive.
Our Pumpkin Spice Martini, Mulled Apple Cider, or Whiskey Cider are all great options.
2. Have an appetizer or two set out to munch on while you finish cooking dinner.
3. Decorate the table! There are so many ways to make a table inviting. Here are some easy and inexpensive ideas:
Collect colorful leaves from your yard and scatter them on the table.
Set tea candles in glass votives and line them up in the center of the table.
Use small pumpkins, apples, or any seasonal fruit or vegetable to make a centerpiece for the table, or strategically place them with colorful leaves and candles.
4. If you can recruit helpers in the kitchen, do it! You'll enjoy the company and cooking together brings everyone closer.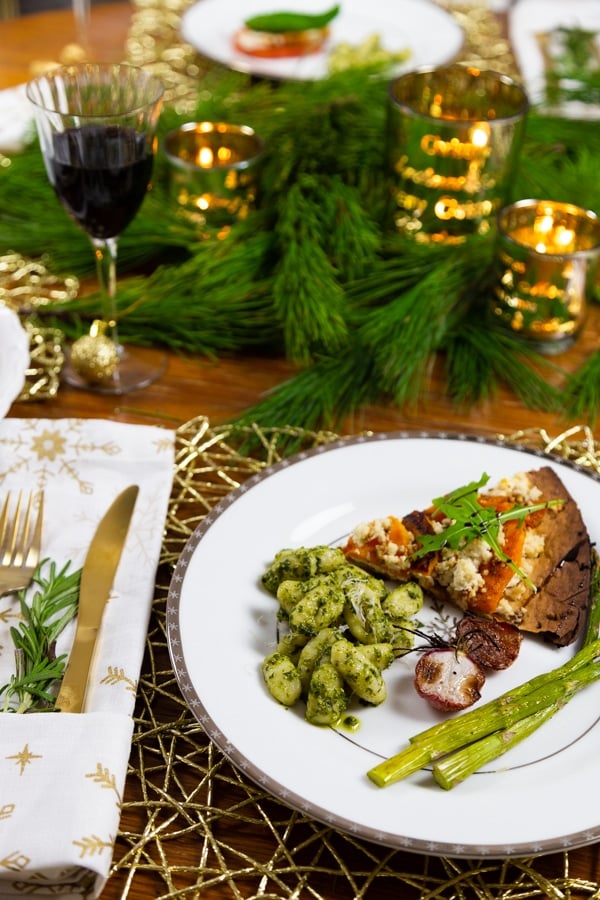 More Vegan Holiday Meals You'll Love
Tips and Tricks for a Fun and Flavorful Thanksgiving 
Vegan Thanksgiving Recipes to Serve to Your Non-Vegan Guests 
6 Holiday Drinks to Make Your Day Merry and Bright 
8 Vegan Cranberry Holiday Recipes 
Make our healthy vegetable pot pie recipe and let us know what you think. We love to hear from you! And, don't forget to take a picture of your gorgeous creation and tag us @veganosity on Instagram.
Let's connect on Instagram and Twitter. You'll get a peek into our everyday lives in our stories and see what we're sharing in our feed.
And, don't forget to SUBSCRIBE to the blog so you never miss a recipe. Scroll below the recipe or in our side bar to become a Veganosity subscriber.