The best vegan apple pie is made with a traditional flaky and tender homemade pie crust and a sweet apple cinnamon filling. It's the perfect dessert for fall, winter, spring, and summer. Serve it with a dollop of our easy coconut milk whipped cream.
Published Nov. 24, 2015 and updated May 10, 2021.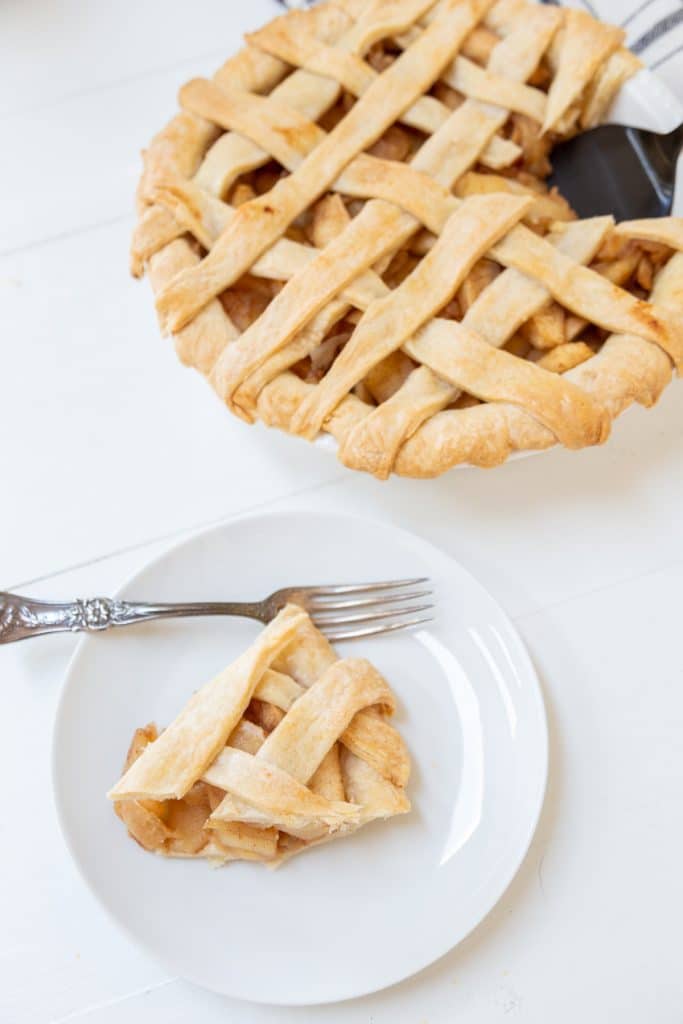 Vegan apple desserts you'll love
Vegan Apple Cinnamon Crunch Cake
Simple Dairy-Free Chocolate Covered Apples
Sugar-Free Stuffed Baked Apples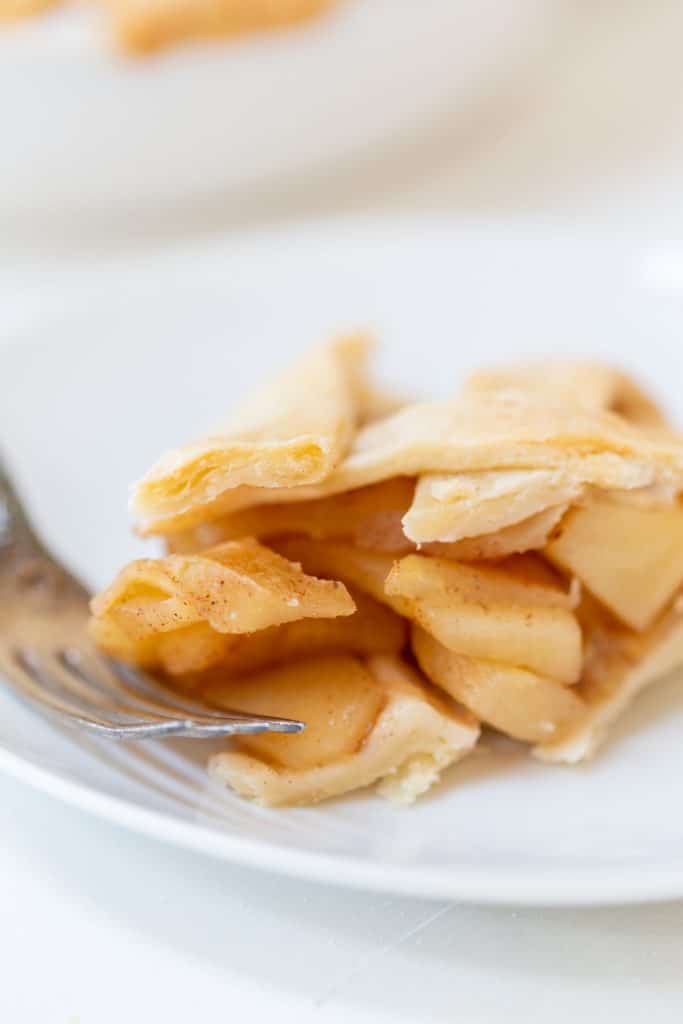 Ingredients, substitutions, and equipment
Vegan Pie Crust – Make our homemade pie crust or buy one. We don't have a gluten-free pie crust recipe, yet. If you want to make one, try this recipe.
Apples – For the best flavor, we like to use a blend of apples to our pie filling.
You can substitute pears for this recipe.
Sugar – If you want a sugar-free pie, skip it and the apples will sweeten it. You can also opt for refined sugar-free and use coconut sugar or maple syrup to sweeten the filling.
Cinnamon – This adds warmth and depth of flavor to the filling.
Lemon Juice – Acid balances the sweetness of the apples. There are no substitutions for this ingredient.
Water – We add about ⅓ of a cup of water to the apples when we cook them to avoid scorching the apples. It will evaporate while cooking, so don't worry about the filling being too watery.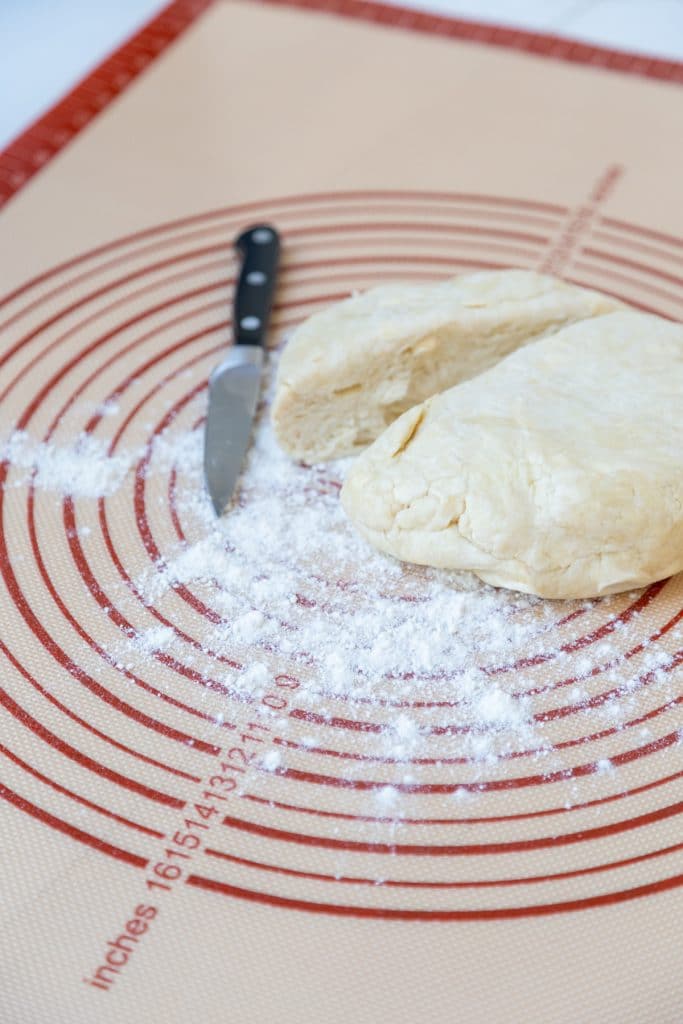 Equipment
Rolling pin if making homemade pie crust
Apple peeler or paring knife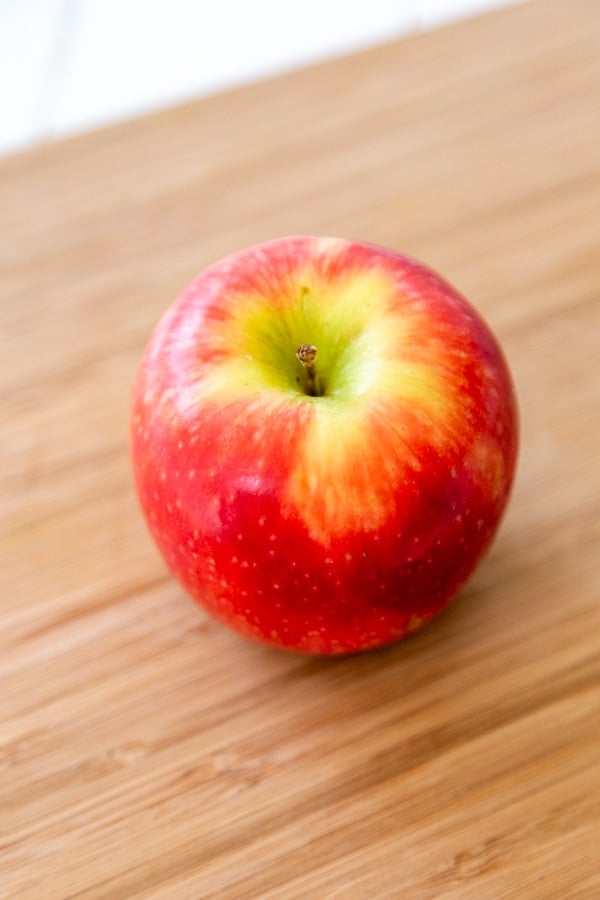 Best apples for pie filling
We like to use a blend of apples. This will give the filling a more interesting flavor than using just one type.
Use two or three different types. These are our favorites.
Honeycrisp apples are sweet. They add the perfect amount of sugar to applesauce.
Granny Smith apples are tart and tangy. This balances the sweetness and makes the applesauce interesting.
Fuji apples are sweet and juicy. They have a different flavor than Honeycrisp, and the two marry perfectly to make a great tasting applesauce.
How to make the best vegan apple pie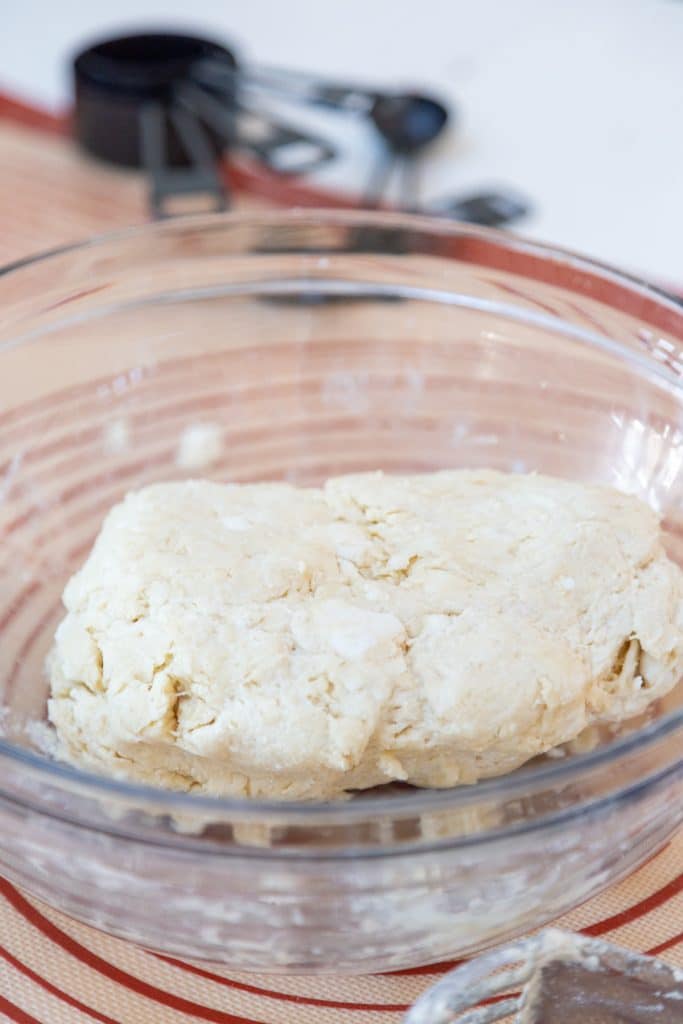 Step one
Make the pie crust.
For the best apple pie, you can't beat making pie crust from scratch.
Our homemade pie crust recipe is easy. Click here to learn how to make flaky vegan pie crust.
If you're not feeling ambitious or don't have time to make crust, then vegan store-bought pie crust will do.
Here's a list of vegan pie crust brands.
Marie Callender's Frozen Pastry Pie Shells
Wholly Wholesome Pie Crust Shells or Dough
Mrs. Smith's Deep Dish Pie Crusts
Step two
Make the apple cinnamon filling.
Slice the apples as uniformly as possible. If they're different sizes, they won't cook evenly.
Add the apple slices, sugar, cinnamon, and water to a large pan and cook the apples on medium-low heat until they're just fork tender.
You really must cook the apples before baking or the filling will turn out dry.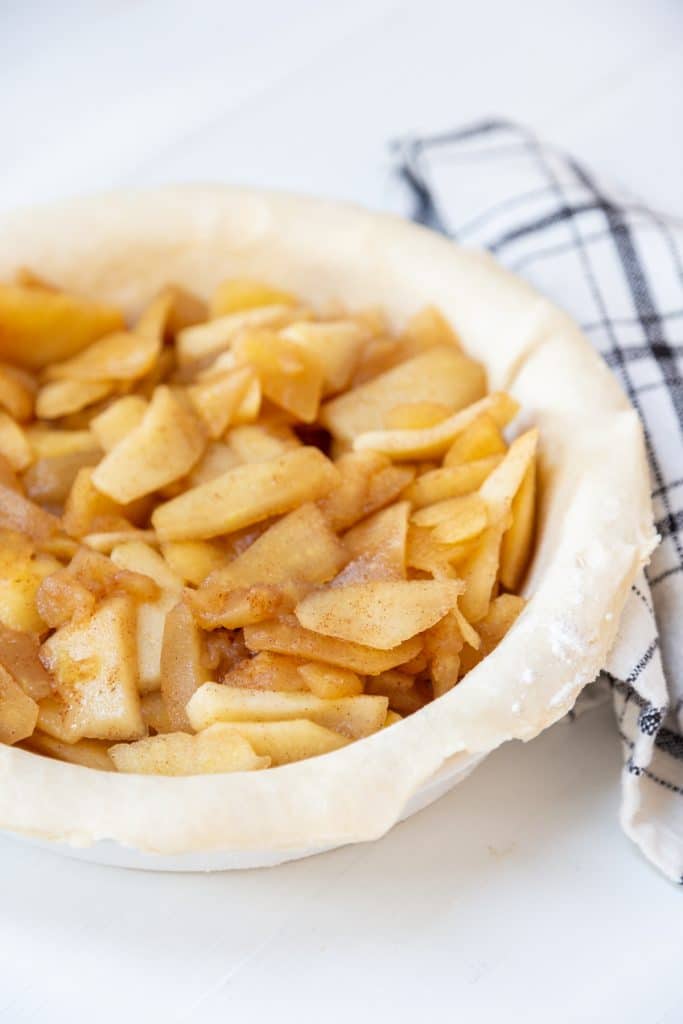 STEP THREE
Fill the pie crust with the apples and cover the top with another pie crust. Be sure to slice vents in the top crust to allow steam to escape. You can also make a lattice top if desired.
bake for approximately 50 to 60 minutes, or until the pie crust is a light golden brown.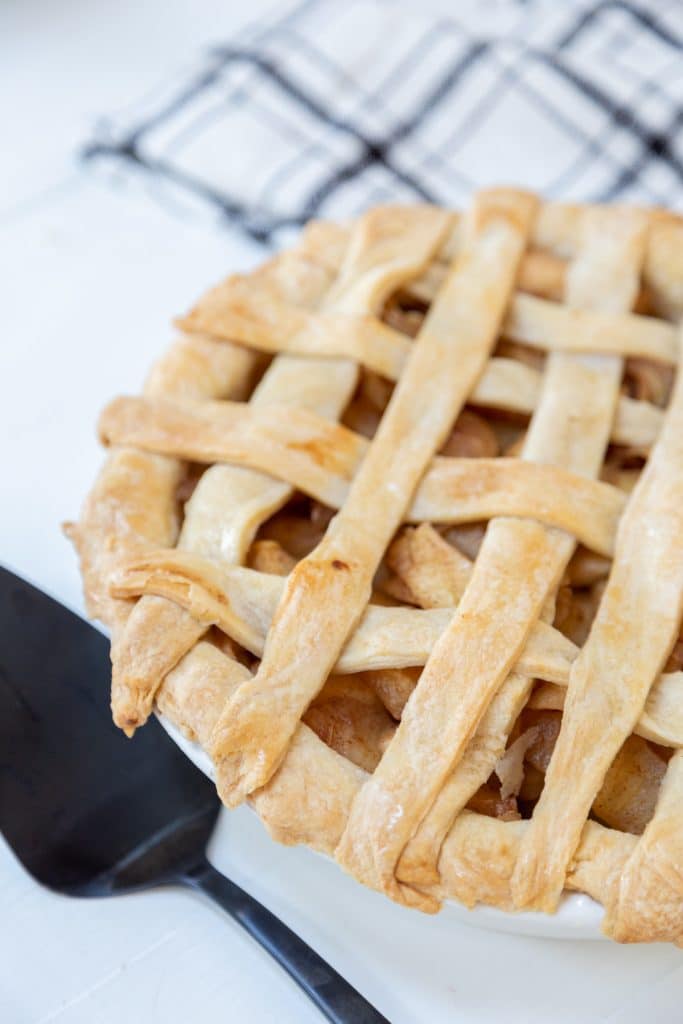 How to make a lattice pie crust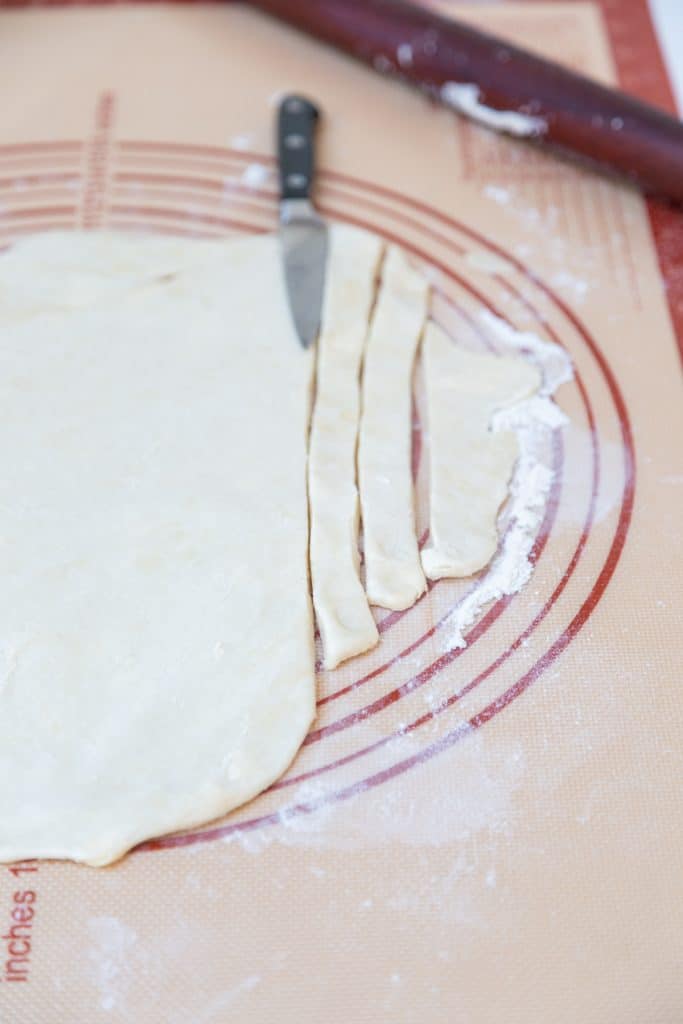 Roll the dough into a ⅛ inch thick circle and slice the dough into ½ inch thick pieces.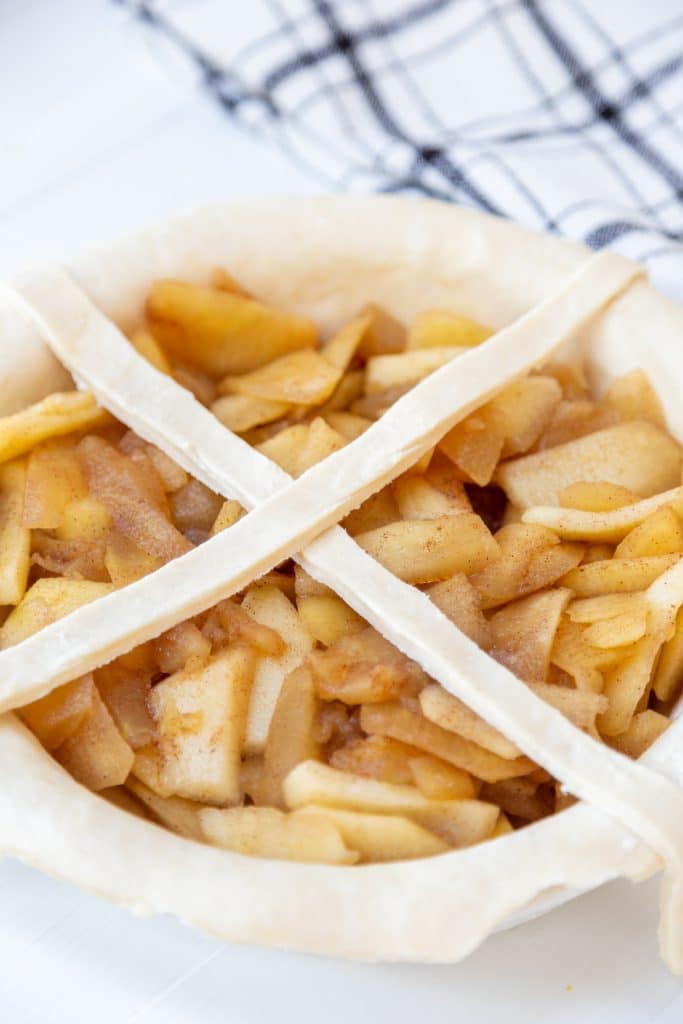 Lay two long strips of dough over each end of the pie plate, like a cross.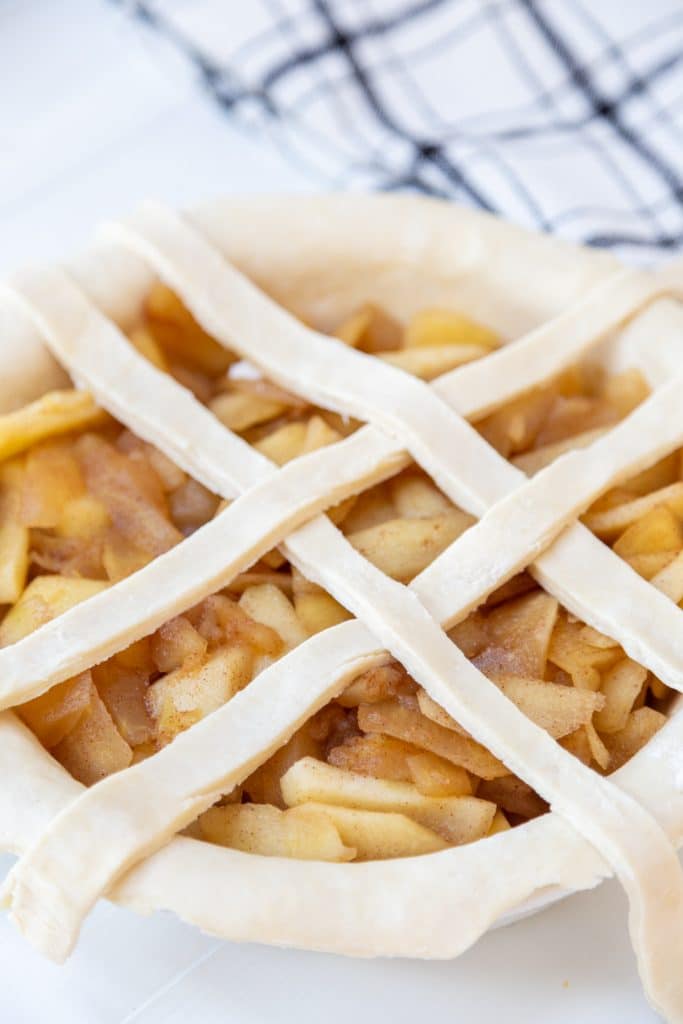 Continue adding strips of dough and weave them over and under each other.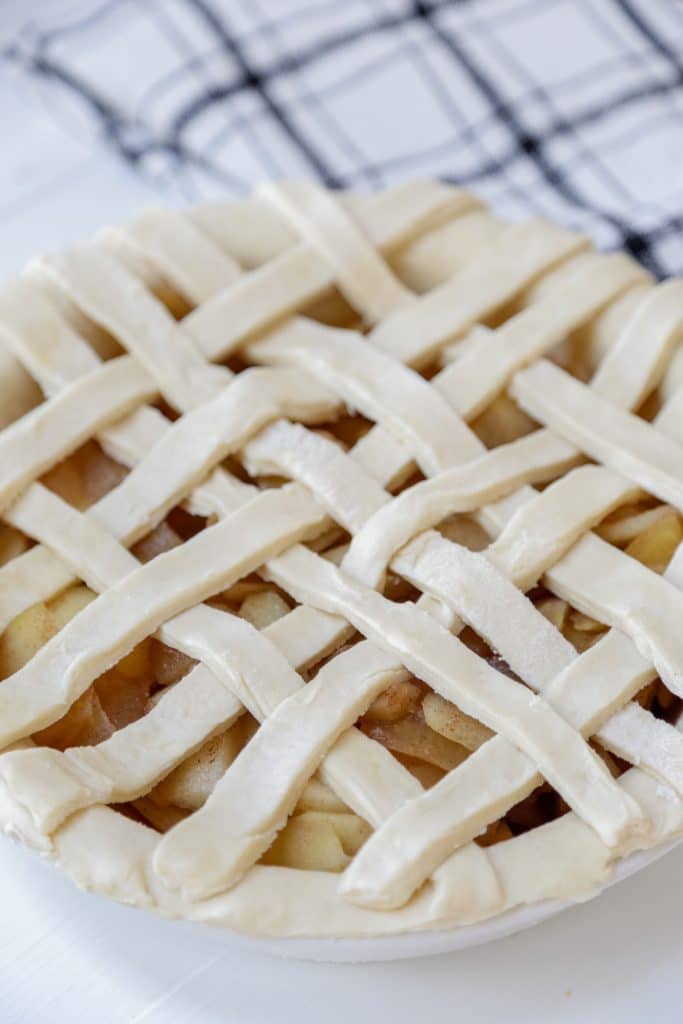 This is what the lattice top should look like when you're finished.
It doesn't have to be perfect, so don't worry about it, just have fun.
What to do with extra excess dough
Our pie crust recipe makes enough dough to fill two pie plates. If you have excess dough, roll it out and use cookie cutters to make a pretty decorative addition to the pie, like we did with our vegan pumpkin pie.
You can also make cinnamon sugar pie crust chips.
Another option is to make little hand pies, hot pockets, or mini apple pies (cut the pie dough and place in a muffin tin, then fill with the apple filling).
Storage and freezing
Store the pie covered in the refrigerator for up to 4 days.
Freeze it in a freezer safe container for up to 3 months. Reheat in a 350˚F (176˚) oven until it's warmed through.
More vegan pie recipes you'll love
Vegan Lemon Meringue Pie with Aquafaba
Classic Vegan Banana Cream Pie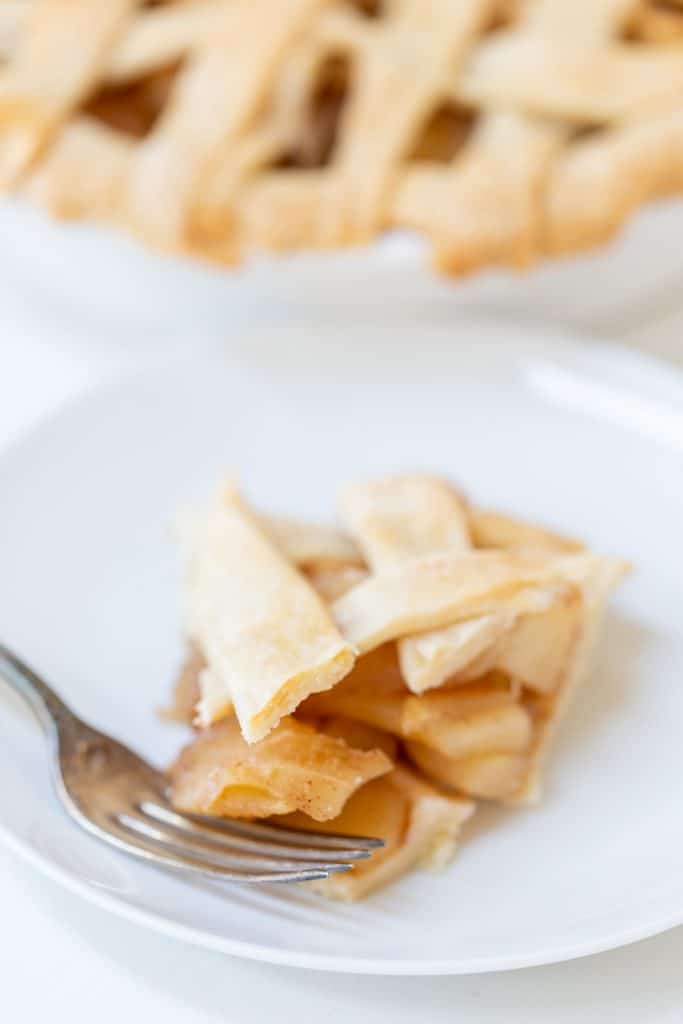 (WITH A FLAKY VEGAN PIE CRUST
A delicious vegan apple pie made with warm cinnamon and a flaky and tender vegan pie crust. A true crowd pleaser!
Print
Pin
Rate
Ingredients
8-10

medium apples – peeled and cored

¼

cup

sugar

1

tablespoon

ground cinnamon

2

tablespoon

Lemon Juice

⅓

cup

water

2

Vegan pie crusts

One for the bottom and one for the top.
Instructions
Preheat the oven to 350°F (176˚C)

Peel, core, and slice the apples uniformly. If the apples aren't sliced evenly, they won't cook evenly.

Place the apples, ⅓ cup water, 2 tablespoon lemon juice, ⅓ cup sugar, and 1 tablespoon ground cinnamon in a large saucepan and bring to a boil. When the water is boiling, reduce the heat to medium-low and cook for approximately 10 to 15 minutes, or until the apples are just fork tender.

Use a slotted spoon to transfer the apples to the pie pan that's lined with piecrust. Cover the crust with the top layer of pie crust. If you cover with a solid piece of crust cut three slits in the top so steam can escape while baking.

Bake for 50 minutes. Remove the pie from the oven and brush evenly with melted butter or coconut oil. Sprinkle with a little cinnamon sugar (whisk the tablespoon of sugar and teaspoon of cinnamon together) and bake for another 10 minutes or until the crust is a nice golden brown.

Let it cool for at least 15 minutes before cutting.
Notes
NUTRITION DISCLAIMER
Use a variety of apples for better flavor.
Place the pie pan on a cookie sheet when baking in case of spillage.
Storage and freezing
Store the pie covered in the refrigerator for up to 4 days.
Freeze it in a freezer safe container for up to 3 months. Reheat in a 350˚F (176˚) oven until it's warmed through.
Nutrition
Serving:
115
g
|
Calories:
253
kcal
|
Carbohydrates:
42
g
|
Protein:
3
g
|
Fat:
9
g
|
Saturated Fat:
3
g
|
Sodium:
141
mg
|
Potassium:
195
mg
|
Fiber:
5
g
|
Sugar:
20
g
|
Vitamin A:
82
IU
|
Vitamin C:
8
mg
|
Calcium:
24
mg
|
Iron:
1
mg