Vegan pulled BBQ Chicken that you can make on the stove or in a crock pot. This is a super easy recipe that vegans and non-vegans will rave over. It's made with our seitan chicken recipe and homemade BBQ sauce and it's perfect for parties and game day.

This post may contain affiliate links which won't change your price but will share some commission.
Hi there! We're Linda and Alex, the mother daughter duo and creators of Veganosity. Thanks for visiting us, we're so happy you're here. If you're looking for Southern inspired vegan comfort food recipes, you've come to the right place.
We love vegan comfort food and we're really good at making it. Take a tour through our site and you'll find all of the recipes that scream, stretchy pants required!
The good news, they're all plant-based recipes, so you don't need to feel guilty eating them. Now sit back, relax, and eat happy. 🙂
Also, in case you didn't know, we're published cookbook authors. We've written two vegan cookbooks that will help you make amazing vegan BBQ (you don't even need a grill) and everyday meals, from breakfast to dessert.
Click on the titles to check them out. GREAT VEGAN BBQ WITHOUT A GRILL
and THE ULTIMATE VEGAN COOKBOOK
.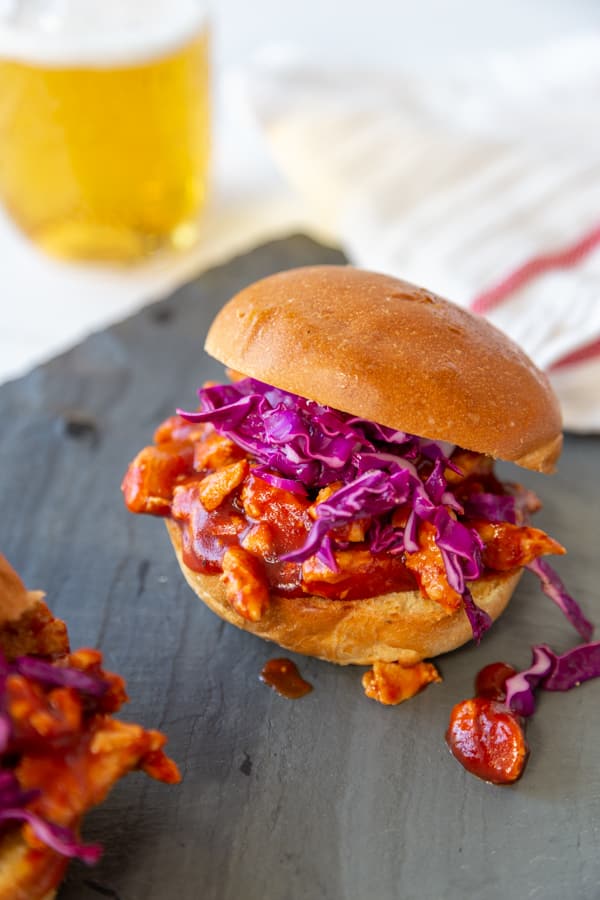 VEGAN SHREDDED BBQ CHICKEN
It's no secret that we love BBQ. Our publisher hired us to write a vegan BBQ cookbook, so we know what we're talking about.
When it comes to making really good barbecue, it's all about the sauce.
There's a different BBQ sauce for every region in this country. Some are made with mustard, others with bourbon, or honey, or a ton of vinegar.
Our favorite sauce is a combination of sweet and spicy with a bit of tang.
We like to taste several different flavors in BBQ sauce, we're not fans of a sauce that tastes flat.
That's why we created our easy homemade BBQ sauce, so we could get a hint of everything we love in one delicious bite.
After the sauce, the "meat" is what matters.
We have used jackfruit, mushrooms, carrots, and sweet potatoes to make pulled BBQ, and all of them work so well.
However, if you're serving pulled barbecue to a meat eater, there's nothing like shredded seitan chicken to satisfy the chewiness of meat.
Our vegan chicken recipe makes an excellent pulled BBQ sandwich, and we're so excited for you to try it.
HOW TO MAKE THE BEST VEGAN PULLED BBQ CHICKEN SANDWICH
STEP ONE
The first thing you'll want to do is make our seitan chicken recipe.
It's so easy, and we recommend making a batch and freezing it for later.
All you'll need to do is whisk the vital wheat gluten and dry spices together, and then add the wet ingredients and stir until it forms a stretchy ball.
Knead it for several minutes and then flatten it and cut it into cutlets.
Steam for an hour and refrigerate until you're ready to use it.
STEP TWO
Make the BBQ sauce.
STEP THREE
Chop the chicken into shreds and put it in a large saucepan or a slow cooker. Add the barbecue sauce and stir until the chicken is completely coated.
Bring to a boil and then reduce the heat and let it simmer for 30 minutes.
Serve it with a cabbage slaw.
HOW TO MAKE VEGAN BBQ IN A SLOW COOKER
Add the shredded seitan chicken and barbecue sauce to the slow cooker and stir to combine.
Cook on the lowest setting for at least 45 minutes.
THE EASIEST VEGAN PULLED CHICKEN BBQ RECIPE
If you're in a huge hurry, feel free to use Gardein Chicken Strips and bottled BBQ sauce.
WHAT TO SERVE WITH VEGAN BBQ
We serve our barbecue on a bun with a pile of cabbage slaw on top. It also goes well with the following:
SOUTHERN-STYLE CREAMY POTATO SALAD 
MORE VEGAN MEAT SUBSTITUTES AND BBQ RECIPES YOU'LL LOVE
SMOKEY SOUTHERN-STYLE MEATLESS MEATLOAF 
VEGAN BREAKFAST SAUSAGE PATTIES
PIN ME!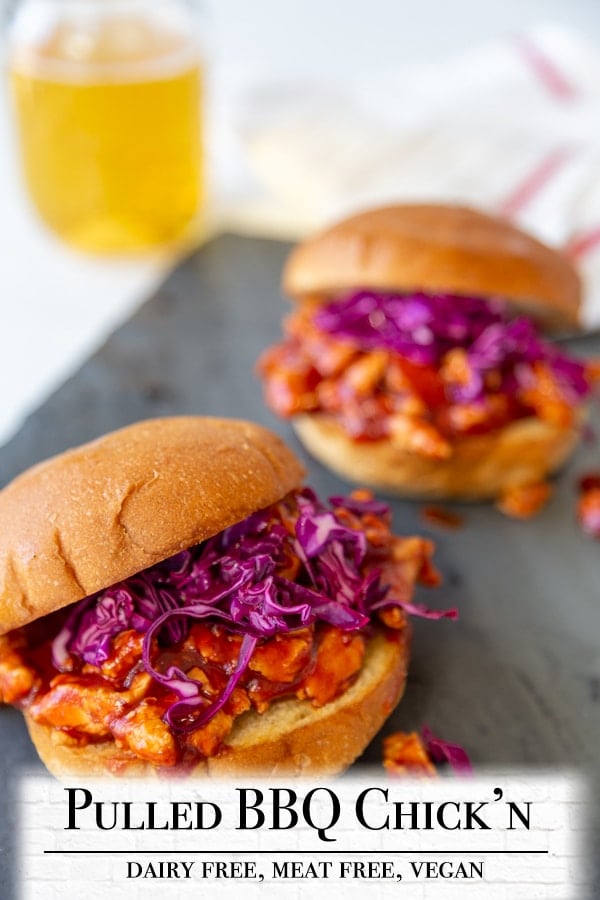 Make our vegan pulled BBQ chicken recipe and let us know what you think. We love to hear from you! And, don't forget to take a picture of your gorgeous creation and tag us @veganosity on Instagram.
Let's connect on Instagram and Twitter. You'll get a peek into our everyday lives in our stories and see what we're sharing in our feed.
And, don't forget to SUBSCRIBE to the blog so you never miss a recipe. Scroll below the recipe or in our side bar to become a Veganosity subscriber.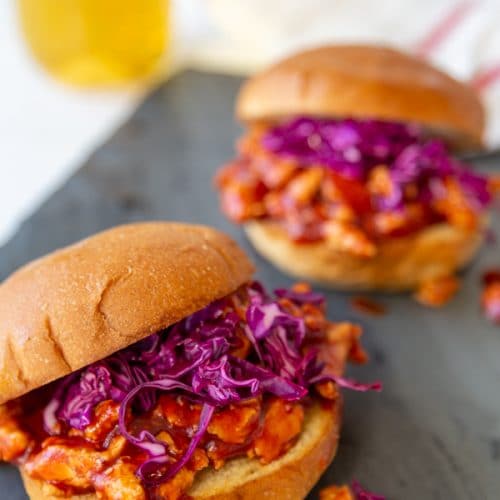 Vegan Pulled BBQ Chicken
Easy seitan chicken and homemade BBQ sauce make a delicious vegan pulled BBQ sandwich.
Print
Pin
Rate
Ingredients
FOR THE SEITAN

2

cups

Vital wheat gluten

1

teaspoon

Garlic powder

1

teaspoon

Onion powder

½

teaspoon

salt

1

tablespoon

chicken seasoning

1

cup

silken tofu

½

cup

water

1

tablespoon

no chicken bouillon paste

1

tablespoon

Worcestershire sauce

FOR THE BBQ SAUCE

1 ½

cups

tomato sauce

¼

cup

apple cider vinegar

2

tablespoon

molasses

¼

cup

coconut sugar you can use brown sugar if you don't have coconut sugar

2

teaspoon

lime juice

1

teaspoon

smoked paprika

1

teaspoon

salt

1

teaspoon

onion powder

1

teaspoon

garlic powder

¼

teaspoon

cumin

¼

teaspoon

black pepper

⅛

teaspoon

cayenne pepper
Instructions
FOR THE SEITAN

In a large bowl, whisk the 2 cups vital wheat gluten with the 1 teaspoon garlic powder, 1 teaspoon onion powder, ½ teaspoon salt, and 1 tablespoon chicken seasoning until they're completely combined.

In a small bowl, whisk the 1 cup tofu, ½ cup water, 1 tablespoon no chicken bouillon paste, and 1 tablespoon vegan Worcestershire sauce until the tofu breaks down into small pieces.

Stir the wet ingredients into the dry and when it forms a ball.

On a clean flat surface dusted with vital wheat gluten, knead the dough for 1 minute then roll or press into a ½ inch thick circle. The dough will keep shrinking, just continue to press it back. If the dough tears, press it back together.

Using a sharp paring knife, cut out the chicken cutlets. You can decide on how small or large you want them to be.

Place a steaming basket in a large pot and fill with water until the water is just below the basket. You don't want water to touch the cutlets. Bring the water to a boil.

Spray a light coating of oil on the basket to prevent the cutlets from sticking and place the cutlets on the basket. If you need to layer the cutlets, spray a light coating of oil on the bottom layer so they don't stick together.

Reduce the water to a simmer, cover the pot, and steam for 30 minutes.

Remove the cutlets from the pot and refrigerate for at least an hour. This will let the seitan develop a better texture.

FOR THE BBQ SAUCE

Put all of the ingredients in a small saucepan and whisk until completely combined. Bring the sauce to a boil, then reduce to a low simmer and simmer for 20 minutes.

TO MAKE THE PULLED BBQ

Slice 3chicken cutlets into thin strips or use a fork and pull into shreds.

Place the vegan chicken in a large saucepan and cover with the BBQ sauce. Bring to a boil and then reduce the heat to a low simmer for approximately 30 minutes.

Pile on a bun and top with slivered cabbage or slaw.

FOR THE SLOW COOKER

In a medium bowl, whisk the BBQ sauce ingredients together until fully combined.

Put the shredded chicken and BBQ sauce in the slow cooker and stir until the sauce covers the chicken.

Set the slow cooker on the lowest setting and cook for at least 45 minutes.

Enjoy!
Notes
NUTRITION DISCLAIMER
Please note that this makes 4 sandwiches; however, this will depend on how large or small you make your sandwiches. 
Nutrition
Serving:
10
oz
|
Calories:
318
kcal
|
Carbohydrates:
26
g
|
Protein:
48
g
|
Fat:
3
g
|
Saturated Fat:
1
g
|
Sodium:
2051
mg
|
Potassium:
623
mg
|
Fiber:
2
g
|
Sugar:
13
g
|
Vitamin A:
696
IU
|
Vitamin C:
8
mg
|
Calcium:
139
mg
|
Iron:
5
mg