This delicious vegan potato salad from our cookbook, GREAT VEGAN BBQ WITHOUT A GRILL is so creamy, so flavorful, and so perfect for summer parties. It's one of our favorite potato salad recipes, and we know that you're going to love it just as much as we do.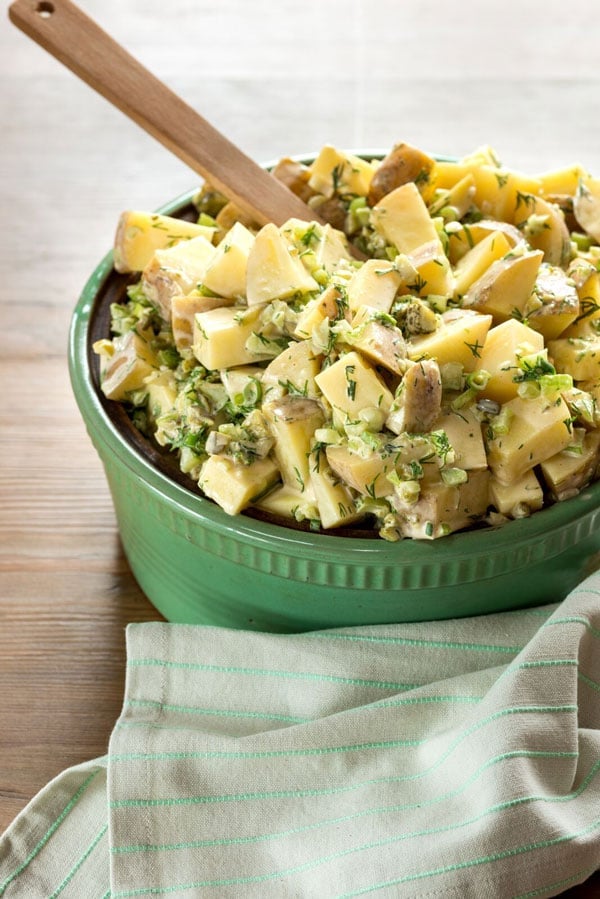 Photo Credit: Kelly Allison Photography
Okay, I'm just going to say it, this is truly the best potato salad EVER! This isn't a claim that I take lightly, and I really don't like to make huge blanket statements like this, however, our creamy vegan potato salad IS the best, and so it had to be said.
What makes it so dang delicious? Many things.
First of all, the way we cook the potatoes is essential to getting the perfect texture for perfect potato salad. We cover whole (do not cut them) potatoes with cold salt water and then bring the water to a boil. Starting with cold salty water will ensure that your potatoes are super creamy. Trust us on this, we've tested the theory and it works.
The second thing that makes our Southern-style potato salad so good is pickles. Pickle juice and chopped dill pickles lend so much flavor and crunch. The tanginess of the pickles and the mild and creamy potatoes are the ultimate partners when it comes to making a good salad great.
The third thing that elevates our creamy vegan potato salad over all other recipes is that it's made with love. It's a recipe that has been passed down from generation to generation and there is so much love in it that it will make your heart grow even bigger than it already is.
Here's another great thing about our vegan potato salad with pickles, it's fairly easy to make. Aside from having to boil the potatoes, chop a few veggies, and mix up the creamy sauce, it's really a less than challenging recipe.
We made the dressing from ingredients you probably have in your home already. If you have vegan mayonnaise (we love JUST brand), Dijon mustard, white wine vinegar, and some everyday spices, you can make the creamy dressing that binds the potatoes and the vegetables to make one fantastic potato salad.
Photo Credit: Kelly Allison Photography
Let's take a quick look at how to make it.
First – Boil the potatoes until they're just fork tender. You don't want them to be mushy or you'll end up with mashed potatoes.
Second - In a small bowl, whisk the mayonnaise, mustard, pickle juice, vinegar, sugar, garlic powder and onion powder until fully combined.
Third – Cut the potatoes into bite size pieces and put in a large bowl. Add the chopped celery, pickles and green onions and fold in the dressing until the potatoes are fully coated. Sprinkle with some paprika and refrigerate for a few hours until it's chilled.
We love to serve our Southern creamy potato salad with our vegan ribz, our pulled BBQ, and just about every single recipe in our cookbook, GREAT VEGAN BBQ WITHOUT A GRILL. We can't wait for you to make this! It will be your go to recipe for all of your summer get togethers.
Make this recipe and come back and let us know what you think. And don't forget to take a picture of your gorgeous creation and tag us @veganosity on Instagram!
BUY OUR COOKBOOK! CLICK THIS LINK TO READ MORE ABOUT THE OVER 70 MOUTHWATERING RECIPES THAT YOU'LL FIND IN OUR COOKBOOK. CLICK THIS LINK TO PURCHASE.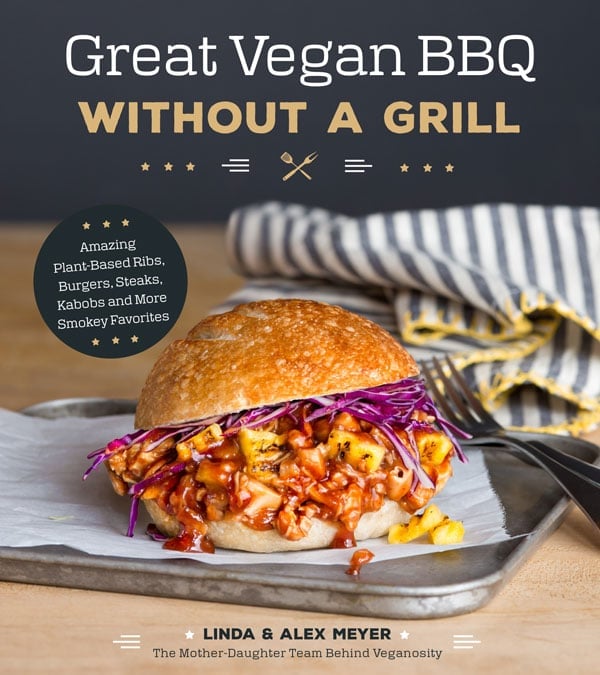 Photo Credit: Kelly Allison Photography
Take a look at some of the wonderful reviews that other vegan food bloggers have written about the cookbook and get a few more recipes to try from the book.
Cheddar Stuffed Beet Burger review by The Vegan Pact
"Great Vegan BBQ Without a Grill by the mother/daughter dream team over at Veganosity is the BEST vegan cookbook I have ever created recipes from. And yes, I still love all the classics that everyone says are the most amazing. Oh She Glows, Nom Yourself, Thug Kitchen. But EVERY. SINGLE. RECIPE in this BBQ book totally blew me away."
Texas BBQ Brisket by Allergylicious
"I seriously never thought I'd like jackfruit based off of past experiences but I'd eat it every day if it tastes like this. It's just loaded with so much flavor and smokiness that it will fool most people into thinking this brisket was the real deal, cooked on the grill or in a smoker. It'll make Texans proud!"
Pulled Shiitake Mushroom BBQ review by Beautiful Ingredient
"this recipe knocked my socks clean off. Full of flavor and texture while being simple to make, this is just one of many recipes from this cookbook that I have trouble keeping my socks on with. The steps throughout the book are easy to follow and tackle, with big, bold, beautiful results."
Creamy Vegan Potato Salad
This simple creamy vegan potato salad with dill is a classic. The perfect side dish.
Print
Pin
Rate
Ingredients
3

pounds

Yukon Gold potatoes

2

tablespoon

ground sea salt

1

cup

vegan mayonnaise

2

tablespoon

Dijon mustard

2

tablespoon

dill pickle juice

1

teaspoon

white wine vinegar

½

teaspoon

sugar

¼

teaspoon

garlic powder

¼

teaspoon

onion powder

¾

cup

finely chopped dill

1

cup

dill pickle

finely chopped

2

ribs celery

finely diced

4

green onions

finely chopped

1

teaspoon

paprika
Instructions
Place the whole potatoes and sea salt in a large pot of cold water (the water should cover the potatoes) and bring to a boil. Don't skip the salt. It's a vital component of the cooking process, as it allows the starch in the potatoes to fully cook, resulting in a creamier potato.

Once the water is boiling, cook for approximately 12 to 15 minutes or until the potatoes are fork tender. You should be able to pierce them with a fork, but they shouldn't be fall-apart soft, so test them frequently.

Dreain the water and let the potatoes cool until you can safely handle them, approximately 10 to 15 minutes. Cut them into bite-size pieces and put them in a large serving bowl.

In a small bowl, whisk the mayonnaise, mustard, pickle jice, vinegar, sugar, garlic powder, and onion powder until fully combined. Add to the potatoes, along with the choped pickle, celery and green onions. Stir until the ingredients are fully combined and the potatoes are coated in the mayo mixture.

Sprinkle with the paprika and chill in the refrigerator before serving.
Nutrition
Serving:
1
cup
|
Calories:
324
kcal
|
Carbohydrates:
34
g
|
Protein:
4
g
|
Fat:
18
g
|
Saturated Fat:
2
g
|
Polyunsaturated Fat:
1
g
|
Monounsaturated Fat:
1
g
|
Sodium:
2167
mg
|
Potassium:
825
mg
|
Fiber:
5
g
|
Sugar:
2
g
|
Vitamin A:
607
IU
|
Vitamin C:
39
mg
|
Calcium:
52
mg
|
Iron:
2
mg
Let's connect! Hop on over to our Facebook page and give it a like, and follow us on Instagram and Twitter, and follow us and share this and other Veganosity recipes on Pinterest. We'd be so grateful if you did. If you like this recipe and can't wait to see what we're going to share next, subscribe to Veganosity. Just fill in the subscription box above our picture in the top right corner of the page. And, Alex and I love hearing from you, please leave a comment and let us know what you think of our recipes.