Smoky, spicy black beans and quinoa burger, crispy on the outside and tender on the inside, exactly what a veggie burger should be.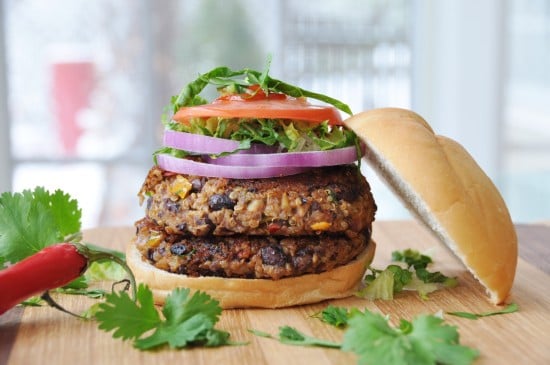 Hey you! Snap out of it, it's just a picture, it's NOT real!
Can you even stand this right now? I apologize up front for torturing you with this double decker vegan spicy black bean quinoa burger. I know, I get it, your mouth is watering, your stomach is roaring, and your hands have suddenly developed a mind of their own as they try to reach through your computer screen to grab this delicious burger. It will be okay. But first, you're going to have to satisfy that killer craving or you will never be the same. Ever. Make one tonight, or…..
In the meantime, let's just try and trick your mind into thinking that you just ate one of these healthy vegan spicy black bean quinoa burgers, so that  you can go on with your day.  Shhhh…..let's whisper so it doesn't catch on.
The minute the sandwich gets close to your mouth your nose will pick up on the subtle smokiness of this delicious burger. As you bite into the crispy outer layer, and then sink your teeth into the tender center, your mouth will come alive with the flavors of spicy chili pepper, chili powder, cumin, red onion, and garlic. There is also a slight burst of freshness from the orange bell pepper and cilantro. And the textures of the creamy black beans and the crispy fried quinoa, my oh my. Add the chewy bun, the juicy tomato, the cool chopped lettuce, the savory red onion, and the spicy sriracha to the flavor party, and you will find yourself eating the crumbs.
This is how you make these pretty patties.
Gather the ingredients.
Make the flax eggs.
Add the flax eggs to the finely chopped bell pepper, onions, chili pepper, beans, quinoa, and spices.
Stir it all up until it looks like this.
Form the batter into patties, then pan fry them until you get this. 
These would be great for a Super Bowl party! Make a bunch of small patties and turn them into sliders.
Linda and Alex at Veganosity
Yields 8-10
Vegan Spicy Black Bean Quinoa Burger
Smoky, spicy black beans and quinoa burgers. Crispy on the outside and tender on the inside, exactly what a veggie burger should be.
30 minPrep Time
10 minCook Time
40 minTotal Time
Ingredients
1 tablespoon of avocado oil + more if needed to coat the pan (optional if you have a non-stick pan)
1 cup of uncooked quinoa + 1 and 1/2 cups of water
1 - 30 ounce or 2 – 15 ounce cans of black beans – drained and rinsed well
2 cloves of garlic - peeled
1/2 of a medium red onion – cut into quarters
1 red chili pepper – seeded
1 orange bell pepper – Seed and cut into quarters. A red or yellow pepper will do
4 stalks of cilantro
3 tablespoons of ground flax seed + 6 tablespoons of water mixed together well
1 tablespoon of chili powder
1 tablespoon of liquid smoke
2 teaspoons of sea salt
1/2 teaspoon of cumin
1/2 teaspoon of cayenne pepper
Pepper to taste
Instructions
Put the quinoa in a fine strainer and rinse well, approximately 3 minutes. Drain and put in a small sauce pan with the water and bring to a boil. Once the water is boiling lower the heat to simmer and cover and cook for 15 minutes. Remove from heat and keep covered for five minutes.
Put 3/4 of the beans in a food processor and blend until they begin to form a ball. Put in a large mixing bowl with the whole beans and rinse the container. Put the bell pepper into the food processor and pulse until it's chopped into fine pieces. Put in a fine strainer and press out the excess water and then transfer to the bowl with the beans. Rinse the container and put the onions, garlic, cilantro, and chili pepper in and pulse until finely chopped. Transfer to the bowl with the beans. Add the spices and liquid smoke to the bowl.
Combine the flax and water and stir until it's a thick and sticky consistency. Pour into the bowl with the beans and stir well to combine. The texture should be thick and very sticky. Scoop out a 1/2 cup of the mixture, roll into a ball, then pat into a patty.
Heat large skillet on medium-high heat, add the oil and spread it evenly throughout the pan. Add the burgers (as many as will comfortably fit the pan, you may have to cook in batches) and cook for approximately 4-5 minutes or until they're nicely browned. Use a spatula to gently flip and cook the other side for the same amount of time.
Note:
Homemade bean burgers are not the same as store bought. They need to be handled with care or they will crack. Also, canned beans can be inconsistent in texture. Some are super dry, so if that's the case you should add a little water to make the patty more cohesive.
You may freeze the patties in a freezer proof container for 1 month.
7.6.7
83
https://www.veganosity.com/vegan-spicy-black-bean-quinoa-burger/
Pair this burger up with our Cuban sweet potato fries!