This recipe is for all of you who weren't born vegan and are missing a meaty pulled BBQ sandwich without the meat. Jackfruit is the magic ingredient that lets you have your vegan BBQ pulled pork and eat it too.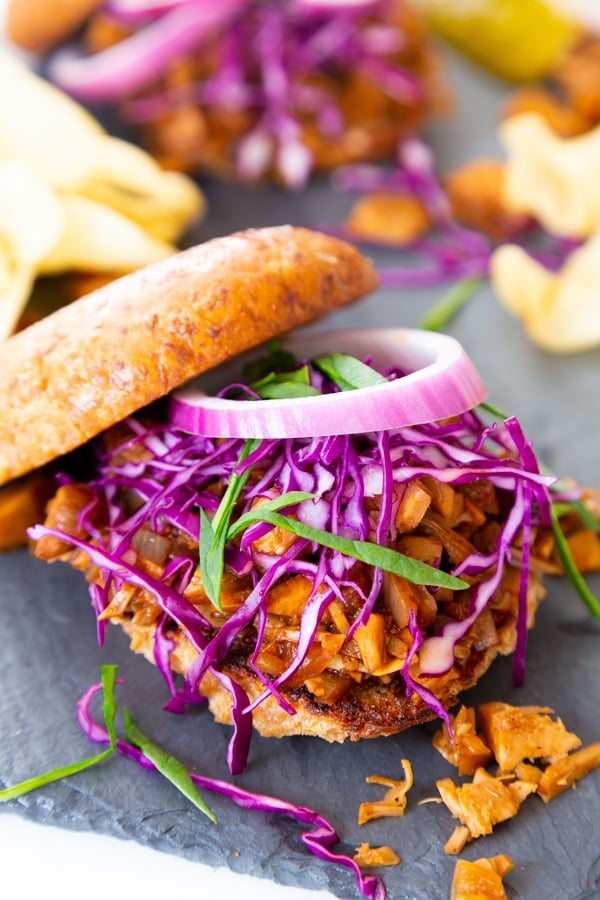 This post may contain affiliate links which won't change your price but will share some commission.
Hi there! Thanks for visiting us, we're so happy you're here. If you're looking for Southern inspired vegan comfort food recipes, you've come to the right place.
We love vegan comfort food and we're really good at making it. Take a tour through our site and you'll find all of the recipes that scream, stretchy pants  required!
The good news, they're all plant-based recipes, so you don't need to feel guilty eating them. Now sit back, relax, and eat happy. 🙂
GREAT VEGAN BBQ WITHOUT A GRILL

Happy one year anniversary to Great Vegan BBQ Without a Grill
It's been one year since our first cookbook was published and it still feels like a dream.
Two years ago our editor from Page Street Publishing asked us if we'd be interested in writing a cookbook. We jumped at the chance because it was always a dream of ours to write a book, and we didn't even have to shop around for a publisher!
One year later and we've written a second cookbook, The Ultimate Vegan Cookbook: The Must-Have Resource for Plant-Based Eaters
, and our blog has grown tremendously. We couldn't be more grateful to all of you, because without you, our dear readers, none of this would have happened. So, thank you! 
VEGAN BEER BRAISED PULLED JACKFRUIT
To celebrate our anniversary, we're sharing this easy vegan BBQ jackfruit recipe from the book. We hope you love it as much as we do!
WHAT IS JACKFRUIT?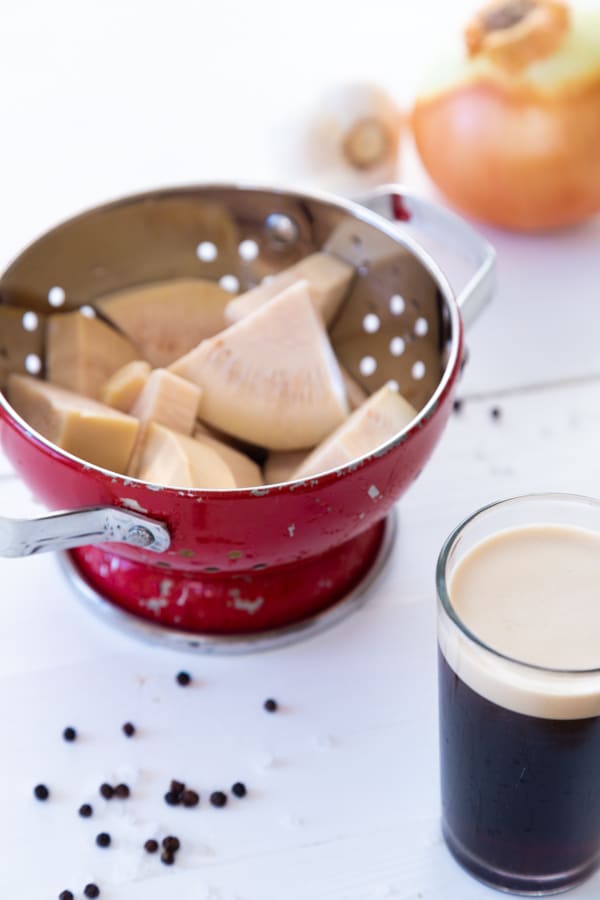 Jackfruit is a gigantic fruit that grows in Asian and some African countries. It's full of fiber and incredibly versatile. You can make sweet or savory recipes with it, and young green jackfruit is a great meat substitute.
The jackfruit tree is quite amazing. It's resistant to pests, drought, and high temperatures, and it can yield up to three tons of fruit a year, which means good things for farmers and the environment.
IS JACKFRUIT HEALTHY?
Yes! Jackfruit is a great source of essential nutrients, such as protein, potassium, calcium, and iron.
It's also a good source of vitamin C. That's good because plant-based foods that are rich in iron should be consumed with vitamin C for best absorption.
It has a good amount of B-complex vitamins, niacin, riboflavin, and folic acid.
HOW DO YOU MAKE VEGAN PULLED PORK WITH JACKFRUIT?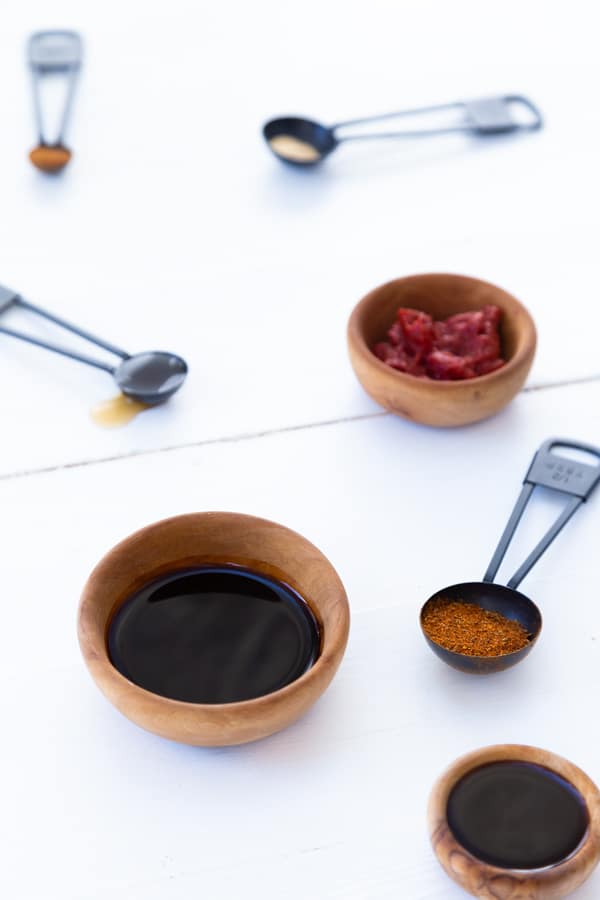 The key to turning jackfruit into a dish that is similar to pork or chicken is using the spices and ingredients that you used to use to get meat to taste exciting.
I mean, let's be real, chicken or pork on it's own was not exciting. It was bland and pretty much flavorless. They needed spice and other flavors to make them taste good. This is why we love jackfruit so much. If you use the right spices it will soak up the flavors, and the texture is surprisingly similar to meat.
USE YOUNG GREEN JACKFRUIT PACKED IN WATER
Young green jackfruit typically comes in a can. You drain the liquid and rinse, rinse, rinse. We also like to squeeze the excess water out of the jackfruit and then rinse again and squeeze one more time.
Here's the jackfruit we like to use.

2. Once that's done, it's time to chop the jackfruit or pulse it in a food processor so it will shred easily once it's cooked. You can also use your hands to shred it if you have the time.
3. cook the onions until they're translucent then add the beer and garlic cloves and bring to a boil. Add the jackfruit and cook until two-thirds of the beer is reduced, approximately 10 minutes. Reduce the heat to simmer and let cook for approximately 5 more minutes.
HOMEMADE BBQ SAUCE IS BETTER THAN STORE BOUGHT
Our homemade BBQ sauce is so easy to make and has a lot less sugar than store bought. However, if you're in a hurry, you can certainly use your favorite sauce.
4. Make the BBQ sauce now, or you can make it first.
5. Add the sauce to the jackfruit and stir until it's completely incorporated. Turn the heat to the lowest setting and let simmer for 20 minutes so the jackfruit will absorb the flavors.
That's it. Now just pile that BBQ jackfruit on a bun and top it with something fresh.
TOPPINGS FOR BBQ 
We love putting toppings on our BBQ sandwiches. Here are some ideas for you.
Thinly sliced cabbage 
Arugula
Pickles
Chopped greens
Sliced red onion
Use your imagination, the sky's the limit when it comes to toppings. We topped these easy vegan BBQ jackfruit sandwiches with red cabbage and spinach. It's super easy and fresh, and the cabbage adds a bit of crunch.
WHAT SHOULD I SERVE WITH BBQ SANDWICHES?
There are so many kinds of side dishes that you can serve with BBQ, here are a few of our favorites.
Cole Slaw, this one or the delicious one in our cookbook works, too.
Potato Chips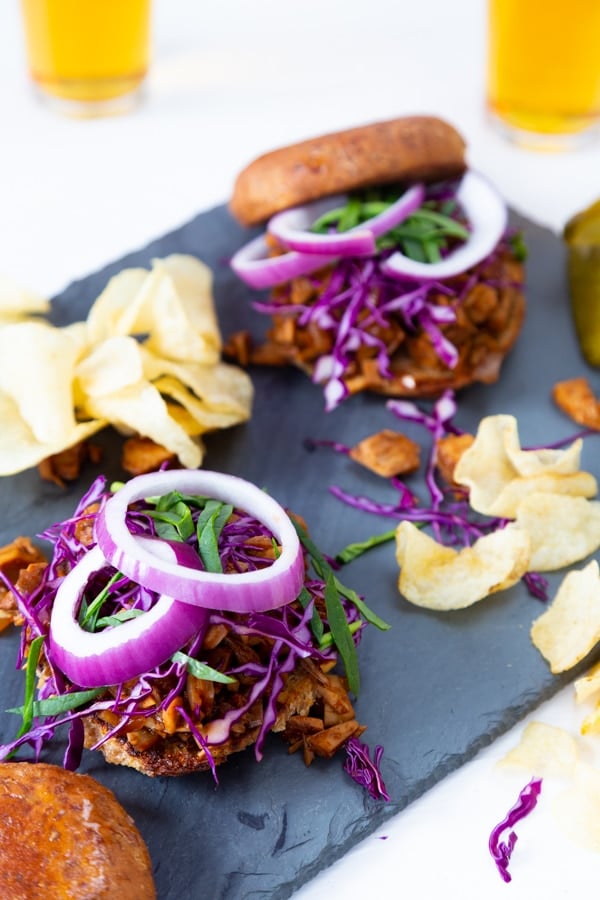 Make our jackfruit BBQ sandwiches and let us know what you think. We love to hear from you! And, don't forget to take a picture of your gorgeous creation and tag us @veganosity on Instagram.
Let's connect! Hop on over to our Facebook page and give it a like, and follow us on Instagram and Twitter, and follow us and share this and other Veganosity recipes on Pinterest.
We'd be so grateful if you did. If you like this recipe and can't wait to see what we're going to share next, subscribe to Veganosity. Just fill in the subscription box above our picture in the top right corner of the page. And, Alex and I love hearing from you, please leave a comment and let us know what you think of our recipes.
CLICK ON THE PHOTO TO ORDER OUR COOKBOOK! JUST IN TIME FOR SPRING AND SUMMER BARBECUE SEASON. 

Vegan Beer Braised Pulled Pork
Simmering jackfruit in beer gives it a rich umami flavor that goes perfectly with the earthy and savory sauce. Eat is alone or with a bun and toppings. It's easy to make and easier to eat!
Print
Pin
Rate
Ingredients
FOR THE SAUCE
3

tablespoon

balsamic vinegar

1

tablespoon

vegan Worcestershire sauce

1

tablespoon

tomato paste

¼

teaspoon

maple syrup

½

teaspoon

garlic powder

1

teaspoon

chili powder

⅛

teaspoon

cinnamon
Instructions
In a medium bowl, whisk the balsamic vinegar, Worcestershire sauce, tomato paste, maple syrup, garlic powder, chili powder and cinnamon until fully combined to make the sauce.

Drain and rinse the jackfruit and coarsely chop until it resembles pulled meat. You could also use a food processor and pulse 6 to 8 times or shred it with your hands.

In a Dutch oven or a deep stock pot, heat the oil on medium heat. When the oil is hot, add the onion and cook, stirring frequently, until it becomes translucent, approximately 5 minutes.

Pour the beer into the pot, add the garlic cloves and bring to a boil. Add the jackfruit and stir. Cook until the beer is reduced by two-thirds, approximately 10 minutes. Reduce the heat to a low simmer and let the remaining liquid cook until it's mostly evaporated, about 5 to 7 minutes.

Add salt and pepper to taste, then add the sauce. Stir until the jackfruit is completely coated. Turn the heat to the lowest setting and let simmer for 20 minutes, stirring frequently. Remove the garlic cloves.

Serve on a bun and top with one or more of the toppings suggested in the post.

Enjoy!
Notes
• The Nutrition Facts are an ESTIMATE only.
• Do not use fresh ripened jackfruit or canned jackfruit in brine. For the best results, use young green jackfruit packed in water.
Nutrition
Calories:
342
kcal
|
Carbohydrates:
66
g
|
Protein:
5
g
|
Fat:
4
g
|
Saturated Fat:
0
g
|
Cholesterol:
0
mg
|
Sodium:
322
mg
|
Potassium:
363
mg
|
Fiber:
3
g
|
Sugar:
6
g
|
Vitamin A:
260
IU
|
Vitamin C:
5.4
mg
|
Calcium:
158
mg
|
Iron:
2.5
mg