This spring spinach and strawberry salad is so fresh, crisp, light, healthy, and flavorful. Eat it for breakfast, lunch, and dinner. 
If you're like me, you like a good salad for breakfast, and of course you want a salad for lunch. Who wouldn't want a salad for lunch? And even if you want something a little more substantial for dinner, a side salad is always expected to make an appearance. After all, it's almost summer people.
Midwesterners have a few months until we can start picking our own veggies and fruit from our gardens, and strolling through local farmers markets, but our supermarkets are starting to stock some pretty awesome spring produce, and I'm taking advantage of that right now.
My refrigerator is welcoming strawberries back as a staple fruit, and hanging out right next to them is a big container of dark green spinach leafs. How perfect! If the sight of those two beauties don't scream salad, nothing will.
This spring spinach & strawberry salad is so fast and easy to make, not to mention, it's super healthy. It's a great way to get iron, vitamin C, and vitamin A, as well as a ton of antioxidants. And, did you know that one cup of spinach is only seven calories and one strawberry is only four? Say what! Chomp away my friend, chomp away.
Putting this salad together is a cinch, just add six cups of spinach, twelve sliced strawberries, four chopped dates, slice half of a red onion, and top with a cup of walnuts. The dressing is also quick and easy. Whisk or shake together some fresh tarragon, lemon juice, apple cider vinegar, olive oil, salt, pepper, and a pinch of sugar. Toss it all together and voilà! Yum, yum, yum.
If you want a single serving salad you can reduce the amount of everything, make the dressing (save the remainder for later), and enjoy your single serving. You could also stack the ingredients in a mason jar and take it with you.
You can look forward to many more salad ideas from Veganosity over the next few months, because if you haven't figured it out by now, warm weather salads are my jam.
How about you, do you like fresh salads as much as I do?
What's your favorite salad?
Do you have a favorite that you need veganized? We're up to the challenge, let us know and we'll try to make it for you.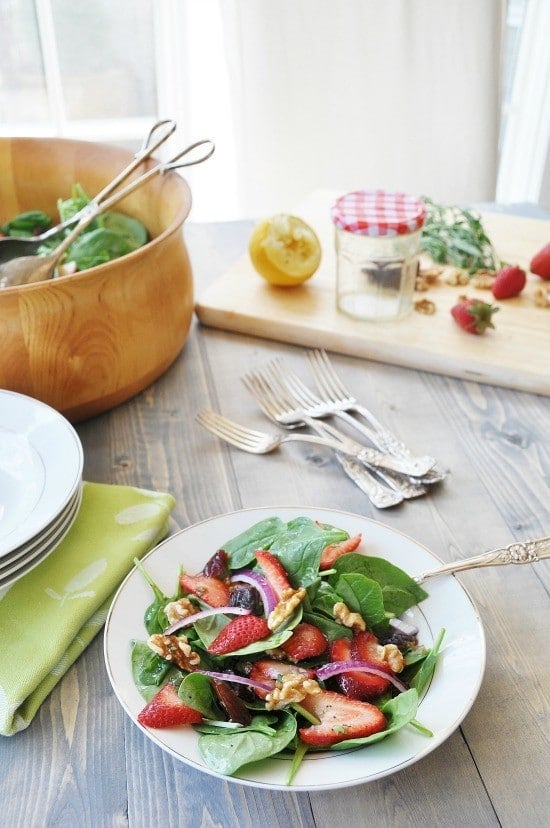 Linda and Alex at Veganosity
Yields 6
Spring Spinach & Strawberry Salad
Fresh spinach and strawberries, date, red onion, and walnuts, with a tart tarragon dressing. Delicious!
15 minPrep Time
15 minTotal Time
Ingredients
6 cups of baby spinach leaves
12 strawberries – cored and sliced
1/2 of a red onion – thinly sliced
Four dates – pitted and chopped
1 cup of walnuts
1 tablespoon of minced fresh tarragon
2 tablespoons of lemon juice
1/2 cup of apple cider vinegar
2 tablespoons of extra virgin olive oil
1/2 teaspoon of sugar
1/2 teaspoon of poppy seeds
Salt and pepper to taste
Instructions
Add the spinach to a large bowl and top with the strawberries, onion, dates, and walnuts.
Dressing – Add the tarragon, lemon juice, vinegar, olive oil, sugar, and salt and pepper to a bowl or a jar with a lid and whisk or shake until well blended.
Put the dressing on the salad and toss to coat.
Store leftovers in an airtight container for one day.
7.8.1.2
123
https://www.veganosity.com/spring-spinach-strawberry-salad/