Easy, fun, and yummy dairy-free easy vegan Easter eggs! We created a vegan chocolate peanut butter cup egg and a coconut filled egg for you to make for your family and friends! We also show you how to make a solid vegan chocolate Easter bunny.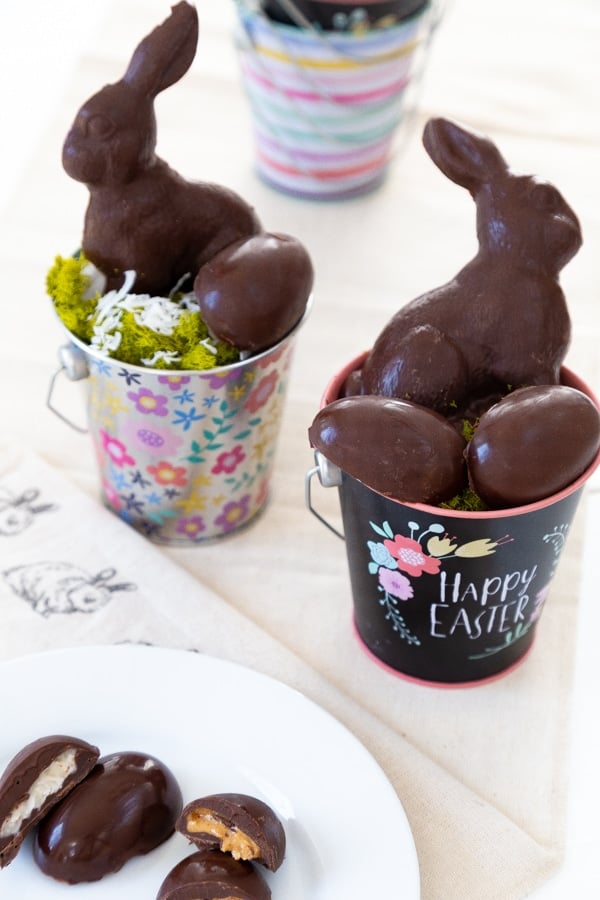 This post may contain affiliate links which won't change your price but will share some commission.
Hi there! Thanks for visiting us, we're so happy you're here. If you're looking for Southern inspired vegan comfort food recipes, you've come to the right place.
We love vegan comfort food and we're really good at making it. Take a tour through our site and you'll find all of the recipes that scream, stretchy pants  required!
The good news, they're all plant-based recipes, so you don't need to feel guilty eating them. Now sit back, relax, and eat happy. 🙂
Do You Want to Make Easy Vegan Easter Candy?
Finally! It's been five years since we've been able to have peanut butter filled and coconut filled chocolate Easter eggs. We used to devour Reese's eggs and Almond Joy's right around Easter, not to mention jointly devouring a giant dairy-free chocolate Easter bunny. Since going vegan, that tradition fell by the wayside. After all, finding vegan versions in stores can be really difficult.
Thankfully, this year will be different, because we got our acts together and made our own. Why it took us so long, we'll never figure out, because this wasn't just easy, it was so much fun!
It seriously took all of 15 minutes to get the first coating of chocolate in the molds, and then another 15 minutes to freeze the chocolate before adding the filling and the final layer of chocolate.
Once we did that, we popped them back in the freezer and they were ready in about 20 to 30 minutes.
So, let's get right into this so you can make vegan chocolate filled Easter eggs for your family and friends.
What Will You Need to Make Homemade Chocolate Filled Easter Candy?
The first thing you'll need to do is purchase the candy molds. We chose to use egg shaped molds and the classic bunny. How adorable are the silicone molds below! Unfortunately, we didn't find them until after we photographed the photos for this post, but the simple plastic ones we used worked just fine.
Click the images to shop.
Another thing you'll need is vegan chocolate chips. You could spend a lot of time using baker's chocolate, adding oil,sugar, and other ingredients, but why? This is so much easier. We use Enjoy Life chocolate chips. It melts beautifully in the microwave or in a double boiler on the stove.

For the fillings, you'll need:
natural peanut butter (We prefer brands that only uses peanuts and salt)
unsweetened shredded coconut
powdered sugar
condensed coconut milk
pure vanilla extract
How to Make Them
Melt the chocolate until it's smooth and silky.
Use a spoon to paint a thin layer of chocolate on each egg mold. You want it to be thick enough to cover, yet not so thick that you won't have room for the filling and final layer of chocolate.
Freeze the chocolate for 15 minutes or until it's solid.
While the chocolate is setting, make the peanut butter and coconut fillings.
Fill the center of the eggs with the fillings. We filled half with peanut butter and half with the coconut filling.
Cover the filling with chocolate and freeze for about 20 minutes, or until it sets.
Pop the eggs out of the molds over parchment paper. Try and get the mold as close to the paper as you can so you don't chip the chocolate or break the eggs.
Here you can see our exact process of making our awesome dairy-free and vegan Easter chocolates!
Solid Chocolate
Lucky for you, we've also created solid chocolate bunnies! Fun Tip: make giant versions of our peanut butter cups or almond cups by using the same chocolate egg process, but in the rabbit mold.
Fillings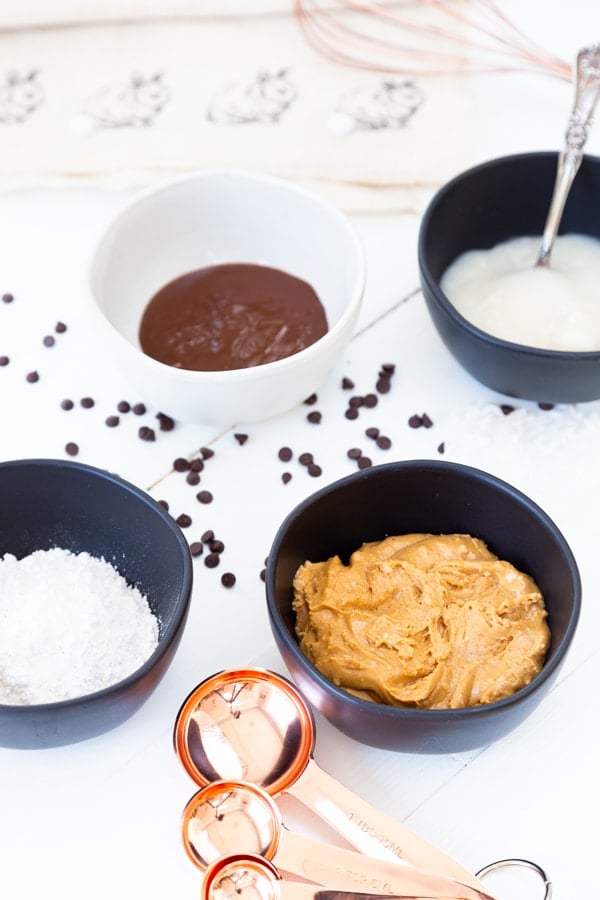 Two of the most popular chocolate Easter candy fillings are peanut butter and coconut. We love both equally, so we made both. Both are easy and both are delicious!
How do You Make Filling for Vegan Peanut Butter Cups?
Put one cup of peanut butter in a bowl and stir in the powdered sugar until you get the consistency that you desire. If you like a thinner filling, add less sugar, if you like a solid filling, add more. If your powdered sugar is lumpy, use a sifter to make it smooth.
How do You Make Filling for Vegan Almond Joy?
Put the coconut, condensed coconut milk, vanilla, and a pinch of salt in a bowl and stir until well combined.
Don't Like Peanut Butter or Coconut?
Whether you're allergic to coconut and peanuts, or just don't them, there are plenty of alternative fillings to use! You can also fill the eggs with fruit preserves, our date caramel, our vegan dark chocolate chip cookie dough, our oil-free dark chocolate brownie hummus, or just fill the whole mold with chocolate!
Can You Freeze Them?
Yes! Make sure to wrap it in a freezer safe bag or container and you can freeze it for up to 3 months. Store it in the refrigerator for up to 1 week.
Make our homemade Easter candy and let us know what you think. We love to hear from you! And, don't forget to take a picture of your gorgeous creation and tag us @veganosity on Instagram.
Let's connect! Hop on over to our Facebook page and give it a like, and follow us on Instagram and Twitter, and follow us and share this and other Veganosity recipes on Pinterest.
Easy Vegan Easter Eggs-Reese's & Almond Joy Copycat
An easy vegan Easter candy recipe made with chocolate, peanut butter, and or coconut.
Print
Pin
Rate
Equipment
1 chocolate candy egg mold

1 chocolate candy bunny mold

1 microwave or stove
Ingredients
20

ounce

vegan chocolate chips
FOR THE PEANUT BUTTER FILLING
1

cup

natural peanut butter

see note

¼

cup

powdered sugar

see note
For the Coconut Filling
½

cup

flaked unsweetened coconut

2

tablespoon

powdered sugar

2

tablespoon

sweetened condensed coconut milk

1

teaspoon

pure vanilla extract
Instructions
FOR THE PEANUT BUTTER FILLING
In a small bowl, stir the peanut butter and powdered sugar together until it's completely combined.
FOR THE COCONUT FILLING
In a small bowl, stir the coconut, powdered sugar, vanilla, and condensed milk together until combined.
FOR THE CHOCOLATE
Melt the chocolate in the microwave for approximately 4 to 5 minutes, stirring every minute, until it's smooth and silky. You can also melt on the stove in a double boiler.

Spoon a thin layer of chocolate into the molds so the eggs and/or rabbit are covered. You don't want it too thin or so thick that you can't fill them. Freeze for 15 minutes.

Take the molds out of the freezer and fill with the fillings. We made half peanut butter and half coconut. Then cover the filling with the remaining chocolate and freeze for approximately 20 minutes, or until the chocolate is completely set.

Gently pop the eggs/rabbit out of the mold over parchment paper. Keep the mold as close to the paper as possible so they don't have too far to drop.
Notes
• Add the powdered sugar one tablespoon at a time to the peanut butter until you get the consistency you desire. If the sugar is lumpy, use a sifter to smooth it out.
• Store in the refrigerator for up to 7 days.
Freeze in a freezer safe container for up to 2 months. Thaw in the refrigerator. 
Nutrition Disclaimer
Nutrition
Serving:
30
g
|
Calories:
409
kcal
|
Carbohydrates:
38
g
|
Protein:
9
g
|
Fat:
30
g
|
Saturated Fat:
14
g
|
Polyunsaturated Fat:
3
g
|
Monounsaturated Fat:
5
g
|
Sodium:
100
mg
|
Potassium:
166
mg
|
Fiber:
5
g
|
Sugar:
28
g
|
Vitamin C:
1
mg
|
Calcium:
72
mg
|
Iron:
4
mg