Let us show you how to make Flaky Vegan Pie Crust! It's easy, it's delicious and tender, and it's completely plant-based.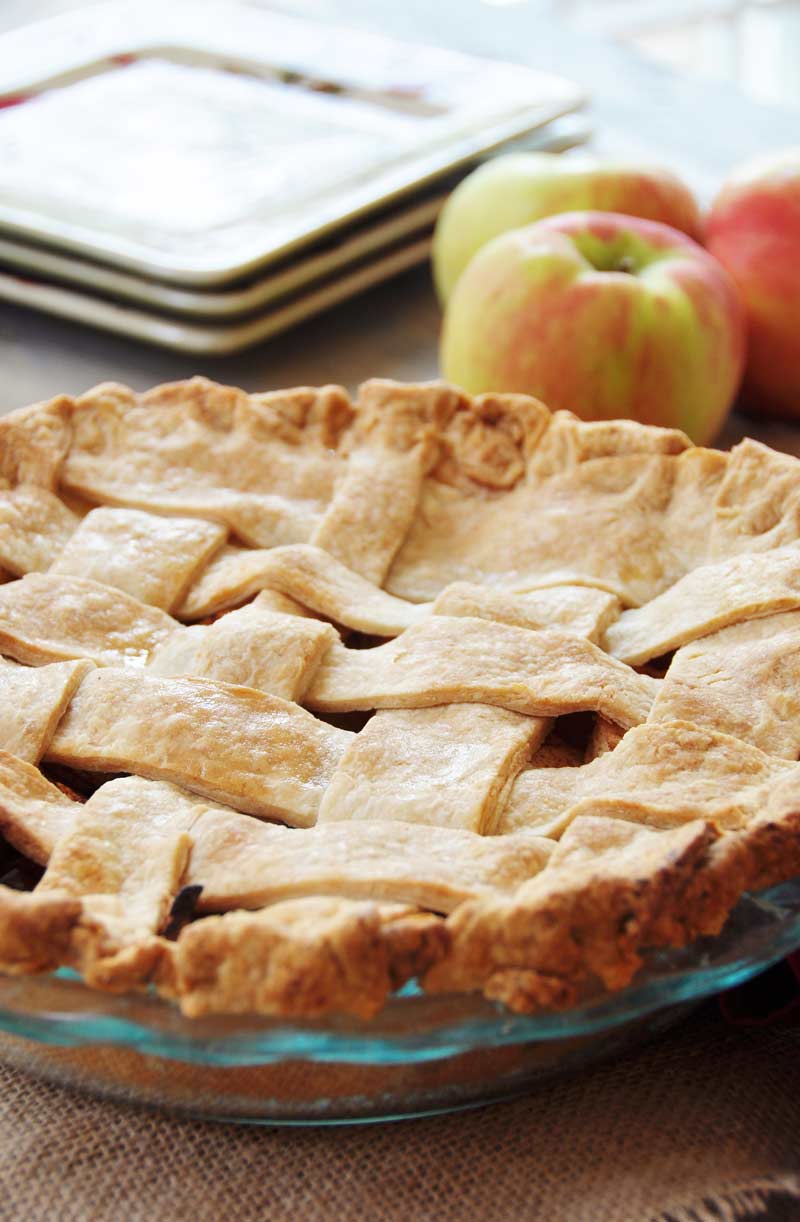 Are you afraid to make your own pie crust? Don't be, it's not hard, in fact, it's actually really easy. Besides, you shouldn't take even the tiniest bite of most store bought pie crust, especially if you're a vegan, because many are made with lard or trans fats. Yuck!
I want you to be healthy and eat really good pie, so I've created a how to make flaky vegan pie crust step-by-step video tutorial for you. This is huge you guys! First, I hate seeing myself on camera, second, I had to teach myself how to edit this movie, and third, I had to talk to a camera. Do you know how hard it is to talk to something that doesn't give you a response?
I hope this video will inspire you to make your own flaky vegan pie crust this holiday season. Trust me, you're going to be so happy that you did.
Here are a few tips:
Cut your refrigerated vegan butter and shortening ( I use Earth Balance brand because it's free of trans fats) into small cubes and stick them in the freezer while you're measuring the flour, salt, sugar, apple cider vinegar, and ice water. The colder the butter and shortening the better.
Don't over beat the flour, butter, and shortening. You want to see pieces of the butter and shortening, they shouldn't melt into the dough.
You can use a food processor but I prefer using my mixer. It just makes a flakier crust.
For some reason my camera stopped recording when I cut the edges of the pie crust away from the pie plate. Use a sharp knife to trim away the dough that hangs over the pan.
Whether you make a lattice crust or a solid crust on top, pinch the bottom and top crusts together all the way around the pan to seal. If you make a solid top, slice a few slits on top to allow steam to escape.
Brush a little olive oil and sprinkle some sugar on the top of the pie for the last ten minutes of baking for a nice golden crust.
Don't eat all of your pie in one sitting. 😉
https://www.youtube.com/watch?v=h8C-SqVt9Z4
Look for my apple pie recipe tomorrow!
Do you like what you've seen so far? I sure hope so! Do me a favor, take a trip over to my Facebook page and give it a like, or follow me on Instagram or Twitter, and follow me and share this and other Veganosity recipes on Pinterest. I'd be so grateful if you did.

Linda and Alex at Veganosity
Yields 1
How to Make Flaky Vegan Pie Crust
Delicious, flaky vegan pie crust.
1 hr, 10 Prep Time
1 hr, 10 Total Time
Ingredients
12 tbsp of chilled vegan butter (I use Earth Balance)
8 tbsp of chilled vegan shortening (I use Earth Balance) SEE NOTE
3 cups of all-purpose flour plus extra for dusting the rolling surface
1 tablespoon of sugar
1 teaspoon of salt
1 teaspoon of apple cider vinegar
6-10 tablespoons of ice water
Instructions
Cut the butter and shortening into small cubes, put them in a bowl and place them in the freezer while you're measuring out the rest of the ingredients.
Put the flour, butter, shortening, sugar, salt, and vinegar in a mixing bowl and mix on medium speed until the butter and shortening starts to break up and the mixture looks lumpy and sandy. Add one tablespoon of water at a time until the dough starts to form a ball.
Remove the dough from the bowl and knead into a disc on a floured surface. Fold the disc in half and knead. Repeat one or two more times until the dough sticks together in a ball. Cover with plastic wrap and refrigerate for an hour.
Break the dough in half and roll one half of the dough out on a floured surface. Lightly flour the top of the dough and the rolling pin. Pick up the dough and turn it and continue the process until it's large enough to cover the pie pan.
Place the bottom layer of crust in the pie pan and trip the excess ends off.
If you need to make a top for the pie, roll out the second half of the dough and cover the filling of the pie with the top. Cut a few slits in the crust to allow steam to escape.
Bake according to the pie instructions. Brush a light layer of olive oil and sprinkle sugar on top of the crust for the last ten minutes of baking for a nice golden color.
Enjoy!
Refrigerate in a sealed container for up to five days or freeze for up to one month.
Notes
If you can't find vegan shortening you can use all vegan butter. I've made it both ways and it works a slight bit better with the shortening, but still great with all butter.
7.8.1.2
106
https://www.veganosity.com/how-to-make-flaky-vegan-pie-crust/
Veganosity is a participant in the Amazon Services LLC Associates Program, an affiliate advertising program designed to provide a means for sites to earn advertising fees by advertising and linking to amazon.com. We make a small commission when you order from Amazon. It helps us afford the groceries to develop all of our recipes, and to pay for the maintenance of our site. We thank you in advance for your consideration.