Crispy Beer Battered Vegan Fish Tacos are made with tender tofu, spices, and a crunchy batter that the whole family will love. Top it with our mango salsa for a fresh and delicious taco or eat it alone as a main course with our creamy coleslaw and home fries.
Published May 26m 2015 and updated April 13, 2021.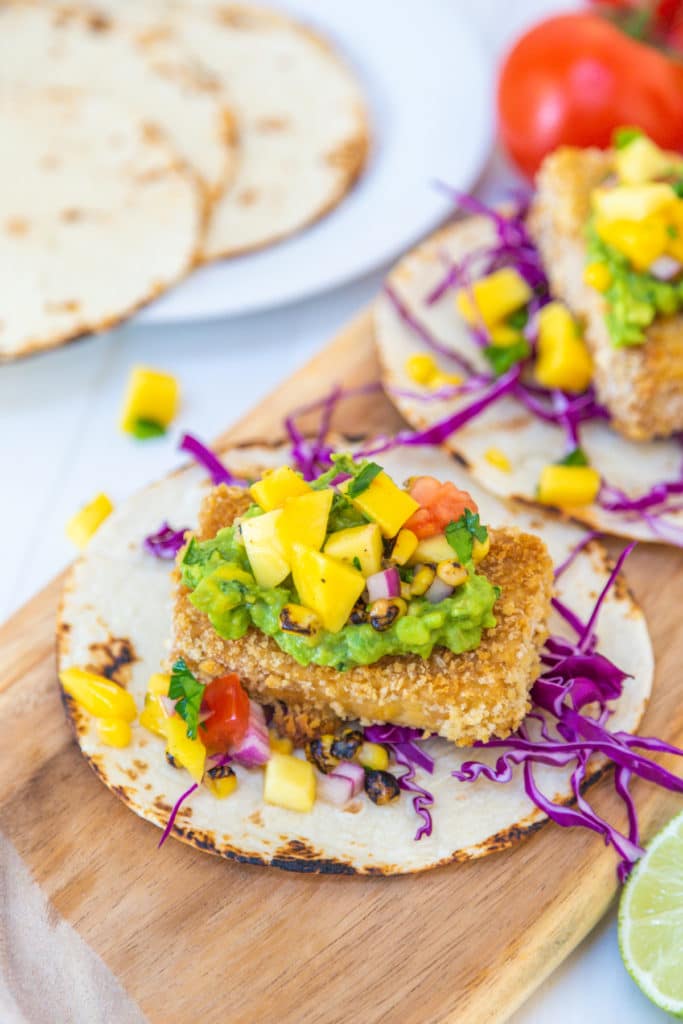 We love vegan Baja fish tacos; they remind us of tropical locations and perfect weather.
Our crispy beer battered vegan fish tacos will make your Taco Tuesday feel like you're on spring break, no matter where you're eating them.
They have a delicious flavor and texture, they're easy to make, and if you pair them with lots of fresh toppings, we guarantee you'll be making them weekly.
Jump to:
More vegan fish recipes you'll love
Jackfruit Tuna-Less Salad Vegan Tuna Salad
Vegan Tuna Salad with beans
Frequently asked questions
What does beer battered mean?
When you use beer as the liquid in creating a flour batter for deep frying, it's called, beer battered. The carbonation in the beer makes the batter lighter and crunchier than batter made without it.
What kind of beer should you use?
We prefer using light vegan lager or pilsner, and definitely not an expensive one. Budweiser is a good choice.
What is a vegan substitute for fish?
Tofu, cauliflower, jackfruit, hearts of palm, or artichoke hearts are all great substitutes for fish.
What makes tofu taste like fish?
We use Old Bay seasoning to get that fish stick flavor. Use can also use nori if you want a strong fish flavor.
How do you get batter to stick to tofu fish?
Make sure that you've pressed as much of the water out of the tofu as possible. Pat the tofu dry with a paper towel, and then dredge it in the flour before dipping it into the beer.
How hot should the oil be before frying?
The oil should be 350˚F (176˚C) before you add the battered tofu. The temperature will go down when the tofu is added, don't increase the heat on the stove.
Can I make this in an air-fryer or oven fry it?
You can, but it won't get as crunchy as it will if you deep fry it.
Why is my batter soggy?
The tofu wasn't dry enough or the oil wasn't hot enough when you fried it.
How do you keep it crispy?
If you're making a big batch of tofu fish, heat the oven to 250˚F (121˚C) and put a wire rack on a baking sheet. Put the fried tofu on the rack to keep it warm and crispy while you make the rest of the tofu fish.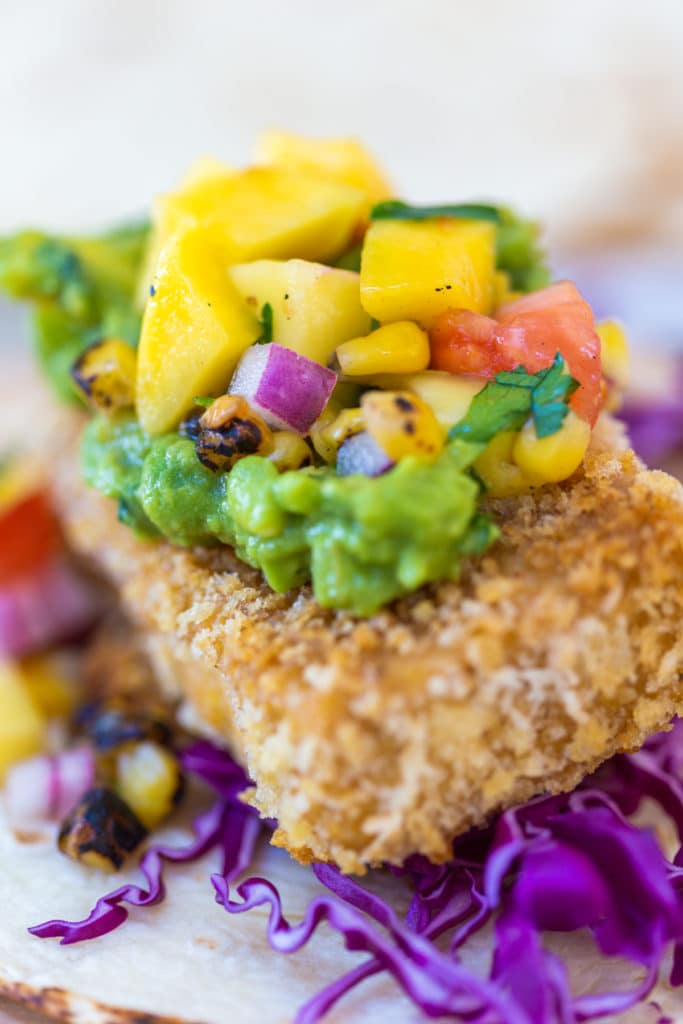 Ingredients and substitutions
Extra-Firm Tofu – Please don't use a softer tofu, such as firm, soft, or silken, the fillets will not hold together.
Substitute with cauliflower or hearts of palm.
All-Purpose Flour – The flour is what binds the batter to the tofu, so don't skip it.
If you need to make this gluten-free, substitute with King Arthur's all-purpose gluten-free flour. We can't guarantee that other flours will work with this recipe.
Old Bay Seasoning – This is what makes the recipe tase like fish tacos. Some recipes call for nori sheets, but we don't think it's necessary to use them.
Panko Breadcrumbs – We add these to the mix to give the tofu even more texture and crunchiness. Gluten-free breadcrumbs will work, too.
Vegan Beer – There are many vegan beer products that you can choose from. Check Barnivor.com to check your favorite ale or lager.
Substitute with seltzer water or non-alcoholic beer, it's the carbonation that gives the batter it's texture.
Vegetable Oil – You need oil to deep fry, and even if you're oven frying or using an air-fryer, we recommend spraying a light coating on the tofu fish so they get nice and crispy and golden brown.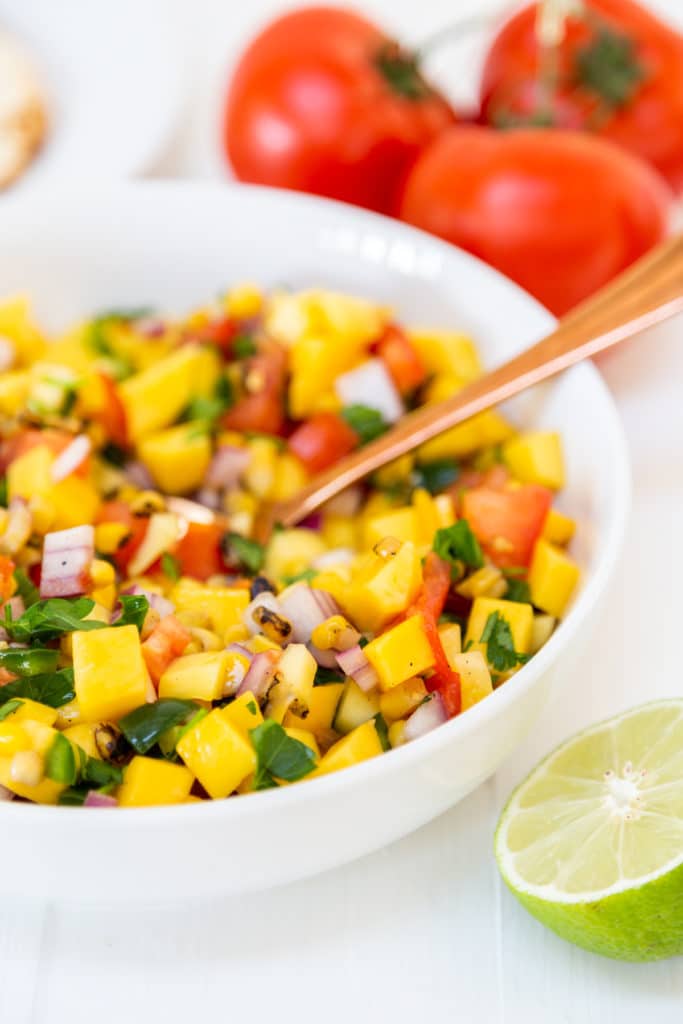 Serve with
Corn or Flour Tortillas – These are best when heated over a flame, in a hot skillet, or in the oven.
Mango Salsa – Our homemade salsa adds so much fresh and bright flavor to this dish.
Substitute with your favorite store-bought salsa.
Shredded Purple Cabbage – Make our slaw recipe, or just marinate the cabbage in apple cider or white vinegar with a pinch of sugar until it softens a bit.
Pro tips
Press as much of the water as possible out of the tofu and gently pat dry before slicing it. This will help the batter stick and the texture will be firm and flaky.
Slice the tofu thick so it doesn't crack and fall apart.
Only use extra-firm tofu, anything softer will crumble.
For the crunchiest tofu, deep fry in 350˚F (176˚C) oil, otherwise oven fry in a fully preheated 425˚F (218˚C) oven. You can also air-fry according to the instructions for your fryer.
Place the tofu on a plate lined with paper towel to drain the excess oil and then transfer the tofu fish to a rack in a warm oven until ready to serve. This will keep it crispy.
How to press tofu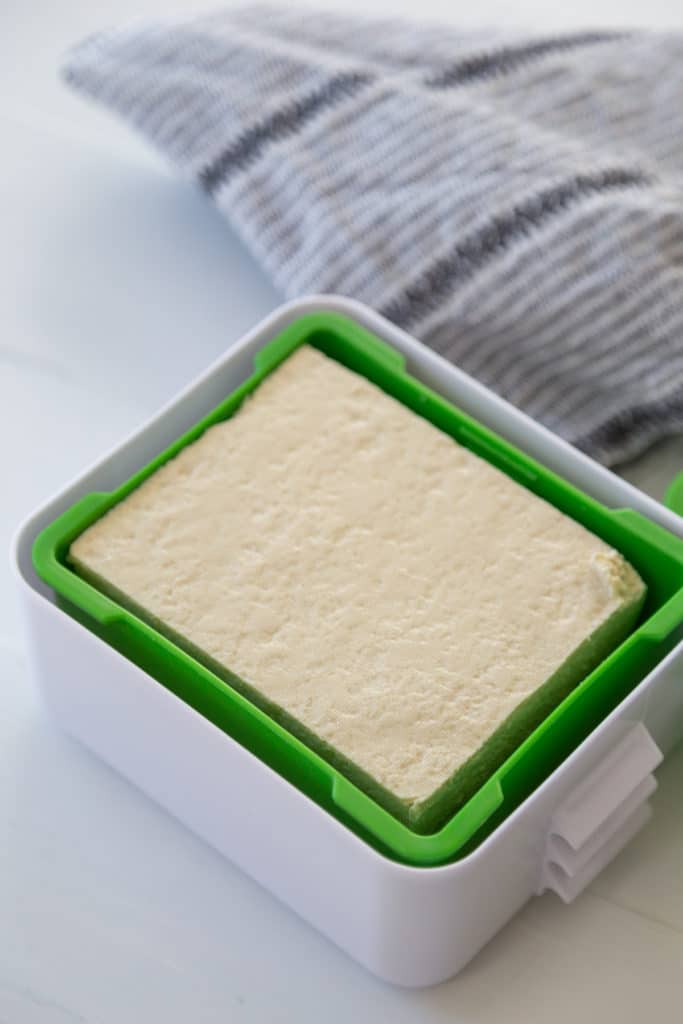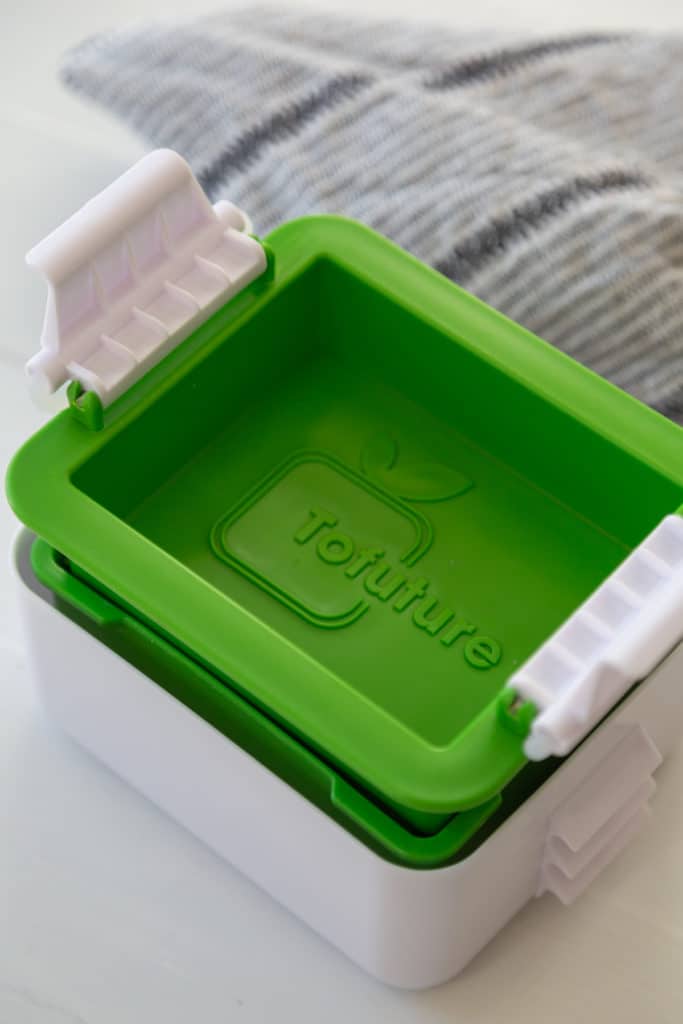 The easiest, less messy, and best way to press tofu is with a tofu press.
You can find them on Amazon.com or most kitchen gadget stores.
If you don't have a tofu press, line a flat plate with paper towels, place the block of tofu on the towels, add a layer of paper towels on top of the tofu and place something heavy (like an iron skillet) on top of the towels.
For safety's sake (speaking from experience and a broken toe), push the plate to the back of the countertop so whatever heavy object you place on top doesn't topple over and fall on your foot.
How to make
STEP ONE
Press that tofu!
You want to press as much water as you can out of that block so the batter sticks and the texture is firm and flaky.
Give it an hour in the presser.
Once it's pressed, slice it into fillets. They should be approximately a ½-inch thick, so they don't fall apart.
STEP TWO
Preheat the oven or heat the oil in a heavy skillet.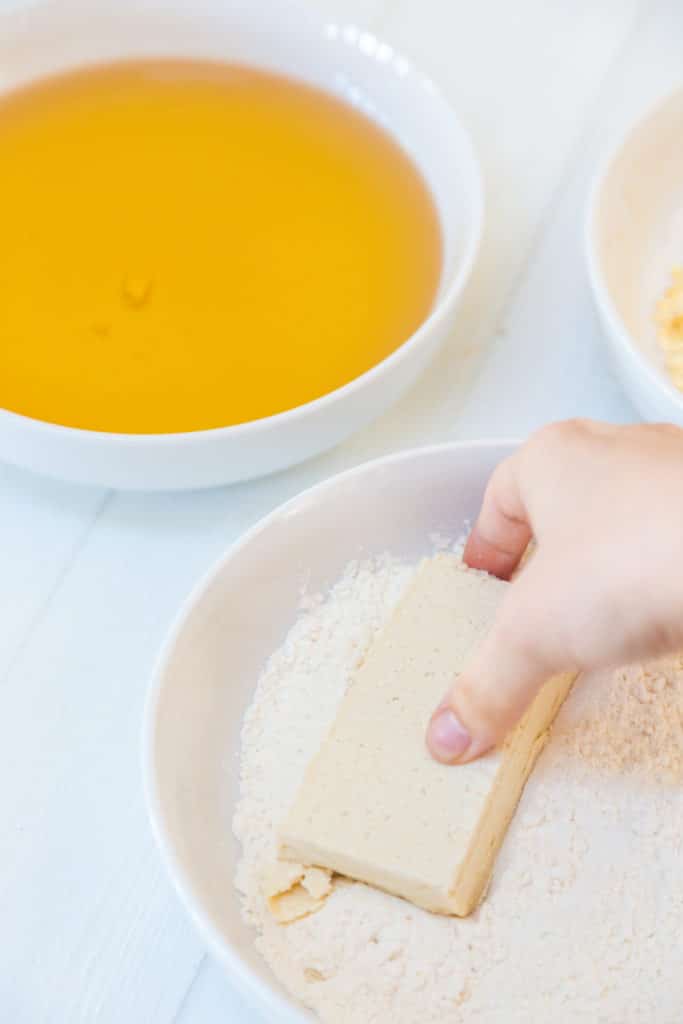 Once the oven is completely preheated or the oil is hot, dredge the tofu through the flour mixture.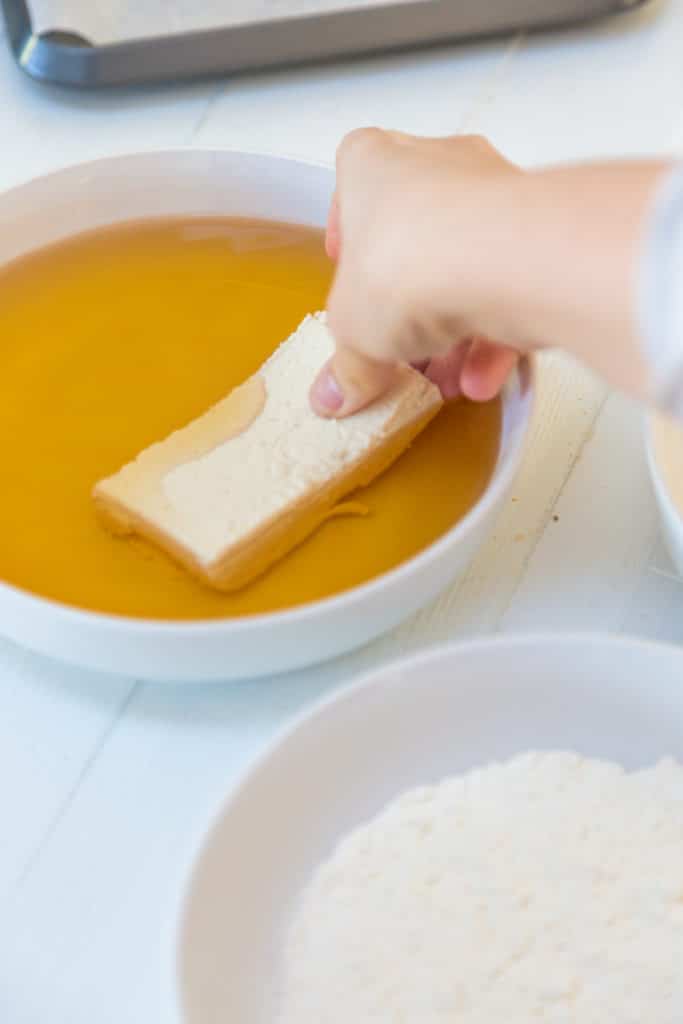 Then dip in the beer.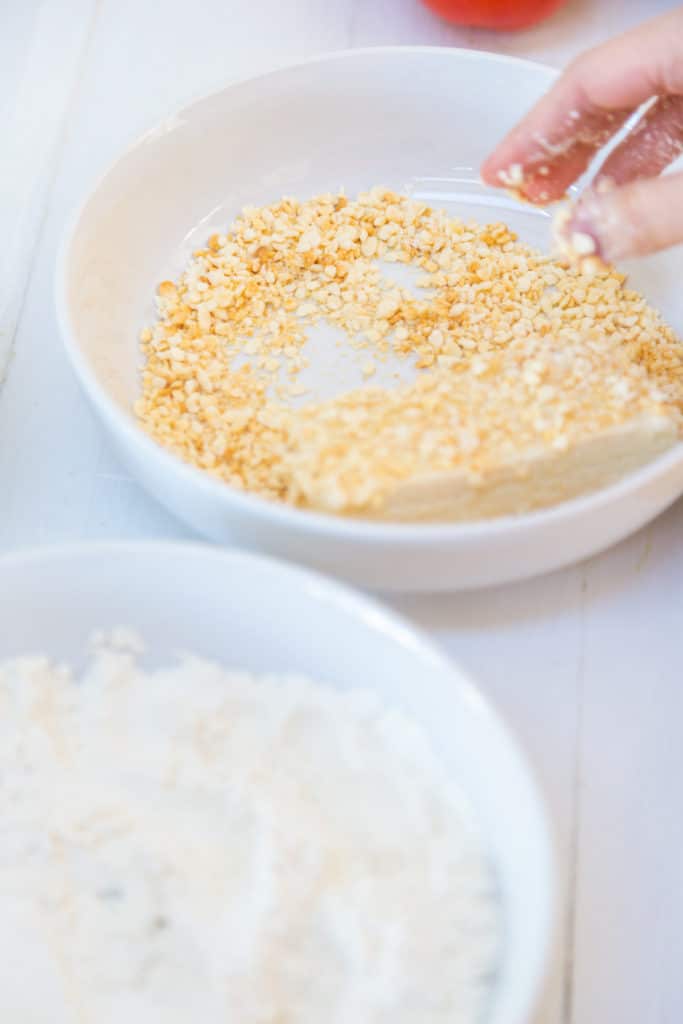 Finally, dredge through the Panko, then immediately fry or put in the oven.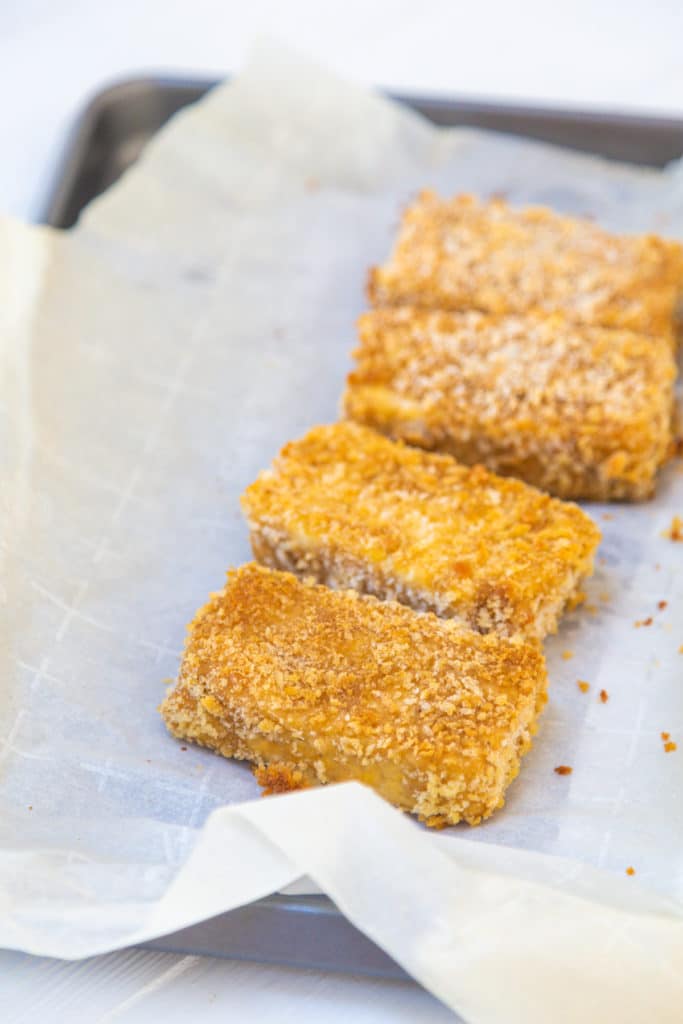 Deep frying will take approximately 3 minutes per side. Oven frying will take approximately 10 minutes per side, or until golden brown.
How to build fish tacos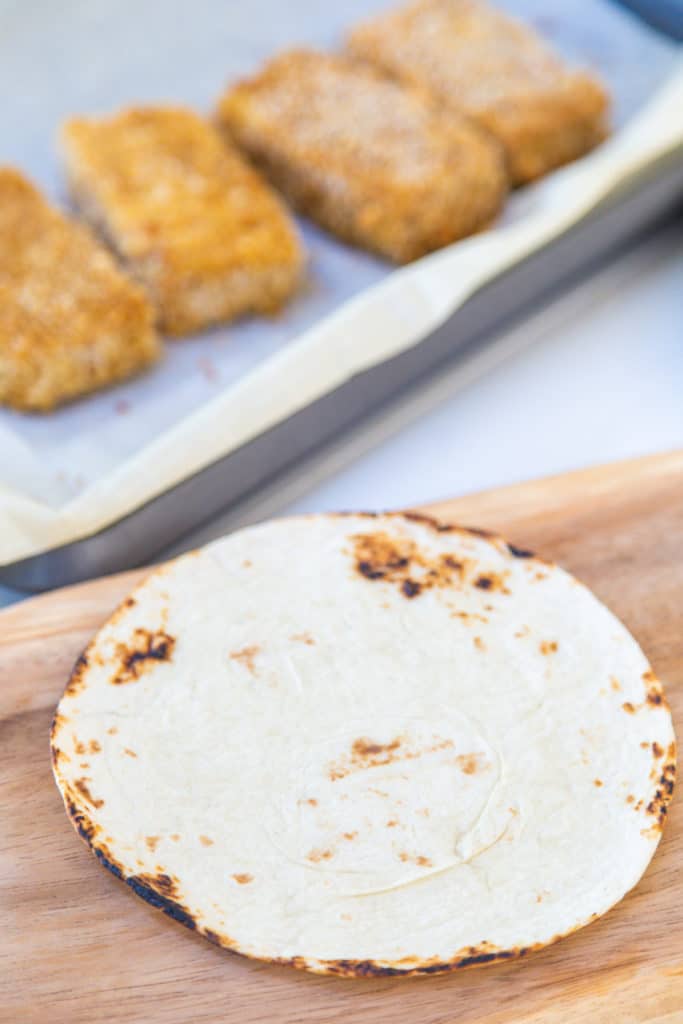 Heat corn or flour tortillas until warm. This will prevent them from being gummy and sticky when you chew them.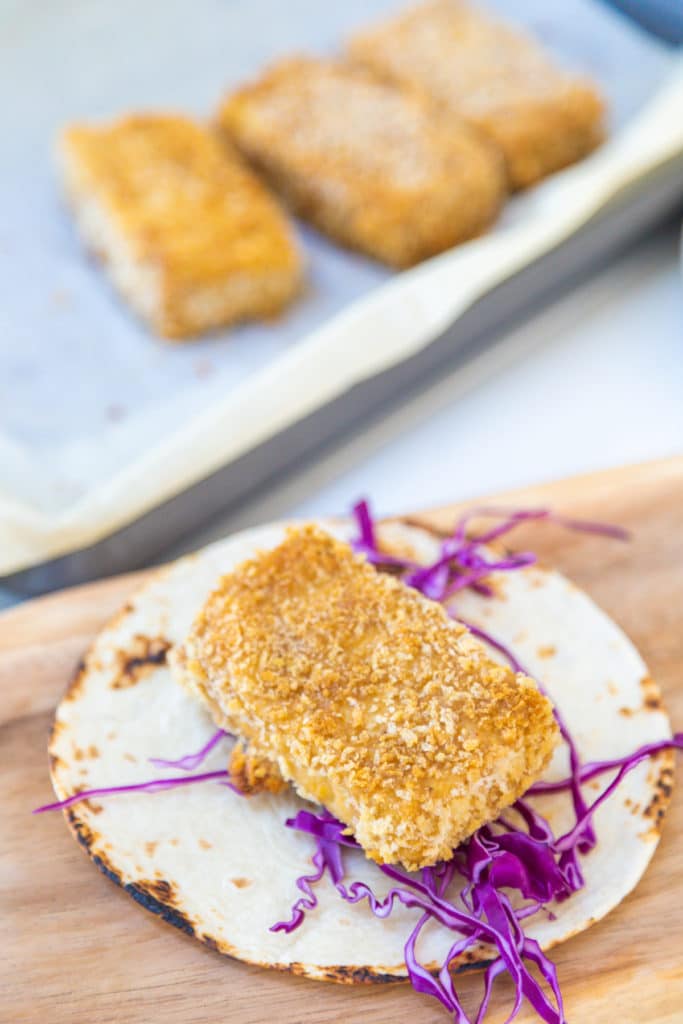 Add a layer of crunchy red cabbage slaw, then a piece of tofu fish.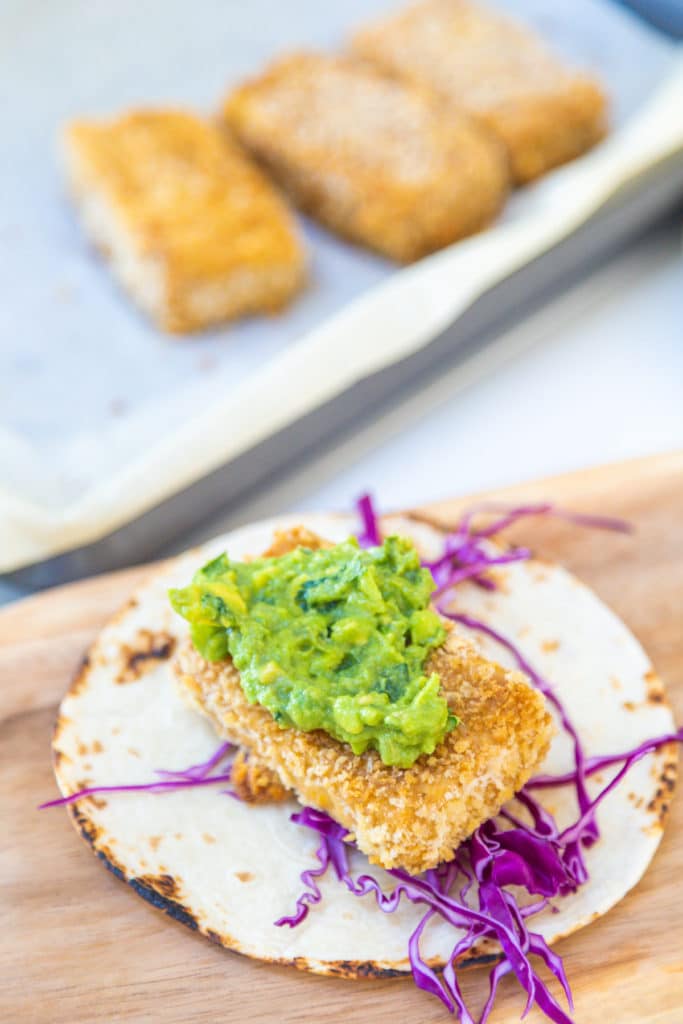 Put a liberal dollop of mashed avocado on top and a squeeze of lime juice.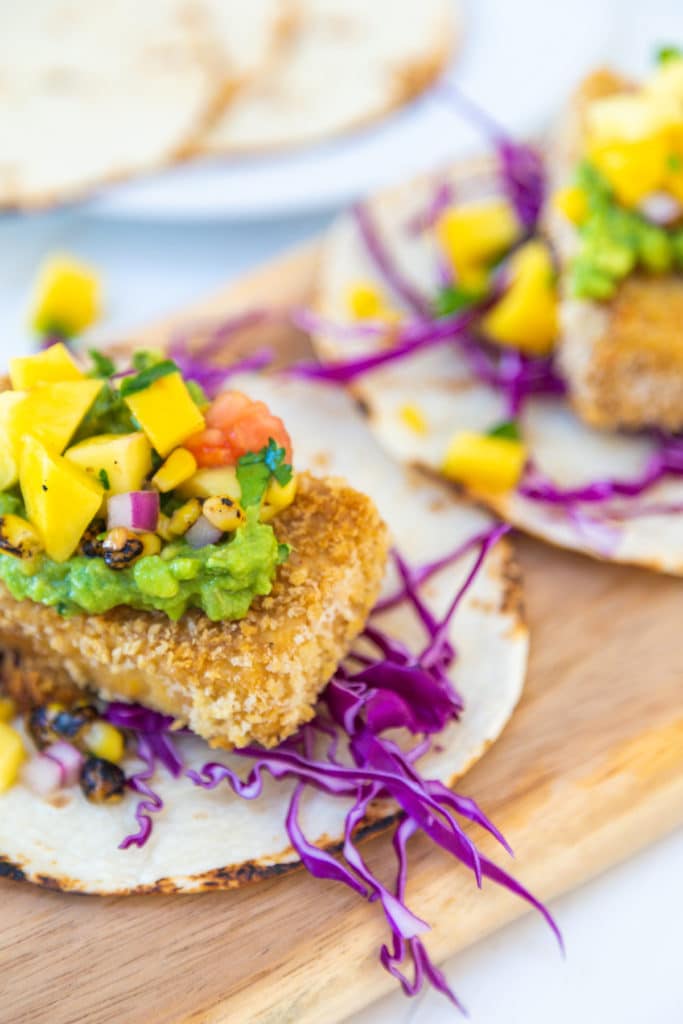 Finally, add our mango salsa and fresh cilantro, or your favorite vegan salsa.
Storage/freezing
This recipe is best when just made, if you must make ahead of time or have leftovers, store in an airtight container and reheat in the oven until they crisp up again.
Freeze in a freezer safe container for up to 3 months. Reheat in the oven at 350˚F (176˚C).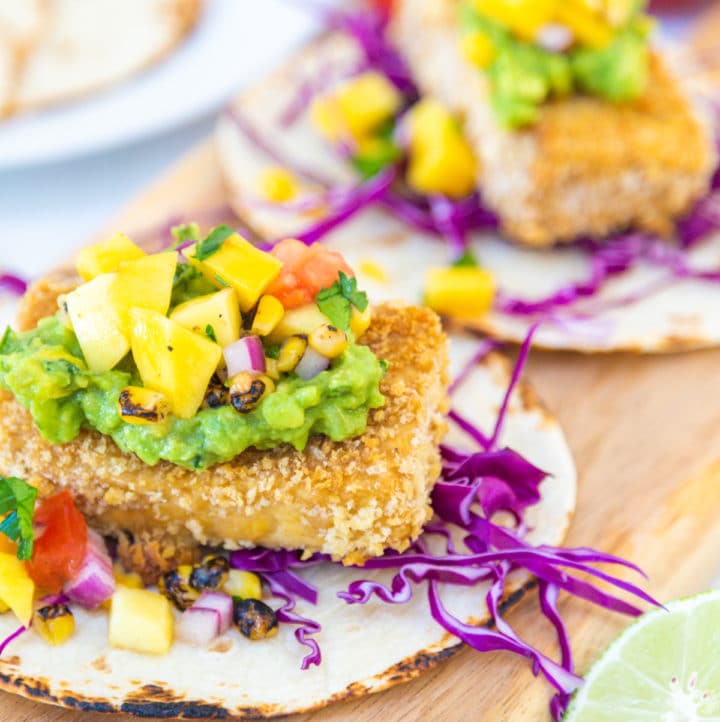 Crispy Beer Battered Vegan Fish Tacos
This easy vegan fish taco recipe is full of texture and flavor, and made with simple ingredients. It's perfect for Taco Tuesday
Print
Pin
Rate
Ingredients
30

ounce

extra-firm tofu

Do not use soft tofu, it won't work.

1

cup

all-purpose flour

use all-purpose gluten-free flour if needed.

1

tablespoon

Old Bay seasoning

salt and pepper to taste

1

cup

vegan beer

a lager or ale work best

1

cup

panko breadcrumbs

1 to 2

cups

canola oil

6

corn or flour tortillas
Toppings
avocado

cilantro

mango salsa

or any salsa you like

red cabbage slaw
Instructions
Press the tofu for at least an hour, then pat dry and slice into ½ inch thick pieces approximately three inches long and one inch wide.

Put the 1 cup of beer, 1 cup of flour, and 1 cup of panko in three separate bowls. Whisk the 1 tablespoon of Old Bay seasoning and salt and pepper to taste into the flour until well combined. Dredge the tofu through the flour, then dip in the beer, and then dredge in the panko until evenly covered. Place on a plate until all of the tofu is ready to fry.

Prepare a paper bag or cookie sheet lined with paper towels to drain the exec oil from the tofu.

Put a cup or more of canola oil in a medium skillet, approximately 1-inch (2.5 cm) deep, and heat on medium high heat. When the oil reaches 350˚F (176˚C) use tongs to place each piece of tofu in the oil. Be careful not to burn yourself. Fry until it's golden brown, approximately 3 to 5 minutes, and then use the tongs to flip. Fry another 3 to 5 minutes, or until golden brown. Place on the paper towels to drain the excess oil.

To oven fry, heat the oven to 425˚F (218˚C) and bake for approximately 10 minutes per side, or until golden brown.

If using an air-fryer, cook according to the instructions on your fryer.
To Build the Tacos
Heat the tortillas so they don't have a gummy texture when you chew them, then add the slaw, mashed avocado, and mango salsa (or any salsa you like), top with a squeeze of fresh lime juice and cilantro.
Notes
NUTRITION DISCLAIMER
FOR INGREDIENT SUBSTITUTION INFORMATION, PLEASE READ THE ABOVE CONTENT. IT ANSWERS ALL OF YOU QUESTION. 
Nutrition
Serving:
160
g
|
Calories:
555
kcal
|
Carbohydrates:
40
g
|
Protein:
6
g
|
Fat:
40
g
|
Saturated Fat:
3
g
|
Trans Fat:
1
g
|
Sodium:
281
mg
|
Potassium:
103
mg
|
Fiber:
2
g
|
Sugar:
2
g
|
Vitamin A:
18
IU
|
Vitamin C:
1
mg
|
Calcium:
61
mg
|
Iron:
3
mg