"Tuna" Salad Without the Fish!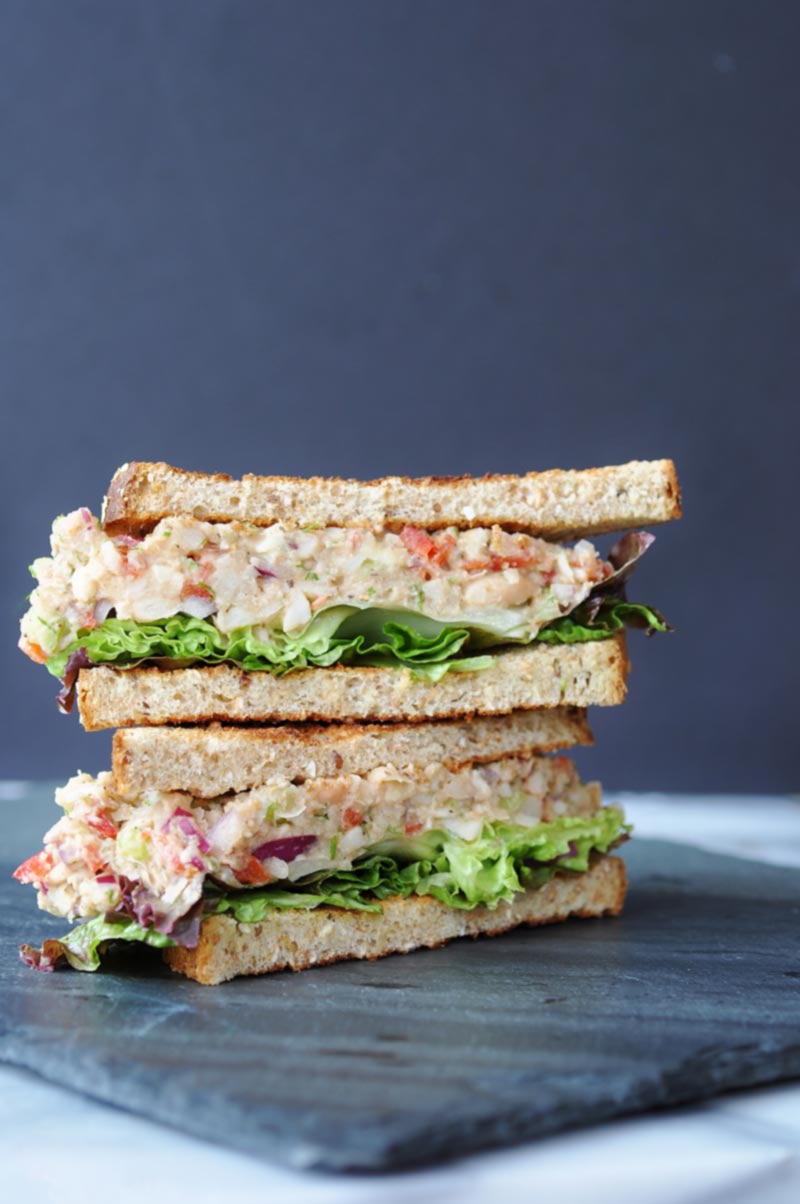 Happy World Oceans Day! To celebrate one of our planets greatest resources I've created a "tuna" salad without the actual fish. Because I'm vegan. 😉
Whether you're a vegan, or you're not, this faux tuna salad with great northern beans and palm hearts is going to go to the top of your salad list. Its texture is reminiscent of the tuna salad that I used to love before I started eating a plant-based diet, and it tastes similar to the fishy dish, without the fishy smell and breath. Seriously, this impostor is worth checking out.
Why would you want to make a fake tuna salad with white beans and hearts of palm instead of opening a can of real tuna? Let me answer that for you.
Mercury – Read this to learn more.
Overfishing is killing our oceans – Read this to learn more.
It tastes good.
It doesn't smell bad.
It doesn't leave you with fish breath.
It won't spoil as fast as tuna will.
You'll save a fish.
What more could you possibly want from a salad that is pretty darn close to the real deal? Oh the benefits of not eating fish.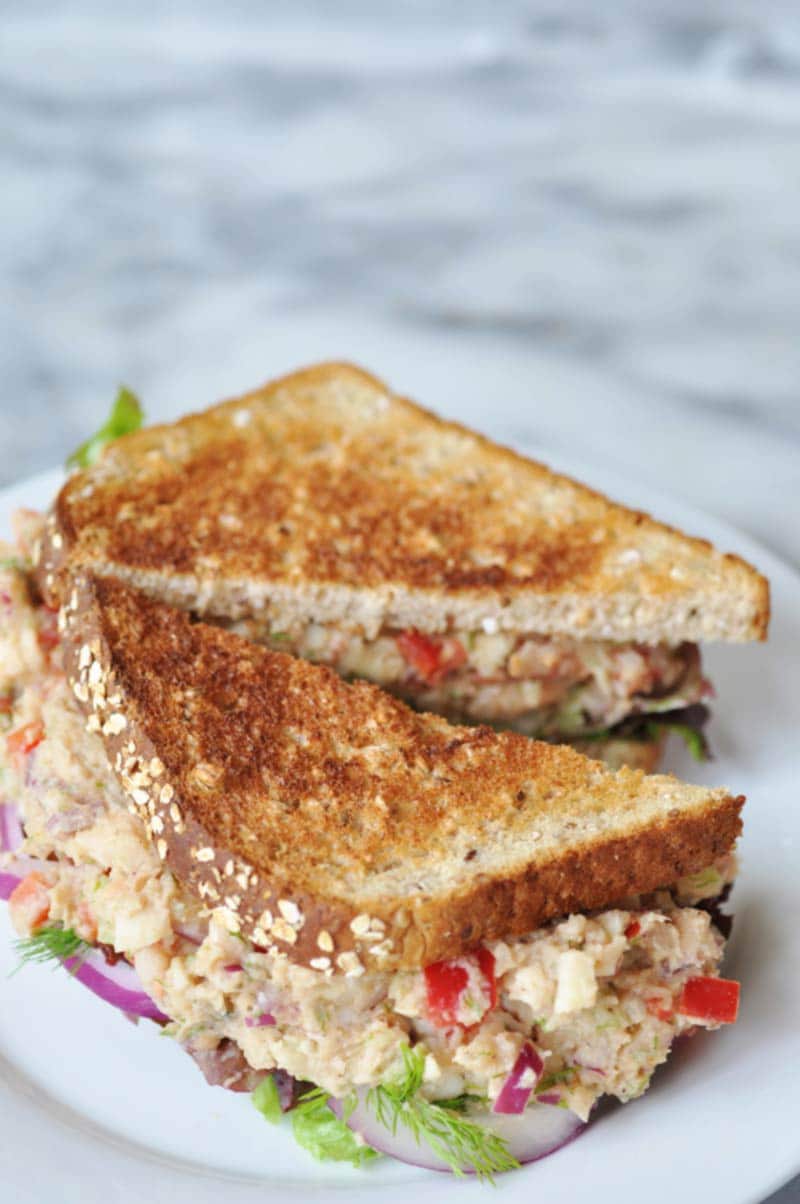 Our oceans are in desperate need of TLC, y'all. As the caretakers of this incredible planet of ours, we need to start paying attention to the huge footprint that we're leaving when it comes to the deep blue seas that we love so much.
Did you know?
The oceans regulate our climate.
They produce oxygen.
They provide us with medicine.
They've been overfished and we've killed off much of our marine life and coral reefs.
There's a large area in the Pacific Ocean called the Great Pacific Garbage Patch. Read this to learn more.
The amount of mercury and pollution in our waters can be found in the fish you eat, which means that your body is absorbing it too.
Not a good situation. Fortunately, we can turn this around if we start thinking about how our daily actions are harming the oceans.
Here are a few ways to stop the madness and start to reverse the damage:
Eat more plants and less (or no) fish, meat, and dairy. That will stop overfishing, greenhouse gases, and pollution.
Stop buying plastic water bottles and food packed in plastic. Carry your water and drinks in reusable bottles.
Purchase food in bulk and ask your grocer to stop carrying fruits and vegetables packed in plastic containers and bags with netting—turtles and fish consume them and die.
Buy locally grown produce.
Tell your friends and family so they will change their habits too.
Eat my Vegan "Tuna" Salad.
A few months ago the representative from a wonderful skin care company, OSEA, sent me a sample of their cleanser and moisturizers to try. The products are vegan, cruelty-free, and all natural. You won't find parabens, GMOs, or harmful chemicals in their skin care line. What you will find are healing ingredients, such as:
Algea extract
Natural oils
Shea butter
Plant extracts
French red clay
Saccharomyces Extracts
And more….
After using this amazing product I'm never going to use anything else.
My skin feels softer and looks suppler than it has in a long time. The products smell and feel so good, and the bottles are all glass. They look luxurious and can be recycled.
The reason that I'm telling you about OSEA skincare today is because the company is committed to saving the planet, and their products are made with medicinal plants from the sea. You won't have to worry about what you're putting on your body's largest organ because everything in that pretty glass bottle is good for you.
Because OSEA cares so much about the health of their clients and the oceans, they're teaming up with Mission Blue to increase marine protected areas by twenty percent by the year 2020, and OSEA is donating 20% of all online orders to the cause for the next forty-eight hours. Click here to go to their website and learn more about them.
I love this company and their philosophy, history, and products so much that I wanted to share it with you. Please go and check them out. You'll be happy that you did. Click here to shop their website
Full disclosure: I'm not being paid to promote OSEAS in any way. They sent me samples of their product to try with the understanding that if I would only tell my readers about their company if I liked their products. No strings attached, my friends.
Now back to my vegan faux tuna salad recipe.
Like I said above, you're going to love this delicious ocean/human friendly salad. It's filled with healthy plant foods that will nourish you, not poison you with mercury. Woot-woot!
The texture is creamy and a little chewy—like tuna from a can when it's blended with mayo or mustard—and then the red bell pepper, red onion, and celery gives it a nice crunch. You've got to love a little crunch in your salad! FYI, the combination of the creamy beans and the chewy palm hearts is very close to what I remember canned tuna to feel like when eating.
The "tuna" flavor comes from the mustard and Old Bay Seasoning
 that I used. I've never been a fan of mayo, so when I used to make tuna salad I used a few tablespoons of KOOPS Dusseldorf Mustard . I'm not sure why I prefer this type over others, I just like the flavor. You could use a Dijon, although I'd suggest a creamy, not stone ground, for the best results.
How to Make Vegan "Tuna" Salad in Ten Minutes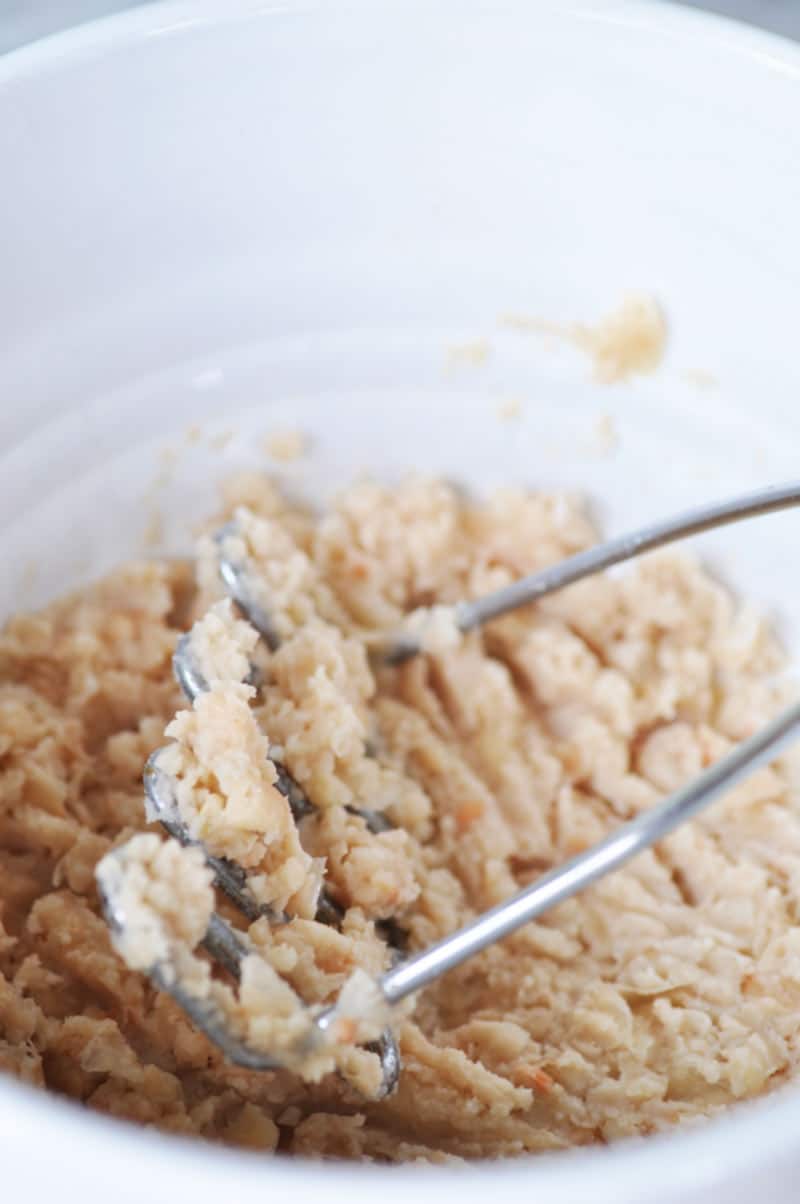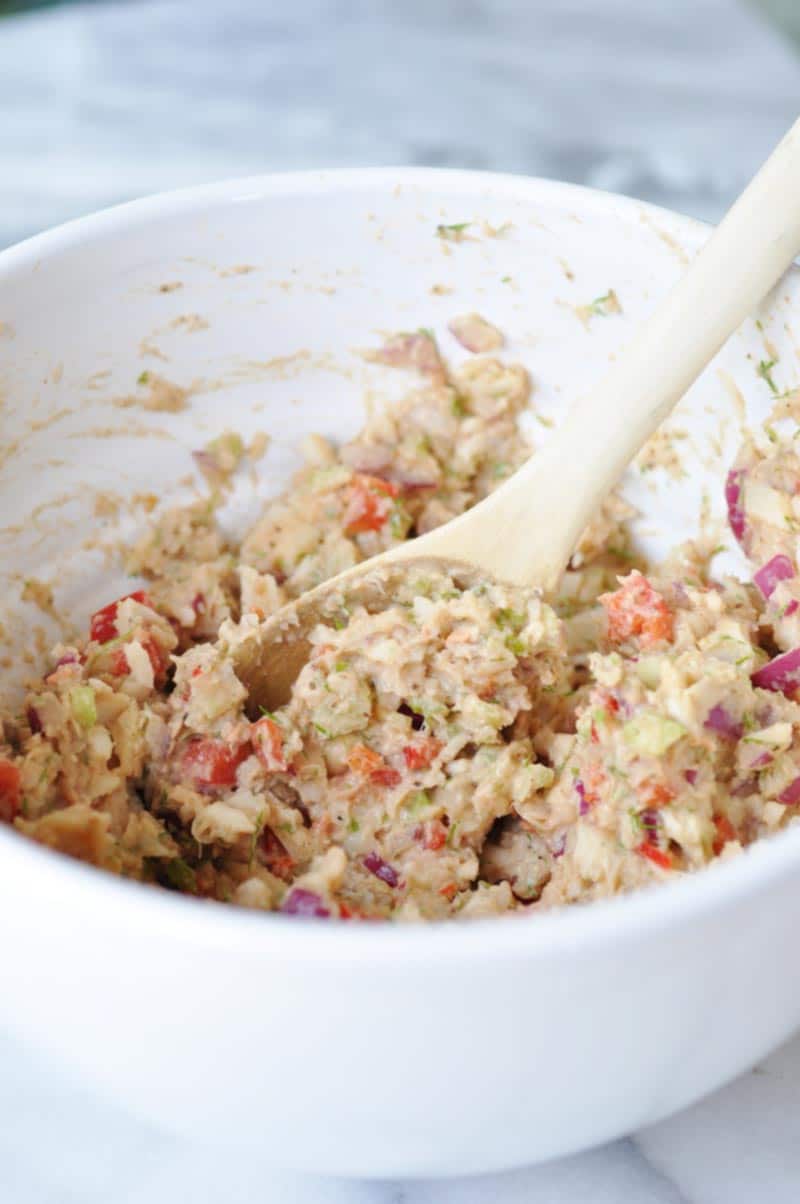 Drain and rinse the beans then pat them dry and mash them in a bowl.
Coarsely chop the palm hearts and add them to the beans.
Chop the red bell pepper, red onion, and celery and add to the bowl of beans and palm hearts.
Mince the dill and add to the bowl.
Add the Old Bay, ground sea salt, and ground black pepper and stir well to combine.
Enjoy!
You can scoop it on top of a bed of lettuce or make it into a sandwich. Do what you feel. There's no wrong way to eat this delicious and healthy faux tuna salad.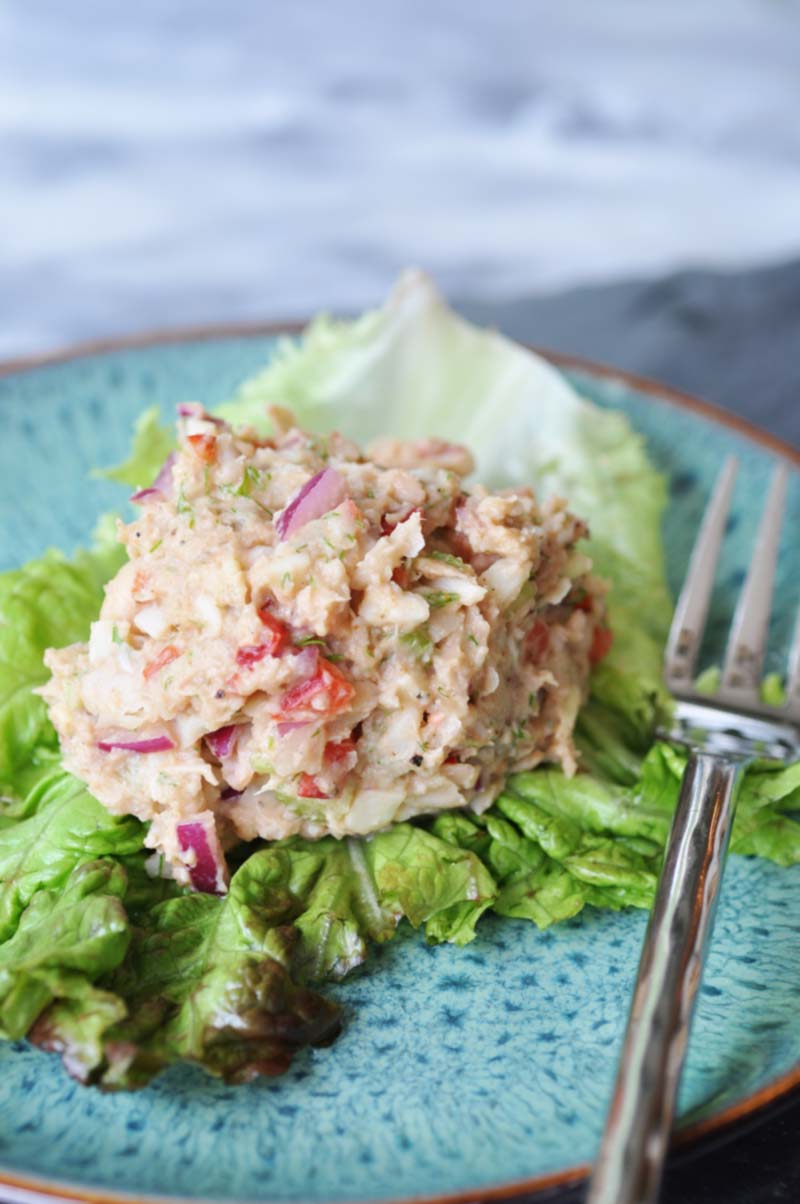 Tell me:
Have you ever heard of OSEA?
Have you ever had a vegan "tuna" salad?
Where you aware that today is World Oceans Day?
Do us a favor, we want to show the world that plant-based foods are delicious and exciting. So let's connect and share all of this awesomeness with the world. Hop on over to our Facebook page and give it a like, and follow us on Instagram and Twitter, and follow us and share this and other Veganosity recipes on Pinterest. We'd be so grateful if you did. If you like this recipe and can't wait to see what we're going to share next, subscribe to Veganosity. Just fill in the subscription box above our picture in the top right corner of the page. And, Alex and I love hearing from you, please leave a comment and let us know what you think of our recipes.
Veganosity is a participant in the Amazon Services LLC Associates Program, an affiliate advertising program designed to provide a means for sites to earn advertising fees by advertising and linking to amazon.com. We make a small commission when you order from Amazon. It helps us afford the groceries to develop all of our recipes, and to pay for the maintenance of our site. We thank you in advance for your consideration.
Yields Approximately 3 cups
Vegan "Tuna" Salad
Creamy, chewy, crunchy, and delicious, the perfect alternative to tuna salad.
10 minPrep Time
10 minTotal Time
Ingredients
1 15 ounce can of Great Northern white beans – drained, rinsed, and patted dry
3 large palm hearts – coarsely chopped
½ red bell pepper – finely chopped
1 large stalk of celery – finely chopped
¼ cup of finely chopped red onion
2 tablespoons of minced fresh dill
2 teaspoons of Old Bay seasoning
2 tablespoons of German style mustard or creamy Dijon mustard – for best results avoid stone ground mustard
Ground sea salt and black pepper to taste
Instructions
Mash the beans in a medium bowl until you don't see any whole beans. Add the chopped palm hearts, bell pepper, onion, celery, dill, Old Bay seasoning, mustard, and salt and pepper and stir to combine. Add more seasoning if you like.
Eat as is or make a sandwich out of it.
Enjoy!
7.8.1.2
338
https://www.veganosity.com/vegan-tuna-salad/