Spicy Black Bean Taco Burgers! These delicious black bean veggie burgers are vegan (duh), gluten-free, not mushy, won't fall apart on the grill (yay), and taste like tacos! Serve them up with our awesome guacamole recipe, you won't be sorry. 
Published Sept. 9, 2017 and updated May 18, 2020.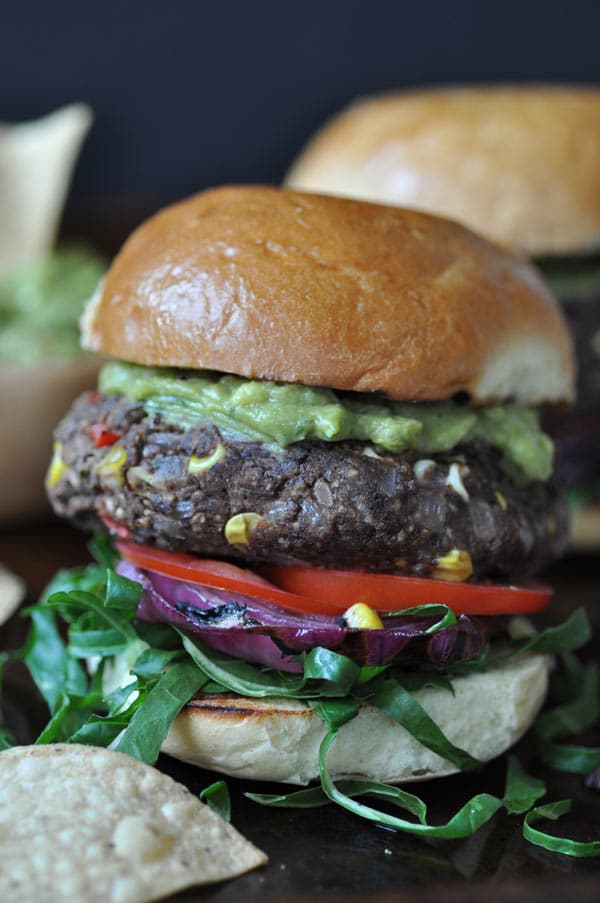 The Best Spicy Black Bean Taco Burgers
If you've been searching for a burger that tastes like a taco, provides you with a ton of veggies, and isn't mushy in the middle, look no further.
This grillable veggie burger, yes, you read that right, it won't crumble on the grill, is so worth the extra steps that it takes to make it.
It's spicy, meaty, hearty, flavorful, and meat eaters will love it.
So what's the secret to getting this burger to hold up on the grill and not feel mushy in the middle? Baked beans.
Not the kind of baked beans you get out of a can. We're talking about actually baking cooked black beans for a few minutes to dry them out just to the point of them losing enough moisture and crisping up around the edges.
This process adds so much texture, and it's the key to the perfect black bean burger.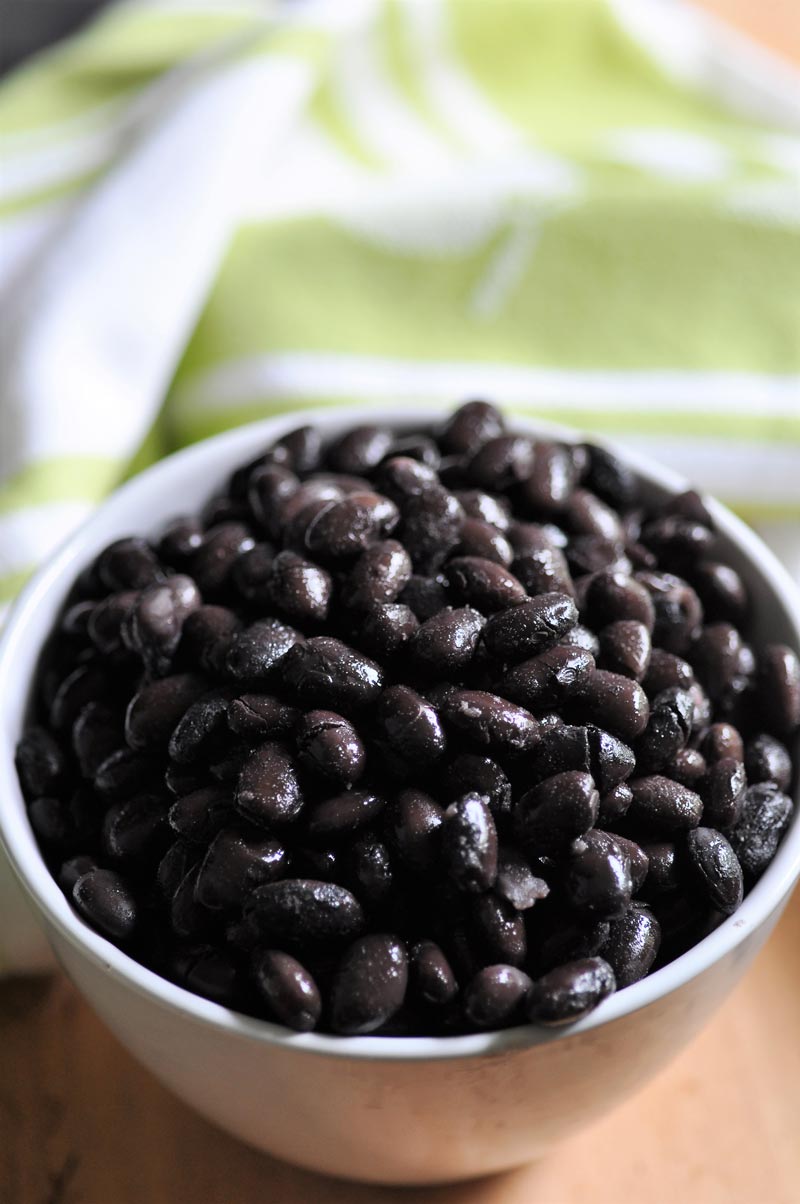 Canned Beans or Cooked Dried Beans for Black Bean Taco Burgers?
If you're in a hurry, go ahead and use canned beans. Just make sure that you drain (save the liquid) and rinse them well.
For the best bean burgers, set aside some time to make homemade black beans. There's nothing better.
Click this link to learn how to cook dried black beans. 
Tips for Making the Best Bean Burgers
There are a few important things that you'll want to make sure you do before putting your spicy black bean taco burgers on the grill.
By following these simple rules, you'll always serve up the most delicious burgers.
Bake the cooked beans for about 15 minutes before mashing them into the burger mixture. This will dehydrate them so the burgers don't turn out mushy.
Always cook the vegetables before adding them to the burger mixture so they don't make the burgers watery.
Add a good amount of spices and herbs. Beans are bland, they soak up flavors, so be a little liberal with the spices.
Don't skip the binders. We usually use a few binders in veggie burgers. These will ensure that the burgers hold together instead of crumbling when you cook them.
Let them rest. After you form the burgers, let them rest in the refrigerator for at least and hour. This will help them firm up.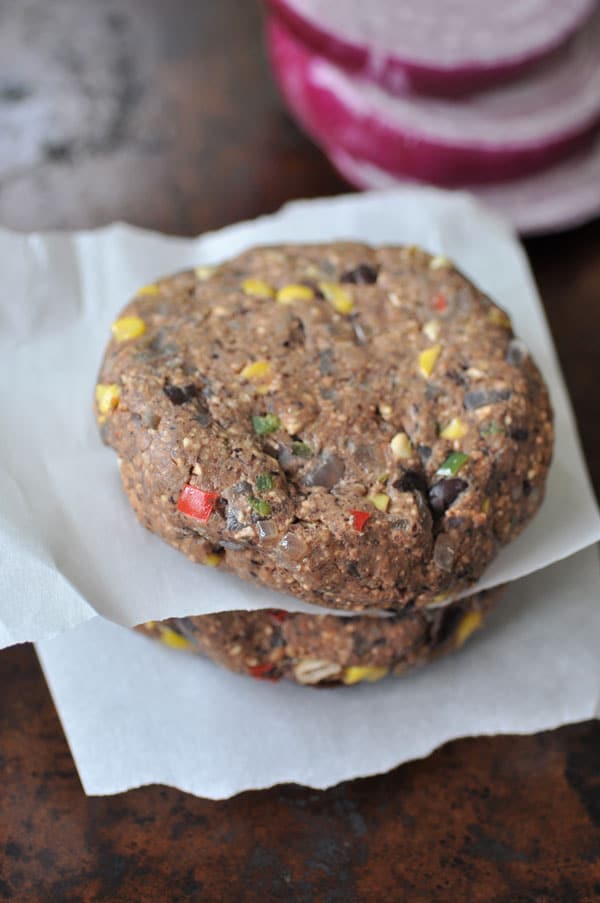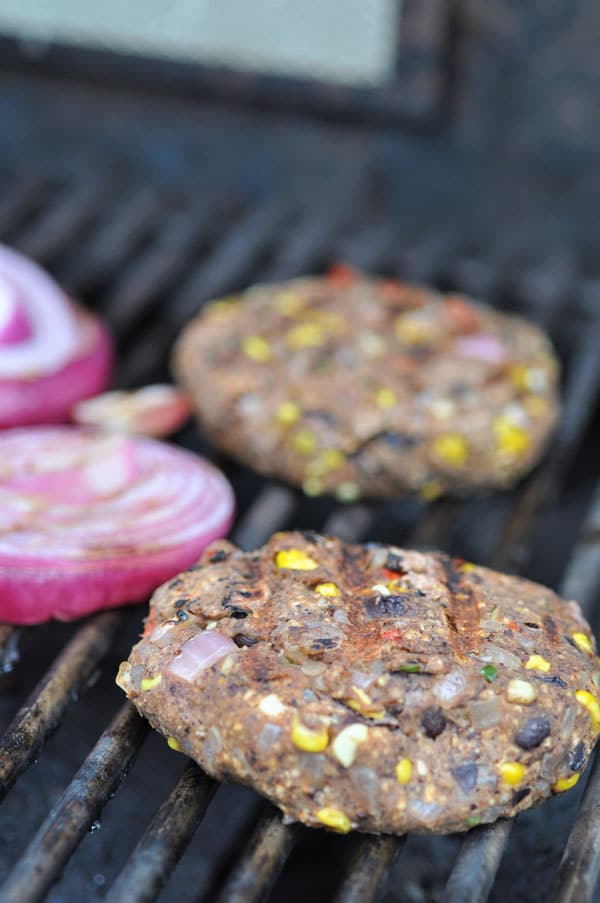 How to Make Spicy Vegan Taco Burgers
First – Drain and rinse the beans (RESERVE THE LIQUID). Spread them out on a parchment lined, rimmed baking pan and bake for about 15 minutes. They'll split and the edges will get crispy.
Second – Toast the spices to release their flavors and sauté the onion, peppers, corn, and garlic.
Third – Put part of the beans, oat flour, bean juice, and spices in a food processor and pulse until it forms a sticky solid ball.
Fourth – Scrape the bean mixture into a large bowl and add the remaining beans and the veggies and mix together until fully combined. I use my hands for best results.
Last – Form into round patties and refrigerate for at least an hour. This helps them set and stick together for the grill. Once they've set, fire up the grill or a skillet and cook until they're done.
Serve them with shredded lettuce, tomato slices, grilled red onion, and guacamole. If you don't want to eat them with a bun, wrap them in a crispy lettuce leaf or just eat them with a fork.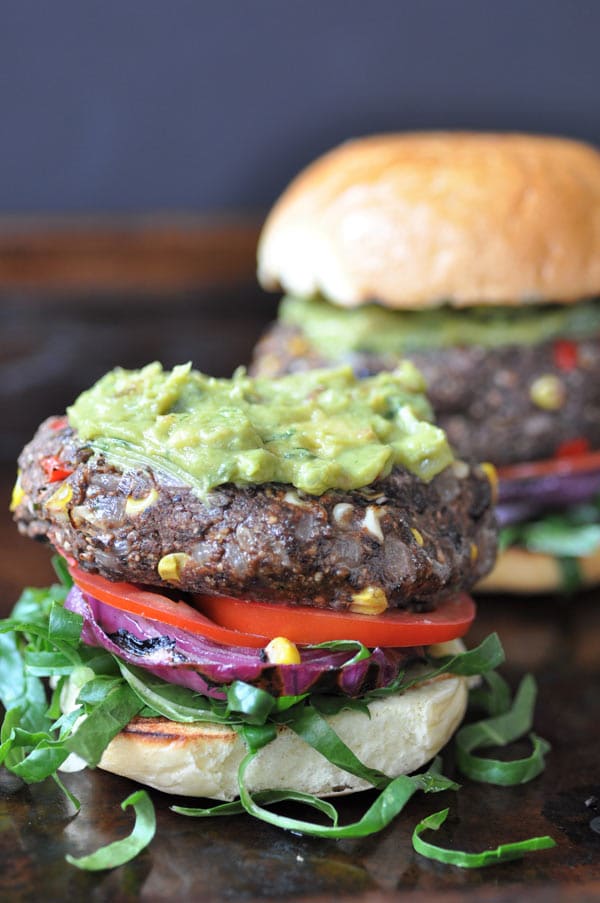 More Vegan Bean Burgers You'll Love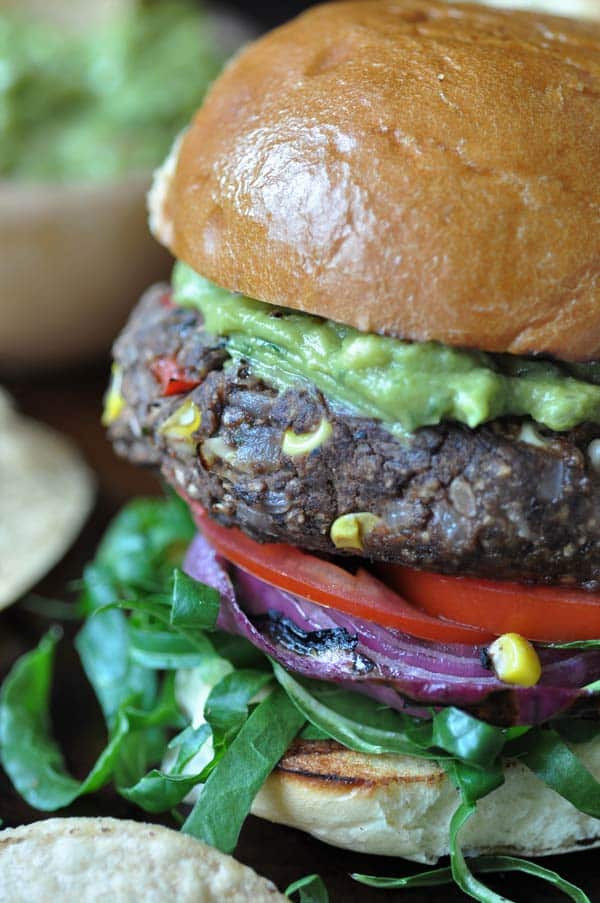 Make our spicy black bean taco burgers recipe and let us know what you think. We love to hear from you! And, don't forget to take a picture of your gorgeous creation and tag us @veganosity on Instagram.
Let's connect on Instagram and Twitter. You'll get a peek into our everyday lives in our stories and see what we're sharing in our feed.
And, don't forget to SUBSCRIBE to the blog so you never miss a recipe. Scroll below the recipe or in our side bar to become a Veganosity subscriber.

Spicy Black Bean Taco Burgers
These flavorful gluten-free burgers taste like tacos, don't fall apart on the grill, and are not mushy in the middle!
Print
Pin
Rate
Equipment
food processor

Oven

grill or stove
Ingredients
2 ½

cups

cooked black beans

(reserve the bean juice), divided

1 ½

cups

oat flour

use rolled oats if you're making your own flour

1

tablespoon

ground chili powder

1 ½

teaspoon

ground cumin

½

teaspoon

ground chipotle chili powder

ground sea salt

to taste

Black pepper

to taste

3

tablespoon

reserved bean juice

1

cup

fresh sweet corn

approximately 1 ear, (thaw first if you use frozen)

1

large or 2 small jalapeno peppers

seeded and finely chopped

1

small red onion

finely chopped (2 onions if you want to slice and grill one for a topping)

1

red bell pepper

cored, seeds removed, and finely chopped

2

garlic cloves

minced

1

tablespoon

vegetable oil plus more to brush on top of the burgers before cooking.

This prevents the burgers from sticking to the grill or pan.

TOPPINGS

Hamburger buns

Lettuce

Tomatoes

Guacamole

Fresh cilantro

Grilled red onion
Instructions
Preheat the oven to 350˚F (176˚C) and line a rimmed baking pan with parchment paper.

Drain (reserve the bean juice) and rinse the beans and set aside.

Spread the beans evenly on the parchment lined baking pan and bake for approximately 15 minutes, or until the beans begin to split and some of them have a crispy edge.

In a small pan, toast (stir or shake the pan frequently to avoid scorching) the 1 tablespoon chili powder, 1 ½ teaspoon cumin, and ½ teaspoon chipotle chili powder on medium-high heat until they release their oils and become fragrant, approximately 2 minutes. Remove from heat.

Grind the 1 ½ cups oats in a food processor. Use rolled oats only, not steel cut or instant. Make sure they're certified gluten-free if you are avoiding gluten. Add 1 ½ cups (255 g) of the beans, the 3 tablespoon of bean juice, and the toasted spices to the food processor and grind until it forms a solid sticky ball. Approximately 1 minute.

Heat a large cast-iron skillet or a non-stick skillet on medium-high heat and add the 1 tablespoon of oil. When the oil is hot, add the chopped onion, peppers, and corn. Cook for approximately 6 to 7 minutes, or until the onion and peppers soften. Stir frequently to avoid scorching. Add the garlic and cook for 2 minutes. Remove from the heat. NOTE: You can use water to cook the vegetables if you don't cook with oil. Start with about 3 tablespoon and continue adding by the tablespoon as the water evaporates.

Scrape the bean mixture into a large bowl and add the remaining 1 cup (85 g) of solid beans and the corn and peppers (make sure they're cool to the touch) and stir to combine. I use my hands to really get in there and make sure that the mixture is completely combined.

Scoop out a heaping ⅓ cup (73 g) of the mixture and roll into a ball, then press into a patty. Repeat with the remaining bean mixture. (You should get between 6 to 8 patties with ⅓ cup (73 g). If you want larger or smaller patties, the amount will vary.) Refrigerate for at least an hour to allow the patties to set. This will help the burgers to stay together during the cooking process.

Once the patties are set, heat a grill or a pan on medium heat. SEE NOTE. Lightly brush both sides of the burgers with vegetable oil. (This will prevent them from sticking to the grill.) Cook for approximately 5 to 7 minutes per side, or until they are lightly browned and heated through. For best results, cover the pan while they're cooking.

Top with grilled onions, shredded lettuce, tomato slices, and guacamole. If you want to skip the bun, wrap it in a lettuce leaf instead of shredding the lettuce, or just eat it with a fork.

Enjoy!
Notes
NUTRITION DISCLAIMER
If you want grilled onions on the burger (I highly recommend that you do), slice them into ⅓ (.84 cm) to ½ inch (1.3 cm) slices, brush with oil, and grill until they soften and the edges are browned.
Nutrition
Serving:
200
g
|
Calories:
282
kcal
|
Carbohydrates:
46
g
|
Protein:
12
g
|
Fat:
6
g
|
Saturated Fat:
3
g
|
Sodium:
34
mg
|
Potassium:
525
mg
|
Fiber:
10
g
|
Sugar:
3
g
|
Vitamin A:
1158
IU
|
Vitamin C:
31
mg
|
Calcium:
51
mg
|
Iron:
4
mg
PIN ME FOR LATER!