Calling all hummus lovers! If that's you, you're going to LOVE this Mediterranean Hummus Burger recipe. Just in time for summer.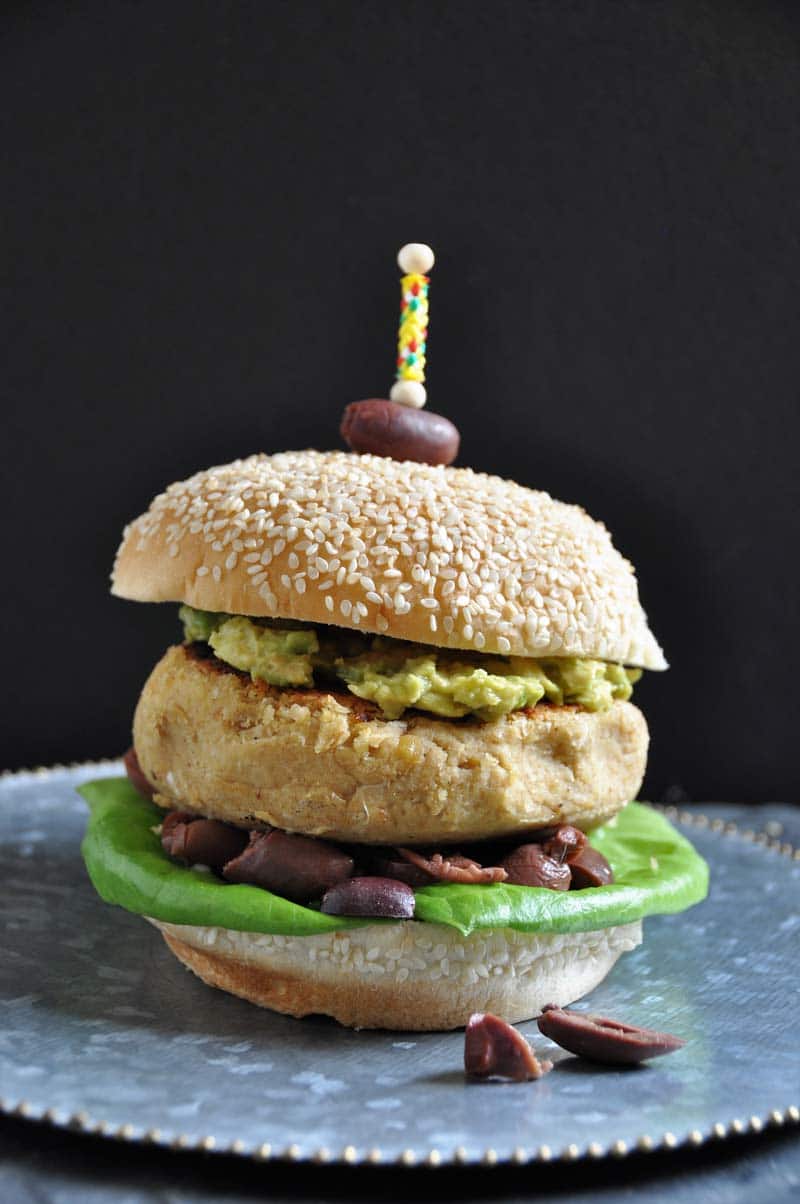 Hello big, fat, and delicious patty of my favorite dip ever! Why did it take me so long to turn you into a burger? My life has become infinitely better because of you, and I ♥ you.
Yes, I sometimes talk to my food. Call me a weirdo, I don't care, because I guarantee you that you'll start talking to yours once you try this amazing hummus burger. This blonde beauty was inspired by a scrumptious chickpea burger I had at The Ritz-Carlton, Half Moon Bay. The Breakfast King and I arrived last Wednesday afternoon, tired and hungry from a long day of travel, so we parked ourselves at a table with a view of the sea and noshed on one of the most flavorful burgers I've ever had. It was one of those things that I started craving the minute that I finished eating it, so when I returned home, it was the first thing I made.
If you love classic hummus, the kind that's made with garbanzo beans, fresh lemon juice, sea salt, garlic, olive oil, and tahini, you're going to love this simple hummus burger. I added some oat flour, breadcrumbs, and aquafaba (the liquid from the can of the chickpeas) to bind the hummus into a perfect patty that holds together when you cook it. I didn't put olive oil into the burger mixture, but I did use it to prevent them from sticking to the pan, so you will taste the flavor.
The toppings on this burger keep the Mediterranean theme going. The chopped Kalamata olives add a zippy flavor, and the mashed avocado lends a freshness that compliments the bright and savory hummus. Every bite is filled with a hint of lemon and garlic, olive, and tahini.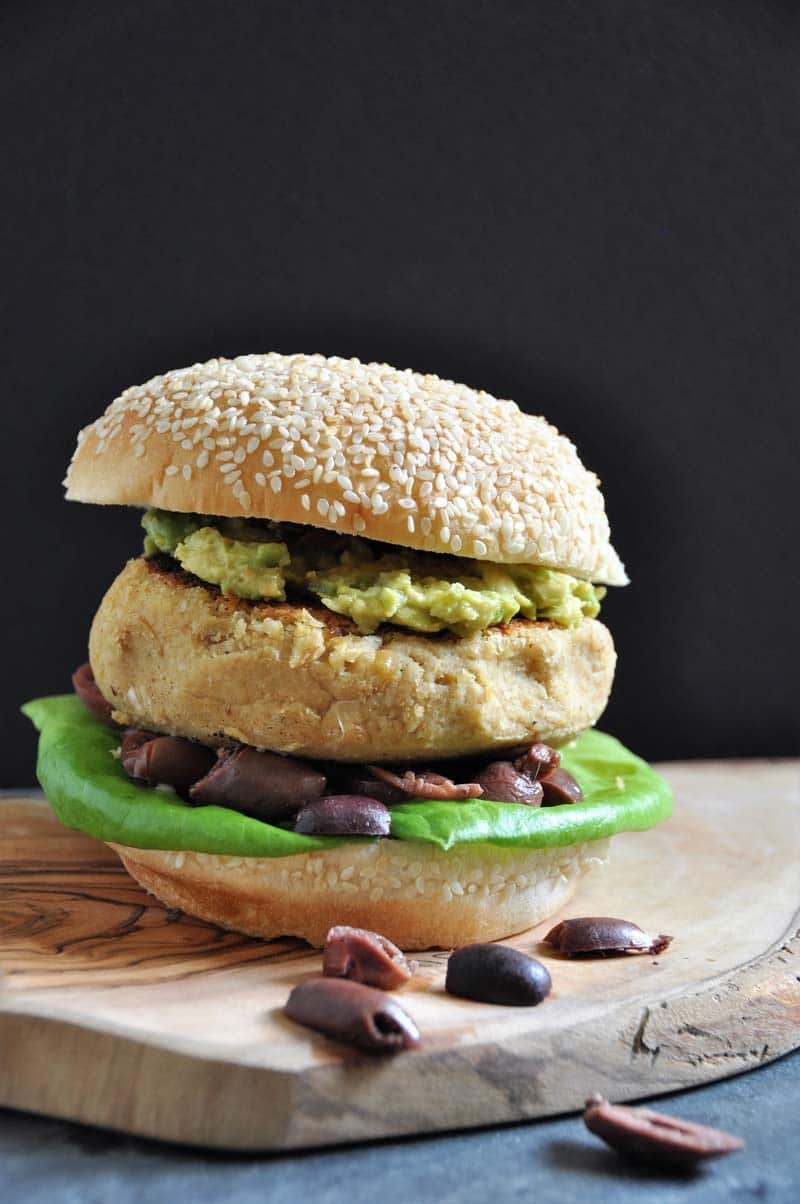 HOW TO MAKE A BURGER WITH HUMMUS
It will take you about five minutes to whip this up and three to four minutes to cook it. If you need a quick and easy meal that tastes like anything but fast food, this is it. Here's what you'll need to do:
Open a can of garbanzo beans, reserve the liquid, rinse the beans, and place in your food processor.
Slice two cloves of garlic and put them in the processor with the beans.
Squeeze the juice of one lemon on top of the beans and garlic.
Spoon the tahini over the lemon juice.
Add some oat flour and breadcrumbs and grind a teaspoon of sea salt on top.
Process until the ingredients turn into a creamy and sticky mixture.
Divide the mixture by four and form into patties.
Cook in the olive oil for three to four minutes.
While the burgers are cooking, chop the olives and mash the avocado.
Serve on sesame seed buns (compliments the tahini) or wrapped in a lettuce leaf.
It doesn't get any easier or tastier than this, my friends.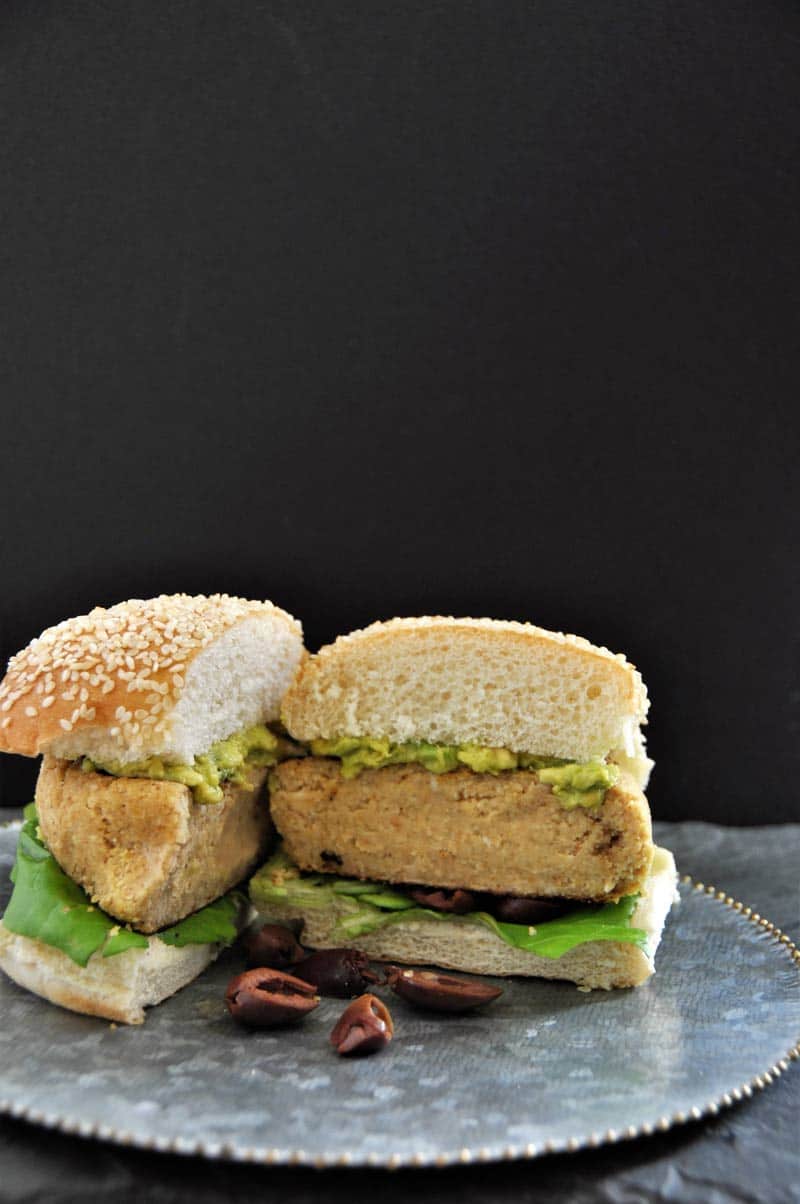 We had some leftover burgers so we ate them for breakfast the next day with some baby spinach leaves and a drizzle of balsamic vinegar. Because they're filled with antioxidants and protein, it was a perfect way to begin the day.
On Saturday, I'll be reviewing Heather Crosby's, of Yum Universe, new book, Pantry to Plate. It's an incredible book that everyone needs to have. That's all I'm going to tell you today, so you'll need to stop by this weekend to learn more.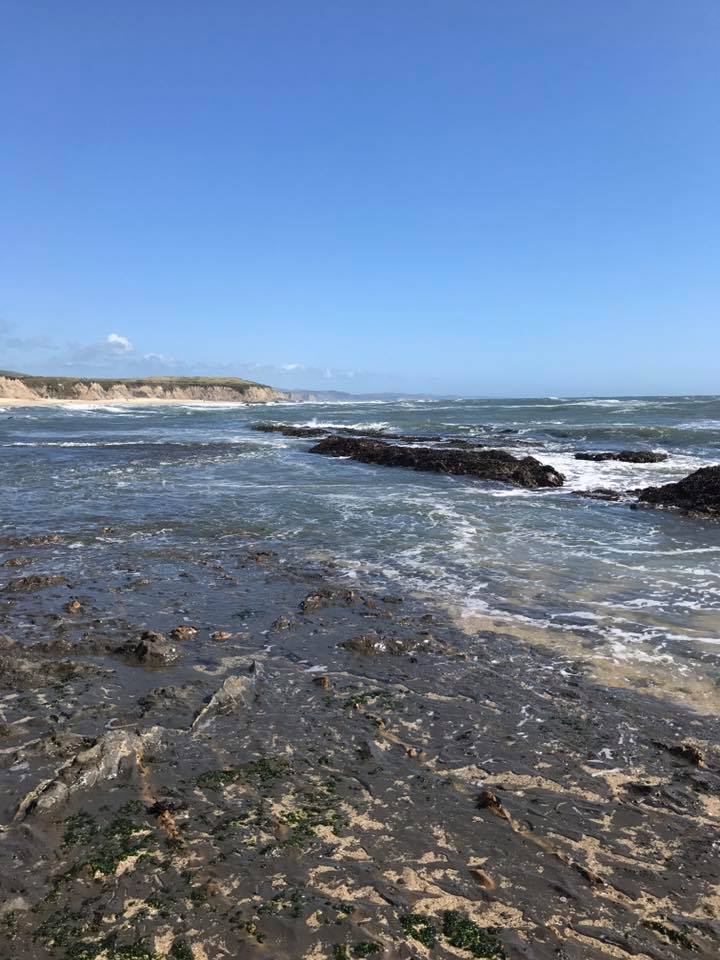 Have you ever been to Half Moon Bay, or any coastal city in Northern California? If you haven't, you must put it on your bucket list. It's a truly magical area. You'll see lush green rolling hills, giant cliffs that drop down to the Pacific Ocean, and beautiful foliage, such as wild succulents, evergreens of every variety, and palm trees. I'll leave you with a few pictures that I took while I ran the hills and beaches. They really don't do the place justice, but it will give you an idea of the beauty of the area.
I also want to give a shout out to The Ritz-Carlton. The hotel was exquisite, the staff was friendly and courteous, and the chefs understood vegan. Besides the delicious hummus burger we had for lunch our first day, we had some of the best plant-based food I've ever eaten outside of our own home. We were there for a business conference and had two nights of banquets, which are usually always disappointing for vegans, but this time I was pleasantly surprised. The first night we were served a delicious Israeli couscous in a lovely tomato sauce with roasted asparagus and other vegetables. When our server brought us our meal, we reminded him that we were vegan, because it had shaved parmesan on top. He said that it was indeed vegan, so I started eating. Two bites in and the head server, a lovely woman, ran up to me and swapped my plate with a new one that didn't have cheese. It turned out that it was dairy, not vegan cheese. She apologized profusely, then came over to me after we finished eating to ask me if I preferred red or white wine. When we returned to our room there was a bottle of white wine from a local vineyard with a card from her and the banquet staff, apologizing for the error. I was beyond impressed.
The second night we were served seared cauliflower steaks on top of a white bean puree. It was incredible! The funny thing was, both nights the people sitting around us (eating meat) saw our dinners and wanted what we were eating. Ha! Ours was so much more colorful and inviting.
The third night we ate at their nicer restaurant and my mind was blown. I started with an appetizer of little green purses of nettle and lemon, floating in a creamy mushroom consume. Oh. My. Gawd. I'm not one to say that food is orgasmic, but this, well let's just say that my husband was almost jealous of my reaction to eating it. My entrée was marinated seared tofu steaks and fresh spring peas. It was outrageously good.
That short trip was just what I needed after six days of photo shoots for our cookbook. I was up at 4:00 am and didn't return home until 9:00 pm after pulling props and cooking seventeen recipes each day. It was one of the best experiences of my life, but exhausting. Staying at The Ritz-Carlton and running and hiking the coast was exactly what I needed to recharge my battery. You can check out pictures of some of the food I ate on our Instagram page. And don't forget to watch our story, because Alex is in Berlin, Germany, then London, and she's sharing all of the vegan food that's she's eating in the most vegan friendly city in the world. I'm jealous.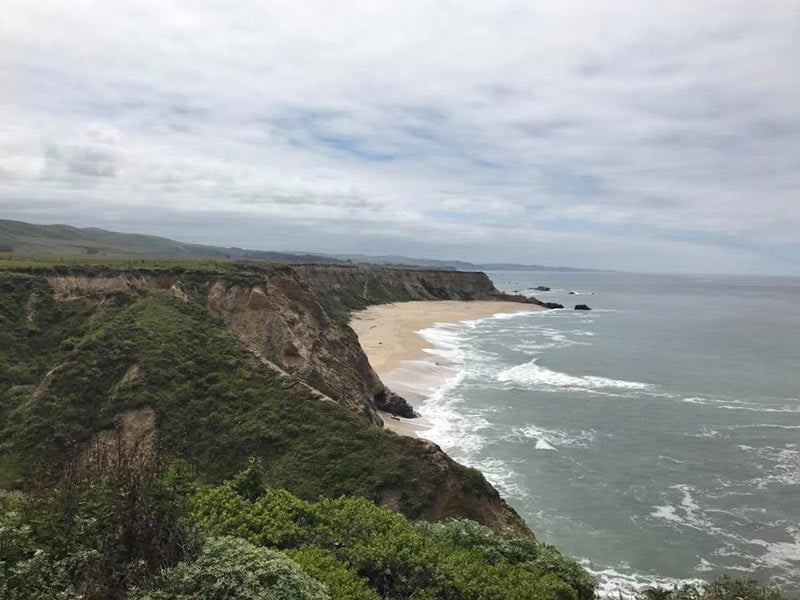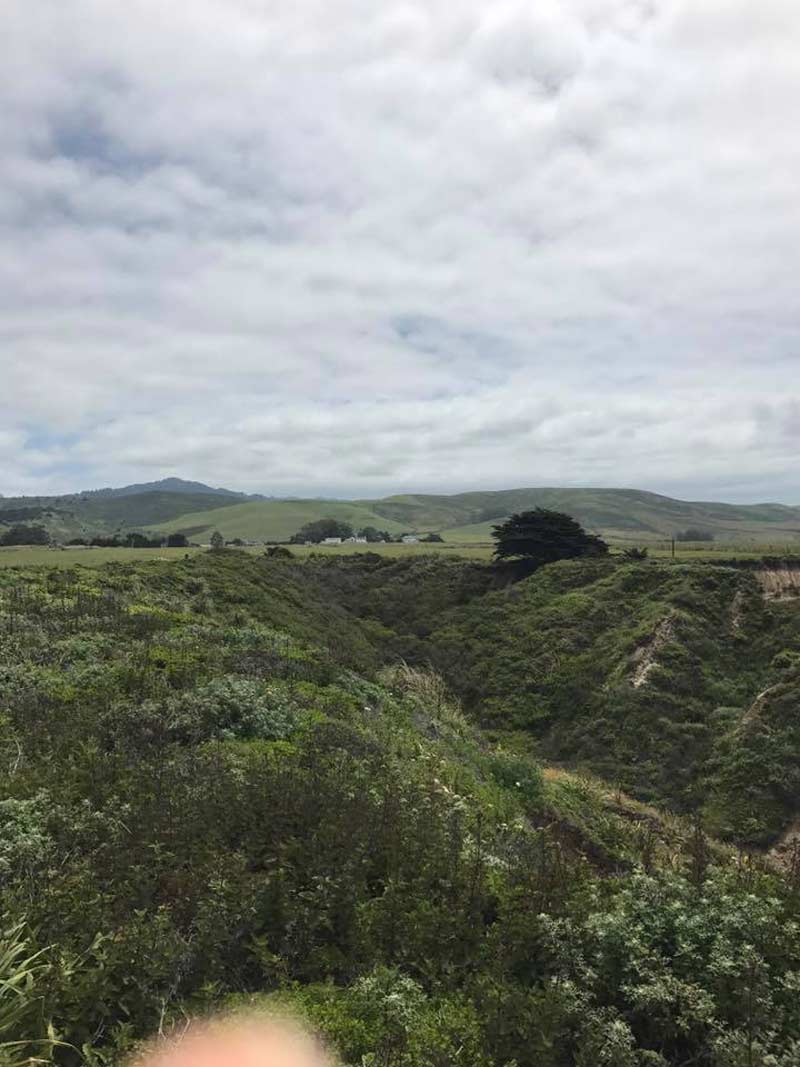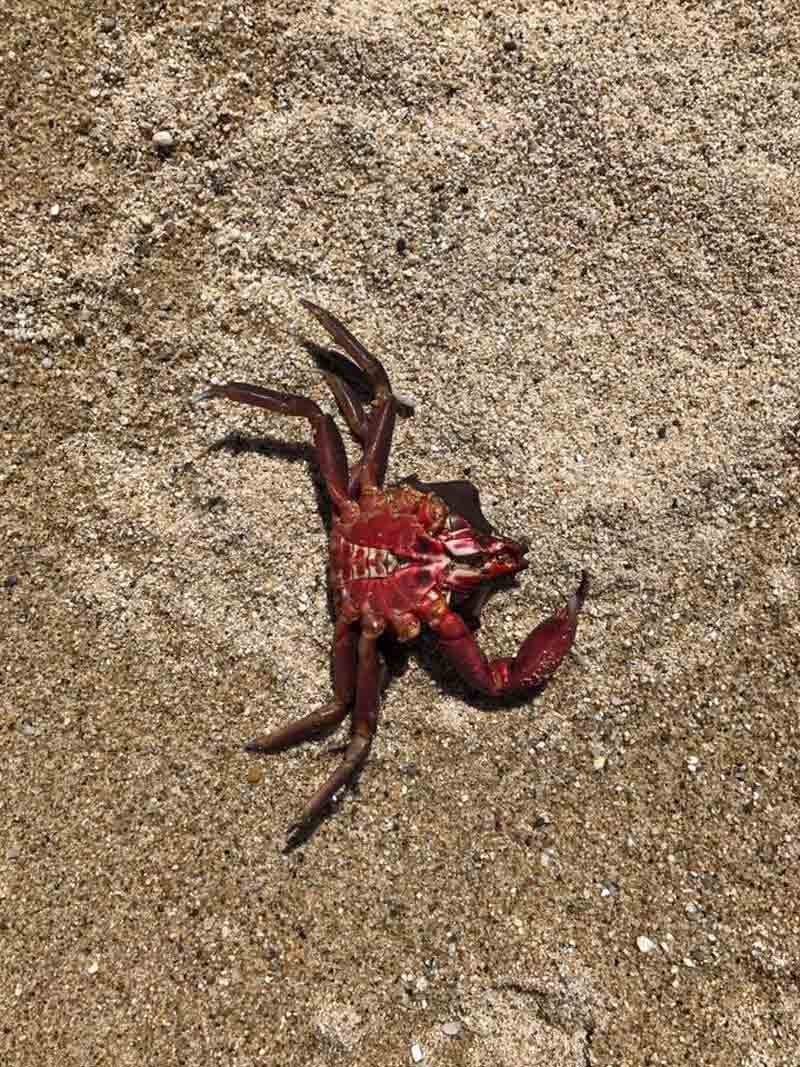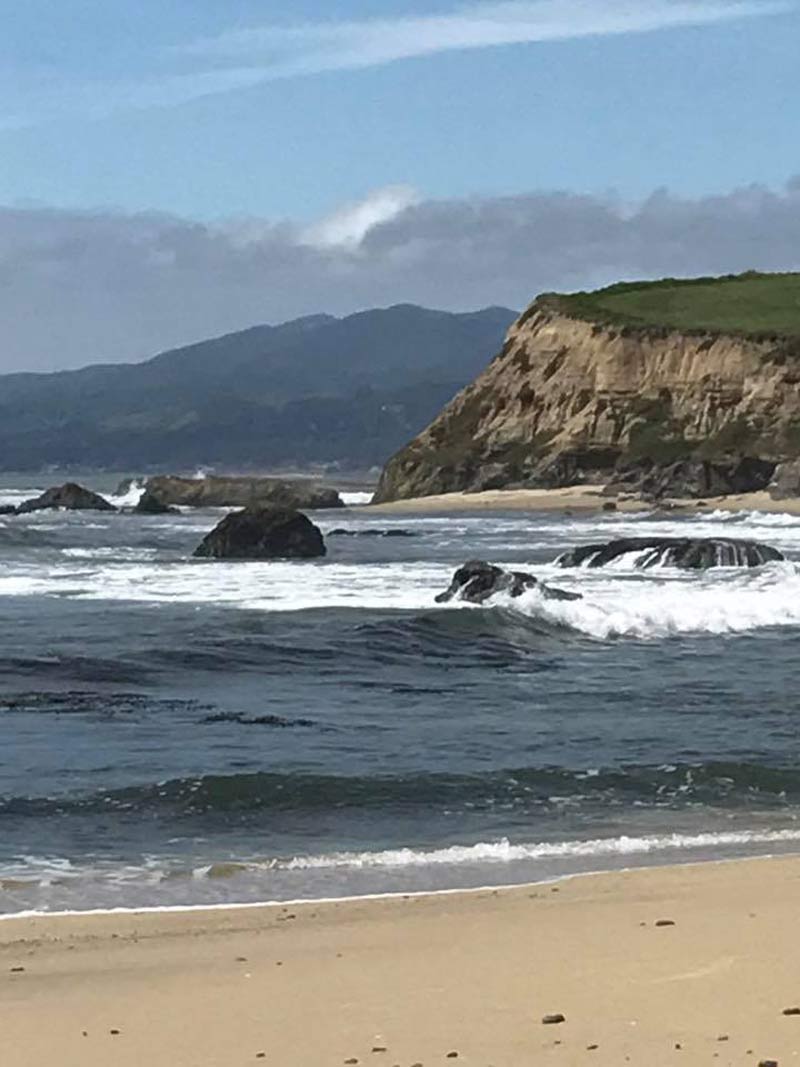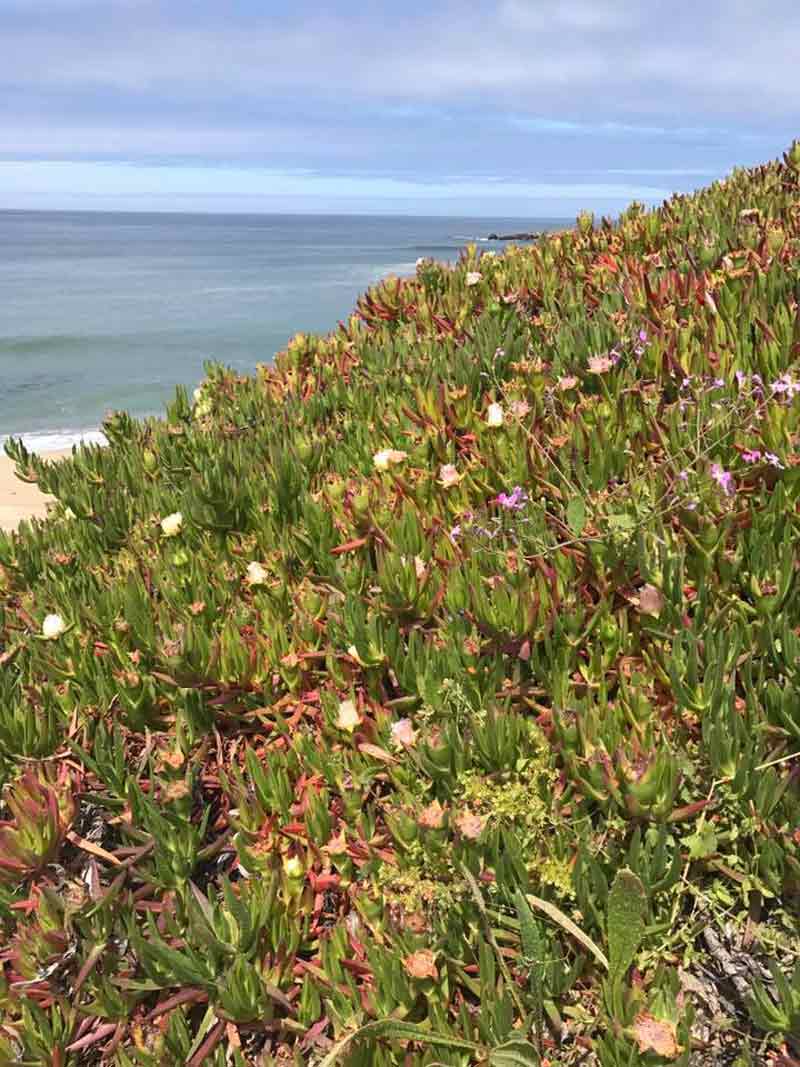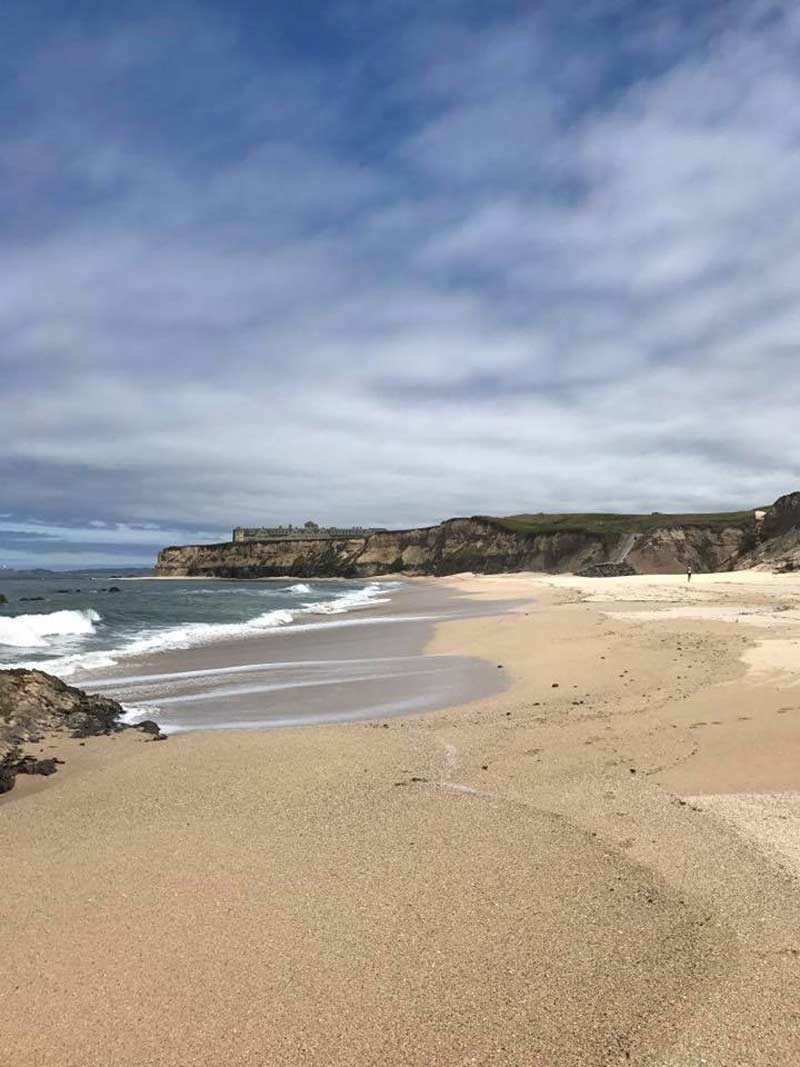 Let's connect! Hop on over to our Facebook page and give it a like, and follow us on Instagram and Twitter, and follow us and share this and other Veganosity recipes on Pinterest. We'd be so grateful if you did. If you like this recipe and can't wait to see what we're going to share next, subscribe to Veganosity. Just fill in the subscription box above our picture in the top right corner of the page. And, Alex and I love hearing from you, please leave a comment and let us know what you think of our recipes.
Yields 4 burgers
Mediterranean Hummus Burgers
Savory and delicious classic hummus in the form of a burger. A quick and easy dinner or lunch recipe.
5 minPrep Time
8 minCook Time
13 minTotal Time
Ingredients
2 cups (396 g) edamame
1 cup (213 g) uncooked jasmine rice, cook according to instructions on package
2 tbsp (14 g) ground flax seed plus 6 tbsp (90 ml) water, mix them together in a small bowl until the mixture becomes thick and sticky. Let sit for ten minutes.
2 cups (60 g) chopped spinach
1 garlic clove, minced
1 tsp ground cumin
1 tsp smoked paprika
1 tsp ground turmeric
½ tsp dried oregano
¼ tsp cayenne pepper (optional, add only if you like spicy food)
Ground sea salt and ground black pepper to taste.
4 hamburger buns
TOPPINGS
Tomato slices
Spinach
Sriracha
Soy sauce
Instructions
Cook the rice according to the instructions on the package.
Bring a medium pot of water to a boil and add the edamame. Boil for 5 minutes, drain the water, and rinse with cold water. When the edamame is cool enough to touch remove the beans from the pods and place them in a bowl.
Add the edamame beans to a food processor and process until it looks like tiny pebbles. Add the spinach, rice, flax eggs, garlic, cumin, paprika, turmeric, oregano, cayenne pepper (only if you like hot food), sea salt and pepper to a food processor and process until the mixture starts to form a ball.
Divide by four and roll each piece in a ball and form into patties.
Heat a large skillet on medium heat and drizzle with a teaspoon of avocado oil (optional if you have a non-stick pan). When the oil is got add the edamame burger and cook for 8 minutes or until firm and browned. Flip and cook the other side for 8 minutes. You can also bake in a 375°F (190°C) oven for fifteen to twenty minutes or until they begin to brown on top.
Serve on a bun with lettuce and tomato and your favorite condiments or serve the patty on a bed of spinach with a drizzle of sriracha, or serve as a patty and dip in soy sauce.
7.8.1.2
423
https://www.veganosity.com/mediterranean-hummus-burgers/