Vegan Strawberry Vanilla Cupcakes! Made with fresh ripe strawberries and pure vanilla extract. Light, fluffy, and delicious!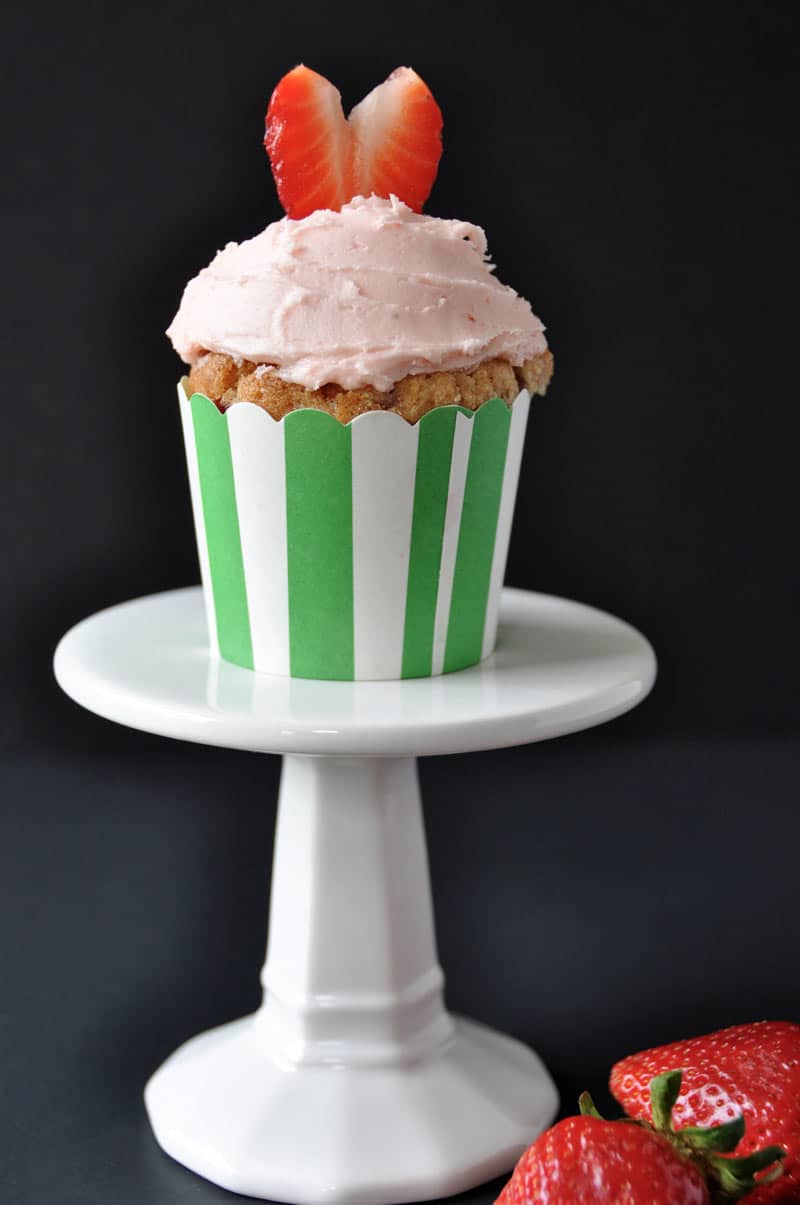 I hate breaking promises. I apologize. This recipe was supposed to be shared with you yesterday, and my intentions were good, but there just aren't enough hours in a day, and I ran out of them two days in a row.
We're in the middle of photographing the recipes for our cookbook with the amazingly talented food photographer, Kelly Allison. As much fun as it is, it's SO MUCH WORK. We spent a full day organizing the order of the recipes, a full day pulling props and deciding on the backgrounds, writing the grocery lists and shopping, and finally, two days of photographing (you can see the fun on our Instagram account). For three days in a row, I left my house at 6:00 am and didn't get home until 8:30 pm. When I got home I said hello to my hubby and furbabies, ate dinner, took out my computer and answered email and as many comments on the blog as I could, and by that time my brain was so foggy that I didn't trust myself to write a blog post that required sharing ingredients. We have three more days of this to go, and it's worth every exhausting second, except for the fact that in my sleep deprived state I broke a promise to you and I'm a day late in delivering this delicious strawberry vanilla cupcake recipe. Forgive me?
Now, on to the best cupcakes this side of Strawberry Hill.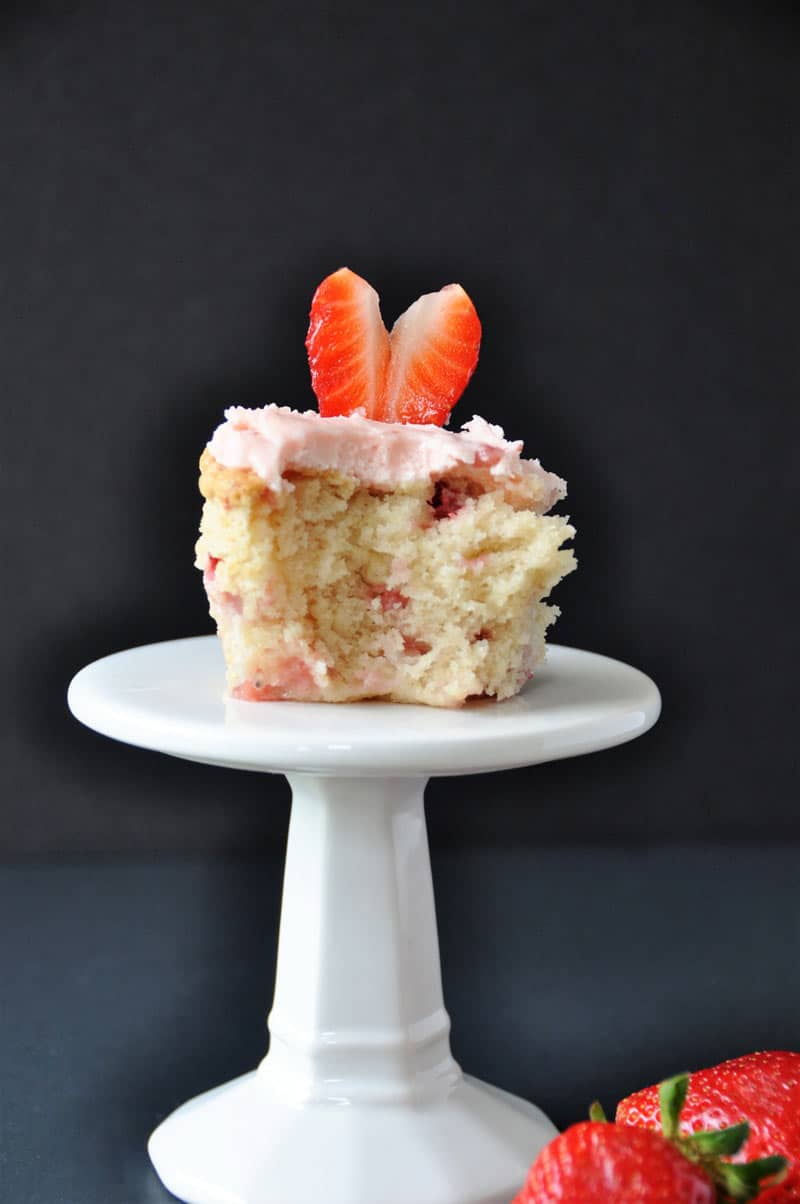 June is on its way, and that means strawberries will be in season. That makes me so happy. If you love these ruby red, sweet, and delicious berries as much as I do, then you're going to want to make these cupcakes for your next celebration. The fluffy vanilla batter, mixed with perfectly ripe strawberries and then topped with strawberry buttercream frosting (click here for the recipe), are truly worth celebrating.
Vegan strawberry vanilla cupcakes are perfect for Mother's Day, Father's Day, graduation parties, bridal and/or baby showers, birthdays, a neighborhood BBQ, or just because you really need a cupcake filled with fresh strawberries. Don't tell your friends that they're vegan until after they've oohed and aahed over them, then tell them that they don't have any dairy butter or milk in them. Minds blown!
I'll be making another batch of these for myself and my mom for Mother's Day. If you make them soon please let me know how you liked them. In the meantime, I'm off to pull props for the next two days of photo shoots. Have a great weekend!
Let's connect! Hop on over to our Facebook page and give it a like, and follow us on Instagram and Twitter, and follow us and share this and other Veganosity recipes on Pinterest. We'd be so grateful if you did. If you like this recipe and can't wait to see what we're going to share next, subscribe to Veganosity. Just fill in the subscription box above our picture in the top right corner of the page. And, Alex and I love hearing from you, please leave a comment and let us know what you think of our recipes.
Vegan Strawberry Vanilla Cupcakes
Light and fluffy homemade strawberry vanilla cupcakes. Made with fresh strawberries.
Print
Pin
Rate
Ingredients
2 ½

cups

318 g all-purpose flour

3

teaspoon

11 g aluminum-free baking powder

½

teaspoon

finely ground sea salt

1

cup

170 g finely chopped strawberries

12

tablespoon

175 g vegan butter, room temperature

1 ½

cups

292 g vegan granulated sugar

1

tablespoon

15 ml pure vanilla extract

¼

cup

60 ml aquafaba (juice from a can of chickpeas)

1

cup

240 ml almond milk
Instructions
Preheat the oven to 375° f (190° c) and line a muffin pan with baking cups.

In a medium bowl, whisk the flour, baking powder, and salt together until fully combined.

In a large mixing bowl, beat the butter and sugar on a high speed until light and fluffy. Add the vanilla and aquafaba and beat on high until even lighter and fluffier. Turn the speed down to low and add half of the flour and half of the milk and blend until almost combined, add the rest of the flour and milk and blend until almost combined. Fold the strawberries into the batter.

Use an ice-cream scoop to fill the baking cups ¾ of the way full and bake for 5 minutes. Reduce the heat to 350° f (177° c) and bake for 30 minutes, or until a toothpick inserted into the center of a cupcake comes out clean. Cool on a wire rack. Frost when completely cool.

Click the link for the frosting

Enjoy!