Sweet, crispy, tender, Vegan Banana Bread Waffles! Dairy-free and egg-free, and you'd never know it. These are breakfast perfection.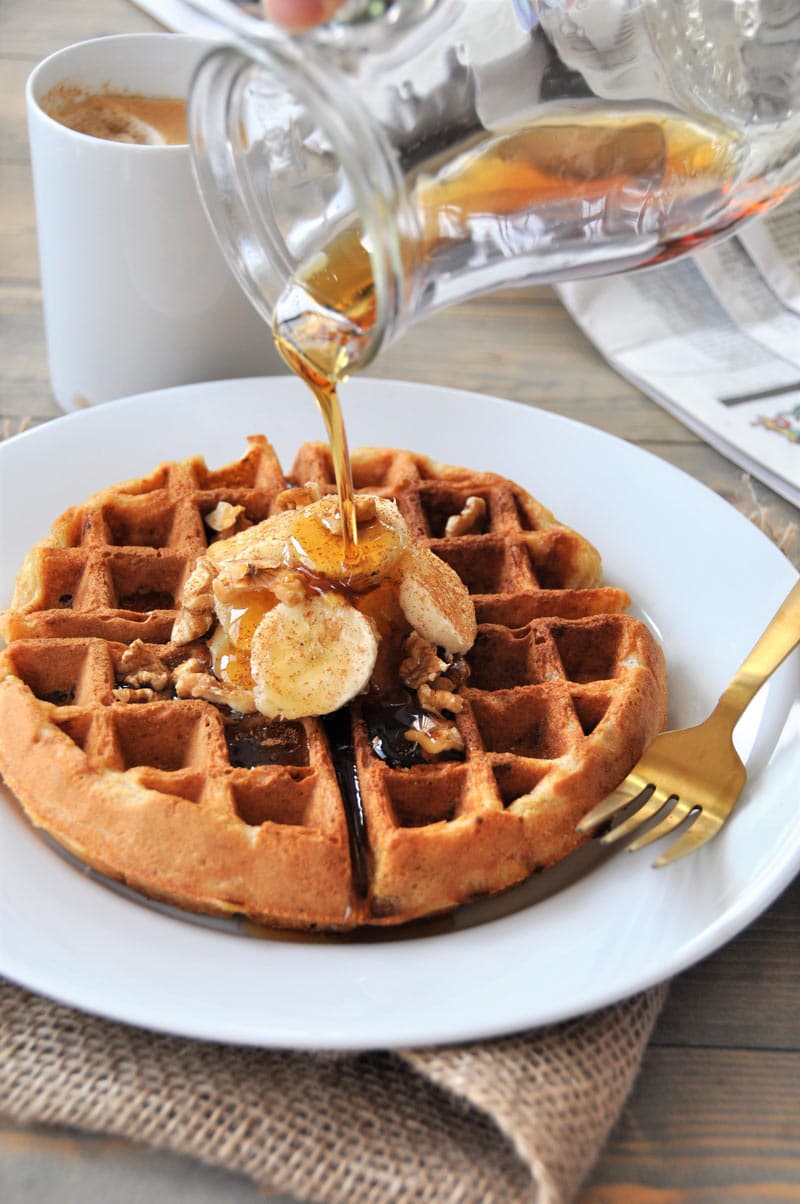 The Breakfast King is baaaaccckkkkk!!! And he's dishing up some delicious vegan banana bread waffles for your weekend—or weekday—dining pleasure. In case you don't know who the Breakfast King is, let me introduce you, just click here. Now that you're familiar with one of my favorite people in the whole wide world, let's get cozy with some banana and walnut waffles.
The idea was mine, and the King executed them perfectly. Sunday morning is the only morning of the week that the two of us get to spend together. Monday through Friday he's out the door by 7:00 am to catch the train, and I'm already working on the blog. On Saturday mornings, that crazy man wakes up at 5:30 am to play tennis, and doesn't get home until around 10:00 am, by that time I'm fed and in the middle of running or working out, so Sunday is our day to relax with a cup or two of coffee and a long and leisurely breakfast. On this particular morning, I had a craving for banana bread, and since we had four very ripe bananas sitting on the counter, it made total sense to turn a plain old waffle into something spectacular.
As soon as I mentioned my desire for banana bread Belgian waffles, the King got to work. Because he's awesome like that. I mean, just look at what he made for me!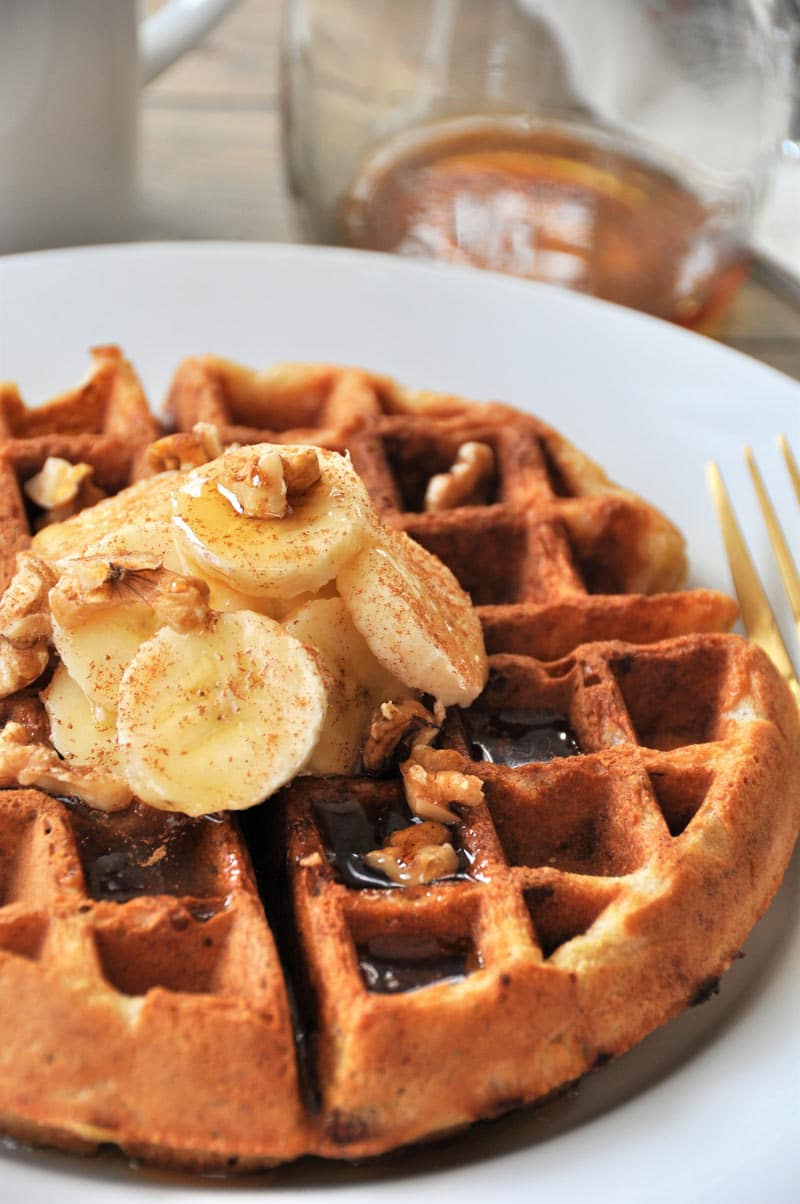 There is something pretty sexy about watching your guy make food, especially when you've made a hundred different recipes during the week, and all day on Saturday. So, while he whisked, stirred, and cooked, I sipped on coffee and enjoyed the view.
If you're new to the whole plant-based thing and haven't yet made vegan waffles, it's time. They're easy to make and they are deeeeelicious! You'll be pleasantly surprised to learn that you don't need eggs or dairy to create a perfectly light and fluffy on the inside and crispy on the outside waffle.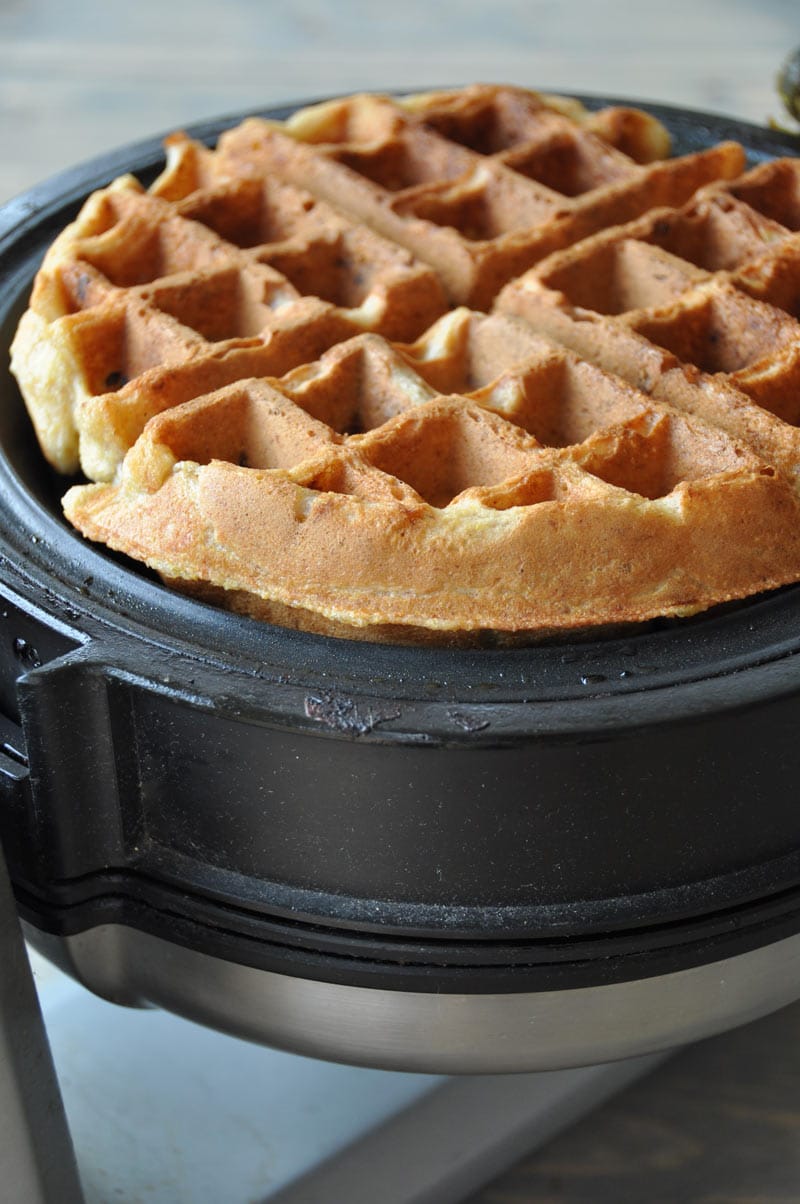 How to Make Vegan Banana Bread Waffles
Okay, let me break it down for you. First, you'll need a waffle iron. I prefer thick, as big as your head, Belgian waffles, so I bought a waffle iron like this
. If you like thinner waffles, then buy an iron like this
.
Toast the walnuts.
Whisk the dry ingredients in a large mixing bowl.
Whisk the wet ingredients in a large bowl.
Puree the bananas.
Combine the wet and dry ingredients and fold in the bananas and walnuts.
Heat the waffle iron and pour the batter in until the iron is ¾ of the way full.
Cook until the steam stops flowing from the iron.
Smother with banana slices, walnuts, and pure maple syrup.
Because these are banana bread waffles, and there's a lot of banana in the batter, you'll need to cook these for a longer time than you'd cook a traditional waffle. It took 6 to 7 minutes for ours to cook, so don't be impatient and take your waffle out of the iron too early.
Now that you know how to make egg-free and dairy-free waffles, it's time to dust off your waffle iron and get busy. After you finish eating, come back and let me know how much you loved this recipe.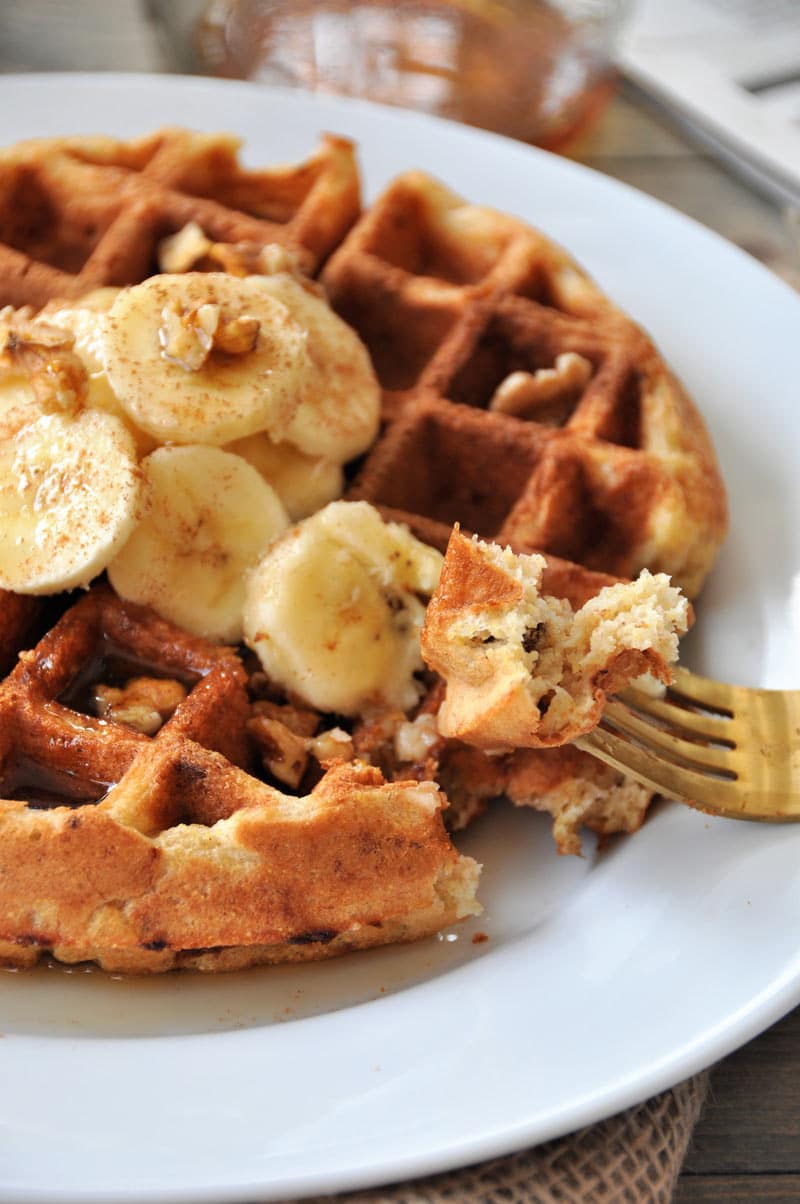 A BIG ANNOUNCEMENT!
Alex and I have been impatiently waiting for the right time to make this big announcement, and today is the day. We're so excited to tell you that we're writing our first COOKBOOK!!
We were approached by our publisher in January, and after going through the process of agreeing on the concept of the book and signing the contract, we can finally share the news with you. You may have noticed that I've been a little quiet on the blog lately, and that's because I've been in my kitchen developing new recipes for the cookbook. Alex has also been creating new recipes in her kitchen, while finishing up her last semester of grad school and working at her internship. It's been a balancing act for both of us, and we're over the moon happy to have so much going on in our lives. This is a dream come true and we're so humbled and honored to have been given this opportunity.
Because this is our first book, and we want it to be the most gorgeous book to look at, and we want the recipes to be perfect, we chose to work with a professional food photographer. As much as I love taking pictures of our recipes for the blog, developing recipes AND taking the pictures for the book, seemed a bit daunting. I know my limits, and Alex definitely knows hers, so we decided to focus on putting our energy into the recipes and letting the pro take the pictures. It's the best decision we could have made, because this cookbook is going to be amazing.
The book is scheduled to be released next February and we'll probably still be pinching ourselves for the rest of the year, because it still doesn't feel real. Except for the hours and hours we've been spending in our kitchen, that feels real. Just ask my feet.
Let's connect! Hop on over to our Facebook page and give it a like, and follow us on Instagram and Twitter, and follow us and share this and other Veganosity recipes on Pinterest. We'd be so grateful if you did. If you like this recipe and can't wait to see what we're going to share next, subscribe to Veganosity. Just fill in the subscription box above our picture in the top right corner of the page. And, Alex and I love hearing from you, please leave a comment and let us know what you think of our recipes.


The above links are affiliate links. Any Amazon purchases made through these links help support Veganosity.com at no additional cost to you.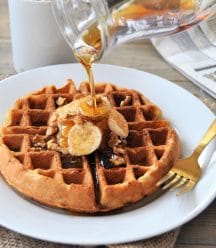 VEGAN BANANA BREAD WAFFLES (DAIRY-FREE & EGG-FREE)
Thick, tender and delicious vegan banana bread waffles that you can whip up in no time. They taste like banana bread!
Ingredients
2

tbsp

ground flax seed

4

tbsp

water

½

cup

chopped walnuts

2

very ripe bananas

pureed
Dry Ingredients
1 ½

cups

all-purpose flour

½

cup

cornmeal

1

tbsp

sugar

3

tsp

baking powder

½

tsp

cinnamon

1/8

tsp

ground sea salt
Wet Ingredients
1 ½

cups

almond milk

3

tbsp

vegan butter, melted

1

tbsp

lemon juice

1

tsp

pure vanilla extract

2

tbsp

melted coconut oil (to brush on the waffle iron to prevent sticking)
TOPPINGS
Sliced bananas

Walnuts

Cinnamon

Maple syrup
Instructions
Mix the flax seed and water together in a small bowl until it's thick and sticky. Set aside

Toast the walnuts (shake the pan frequently to avoid burning) in a medium pan on medium heat until they're golden brown and fragrant. Approximately 3 to 4 minutes.

Puree the bananas.

In a large mixing bowl, whisk the dry ingredients until they're fully combined. In a medium bowl, whisk the almond milk, melted butter, lemon juice, and vanilla extract until combined, then pour the liquid into the dry mixture. Add the flax mixture and the pureed bananas and stir until the wet and dry mixtures, and the bananas, are combined. Fold in the walnuts.

Heat your waffle iron and brush a thin layer of coconut oil over the grid. Make sure the pockets of the grid are well oiled or the waffle will stick. Fill the grid with batter until it's ¾ full. Close the iron and cook for 6 to 7 minutes, or until it stops steaming and the waffle is firm and golden brown.
Recipe Notes
Because there is a lot of banana in the batter you will have to cook the waffle a lot longer than you'd cook a plain waffle.
The Nutrition Facts are an estimate only.
Nutrition Facts
VEGAN BANANA BREAD WAFFLES (DAIRY-FREE & EGG-FREE)
Amount Per Serving
Calories 565
Calories from Fat 198
% Daily Value*
Fat 22g34%
Sodium 222mg10%
Potassium 853mg24%
Carbohydrates 81g27%
Protein 12g24%
Vitamin A 600IU12%
Vitamin C 6.6mg8%
Calcium 335mg34%
Iron 4.6mg26%
* Percent Daily Values are based on a 2000 calorie diet.