The best Southern vegan strawberry pecan waffles are made with love, and fresh strawberries and toasted pecans. These crispy on the outside and chewy on the inside waffles are dairy-free and egg-free, and they're super easy to make. Serve them for breakfast or a Sunday brunch with our tofu bacon or vegan sausage patties.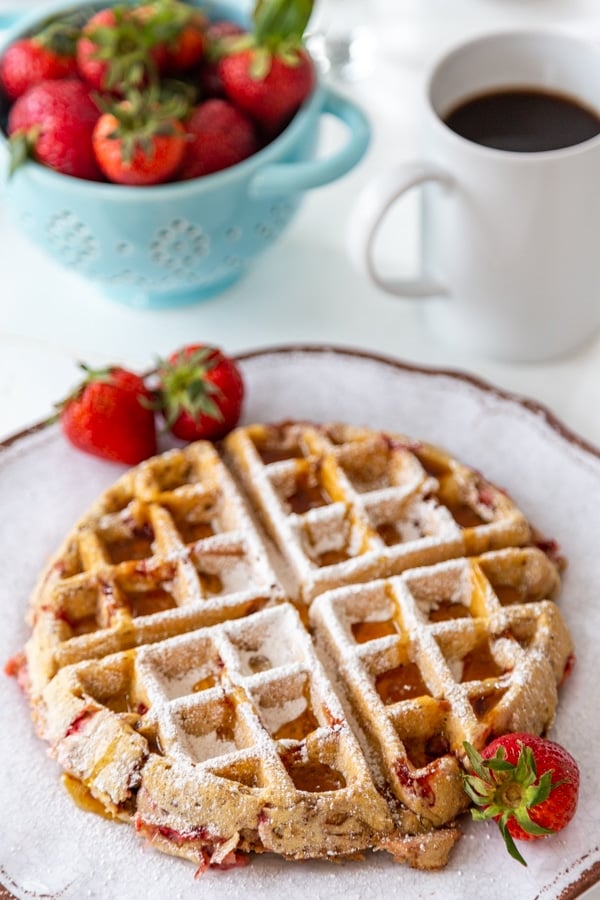 Published Oct. 7, 2015 and updated August 8, 2020.
What's better than a Belgian waffle that's as big as your head, smothered with maple syrup and sprinkled with powdered sugar? Nothing.
Okay, that's a bit of hyperbole, but seriously, when it comes to vegan breakfast food, this is a winner.
These Southern style waffles are inspired by the yearly summer road trips my family took to the Carolinas when I was a kid.
Every trip included several stops at a Waffle House for the best crispy waffles ever!
What Makes Them Vegan?
When you swap out dairy milk for plant-based milk and vegan egg replacement for chicken eggs, you can make the best waffles ever.
For this recipe you can use sweetened or unsweetened plant milk.
Almond, cashew, pea, oat, or soy are all great alternatives. The only kind we don't recommend is coconut, because it adds a different flavor.
To swap out the chicken eggs for this recipe, we used a banana.
Yep, banana is a great egg substitute for baked goods, pancakes, and waffles.
Can you use a flax egg, applesauce, or store-bought vegan egg substitutes? Yes, that's fine, but why complicate things? Bananas are easy.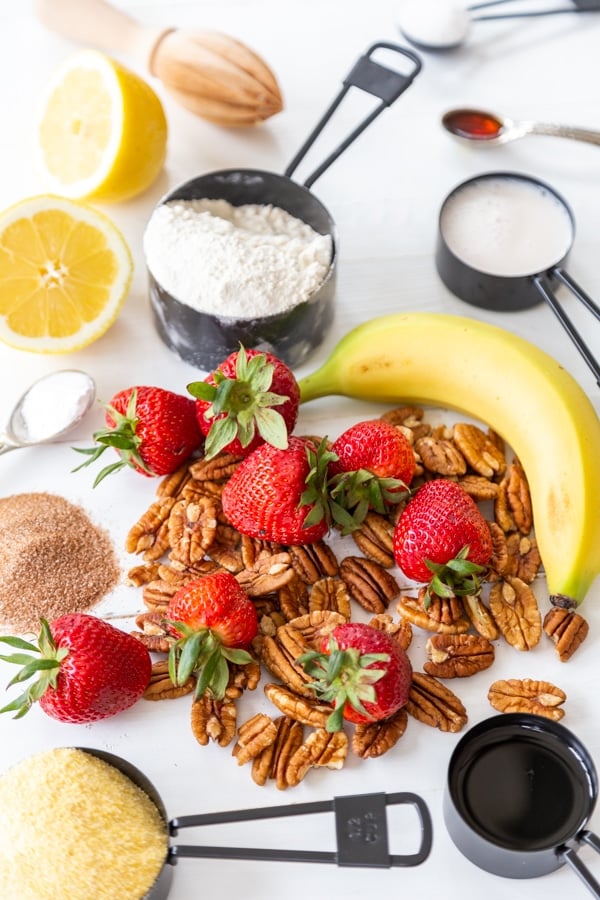 How to Make Them
STEP ONE
The first thing you'll want to do is toast the pecans.
Toasting nuts brings out the oil in them, which makes them more flavorful and crispy.
Feel free to coarsely chop them once they're cool.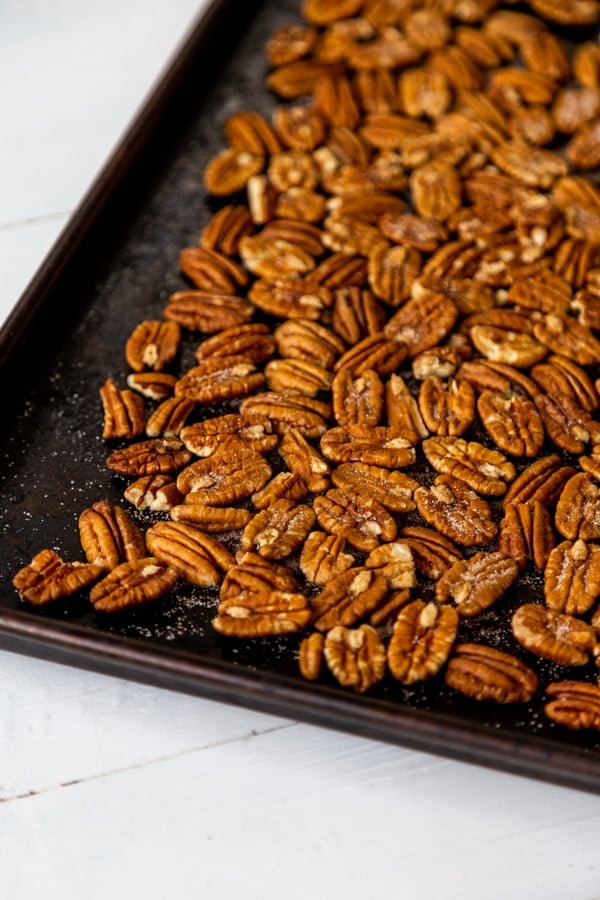 STEP TWO
Wash and pat dry the strawberries and remove the stems.
We like to chop them into smaller pieces, but if you like them larger, then feel free to thinly slice them.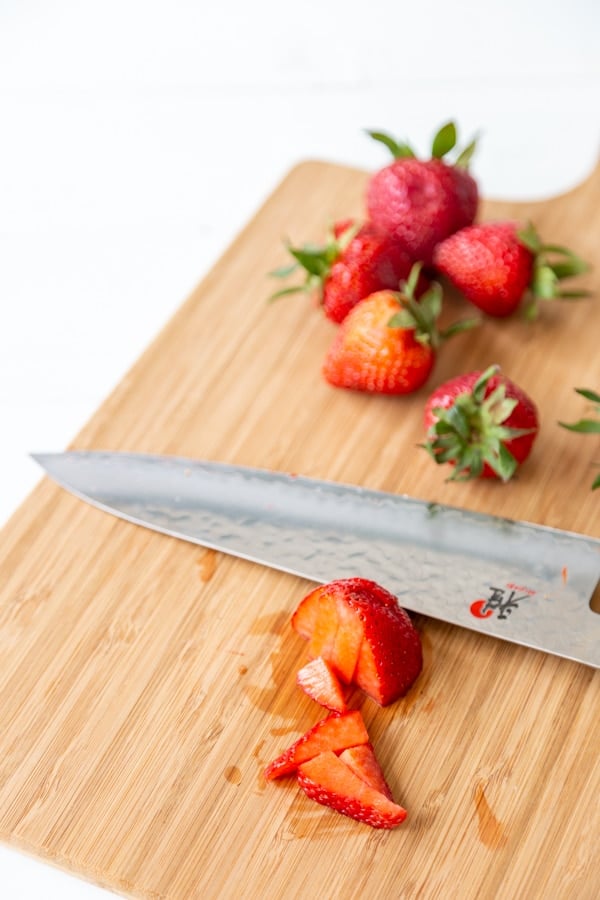 STEP THREE
Some waffle recipes that use bananas as the egg replacer will tell you to mash them. We say no.
Put the banana in a mixer, food processor or blender and puree it with the other wet ingredients until it looks like baby food.
This will ensure that you won't have large pieces of the banana fighting with the strawberries.
STEP FOUR
Whisk the dry ingredients together in a large bowl and then stir in the wet ingredients until just combined.
Now, fold in the pecans and the strawberries.
Don't overdo it or the waffles will be tough.
STEP FIVE
Fill the preheated waffle iron with the batter.
You want to fill the pockets of the iron and just cover the top.
Cook the waffle until it stops steaming, approximately 5 minutes.
Pro Tips
Don't over mix the batter or the gluten in the flour will make the waffles tough.
Blend the banana so it's pureed and smooth. This makes a better egg replacer.
Preheat the waffle iron completely.
Brush a thin layer of oil over the top and get into the pockets of the iron so they don't stick.
Cook the waffles until the steam stops coming out of the sides of the waffle iron.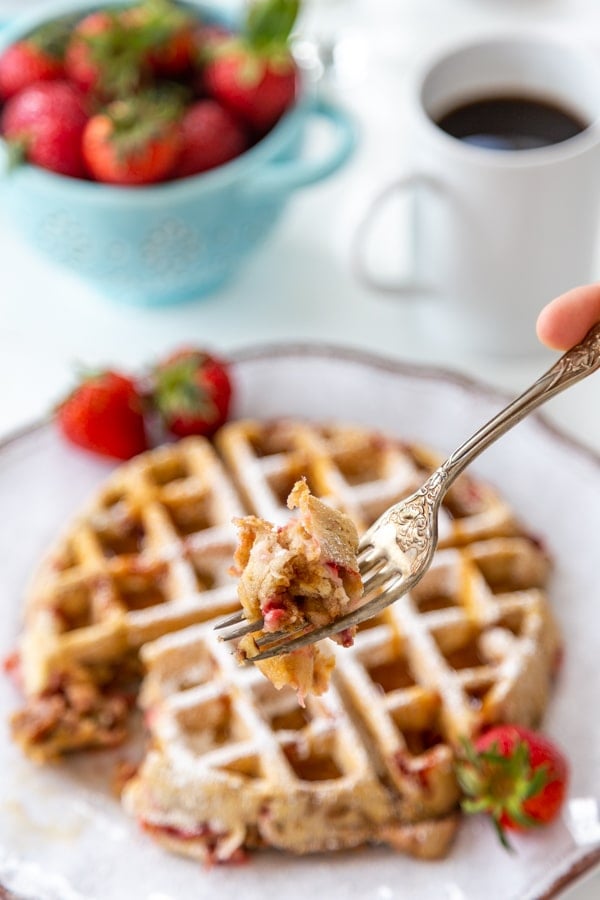 How to Serve Them
These are the best toppings for waffles:
Warm maple syrup
Whipped cream (vegan, of course)
Powdered sugar
More chopped berries and pecans
A pat of vegan butter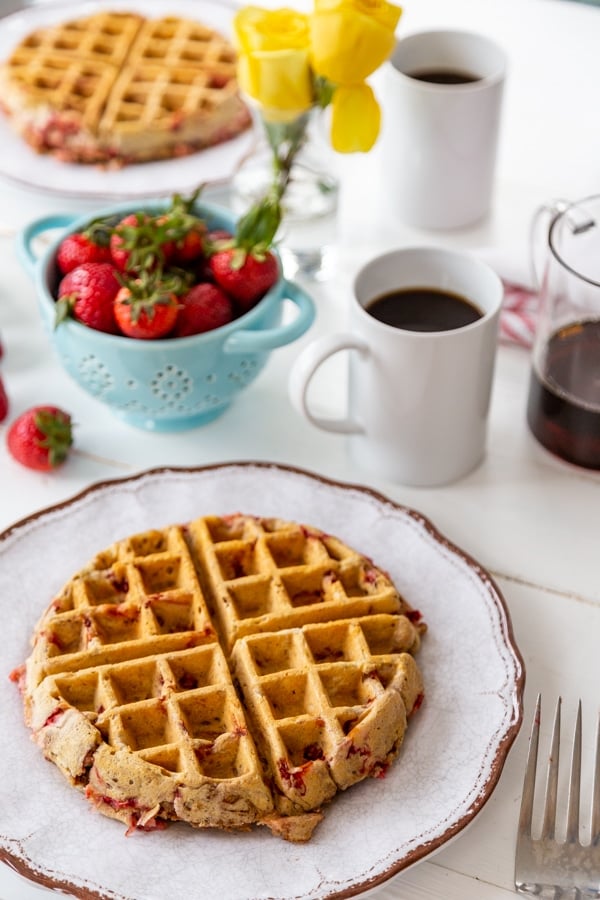 More Vegan Breakfast Ideas You'll Love
Homemade Vegan Pumpkin Pancakes 
Old Fashioned Fluffy Vegan Pancakes 
Make our vegan strawberry pecan waffle recipe and let us know what you think. We love to hear from you! And, don't forget to take a picture of your gorgeous creation and tag us @veganosity on Instagram.
Let's connect on Instagram and Twitter. You'll get a peek into our everyday lives in our stories and see what we're sharing in our feed.
And, don't forget to SUBSCRIBE to the blog so you never miss a recipe. Scroll below the recipe or in our side bar to become a Veganosity subscriber.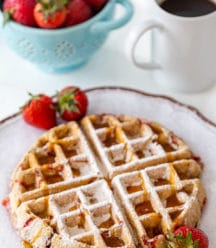 Vegan Strawberry Pecan Waffles
Homemade Belgian strawberry pecan waffles with cornmeal to give them that Southern charm. The perfect Sunday morning breakfast or brunch.
Course:
Breakfast, Brunch
Keyword:
Belgian waffles, strawberry, vegan waffles
Ingredients
12

strawberries

stem removed and finely chopped

3/4

cup

pecans

toasted and coarsely chopped

1/2

tsp

cinnamon sugar

1/8

tsp

ground sea salt

Wet ingredients:

1

banana

1

tsp

pure vanilla extract

1 1/2

cups

almond milk

or any plant-based milk, except for coconut milk

1

tbsp

fresh lemon juice

Dry ingredients:

1 1/2

cups

all-purpose flour

1/2

cup

of finely ground yellow cornmeal

2

tsp

baking powder

3/4

tsp

baking soda

1/2

tsp

salt

1

tbsp

sugar

For the Waffle Iron

2

tbsp

vegetable oil
Instructions
Preheat oven to 375°F (190˚C)

Spread the pecans on a baking sheet and sprinkle with the cinnamon sugar and salt. Roast for approximately five minutes then shake the pecans in the pan and roast for five more minutes or until slightly crispy and brown. Watch them carefully so they don't burn. Not all of the sugar will stick, that's okay.

While the pecans are toasting chop up the strawberries.

Turn on the waffle iron and let it get hot.

In a food processor or blender, add the banana, 1 ½ cups almond milk, 1 tsp vanilla, and 1tbsp lemon juice and blend it until the banana is pureed. It should look smooth and thick.

In a medium bowl, whisk the 1 ½ cups flour, ½ cup corn meal, 2 tsp baking powder, ¾ tsp baking soda, ½ tsp salt, and 1 tbsp sugar until completely combined, and then gently fold it into the wet ingredients until it's just moistened. Gently fold in the pecans and strawberries until just combined.

Brush canola oil on your waffle iron, and inside of the pockets, so the berries don't make the waffles stick. Even our non-stick waffle iron needs a little oil or the waffles get stuck, and there's nothing worse than digging waffles out of the iron.

Fill the iron with batter and spread it evenly. Don't overfill or you're going to have a mess on your hands.

Cook the waffles for as long as your particular waffle iron instructions recommend. We check to see if they're done when it stops steaming. They should be golden brown and slightly crisp on the outside.

Top with your favorite topping and add extra fruit and nuts if you have them and dig in.

If you're making several waffles put them in a warm oven (200°F/93˚C) so they don't get cold and soggy.

Enjoy!
Recipe Notes
NUTRITION DISCLAIMER
PRO TIPS
Don't over mix the batter or the gluten in the flour will make the waffles tough.
Blend the banana so it's pureed and smooth. This makes a better egg replacer.
Preheat the waffle iron completely.
Brush a thin layer of oil over the top and get into the pockets of the iron so they don't stick.
Cook the waffles until the steam stops coming out of the sides of the waffle iron.
Nutrition Facts
Vegan Strawberry Pecan Waffles
Amount Per Serving (100 g)
Calories 428
Calories from Fat 198
% Daily Value*
Fat 22g34%
Sodium 725mg32%
Potassium 539mg15%
Carbohydrates 53g18%
Protein 8g16%
Vitamin A 19IU0%
Vitamin C 25mg30%
Calcium 247mg25%
Iron 3mg17%
* Percent Daily Values are based on a 2000 calorie diet.