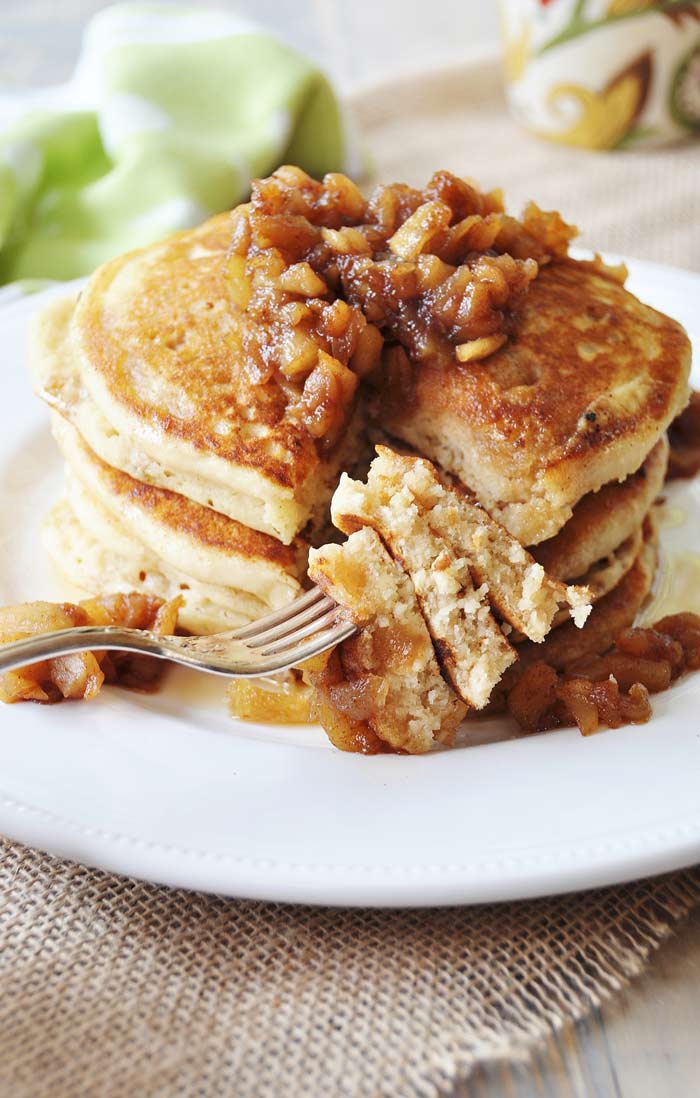 Brrrrr…… Fall has officially begun. It's chilly this morning. There's a strong wind coming off of Lake Michigan and it's icy. And, the leaves have begun to turn gold, red, bronze, and orange. The changes in the weather and the scenery can only mean one thing. Pancake season has also officially begun.  Let's kick off the season with some old fashioned fluffy vegan pancakes with spicy apple compote. Yum!
There are a lot of pancake recipes on the web right now, many of them gluten-free. If you can't eat gluten because of health issues, you won't be able to eat these old fashioned pancakes because they're made with all-purpose flour. But don't walk away just yet, because you CAN eat the spicy apple compote that we smothered on top of our hot cakes. And truthfully, that compote is a meal in itself. Scoop a heaping spoonful or two into a bowl of hot oatmeal, so good!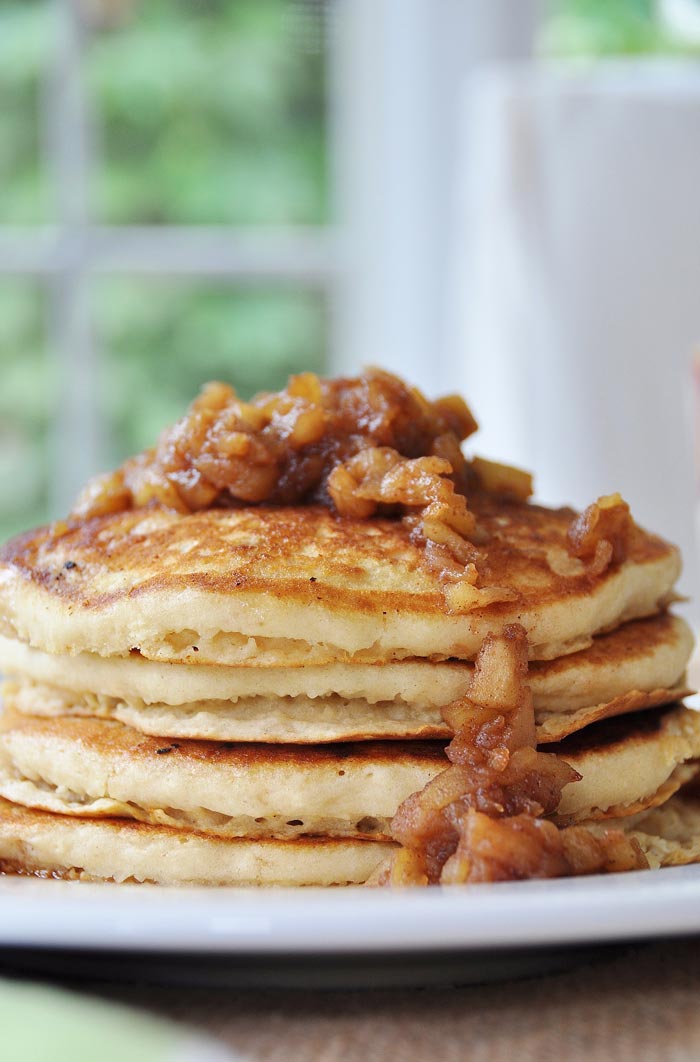 These pancakes are heavenly. So thick and light and fluffy. Exactly what a good pancake is supposed to look like. I'm not a fan of flat pancakes that have a glue like texture. No thank you. If you agree, then you're going to love these fluffy old-fashioned pancakes.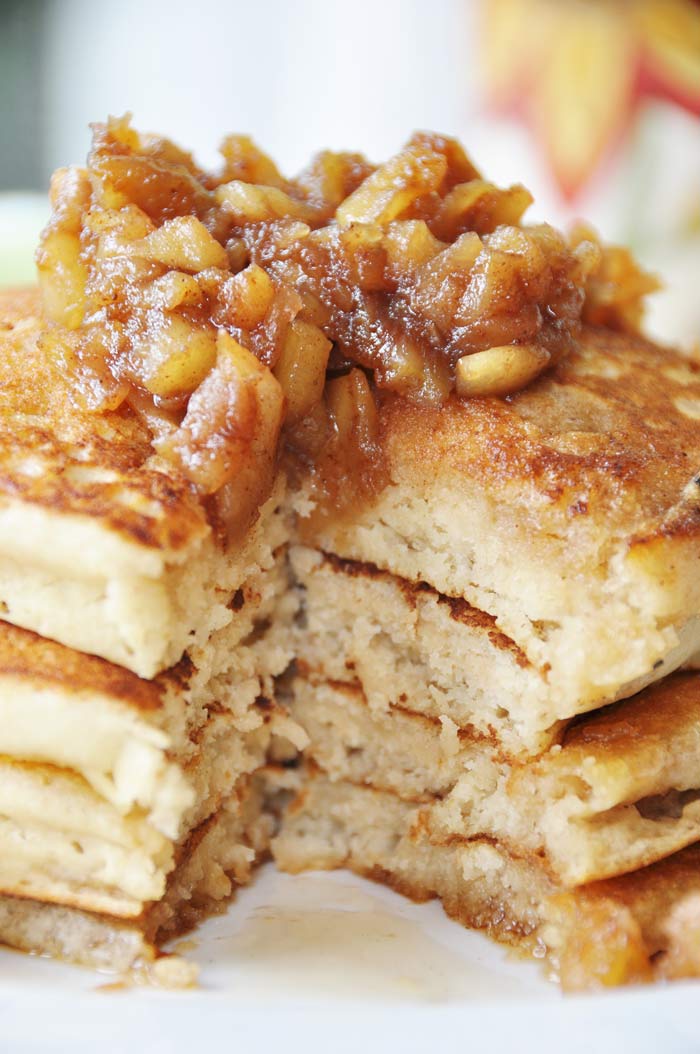 Just look at how those bad boys blew up on the griddle. FLUFFY to the max! If you could have seen how psyched we were as we watched the batter puff up you would have rolled your eyes and shook your head in disbelief. I mean, seriously, it's wasn't like we had just harnessed fusion energy, although you would have thought we had by our excitement.
How to Make Light and Fluffy Vegan Pancakes
This recipe is simple, and making these old fashioned fluffy vegan pancakes is easy because the batter won't fight with you. It doesn't want to be flat and gluey, it wants to look like this.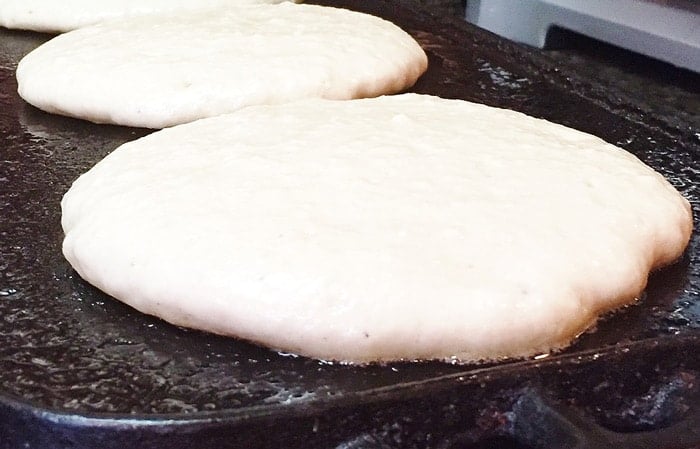 To make these vegan pancakes all you'll need to do is whisk the flour, baking powder, baking soda, salt, and sugar together in a mixing bowl. In a separate bowl, mix the applesauce, vanilla, canola oil, lemon juice, and almond milk together. Combine the dry and the wet ingredients and mix until just moist and then pour onto a hot cast-iron (makes the best pancakes) griddle
 (affiliate).
Watch them start to fluff up and bubble on top. When the sides are firm and the bottom is golden brown, flip them and wait until the other side is golden brown and the edges are completely dry and firm.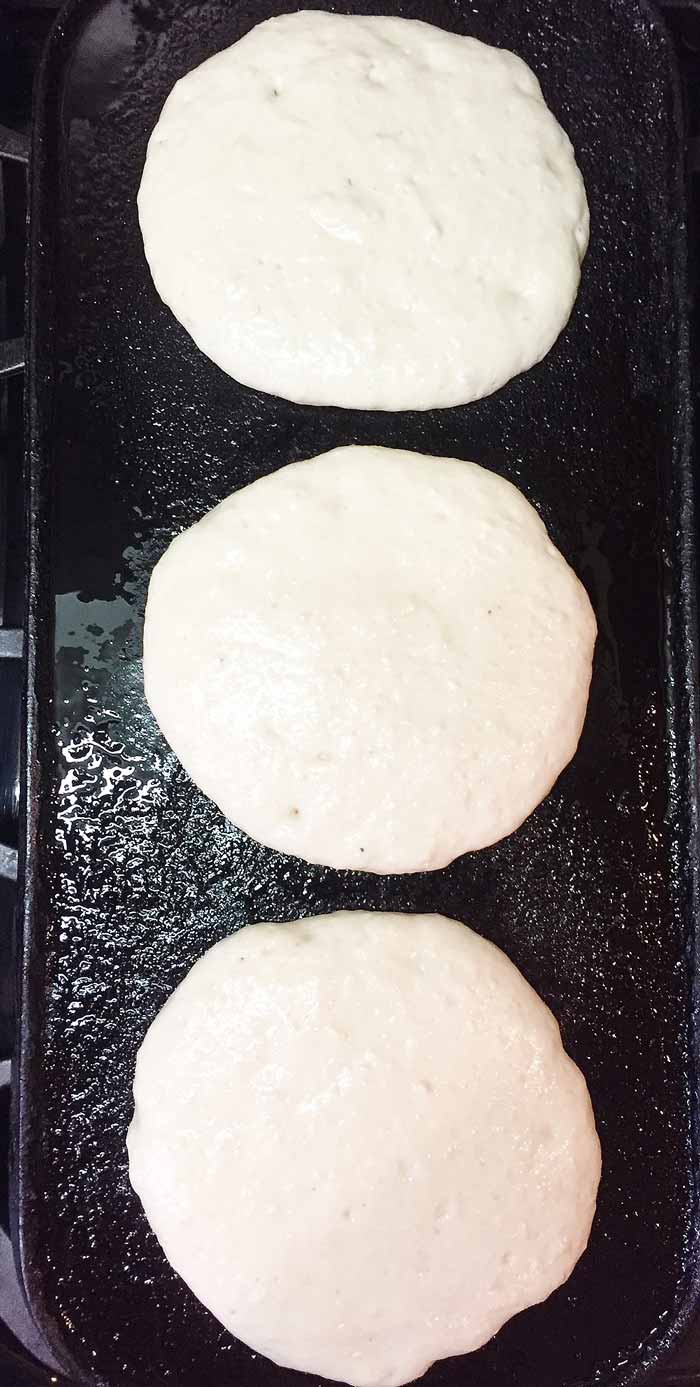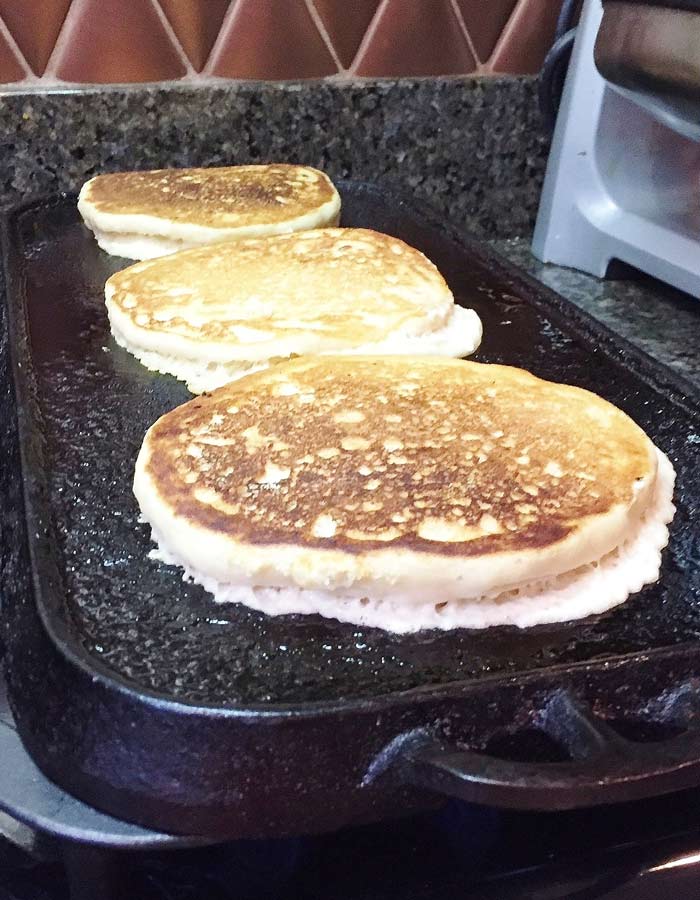 This recipe will make six large or twelve small pancakes.
The spicy apple compote is also easy and fast to make. All you'll need to make enough compote to smother those pancakes are two green apples (the sour flavor of green apples makes a delicious compote), cinnamon, cloves, allspice, ginger, brown sugar, and Grand Marnier. If you don't have Grand Marnier, you can use a little orange juice.
Finely dice the apples. Like this.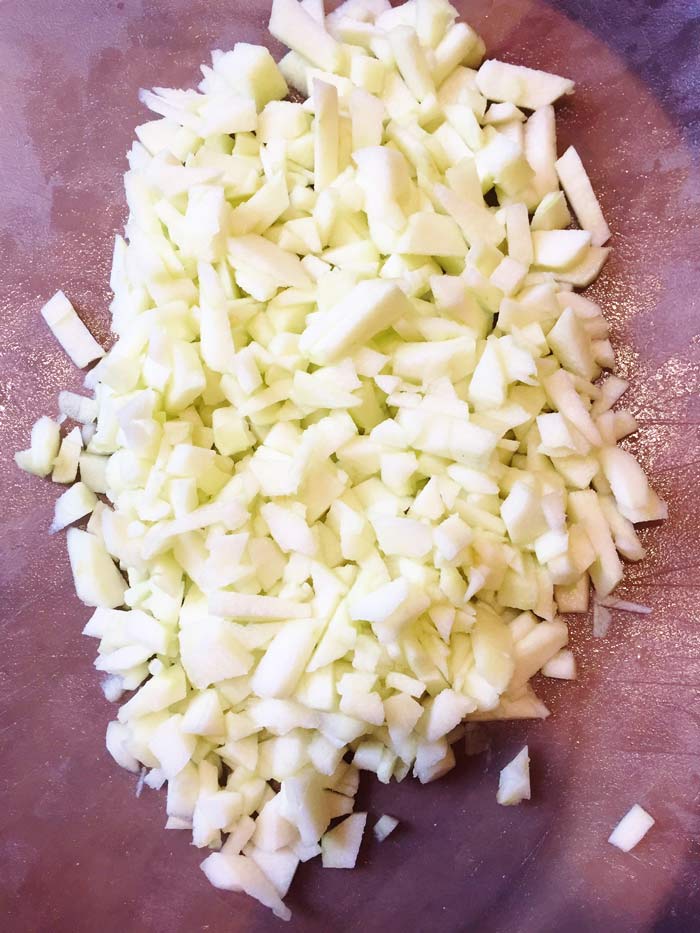 Heat a teaspoon of coconut oil in a sauce pan and sauté the apples and the spices until the apples start to release their juice, then deglaze the pan with the Grand Marnier. Reduce the heat to a simmer and cook until the apples soften. If you need to add a little water to prevent the apples from scalding, go ahead. Just don't add too much because you don't want a runny compote.
Your kitchen will smell amazing and your mouth will begin to water as the aroma of the green apple compote begins to permeate your kitchen.
When the old fashioned vegan pancakes and the spicy apple compote are done, bring them together and start eating. Add some pure maple syrup if you like, because. Maple syrup.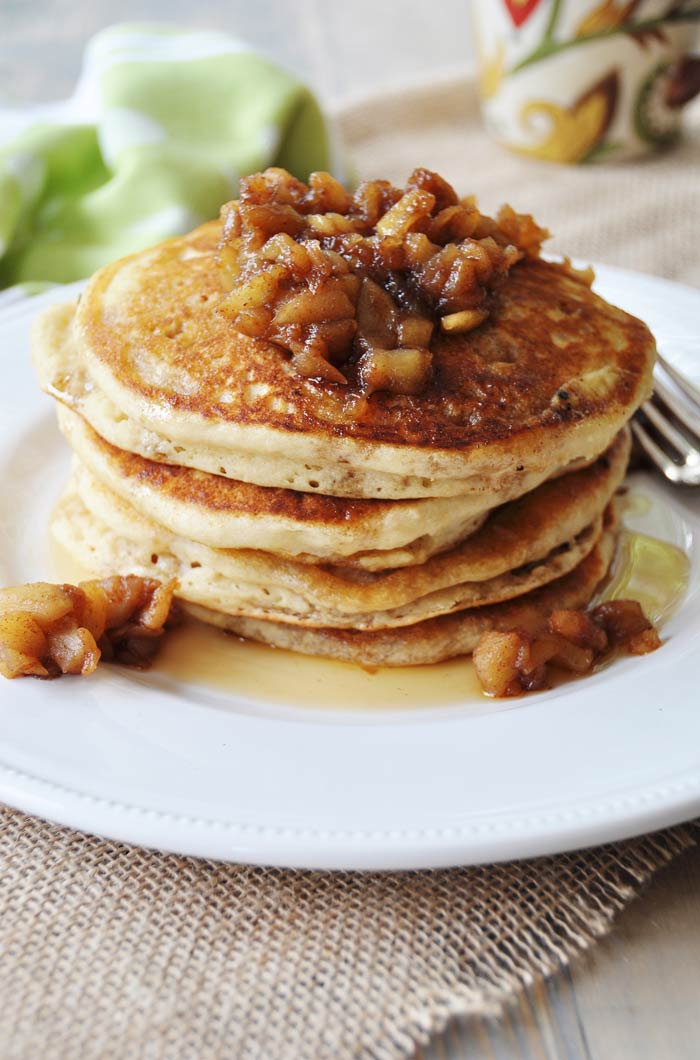 If you don't have a cast-iron griddle I highly recommend getting one. Nothing cooks food like cast-iron.
Click on the photo to purchase this reversible griddle.

Veganosity is a participant in the Amazon Services LLC Associates Program, an affiliate advertising program designed to provide a means for sites to earn advertising fees by advertising and linking to amazon.com. We make a small commission when you order from Amazon. It helps us afford the groceries to develop all of our recipes, and to pay for the maintenance of our site. We thank you in advance for your consideration.

Linda and Alex at Veganosity
Yields 6
Old Fashioned Fluffy Vegan Pancakes with Apple Spice Compote
The fluffiest, lightest vegan pancakes you'll ever eat, topped with a delicious spicy apple compote.
20 minPrep Time
20 minCook Time
40 minTotal Time
Ingredients
For the panckakes:
2 cups of all-purpose flour
1 teaspoon of sugar (optional)
2 teaspoons of baking powder
3/4 teaspoon of baking soda
1/2 teaspoon of finely ground sea salt
1/2 cup of unsweetened apple sauce
1/2 teaspoon of pure vanilla extract
2 tablespoons of canola oil + enough to cover the griddle
Juice from 1/4 of a lemon
1 and 1/2 cups of almond milk
For the apple compote:
2 green apples – peeled, cored, and finely diced
1 teaspoon of coconut oil
1 teaspoon of ground cinnamon
1/4 teaspoon of ground cloves
1/4 teaspoon of ground allspice
1/4 teaspoon of ground ginger
2 tablespoons of brown sugar
3 tablespoons of Grand Marnier or orange juice
1 pinch of ground sea salt
Instructions
Lightly oil and heat a pancake griddle on medium heat.
For the pancakes:
Whisk the flour, baking powder, baking soda, salt, and sugar together in a mixing bowl.
In a small bowl whisk the applesauce, vanilla, canola oil, lemon juice, and almond milk together.
Pour the wet ingredients into the mixing bowl and mix with the dry ingredients until just blended. Don't over mix or the batter will get tough and won't rise well.
Use a ladle or a large spoon to pour the batter onto the hot griddle. Cook for approximately two minutes or until the tops are bubbling, the sides are firm, and the bottom is golden brown. Gently flip the pancakes over and cook for another two minutes or until the bottom is golden brown and the sides are fully cooked and firm.
Makes 6 large or 12 small pancakes
For the apple compote:
In a sauce pan heat the oil on medium heat. When the oil is hot add the apples and toss to coat. Add the spices, brown sugar, and salt and stir to combine. Cook for approximately five minutes or until the apples begin to release their juices and they begin to stick to the pan. Deglaze with the Grand Marnier and reduce the heat to a gentle simmer. Add a little water if necessary to avoid scorching the apples. Simmer until the apples are soft and the sauce is thick. Approximately 20 minutes.
Top the pancakes with the compote.
Enjoy!
7.6.2
197
https://www.veganosity.com/old-fashioned-fluffy-vegan-pancakes-with-apple-spice-compote/