If you love sweet and spicy in one glorious dish, you're going to love this roasted sweet potato chili - vegan and gluten-free. It's one of those fall meals that just makes you want to bottle up the season and keep it on a shelf so that you can open it whenever you want the weather to be cool and crisp, colorful and beautiful, and cozy and perfect.
The September weather in Chicago has been stunning. Blue skies, crisp mornings, mild afternoons, and cool nights. The kind of weather that makes you appreciate a hot cup of coffee in the morning, long walks in the afternoon, bonfires at night, and chili for supper.
Sunday morning my husband and I made the fluffiest, most delicious pancakes for breakfast (I'll share the recipe with you on Wednesday) and I told him that I wanted to make a roasted sweet potato chili for dinner. He thought that sounded like the perfect thing to eat while we watched the Bears' game, and it would match the blood moon, so as soon as we finished breakfast we started cooking chili.
The first thing we did was roast the sweet potatoes. You'll want to dice them into small cubes, toss them in a little olive oil, salt and pepper, and roast them for about thirty minutes, or until they begin to turn golden brown and firm.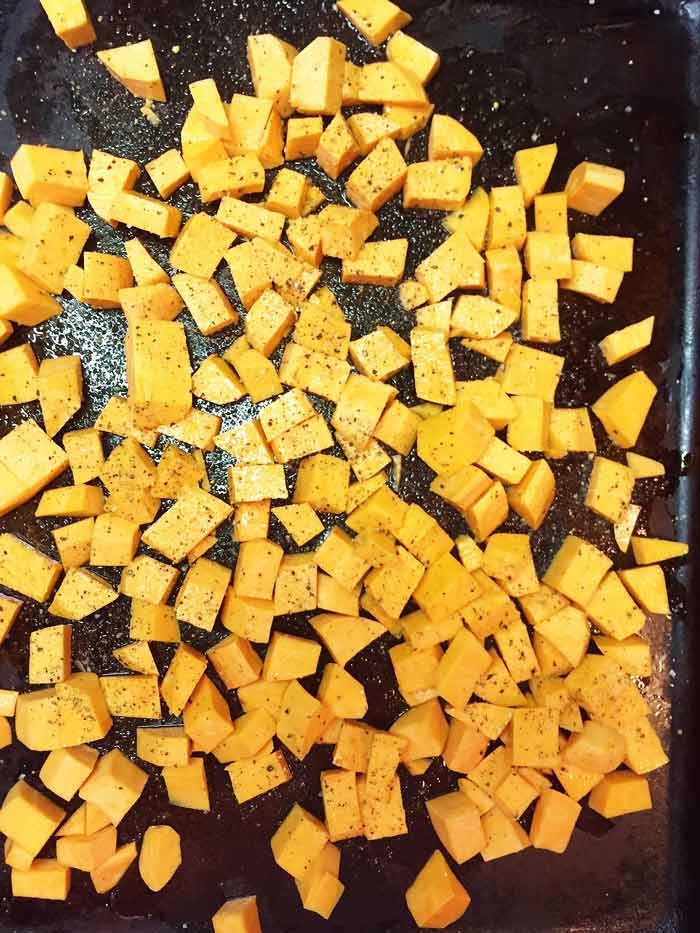 While the potatoes are roasting, you'll want to roast a poblano chili. If you have a gas stove you can do it like this.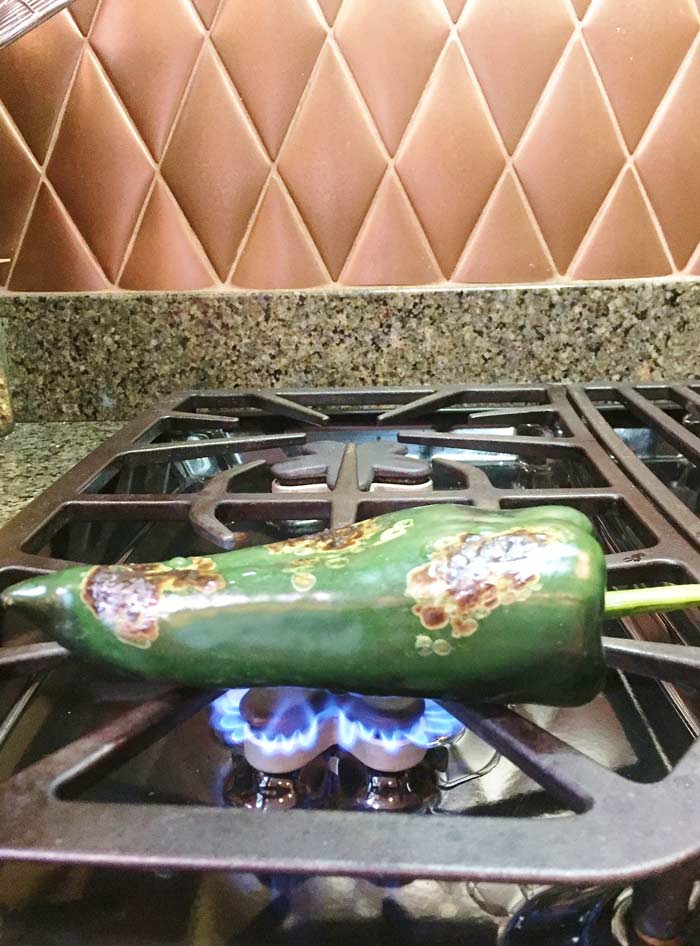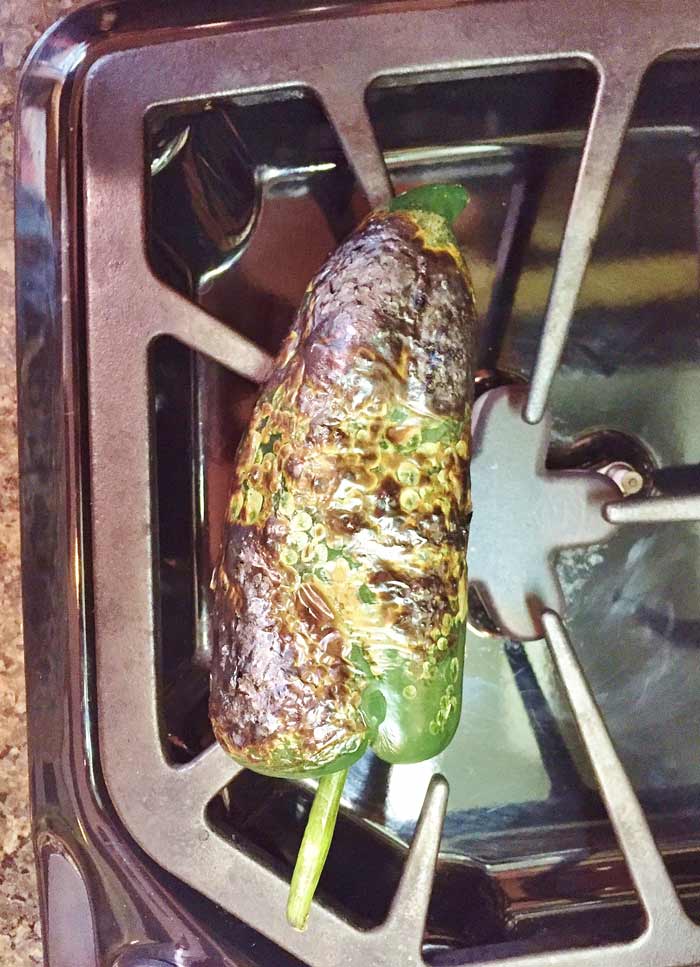 If you don't have a gas stove then roast it in the oven under the broiler.
While the pepper cools you can start the chili. Sauté the onion, carrot, celery, bell pepper, bay leaf, and spices, then deglaze the pot with some white wine and cover in boiling water. Add the beans and cover in boiling water. Add the garlic, reduce the heat, and simmer for an hour.
Now scrape the blistered skin off of the pepper and dice. Take a test bite. Is the pepper really hot or is it mild? Depending on the heat and how spicy you want your chili to be, add accordingly. Just look at how the expert chili scraper does it.
Now add the tomatoes and cook for another thirty minutes or so. After you add the tomatoes you'll want to mix a little corn meal with water and add it to the chili as a thickening agent.
The last step is to add the roasted sweet potatoes and some cilantro. Let them cook for five minutes and then serve.
The sweet potatoes, carrot, and bell pepper lend a nice sweet flavor to the spices. It's a wonderful blend of savory, spicy, and sweet. And the potatoes give it a meaty texture.
I've had a lot of different kinds of chili in my life and I have to say that this healthy roasted sweet potato chili version has jumped to first place. This is a chili recipe that is hearty and filling and will impress the meat eaters in your life.
Were you fortunate enough to get a glimpse of the supermoon lunar eclipse, or better known as the blood moon last night? It was spectacular. It was the first supermoon lunar eclipse in three decades and it was also a harvest moon, something we won't have the priveledge of seeing again until 2033. It started off as a bright and beautiful full moon and then the eclipse started to happen and a thin layer of clouds moved in to our area. My husband and I didn't think that we'd be able to see it and we were really disappointed. Luckily, the clouds cleared out at around 9:05 pm and we saw this.
Apparently, certain religious groups believe that the blood moon is a symbol of the beginning of the apocalypse. While I don't believe it, I have to admit that there was a moment last night when I thought, uh-oh! A funny thing happened while my husband and I were standing in our back yard watching the beginning of the eclipse. We were talking with our son on my cell phone about the eclipse when suddenly the call failed (there was a rapid beep on the phone then nothing), at the exact same time girls started screaming in our neighborhood, and car alarms started going off. My husband and I looked at each other and simultaneously headed for the house. We were laughing, but I have to admit, it kind of freaked me out. What a coincidence. It turns out that the screaming and car alarms came from our neighbors'. They got toilet papered and the girls who did it got scared when they set off the alarms. Some timing, right?
Call me a geek, but I got quite a thrill as I was looking at that beautiful red ball in the sky. There is nothing more spectacular than nature, and last night's moon was just that. I just pray that I'm alive to see the next one.
If you're looking for more meat-free Monday ideas then head over to Tinned Tomatoes. You might even see my recipe over there. 😉
Tell me:
Did you get to see the blood moon?
Do you like spicy or mild?
Have you ever put sweet potatoes in chili?
Here's a sneak peak of the pancake recipe that I'm posting on Wednesday! 
Roasted Sweet Potato Chili - Vegan and Gluten-Free
A sweet, savory, and spicy chili with meaty sweet potatoes. Vegan and gluten-free!
Print
Pin
Rate
Ingredients
3

medium sweet potatoes

peeled and diced into bite sized cubes

2

tablespoon

30 ml extra-virgin olive oil, divided

Salt and pepper to taste

1

poblano chili pepper

roasted

1

red onion

chopped

1

medium carrot

peeled and finely chopped

3

celery ribs leaves on

diced

1

orange bell pepper

seeded and chopped

1

bay leaf

1

tablespoon

15 g cumin

¼

teaspoon

chipotle chili powder

add slowly to taste

1

teaspoon

paprika

1

tablespoon

15 g chili powder, add more if desired

3

garlic cloves

minced

½

cup

120 ml white wine

4 to 6

cups

960 to 1440 ml boiling water

2

15 oz [439 g] cans of kidney beans, drained and rinsed

2

medium tomatoes

seeded and diced

1 ½

teaspoon

8 g ground sea salt, or to taste

Pepper to taste

½

cup

20 g cilantro leaves, coarsely chopped
Instructions
Preheat oven to 400°F (204°C)

Spread the potatoes out evenly on a baking sheet and drizzle with 1 tablespoon (15 ml) olive oil, and grind salt and pepper over them to taste. Toss to coat and roast for ten minutes. Turn the potatoes and roast for ten more minutes. Turn the potatoes and roast for five to ten more minutes or until the potatoes are golden and fork tender. They shouldn't be hard and crunchy just firm. Remove from the oven and set aside.

Roast the poblano pepper over an open flame on a gas cooktop, or in a 400°F (204°C) oven until the skin is blistered and mostly black. Turn often while roasting. Cool on a plate with a bowl over it so it steams.

In a large stock pot heat the remaining tbsp. (15 ml) of olive oil on medium heat. When the oil is hot , add the onion, carrot, and celery, stir and cook for five minutes, stir frequently. Add bell pepper, stir to combine and cook for four minutes.

Add the bay leaf, cumin, chipotle chili powder, paprika, chili powder, and garlic, stir to combine. This will release the flavors in the spices. Cook for 2 minutes. Deglaze the pan with the wine then add just enough hot water to cover the vegetables. Bring to a boil.

Scrape the blistered skin off of the pablano pepper and seed it. Dice and test the pepper to see how hot it is. Add it to the chili according to your taste.

Add the beans and cover with more water. Don't fill the pan, you just want enough water to cover the vegetables and beans. Bring to a boil and then reduce the heat to a gentle simmer.

Add the tomatoes and simmer for one and a half hours, or until the chili thickens. Stir frequently to avoid scorching.

Add the salt and black pepper to taste, and the sweet potatoes. Cook for ten minutes.

Add the cilantro, stir well, and serve.

Enjoy!