Our baked pumpkin spice doughnuts are so warm and delicious. They're easy to make and the chocolate cinnamon frosting takes them to another level. They're perfect for a Halloween or Thanksgiving breakfast treat.

Sweet mother of all things pumpkin, remove this tray before I eat every last one of these Vegan Pumpkin Spice Doughnuts with Chocolate Cinnamon Icing.
You guys, these bad boys are dangerously good. As someone who prides myself on not having a sweet tooth, I'm feeling like I don't even know who I am anymore.
Maybe it's the pumpkin and the spice in the moist and cake like baked doughnuts that are making me weak. Or it could be the dark chocolate and cinnamon icing?
Why am I even wondering out loud? It's the pumpkin spice doughnut and the wickedly good frosting that's brought me to my knees.
A doughnut literally brought me to my knees.
As I was shoving the last piece of a pumpkin spice doughnut into my mouth a large crumb fell to the floor and I went down.
My knees hit the marble and I found myself frantically sweeping my hand under the kitchen cabinet to retrieve it, as I wondered if the three second rule applied to crumbs that fall under the cabinet.  Houston, I have a problem.
I'd like to think that I was just trying to prevent my sweet little Coco from eating the dark chocolate frosting--it's bad for dogs in case you didn't know—but that would be a lie. I wanted it for myself, my pumpkin spice loving, gluttonous self.
Don't judge. When you taste these vegan baked pumpkin spice doughnuts you'll understand.
First, the doughnut. It's exactly what a doughnut should be. It's firm, a little spongy, cake like, and moist. If I didn't know that it was baked I'd swear it was fried. And the pumpkin, nutmeg, cinnamon, ginger, and cloves……  Cue the trumpets and angels singing.
And if the pumpkin spice flavors aren't enough to make you swoon, there's the dark chocolate and cinnamon icing that covers the top and drips down the sides.
The pumpkin spice and the chocolate are a match made in doughnut heaven.
Anyway, I'm going to go out on a limb and guess that you're going to want to make these doughnuts for yourself? Of course you do. How could you possibly resist these fabulously delicious treats of autumn?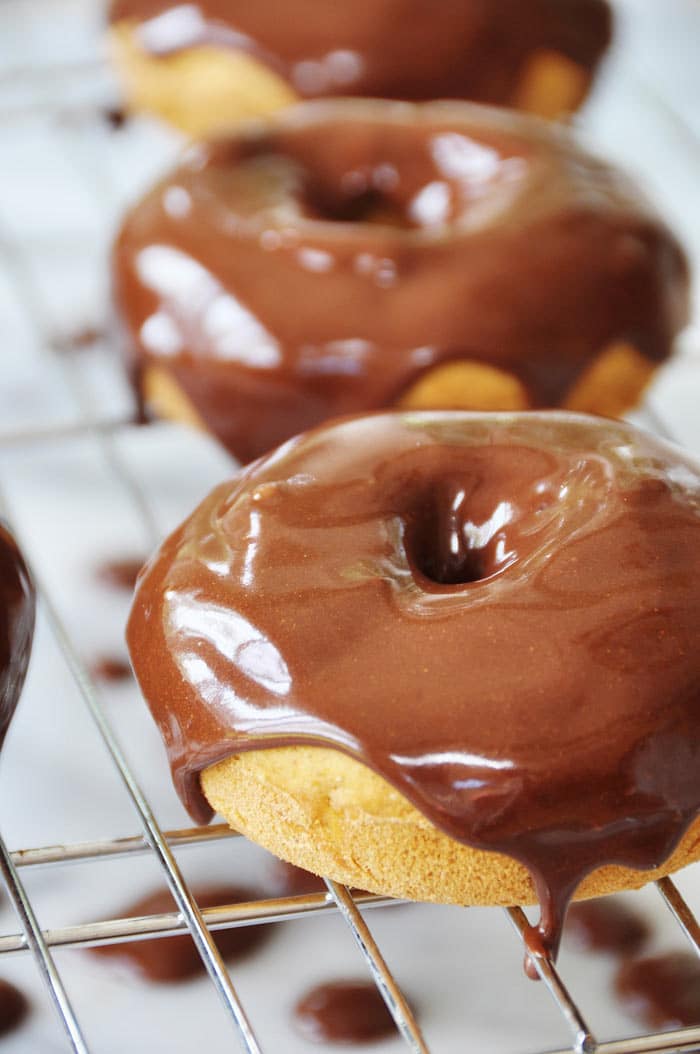 HOW TO MAKE BAKED VEGAN PUMPKIN SPICE DOUGHNUTS
You'll love how easy they are to make, and they'll make you the most popular kid on the block if you can stand to share them.
STEP ONE:
The first thing you're going to need is a doughnut pan. You'll also want a mixer or a heavy duty whisk.
Once you have those things you'll need to gather some flour, baking powder, cinnamon, nutmeg, ginger, vanilla, pumpkin puree, applesauce, almond milk, light brown sugar, and finely ground sea salt.
STEP TWO:
Combine the dry ingredients, then the wet (instructions are at the bottom of this page), then both, and you're ready to spoon the pumpkin batter into the doughnut pan and bake up these gorgeous pillow rings of yum.
STEP THREE:
While the doughnuts are cooling you can make the chocolate cinnamon icing. If you're able to hold back from licking the spoon I'm going to crown you as the king or queen of self-control. You will rule the land of all things boring.
Don't be the king or queen of self-control. At least when it comes to vegan baked pumpkin spice doughnuts with chocolate cinnamon icing.
Make these on a Saturday morning and enjoy them throughout the weekend. If they last that long.
HOW TO STORE BAKED DOUGHNUTS
Store the doughnuts in an air tight container in a cool dry place for up to three days.  You don't have to put them in the refrigerator, but you don't want to store them in a warm area or they won't stay fresh.
We haven't tried freezing them because they don't last long enough to have to. If you do freeze them, make sure to put them in a freezer bag and take them out of the bag before you defrost them so the frosting doesn't stick to the bag.
Tell me:
Are you ready for the pumpkin spice season?
What is your favorite doughnut?
Have the leaves started changing color where you live?
If you don't have a doughnut pan, a mixer, or a good whisk, click on the photos below to purchase.
This post may contain affiliate links which won't change your price but will share some commission.
Make this and let us know what you think. We love to hear from you! And, don't forget to take a picture of your gorgeous creation and tag us @veganosity on Instagram.
Let's connect! Hop on over to our Facebook page and give it a like, and follow us on Instagram and Twitter, and follow us and share this and other Veganosity recipes on Pinterest. We'd be so grateful if you did. If you like this recipe and can't wait to see what we're going to share next, subscribe to Veganosity. Just fill in the subscription box above our picture in the top right corner of the page. And, Alex and I love hearing from you, please leave a comment and let us know what you think of our recipes.
BAKED VEGAN PUMPKIN SPICE DOUGHNUTS WITH CHOCOLATE CINNAMON ICING
Savory pumpkin spice doughnuts with a dark chocolate cinnamon icing. The perfect fall treat.
Print
Pin
Rate
Ingredients
Dry ingredients
1

and ¼ cup all-purpose flour

1

teaspoon

baking powder

this is separate from the teaspoon used in the applesauce

1

teaspoon

ground cinnamon

½

teaspoon

ground nutmeg

½

teaspoon

finely ground sea salt

⅛

teaspoon

of ground ginger

⅛

teaspoon

of ground cloves
Wet ingredients
¼

cup

of applesauce + 1 teaspoon of baking powder – combine in a bowl

egg replacer

⅓

cup

light brown sugar

1

tablespoon

of maple syrup

1

teaspoon

of vanilla extract

½

cup

up pumpkin puree

¼

cup

of almond milk
Icing
1

cup

of confectioner's sugar

3

tablespoons

of cocoa powder

3

tablespoons

of almond milk – add more or less to get the desired consistency

1

teaspoon

of cinnamon
Instructions
Preheat the oven to 350° and grease the doughnut pan if it's not a non-stick pan

In a large mixing bowl whisk the dry ingredients together and set aside.

In a small bowl add the applesauce and 1 teaspoon baking powder and whisk until it bubbles and becomes frothy. Add the brown sugar and mix until well combined. Add the pumpkin puree, vanilla, milk, and the maple syrup and mix until well combined.

Pour the wet ingredients into the dry and stir until just combined. Don't overwork it or you'll get a tough doughnut. Add more milk if the batter is too stiff. It should be firm but not difficult to stir.

Bake for approximately 20 to 25 minutes or until a toothpick comes out clean. Cool on a wire rack for 10 minutes and then remove from the pan and place on the rack until completely cool
For the icing:
In a medium bowl stir the confectioner's sugar, cocoa, cinnamon, and milk together until smooth and creamy. The texture should be between frosting and a glaze. Add more milk if needed.

When the doughnuts are completely cool frost the doughnuts.

Enjoy!
Notes
The Nutrition Facts are an estimate only. 
Nutrition
Calories:
179
kcal
|
Carbohydrates:
41
g
|
Protein:
0
g
|
Fat:
2
g
|
Saturated Fat:
0
g
|
Cholesterol:
0
mg
|
Sodium:
214
mg
|
Potassium:
211
mg
|
Fiber:
1
g
|
Sugar:
37
g
|
Vitamin A:
3175
IU
|
Vitamin C:
0.8
mg
|
Calcium:
58
mg
|
Iron:
0.8
mg