Holy pancakes!
You'd think that I would have started this post with, "Holy balls!" You would be right. Most days. But when you make Æbleskivers - Filled Pancake Balls – on a Sunday, my holy day, it just doesn't sound right. That's why I like to call them holy pancakes.
If you've never heard of Æbleskivers you're probably thinking, what in the world are those lovely balls of deliciousness? They're pancakes, in the shape of spheres. And, you can fill them.
Now that your mind is blown, let's just dig right into these light and fluffy Danish pancakes and get to the core of these beauties.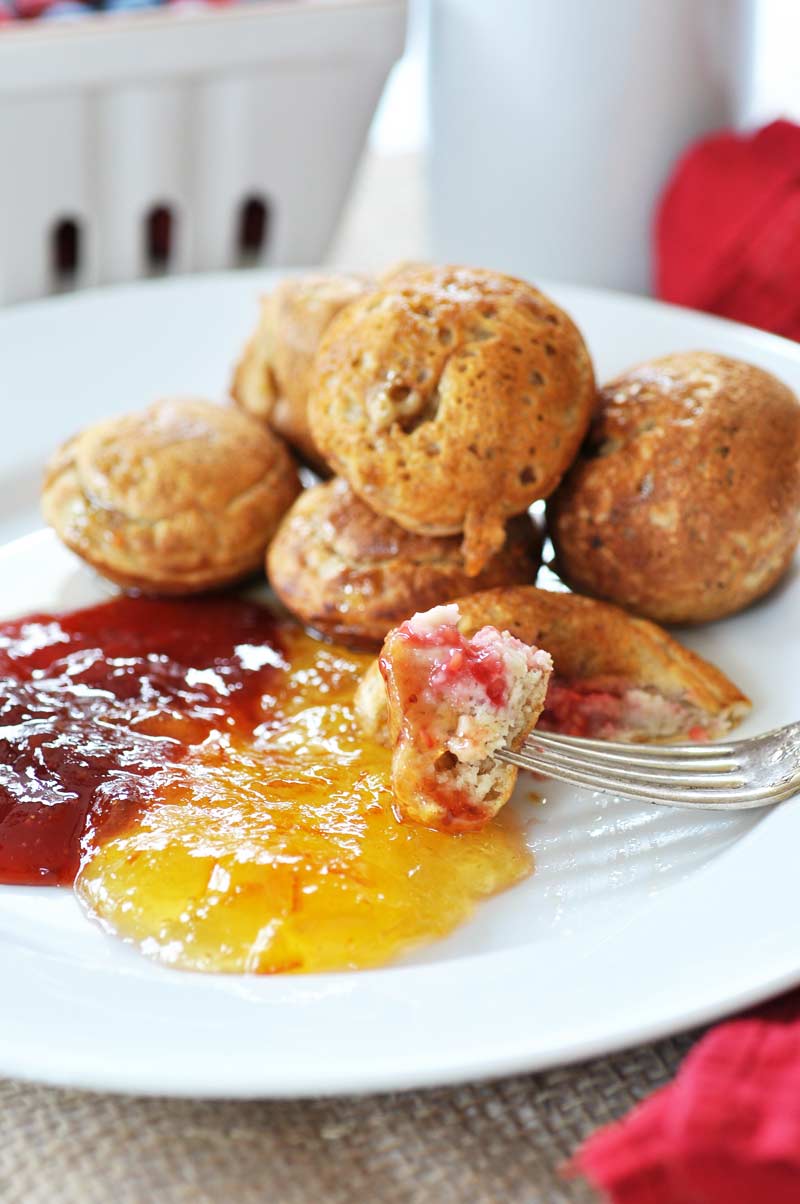 The Breakfast King and I were feeling very round when we woke up Sunday morning. Not round in form, but round in feeling. Our moods were gentle and rolling, like perfectly round pancakes, so we filled our pancakes with round fruit. Blueberries and raspberries.
The wonderful thing about filled pancakes is that you can fill them with anything you like. You can fill them with fruit, like the Breakfast King and I did, or you can fill them with chocolate chips, or jam, or nuts, or nut butter; the possibilities are endless.
You can also opt out of a filling, but where's the fun in that?
To make these you're going to need an Aebleskiver pan. You're also going to need a long toothpick or skewer to turn the pancake balls. Once you have those things, you'll be ready to start cooking.
The batter is just pancake batter, only slightly thicker than what you'd make for disc shaped pancakes. Make the batter and heat the pan to approximately 350°. We used a laser thermometer to check the temperature. It's the best thing ever. It's a multi-purpose tool, as it can be used as a dog toy. My dogs love chasing the red dot around the kitchen floor. You just have to make sure not to point it at their eyes.
When the pan is hot and ready to roll—pun intended—pour the batter into the individual round sections until almost filled, and drop the filling into the center of the balls. When the edges are puffy and dry and the batter is bubbling in the center, take a long toothpick or skewer and pierce the center and turn the balls over. If they stick just run the toothpick along the sides to release the pancake.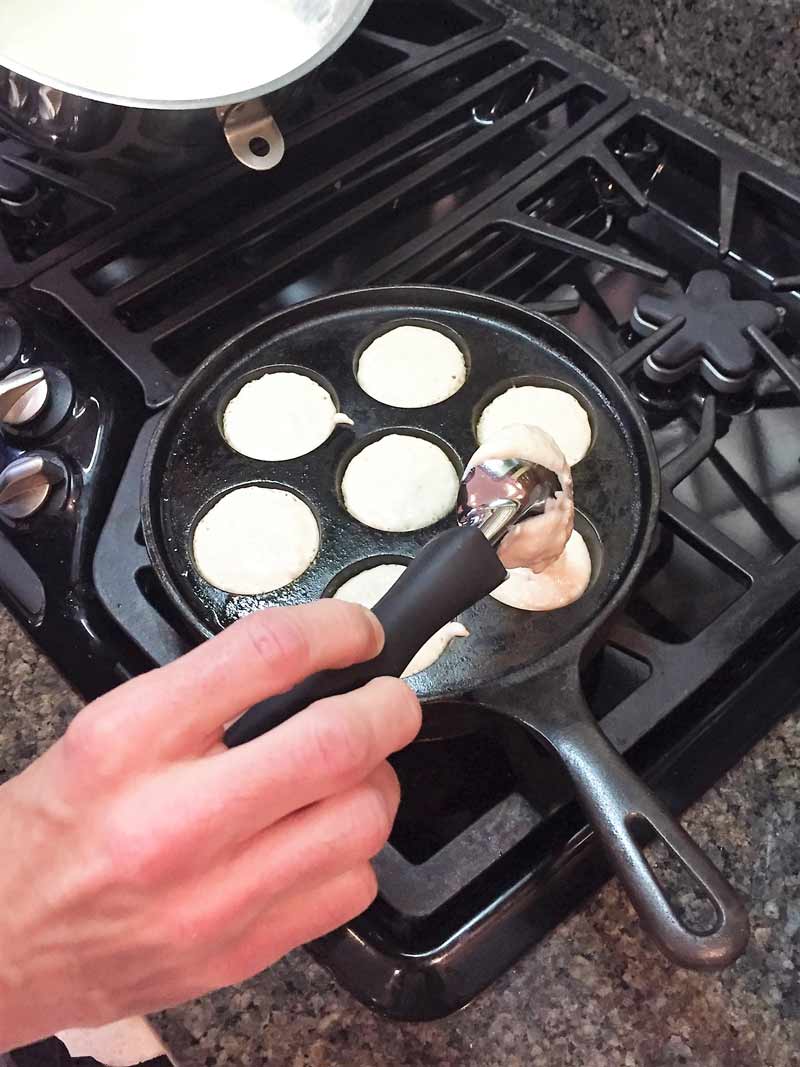 Here's a video to show you how to flip them. My home video didn't turn out so I had to resort to YouTube.
When both halves of the Æbleskivers are golden brown and firm to the touch they're ready. You can eat them with maple syrup or fruit preserves. I love dipping mine in preserves.
If you have kids, they're going to LOVE making Æbleskivers - Filled Pancake Balls. My kids did, and they still do, even though they're young adults. Memories make for the best food.
For more pancake recipes scroll to the bottom of this page.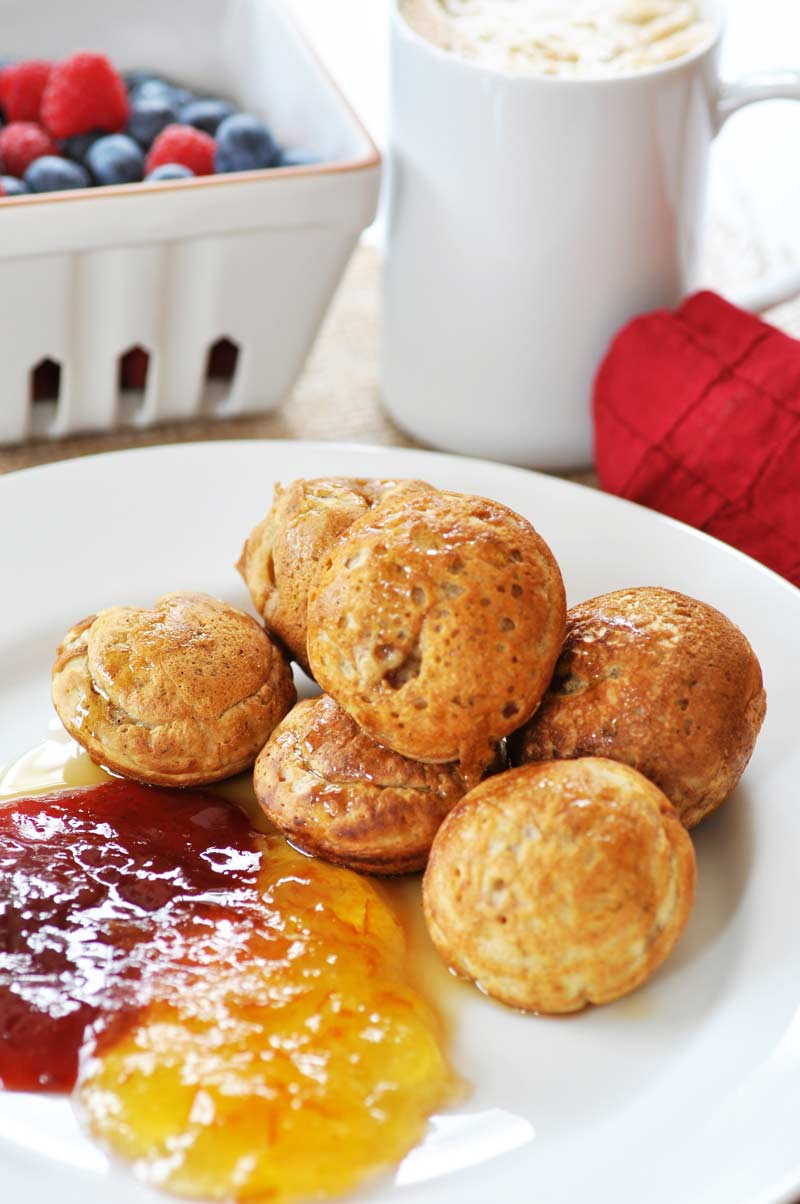 Share:
How was your weekend?
Have you ever had, or heard of Æbleskivers?
What would your favorite pancake filling be?
Alex and I love hearing from you. Please leave a comment and let us know what you think of our recipes. And let's connect! Hop on over to Facebook page and give it a like, or follow us on Instagram or Twitter, and follow us and share this and other Veganosity recipes on Pinterest. We'd be so grateful if you did.
What you'll need to make these delicious Æbleskivers - Filled Pancake Balls:
This post may contain affiliate links which won't change your price but will share some commission.
Æbelskivers - Filled Pancake Balls (Vegan)
Vegan filled pancakes are a fun twist on the traditional flat pancake. Fill them with fruit, chocolate, nuts, or anything you like.
Print
Pin
Rate
Ingredients
Dry ingredients:

2

cups

of unbleached flour

2

teaspoons

of baking powder

1

teaspoon

of baking soda

1

tablespoon

of sugar

1

pinch

of finely ground sea salt

Wet ingredients:

1

ripe banana – pureed

1

flax egg – 1 Tablespoon of ground flax seed + 3 tablespoons of water mixed well

let sit for ten minutes

1

teaspoon

of pure vanilla extract

3

tablespoons

of melted coconut oil

divided

1

tablespoon

of lemon juice – don't skip this ingredient

you need it to activate the baking powder

1

and ¾ of a cup of almond milk

Filling of your choice
Instructions
Whisk the dry ingredients together in a medium bowl.

Puree the banana in a large mixing bowl and add one tablespoon of coconut oil along with the rest of the wet ingredients. Mix together until well combined.

Add the dry ingredients and mix until just combined and moistened. Don't overmix. The batter should be thicker than normal pancake batter – not runny.

Heat the Æbelskiver pan on medium heat and lightly grease the pan with the remaining coconut oil. When the pan is approximately 350° (if you don't have a kitchen thermometer you can add a drop of the batter into the pan, if it bubbles the pan is ready) pour the batter in the individual sections of the pan until almost filled. Add the filling to the center of each pancake.

When the edges of the batter is puffy and dry and the center is bubbling pierce the center with a long toothpick or skewer and flip. The pancakes are ready when both sides are golden brown and they're firm to the touch.

Serve with maple syrup, preserves, and/or powdered sugar.

Enjoy!