Vegan Strawberry Buttercream Frosting! You only need three simple ingredients to make this pretty pink frosting. It gets its color and flavor from fresh strawberry puree.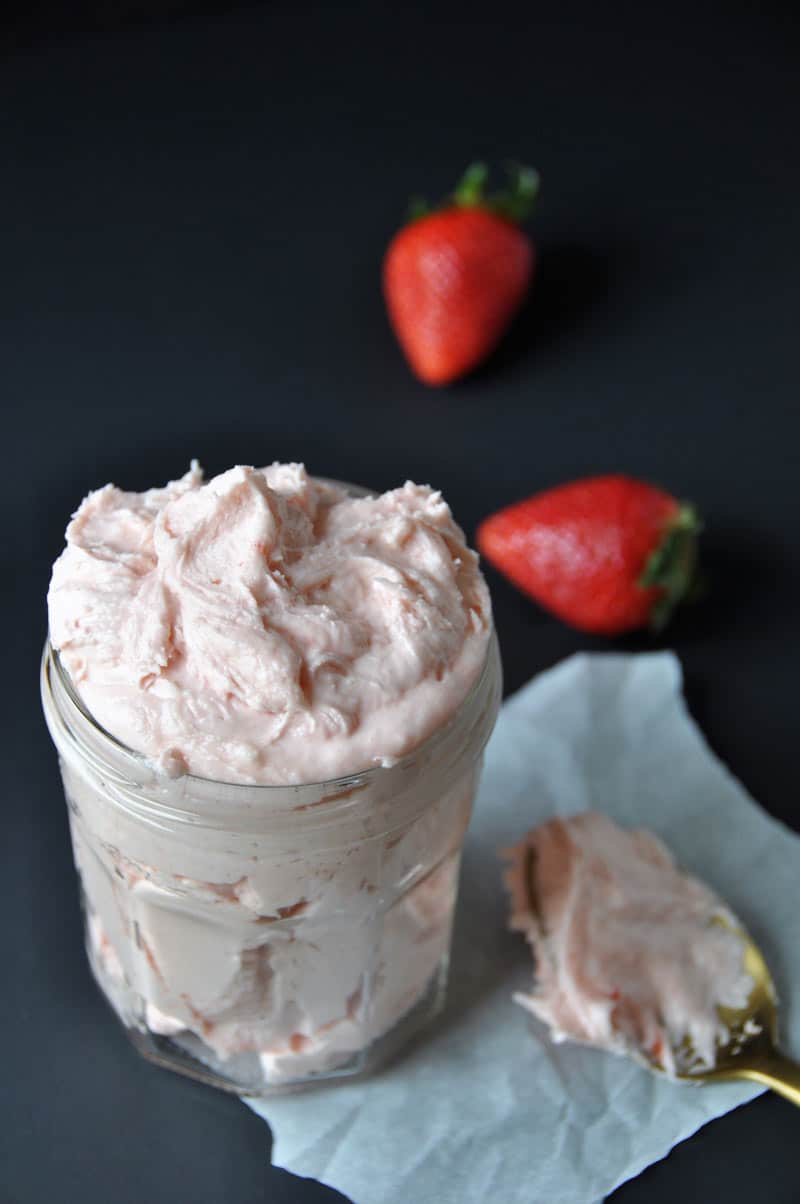 We turned in the first draft of our cookbook manuscript! We celebrated Alex's 25th birthday! The Breakfast King and I celebrated our 28th wedding anniversary! Our son flew in from California to partake in the festivities! All of this in one fabulously exhausting weekend. Celebrations of this magnitude require cupcakes, and cupcakes absolutely must be smothered in frosting. Don't you agree?
I made some pretty incredible strawberry cupcakes this weekend. I'll share the recipe with you on Wednesday. Today, I'm going to share the strawberry buttercream frosting recipe that topped those sweet little cakes. Before I tell you about that, I want to apologize for not sharing a recipe with you last week. As I said, we turned in the first draft of our cookbook manuscript last week.
The past two weeks were grueling. We finished testing our final recipes, we edited and re-edited the recipes. We wrote, re-wrote, edited, and re-edited the introductions to the chapters, the introduction of the book, and more. We ordered a lot of takeout food and ran on caffeine and adrenaline. It's not over yet, but we do have a bit of a reprieve until the next round of editing, so we're back in the kitchen developing recipes for the blog. Phew!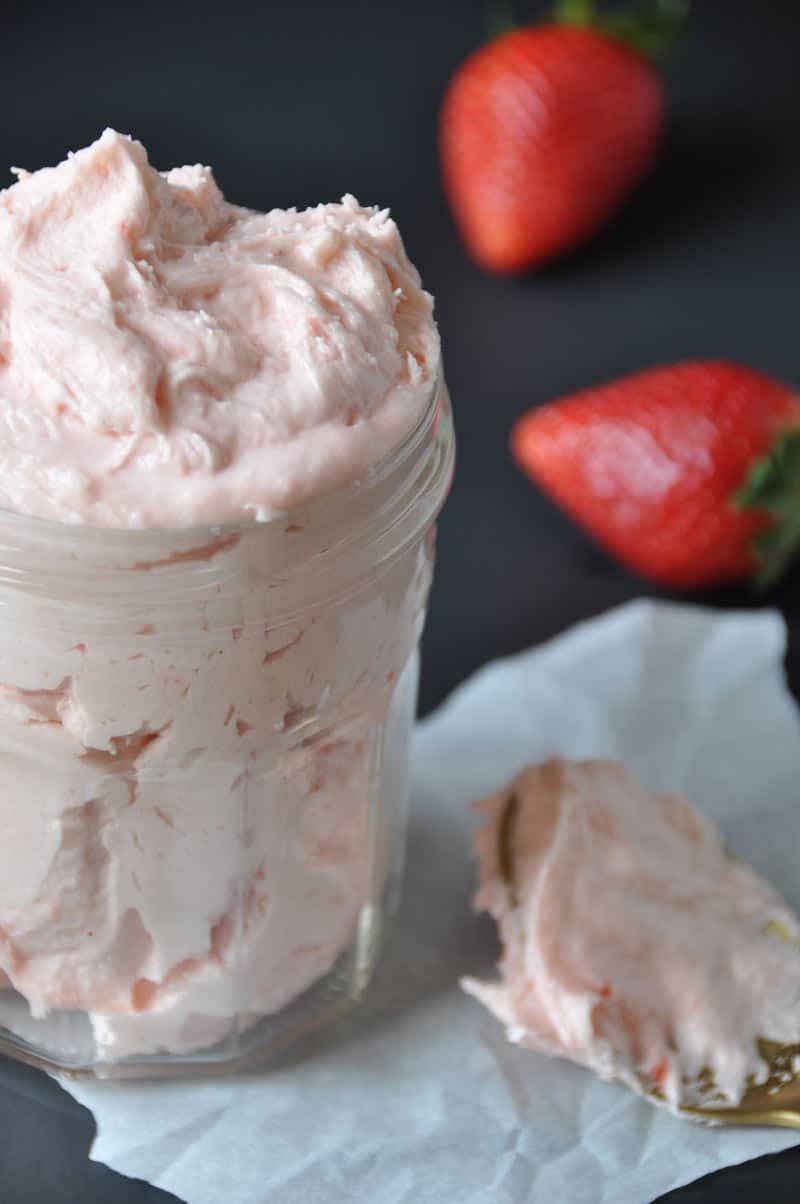 So, this homemade strawberry buttercream frosting….
It's like a cloud of pretty pink fluff that's dangerously addictive. It was difficult not to eat it by the spoonful. And just look at that color, it whispers party, celebrate, it's time to have fun. Best of all, the color is all natural, because it's made with fresh strawberries.
How to Make Homemade Strawberry Buttercream Frosting
Let's begin with reality. Buttercream frosting isn't something you should eat often. It's full of calories and sugar. But here's the thing, if you're going to eat frosting, then eat frosting. It's not going to kill you if you have a cupcake topped with creamy and delicious buttercream frosting every once in a while. Just don't make a habit out of it. YOLO!
This strawberry frosting recipe is so easy to make. You'll need confectioners' sugar (here's a list of vegan sugar companies), vegan butter (we use Earth Balance), and fresh strawberries.
Puree the strawberries.
Whip the butter and sugar.
Add the pureed strawberry by the teaspoon until you reach the desired consistency.
That's it.
It's so easy to make, the fresh strawberry flavor is lovely, and the color is beautiful.
Vegan strawberry buttercream frosting. Who knew being vegan could be so much fun?
Spread this on chocolate cake, vanilla cake, confetti cake, or any flavor of cake your heart desires. I spread this sweet frosting all over strawberry cupcakes. I'll share that recipe with you on Wednesday. But today, let's just celebrate the icing on the cake.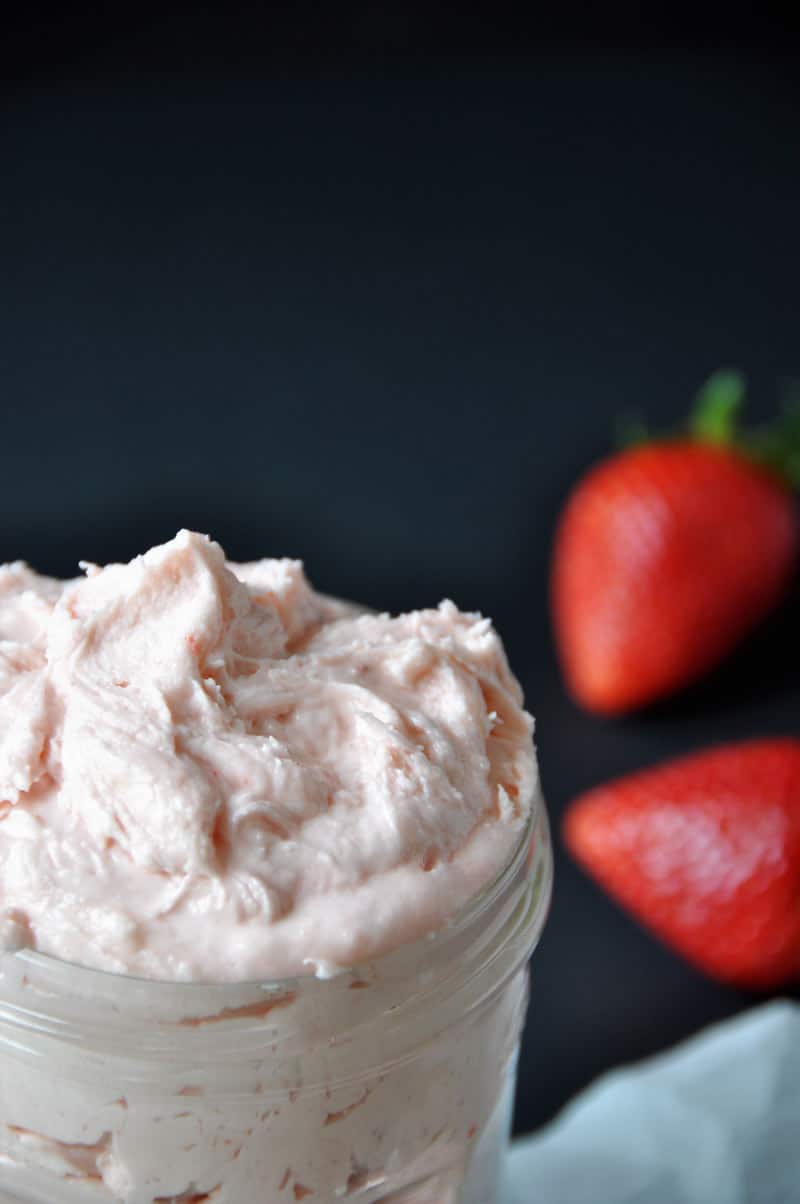 Let's connect! Hop on over to our Facebook page and give it a like, and follow us on Instagram and Twitter, and follow us and share this and other Veganosity recipes on Pinterest. We'd be so grateful if you did. If you like this recipe and can't wait to see what we're going to share next, subscribe to Veganosity. Just fill in the subscription box above our picture in the top right corner of the page. And, Alex and I love hearing from you, please leave a comment and let us know what you think of our recipes.
VEGAN STRAWBERRY BUTTERCREAM FROSTING
A light and fluffy homemade vegan buttercream frosting made with fresh strawberries.
Print
Pin
Rate
Ingredients
3

cups

confectioners' sugar

8

tablespoon

vegan butter

We use Earth Balance, let it soften slightly

3

fresh strawberries

pureed
Instructions
n a large mixing bowl, whip the sugar and butter, and SLOWLY (see note) add the strawberry puree until you reach the desired consistency. If you want it really thick and stiff, add less. If you want a thinner frosting, add more. Just be sure to add the puree slowly.

Store in an airtight container in the refrigerator for up to a week. Let it come to room temperature before using.
Notes
The Nutrition Facts are an estimate only.
Add the strawberry puree slowly. Depending on the moisture content in the sugar and the brand of vegan butter you use, a little puree can go a long way. If you add too much and it's too thin, add more sugar until you get the consistency you're looking for.  
Nutrition
Calories:
2064
kcal
|
Carbohydrates:
362
g
|
Protein:
0
g
|
Fat:
72
g
|
Saturated Fat:
18
g
|
Cholesterol:
0
mg
|
Sodium:
731
mg
|
Potassium:
55
mg
|
Fiber:
0
g
|
Sugar:
353
g
|
Vitamin A:
4275
IU
|
Vitamin C:
21.2
mg
|
Iron:
0.2
mg