These Homemade Protein Breakfast Bars are vegan, gluten-free, and delicious! They're filled with healthy plant-based foods that will get you going in the morning and keep you energized until the afternoon.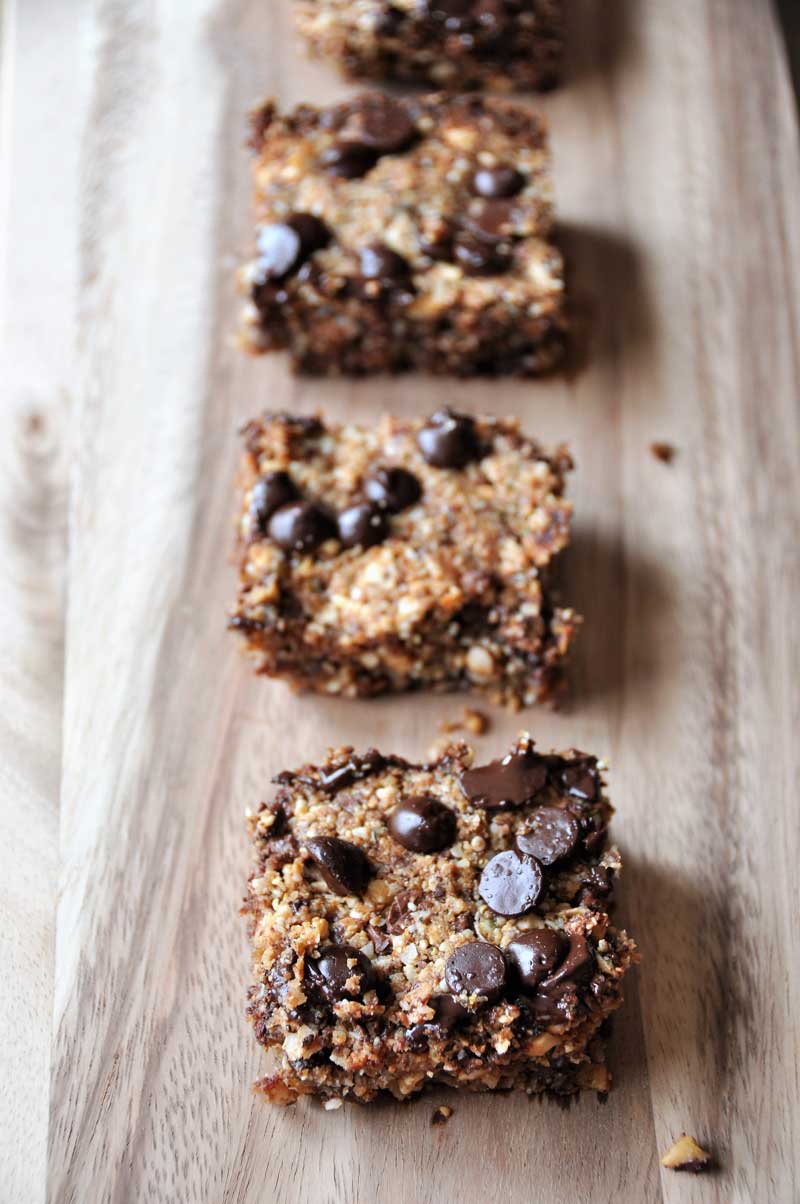 Warning: Eating these may cause uncontrollable dancing.
For real, when my family and I eat something REALLY good, we break into a dance. First our shoulders begin to shimmy, then our hands fold into fists and they start pumping, and then our torsos and hips get into the action. It doesn't matter if we're standing or sitting, it just happens. Alex started food dancing on Sunday when she tried one of the amazing dips that will be in our cookbook, and it happened to me today when I took the first bite of these protein breakfast bars. It's not a big deal when we're among family and friends, the problem with our strange, seemingly genetic trait, is if we're out in public. Oh, the looks we've gotten from fellow diners. Whatevs, when food rocks your world, you've got to celebrate.
Be prepared for these vegan energy bars to rock your world. They have all of the goodies going on. The quinoa, cashews, and raw hemp seeds give them a delightful crunch. The peanut butter and dates make them slightly chewy, and the coconut and chocolate chips are the sprinkles on top of an already happy little party of yum. Best of all, they're not overly sweet. The dates and the chocolate chips are the only sweet things in these bars. You won't need to add sugar, or maple syrup, or whatever sweetener you usually use, unless you like super sweet bars, then feel free to add more dates.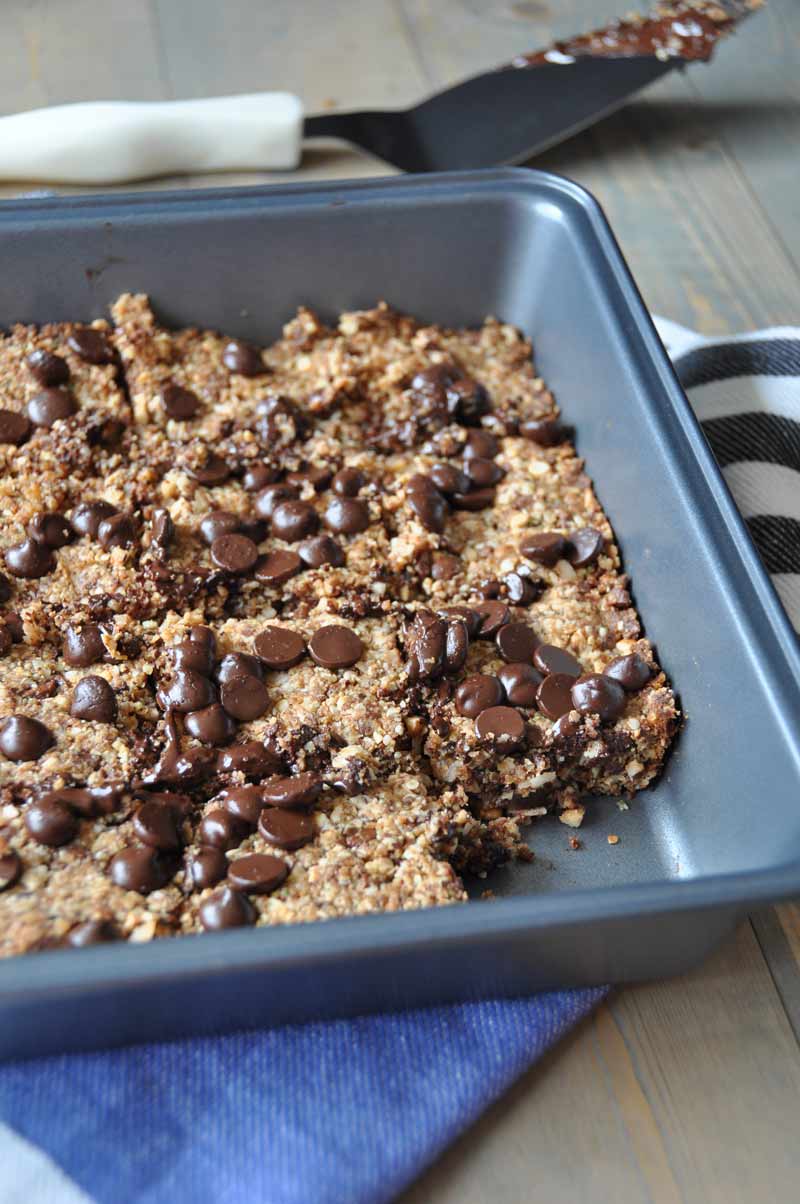 Don't you just love the idea of a breakfast bar that makes you feel like you're eating dessert for breakfast? It tastes like it shouldn't be legal to eat this in the morning, but this is exactly what you should be eating to start your day. These babies are loaded with protein and nutrients that will fuel your body and your brain. Let's take a peek at what's in these protein rich energy bars.
Plant-Based Foods That Have Protein
Quinoa
We all know that quinoa is a superfood because it's rich in antioxidants, nutrients, protein, and healthy fats. Don't fear the healthy fats! We need them.
These are legal, don't let the hemp part of these nutrient bombs fool you. If you want to make sure you're getting your aminos, protein, calcium, and other nutrients, you NEED these in your daily diet. Plus, they're crunchy, and who doesn't like that?
Cashews
Do you want strong bones? Of course you do, so eat your cashews. They're rich in magnesium, which is an important mineral that helps to keep your bones strong. They're also high in copper, an important antioxidant. And they're heart healthy too.
Fiber. Protein. Vitamin E. All the good fat. Need I say more?
They have a lot of antioxidants. They're good for bone health, intestinal disorders, anemia, nervous system health, and many other bodily issues. Did you know they're good for curing a hangover? I haven't tried that, but it's always good to know.
Oats
Fiber, fiber, fiber. It lowers cholesterol, is rich in antioxidants and vitamins and minerals.
So, one or two little homemade vegan protein breakfast bars in the morning will give you a boost of energy, keep you satisfied for hours, will trick you into thinking you're eating dessert, and are super healthy. WIN. WIN. WIN.
Make these and let me know what you think. If I was a betting kind of gal (I'm not), I'd say that you're going to love them.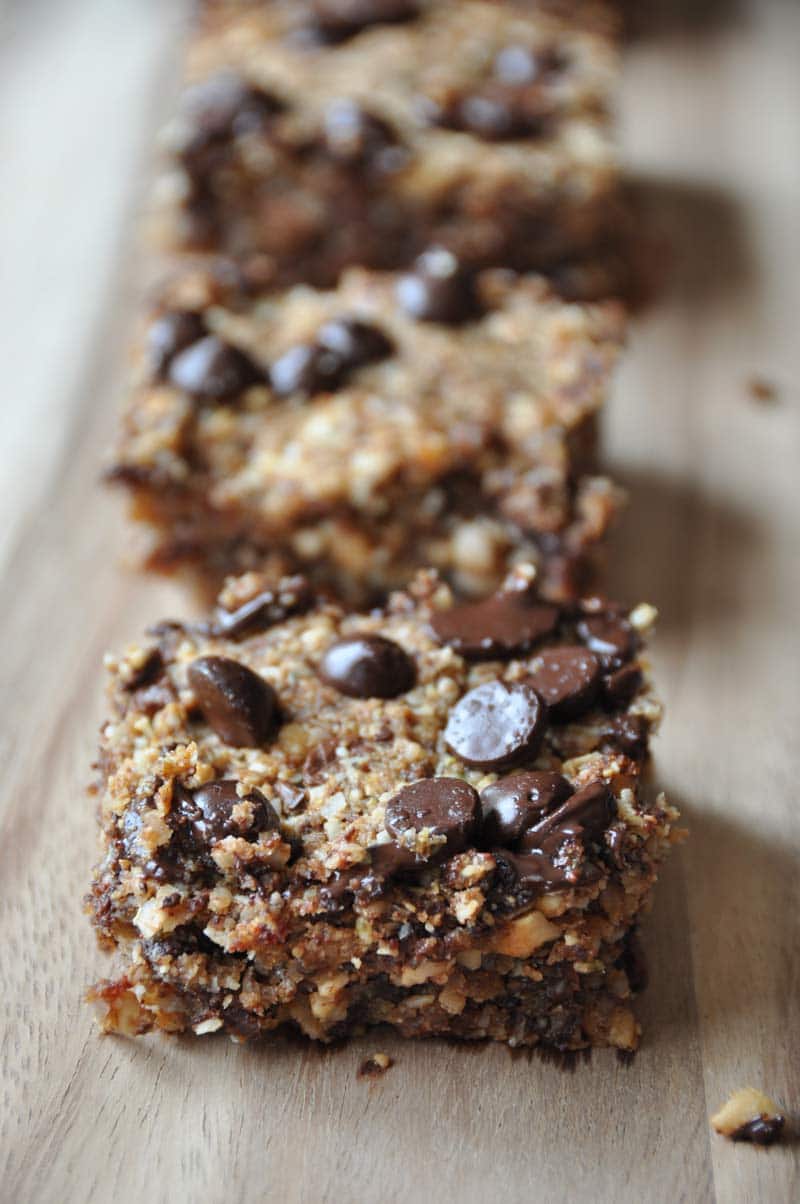 Let's connect! Hop on over to our Facebook page and give it a like, and follow us on Instagram and Twitter, and follow us and share this and other Veganosity recipes on Pinterest. We'd be so grateful if you did. If you like this recipe and can't wait to see what we're going to share next, subscribe to Veganosity. Just fill in the subscription box above our picture in the top right corner of the page. And, Alex and I love hearing from you, please leave a comment and let us know what you think of our recipes.
Homemade Protein Breakfast Bars
Simple, healthy, and delicious homemade protein energy bars! Made with quinoa, flax, peanut butter, and more!
Print
Pin
Rate
Ingredients
¼

cup

dry quinoa

½

cup

water

2

tablespoon

ground flax seed

¼

cup

plus 1 tablespoon (15 ml) water

½

cup

creamy peanut butter

½

cup

roasted and salted cashews

½

cup

rolled oats

¾

cup

unsweetened coconut flakes

4

large dates

pitted

3

tablespoon

raw shelled hemp hearts

1

tablespoon

pure vanilla extract

1 ½

cups

vegan chocolate chips, divided
Instructions
Whisk the ground flax seed and water together until if forms a sticky paste. Set aside.

Rinse the quinoa in a fine mesh colander and place in a small sauce pan with the water. Bring to a boil, cover, reduce to simmer, and cook for 15 minutes or until the water has evaporated. Make sure the quinoa is dry and fluffy, if it's at all wet, the bars may not set. Set aside covered.

Preheat the oven to 350°F (177° C)

Put the quinoa, flax mixture, peanut butter, cashews, oats, coconut, dates, hemp hearts, vanilla, and 1 cup of the chocolate chips in a food processor and pulse until the mixture looks like a fine granola. Press into a lightly greased 9 x 9 inch (23 x 23 cm) pan, spread the remaining chocolate chips over the top and gently press them into the batter, and bake for 25 minutes. Let cool completely before slicing.
Notes
Cool completely before cutting. Store in an airtight container in the refrigerator for up to a week. 
Freeze in a freezer safe container for up to 3 months. Thaw in the refrigerator.
NUTRITION DISCLAIMER
Nutrition
Serving:
20
g
|
Calories:
316
kcal
|
Carbohydrates:
29
g
|
Protein:
8
g
|
Fat:
22
g
|
Saturated Fat:
9
g
|
Polyunsaturated Fat:
4
g
|
Monounsaturated Fat:
5
g
|
Sodium:
51
mg
|
Potassium:
207
mg
|
Fiber:
4
g
|
Sugar:
18
g
|
Vitamin A:
32
IU
|
Vitamin C:
1
mg
|
Calcium:
55
mg
|
Iron:
3
mg