Jackfruit Tuna-Less Salad! It has the texture and the taste of tuna, without the actual fish. Delicious!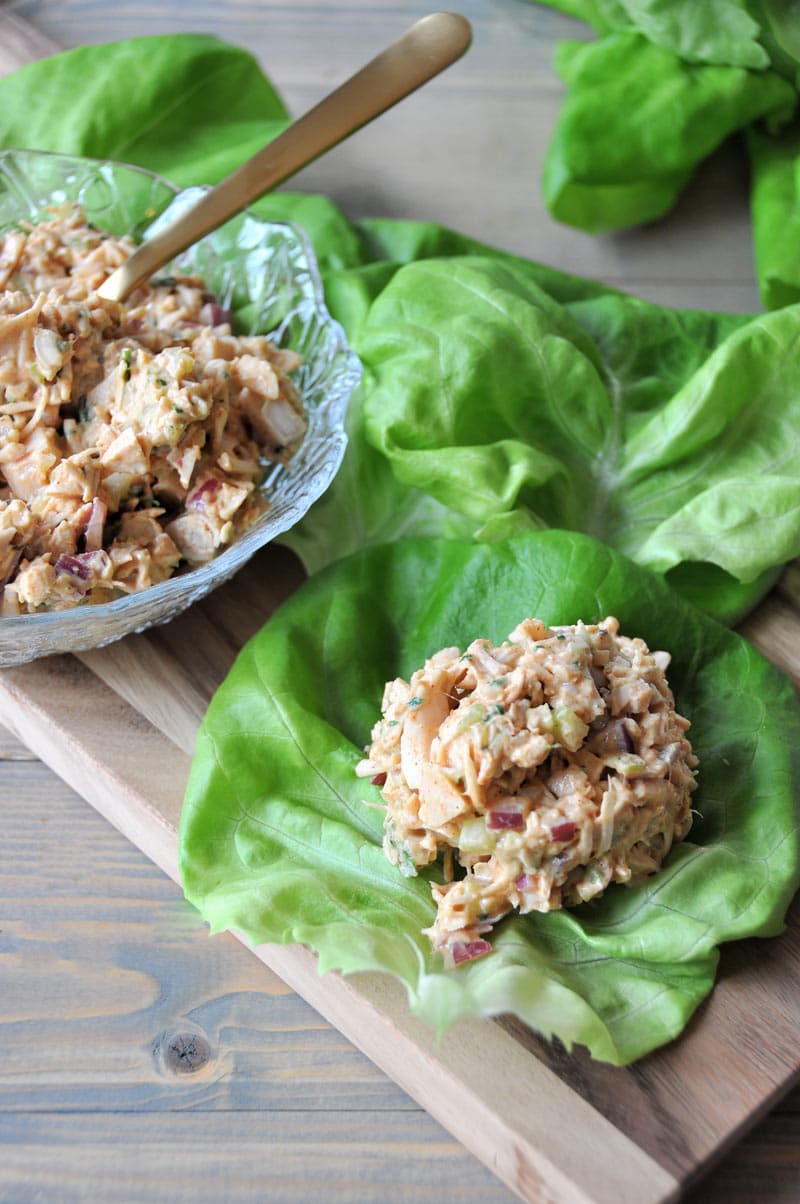 One of the most charming and wonderful little wine and cheese shops you'll ever visit just happens to be in my quaint little town. Might I be a bit biased? Yes, but I'm not playing favorites when I tell you how delicious their mayo-less tuna salad is. Before I went vegan I craved those sandwiches, and ate at least two a month. If I'm honest, which I always am, it's the one food that I've missed over the past three years. I made a "tuna" salad that was close in taste, this one, but the texture wasn't spot on. Why it took me so long to use jackfruit to make my favorite sandwich salad, I'll never know. But I finally got a clue, and believe me when I say, I thought I was eating the real deal.
If you've never tried jackfruit, you're missing out. I'll admit, it's kind of odd on its own, but when it's prepared like a pulled "pork" or a chikn' chili, or, this delicious "tuna" salad, it's incredibly, eerily, close to what I remember from my meat eating days.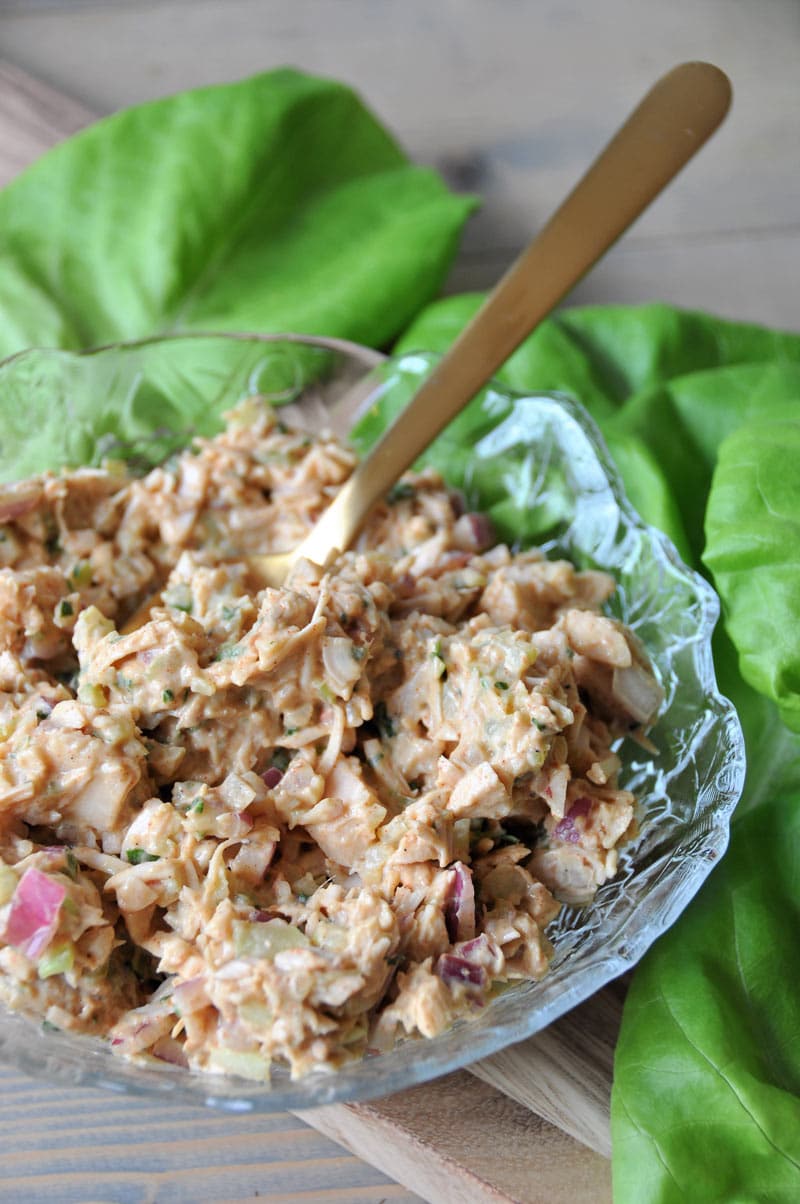 This recipe is mayonnaise free because my husband loathes it. He literally breaks out in a sweat and turns as white as a ghost, or mayo, if a food that's coated in it is put in front of him. He'd argue that with me, but it's true. After we got married I stopped eating it too, because I could never go through a jar of it on my own. That's when tuna salad and I parted ways for a while, until I discovered the amazing salad at my local wine and cheese shop. Instead of using mayo to bind the ingredients together, they used Dijon mustard. Not only does it give the salad the creaminess that's needed for this dish, it gives it a nice tanginess.
How to Make Tuna Salad Without Tuna
Rinse and drain the jackfruit, then shred it in a food processor until it resembles canned tuna fish.
Add finely chopped celery, red onion, and parsley leaves.
Stir in some Dijon mustard, unsweetened plain plant-based yogurt (I used Kite Hill's almond yogurt), paprika, and salt and pepper to taste.
That's it, an easy to make, 7 ingredient, dairy-free and gluten-free tuna-less salad.
You can serve this mock tuna salad as a sandwich, on a lettuce leaf, in a scooped out avocado or tomato, or just eat it straight out of the bowl.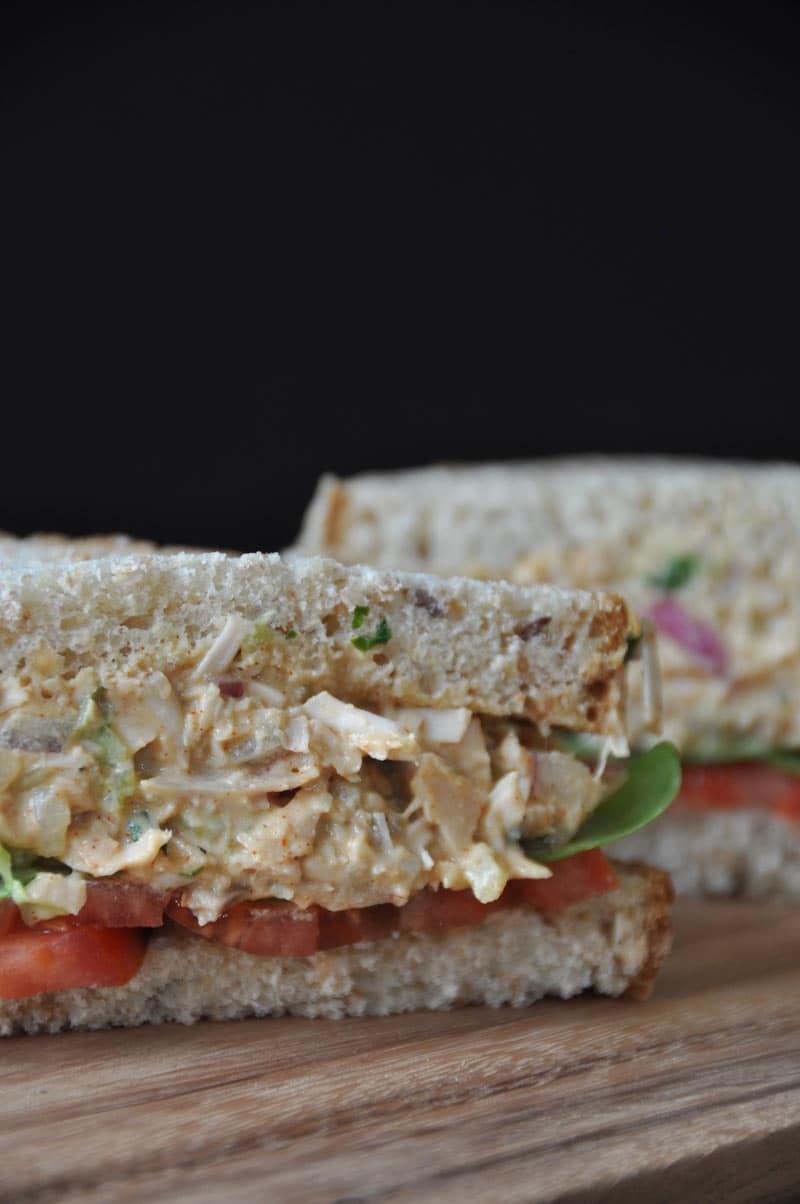 Jackfruit isn't easy find, so I order mine on Amazon
 by the case. You can make "chicken" chili with it, or "crab" cakes, or pulled "pork." Use your imagination.
Let's connect! Hop on over to our Facebook page and give it a like, and follow us on Instagram and Twitter, and follow us and share this and other Veganosity recipes on Pinterest. We'd be so grateful if you did. If you like this recipe and can't wait to see what we're going to share next, subscribe to Veganosity. Just fill in the subscription box above our picture in the top right corner of the page. And, Alex and I love hearing from you, please leave a comment and let us know what you think of our recipes.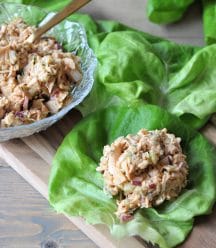 JACKFRUIT TUNA-LESS SALAD
A plant-based "tuna" salad that tastes and feels like the real thing.
Course:
Entree, Main Course, Salad, Side Dish
Ingredients
1

14 oz [440 g] can of young jackfruit (we order it on Amazon.com)

1

stalk of celery

finely chopped

1

small red onion ¼ cup

38 g, finely chopped

1

heaping tbsp.

3 g fresh chopped parsley leaves

3

tbsp

47 g Dijon mustard

2

tbsp

30 g unsweetened plain plant-based yogurt (I used Kite Hill almond)

½

tsp

paprika

Ground sea salt and pepper to taste
Instructions
Drain and rinse the jackfruit and pulse in a food processor until it's shredded and resembles canned tuna. If you don't have a food processor you can chop it with a knife.

Put the jackfruit in a medium mixing bowl and add the celery, onion, parsley mustard, yogurt, paprika, and salt and pepper and stir until it's fully combined.

Serve as is or as a sandwich.
Recipe Notes
If you prefer your salad with mayonnaise you can add 3 tbsp (45 g) of vegan mayo and 1 tbsp (15 g) of Dijon mustard.
The Nutrition Facts are an estimate only.
Nutrition Facts
JACKFRUIT TUNA-LESS SALAD
Amount Per Serving
Calories 52
Calories from Fat 9
% Daily Value*
Total Fat 1g 2%
Sodium 276mg 12%
Potassium 163mg 5%
Total Carbohydrates 8g 3%
Protein 2g 4%
* Percent Daily Values are based on a 2000 calorie diet.