Our Easy Vegan Pumpkin Pie is soy-free, dairy-free, and egg-free! Pumpkin pie lovers rejoice! We've created the easiest, most delicious, just like mom used to make pumpkin pie ever. You'll only need 11 simple ingredients and one bowl. Make our Homemade Vegan Pie Crust or buy ready-made. You'll also love all of these Thanksgiving recipes, but I digress.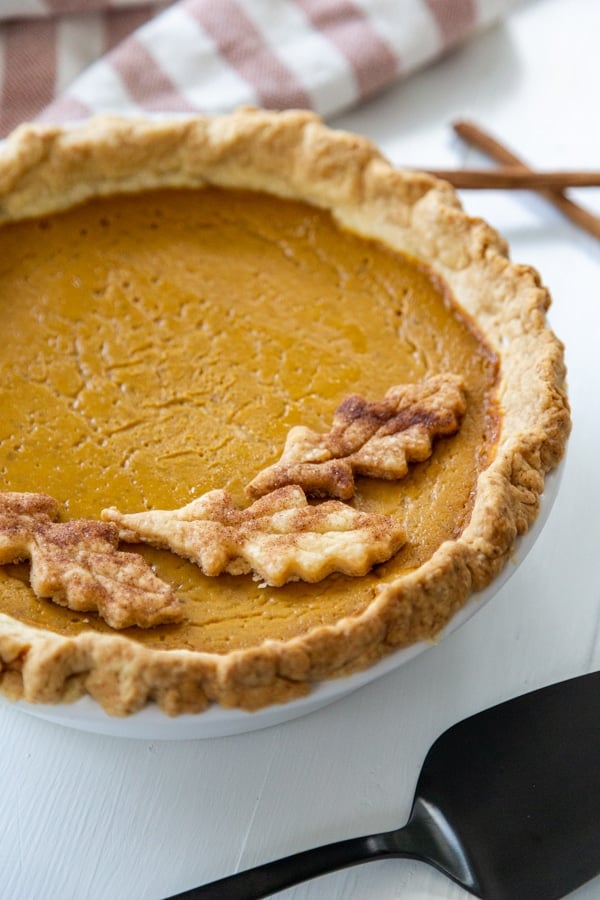 Published Nov. 9, 2017 and updated Nov. 11, 2019.
This post may contain affiliate links which won't change your price but will share some commission.
Hi there! We're Linda and Alex, the mother daughter duo and creators of Veganosity. Thanks for visiting us, we're so happy you're here. If you're looking for Southern inspired vegan comfort food recipes, you've come to the right place.
We love vegan comfort food and we're really good at making it. Take a tour through our site and you'll find all of the recipes that scream, stretchy pants required!
The good news, they're all plant-based recipes, so you don't need to feel guilty eating them. Now sit back, relax, and eat happy. 🙂
Also, in case you didn't know, we're published cookbook authors. We've written two vegan cookbooks that will help you make amazing vegan BBQ (you don't even need a grill) and everyday meals, from breakfast to dessert.
Click on the titles to check them out. GREAT VEGAN BBQ WITHOUT A GRILL
and THE ULTIMATE VEGAN COOKBOOK
.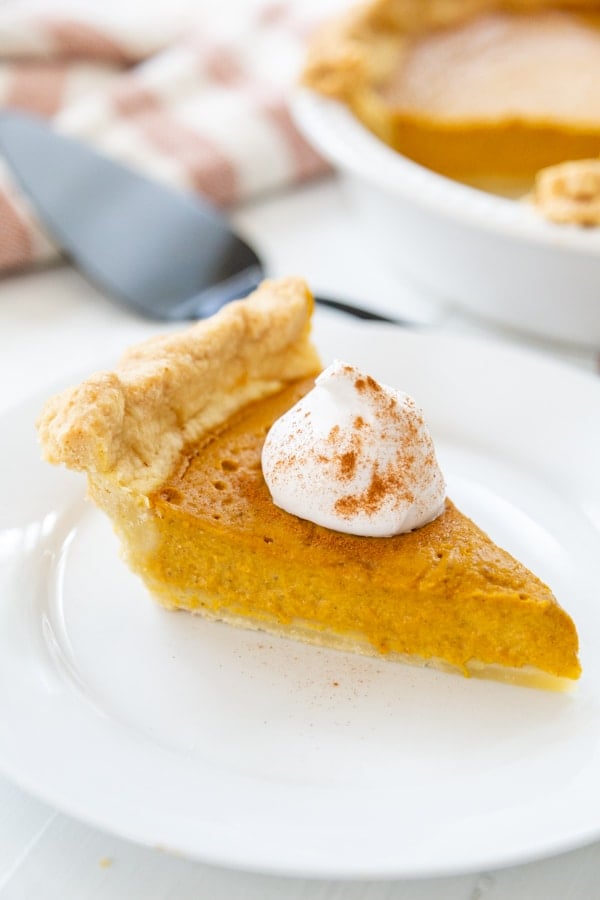 VEGAN PUMPKIN PIE WITH REAL PUMPKIN
If you don't like pumpkin pie. Bye.
Now that the weirdos are gone (JUST KIDDING), let's dig into this super easy, delicious, Thanksgiving necessity. Right? It's a necessity. The day of giving thanks cannot end without a big slice of pumpkin pie. That's the rule. No negotiating.
Pumpkin pie, like enchiladas, BBQ, and meatloaf, is one of the foods that people think that they'll have to give up if they stop eating animal products. So. Not. True. Where there's a will, there's a way, and if you follow our blog, you know that we will always find a way to recreate our old favorites. We're nothing without our traditions.
Many years ago, not long after we started Veganosity, we created our first vegan pumpkin pie with chickpeas. Yes, you read that right.
We used ground up chickpeas as a stabilizer for the pumpkin. It worked beautifully. The taste of the beans was undetectable, and it made the pie filling much more solid and heavy, just the way I like it.
This year, we wanted to create an easier, lighter version for those of you who don't mind a creamy and less dense, pie filling. And here it is.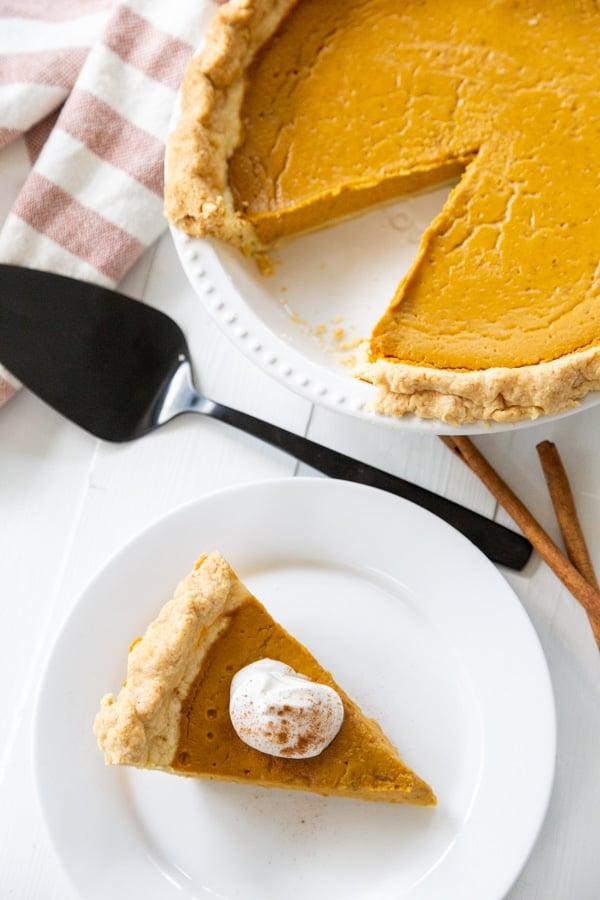 Introducing, our eleven-ingredient vegan pumpkin pie. Five of the ingredients are spices that you probably have in your cupboard, so really…. This is a six-ingredient pumpkin pie made with real pumpkin puree. Interested?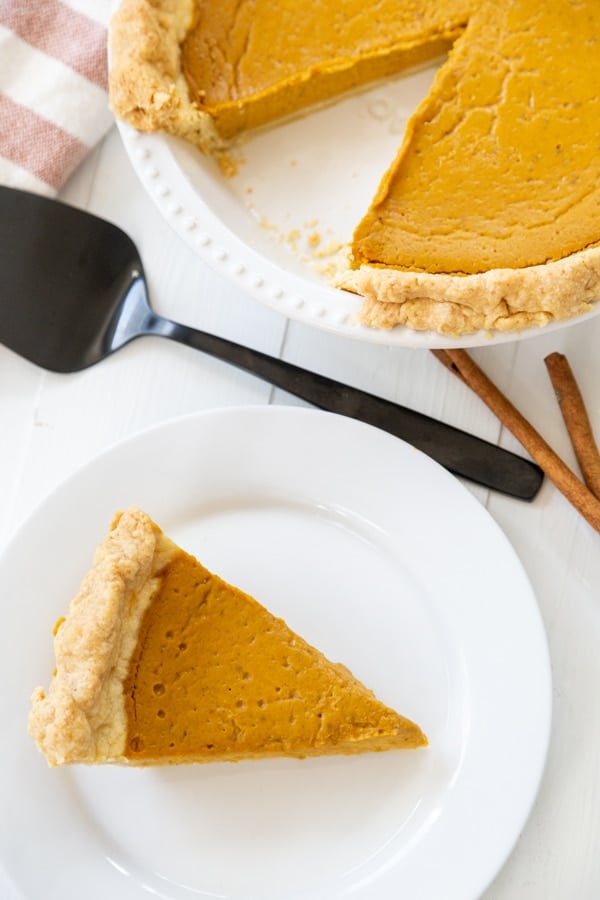 HOW TO MAKE VEGAN PUMPKIN PIE
Let's get to it. There are a few ingredients that you can't—at least you shouldn't—substitute if you want the best results.
TIPS FOR MAKING THE BEST VEGAN PUMPKIN PIE
Use Culinary coconut milk. It mimics condensed milk better than full fat coconut milk because it's super thick and creamy. We use So Delicious's Culinary Coconut Milk. If you can't find it, then you'll want to use full fat coconut milk and scoop the solid part of the milk out and discard the watery part. If you don't do that, you'll have a very wet pie. No Bueno. Also, don't worry about the coconut flavor, you will not be able to taste it. If you do, then congratulations, you're a super taster and need to go to work for a food company.
We've learned over the years that all pumpkin fillings are not alike. We like Pacific's Pumpkin Puree because it's solid, not wet, and it comes in a box instead of a can. If you can't find their brand, we like Libby's, because it's solid. No wet pumpkin! It makes a wiggly and wet pie.
If you buy pumpkin filling that already has the spices in it, taste it and add more to your liking. If you buy plain pumpkin (we suggest this), please, for the love of good pie, don't forget to add the spices.
All right, now that we have that out of the way. Let's make some homemade vegan pumpkin pie.
First – Make the pie crust. Click this link for our flaky and delicious homemade vegan pie crust. Or, make your favorite recipe. Or, buy a vegan pre-made crust. We don't have any suggestions because we always make our pie crust from scratch.
Second – Combine the ingredients for the pumpkin pie filling until it's smooth and creamy.
Third – Bake the pie for approximately one hour, or until the edges are firm and the center is still wiggly. It will set as it cools.
Last – Let it cool completely, cover, and refrigerate for at least three hours. Overnight is best because it will set nice and firm and the spices will cozy up and create a wonderfully warm and fragrant flavor.
If you want to make those pretty pie crust leaves that you see on our pie, just buy some leaf cookie cutters and roll out the extra dough and make some leaves. Bake them separately on a cookie sheet in a 350°F (177°C) oven for about 20 minutes, or until golden brown. Arrange them on the pie when it's cool.
Do yourself a big favor, and make this easy vegan pumpkin pie without tofu the day before Thanksgiving. Getting up REALLY early to make pie doesn't have to be a thing anymore. If you're not cooking a bird, you don't need to get up at the crack of dawn. Unless you're like my crazy family and like to run the local 10K Turkey Trot, then get up early, just don't make pie. Eat pie, but don't make pie.
Now that you know how easy it is to make a dairy-free pumpkin pie, you may want some other easy and delicious vegan Thanksgiving recipes. Am I right? Okay, here you go. Click here for a collection of amazing options. And click here for the best vegan stuffing ever!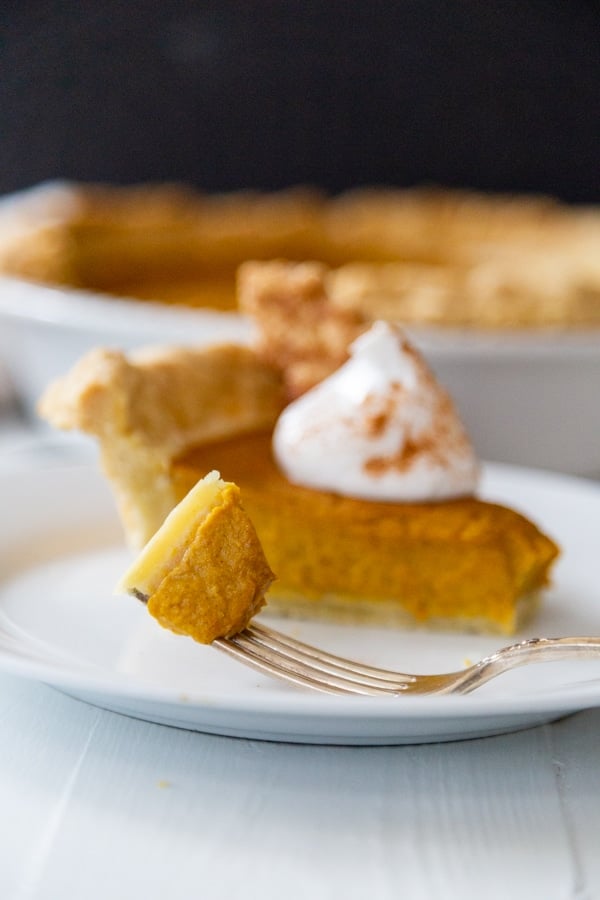 Make our recipe and let us know what you think. We love to hear from you! And, don't forget to take a picture of your gorgeous creation and tag us @veganosity on Instagram.
Let's connect on Instagram and Twitter. You'll get a peek into our everyday lives in our stories and see what we're sharing in our feed.
And, don't forget to SUBSCRIBE to the blog so you never miss a recipe. Scroll below the recipe or in our side bar to become a Veganosity subscriber.

Click the links to order our favorite ingredients.

PIN ME!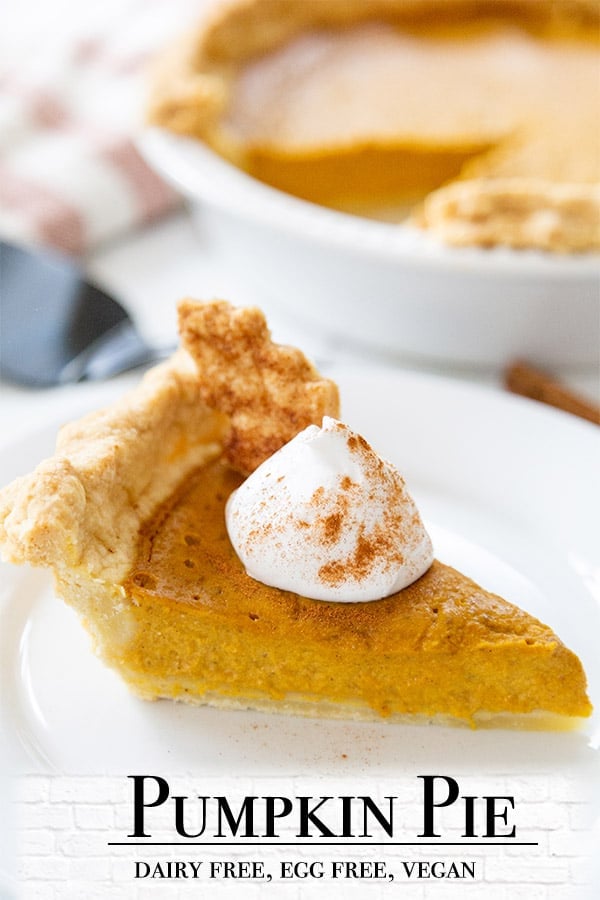 EASY VEGAN PUMPKIN PIE
An easy and delicious vegan pumpkin pie recipe that tastes like mom used to make.
Print
Pin
Rate
Ingredients
Use our pie crust recipe or buy a ready made

1

16 ounce

container of pumpkin

1

11 ounce

container of culinary coconut milk (we use So Delicious)

6

tablespoon

90 ml aquafaba (chickpea brine)

3

tablespoon

45 g tapioca starch

½

cup plus 2 tablespoons

packed brown sugar

1

teaspoon

ground cinnamon

1

teaspoon

ground nutmeg

½

teaspoon

ground ginger

¼

teaspoon

ground cardamom

⅛

teaspoon

ground cloves

1

teaspoon

pure vanilla extract
Instructions
Preheat the oven to 425°F (218°C)

In a large mixing bowl, whisk the pumpkin, coconut cream, aquafaba, tapioca starch, brown sugar, cinnamon, nutmeg, ginger, cardamom, cloves, and vanilla until smooth and creamy. Pour into the pie crust to just below the top of the crust. Place on a cookie sheet to avoid spillage and bake for 10 minutes. Turn the oven temperature down to 350°F (177°C) and bake for 50 to 55 more minutes, or until the filling is firm on the sides and wiggly in the center. Remove from the oven and let cool completely. Cover and refrigerate for at least 3 hours. Overnight will yield the best results.

To make the pastry leaves, roll out the extra dough and use cookie cutters to make the leaves. Bake on a cookie sheet in a 350°F (177°C) oven for approximately 20 minutes, or until golden brown. Decorate your pie.

Enjoy!
Notes
The Nutrition Facts are an estimate only.
Nutrition
Calories:
44
kcal
|
Carbohydrates:
11
g
|
Protein:
0
g
|
Fat:
0
g
|
Saturated Fat:
0
g
|
Cholesterol:
0
mg
|
Sodium:
2
mg
|
Potassium:
12
mg
|
Fiber:
0
g
|
Sugar:
9
g
|
Vitamin A:
15
IU
|
Calcium:
10
mg
|
Iron:
0.1
mg
PIN ME!