Smother mashed potatoes with our mouthwatering vegan porcini mushroom gravy. It's so silky, rich and savory that even meat eaters love it! Made with just 10 ingredients, it's dairy-free, meat-free, and has a gluten-free option.
PIN ME!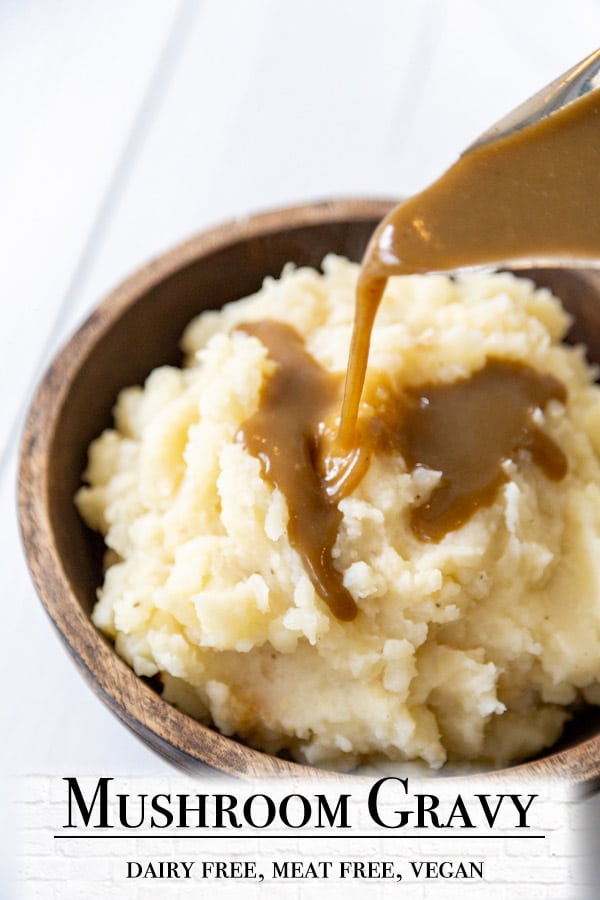 Published Nov. 5, 2014 and updated Nov. 12, 2019.
This post may contain affiliate links which won't change your price but will share some commission.
Hi there! We're Linda and Alex, the mother daughter duo and creators of Veganosity. Thanks for visiting us, we're so happy you're here. If you're looking for Southern inspired vegan comfort food recipes, you've come to the right place.
We love vegan comfort food and we're really good at making it. Take a tour through our site and you'll find all of the recipes that scream, stretchy pants required!
The good news, they're all plant-based recipes, so you don't need to feel guilty eating them. Now sit back, relax, and eat happy. 🙂
Also, in case you didn't know, we're published cookbook authors. We've written two vegan cookbooks that will help you make amazing vegan BBQ (you don't even need a grill) and everyday meals, from breakfast to dessert.
Click on the titles to check them out. GREAT VEGAN BBQ WITHOUT A GRILL
and THE ULTIMATE VEGAN COOKBOOK
.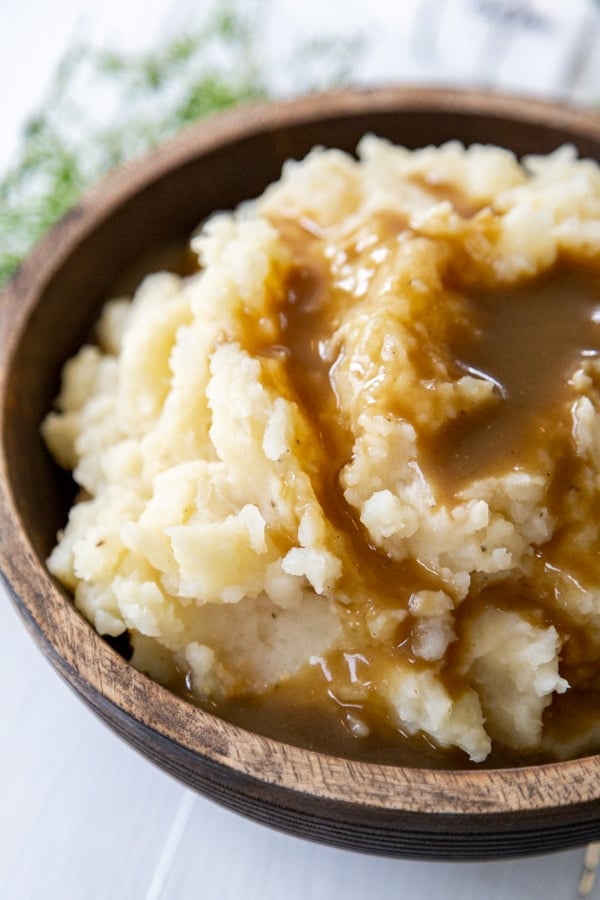 THE BEST PLANT-BASED MUSHROOM GRAVY
When you're craving a big bowl of mashed potatoes, or biscuits, or a good lentil loaf, our red wine and mushroom gravy is exactly what you need to go with it.
This vegetarian mushroom gravy recipe is so rich and delicious. It has a wonderful umami flavor, thanks to the  dried porcini and portobello mushrooms. And the fresh herbs balance the earthiness of the mushrooms beautifully.
Additionally, because we strain the pieces of the mushrooms out of the gravy, we think that those who don't like mushrooms because of their texture, will love this gravy.
Give it a try and let us know if we're right.
HOW TO PREPARE DRIED PORCINI MUSHROOMS FOR VEGAN MUSHROOM GRAVY
To make this stellar gravy you'll want to start with the dried porcini mushrooms.
We use dried because they have a concentrated flavor that adds so much more to the gravy than fresh would.
STEP ONE
Soak them in boiling hot water for thirty minutes so they plump up and the water turns a deep brown. Warning, they are really earthy, and they smell like the musty woods that they were grown in. Don't be alarmed, they won't taste like that once they're cooked.
STEP TWO
2. While the mushrooms are cooking start sautéing the onion, shallot, and garlic in the oil (feel free to use water or broth to cook these, although the oil will give them more flavor). The combination of these ingredients will make your mouth water, and your house will smell soooo good!
Deglaze the pan with a few splashes of the no-chicken broth. It's vegan, but it tastes like chicken broth.  You could use vegetable broth, but I really like this for making gravy.
STEP THREE
3.Now add the Portobello mushrooms and cook them until they begin to release their water and start to brown. Once that happens you can pour the porcini mushrooms, along with the water they soaked in, into the pan.
Add the no-chicken broth and bring it to a boil. Reduce the heat to a simmer and cook for 15 minutes.
Are you ready to make gravy? Let's go.
HOW TO MAKE VEGAN MUSHROOM GRAVY
STEP ONE
Put a fine strainer over a large bowl and pour the mixture into it. As you can see, the broth is a rich, dark, gorgeous brown. Perfect for pouring over white potatoes!
Put the broth back in the pan that you cooked the mixture in and bring to a boil. To thicken it you'll need to mix two tablespoons of flour with ¼ cup of water. Make sure the flour is completely dissolved before you pour it into the broth.
STEP TWO
2.Add the flour mixture to the broth and whisk vigourously. Keep whisking until it thickens. Strain it into the bowl one more time to make sure that any stray pieces of flour that may remain don't go into the gravy bowl.
Now pour it into a gravy boat and start smothering those potatoes!
NOTE: TO MAKE THIS GLUTEN-FREE MUSHROOM GRAVY, USE CORNSTARCH INSTEAD OF FLOUR TO THICKEN IT.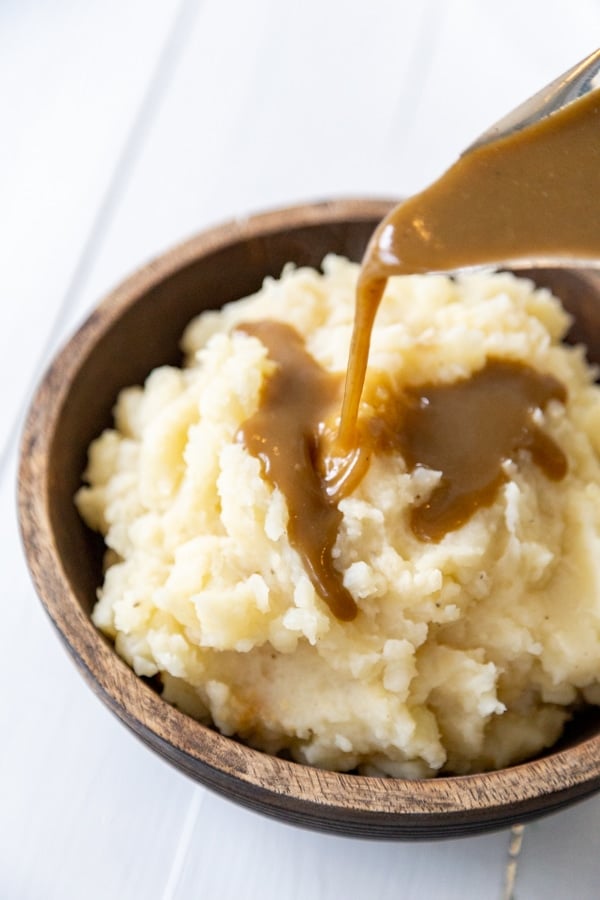 WHY MUSHROOM GRAVY IS BETTER
Before I went vegan I wasn't a big fan of gravy. It was too greasy for me, you know, animal fat and all.
But this, this is different. It's rich and creamy like gravy is supposed to be, but it has a lighter, fresher taste and texture.
Your non vegan friends will love this!
It's also healthier. There isn't anything in it that will clog your arteries. Who wouldn't like that?
To make it even healthier, you can make this gravy without oil. Just cook the veggies in water or broth.
Because we used dried, then re-hydrated porcini mushrooms, the solids that are leftover may be a little tough. We recommend chopping the solids up into small pieces and putting them in pasta or a soup.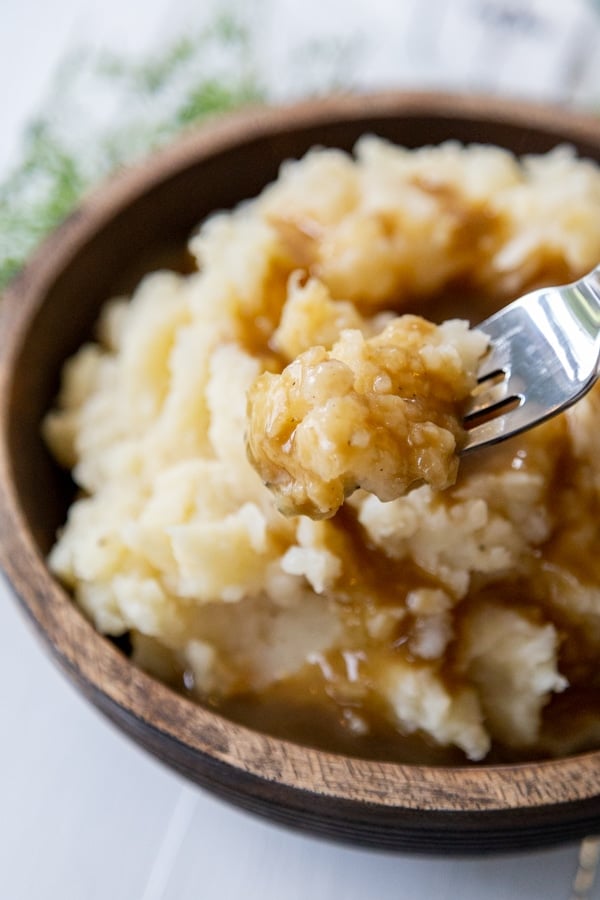 CAN YOU MAKE MUSHROOM GRAVY AHEAD OF TIME? 
Absolutely!
You can make it a day or two ahead of time. Be sure to store covered in the refrigerator.
If you want to freeze it, store it in an airtight, freezer safe container for up to 3 months.
WHAT TO SERVE WITH MUSHROOM GRAVY
Make our recipe and let us know what you think. We love to hear from you! And, don't forget to take a picture of your gorgeous creation and tag us @veganosity on Instagram.
Let's connect on Instagram and Twitter. You'll get a peek into our everyday lives in our stories and see what we're sharing in our feed.
And, don't forget to SUBSCRIBE to the blog so you never miss a recipe. Scroll below the recipe or in our side bar to become a Veganosity subscriber.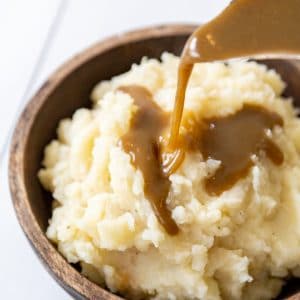 Vegan Porcini Mushroom Gravy
You won't miss the meat juices in this gravy. The mushrooms and fresh herbs make an extraordinary gravy that will have you asking for seconds. Only 10 Ingredients!
Print
Pin
Rate
Equipment
1 strainer

1 skillet

1 stove
Ingredients
½

cup

dried wild porcini mushrooms

2

tablespoon

olive oil

SEE NOTE

1

medium

red onion

finely diced

1

shallot

finely diced

3

cloves

garlic

minced

5

sprigs

fresh thyme

3

sprigs

fresh rosemary

6

ounces

Portobello mushrooms

sliced

1 ¾

cups

no-chicken broth

SEE NOTE

2

tablespoon

flour + ¼ cup of water

Whisked until if forms a thick paste SEE NOTE

salt and pepper to taste
Instructions
Put the½ cup dried porcini mushrooms in a small bowl and cover with 3 cups of hot water. Let soak for 30 minutes.

Whisk the 2 tablespoon flour with the ¼ cup water until smooth and creamy. Set aside.

Heat the 2 tablespoon olive oil (or 3 tablespoon water or vegetable broth) in a medium skillet over medium-high heat. When the oil is hot, add the onions and mushrooms and cook for 7 minutes ,or until they begin to brown. Add the shallots and cook for two minutes. Add the garlic and cook for one to two minutes, or until it just begins to brown..

Pour the porcini mushrooms, including the water they soaked in, into the pan. Add the 1 ¾ cups of no-chicken broth and the rosemary and thyme and bring to a boil. Reduce heat to simmer and cook for 15 minutes.. It's normal for the liquid to reduce during this time, but you don't want it to evaporate too much, so make sure that the heat is low.

Put a fine strainer over a large bowl and pour the mushroom mixture into the strainer. Rinse the pan and put back on medium-high heat. Pour the mushroom gravy back into the pan and bring to a low boil. Whisk in the flour mixture and continue whisking until the gravy thickens Add the salt and pepper to taste and stir for another minute.

Strain the gravy one more time if needed to make sure that it's smooth and creamy.

Don't throw the solid mushroom mixture away. Remove the herbs and finally chop it, then serve as a side dish, or save it to toss with pasta or quinoa.
Notes
If you don't cook with oil, substitute with 3 tablespoon of water or broth. Add more as needed. The flavor will not be as rich. 
If you can't find no-chicken broth, feel free to use vegetable broth. 
For a gluten-free version, use cornstarch instead of flour. Gluten-free flour may result in a gritty texture. 
Store in an airtight container in the refrigerator for up to 4 days. 
Freeze in a freezer safe container for up to 3 months. Thaw in the refrigerator and reheat on the stove. 
Nutrition
Serving:
3
tablespoon
|
Calories:
60.3
kcal
|
Carbohydrates:
6.57
g
|
Protein:
1.15
g
|
Fat:
3.65
g
|
Saturated Fat:
0.51
g
|
Sodium:
209.06
mg
|
Potassium:
139.26
mg
|
Fiber:
0.95
g
|
Sugar:
1.85
g
|
Vitamin A:
139.19
IU
|
Vitamin C:
2.62
mg
|
Calcium:
7.73
mg
|
Iron:
0.36
mg
PIN ME!