Vegan Roasted Garlic Mashed Potatoes
Calling all garlic lovers!
If garlic is your jam, you're going to LOVE my vegan roasted garlic mashed potatoes. This mashed potato recipe is bold, and so damn delicious. I put an entire bulb of roasted garlic in three pounds of boiled potatoes and you can't take a bite without a happy hello greeting from my favorite member of the onion family. If you're looking for heaven in a bowl, you've just found it.
This recipe was inspired by my love obsession with garlic and the mashed potatoes that I used to order weekly at Boogie's Diner in Chicago. Diners know comfort food, and Boogie's knew how to mash a mean potato. They didn't spare the butter or cream, and, they left the skins on the potatoes. That's a winning combination right there, my friends. Soft billowy potatoes with their chewy skins, butter, cream, and salt and pepper, it just didn't get much better than that. Until now.
I had to take the Boogies potatoes one step beyond. It was my mission to go where no man/woman had gone before when it came to creating the biggest bowl of savory garlic mashed potatoes ever! Hyperbole? A bit, yes. But seriously, these are pretty mind blowing if you love garlic.
How to Make Roasted Garlic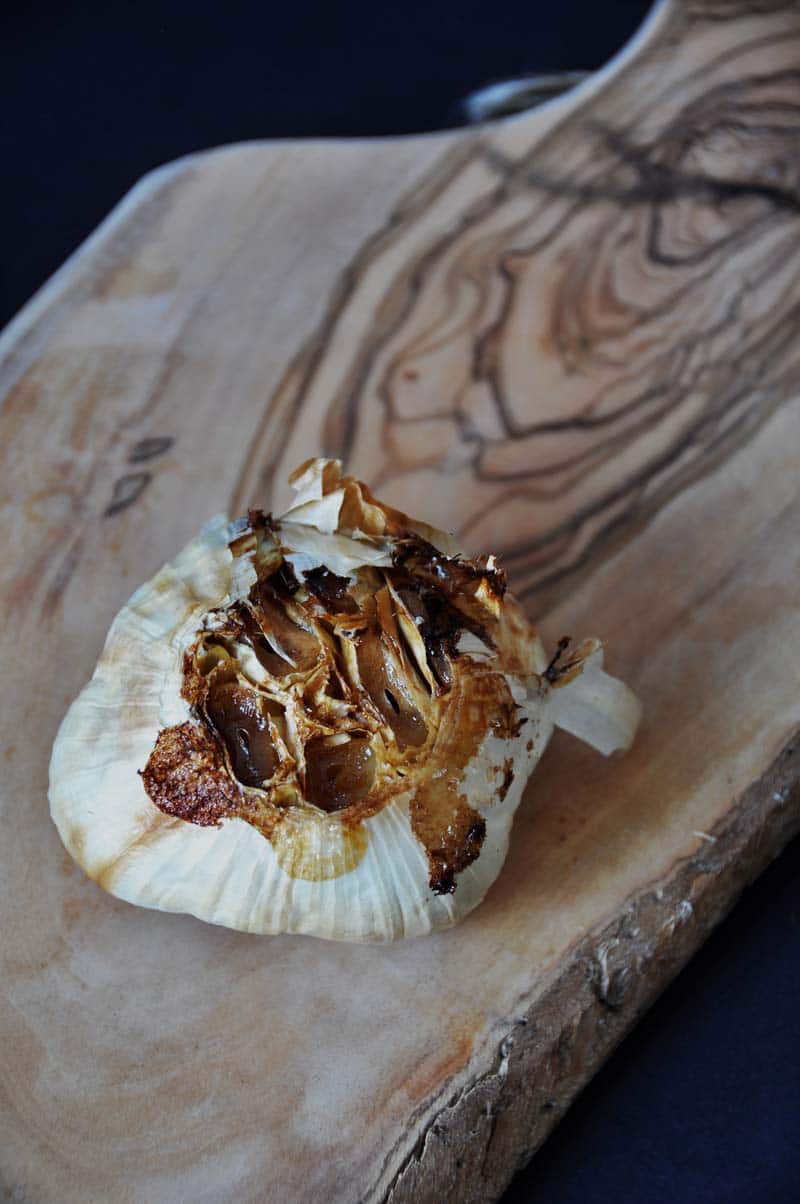 The reason that these garlic mashed potatoes are so good is because of the roasted garlic. Sure, you could just put a few cloves of garlic into the pot and boil them with the potatoes. That would taste great, I've done it myself. But, if you want to take your garlic to another galaxy, you need to roast it.
Roasted garlic has a deep and rich caramelized flavor that you can't get if you cook it in a pan. It takes time, but it's so easy that it doesn't matter. You can roast a few bulbs ahead of time and have them ready to go whenever you need them. I always make extra because you can just scoop out the garlic and spread it on bread for a mind blowing treat.
All you'll need to do is peel the outer layers of paper off the bulb, cut off the top so you can see the garlic cloves, wrap it in foil, and put it in the oven for an hour. Once it's done, let it cool and remove the soft and sticky cloves from the skin/paper.
Once you've removed the cloves, mince them and add them to the mashed potatoes and fold them in until they're evenly distributed.
See, it's easy!
Back in the day of Boogie's Diner's mashed potatoes, I always had a twinge of guilt after scarfing down a big serving. The massive amounts of butter and cream where not healthy, and I knew that. But come on, they were SO GOOD. Happily, I've taken the bad out of this recipe and put in the good. Eat away, my friends, eat away!
In case you're wondering how any mashed potato recipe could be good for you, vegan or not, let me convince you.
Why Potatoes are Good for You
Don't believe the hype, potatoes are not your enemy. Carb mongers will tell you that they are the devil's spud—that's my attempt at being clever—but they are not. The reason that potatoes have such a bad reputation is because people load them up with bad things, such as butter, cream, sour cream, and a bunch of other unmentionables, or they fry them. Without those calorie and cholesterol inducing ingredients, the potato is an innocent starchy tuber that can provide you with some pretty amazing nutrients.
Potatoes are loaded with vitamin B6, potassium, copper, vitamin C, manganese, and more. They contain  blood pressure-lowering compounds called kukoamines, they have zero cholesterol, they are fat free, one cup is only one hundred and sixty calories and will provide you with nine percent of your daily recommended allowance of protein. Still think the potato is a bad dude? To learn more, click here.
The Health Benefits of Garlic
Garlic is pretty amazing. Aside from its dreamy flavor it is packed with all kinds of healthy.
Like the potato, it's also a great source of vitamins B6 and C, manganese, and selenium. Garlic has active compounds that can lower your blood pressure and improve cholesterol levels, it has antioxidants that are thought to help prevent Alzheimer's disease, it can detoxify heavy metals that may be lingering in your body, and the list goes on. If you want to learn more, click here.
Healthful hint about garlic—crush the garlic and let it sit for at least fifteen minutes to release powerful enzymes that are thought to help prevent cancer. To do that when roasting an entire bulb, put a heavy pan on top of the bulb and gently press down until you feel the bulb give.
Now that you know how healthy potatoes and garlic are, let me tell you how I turned a typically unhealthy recipe into one that's good for you.
I replaced the butter with a half of a stick (four tablespoons) of Earth Balance Soy Free Buttery Sticks, which is much less than what most people put into their mashed potatoes. Instead of using heavy cream I used SILK brand unsweetened almond milk. I added the garlic. Those two changes and the one addition turned a guilty pleasure into a guiltless pleasure. You're welcome.
These mashed potatoes with garlic would be a great addition to your holiday meal. Make them and let me know what you think. And if you have time, take a picture and share it with me @veganosity on Instagram. I love that!
Let's connect! Hop on over to our Facebook page and give it a like, and follow us on Instagram and Twitter, and follow us and share this and other Veganosity recipes on Pinterest. We'd be so grateful if you did. If you like this recipe and can't wait to see what we're going to share next, subscribe to Veganosity. Just fill in the subscription box above our picture in the top right corner of the page. And, Alex and I love hearing from you, please leave a comment and let us know what you think of our recipes.


The above links are affiliate links. Any Amazon purchases made through these links help support Veganosity.com at no additional cost to you.
Yields Approximately 6 cups
Vegan Roasted Garlic Mashed Potatoes
A healthier version of creamy roasted garlic mashed potatoes.
10 minPrep Time
1 hrCook Time
1 hr, 10 Total Time
Ingredients
1 bulb of garlic
3 pounds Russet potatoes or 10 medium potatoes – scrub with water and cut into quarters
4 tablespoons vegan butter (I use Earth Balance Soy Free Buttery Sticks)
¾ cup of unsweetened almond milk (I use Silk brand)
1 tablespoon ground sea salt (optional, you can salt to taste)
3 teaspoons ground black pepper (optional, you can pepper to taste)
Instructions
To Roast the Garlic

Preheat the oven to 400°
Peel away the outer layers of the paper/skin of the garlic and cut the top of the bulb off so you can see the cloves of garlic. Wrap in foil and roast for an hour. The cloves should look caramelized when you unwrap the bulb. Let it cool until you can safely remove the cloves without burning your fingers.
Once the garlic is cool enough to handle remove the cloves from the paper and mince.

To Make the Potatoes

Put the quartered potatoes in a large stock pot and cover with water. Bring to a boil and cook for approximately 40 minutes or until you can pierce the potatoes with a fork. They should be soft. You don't want a firm potato for mashing.
When the potatoes are done pour them into a strainer to remove the water and put them back in the pot. Add the butter, almond milk, minced garlic, salt and pepper to the potatoes and fold the ingredients in until they're fully incorporated.
Enjoy!
7.8.1.2
391
https://www.veganosity.com/vegan-roasted-garlic-mashed-potatoes/