We bought and roasted the top three selling vegan holiday roasts and are giving our honest opinion. It was a hard job, but someone had to do it. LOL!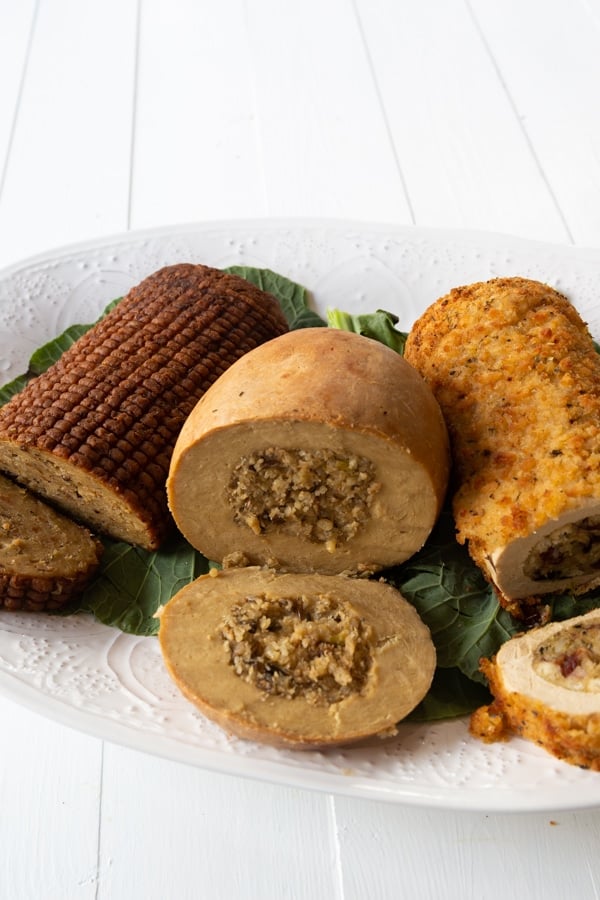 This is not a sponsored post. We purchased the roasts and all opinions are ours.
THE THREE TOP SELLING VEGAN HOLIDAY ROASTS
We get it, there are people who are not that into cooking, especially during the holidays. The idea of putting together a lentil loaf or a Wellington, can be too much, especially when there are several side dishes and desserts to make.
Well, we're here to the rescue, because there are so many great vegan options for your holiday table, and we've broken down what we like best about the three best selling plant-based turkey holiday roasts, so you can choose the one that's right for you, and take the stress of making the main course off of your plate. See what I just did. 😉
We made the oldie but goodie, Tofurky Plant-Based Roast & Wild Rice Stuffing,  Field Roast's Celebration Roast with Traditional Bread Stuffing,  and  Gardein's Holiday Roast with Cranberry and Wild Rice Stuffing.
They all took about and hour to an hour and thirty minutes to roast and they were all EASY to make. If you can preheat an oven, brush some olive oil on the top, cover with foil and pop it in the oven and set a timer, then you can make one of these like a pro.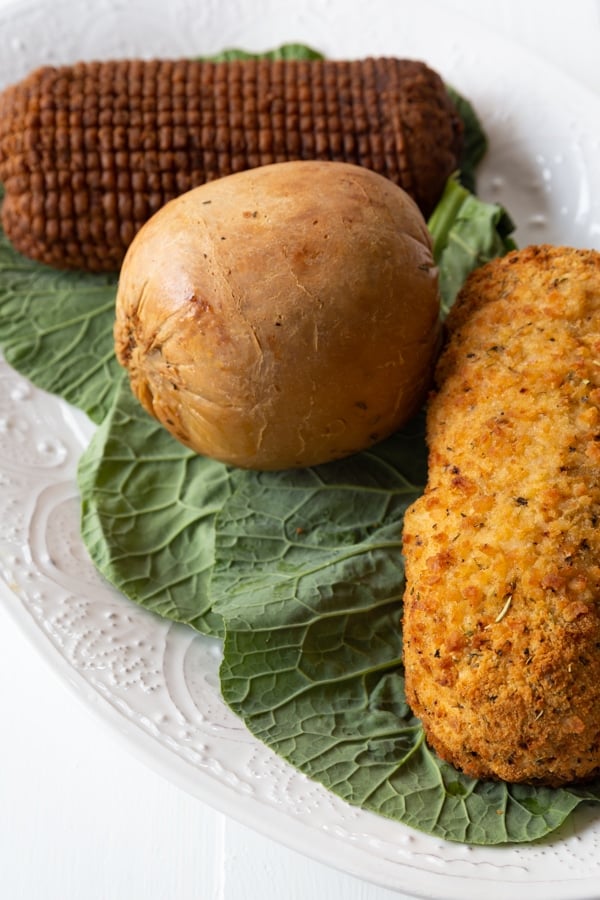 FIELD ROAST CELEBRATION ROAST WITH TRADITIONAL BREAD STUFFING REVIEW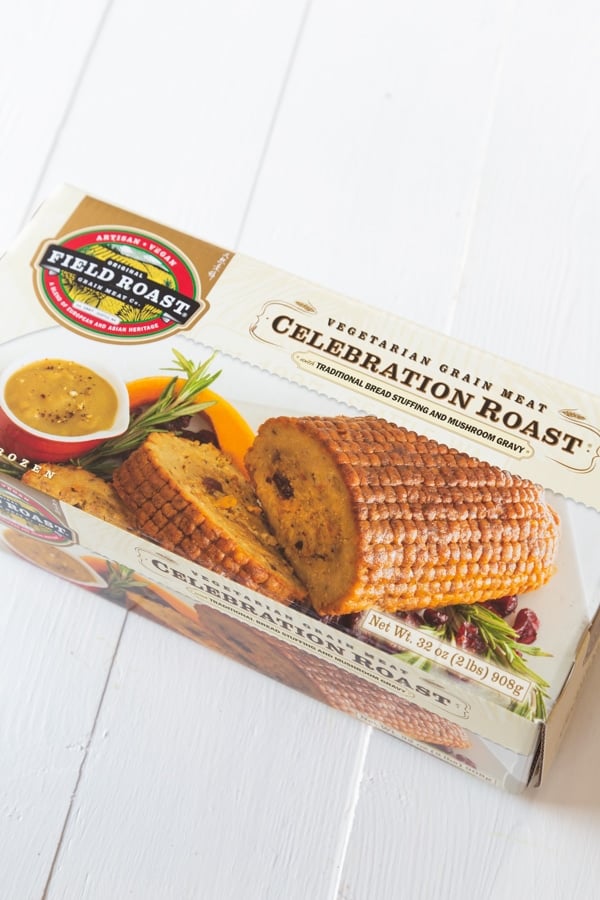 WHAT WE LIKED ABOUT THE CELEBRATION ROAST WITH TRADITIONAL BREAD STUFFING
We loved the look of this roast. It has the look of a cob of corn on the exterior that looked festive and inviting.
The color was a beautiful golden brown.
It came with gravy, but we didn't make it because we didn't want the gravy to compete with the roast.
The flavor was good. There was a slight taste of seitan, which we didn't mind, but would have preferred it not be there, but they spiced it well.
WHAT WE WOULD IMPROVE IN THE CELEBRATION ROAST WITH TRADITIONAL BREAD STUFFING
The stuffing blended into the roast so well that it was hard to distinguish the two.
It has to be defrosted in the refrigerator overnight.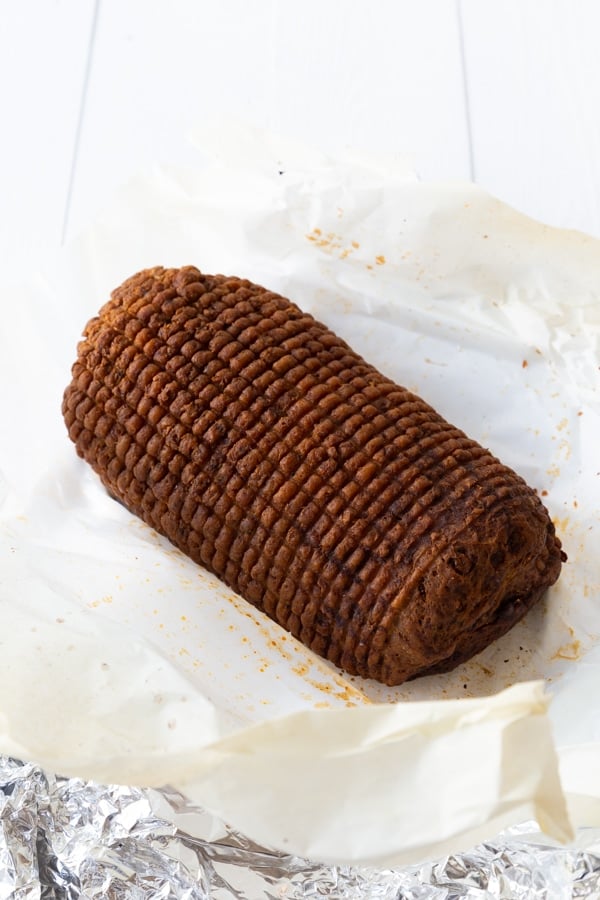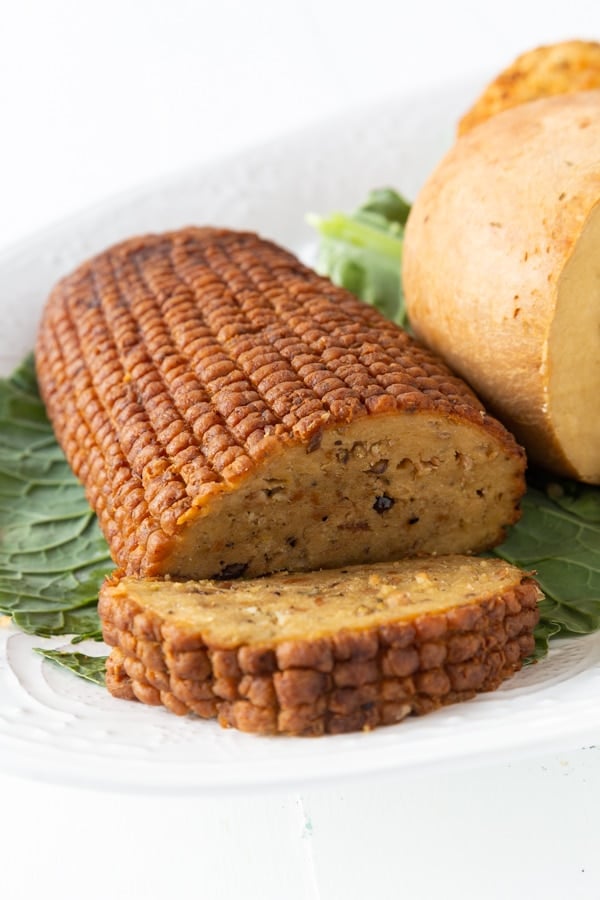 TOFURKY  PLANT-BASED ROAST & WILD RICE STUFFING REVIEW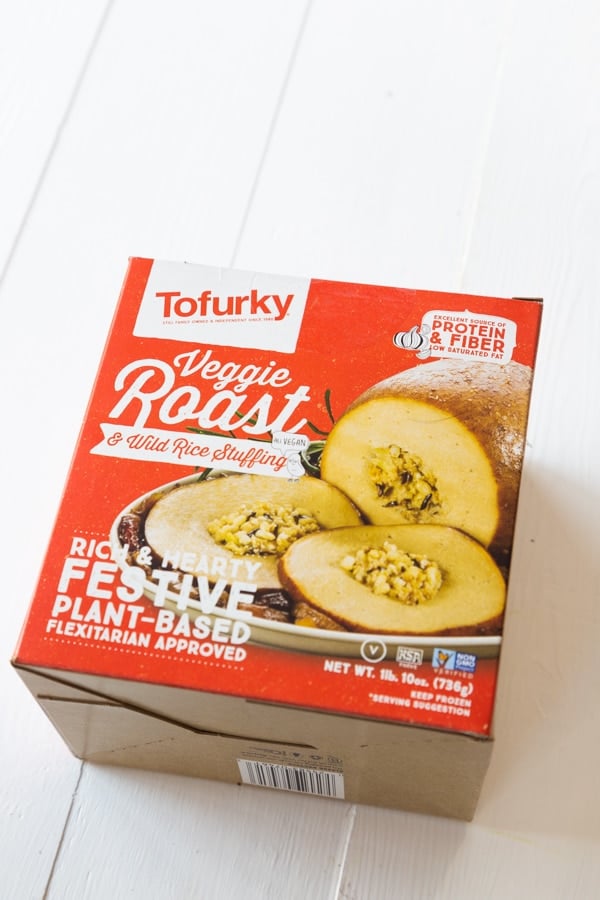 WHAT WE LIKED ABOUT TOFURKY VEGGIE ROAST WITH WILD RICE STUFFING
It looked like a real turkey roast, which could be a good or bad thing, depending on how you look at it.
The flavor was good. There wasn't a lot of seasoning, which made it taste like a turkey that wasn't rubbed or basted with a lot of spice. We did follow the instructions for the rub that they recommended we brush on the roast before cooking, but it didn't really make a difference.
WHAT WE WOULD IMPROVE IN THE TOFURKY VEGGIE ROAST
It has to be defrosted overnight.
The texture was slightly rubbery.
We like spice and flavor, so if we made this again we'd add a bolder rub to the surface before roasting.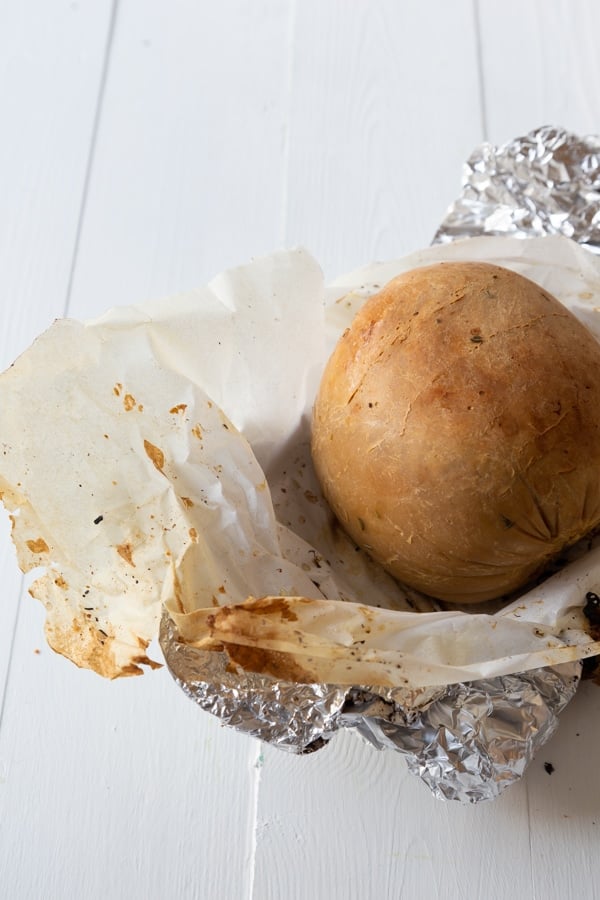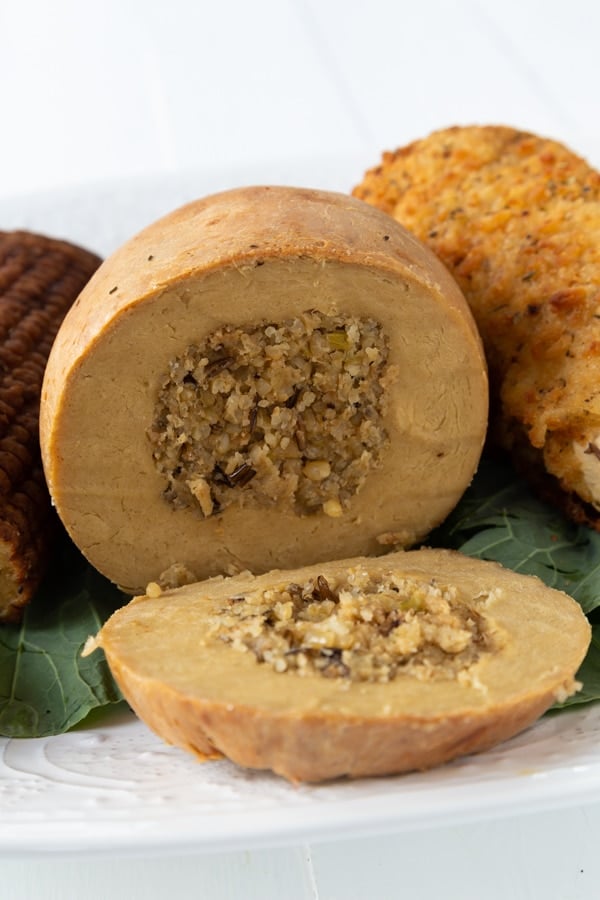 GARDEIN HOLIDAY ROAST WITH CRANBERRY AND WILD RICE STUFFING REVIEW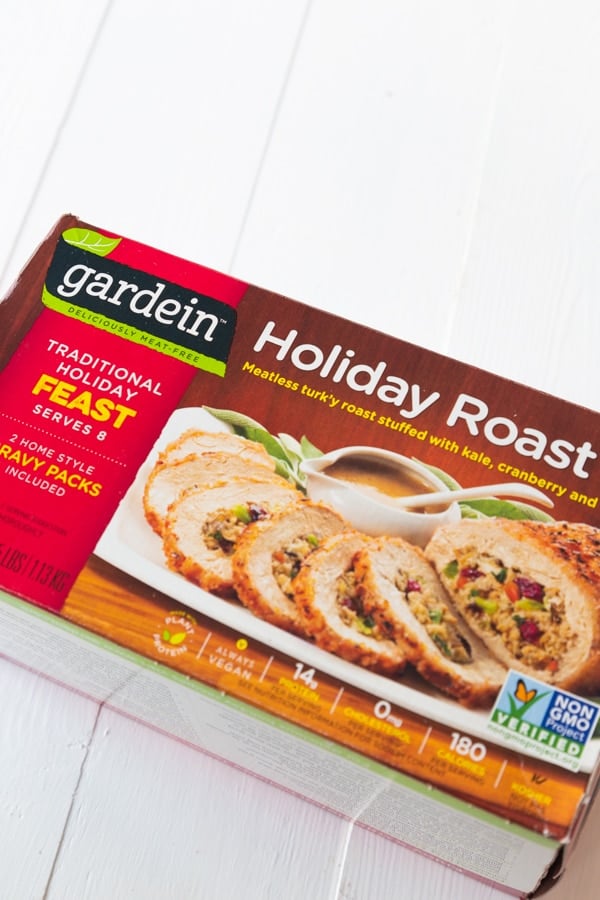 WHAT WE LIKED ABOUT THE GARDEIN HOLIDAY ROAST WITH KALE, CRANBERRY AND WILD RICE STUFFING
EVERYTHING!!!!
You can bake it frozen, no need to thaw. That's so great for me because I always forget to thaw things out. The other two roasts needed to be thawed in the refrigerator overnight.
Let's start with the crispy breaded crust. It browned and crisped up perfectly and gave a wonderful texture to the tender and meaty roast.
If we hadn't known that the meaty part of the roast wasn't turkey, we would have thought that someone was trying us to slip us the real thing. The texture and the taste was so much like what we remember.
The stuffing was lovely and flavorful.
We loved this roast so much that I went back to Whole Foods and bought three more. This will definitely be on our table for Thanksgiving and Christmas, along with a few other main courses.
WHAT WE DON'T LIKE ABOUT THE GARDEIN HOLIDAY ROAST WITH KALE, CRANBERRY AND WILD RICE STUFFING
They only release these roasts during the holidays. 🙁
I will be going to buy a few more to keep in the freezer for a cozy winter meal in February and March.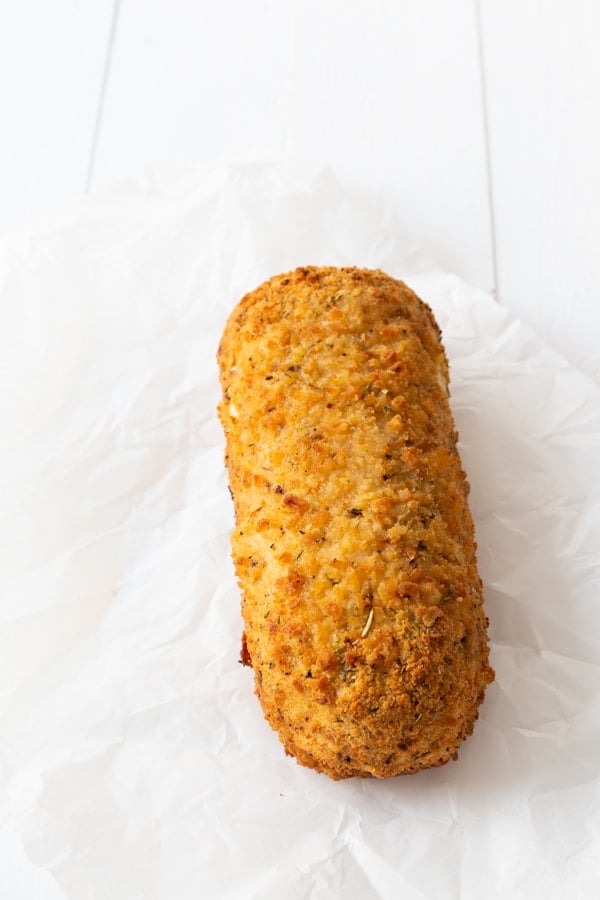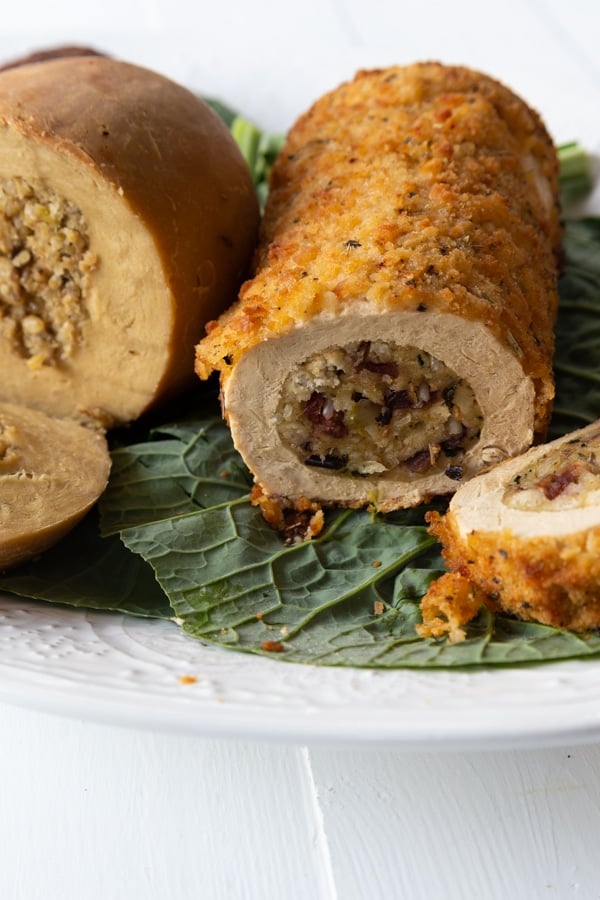 We wouldn't complain if any of these vegan roasts were served to us, but we will definitely choose the Gardein roast when given the chance.
Let us know if you've tried any of these and tell us what you think. We love to hear from you! And, don't forget to take a picture of your gorgeous creation and tag us @veganosity on Instagram.
Let's connect! Hop on over to our Facebook page and give it a like, and follow us on Instagram and Twitter, and follow us and share this and other Veganosity recipes on Pinterest. We'd be so grateful if you did. If you like this recipe and can't wait to see what we're going to share next, subscribe to Veganosity. Just fill in the subscription box above our picture in the top right corner of the page. And, Alex and I love hearing from you, please leave a comment and let us know what you think of our recipes.
READ THE INTERVIEW WITH LINDA AND ALEX FROM VEGANOSITY IN CHEF KNIVES EXPERT
If you want to know a little bit more about us, head on over to Chef Knives Expert and read our interview! Click here to read it.