Refined sugar-free stuffed baked apples are the perfect gluten-free fall dessert. They're naturally sweetened and packed with an oatmeal filling that will remind you of the crumble topping in apple crisp. To make them extra special and delicious, top them with vegan vanilla ice cream or our coconut whipped topping. They're also great with vegan vanilla yogurt for a healthy breakfast.
Published January 9, 2017 and updated October 21, 2021.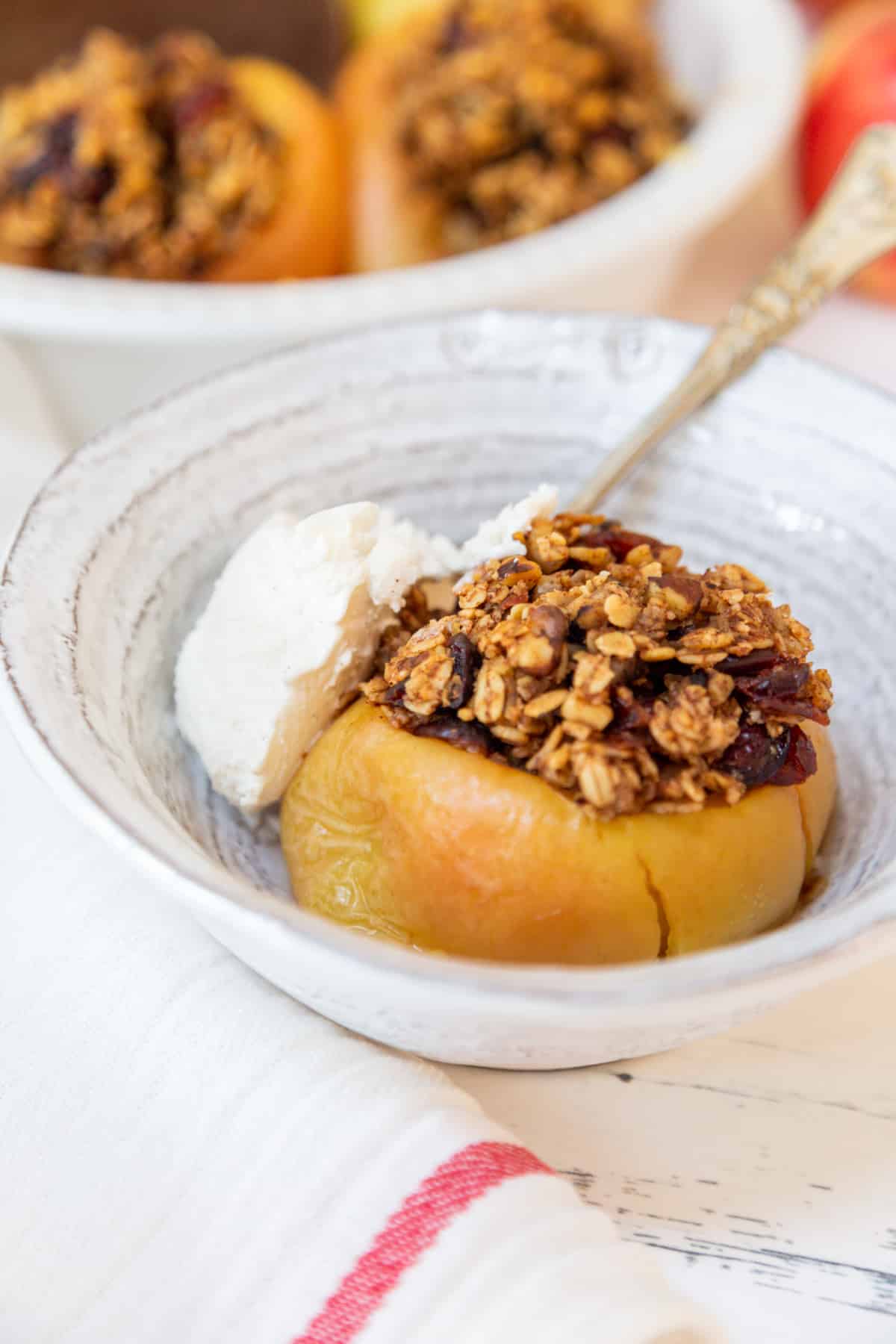 MORE HEALTHY VEGAN FRUIT RECIPES YOU'LL LOVE
Vegan Raspberry Lime Cheesecake
Grilled Pineapple & Cinnamon Coconut Cream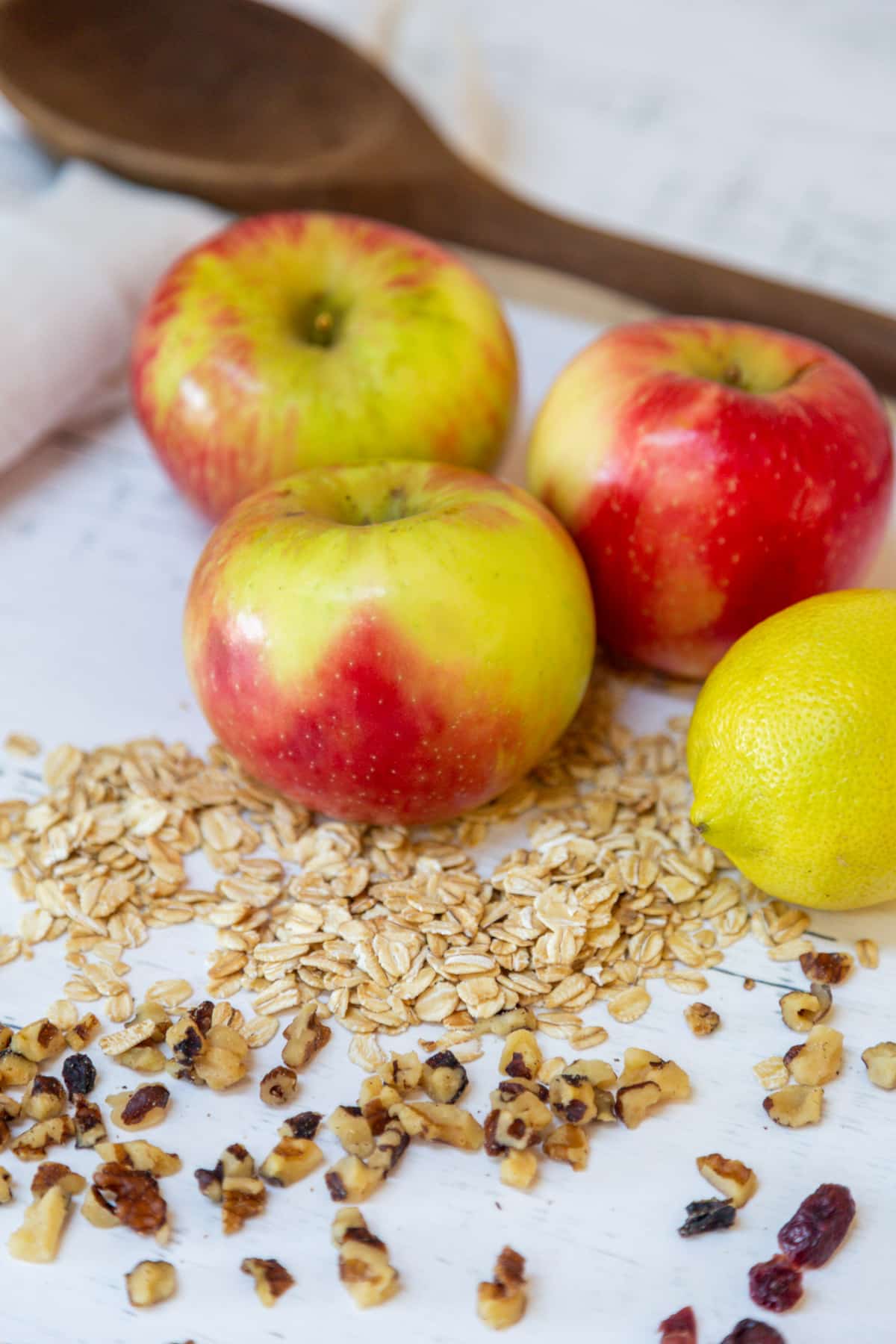 INGREDIENTS AND SUBSTITUTIONS
Apples – You'll need 6 to 8 medium apples for this healthy baked apple recipe. You could also substitute with pears if you like, although they're not as easy to stuff.
Rolled Oats – To make this recipe gluten-free, buy certified gluten-free oats, such as Bob's Red Mill oats.
Walnuts – We think that apples and walnuts go so well together, although you could use any nut in this recipe.
Dried Cranberries – The tart cranberries and the sweet apple are so delicious together. You can substitute with raisins, dates, or any other dried fruit, but they'll just add more sweetness to the apples.
Vegan Butter – The filling needs fat to make it tender and crispy. You could use coconut oil, although vegan butter adds a delicious buttery flavor that pairs so well with the other ingredients.
Cinnamon – We only used one spice in this recipe, because that's all that's needed. Feel free to add another warm spice, such as nutmeg or ginger.
Salt – A tiny bit of salt balances the sweet in this recipe and enhances the other flavors. If you don't eat salt, feel free to leave it out.
Water – The water in the filling helps the ingredients to stick together and cooks the oats. The water in the pan helps to steam the apples so they turn out tender.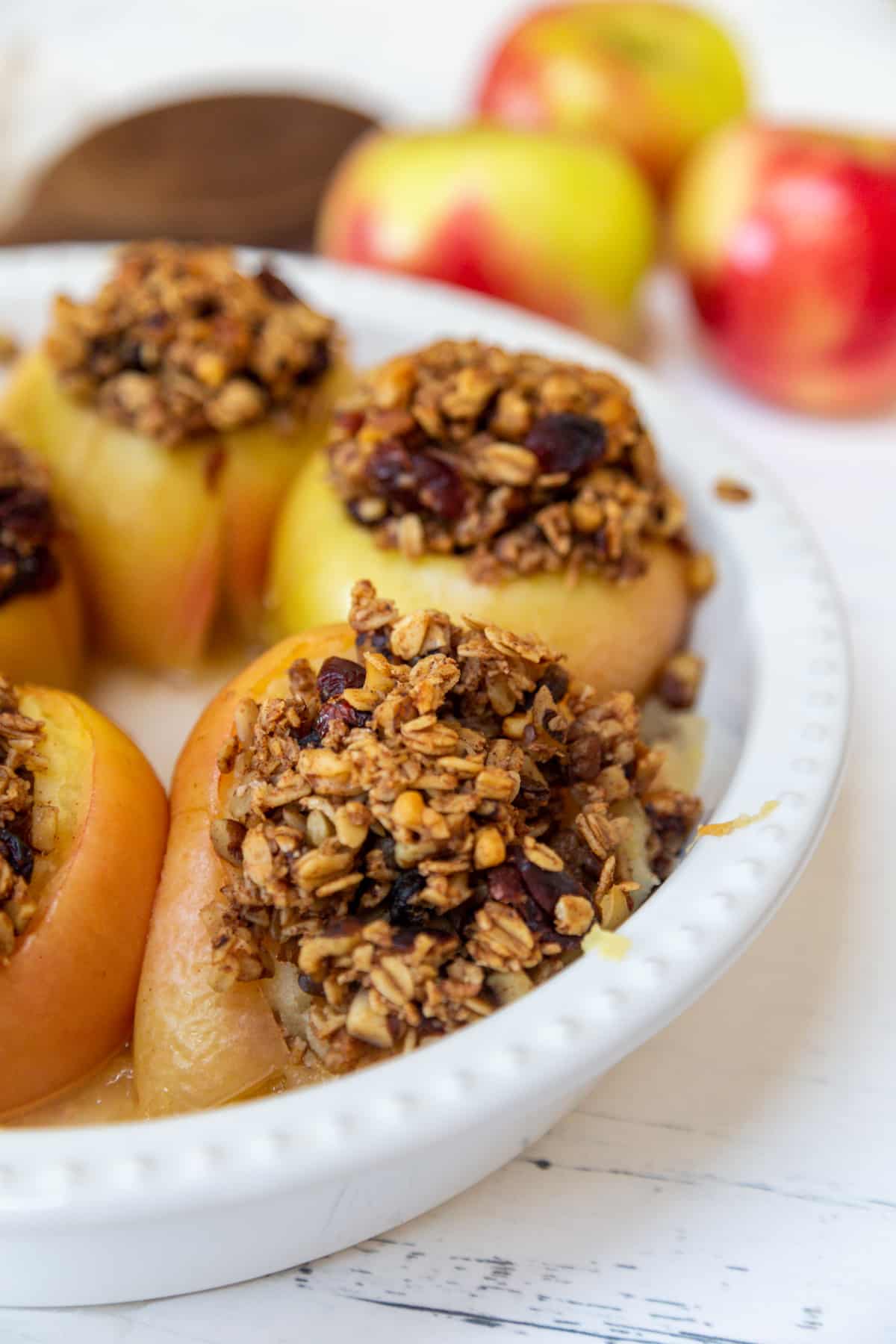 THE BEST APPLES FOR BAKING
You'll want to use firm apples for this recipe. Soft will only collapse and become too soft.
Fuji and Honeycrisp are the only apples we'll use for baked apples.
If you decide to use another type of apple, check them more frequently while they're baking so they don't get too soft and mushy.
PRO TIPS
Use rolled oats, not steel cut.
Choose Fuji or Honeycrisp apples.
Leave some apple at the bottom whey you core them. This will prevent the filling from falling through the apple when you lift them out of the pan.
Make sure that the oven is completely preheated before baking the apples.
HOW TO MAKE THEM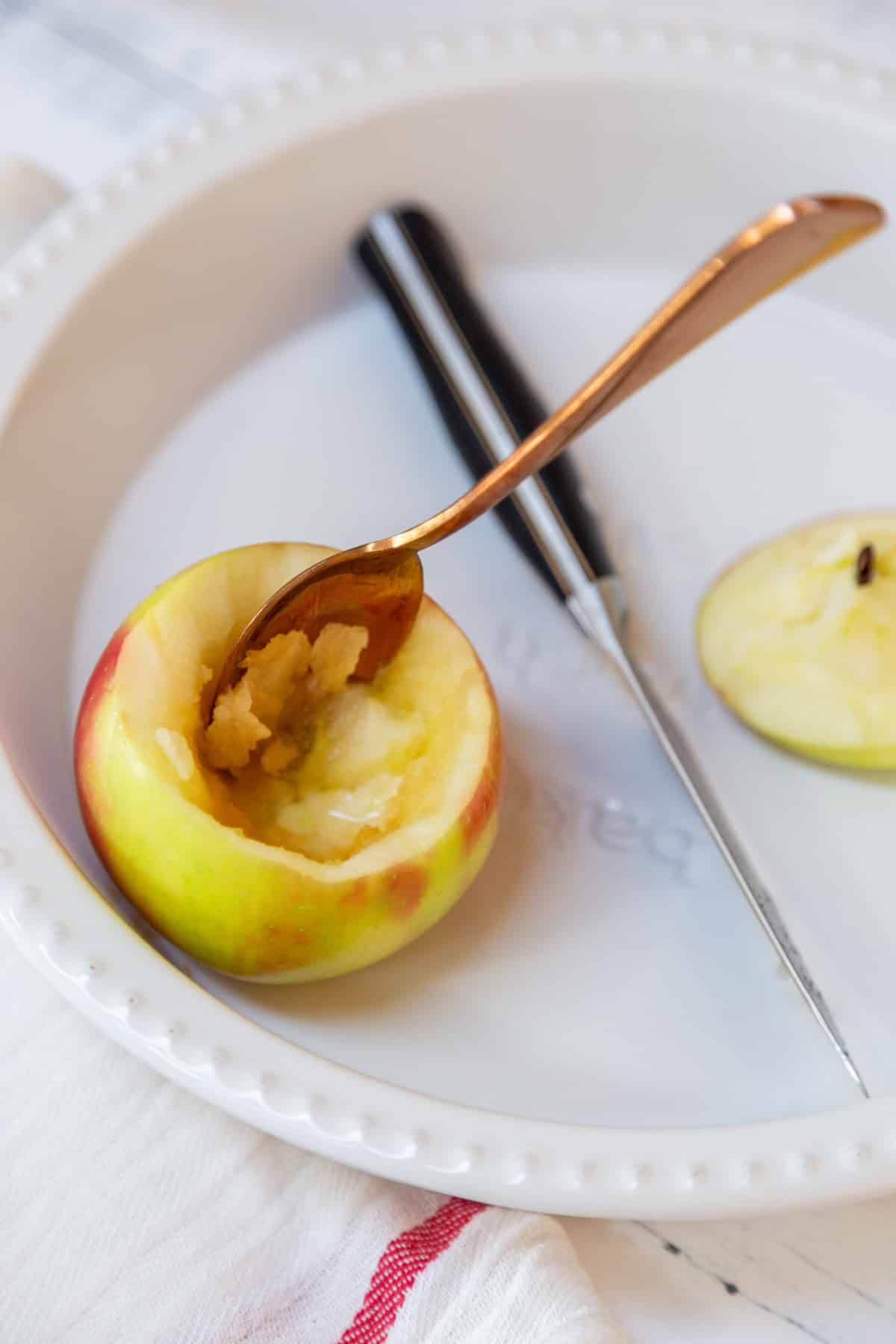 STEP ONE
Core the apples.
Two Ways to Core an Apple
Use a paring knife. Carefully insert the knife into the side of the apple and slowly cut around the core in a circle around the apple. This allows you to make a larger space for the filling.
Use an apple corer. This is a safer way to core the apple, but the hole in the apple will be smaller, so you may want to use a paring knife or spoon to carve out a bigger hole for the filling.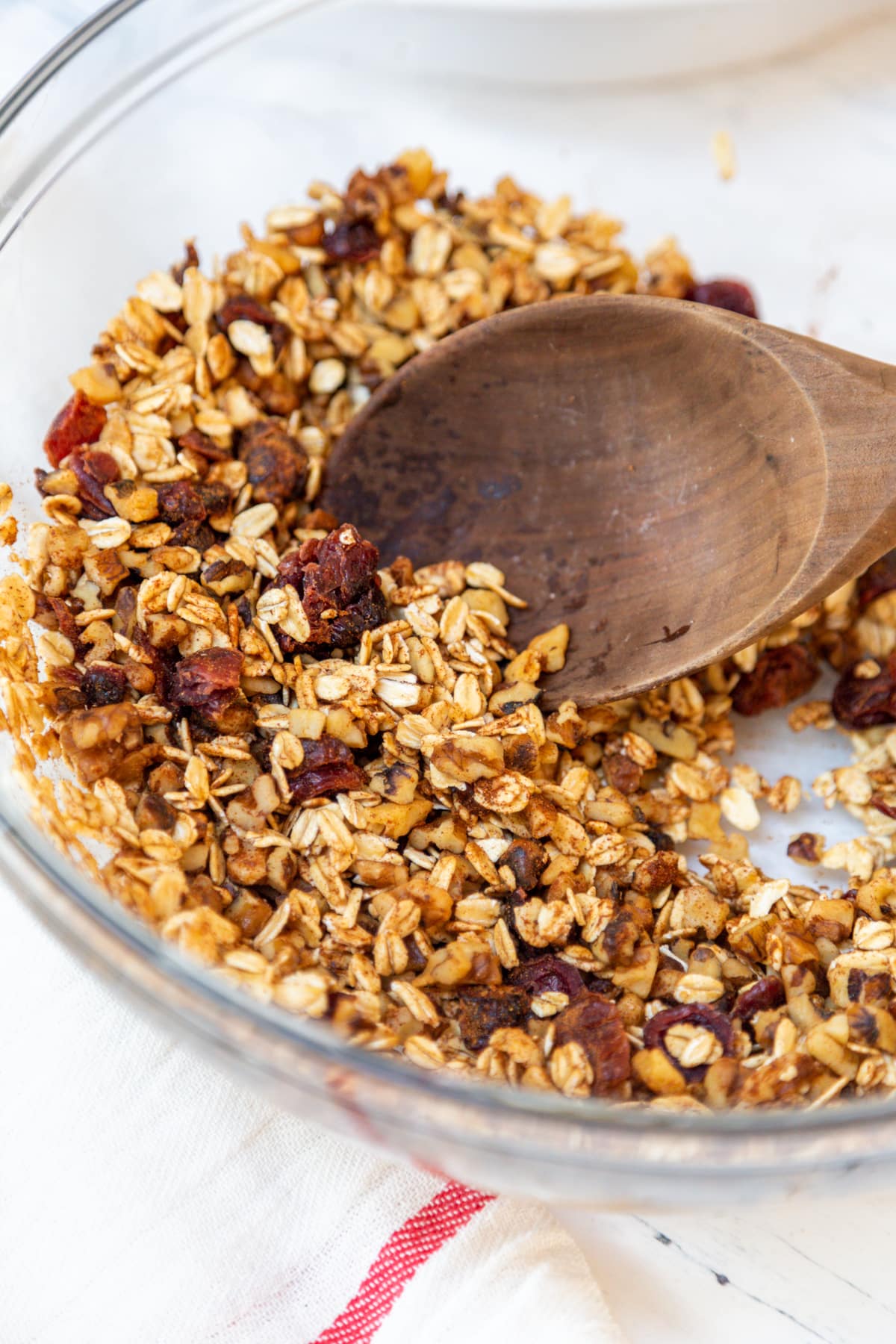 STEP TWO
Make the filling.
In a large bowl, add the filling ingredients and stir or use your hands to completely combine. The mixture should slightly stick together.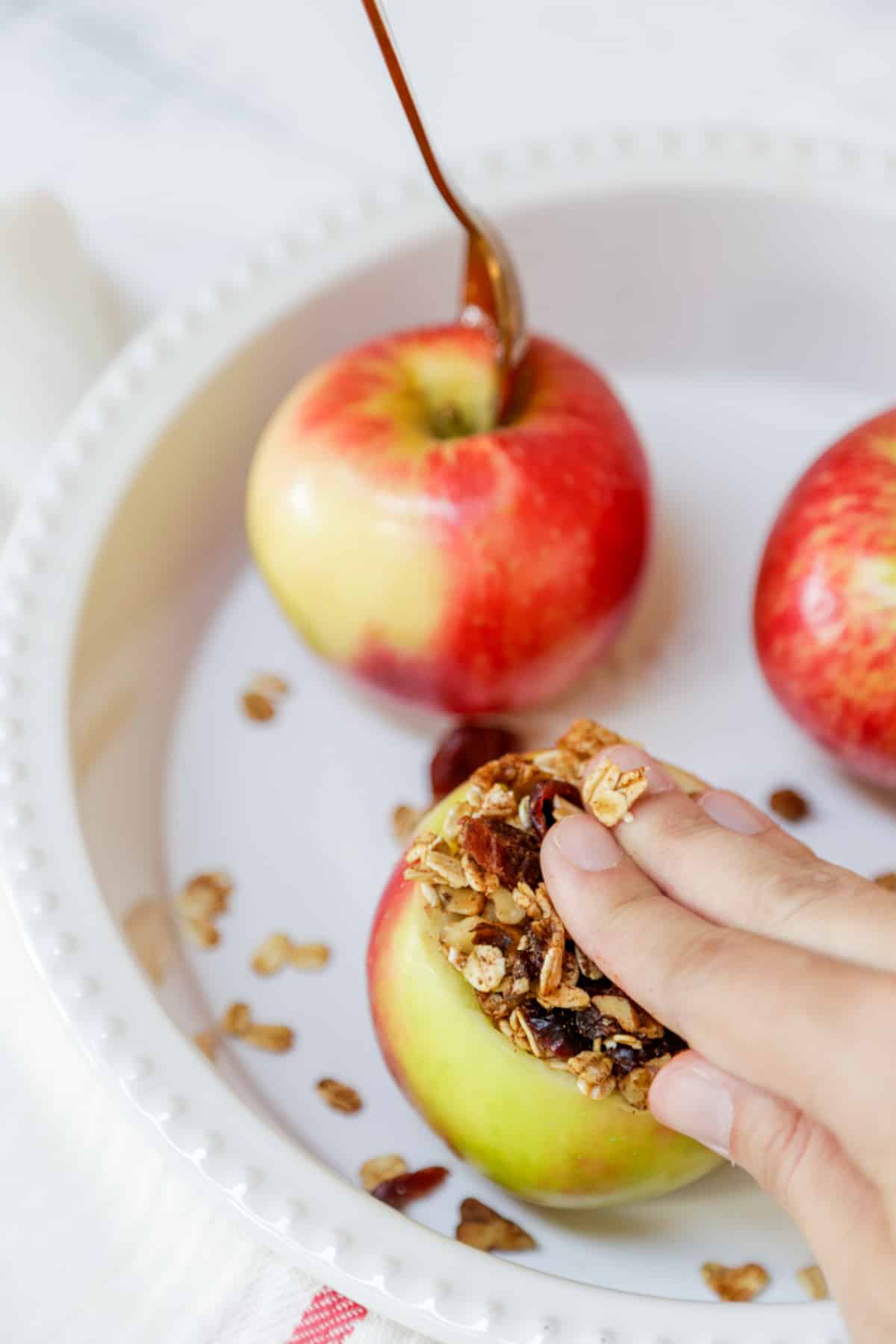 STEP THREE
Fill the apples with the filling. Don't be afraid to fill beyond the top.
Pour the water in the baking dish and place the apples in the dish. Cover with foil and bake for approximately one hour, or until the apples are fork tender.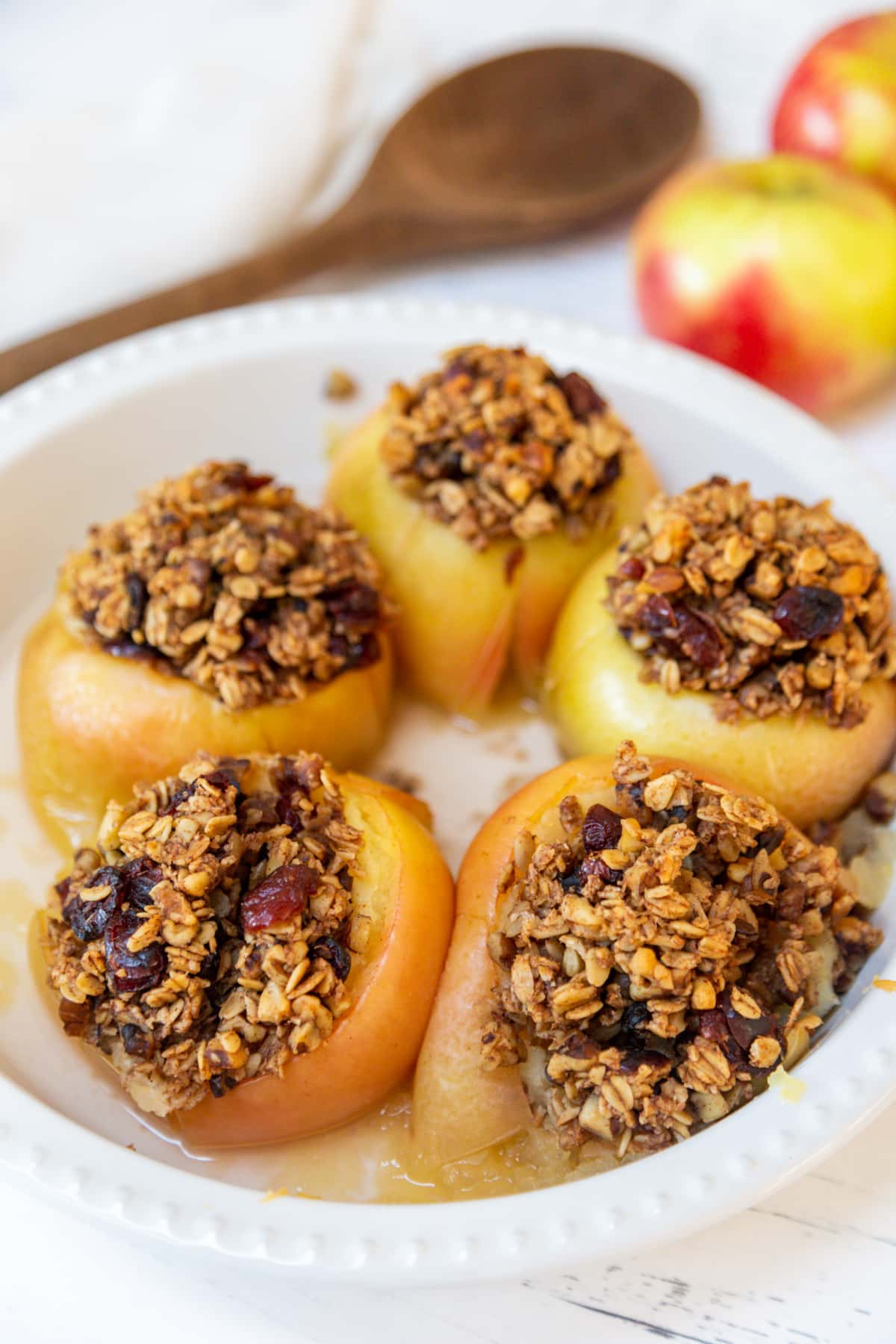 MAKE AHEAD AND STORAGE
You can prep the apples and filling one day ahead of when you want to bake them.
You can core the apples ahead of time, just brush the inside of the fruit with lemon juice to prevent them from turning brown.
Make the filling ahead of time and store covered in the refrigerator.
Store the baked apples in the refrigerator and eat them cold or reheat them in a 350°F (176°C) oven until warmed through.
MORE VEGAN FALL DESSERT RECIPES YOU'LL LOVE
Vegan Maple Glazed Doughnuts with Coconut Bacon
Vegan Spice Cake with Cream Cheese Frosting
Easy Vegan Pumpkin Dip with Pie Crust Chips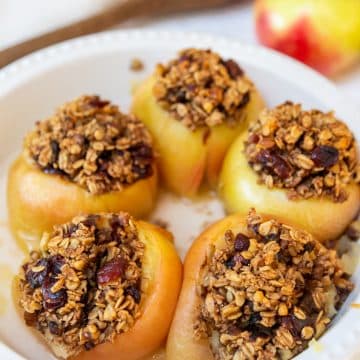 SUGAR-FREE STUFFED BAKED APPLES
A delicious, easy and healthy baked apple dessert. Filled with rolled oats, nuts, dried unsweetened cranberries, and cinnamon.
Print
Pin
Rate
Ingredients
8

medium to large apples

1

cup

rolled oats

1

cup

chopped walnuts

½

cup

dried unsweetened cranberries or raisins

2

teaspoon

ground cinnamon

1

teaspoon

pure vanilla extract

⅛

teaspoon

finely ground sea salt

2

tablespoon

chilled vegan butter, cut into small pieces

1

cup

water, divided
Instructions
Preheat oven to 350°F (176°C) degrees

Wash and carefully core the apples with a paring knife. Scrape the bottom of the core out with a spoon, making sure that you don't put a hole in the bottom of the apple. See ways to core an apple in the content above.
FOR THE FILLING
In a large mixing bowl combine the 1 cup rolled oats, 1 cup walnuts, ½ cup dried cranberries or raisins, 2 teaspoons cinnamon, 1 teaspoon vanilla, ⅛ teaspoon salt, 2 tablespoons vegan butter, and ⅓ cup of water. Use your hands to mix it together, pressing the butter into the oats until it becomes sticky.

Put the apples in a deep baking dish and pour the remaining water in the pan. Liberally spoon the filling into the apples to the top and cover the pan with foil.

Bake for approximately one hour, or until fork tender. Serve warm and top with vanilla ice-cream if desired.
Notes
Nutrition
Serving:
190
g
|
Calories:
286
kcal
|
Carbohydrates:
42
g
|
Protein:
4
g
|
Fat:
14
g
|
Saturated Fat:
2
g
|
Polyunsaturated Fat:
8
g
|
Monounsaturated Fat:
3
g
|
Trans Fat:
1
g
|
Sodium:
42
mg
|
Potassium:
374
mg
|
Fiber:
7
g
|
Sugar:
19
g
|
Vitamin A:
103
IU
|
Vitamin C:
9
mg
|
Calcium:
38
mg
|
Iron:
1
mg