Grilled Pineapple & Cinnamon Coconut Cream is one of the easiest desserts ever. It's also one of the tastiest. It takes just three ingredients and 3 easy steps to make this delicious vegan dessert recipe, so fire up the grill and dig in!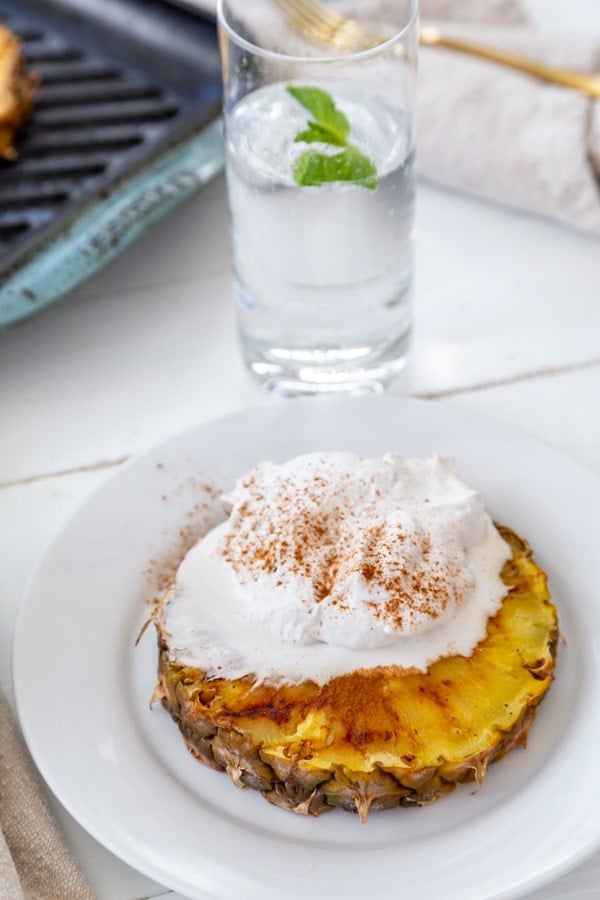 Originally posted on June 15, 2015 and updated on May 7, 2019.
This post may contain affiliate links which won't change your price but will share some commission.
Hi there! Thanks for visiting us, we're so happy you're here. If you're looking for Southern inspired vegan comfort food recipes, you've come to the right place.
We love vegan comfort food and we're really good at making it. Take a tour through our site and you'll find all of the recipes that scream, stretchy pants required!
The good news, they're all plant-based recipes, so you don't need to feel guilty eating them. Now sit back, relax, and eat happy. 🙂
Also, in case you didn't know, we're published cookbook authors. We've written two vegan cookbooks that will help you make amazing vegan BBQ (you don't even need a grill) and everyday meals, from breakfast to dessert.
GRILLED PINEAPPLE SLICES TOPPED WITH HOMEMADE COCONUT WHIPPED CREAM THAT'S EASY AND DELICIOUS
You know what this pineapple recipe reminds us of? Pineapple upside down cake without the cake.
You want to know one more thing? We don't miss the cake one single bit!
Grilled pineapple is a magical thing, friends. When you grill it, the fruit releases it's sugars, giving it a luscious caramelized flavor and a soft and sticky texture.
When you top it with light and fluffy coconut whipped cream and a sprinkle of warm cinnamon, the combination of flavors and textures is heavenly.
Better yet, it's so easy to make, we almost feel like calling it a recipe is stretching it.
Regardless of what it's called, you're going to want to make this soon, so let's get grilling!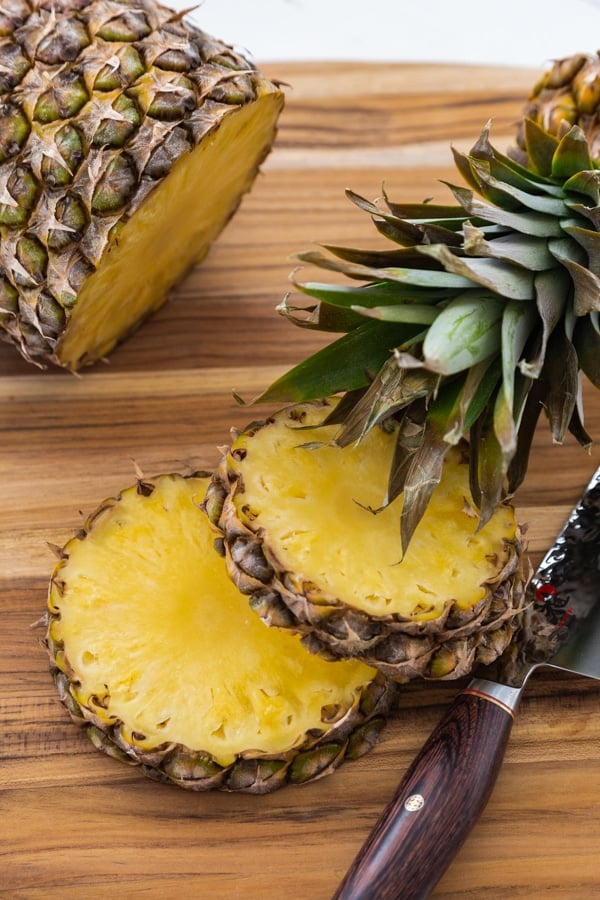 WHAT INGREDIENTS DO YOU NEED TO MAKE HEALTHY GRILLED PINEAPPLE?
1 large pineapple
Coconut oil
That's it! 2 ingredients is all you'll need to grill up the most delicious, natural sugar filled dessert ever.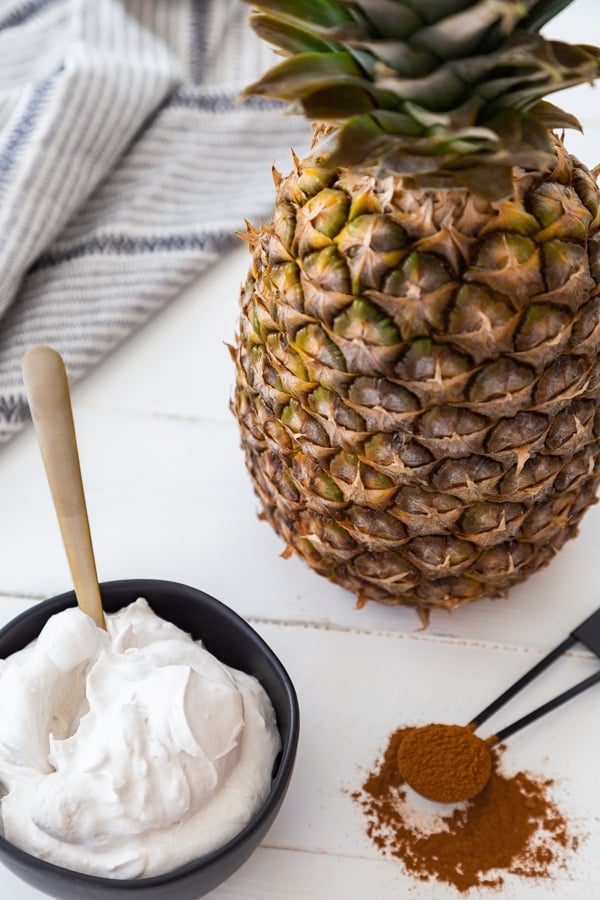 HOW DO YOU MAKE COCONUT WHIPPED CREAM WITH CINNAMON?
You'll want to start with a can of

chilled full-fat coconut milk

. It must be chilled or it won't work.

Beat it with a whisk attachment

on a high setting for about 4 to 5 minutes.

Add the sugar and the vanilla

and keep beating it until it's thick and fluffy, like whipped cream.
Get the full recipe HERE.

Sprinkle with cinnamon

or add 1 teaspoon into the cream when you add the vanilla and sugar.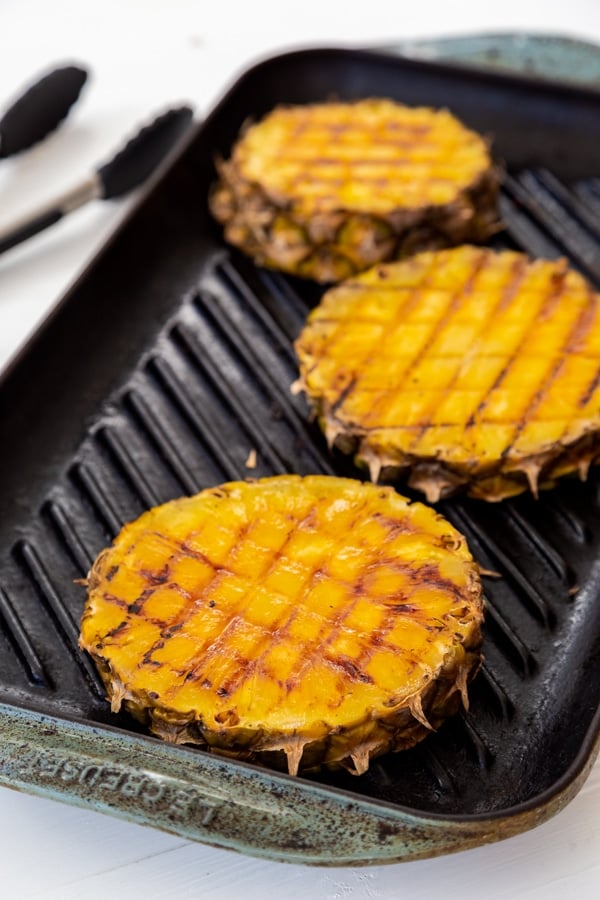 HOW DO YOU GRILL A PINEAPPLE?
STEP ONE
Slice the pineapple into half -inch thick slices. You can cut the skin off if you like.
STEP TWO
Brush the grill with coconut oil and heat it on a high temperature. This will prevent the pineapple from sticking.
STEP THREE
Grill the pineapple slices for about 4 to 5 minutes per side, or until they have softened and released their sugar. The grill marks should be golden brown and the pineapple should look caramelized.
CAN YOU GRILL PINEAPPLE ON THE STOVE?
Yes, you absolutely can. Just use a grill pan and heat it on high heat. Make sure you brush the pan with oil so it doesn't stick.
The cook time should be about the same as on an outdoor grill.
WHAT OTHER KINDS OF FRUIT CAN YOU GRILL?
You can grill almost any fruit as long as it's large enough. Here are some of our favorite fruits to grill:
Peaches
Apricots
Strawberries
Plums
Watermelon
Grapefruit
Pears
Bananas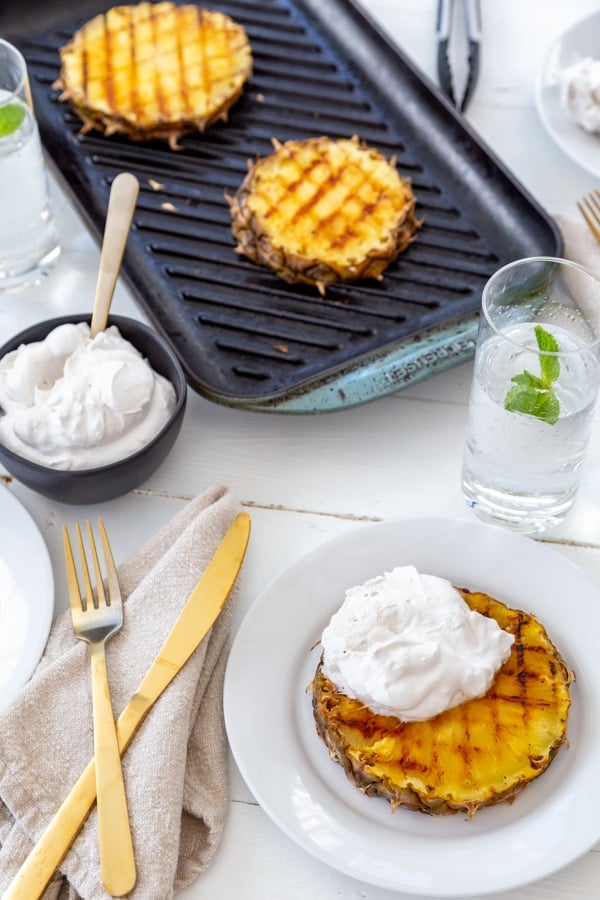 HOW DO YOU SERVE GRILLED PINEAPPLE?
There are no rules when it comes to grilled fruit. You can serve it as a side dish, for breakfast on oats, in a savory salad, or as a dessert with whipped coconut cream.
Be creative!
WHAT FOODS GO WELL WITH PINEAPPLE ON THE GRILL?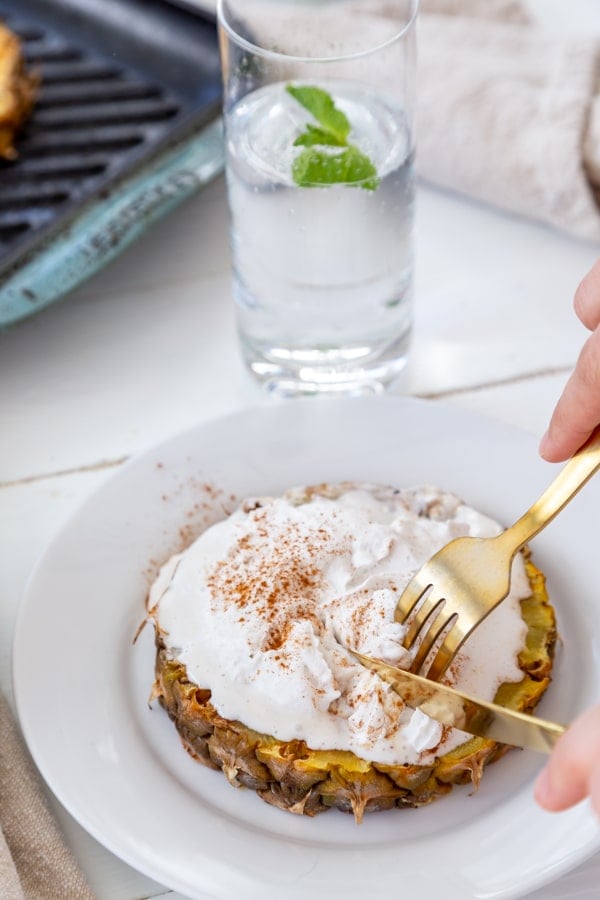 Make this and let us know what you think. We love to hear from you! And, don't forget to take a picture of your gorgeous creation and tag us @veganosity on Instagram.
Let's connect on Instagram and Twitter. You'll get a peek into our everyday lives in our stories and see what we're sharing in our feed.
And, don't forget to SUBSCRIBE to the blog so you never miss a recipe. Scroll below the recipe or in our side bar to become a Veganosity subscriber.
GRILLED PINEAPPLE & CINNAMON COCONUT CREAM
This grilled pineapple with cinnamon coconut whipped cream is so easy, fast, and healthy. It tastes like pineapple upside down cake without the cake.
Print
Pin
Rate
Ingredients
1

teaspoon

melted coconut oil

1

pineapple cut into ½- inch circles

grill with the shell on or cut it off before grilling, your choice

1

teaspoon

cinnamon

seen note

2

cups

coconut whipped cream

Recipe link in ingredients.
Instructions
Click HERE for the Coconut Whipped Cream Recipe.

Heat the grill on a high temperature.

Brush the grill with the coconut oil to prevent sticking to the grill.

When the grill is hot, grill the pineapple for approximately 4 to 5 minutes, or until nicely caramelized and the fruit has released its sugars. Flip and grill for approximately 4 to 5 more minutes.

Let the pineapple cool a bit before topping with the coconut whipped cream or it will melt. Sprinkle with cinnamon if desired.

Store the coconut whipped cream in an airtight container in the refrigerator for up to three days. Store the grilled pineapple in an airtight container for up to two days.

Enjoy!
Notes
The Nutrition Facts are an estimate only!
The total calories are for the entire pineapple, not each piece. Divide by how many slices you cut from the pineapple to get the most accurate number. 
You can add the cinnamon to the cream as you whip it or sprinkle it on top before serving.
Nutrition
Calories:
346
kcal
|
Carbohydrates:
25
g
|
Protein:
3
g
|
Fat:
28
g
|
Saturated Fat:
25
g
|
Cholesterol:
0
mg
|
Sodium:
4
mg
|
Potassium:
424
mg
|
Fiber:
4
g
|
Sugar:
14
g
|
Vitamin A:
90
IU
|
Vitamin C:
74.3
mg
|
Calcium:
33
mg
|
Iron:
2.3
mg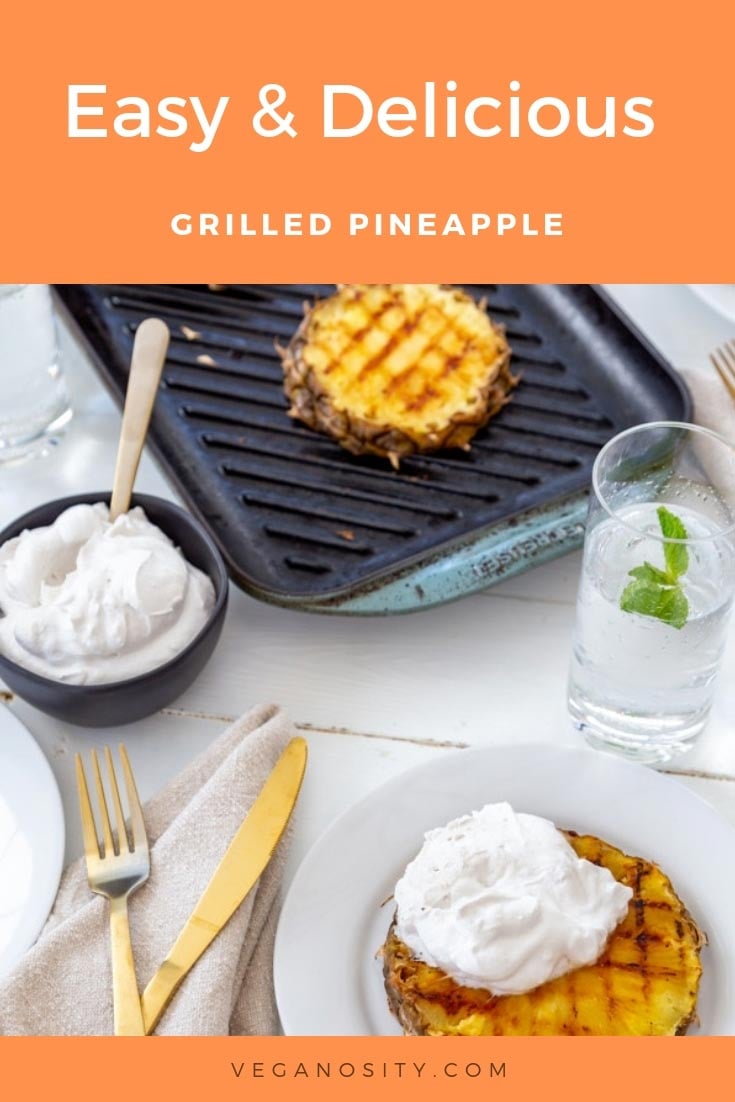 .