Chicago has turned into a tropical rain forest. We've had heavy rain, temperatures in the eighties, high humidity, and it's so lush and green. When Mother Nature throws a steamy, hot, and rainy curve ball at me I just throw it right back; she doesn't know how well my imagination can get me through her crummy weather. If she wants to make my little world tropical, then I'll raise her one with a Vietnamese sandwich, like this one. And then I'll make the most delicious tropical dessert ever, like this crazy good grilled pineapple & cinnamon coconut cream. Ain't no getting this girl down mama N.
Can I just say that this super easy, super delicious, and super healthy dessert is also super decadent? SUPER! Because it really is, it's all that, wrapped up in a spiny shell with pretty grill marks and sweet caramelized pineapple juice bubbling through, and it's topped with a fluffy pillow of creamy coconut and cinnamon. Think pineapple upside down cake without the fattening cake.
This gorgeous grilled pineapple & cinnamon coconut cream really does remind me of pineapple upside down cake. The grilled pineapple is sticky, caramelized, and sweet, like that in an upside down cake. You can cut through it with a fork because grilling it makes it nice and soft, and its natural sugar bubbles at the surface, helping to make those pretty grill marks. Yum, yum, yum.
The cinnamon coconut whipped cream* is heavenly. My secret ingredient to get the coconut milk to whip up so light and fluffy is tapioca starch. Just one teaspoon will take your whipped cream to another level. It will make it form those stiff peaks that you'd get from dairy whipped cream, and it won't collapse as quickly as coconut whipped cream will without it. The beautiful, slightly sweet flavor comes from the cinnamon, vanilla, and maple syrup. I could just eat it with a spoon.
The sun made an appearance on Sunday for a few hours, and the thick, hot, humid air reminded me of Costa Rica. Have you ever been? It's my favorite place in the world. It's absolutely stunning, there are mountains, ocean, volcanos, rainforests, and the nicest people ever. My backyard looked so lush and green (like Costa Rica) that for a second I thought about putting a zip line up in my backyard. I'm so happy I didn't think that thought out loud, or my husband and son would have run with it.
Zip-lining in beautiful Costa Rica when my babies were still kind of babies.
Coco and Gizmo were so happy to get a reprieve from the rain. Miss Coco stalked the dry creek (it's not dry anymore) pretending to be a panther stalking her prey—not very vegan like, but hey, she's a dog.
Gizmo just enjoyed the sunshine on dry pillows on his favorite chair.
And I grilled pineapple, before the rain began again.
If you want a healthy, easy, and delicious dessert, this is it. It takes ten minutes to whip up, but it tastes like it should have taken so much longer. I'd totally serve this at a summer dinner party.
*Refrigerate the full fat coconut milk for at least twenty-four hours for best results.
Tell me:
Have you ever grilled pineapple, or any kind of fruit?
Have you ever been to Costa Rica?
Has it been raining a lot where you live?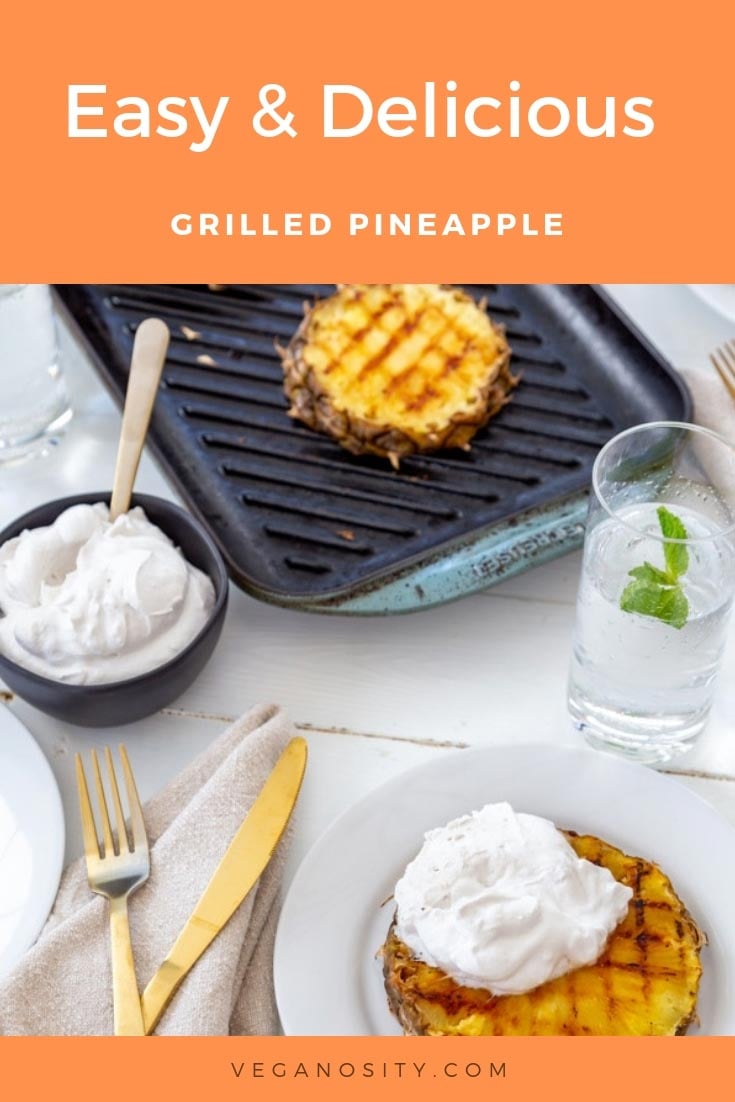 Pin Me!

This is my favorite coconut milk. It's organic and the can is BPA free. Affiliate link.


Linda and Alex at Veganosity
Yields 6-8
Grilled Pineapple & Cinnamon Coconut Cream
This grilled pineapple with cinnamon coconut whipped cream is so easy, fast, and healthy. It tastes like pineapple upside down cake without the cake.
2 minPrep Time
10 minCook Time
12 minTotal Time
Ingredients
1 teaspoon of coconut oil
1 pineapple cut into 1 inch circles – grill with the shell on or cut it off before grilling, your choice
1 can of cold full fat coconut milk—pour the liquid into a bowl and use the solid coconut milk
1 teaspoon of tapioca starch
2 teaspoons of maple syrup
1 teaspoon of cinnamon
1 teaspoon of pure vanilla extract
Instructions
Heat the grill on a high temperature.
Rub a little coconut oil on both sides of the pineapple circles to prevent sticking to the grill.
Put the solid coconut milk, tapioca starch, maple syrup, cinnamon, and vanilla in a mixing bowl and use the whisk attachment to whip the milk. Whisk at the highest setting until the milk turns into a fluffy cream with stiff peaks.
Grill the pineapple.
Lower the grill temperature to medium-high. Grill until the juices are released and there are light grill marks on one side. Flip and repeat on the other side. The pineapple should soften so it's easy to pierce with a fork.
Let the pineapple cool a bit before topping with the coconut whipped cream or it will melt. Sprinkle with cinnamon if desired.
Store the coconut whipped cream in an airtight container in the refrigerator for up to three days. Store the grilled pineapple in an airtight container for up to two days.
Enjoy!
7.8.1.2
150
https://www.veganosity.com/grilled-pineapple-cinnamon-coconut-cream/