Our vegan chocolate covered apples are so easy and fun  to make, and they taste amazing! You'll only need three ingredients and 15 minutes to take a plain apple and chocolate and turn them into the perfect dessert.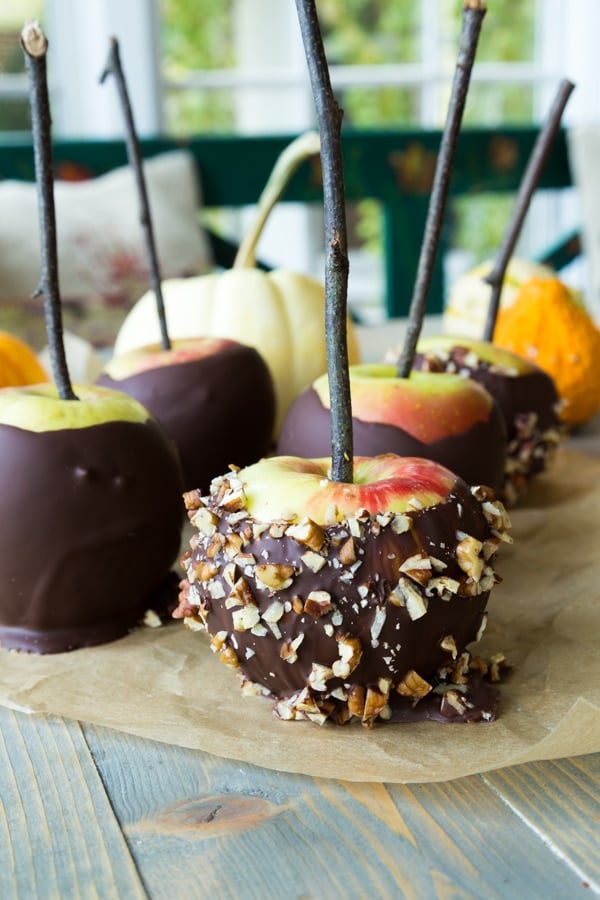 Who remembers making caramel apples with Kraft caramels? Or maybe you went older school and made homemade caramel for dipping? Either way, it was a sure fire way to make a mess and get a face full of sticky sugar all over your face, and of course, stuck in your teeth.
If you saw our Instagram story last week, you saw that I made the perfect homemade caramel.
Wrong! 
It looked perfect in the pan. It was thick and creamy, gooey, and stuck to the apples like a boss. Then, they dried.
Let's just say that my dentist was close to paying next month's mortgage thanks to that caramel, because it turned into a super hard shell around the apples. It was like a thick piece of opaque glass, and if I had tried to take a big bite, I certainly would have chipped my teeth.
FAIL!
Long story short, I tried four times to make a nice and gooey caramel, and no matter what I did, the result was the same. Caramel Glass.
I tried using corn syrup, no corn syrup, melting the sugar in water, no water, different vegan butter, different measurements. Nothing worked. I even made a few recipes from other bloggers. No luck.
For now, I'm taking a break from caramel.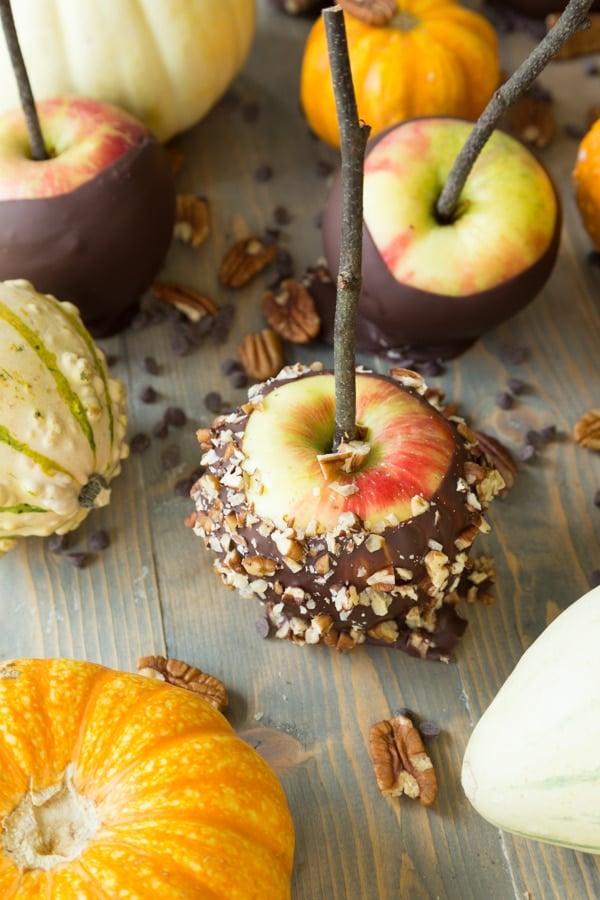 CHOCOLATE COVERED APPLES ARE EASIER TO MAKE THAN CARAMEL APPLES
Alex gets the credit for the idea of these apples. She had to endure phone call after phone call of my failed attempts. She's a champ.
When she had finally had enough of my whining, she suggested chocolate covered apples.
Can I just tell you, I LOVE her, and I love this chocolate apple recipe. If you can even call it a recipe, because it's so easy.
Unlike homemade caramel, this doesn't take twenty minutes of stirring constantly until the sugar melts and the caramel thickens and turns to a beautiful amber color. They're also easier to dip and cover, because chocolate is thinner than caramel. And, the chocolate stays soft enough to bite into.
Don't get me wrong, I will perfect the caramel apple recipe. Someday.
HOW TO MAKE CHOCOLATE COVERED APPLES IN 15 MINUTES
I could have used bittersweet chocolate, added sugar and cream, and risked another failure, but why would I do that when I had a bag of Enjoy Life chocolate chips in my freezer?
Their chocolate chips are vegan and allergy-friendly, so I could take them to the Oktoberfest party that we were going to that night, and everyone could enjoy them.
Whipping them up was so easy, and I didn't have to play around with the amount of sugar I put in the chocolate.
Step One: 
Melt the chocolate chips and a bit of coconut oil (refined or unrefined will work) in a double boiler over medium heat.  I don't have one so I put a heat resistant glass bowl over a pot of water. It worked like a charm.
You'll want to stir constantly. It will take about 10 minutes for the chips to melt from room temperature.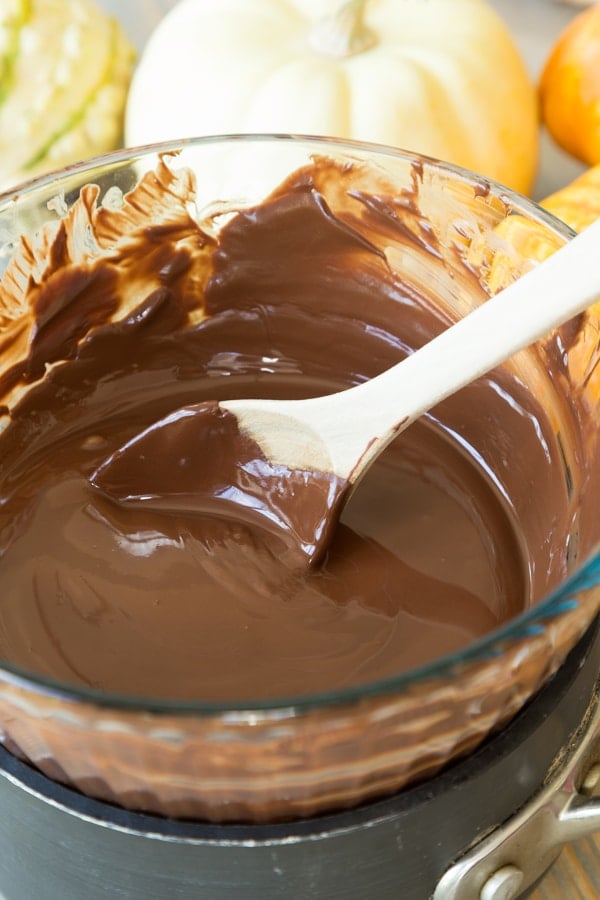 STEP TWO:
Wash and dry the apples and insert a stick in the center at the core to hold them. This will help you dip them in the chocolate and it will make them easier to eat.
Hold the stick and dip the apples in the chocolate to evenly coat.
WHAT KIND OF STICKS CAN YOU USE FOR CHOCOLATE DIPPED APPLES?
I like using things from nature whenever I can, so I collected some sticks from my yard, soaked them in hot soapy water for a few minutes, rinsed them and then patted them dry.
If you don't like that idea, you can use craft sticks or long heavy wood skewers.

STEP THREE:
If you want to garnish your apples, immediately roll them in whatever you want to garnish them in. We chose chopped pecans. The salt and the sweet were perfect together.
WHAT TYPES OF FOODS CAN YOU DECORATE CHOCOLATE COVERED APPLES WITH?
Chopped Nuts
Natural Rainbow Sprinkles
Enjoy Life Semi-sweet Chocolate Mini Chips
Vegan M & M type candies
ShreddedCoconut
Sea Salt
STEP FOUR:
Allow the chocolate dipped apples to dry on parchment paper. If you're in a hurry you can put them in the refrigerator for 30 minutes.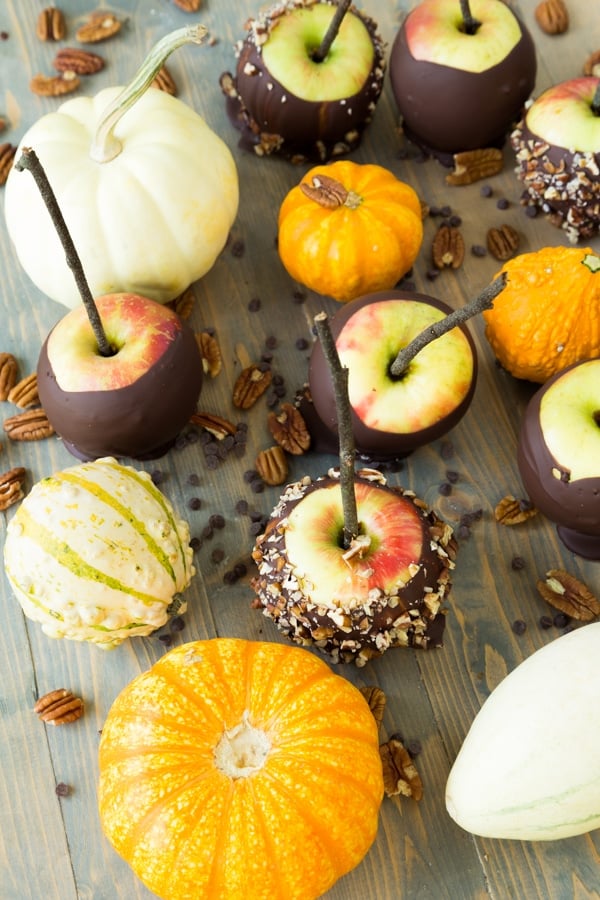 HOW TO STORE HOMEMADE CHOCOLATE DIPPED APPLES
For best results, store them in the refrigerator for up to five days.
THE BEST CHOCOLATE COVERED APPLES
Why do I think that our recipe is the best? Because they're super easy to make, they're made with allergy friendly chocolate chips, they only have a bit of oil, they're fun to make, and they're delicious.
Make them with your kids and their friends for a Halloween treat, or serve them at an adult party. If you provide a pairing knife, the grown ups will eat plenty of chocolate apple slices. I know this because I took them to a party and they were well received.
Make this recipe and let us know what you think. We love to hear from you! And, don't forget to take a picture of your gorgeous creation and tag us @veganosity on Instagram.
Let's connect! Hop on over to our Facebook page and give it a like, and follow us on Instagram and Twitter, and follow us and share this and other Veganosity recipes on Pinterest. We'd be so grateful if you did. If you like this recipe and can't wait to see what we're going to share next, subscribe to Veganosity. Just fill in the subscription box above our picture in the top right corner of the page. And, Alex and I love hearing from you, please leave a comment and let us know what you think of our recipes.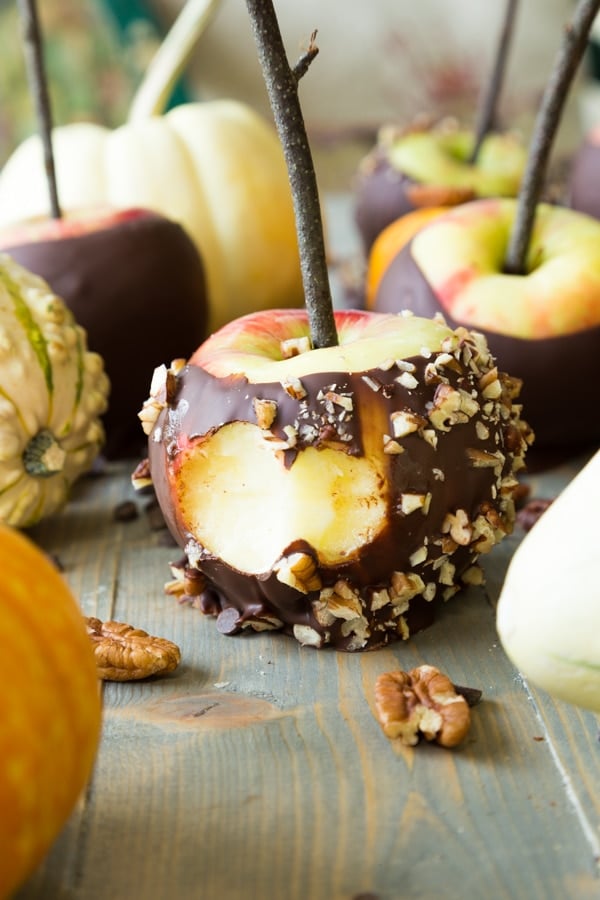 This post may contain affiliate links which won't change your price but will share some commission.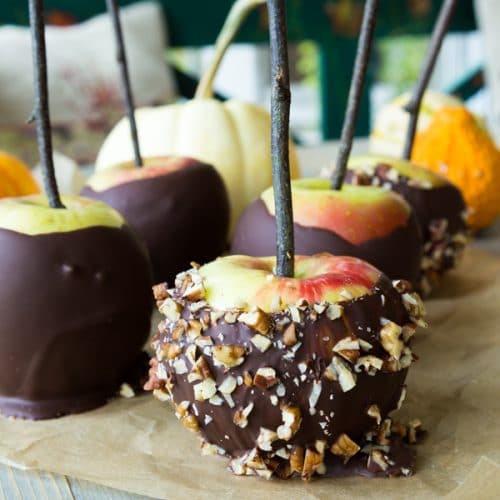 Simple Homemade Chocolate Covered Apples
Our vegan and gluten-free chocolate covered apples are so easy to make. It takes only 15 minutes to create a fun and delicious apple and chocolate dessert
Print
Pin
Rate
Ingredients
6 to 8

medium apples

2

teaspoon

coconut oil

refined or unrefined

10

ounce

chocolate chips

We use Enjoy Life brand
TOPPING OPTIONS
chopped nuts

chocolate chips

sea salt

sprinkles

shredded coconut
Instructions
Prepare a baking sheet with parchment paper. The apples will take a while to set and they won't stick to the paper.

Wash and completely dry the apples and insert sticks into the center at the core. SEE NOTE

In a double boiler (SEE NOTE), heat the chocolate and coconut oil over medium heat. Stir constantly until the chocolate is completely melted and smooth. Approximately 10 minutes.

Carefully dip the apples in the chocolate and then dip in the nuts or whatever topping you choose. (SEE NOTE)

Place the dipped apples on the parchment paper and let set for at least one hour or 30 minutes in the refrigerator.
Notes
The Nutrition Facts are an estimate only.
Make sure the apples are completely dry so the chocolate sticks to them.
If you don't have a double boiler, you can put a heat resistant bowl in a sauce pan that's half filled with water. 
Nutrition
Calories:
250
kcal
|
Carbohydrates:
32
g
|
Protein:
2
g
|
Fat:
12
g
|
Saturated Fat:
8
g
|
Cholesterol:
7
mg
|
Sodium:
32
mg
|
Fiber:
1
g
|
Sugar:
29
g
|
Vitamin A:
105
IU
|
Vitamin C:
0.2
mg
|
Calcium:
55
mg
|
Iron:
0.6
mg