Crispy roasted balsamic Brussels sprouts are an easy and delicious appetizer or side dish. If you didn't like Brussels sprouts before, these will change your mind! So will these.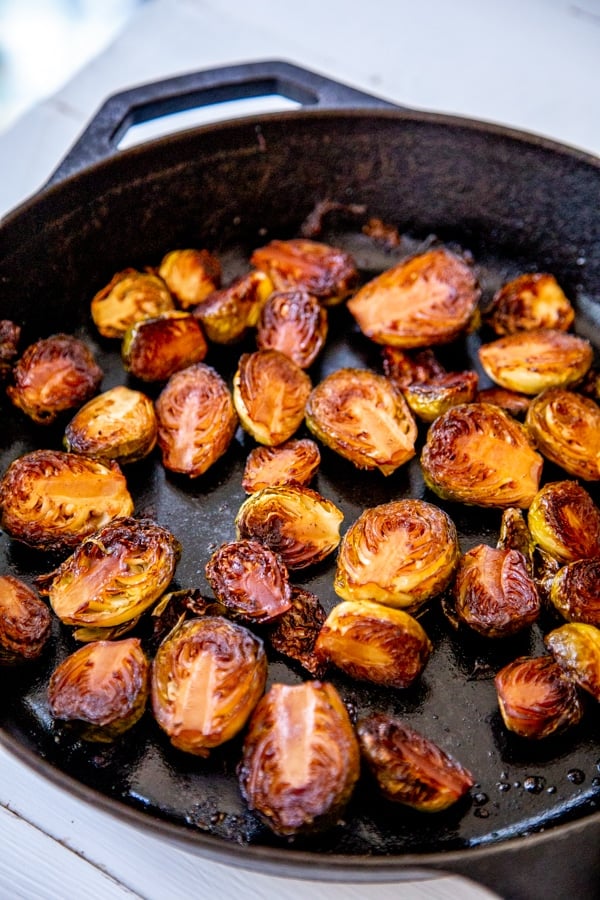 Recipe originally published March 21, 2014 and updated September 13, 2019.
This post may contain affiliate links which won't change your price but will share some commission.
Hi there! We're Linda and Alex, the mother daughter duo and creators of Veganosity. Thanks for visiting us, we're so happy you're here. If you're looking for Southern inspired vegan comfort food recipes, you've come to the right place.
We love vegan comfort food and we're really good at making it. Take a tour through our site and you'll find all of the recipes that scream, stretchy pants required!
The good news, they're all plant-based recipes, so you don't need to feel guilty eating them. Now sit back, relax, and eat happy. 🙂
Also, in case you didn't know, we're published cookbook authors. We've written two vegan cookbooks that will help you make amazing vegan BBQ (you don't even need a grill) and everyday meals, from breakfast to dessert.
Click on the titles to check them out. GREAT VEGAN BBQ WITHOUT A GRILL
and THE ULTIMATE VEGAN COOKBOOK
.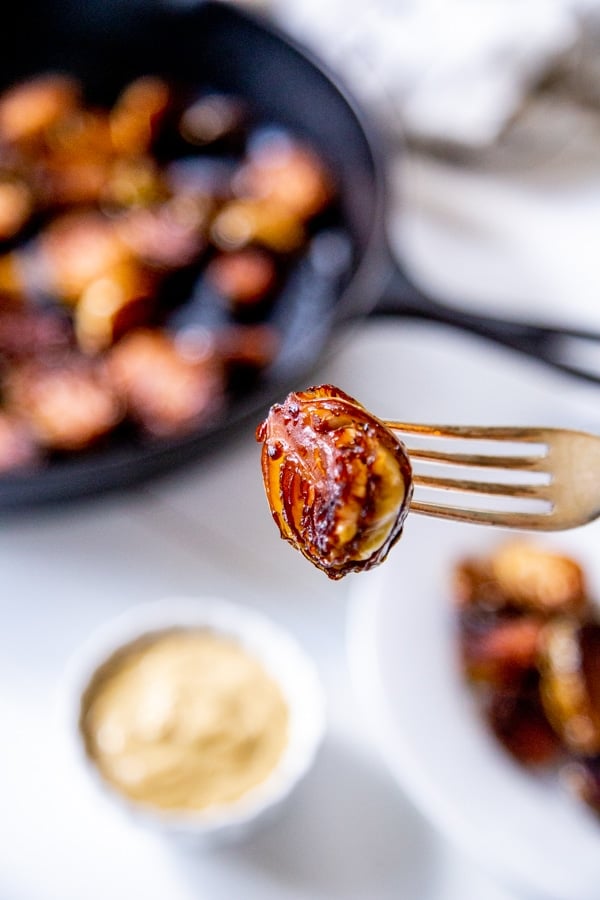 CRISPY BRUSSELS SPROUTS ARE ONE OF OUR FAVORITE VEGAN SIDE DISH RECIPES
Pan roasted brussels sprouts are a game changer.
There was a time, not that long ago, when I would have turned up my nose at the idea of eating Brussels sprouts.
When I was growing up they were either steamed or boiled until they were a stinky, mushy, unappetizing, sorry excuse for a veggie.
Roasted brussels sprouts with a balsamic reduction, now that's what I'm talking about!!
The syrupy balsamic vinegar lends a tangy rich flavor and the sugar in the vinegar helps to make crunchy brussels sprouts.
These are not your grandma's Brussels sprouts.
WHY PAN-FRIED BRUSSELS SPROUTS WILL MAKE YOU A BELIEVER
First of all, they're not mushy. They're crispy and crunchy.
They taste a little smoky, a little tangy, and caramelized.
The rogue crispy Brussels sprouts leaves that WILL fall off of the sprouts, get extra crunchy and add to the deliciousness of this snack.
You can serve them as a side dish or an appetizer.
HOW TO TRIM BRUSSELS SPROUTS
Brussels sprouts are a cruciferous vegetable, like broccoli, cabbage, and cauliflower; therefore, you need to do a little prep work to get them ready for cooking.
Wash them well and peel the outer leaves off to ensure that there isn't any dirt in your sprouts. Keep the leaves that fall off, they're fabulous roasted!.
Trim the tough end off of the sprouts and discard.
Slice the sprouts in half lengthwise. This will help them get nice and crispy.
HOW TO MAKE ROASTED BRUSSELS SPROUTS
STEP ONE
Trim the sprouts and put them in a large bowl or on/in the pan you're going to roast them in.
STEP TWO
Drizzle the olive oil, balsamic glaze, and salt and pepper over the sprouts and toss until they're completely coated in the oil and balsamic.
STEP THREE
Place the flat side down on the pan and roast them for 15 minutes, then shake the pan a bit and roast for another 15 minutes, or until they're a rich golden brown and crispy on the edges.
STEP FOUR
Drizzle a little more balsamic on top while they're hot out of the oven, along with another grind of sea salt and black pepper, and toss.
Enjoy them while they're hot.

TIPS FOR MAKING THE CRISPIEST ROASTED BRUSSELS SPROUTS
Slice them in half, don't roast them whole.
If you want your sprouts to be really crispy, you need to coat them in oil.
Don't put the sprouts in the oven until it's completely preheated, and make sure the oven is set for 425°F (218°C), a hot oven is what will make them get crispy!
Depending on how your oven is calibrated, you may need to roast them for less than or more than 30 minutes. You want them to be a deep golden brown, so use your discretion when roasting.
Enjoy them as soon as they're cool enough to eat. The longer they sit, the less crispy they'll become.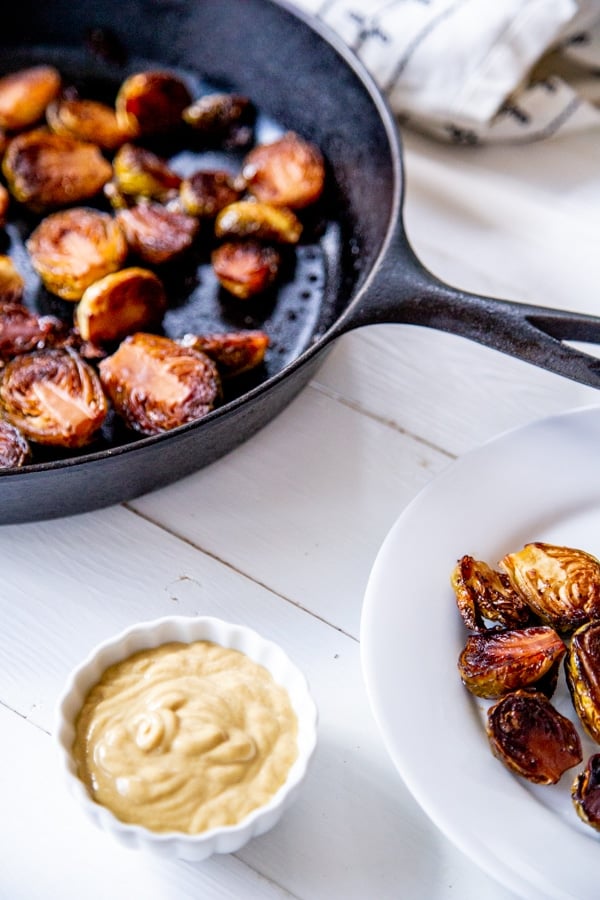 WHAT IS A BALSAMIC REDUCTION?
You may call it a reduction; others may call it a balsamic glaze, and then there are those that call it a balsamic syrup.
Regardless of the name, it's the same thing.
A balsamic reduction is exactly what it sounds like. It's balsamic vinegar that's been reduced to a thick syrup.
It's perfect for drizzling over a vegan caprese salad, or any salad for that matter.
To make a balsamic reduction, pour about one cup of good quality balsamic vinegar in a sauce pan, and bring to a boil, then reduce to a medium-low heat and stir until it reduces to a thick syrup.
When it clings to the back of a spoon, it's ready.
MORE ROASTED VEGETABLE RECIPES YOU'LL LOVE
ROASTED ROSEMARY AND SAGE HOME FRIES 
SAVORY ROASTED SWEET POTATO AND BEET GALETTE 
MIDDLE EASTERN SPICED ROASTED CAULIFLOWER 
ROASTED TRI-COLOR BABY CARROTS WITH DILL 
Make our roasted Brussels sprouts with balsamic glaze and let us know what you think. We love to hear from you! And, don't forget to take a picture of your gorgeous creation and tag us @veganosity on Instagram.
Let's connect on Instagram and Twitter. You'll get a peek into our everyday lives in our stories and see what we're sharing in our feed.
And, don't forget to SUBSCRIBE to the blog so you never miss a recipe. Scroll below the recipe or in our side bar to become a Veganosity subscriber.

PIN ME!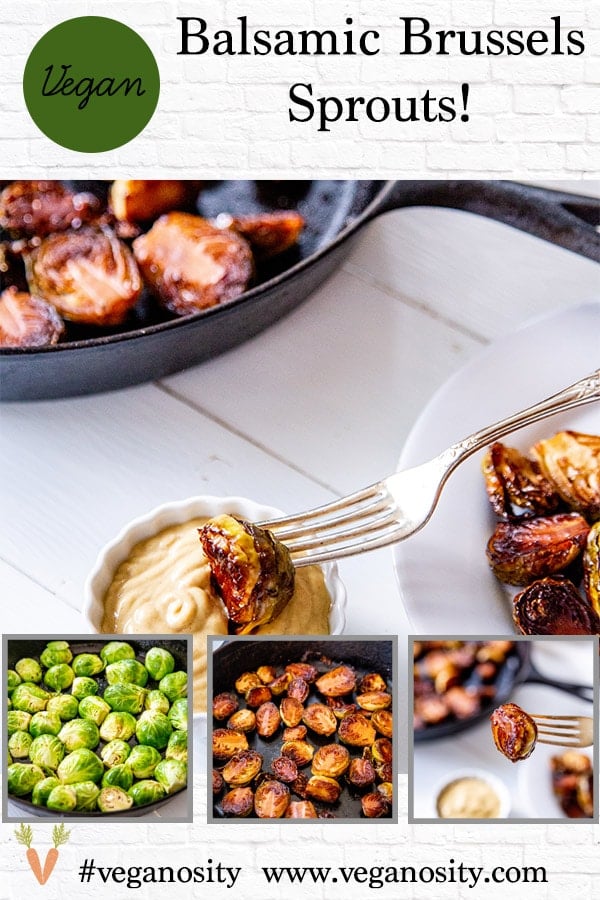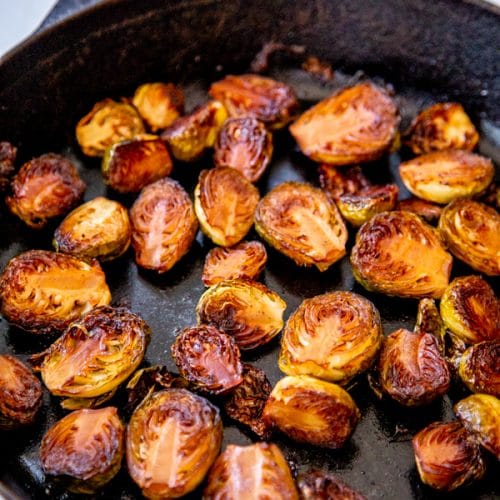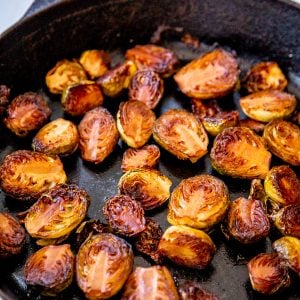 Crispy Roasted Balsamic Brussels Sprouts
This easy and delicious Brussels sprouts recipe makes a great appetizer or side dish. The sprouts are crispy and savory, just like they should be.
Print
Pin
Rate
Ingredients
1 ½

pounds

Brussels Sprouts

peel outside leaves off, trim the end off, and slice in half lengthwise

3

tablespoon

extra-virgin olive oil

3

tablespoon

balsamic glaze

some call it balsamic syrup, divided

Salt and pepper to taste
Instructions
Preheat the oven to 425°F (218°C).

Remove the outer layer of the Brussels sprouts and discard the dirty leaves. Trim the end off of each sprout and then slice in half vertically.

Put the sprouts in a large bowl, a large (14 to 19-incskillet, or on a parchment lined (optional, but makes for easy clean-ubaking sheet and drizzle the 3 tablespoon of olive oil and 2 tablespoon of vinegar over the sprouts. Salt and pepper to taste and then toss until the sprouts are coated with the oil and balsamic.

Spread them evenly out on the pan flat side down. You don't want them to touch or they'll end up steaming instead of roasting.

Roast for 15 minutes and then shake the pan and roast for another 15, or until they're caramelized and the edges are crispy. (SEE NOTE)

Drizzle the remaining 1 tablespoon of balsamic over the sprouts and toss.

Best when eaten hot.
Notes
NUTRTIONAL DISCLAIMER
Depending on how your oven is calibrated, you may need to roast them for less than or more than 30 minutes. You want them to be a deep golden brown, so use your discretion when roasting.
Nutrition
Serving:
5
cup
|
Calories:
92
kcal
|
Carbohydrates:
10
g
|
Protein:
3
g
|
Fat:
6
g
|
Saturated Fat:
1
g
|
Sodium:
21
mg
|
Potassium:
331
mg
|
Fiber:
3
g
|
Sugar:
3
g
|
Vitamin A:
641
IU
|
Vitamin C:
72
mg
|
Calcium:
36
mg
|
Iron:
1
mg
PIN ME!