Vegan Caprese Salad for One
One of the best things about summer is the ability to eat garden to table. If you can't grow your own vegetables and herbs you can walk to the nearest farmers market, or stop by the supermarket for the freshest locally grown produce. While you're there you should pick up tomatoes and basil because you're going to want to make this super easy and delicious vegan caprese salad for one.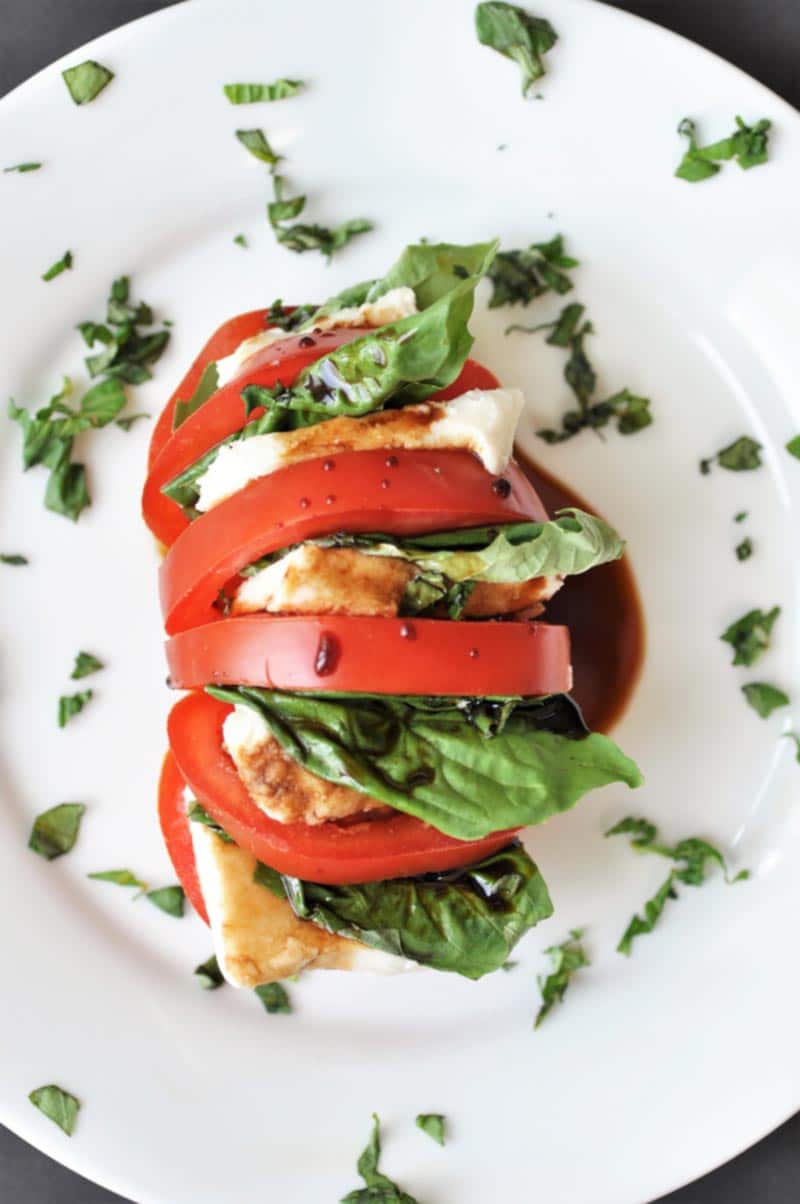 To call this a recipe is kind of ridiculous, because a three year old could make it—I wouldn't recommend letting a toddler slice a tomato with a sharp knife, but you get what I'm saying. So why am I sharing this tomato, basil, and balsamic vinegar salad recipe with you if I think it's so easy and simple to make? Because I actually heard a woman ask a server in a restaurant how to make one.
When I heard that question it reminded me that there are a lot of people who don't cook, and what seems obvious to me is not always obvious to others. That's why I write this blog, to share recipes and ideas. It was exactly what I needed to hear. It reminded me that even the simplest recipes need to be shared.
With that being said, let's move on to food.
How to Make a Single Serving Caprese Salad
To make this caprese salad with tomato, basil, vegan mozzarella, and balsamic vinegar you'll need four ingredients. Can you guess what they are?
Tomato
Basil
Vegan mozzarella
Balsamic Vinegar
You can grind a bit of sea salt and black pepper on top if you so desire, but it's not necessary.
My local Whole Foods has finally started carrying Miyoko's Kitchen cheese, and the mozzarella is fantastic. I honestly can't tell that it isn't dairy. The texture, creaminess, and flavor is spot on. If you can find it where you live that's the brand I recommend. If you can't find vegan mozzarella where you live you can use any non-dairy cheese that you like. The point of a caprese salad is the combination of tomato, cheese, basil, and balsamic vinegar, so make it your own.
Once you have the ingredients all you'll need to do is slice the tomato into sections, leaving it intact on the bottom so you can fan it open. Slice the cheese and tuck a slice into each section of the tomato, then stick a basil leaf next to the cheese. Drizzle balsamic vinegar on top and you're done.
This salad would make a great lunch. Wrap it in foil and store it in the refrigerator at work and you won't want to run out for something unhealthy. Or serve it as an appetizer at a dinner party because it looks so impressive. Your guests will love it.
It's sunny and warm this morning and I need to plant my vegetable and herb gardens. Off I go. Have a wonderful day!
Tell me:
Have you tried Miyoko's Kitchen mozzarella? What did you think?
Do you love caprese salad in the summer?
Do us a favor, we want to show the world that plant-based foods are delicious and exciting. So let's connect and share all of this awesomeness with the world. Hop on over to our Facebook page and give it a like, and follow us on Instagram and Twitter, and follow us and share this and other Veganosity recipes on Pinterest. We'd be so grateful if you did. If you like this recipe and can't wait to see what we're going to share next, subscribe to Veganosity. Just fill in the subscription box above our picture in the top right corner of the page. And, Alex and I love hearing from you, please leave a comment and let us know what you think of our recipes.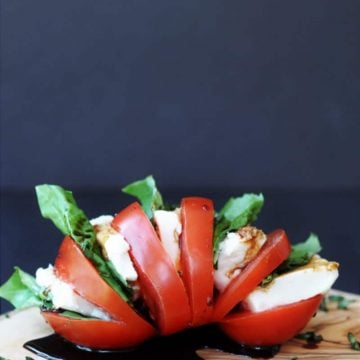 Single Serving Vegan Caprese Salad
A single serving vegan caprese salad made with vegan mozzarella. Perfect for lunch, dinner or as an appetizer.
Print
Pin
Rate
Equipment
1 knife

1 jar or bowl for dressing
Ingredients
1

large tomato

4 to 5

slices

of vegan mozzarella or vegan cheese of your choice

4 to 5

large basil leaves

3 to 4

tablespoons

of balsamic vinegar

Sea salt and black pepper

optional
Instructions
Slice the tomato into ¼ inch slices, but don't slice all the way through the tomato. Leave it intact.

Separate the slices like a fan and tuck the cheese and the basil leaves in-between each slice of tomato.

Drizzle the balsamic over the top. Season with salt and pepper if desired.

Enjoy!

A single serving vegan caprese salad. Perfect for lunch or as an appetizer.
Notes
Store covered in the refrigerator for up to 3 days. Best if the dressing is added just before serving. 
Nutrition Disclaimer
Nutrition
Serving:
8
oz
|
Calories:
322
kcal
|
Carbohydrates:
33
g
|
Protein:
4
g
|
Fat:
17
g
|
Saturated Fat:
6
g
|
Polyunsaturated Fat:
1
g
|
Monounsaturated Fat:
1
g
|
Sodium:
817
mg
|
Potassium:
350
mg
|
Fiber:
4
g
|
Sugar:
10
g
|
Vitamin A:
1109
IU
|
Vitamin C:
17
mg
|
Calcium:
85
mg
|
Iron:
2
mg