We took our flaky and buttery pie crust, tucked it around a mouthwatering leek, white bean, and toasted walnut base and topped that with vegan ricotta and colorful orange sweet potatoes and red and yellow beets, then roasted it until it was golden brown. The result was a delicious rustic savory pie that you're going to love!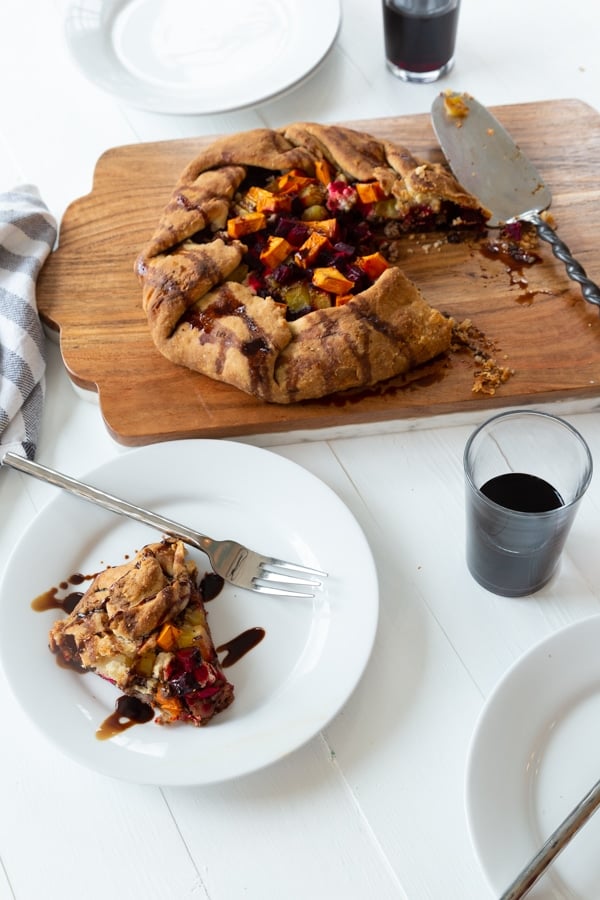 THE ULTIMATE COMFORT FOOD
Can we just take a minute to talk about how much we crave homey, cozy, warm, and satisfying food when it's cold outside and it gets dark at 4:00pm?
From now through spring we're going to be spending a lot of time in the kitchen with a big mug of hot tea (or wine if it's past 5pm), our fuzzy socks, a cozy sweater, and our favorite cooking tools. This is the time of year that we get inspired to create recipes that take some time, but are so worth it.
We know that you love to cook as much as we do, especially when all you want to do is hibernate from the cold. That's why we created this vegetable galette for you.

It's the ultimate vegan comfort food, it's fun to make, your family and friends will love it, and it gives you something productive to do during the winter months.
WHAT IS A GALETTE?
We weren't sure if we should call this a savory galette or a savory crostata? We settled on galette, because from everything we've read (and there are a lot of opinions), the definitions are interchangeable. Galette is the French word and crostata is Italian, and both mean the same, an imperfect pie that can be filled with fruit or vegetables.
We love this rustic pie because you can be casual in the way that you construct it. There's no need to make a perfect pie crust topping for this, however, there are a few rules that you'll want to abide by to ensure that your galette/crostata turns out tasting perfect.
TIPS TO MAKING THE PERFECT GALETTE
Make the perfect pie crust. Follow the instructions for our homemade vegan pie crust and you'll be good.
Don't overfill the filling. If you pile the filling up too much it won't cook evenly.
Don't roll the pie crust too thin or too thick. Too thin and it will burn before the filling is done. Too thick and it will be tough and not flaky.
Bake it in the center of the oven.
HOW TO MAKE A SAVORY GALETTE WITH SWEET POTATOES AND BEETS
You're going to have a lot of fun making this delicious savory tart. Yes, I'm calling it lots of things in this post, and that's because I want people to find it based on what they call this rustic pie.
STEP ONE
Okay, to start, you'll need to make our homemade pie crust.

It's not hard, in fact, it's really easy. Just follow the instructions and you'll end up with the most buttery and flaky pie crust ever.
STEP TWO
2. Now it's time to make the filling. Saute the leeks, cannellini beans, walnuts and the rest of the ingredients in the filling according to the detailed instructions in the recipe card.
STEP THREE
3. Roll the dough into a circle until it's approximately ⅛th of an inch thick, then spread the topping evenly over it, leaving a 2-inch border.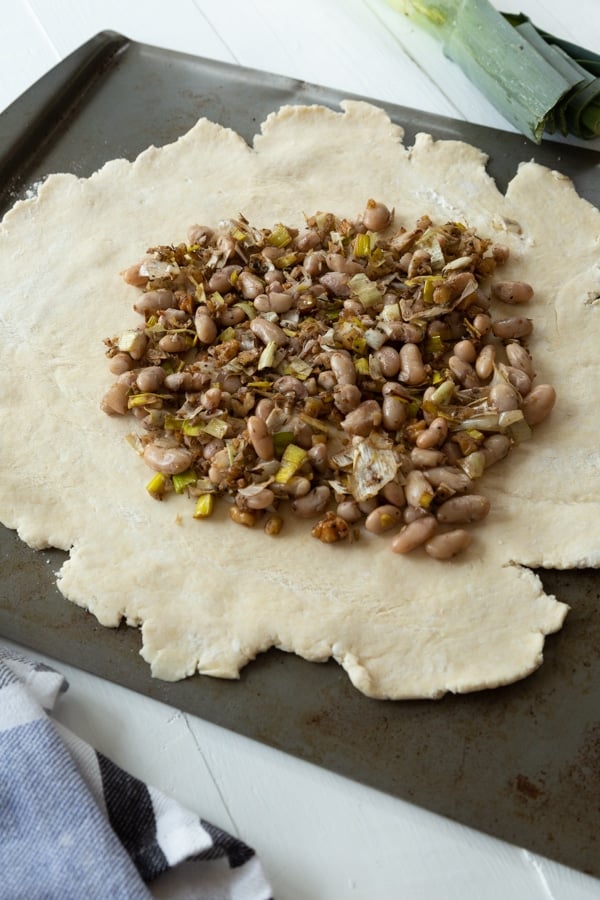 STEP FOUR
4. Sprinkle the vegan ricotta (we use Kite Hill) on top of the bean and leek mixture.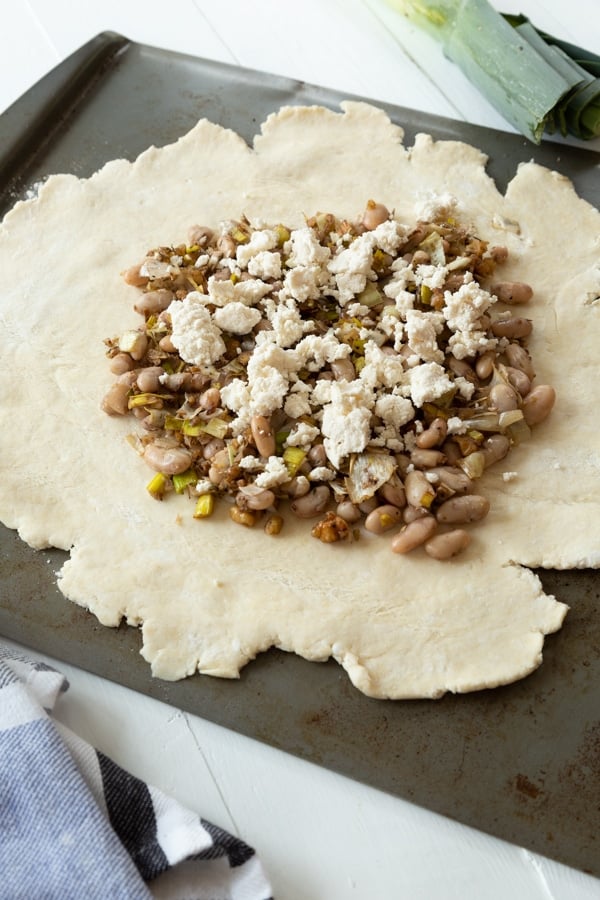 STEP FIVE
5. Now evenly spread the sweet potato and beet cubes over the first two layers and drizzle a bit of olive oil over the veggies. Fold the edges of the pie crust over the edges of the filling.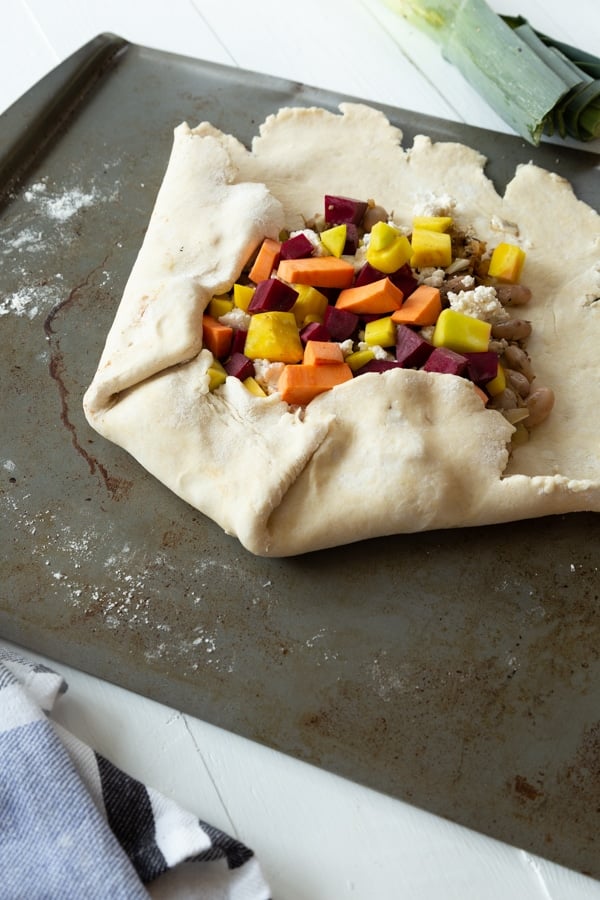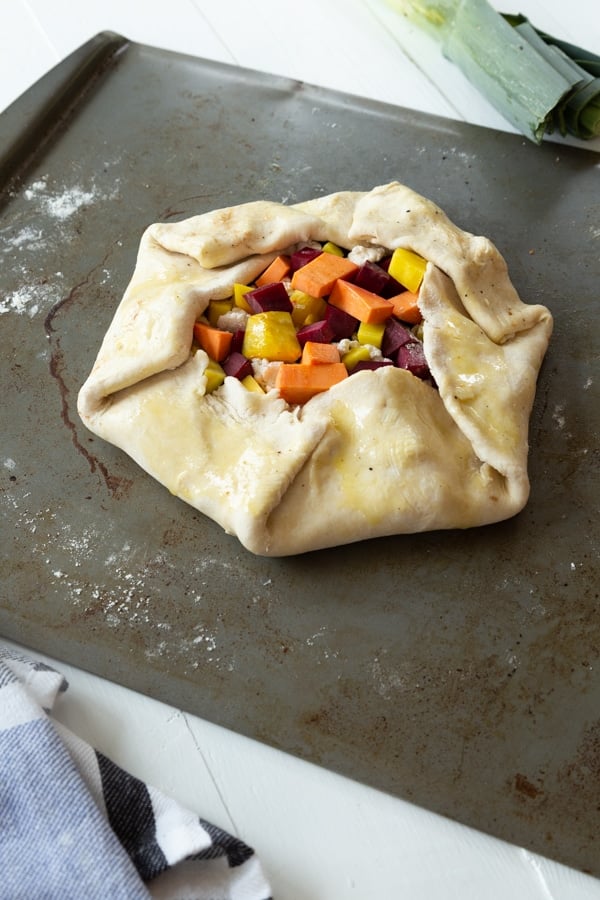 STEP SIX
6. Brush melted vegan butter over the edges of the pie crust and the vegetables and bake in a 385 F oven for approximately one hour, or until the beets and sweet potatoes are easily pierced with a fork and the crust is golden brown.
Drizzle with a bit of balsamic vinegar glaze is you want a bite of tanginess. We love it added to the savory and sweet that you'll taste in this recipe.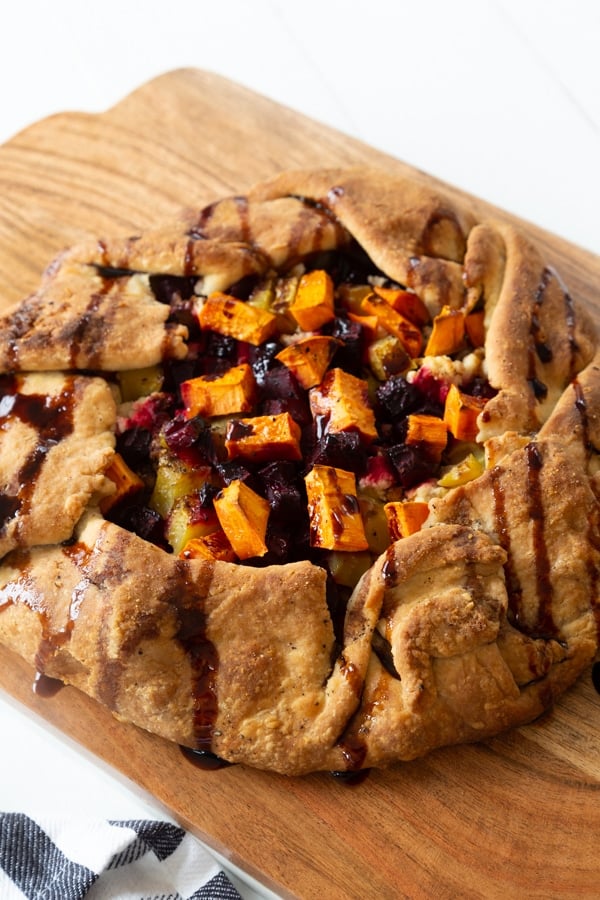 MAKE THE SWEET POTATO AND BEET GALETTE AHEAD OF TIME
You can make this vegetable galette ahead of time and freeze it. To heat it up all you'll need to do is cover it in aluminum foil and bake it for approximately 20 to 30 minutes in a 350F oven, or until it's hot in the middle and the crust is flaky.
HOW TO SERVE AND WHAT TO EAT WITH A SWEET POTATO GALETTE
As you know, you will cut and serve it as yo would a pie. We love it with a fresh and crisp green salad, like this one.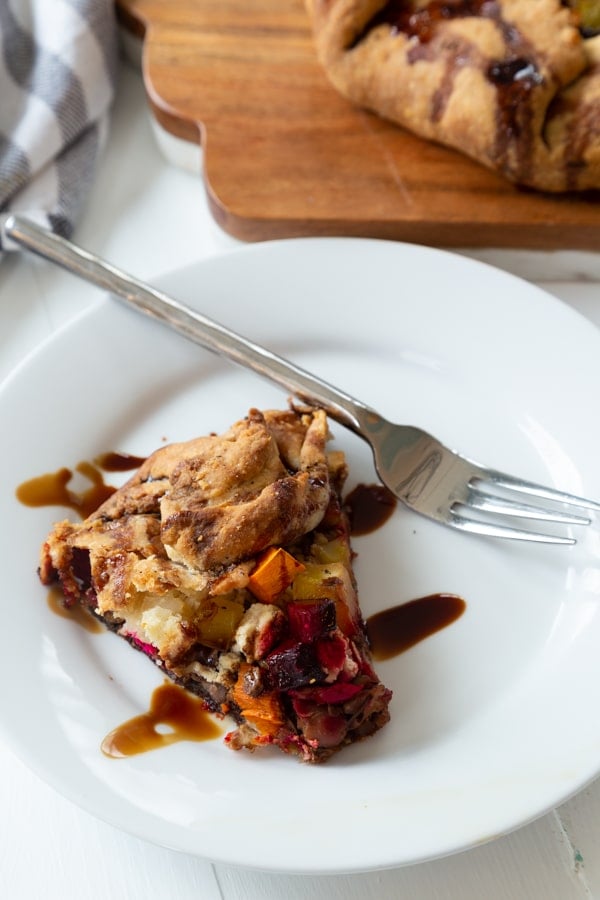 Make this and let us know what you think. We love to hear from you! And, don't forget to take a picture of your gorgeous creation and tag us @veganosity on Instagram.
Let's connect! Hop on over to our Facebook page and give it a like, and follow us on Instagram and Twitter, and follow us and share this and other Veganosity recipes on Pinterest. We'd be so grateful if you did. If you like this recipe and can't wait to see what we're going to share next, subscribe to Veganosity. Just fill in the subscription box above our picture in the top right corner of the page. And, Alex and I love hearing from you, please leave a comment and let us know what you think of our recipes.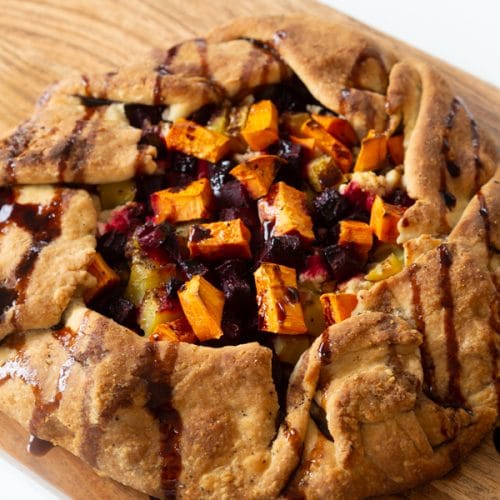 Roasted Beet and Sweet Potato Galette
This rustic savory pie is filled with leeks, garlic, cannellini beans, beets, sweet potato, and savory seasonings. It's the perfect winter comfort food.
Print
Pin
Rate
Ingredients
2

teaspoon

olive oil

1

large leek

finely chopped

3

garlic cloves

minced

1

cup

chopped walnuts

15

ounce

cooked cannellini beans

1

tablespoon

Italian seasoning

crushed

Salt and pepper to taste

¼

cup

balsamic vinegar

plus more to drizzle on before serving

1

large sweet potato

cubed into ½ inch cubes

1

large red beet

cubed into ½ inch cubes

1

large golden beet

cubed into ½ inch cubes

1

cup

vegan ricotta cheese

Pie crust

Click link below to make or use store bought
Instructions
Preheat the oven to 385°F

Heat the olive oil on medium-high heat in a medium skillet. When the oil is hot, add the leek and cook for approximately 5 minutes, or until it becomes translucent. Stir frequently.

Add the walnuts and the garlic and stir to combine. Add the seasoning, salt and pepper and stir. Cook for 4 to 5 minutes.

Deglaze the pan with the balsamic vinegar.

Add the beans and cook for another 3 minutes. Stir to combine.

Roll the dough out into a 16-inch circle. Place the dough on a baking sheet. Spread the bean mixture over the base of the dough, leaving a 2-inch border. Sprinkle the ricotta over the top of the beans. Add the sweet potato and beets and drizzle a small amount of olive oil over the veggies. Fold the excess pie crust over the edges of the vegetables. Bake for approximately one hour, or until the vegetables are easily pierced with a fork and the pie crust is golden brown.

Drizzle with a bit of balsamic before serving if you love the tanginess of the vinegar with savory and sweet from the galette.
Notes
The Nutrition Facts are an estimate only.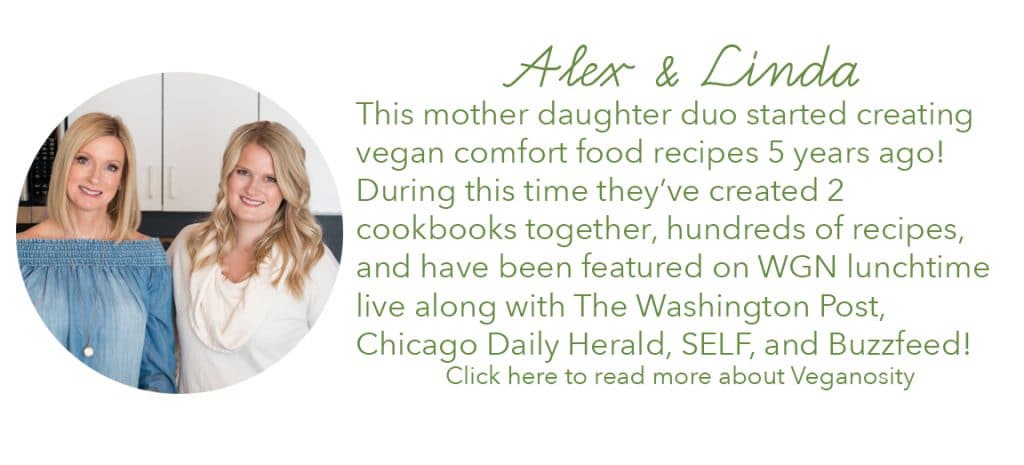 This post may contain affiliate links which won't change your price but will share some commission.