Finally! A vegan spinach lasagna that tastes like the kind that I used to make BV (before vegan). The cashew mozzarella is the star of the show in this comforting, delicious recipe.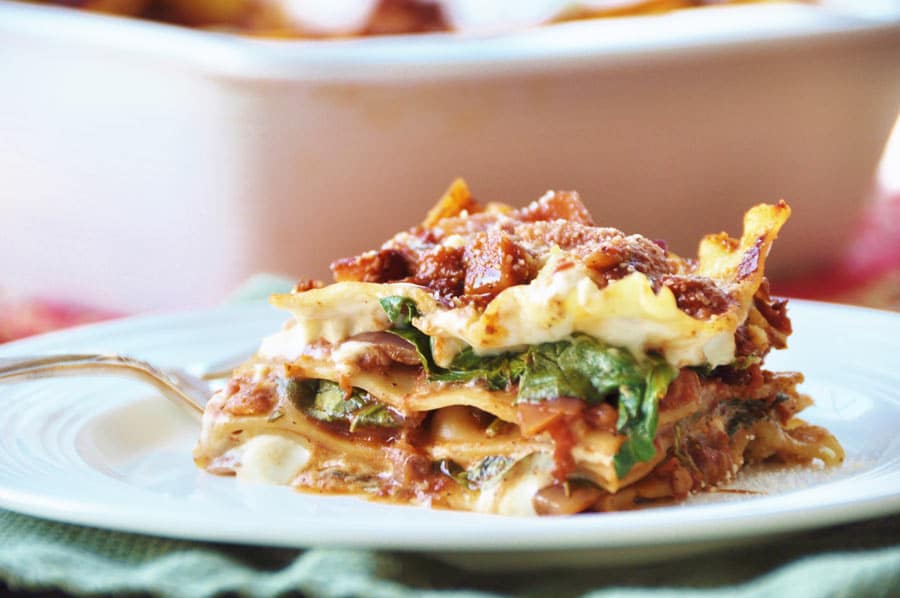 I'm going to go ahead and say it. I freakin' missed lasagna!!! Big, thick, chewy semolina noodles. I don't care what people say about white flour, I LIKE my pasta! Rich, savory, marinara. There's nothing like it. Soft, creamy, velvety cheese. Ugh! I only missed it in my lasagna, and pizza margherita, because I really, really, really love those two things when I'm feeling like I need a big Italian hug. Can you understand how I would miss those three things when they're all layered together in one glorious piece of food fabulousness?!
After a year of pretending that I didn't miss my gorgeous lasagna, I broke, I just HAD to have some. And I think that the powers that be realized that I was on the verge of a lasagna breakdown, so they guided me to a delicious vegan mozarella recipe that I'll tell you more about later. Yes, that's right, it's a cashew mozzarella cheese recipe that – honest to God – tastes and feels like fresh buffalo mozzarella.

Let's talk about this genius culinary invention. Is it an exact likeness to mozzarella? No. But it's so close that this girl is on cloud nine. Just pinch me. Go ahead, do it, because I know that you can't wake me up from this dream, cuz it's for real!! And not only does this stuff taste amazing, it's so quick and easy to make that you can have some in about 7 minutes. Seriously brilliant, right?
All you need to make it is 1 and a ½ of a cup of cashews – you don't even have to soak them if you have a powerful blender – a cup and 1 and a ½ of hot water, some lemon juice, a clove of garlic, olive oil, salt, and wait for it…..tapioca starch. That's the magic right there y'all, tapioca starch. It turns watery ground cashews into a stretchy, sticky, beautiful, plant based cheese. And that my friends, was how I was able to make this. Thank you Somerat Vedged Out. Check out her mozzarella recipe at Vedged Out!
I can't even tell you how happy I was when it was baking. It smelled like my lasagna. The one that I had made for every one of Alex's birthdays since she was old enough to ask for it. The one that I made for her when she came home from college. The one that I took to neighbors and friends when they had a new baby, surgery, or a death in the family. This was MY signature dish, and as much as I enjoy being a vegan, not being able to make it was a thorn in my side. Could I have made it with store bought vegan mozzarella from a bag? Only if I had wanted a bad lasagna. Sorry, but I really don't like a lot of the processed vegan products out there.
So how did it taste? Um, I wish you could have seen me when I took my first bite. I twirled. Uh-huh, I literally did a little ballerina twirl with a fork in my hand. Dangerous? Yes. Do I have good balance? Thank goodness I do. After the twirl I started talking to myself about how it tasted like my lasagna, how happy I was that I could make a really good vegan one, and then, Gizmo walked into the kitchen to see who I was talking to, so I stopped acting like a crazy person and ate in blissful silence.
If you're a vegan and you've missed a good lasagna, you've got to make this. If you're not a vegan, but you're looking for a healthy cheese replacement, or if you're lactose intolerant, you've got to make this.
My vegan spinach lasagna is really easy to make, even though the marinara is from scratch. You could use sauce from a jar, but why would you when all you need to do to make it fresh is chop and onion, mince some garlic, and put a box of Pomi crushed tomatoes in a pan, along with some spices and a little red wine (optional)?
Please come back and let me know how you liked this. And, go give some love to Somer at Vedged Out.
If you're gluten intolarent, or if you just aren't down with eating pasta (?), then try our eggplant lasagna. It's good!

Do you like what you've seen so far? We sure hope so! Do us a favor, take a trip over to our Facebook page and give it a like, or follow us on Instagram or Twitter, and follow us and share this and other Veganosity recipes on Pinterest. We'd be so grateful if you did.
Linda and Alex at Veganosity
Yields 6-8
Vegan Spinach Lasagna
A delicious, healthy, vegan lasagna with cashew mozzarella.
45 minPrep Time
45 minCook Time
1 hr, 30 Total Time
Ingredients
1 box of lasagna noodles
To make the marinara
1 tablespoon of extra virgin olive oil
1 red onion – chopped
3 cloves of garlic – minced
1 25 ounce box of Pomi crushed tomatoes or 2 15 ounce cans of crushed tomatoes
1 cup of water
1/4 cup of red wine or 1 tablespoon of balsamic vinegar
1 tablespoon of Italian seasoning
2 teaspoons of ground sea salt
1 or 2 dashes of red chili pepper flakes
Black pepper to taste
3 to 4 cups of fresh baby spinach
To make the cashew mozzarella from Vedged Out.com
1/2 cup of raw cashews (soaked for 2 hours and drained if you don't have a high powered blender)
1 and 1/2 cups of hot water
2 tablespoons + 2 teaspoons of tapioca starch
1 Tablespoon of extra virgin olive oil
2 small cloves of garlic
1 teaspoon of ground sea salt
2 teaspoons of fresh lemon juice
Instructions
Preheat the oven to 375°
Bring a large pot of water to a boil. Salt the water well and cook the noodles according to the instructions.
To make the marinara
Heat the olive oil in a large skillet on medium-high heat. Add the onions and sauté until they become translucent. Add the garlic and cook for one minute. Add the tomatoes, water, wine or vinegar, and spices. Stir to combine and bring to a boil. Reduce the heat to low and simmer for 25 minutes.
Hint – put the one cup of water in the tomato box or can and swish around to collect the leftover tomato sauce.
To make the cashew cheese
Blend all of the ingredients in a blender until the cashews are smooth and creamy. Approximately 1 to 2 minutes. It should look like milk.
Pour the mixture into a medium sauce pan and heat on medium heat. Stir until it starts to look like it's curdling. Turn the heat to low and continue stirring until it becomes really thick and stretchy, like cheese. Approximately 3 to 4 minutes. Remove from heat and cool for 10 minutes
Cheese can be stored in an airtight container in the refrigerator for up to three days.
Pour a 1/2 cup of sauce on the bottom of a 9 X 11 inch lasagna pan and spread evenly. Layer three to four noodles (depends on the width of the noodles) on the bottom of the pan. There can be a slight overlap. Spread 1 cup of sauce over the noodles and spread it around evenly. Sprinkle dollops of the cheese evenly over the noodles and sauce. One dollop every inch or two is fine. Sprinkle one cup of spinach over the cheese and then repeat the process until you have one cup of sauce left. Spread the last cup of sauce on the top layer of noodles and then the last of the cheese.
Bake at 375° on the middle rack for 15 minutes or until the cheese begins to brown. Lower the temperature to 350° and cover with foil. Bake for 45 minutes. Remove from the oven and cool for 10 minutes so the lasagna can set before you cut it.
Note: Sprinkle some vegan parmesan cheese over each layer and the top if you desire.
7.8.1.2
88
https://www.veganosity.com/vegan-spinach-lasagna/