Our homemade cranberry sauce with orange is so easy to make and so much better than anything you can buy. Make a batch in under 30 minutes!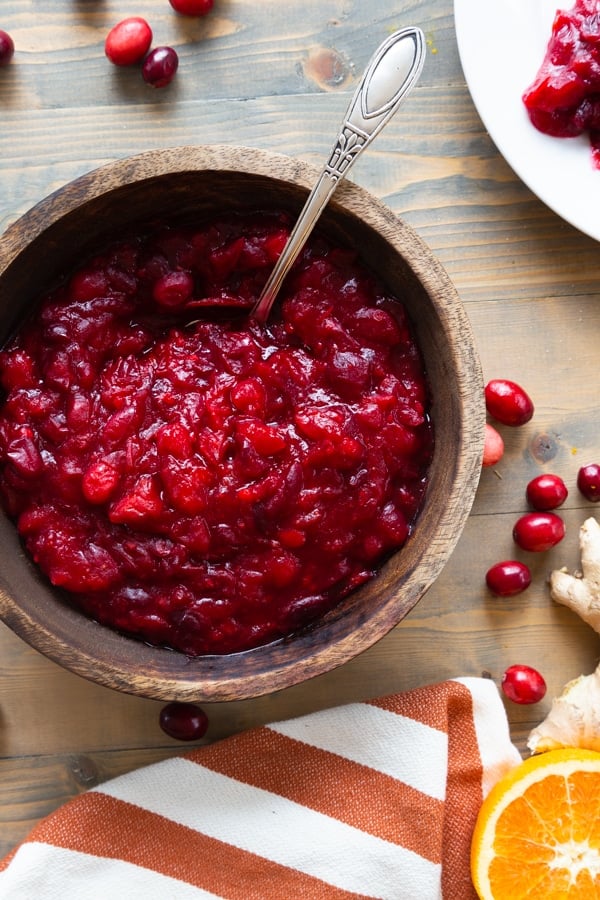 This recipe is an oldie but a goody that we had to update. We hope you enjoy the newer version.
It's not Thanksgiving unless there's homemade cranberry sauce on the table. Don't you agree?
You also need stuffing, like this recipe, but I digress.
Here's a question for you – what kind of cranberry sauce do you serve? Is it the gelatinous stuff that comes out of a can and jiggles like a slinky just waiting to be sprung? Or do you make your own?
No offense to those of you who grew up on the canned version. It was on my childhood holiday table too; but then I learned how to make my own. Let's just say, homemade is everything.
HOW TO MAKE CRANBERRY SAUCE FROM FRESH BERRIES

It's so easy to prepare your own fresh homemade cranberry sauce, so don't be afraid to make it for the holidays. It takes less than thirty minutes and it's a lot of fun.
STEP ONE
Rinse the cranberries and put them in a medium sauce pan.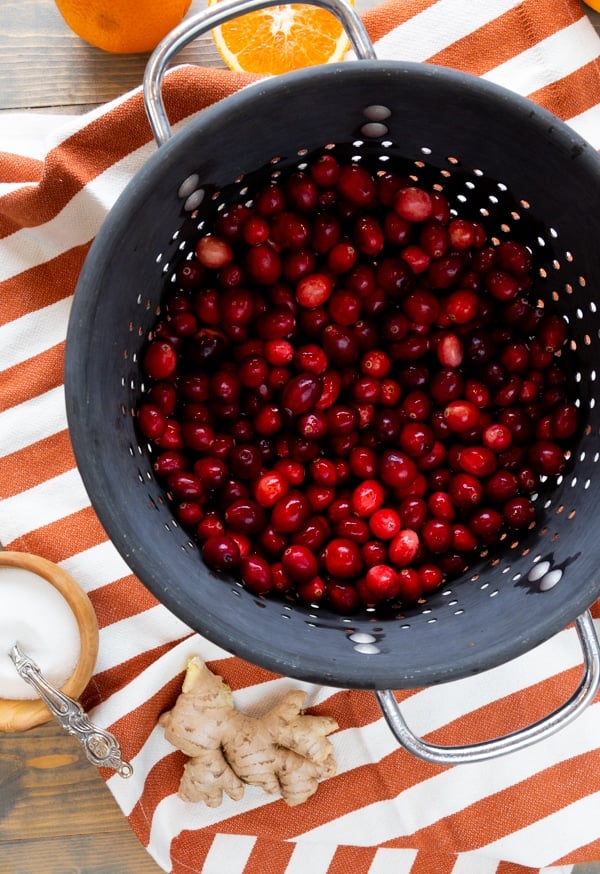 STEP TWO
2. Add the fresh squeezed clementine juice or orange juice (your choice), water, sugar, ginger, and orange zest. Stir to combine and bring to a boil, then reduce to a simmer and stir frequently. The berries will burst and make a popping sound, as they do, the sauce will begin to thicken.
That's it, after about 15 to 20 minutes the cranberry orange sauce will be ready to set in the refrigerator.
WHY YOU NEED TO ADD SUGAR TO CRANBERRY SAUCE
We try to reduce our sugar consumption as much as possible, but you really need to sweeten cranberries or you won't be able to eat them. Cranberries are so tart, and we love our sauce to be tart rather than sweet, nevertheless, we still add a half of a cup of sugar.
We suggest that you taste the cranberry sauce while you're cooking it (put a spoonful aside and let it cool before testing) to see if it's too tart for you. If it is, add more sugar by the tablespoon until it's to your liking.
You could add maple syrup, but it will change the flavor of the sauce. For this recipe, we prefer to use sugar.
WHY WE ADD FRESH GRATED GINGER AND ORANGE JUICE TO OUR CRANBERRY SAUCE
Fresh ginger adds a bit of spice to the tart cranberries, they're so awesome together.
The orange juice adds a lovely sweet citrus flavor, and the zest is a bit bitter. All of those flavors combined add so many wonderful elements to make our cranberry sauce exciting.
WHY HOMEMADE CRANBERRY SAUCE IS BETTER THAN CANNED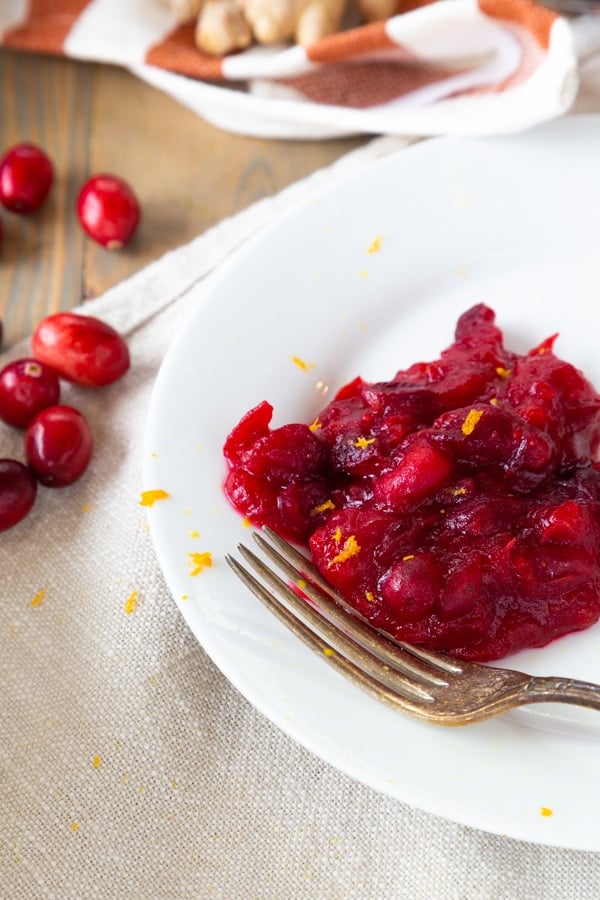 I started making my own cranberry sauce after Alex was born, and I've never looked back.
Making homemade sauce is sooooo easy you guys! And, it's healthier, and tastier. It's also better for you.
When you make your own you can control the heat. If you keep the heat below 350°F you can preserve the vitamins and nutrients. The burst point of a cranberry is 212°F, so no problem!
Once the cranberries begin to burst you must turn the heat down to let it simmer and thicken; sooooo, unless there is a food scientist out there who can correct me, I'm pretty sure that this is a healthier way to go, because the vitamins don't get cooked away.
WHY DO COOKED CRANBERRIES THICKEN?
Cranberries contain pectin naturally. When they combine with the added sugar, the sauce thickens. Read this to learn more.
Additionally, the sauce will thicken as it cools, so if it's not super thick when it's hot, don't worry, it will thicken up.
HOW TO STORE HOMEMADE CRANBERRY SAUCE
Store this sauce in the refrigerator in a covered dish or you can freeze it for up to 3 months. Thaw it overnight in the refrigerator.
WHAT TO DO WITH LEFTOVER CRANBERRY SAUCE
Cranberry sauce is great in hot cereal, like oats. It's also a great addition to a smoothie. And we also love it on a sandwich with our leftover Spicy BBQ Meatloaf.
Make this and let us know what you think. We love to hear from you! And, don't forget to take a picture of your gorgeous creation and tag us @veganosity on Instagram.
Let's connect! Hop on over to our Facebook page and give it a like, and follow us on Instagram and Twitter, and follow us and share this and other Veganosity recipes on Pinterest. We'd be so grateful if you did. If you like this recipe and can't wait to see what we're going to share next, subscribe to Veganosity. Just fill in the subscription box above our picture in the top right corner of the page. And, Alex and I love hearing from you, please leave a comment and let us know what you think of our recipes.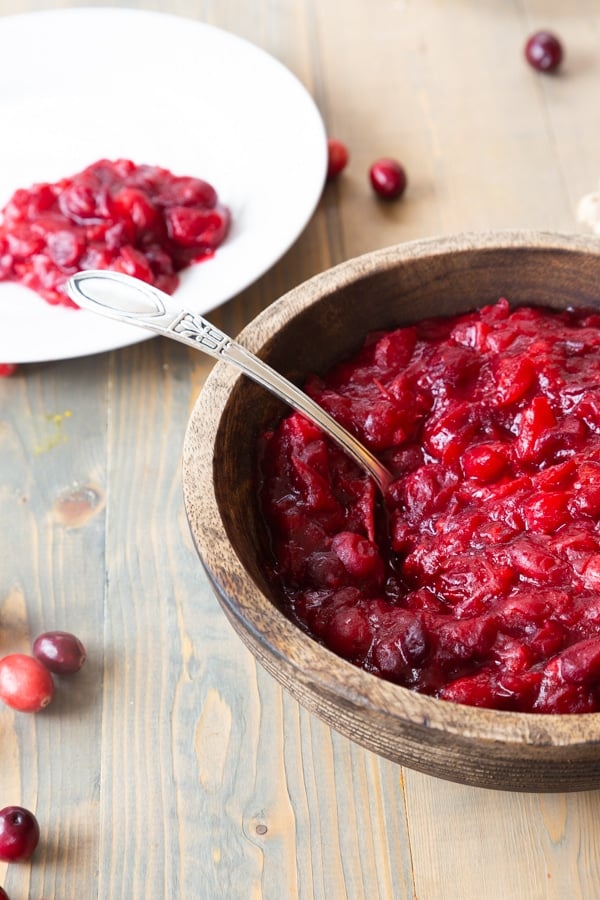 This post may contain affiliate links which won't change your price but will share some commission.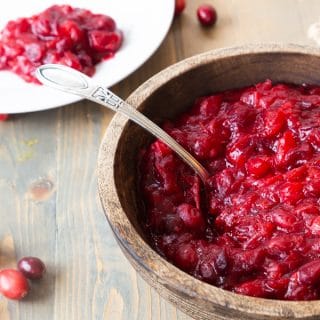 CRANBERRY CLEMENTINE SAUCE
Homemade Cranberry Clementine Sauce with fresh ginger is so easy to make and so much tastier than canned sauce, and it's better for you!
Print
Pin
Rate
Ingredients
8

cups

fresh cranberries

2

oranges or 4 clementines

juiced

¾

cup

water

½

cup

sugar

See Note

1

tablespoon

fresh grated ginger

zest from 1 orange or 2 clementines
Instructions
Put the cranberries, juice, and water in a medium sauce pan and bring to a boil. When the cranberries begin to burst reduce the heat to simmer and stir in the sugar, ginger, and orange zest. Cook until the water evaporates and the mixture thickens, approximately 15 to 20 minutes. Remove from the heat and transfer to a bowl and cool in the refrigerator It will thicken even more as it cools and is refrigerated.
Notes
Taste the cranberry sauce and add more sugar if it's too tart for you.
The Nutrition Facts are an estimate only.
Nutrition
Calories:
90
kcal
|
Carbohydrates:
23
g
|
Protein:
0
g
|
Fat:
0
g
|
Saturated Fat:
0
g
|
Cholesterol:
0
mg
|
Sodium:
3
mg
|
Potassium:
114
mg
|
Fiber:
4
g
|
Sugar:
15
g
|
Vitamin A:
115
IU
|
Vitamin C:
27.2
mg
|
Calcium:
18
mg
|
Iron:
0.2
mg