Savory Sweet Potato Bruschetta is an easy and delicious vegan appetizer that's perfect for a simple happy hour or an elegant party. It pairs well with white or red wine. If you need two appetizers, it's perfect with our Onion Confit Tartlets.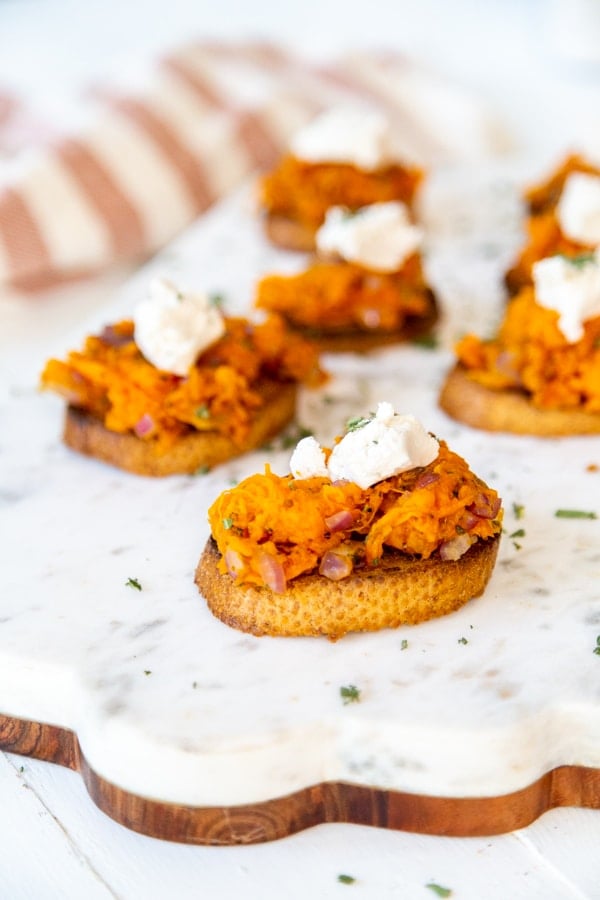 Posted March 18, 2015 and updated September 19, 2019.
This post may contain affiliate links which won't change your price but will share some commission.
Hi there! We're Linda and Alex, the mother daughter duo and creators of Veganosity. Thanks for visiting us, we're so happy you're here. If you're looking for Southern inspired vegan comfort food recipes, you've come to the right place.
We love vegan comfort food and we're really good at making it. Take a tour through our site and you'll find all of the recipes that scream, stretchy pants required!
The good news, they're all plant-based recipes, so you don't need to feel guilty eating them. Now sit back, relax, and eat happy. 🙂
Also, in case you didn't know, we're published cookbook authors. We've written two vegan cookbooks that will help you make amazing vegan BBQ (you don't even need a grill) and everyday meals, from breakfast to dessert.
Click on the titles to check them out. GREAT VEGAN BBQ WITHOUT A GRILL
and THE ULTIMATE VEGAN COOKBOOK
.
IS IT A SWEET POTATO CANAPE OR SWEET POTATO BRUSCHETTA?
Well, this is a great question. We're glad you asked.
In our minds, it comes down to semantics. Both definitions are correct, and depending on where you grew up and what you were raised to call this delicious appetizer, you wouldn't be wrong to call it either one.
It's all about that base....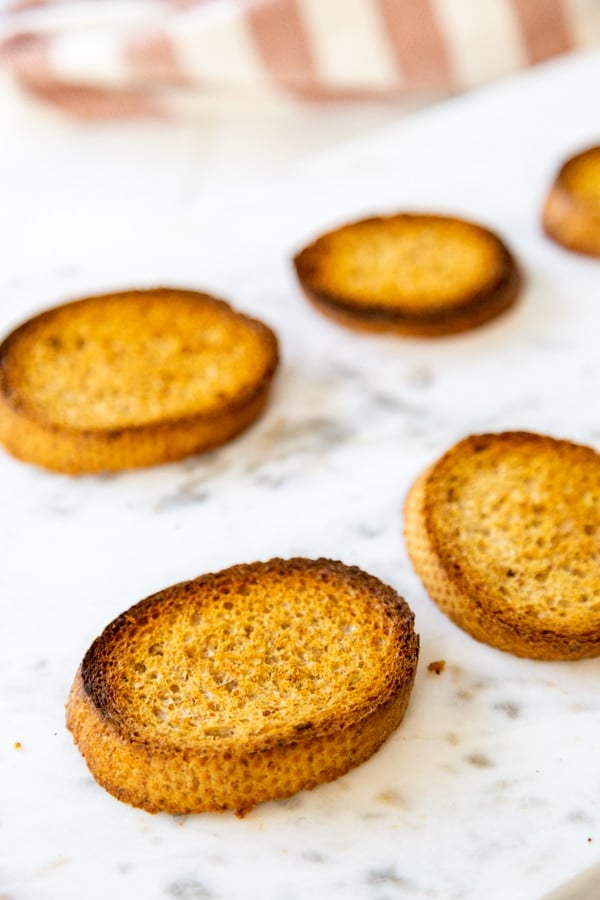 What is a Canape?
A canape is a small bite appetizer that's served on toast, puff pastry, or a cracker.
You can put whatever you want on the base, whether it be vegan cheese and a dollop of fig preserves, or this savory sweet potato dip.
What is Bruschetta?
Bruschetta is an Italian appetizer, or antipasto.
Traditionally it's toasted bread that's rubbed with garlic and olive oil, then topped with fresh tomato and basil; however, you can add other vegetables, beans, or vegan cheese.
So, whether you end up calling this simple savory appetizer a canape or bruschetta is up to you. We're going to call this a bruschetta recipe.
HOW DO YOU MAKE VEGAN BRUSCHETTA?
STEP ONE
The first thing you'll need to do is roast the potato.
We roast it with the skin on at a high temperature for about an hour, or until it starts to caramelize.
Tips for Baking or Roasting a Sweet Potato
Scrub the skin under water to remove any dirt left on the skin.
Pat it dry and pierce the potato several times with a fork or a paring knife. This allows the steam to release from the potato so it cooks evenly and doesn't explode while baking.
Brush with a thin layer of olive oil (optional), and slice it in half.
Bake/roast it at a high temperature so it caramelizes around the edges. This gives it the best flavor.
STEP TWO
While the potato is roasting, sauté the onion, garlic, and Italian seasoning in the olive oil until the onion is soft and translucent.
STEP THREE
Slice a small baguette (you want a thin baguette for small rounds of toast) into half-inch rounds and put the rounds on a baking sheet.
Brush with olive oil, then sprinkle with sea salt.
Toast the bread in the oven for approximately five minutes, or until the toast is a light golden brown around the edges.
STEP FOUR
Put the potato in a mixing bowl with the onion and garlic and add the truffle oil.
Stir the ingredients together until the onion, oil, and sweet potato are evenly combined.
Spread the sweet potato dip on the toast and garnish with a dollop of vegan ricotta and minced parsley.
For a gluten-free option, try our sweet potato toast bruschetta.  It's another healthy sweet potato recipe that tastes amazing.
WHAT IS TRUFFLE OIL?
First, let's talk about truffles.
Truffles are a fungus (similar to mushrooms) that resemble a lumpy potato.
They grow underground in wooded areas and are generally found in France because of its calcareous soil.
Unlike mushrooms, which have a musky, meaty flavor, truffles are oaky and nutty with a slight sweet flavor. There are also hints of savory flavors that resemble black olives.
It's a complex delicacy that's worth adding to certain foods.
Now, here's the thing about truffle oil. Most truffle oil is made with chemicals to mimic the flavor of real truffles.
Don't buy those oils! They're ratchet.
Invest in oil that's infused with the flavor of real truffles. It's worth every penny.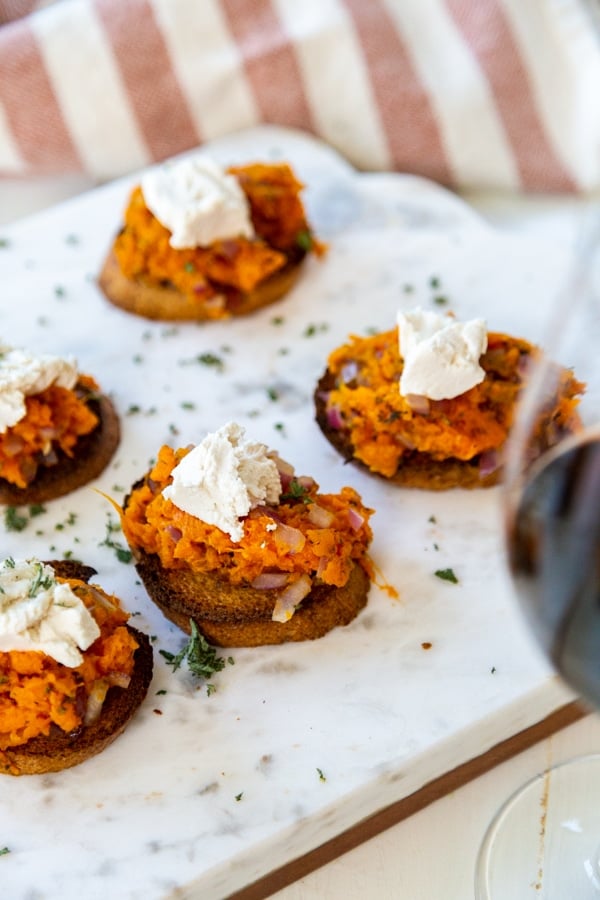 MORE SWEET POTATO IDEAS
THE CRISPIEST SWEET POTATO FRIES 
HOMEMADE VEGAN SWEET POTATO & BLACK BEAN EMPANADAS 
SWEET POTATO AND PUMPKIN BISQUE 
SWEET POTATO NOODLE SALAD WITH SRIRACHA LIME PEANUT SAUCE 
Make this roasted sweet potato recipe and let us know what you think. We love to hear from you! And, don't forget to take a picture of your gorgeous creation and tag us @veganosity on Instagram.
Let's connect on Instagram and Twitter. You'll get a peek into our everyday lives in our stories and see what we're sharing in our feed.
And, don't forget to SUBSCRIBE to the blog so you never miss a recipe. Scroll below the recipe or in our side bar to become a Veganosity subscriber.

PIN ME!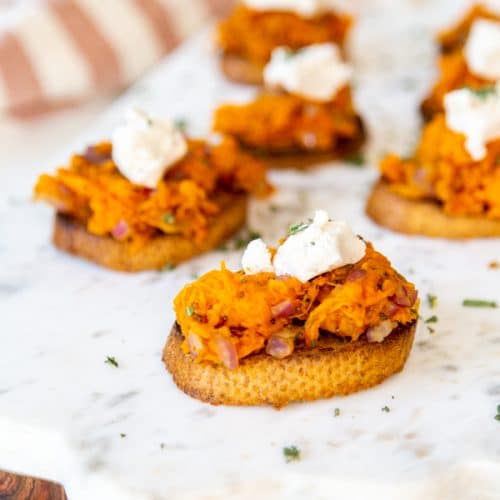 SAVORY SWEET POTATO BRUSCHETTA
Let the creamy and healthy sweet potato be the "cheese" on your bruschetta. Flavored with real truffle oil and topped with caramelized onions and parsley. An easy and healthy appetizer.
Print
Pin
Rate
Ingredients
1

thin baguette

sliced into ½ inch rounds

3

tablespoon

olive oil

divided

sea salt to taste

1

large sweet potato

1

small red onion

finely diced

3

garlic cloves

peeled and minced

1

teaspoon

Italian seasoning

½

teaspoon

truffle oil

SEE NOTE

Sea salt and black pepper to taste

TOPPINGS

Minced parsley

Vegan ricotta

we like Kite Hill brand
Instructions
Preheat oven to 400°F (204°C)

Scrub the sweet potato clean, pat dry, pierce it with a fork or paring knife several times, and brush a light layer of olive oil on the skin (optional). Cut the potato in half and lay the flat side down on a baking sheet (use parchment paper for easy clean up. Roast for approximately 1 hour, or until the potato is fork tender and the edges are caramelized.

While the potato is roasting, heat 1 tablespoon of olive oil in a skillet on medium-high heat. When the oil is hot, add the diced onion and sauté for approximately 5 minutes, or until the onion softens and becomes translucent.

Add the minced garlic and 1 teaspoon of Italian seasoning to the pan with the onion and stir to combine. Cook for another 2 minutes, stirring often.

Brush the remaining 2 tablespoon of olive oil on the rounds of the bread and grind or sprinkle a thin layer of sea salt over the bread. Toast in the 400°F (204°C) oven for approximately 5-10 minutes, or until the bread is lightly golden brown.

When the potato is cool enough to handle, remove the skin and place the potato in a medium bowl.

Add the ½ teaspoon of truffle oil, onion mixture, and salt and pepper to taste. Stir until the onion mixture is evenly combined with the potato.

Spread the sweet potato mixture on the toast and top with a dollop of vegan ricotta and minced parsley.

Refrigerate the sweet potato mixture for up to 3 days.

Best when eaten the same day that you make it.
Notes
NUTRITION DISCLAIMER
Make sure to buy truffle oil that's infused with REAL truffles. Many oils are made with a chemical that mimics the flavor of truffles and they don't taste good.
Nutrition
Serving:
2
g
|
Calories:
104
kcal
|
Carbohydrates:
14
g
|
Protein:
2
g
|
Fat:
4
g
|
Saturated Fat:
1
g
|
Sodium:
134
mg
|
Potassium:
76
mg
|
Fiber:
1
g
|
Sugar:
1
g
|
Vitamin A:
1537
IU
|
Vitamin C:
1
mg
|
Calcium:
25
mg
|
Iron:
1
mg
PIN ME!