Are you struggling to find a way to create a magnificent vegan main course for Thanksgiving? Is your Pinterest feed stuffed with seitan loaves, but you're craving something different? Well, lucky for you, we have the answer! We're going to show you how to make the most delicious stuffed butternut squash for a plant-based holiday meal.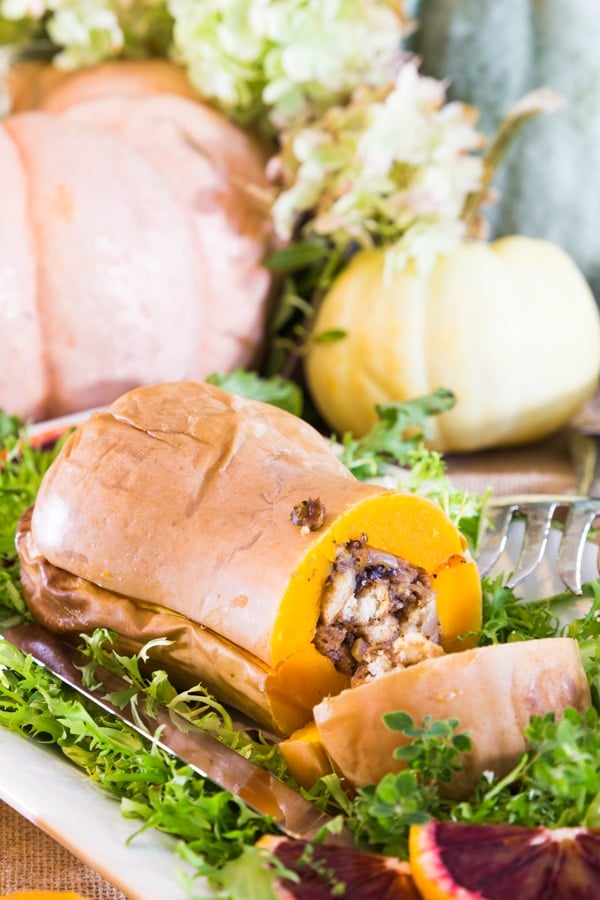 HOW DID WE COME UP WITH THIS VEGAN MAIN COURSE?
As you may know, we've been vegan for five years now. Each year for Thanksgiving we've tried to create or make some version of a seitan loaf. They've tasted good and have served as a great swap for turkey, but this year we're going for more of a whole food vegan main course.
Our stuffed butternut squash is the perfect compromise because it's made with whole foods, you can carve into it, and it looks beautiful.
The inspiration was simple. We love squash and we love stuffing. Butternut squash looks like a turkey roll in shape and color when it's roasted whole. We used to stuff our turkeys, so why not stuff a squash?
What took us so long to come up with this idea?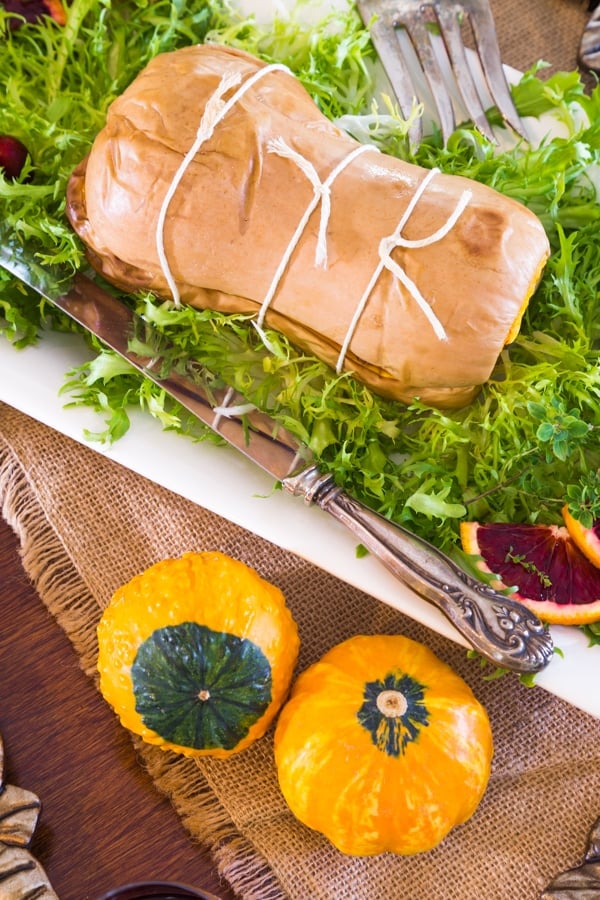 VERSATILITY OF OUR STUFFED BUTTERNUT SQUASH
Do you ever notice that a lot of vegans and non-vegans are very put off by "fake meat" products? While I am no stranger to devouring a Beyond burger or a couple of BBQ Seitan Ribs, a lot of my friends and family just aren't attracted to those choices. Many of them express that if they're going to eat vegan then they'd rather eat whole plants. This main course completely solves that problem!
While we decided to stuff our squash with our beer brat and apple sausage stuffing, for friends and family who don't like vegan meat products we use our PECAN & TERRAGON STUFFING, our INDIAN SPICED TOMATO & RICE STEW, or a WILD RICE PILAF. The cooking instructions remain the same for any filling, which makes this dish extremely versatile.
In addition to changing the filling for friends who stray away from seitan, you can also swap out the filling for gluten-free options!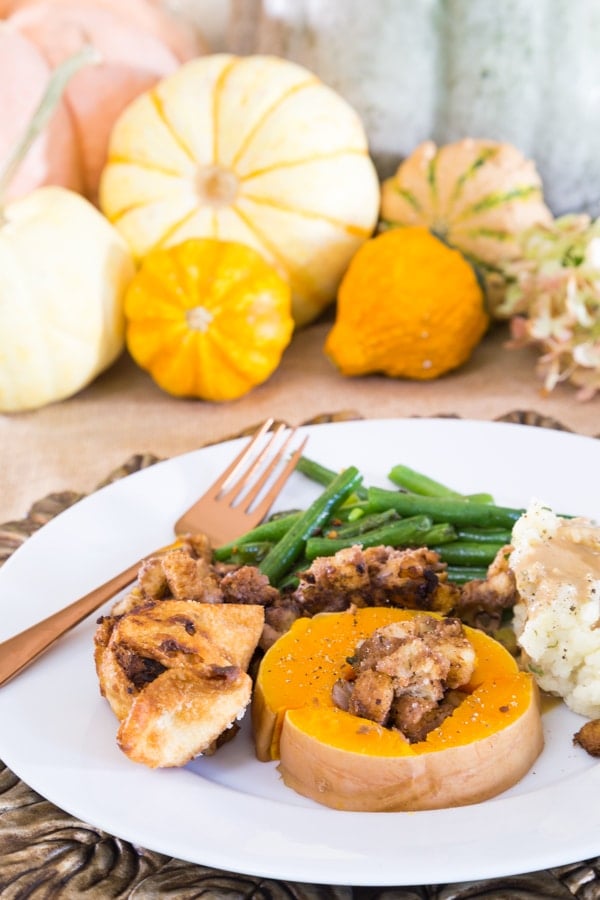 HOW TO PLATE OUR STUFFED BUTTERNUT SQUASH
This is the perfect dish to serve for any holiday dinner. We love to dress it up for this very reason! Because the color of the squash is so gorgeous we like to begin by picking out our favorite white serving dish. Then top that with greens and place the stuffed squash on top! Add any herbs or fruit you like on the dish to accentuate this gorgeous main course!
WHAT TO SERVE OUR STUFFED BUTTERNUT SQUASH WITH
For any holiday meal, we love to serve our stuffed butternut squash with mashed potatoes, our porcini mushroom gravy, spicy green beans, and our breaded and maple glazed brussels sprouts! Together they make one awesome holiday meal that will impress everyone at your holiday dinner.
HOW TO MAKE OUR STUFFED BUTTERNUT SQUASH
Before you make the stuffed squash, make the stuffing. Click here for the recipe:
Step One
1.Preheat the oven to 400°F (204°C). Now, cut your butternut squash in half and scoop out the seeds. Brush the squash with a little olive oil and sprinkle your smoked sea salt and black pepper (or sea salt & liquid smoke mixture) over the squash.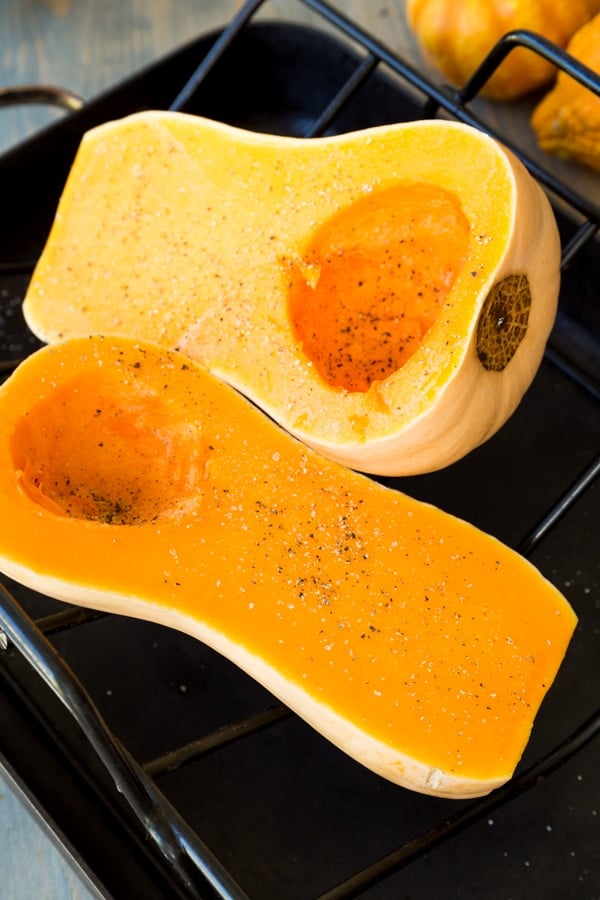 Step Two
2. Pop your squash into the oven and roast for fifty minutes.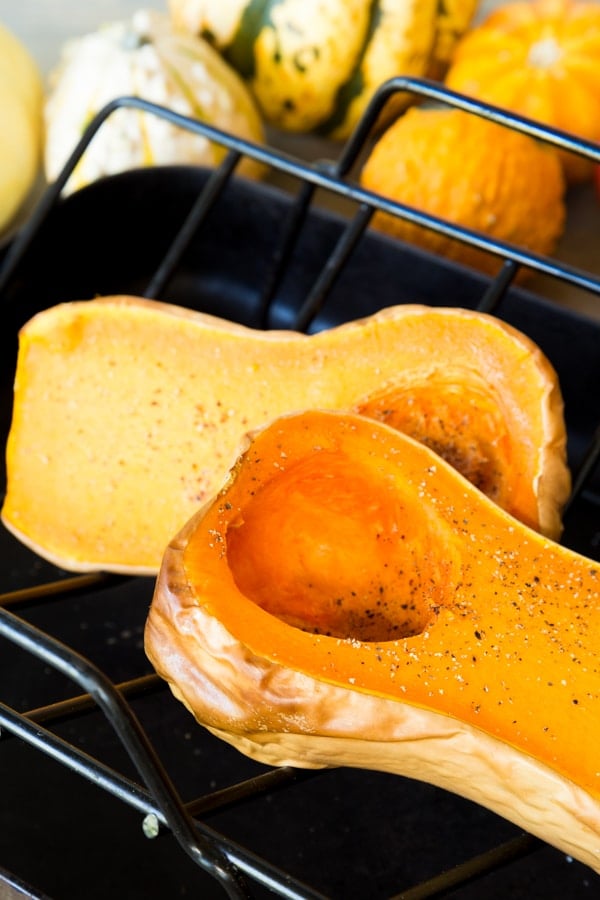 Step Three
3. Remove the squash from the oven and scoop out the center of the squash to make room for stuffing.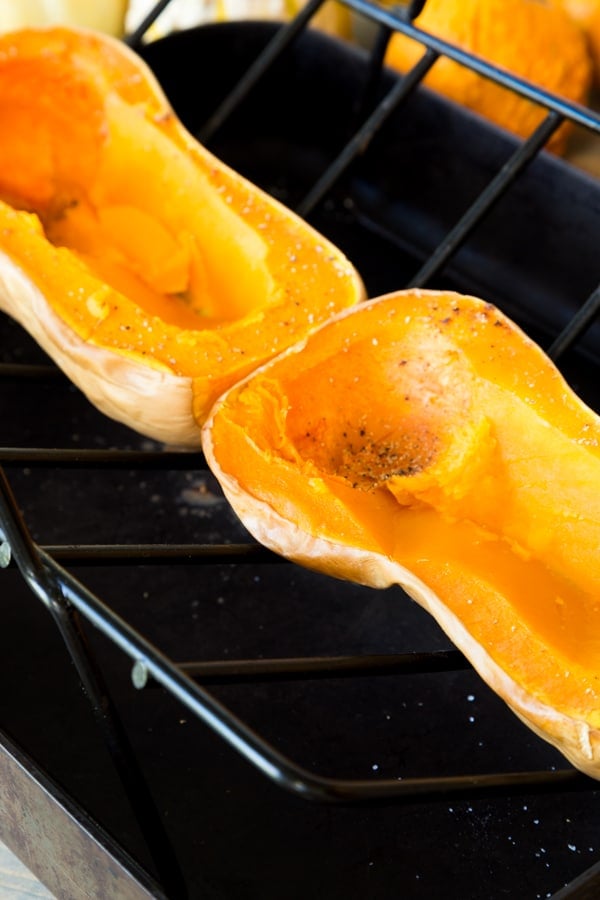 Step Four
4. Stuff the center of your butternut squash with our APPLE & BRAT STUFFING or any other filling you'd like.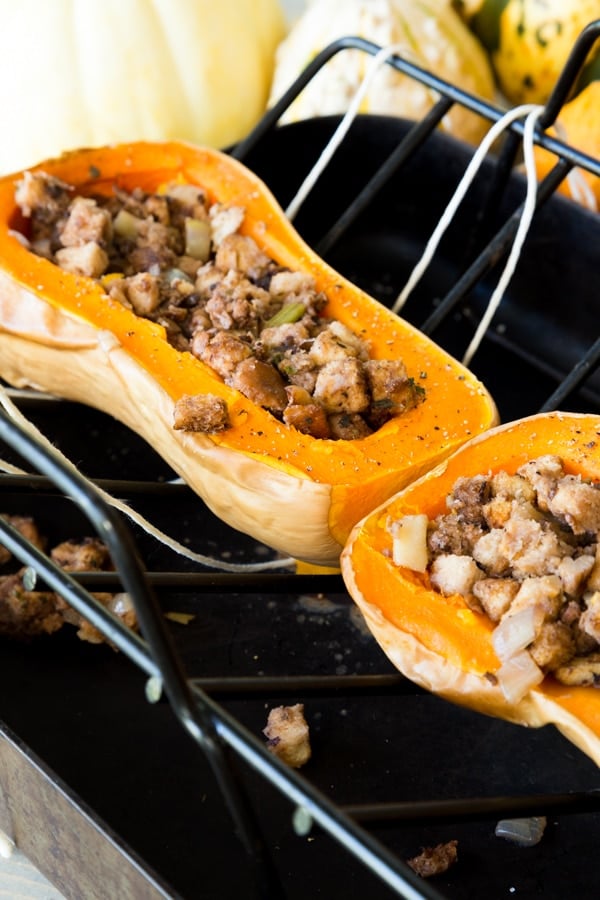 Step Five
5. Tie the butternut squash together with kitchen twine and roast for another fifteen minutes.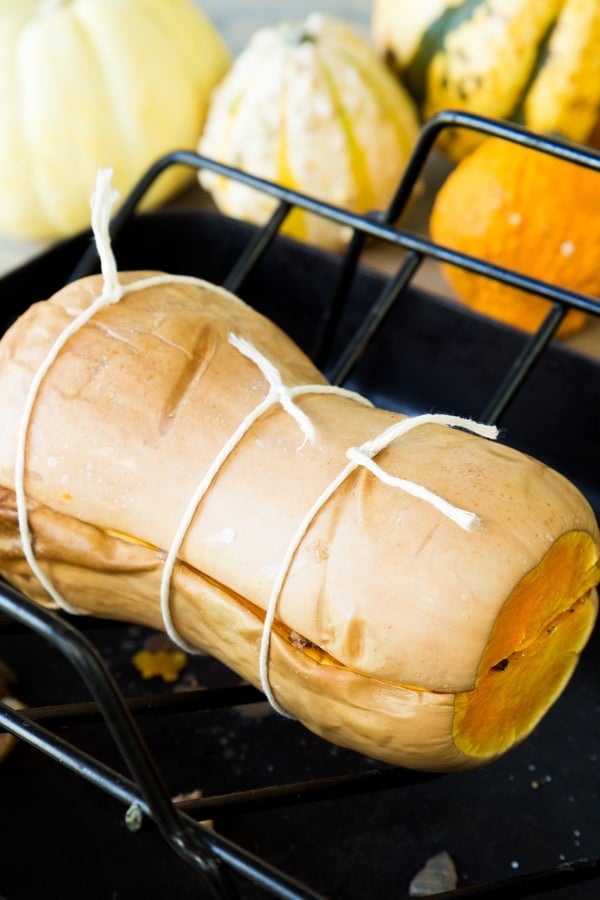 Step Six
6. Remove from the oven and let cool for ten minutes before serving.
You and your family will love this beautiful and tasty vegan Thanksgiving main course. Load up with all of the traditional side dishes, including our Cranberry Orange Sauce. And for dessert, you'll want our Easy Pumpkin Pie
Make this and let us know what you think. We love to hear from you! And, don't forget to take a picture of your gorgeous creation and tag us @veganosity on Instagram.
Let's connect! Hop on over to our Facebook page and give it a like, and follow us on Instagram and Twitter, and follow us and share this and other Veganosity recipes on Pinterest. We'd be so grateful if you did. If you like this recipe and can't wait to see what we're going to share next, subscribe to Veganosity. Just fill in the subscription box above our picture in the top right corner of the page. And, Alex and I love hearing from you, please leave a comment and let us know what you think of our recipes.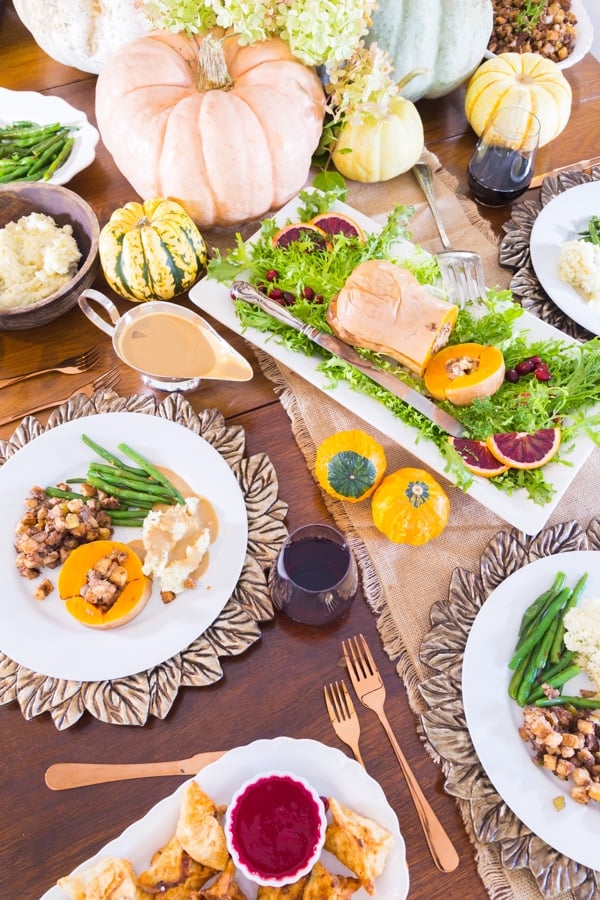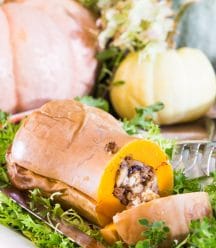 Stuffed Butternut Squash
A perfect main course for any holiday meal. This vegan roasted butternut squash stuffed with apple sausage stuffing is both delicious and impressive.
Course:
Entree, Main Course
Keyword:
butternut squash, thanksgiving main course, vegan thanksgiving
Ingredients
1

butternut squash

1

tsp

smoked sea salt

or 1 tsp salt with 1/8 tsp liquid smoke

¼

tsp

black pepper

1

tbsp

olive oil

3

cups

vegan apple sage, and sausage stuffing

Recipe link below in instructions (or other desired filling)

kitchen twine
Instructions
Preheat your oven to 400°F (204°C).

Cut the butternut squash in half and remove the seeds.

Brush your butternut squash with the olive oil and sprinkle with the smoked sea salt and black pepper.

Place your butternut squash on an oiled baking sheet and place in the oven.

Roast for 50 minutes.

Remove the squash from the oven and dig out the center.

Put your stuffing in the center of your squash.

Tie the squash together with kitchen twine.

Place the squash back in the oven for another fifteen minutes.

Make sure to let your squash cool for ten minutes before serving.
Recipe Notes
The Nutrition Facts are an estimate only and don't include the stuffing. 
Nutrition Facts
Stuffed Butternut Squash
Amount Per Serving
Calories 254
Calories from Fat 99
% Daily Value*
Fat 11g17%
Sodium 871mg38%
Potassium 514mg15%
Carbohydrates 36g12%
Protein 4g8%
Vitamin A 13600IU272%
Vitamin C 26.2mg32%
Calcium 92mg9%
Iron 2mg11%
* Percent Daily Values are based on a 2000 calorie diet.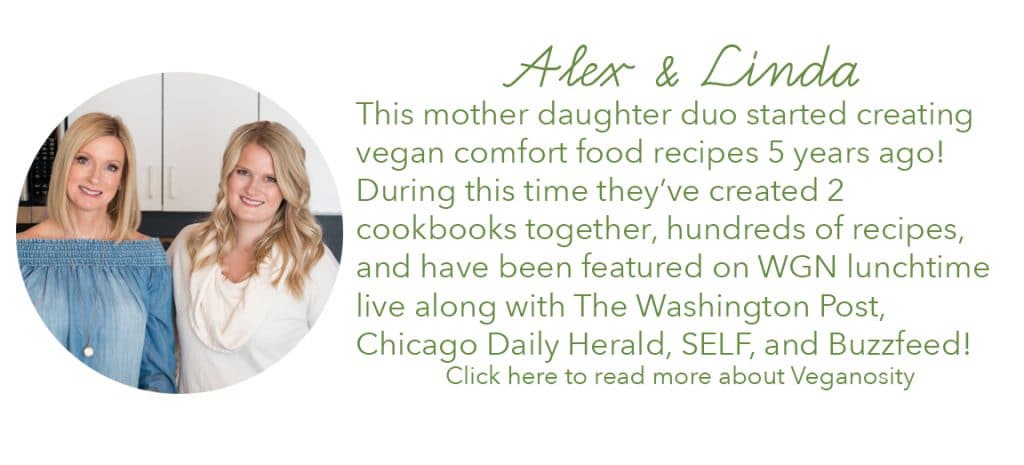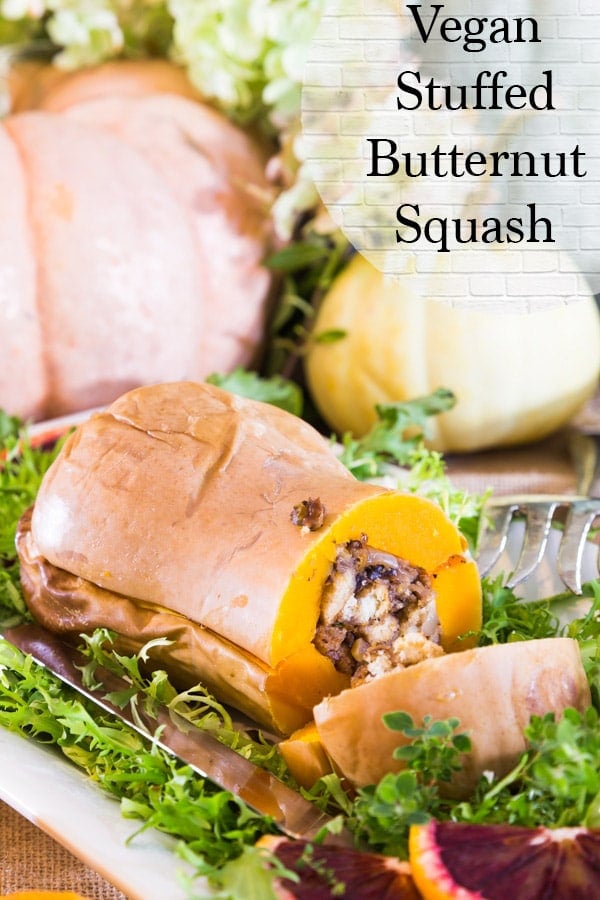 The above links are affiliate links. Any Amazon purchases made through these links help support Veganosity.com at no additional cost to you.