This salad is all kinds of healthy and all kinds of delicious! Made with roasted butternut squash, fresh kale and collard greens, creamy avocado, crunchy pepita seeds, and just the right amount of seasoning. The perfect summer to fall salad.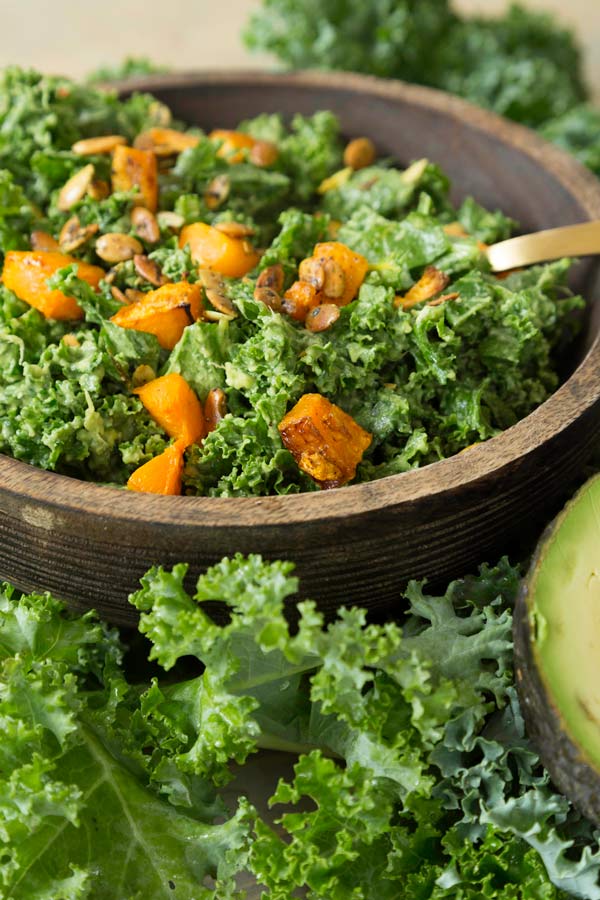 CONGRATULATIONS TO LYDIA G FOR WINNING THE COOKBOOK! CONTEST IS CLOSED.
WE'RE GIVING AWAY A COPY OF VEGAN RESET! SCROLL TO THE BOTTOM OF THE PAGE TO ENTER!! US Residents Only
This delicious kale salad recipe is brought to you by the popular vegan blogger and cookbook author, Kim-Julie Hansen. Her cookbook, Vegan Reset: The 28-Day Plan to Kickstart Your Healthy Lifestyle
 is filled with healthy and easy recipes just like this salad. It's also one of the best resources for those who want to go vegan but are afraid to take the plunge because it seems too hard.
WHY VEGAN RESET IS WHAT NEW VEGANS NEED FOR SUCCESS
One of the hardest parts of going vegan is not knowing what to eat. When you're used to eating meat, cheese, and eggs in almost every meal, the idea of creating satisfying and tasty recipes out of plants can seem alien. We get it, and so does Kim-Julie.
Vegan Reset is so much more than a book filled with delicious recipes, it's a 28 day meal plan book that spoon feeds you four weeks of great menus so you don't even have to think about what you're going to eat.
Here's and example:
DAY 1
Breakfast - Raspberry-Peanut Butter Shake
Lunch - Purple Cabbage Boats with Peanut Tofu
Snack - 4 watermelon slices and 1 pear
Dinner - Loaded Sweet Potatoes
One day of healthy, colorful, flavorful, and satisfying food that's easy to make, which will make it easy for you to succeed in your new vegan life.
Not only are there 28 days of meal plans just like the one above, each week has a shopping list and a meal prep plan, so all you'll have to do is shop (or order) your groceries and follow the simple directions and make your food.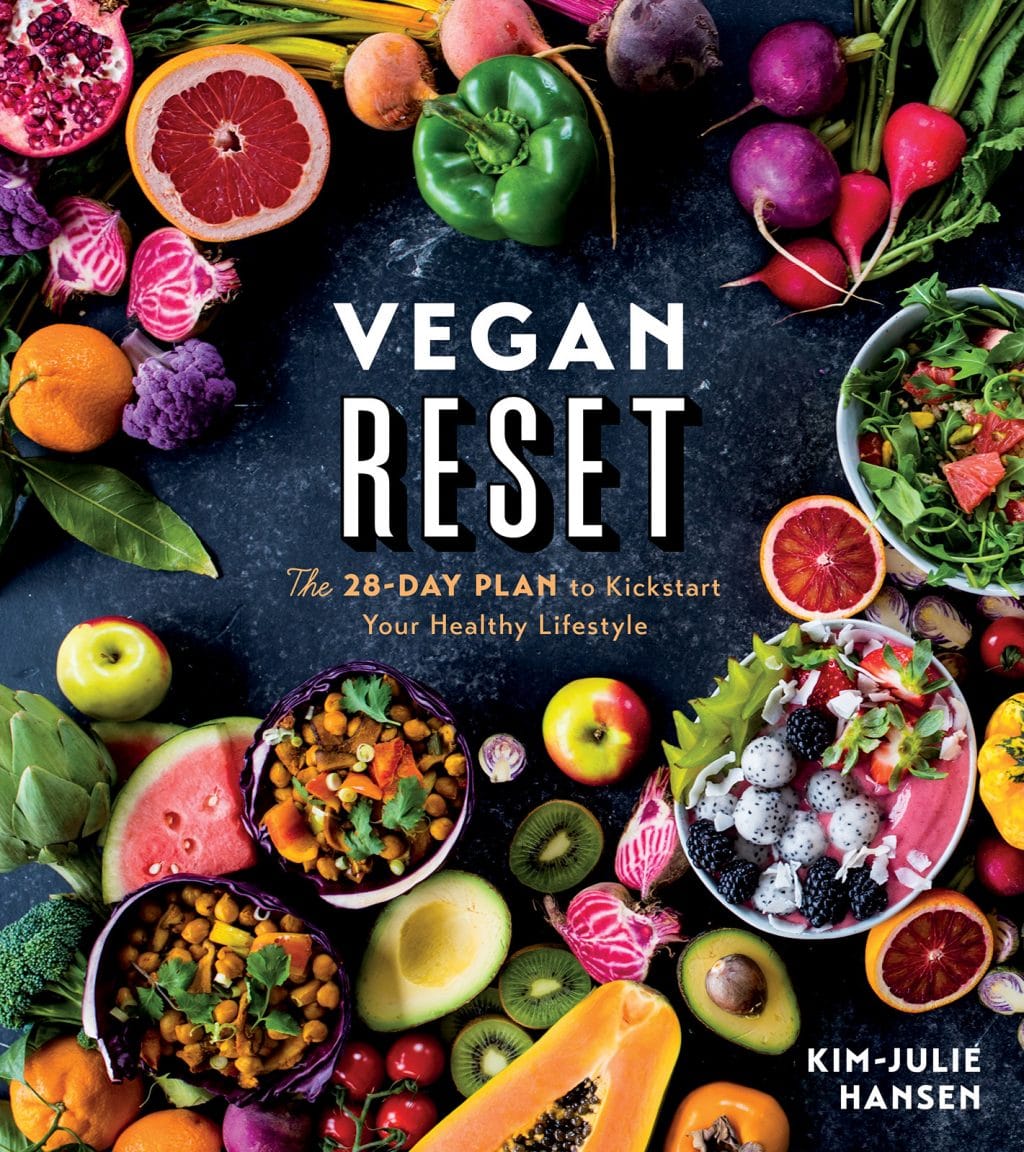 WHAT'S IN THIS AWESOME BOOK?
The daily menus and the recipes are filled with ingredients that are easily accessible and easy to make, which is exactly what you expect from a cookbook. However, what sets this one apart and makes it special is the unexpected.
At the end of every week there's a Journaling Exercise!
For example, at the end of week one, Kim-Julie asks the reader to think about what they learned about their eating habits for that week, what were they proudest of, what could they improve, what's  the number one goal for the following week, and so on.
There are also motivational quotes on most of the pages. We love that.
The beginning of the book is filled with tips to help get the reader started, such as how to fill your pantry, how to stock your kitchen, grocery shopping and money saving tips, what it means to live a holistic lifestyle, and more.
And finally, at the end of the book there are bonus recipes. Here's a sample of a few of them.
Vanilla French Toast
Papaya Boats
Chickpea "Tuna" Sandwiches
Creamy Mushroom Penne
Tahini Caramel Sauce
And one of our favorites, the Avocado-Kale Salad with Butternut Squash, which we're going to share with you now.
HOW TO MAKE KALE SALAD WITH AVOCADO AND ROASTED BUTTERNUT SQUASH
It doesn't get easier than this. The only cooking required is to simply roast the butternut squash and toast the pepitas, the rest is just chopping and massaging. The greens, you can get a massage after you eat the salad. 😉
First - Dice the butternut squash, toss it with olive oil and salt and pepper, and roast it until the edges are nice and crispy.
Second - Chop the kale and collard green leaves and massage the avocado into them. This will make the kale easier to eat, and it ensures that the avocado covers every nook and cranny of those leaves.
Third - Toast the pepitas with the spices and toss into the greens with the butternut squash and dig in!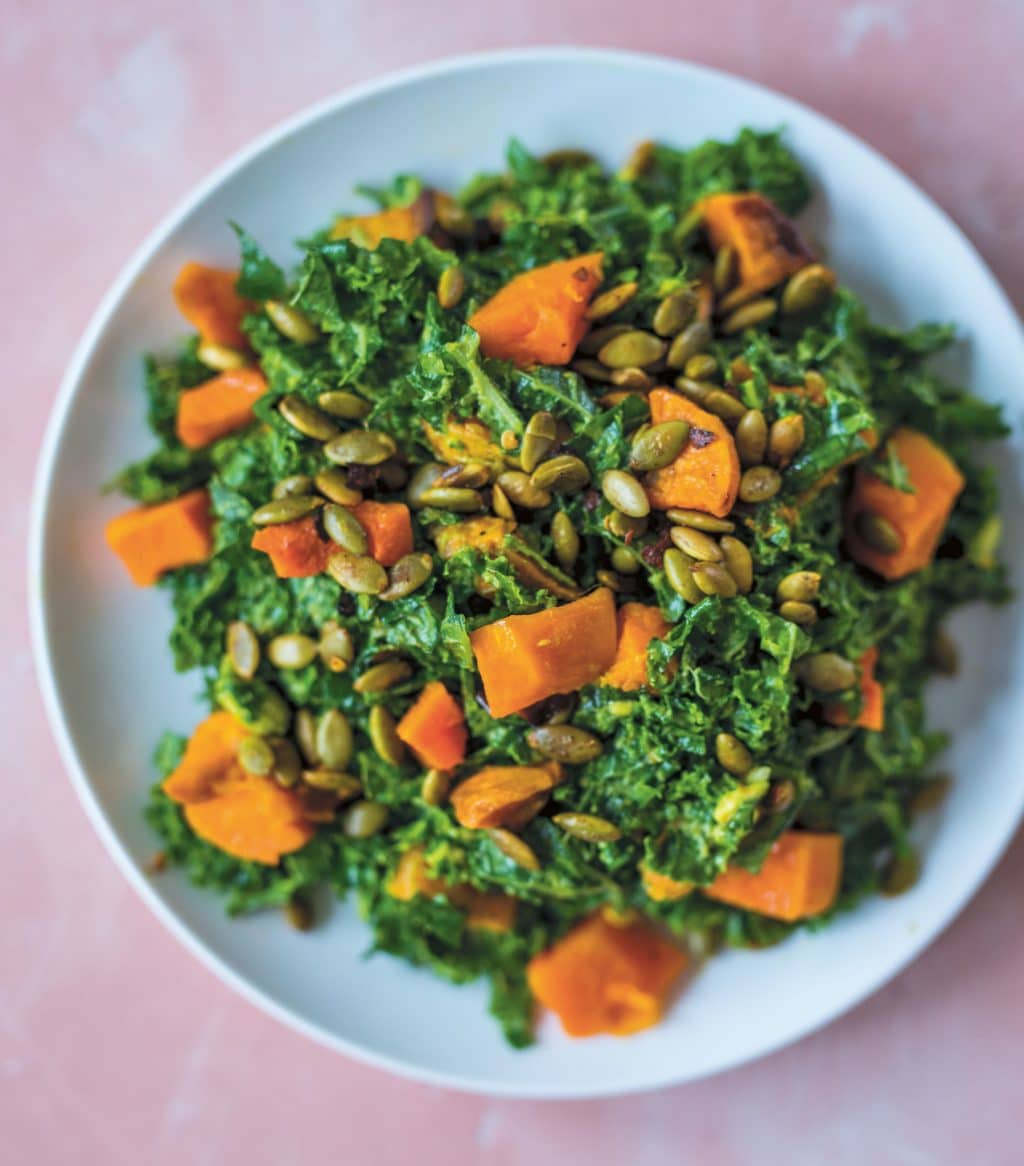 Photo courtesy of Best of Vegan LLC.
This salad is full of textures and flavors, we loved every single bite, and we know that you will too!
Make this and let us know what you think. We love to hear from you! And, don't forget to take a picture of your gorgeous creation and tag us @veganosity on Instagram.
Let's connect! Hop on over to our Facebook page and give it a like, and follow us on Instagram and Twitter, and follow us and share this and other Veganosity recipes on Pinterest. We'd be so grateful if you did. If you like this recipe and can't wait to see what we're going to share next, subscribe to Veganosity. Just fill in the subscription box above our picture in the top right corner of the page. And, Alex and I love hearing from you, please leave a comment and let us know what you think of our recipes.
WIN A COPY OF VEGAN RESET! US Residents Only
All you need to do is tell us why you want this book in the comments and follow us on Instagram (this will not determine eligibility or winner status).
AVOCADO-KALE SALAD WITH BUTTERNUT SQUASH
A healthy and delicious kale salad with avocado and roasted butternut squash that's easy to make. Full of textures and flavor!
This recipe is excerpted from VEGAN RESET © 2018 by Best of Vegan LLC. Photography © 2018 byBest of Vegan LLC. Reproduced bypermission of Houghton Mifflin Harcourt. All rights reserved.
Print
Pin
Rate
Ingredients
½

butternut squash

seeds removed, cut into 1-inch pieces

1

teaspoon

olive oil

plus more for drizzling over the squash

¼

teaspoon

sea salt plus 1 pinch

1

large avocado

4

cups

shredded curly kale

1

collard green leaf

chopped

¼

cup

pumpkin seeds

¼

teaspoon

curry powder

¼

teaspoon

crushed red pepper flakes
Instructions
Preheat the oven to 350°F/ 177°C. Line a baking sheet with parchment paper.

Spread the squash on the baking sheet, drizzle with oil, and sprinkle with a pinch of salt. Bake for 45 minutes.

In a large bowl, massage the avocado into the kale and collard greens. Add the butternut squash.

Toast the pumpkin seeds in the remaining 1 teaspoon oil in a skillet over high heat for 1 minute. Reduce the heat to medium, add the curry powder, red pepper flakes, and remaining ¼ teaspoon salt, and toast for 1 to 2 more minutes. Sprinkle the seeds over the salad.
Notes
The Nutrition Facts are an estimate only.
Nutrition
Calories:
378
kcal
|
Carbohydrates:
43
g
|
Protein:
12
g
|
Fat:
22
g
|
Saturated Fat:
3
g
|
Cholesterol:
0
mg
|
Sodium:
361
mg
|
Potassium:
1870
mg
|
Fiber:
11
g
|
Sugar:
4
g
|
Vitamin A:
33790
IU
|
Vitamin C:
212
mg
|
Calcium:
315
mg
|
Iron:
4.5
mg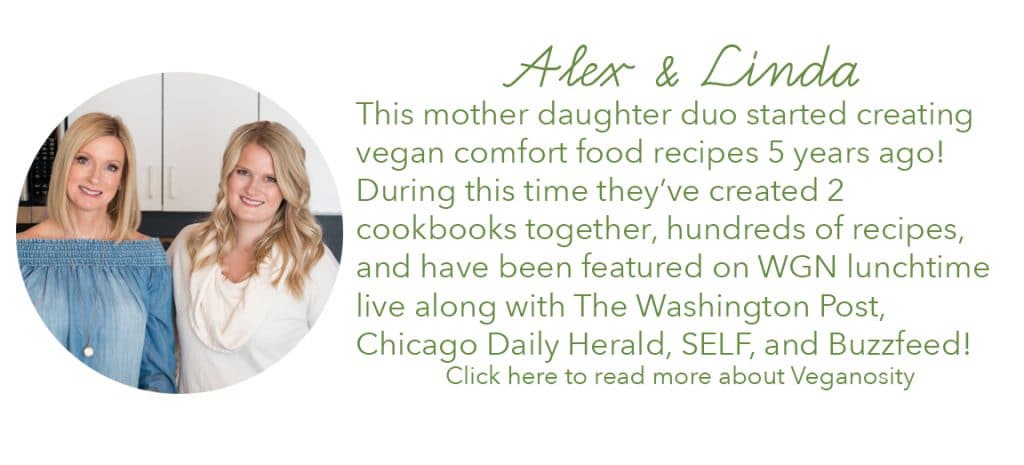 BUY A COPY OF VEGAN RESET FOR ALL OF YOUR VEG CURIOUS FRIENDS! 
Click the picture to buy.