A healthy, light, and flavorful winter citrus & arugula salad with cranberry orange dressing.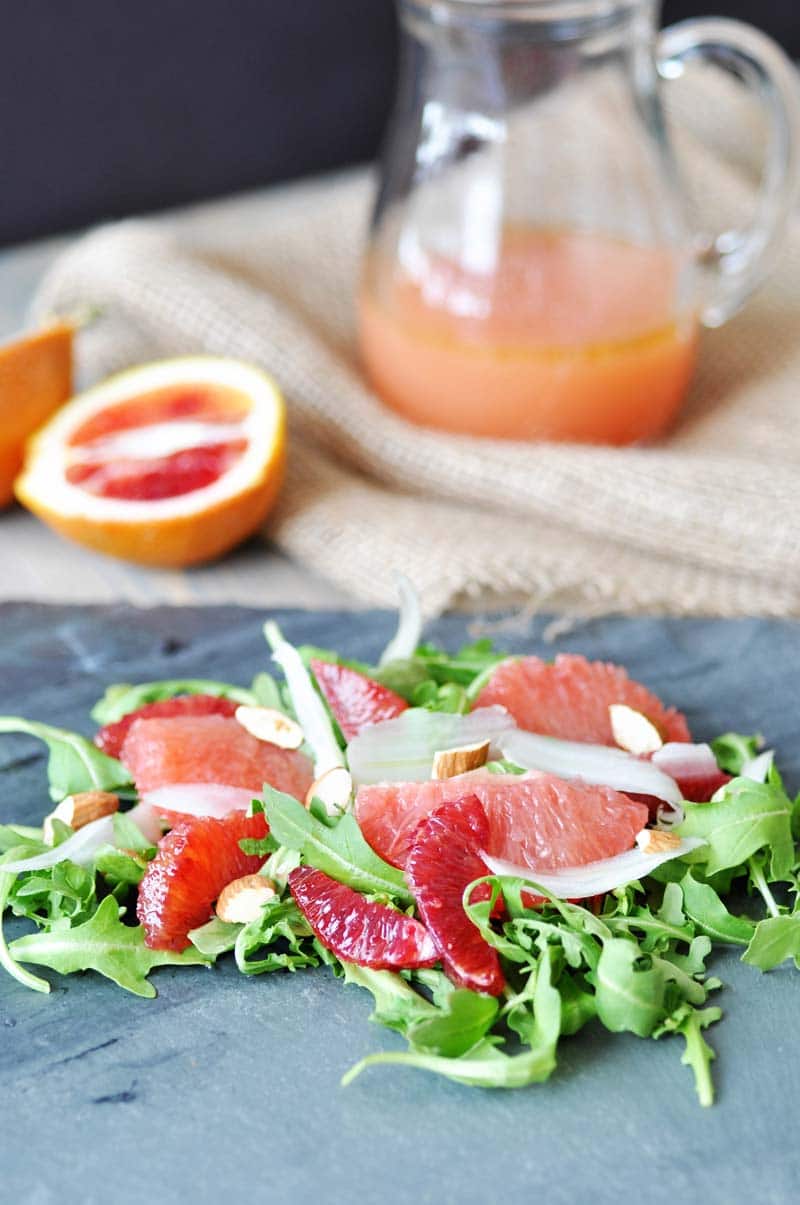 SATISFYING SALAD CRAVINGS
There will come a time—usually mid-winter—when you are going to crave a fresh and crisp salad. That's when you're going to want to whip up this winter citrus and arugula salad with cranberry orange dressing.
For me, that craving came right after the loooonnnnnggggg New Year's weekend. Four days of heavy foods, wine, champs, and chocolate coconut cupcakes. #toomuchfun
If you're like me and you want something refreshing, yet seasonal, then this is the salad for you.
WE'RE ALL ABOUT CITRUS
Right now citrus, such as grapefruit, oranges, lemons, and limes are taking center stage in the produce section. Take advantage! All of that vitamin C will help protect you from the horrible winter colds and viruses floating around right now.
You could use any green that you want, but I like arugula for this salad because of its peppery taste. The flavor compliments the bright and tangy red grapefruit and blood orange perfectly.
So this salad…..
I ate the entire bowl and then made another for breakfast if that gives you any indication of how good it is.
What makes this simple combination of fruit and veggies extraordinary is the cranberry orange dressing.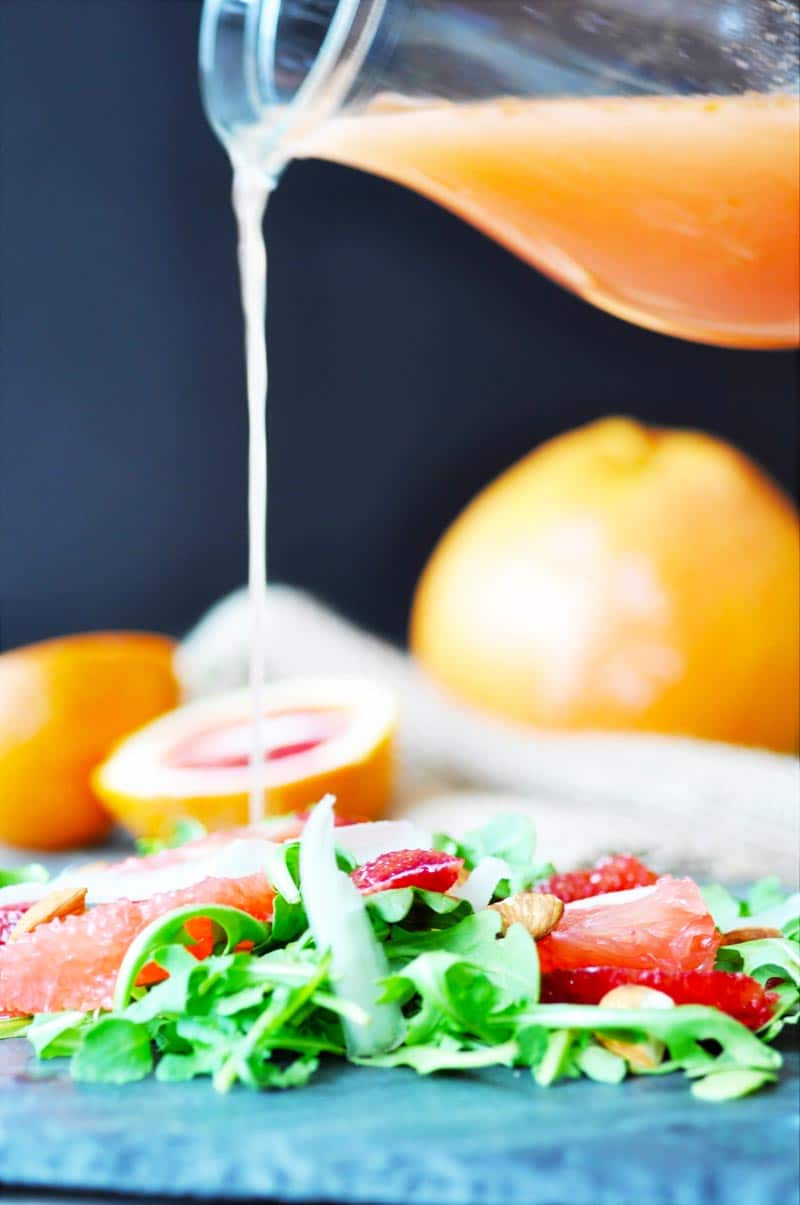 HOW TO MAKE THIS SALAD DRESSING
My friend served a similar salad on New Year's Eve and I loved the dressing. She shared the recipe with me and the minute I read it I knew that I needed to put my own spin on it. Two tablespoons of sugar and two types of vinegar—one that contains honey—wasn't what I was after. Remember, #toomuchfun will result in #pantswon'tbutton.
Soooo, I added cranberry juice and took out the regular OJ, the sugar and the complicated vinegar duo, and the half cup of olive oil. Actually, I put a quarter of a cup of olive oil in the first batch that I made, but it masked the flavor of the juices, so I started over and added a half teaspoon just to make it stick to the lettuce. Less is best.
The mix of tart cranberry and sweet blood orange is so fantastic on this winter citrus salad. I only put a pinch of cloves in the second batch of dressing and the flavor was a savory after thought instead of an obvious, howdy, I'm clove, nice to meet you.
ADDING SOME CRUNCH
I also skipped the sugary nuts and just chopped up some raw almonds for a little crunch and protein. No cheese, no pears (I wasn't feeling them, you can certainly add them if you want), just fresh red grapefruit, blood orange, peppery arugula, shaved fennel, and the extraordinarily delicious and light cranberry orange dressing. Simple. Healthy. Low Calorie. Yum.
This winter citrus salad is my new winter pick-me-up. It's perfect for breakfast, lunch, dinner, or a snack. Double or triple the recipe and store it undressed in an airtight container so you can have some whenever the craving hits.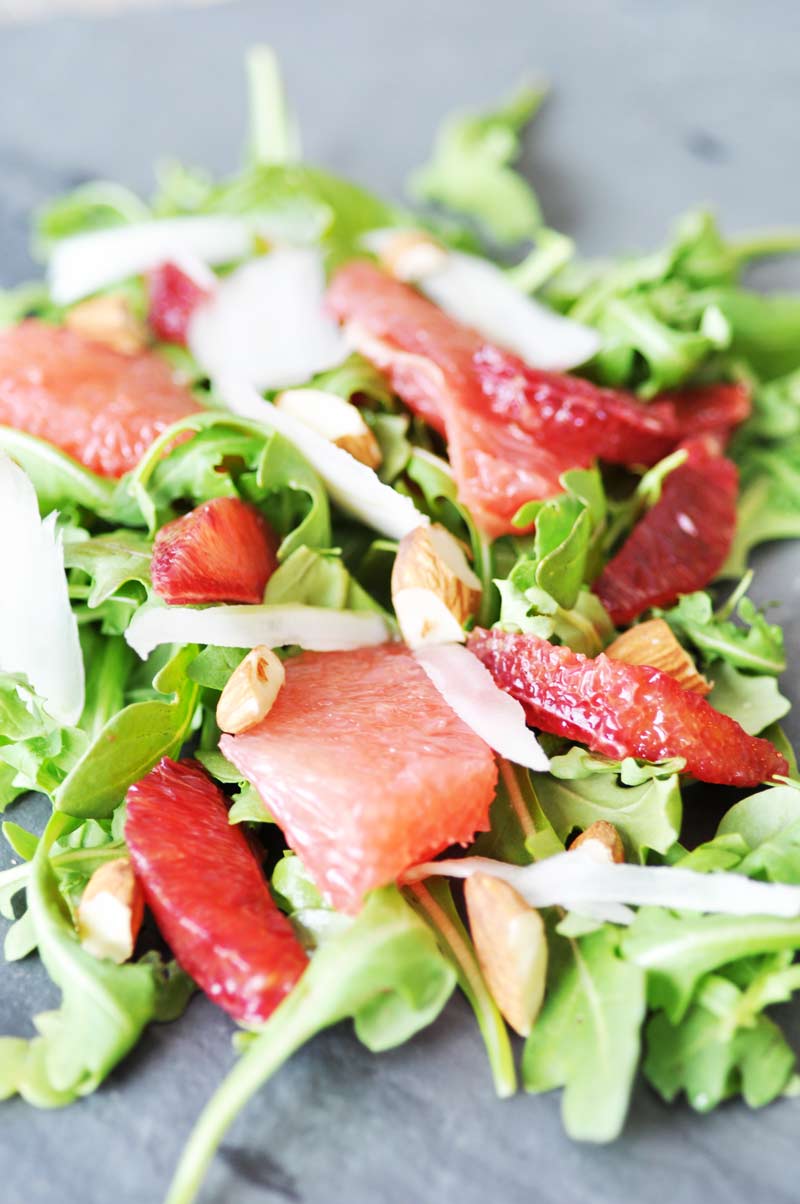 While you're taking charge of your health and re-focusing on all things good for the New Year, Alex and I wanted to share our FAVORITE THINGS with you. These are the things that we love and use on the daily, or at least the weekly.
Daughter first.
Alex's Top 10 Products

This is by far my most used and favorite shirt of 2015. The Tree Kisser is an amazing clothing brand that makes tees with phrases like "Animals are not fabric" (mine), and "All my other shirts were covered in dog hair". They're perfect for every animal lover. 🙂
I can't tell you how many times people have walked into my apartment and the first thing that comes out of their mouths is "Wow, it smells amazing in here". As scent is heavily connected to memory, I like my place to smell great to match happy memories! This gingerbread candle smells like freshly baked cookies. It's not too overpowering but is noticeable enough to make you feel all warm inside.
First off, you should know that I'm extremely loyal to brands. If I find one I like I tend to stick to it until it either goes off the market or I'm absolutely forced to try something else. That is exactly what happened with this kombucha. I'm typically a synergy girl, but they were completely out at whole foods and I was desperately in need of something bubbly and fruity. I grabbed a bottle of Kevita without even looking at the flavor and was amazed! This stuff is fantastic. The brand is full of different combinations of drinks but the pineapple peach has become my new addiction! Make sure you guys give it a try

One of my most used pieces of apparel are my vegan ankle boots. Throw them on with a long sweater and skinny jeans and they make the most effortless outfit look great! I buy most of my vegan shoes from Lulu's. They have an amazing selection and even have a sections solely dedicated to vegan shoes! Talk about an easy way to find shoes : )
This water bottle is seriously cool. The thing will keep your cold drinks cold for 24 hours and hot drinks hot for 12 hours. It fits a whole bottle of wine (perfect for picnicking) and is most importantly a great way to help out the environment by replacing the use of plastic bottles. Oh, and they don't taste like aluminum like other metal bottles (usually one of my biggest complaints). The designs are amazing and some even donate profits to different charities! For example, the one I purchased used some of the profits to plant a tree : )
This one is a little pricey, but well worth the splurge. Year after year it continues to be one of my favorite items and has held up really well. The symbols on the bag make me smile every time I take it out and head to the gym, which in the middle of winter in Chicago is a very rare occurrence.
Books are life and this one has truly improved mine. As some of you may know, I have my BS in Psychology and am currently getting my Masters in Counseling Psychology. Learning how people behave and think is one of my passions, and veganism is my other. This book combines the two in an easy to understand and exciting way. This book definitely gets my stamp of approval.
As I'm writing this I'm realizing that a lot of my favorite things happen to be quick tricks to save time…I wonder what that says about me? I came across One Love Organics Dry Shampoo when opening one of my Petit Vour boxes (vegan beauty subscription) and had to say that I did not have my hopes up. As far as dry shampoos are concerned, my hair does not seem to like them. It either makes my hair chalky, screws up the texture, or doesn't work at all.
The bottle actually sat in my bathroom closet for a month until one day I was scrambling to get ready and noticed my hair looked disgusting (aka oily). I grabbed the bottle and tossed some on my hair thinking that it would be better than nothing and guess what… IT WORKED! It made my hair bright and oil free without leaving any nasty residue! This is the ultimate time saver for any busy chick on the move!
Yes, I know… a spice mix? Guys, I kid you not, this stuff is insanely addictive and the easiest hack in my kitchen. We all have those days where a complex, time consuming meal is not on the menu. This spice mix has 24 different herbs and spices that will make any dish taste good. Put it in soup, on top of veggies, or cover some potatoes in this and some lemon juice and you have a delicious and quick dish! Also, it's salt and gluten free!
One of my biggest wishlist items last year was a Vitamix blender. For about a year and a half I've been dealing with a nutribullet, which is fabulous, but seeing all those banana nice creams on Instagram had me wishing that I had one! Luckily, I was gifted one by my amazing boyfriend for Christmas. He got me one of the S series blenders, personal sized version, and I can't use it enough.From green juices to banana ice cream, even soup, this thing is definitely the most used item in my entire kitchen. They may be a tad pricey, but the investment is well worth it.
All righty then. Alex is clearly the cool chick in this dynamic vegan duo. And I'm the practical one.
Linda's Favorites
Honestly, I use this sweet thing almost every day. It's actually time for me to get a new one. This is what I'm going to get when I finally turn my trusty old friend out to pasture.
I've been using my Blendtec blender for years and I love it. It makes everything from nice cream to soup to smoothies.
I bought my husband this Nespresso with milk frother for Christmas and it's turned into one of my favorite things ever! The coffee is amazing. Seriously better than most coffee shops. And the frother makes the most perfect frothy plant-based milk I've ever had. Be your own barista for a fraction of the cost of going to Starbucks.
I adore cooking with cast iron. It heats so evenly and just helps me make better food. I also bake cornbread and roast veggies in mine. It's the most versatile pan I have.
This is such a great tool to use if your making a blended soup. You can put the hand held blender right in the soup pot and blend. No transferring to a blender and risking burns. The whisk attachment and the small processor are also fabulous for processing small batches of ingredients.
These are the kitchen tools that I use almost everyday and I would be lost without them.
I hope you enjoy the Winter Citrus and Arugula Salad with Cranberry Orange Dressing as much as I do. I also hope you like the list of our favorites. Maybe one or two will become your favorite too.
Tell me:
What's your favorite kitchen gadget? 
Are you ready to put some fresh salads back in your life? 
Did you over indulge over the holidays? 
Do you like what you've seen so far? We sure hope so! Do us a favor, take a trip over to our Facebook page and give it a like, or follow us on Instagram or Twitter, and follow us and share this and other Veganosity recipes on Pinterest. We'd be so grateful if you did.
Veganosity is a participant in the Amazon Services LLC Associates Program, an affiliate advertising program designed to provide a means for sites to earn advertising fees by advertising and linking to amazon.com. We make a small commission when you order from Amazon. It helps us afford the groceries to develop all of our recipes, and to pay for the maintenance of our site. We thank you in advance for your consideration.

Linda and Alex at Veganosity
Yields 4
Winter Citrus & Arugula Salad with Oil-Free Cranberry Orange Dressing
A fresh, bright winter salad with red grapefruit, blood orange, fennel, and a cranberry orange dressing.
15 minPrep Time
15 minTotal Time
Ingredients
For the salad:
6 cups of baby arugula
2 cups of shredded fennel
1 large red grapefruit- peeled with pith removed and sliced
2 blood oranges- peeled with pit removed and sliced
1/2 cup of coarsely chopped raw almonds
For the dressing:
1/4 cup of cranberry juice
1/4 cup of blood orange juice
1/4 cup of champagne vinegar
1/4 teaspoon of olive oil
Pinch of ground cloves
Finely ground sea salt to taste
Instructions
In a large bowl layer the grapefruit, blood orange, fennel, and almonds on the arugula.
In a small bowl whisk the cranberry juice, blood orange juice, vinegar, cloves, olive oil, and sea salt until well blended.
Pour the dressing on the salad and toss to coat.
Note: If you plan on storing the salad for late put the amount you want to save aside before dressing. Store it in an airtight bag in the refrigerator for up to three days. Dress when ready to eat.
7.8.1.2
222
https://www.veganosity.com/winter-citrus-salad-with-oil-free-cranberry-orange-dressing/