These 10 easy vegan sauces will turn an okay dish into something amazing. Whether you're looking for a spicy BBQ sauce to spread on burgers, or a creamy cheese sauce to toss into pasta, you'll find it here.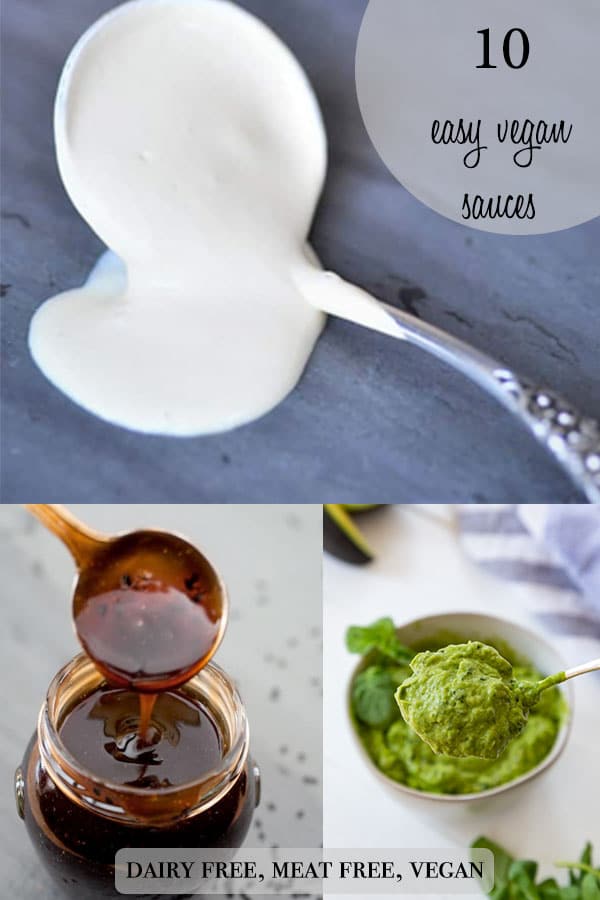 There are few foods that don't taste better with a good sauce.
What's spaghetti without red sauce, or fettucine without Alfredo?
Seriously, Buddha bowls without pesto, or burrito bowls without cheese sauce?  We think not.
Here are our best vegan sauces for burgers, bowls, and more, and, we'll share our favorite ways to use them.
Many of them are oil-free, raw, and nut-free.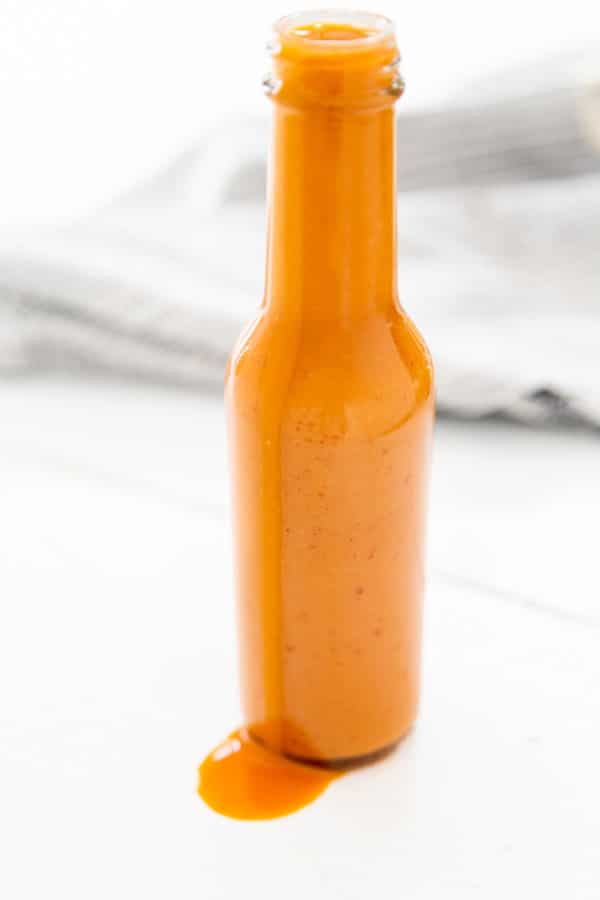 Buffalo sauce is one of our all-time favorites.
Thankfully, we can make it vegan because there are so many great vegan butter options on the market.
Our sauce has the perfect balance of buttery goodness with a kick of heat.
How to Use Vegan Buffalo Sauce
Vegan Buffalo Chicken Calzones 
Dollop some over burgers, cauliflower chicken, or grilled seitan chicken.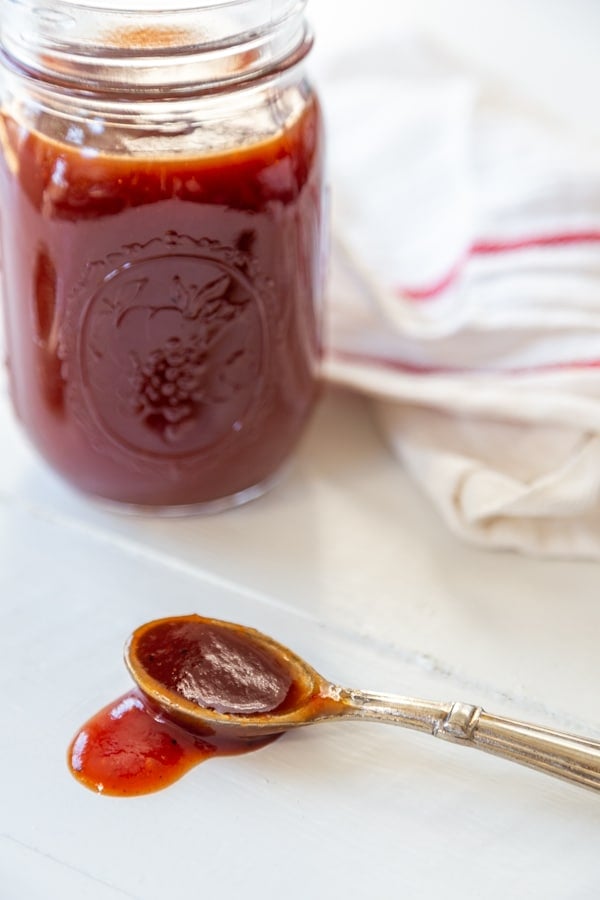 This barbecue sauce is incredibly easy to make, and it's so much lower in sugar than store bought.
How to Use BBQ Sauce
Slather it on our Vegan BBQ Bowls.
Drench our Pulled BBQ Carrots in it.
Add it to our Smoky Southern-Style Meatloaf.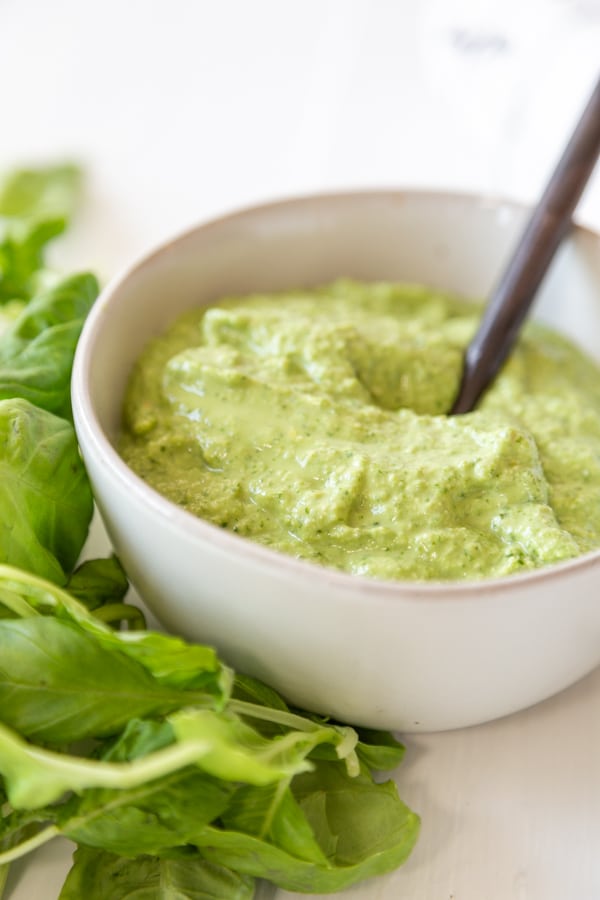 Made with the freshest basil, toasted pine nuts, garlic, high quality olive oil, and a bit of giardiniera for heat, this sauce is perfect for so many dishes.
How to Use Pesto Sauce
Spread it on flatbread.
Put a dollop on your favorite vegan burger.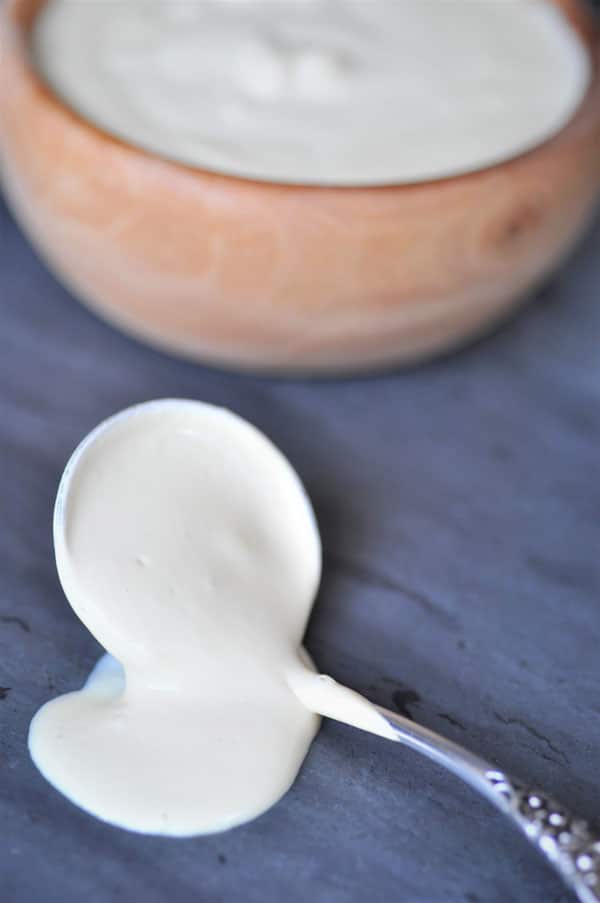 This easy vegan cheese sauce has the perfect amount of tang, thanks to the addition of vegan Greek Yogurt.
It's smooth and creamy and it's delicious on so many things.
How to Use Vegan Cheese Sauce
Dip our home fries in the sauce.
Spread it on a burger.
Use it to make lasagna.
Add it to enchiladas, tacos, or burritos.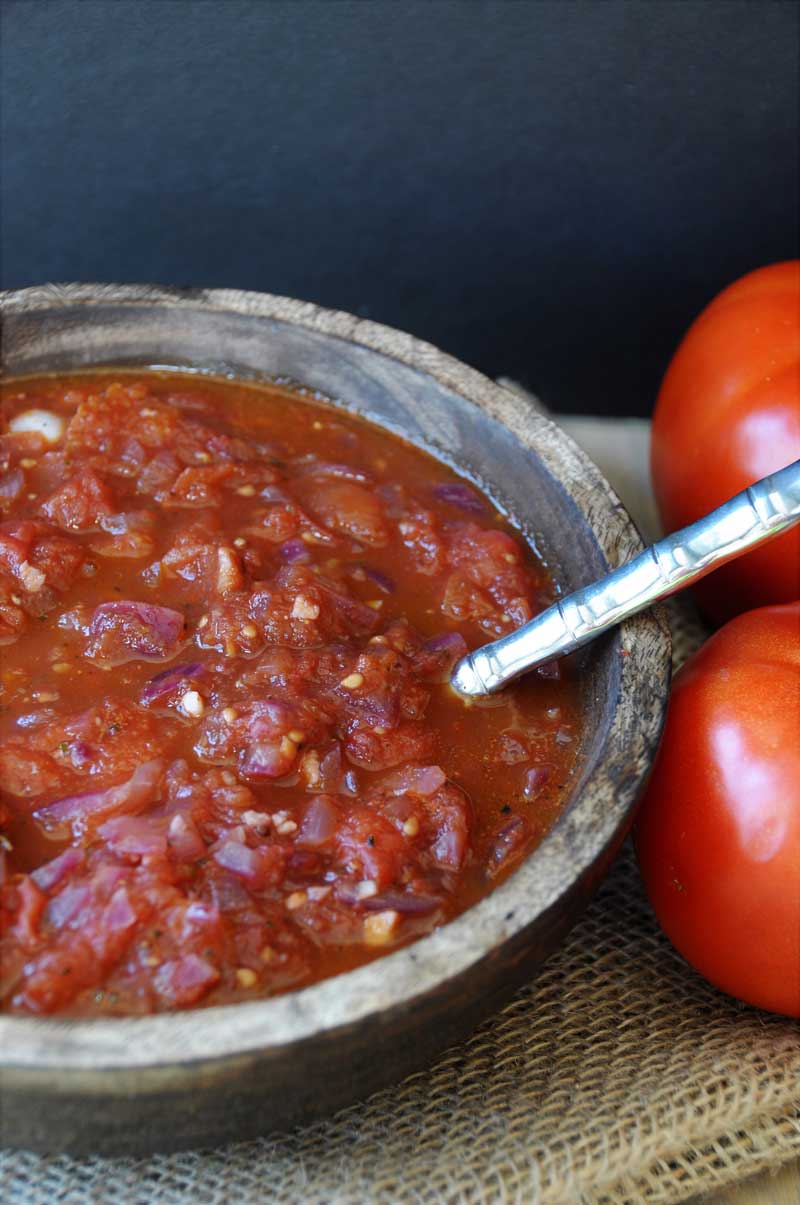 Roasting the tomatoes before adding it to the sauce elevates the flavor of this easy marinara sauce.
It gives it a lovely smoky flavor and it's super easy to make.
Put it on your pasta, in lasagna, or dip your favorite bread in it.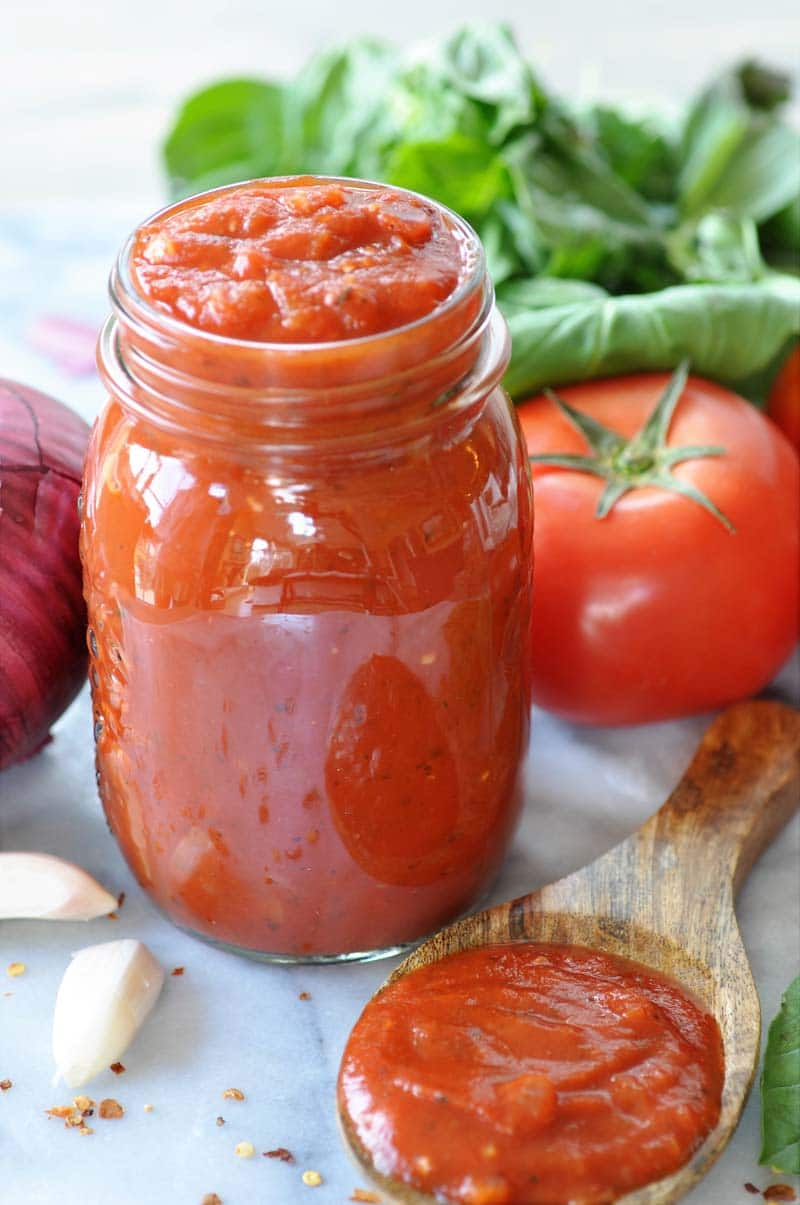 This simple pizza sauce is the best.
It's made with four simple ingredients in just thirty minutes.
Obviously, it's great for pizza, and you can also use it for a pasta sauce.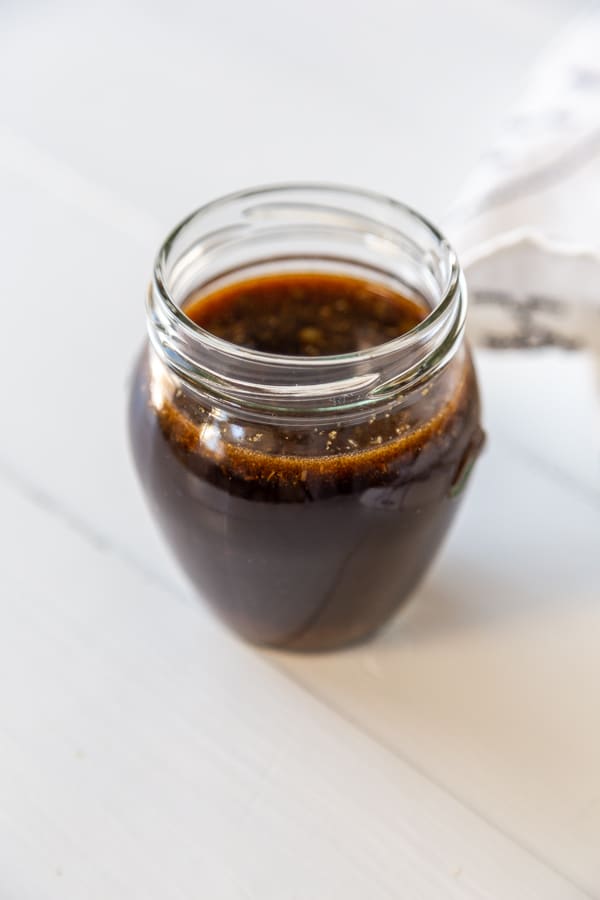 Traditional Worcestershire sauce contains fish, which isn't vegan friendly.
Our vegan friendly Worcestershire sauce is made with umami flavored ingredients that give it just the right flavor.
How to Use Worcestershire Sauce
Use it in a savory lentil loaf.
Vegan BBQ ribs demand it.
It adds great flavor to seitan ham.
Add it to any recipe that requires a rich umami flavor.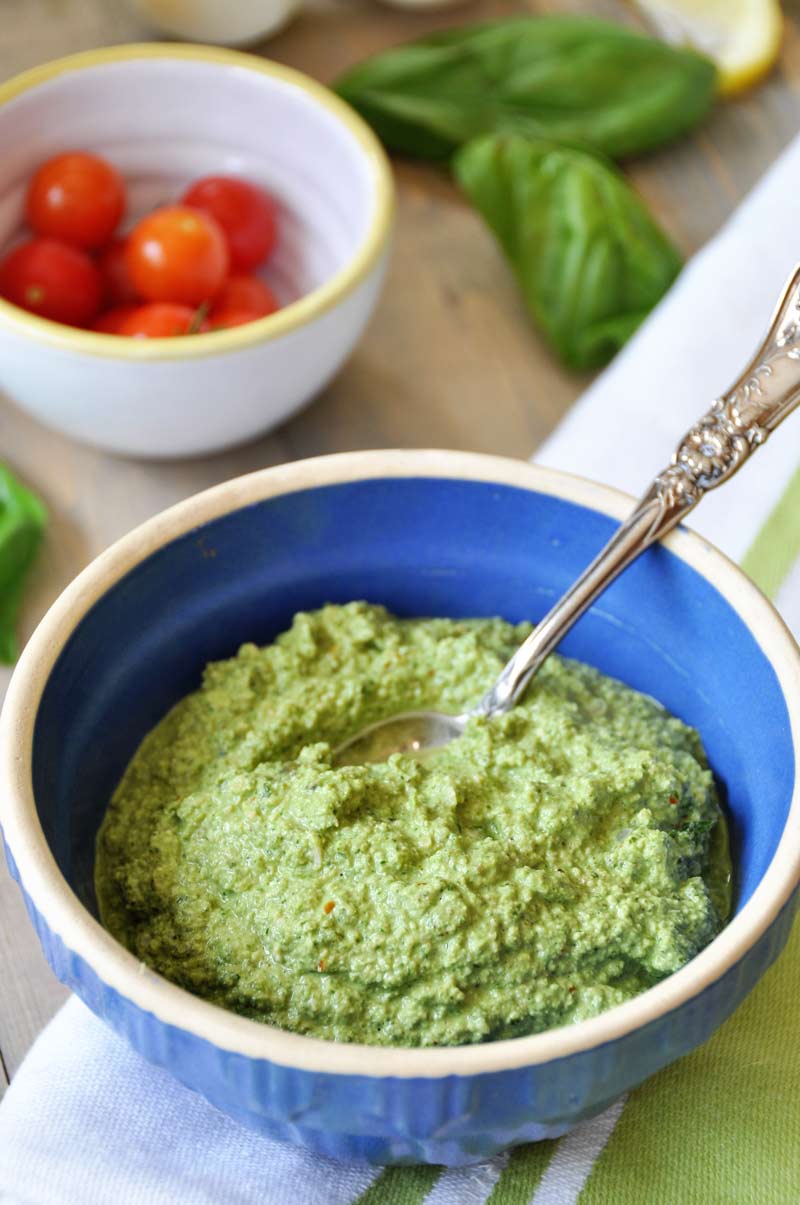 This sauce is so fresh and delicious.
It's made with fresh basil and parsley, peppery green onions, tangy lemon, pumpkin seeds, and spices.
Whip it up in your blender or food processor in just a few minutes and put it on everything!
What to Serve with Green Sauce?
Add it to pasta, salad, veggie bowls, and use it as a dip. The possibilities are endless.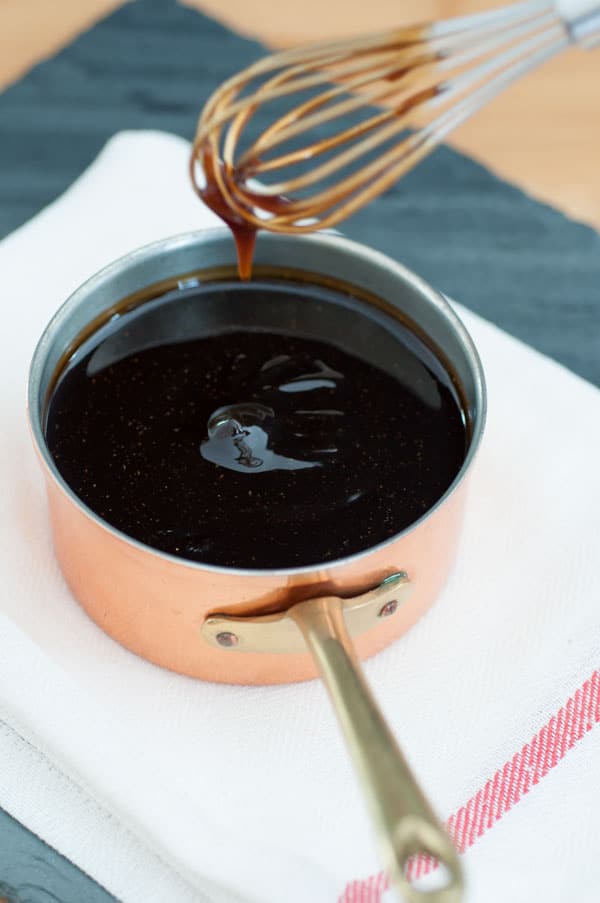 This sauce has less sugar and sodium than you'll find in store bought teriyaki sauce.
We love that one batch is usually all you'll need for a recipe, so it won't have to sit for ages in your fridge until you're ready to use it again.
How to Use Teriyaki Sauce
We love it in stir fried broccoli.
It's perfect in an easy stir fry.
Add a little bit to rice for extra flavor.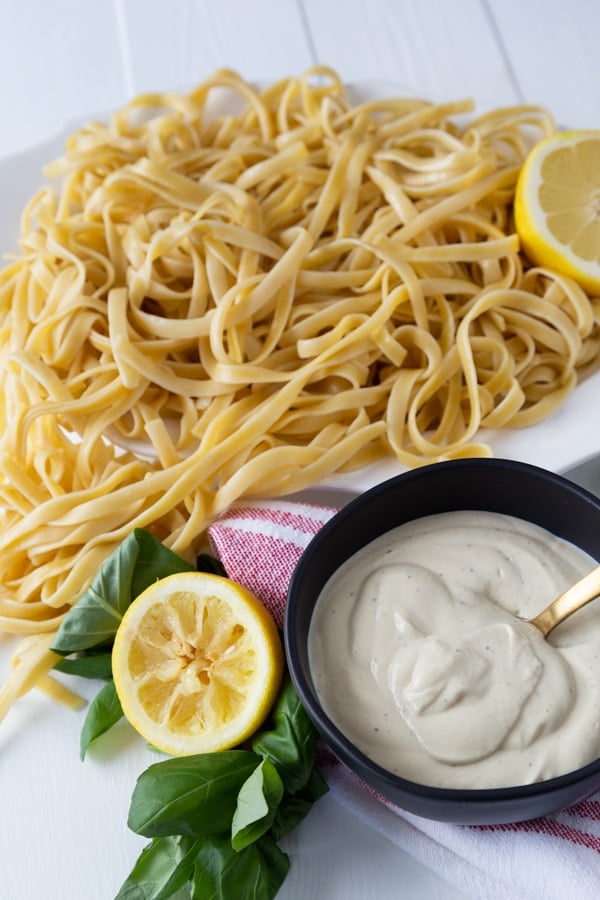 Our vegan Alfredo sauce is made with cashews, and it's so creamy and velvety, you'll never guess that it's vegan.
You can whip this easy recipe up in less than 30 minutes (fettuccine included).
If you're not into pasta, it's also great in arborio rice.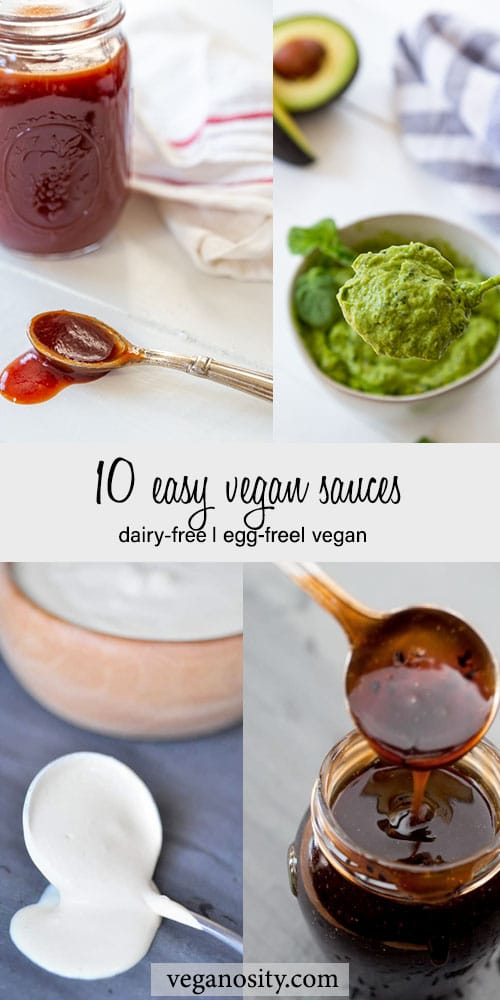 Make our 10 easy vegan sauces and let us know what you think. We love to hear from you! And, don't forget to take a picture of your gorgeous creation and tag us @veganosity on Instagram.
Let's connect on Instagram and Twitter. You'll get a peek into our everyday lives in our stories and see what we're sharing in our feed.
And, don't forget to SUBSCRIBE to the blog so you never miss a recipe. Scroll below the recipe or in our side bar to become a Veganosity subscriber.