Our maple glazed vegan seitan ham is salty, sweet, smoky, chewy, and delicious. This easy seitan roast is perfect for a holiday dinner, ham and cheese (vegan of course) sandwiches, or whenever you want to enjoy a cruelty-free ham with a side of roasted radishes and mashed potatoes.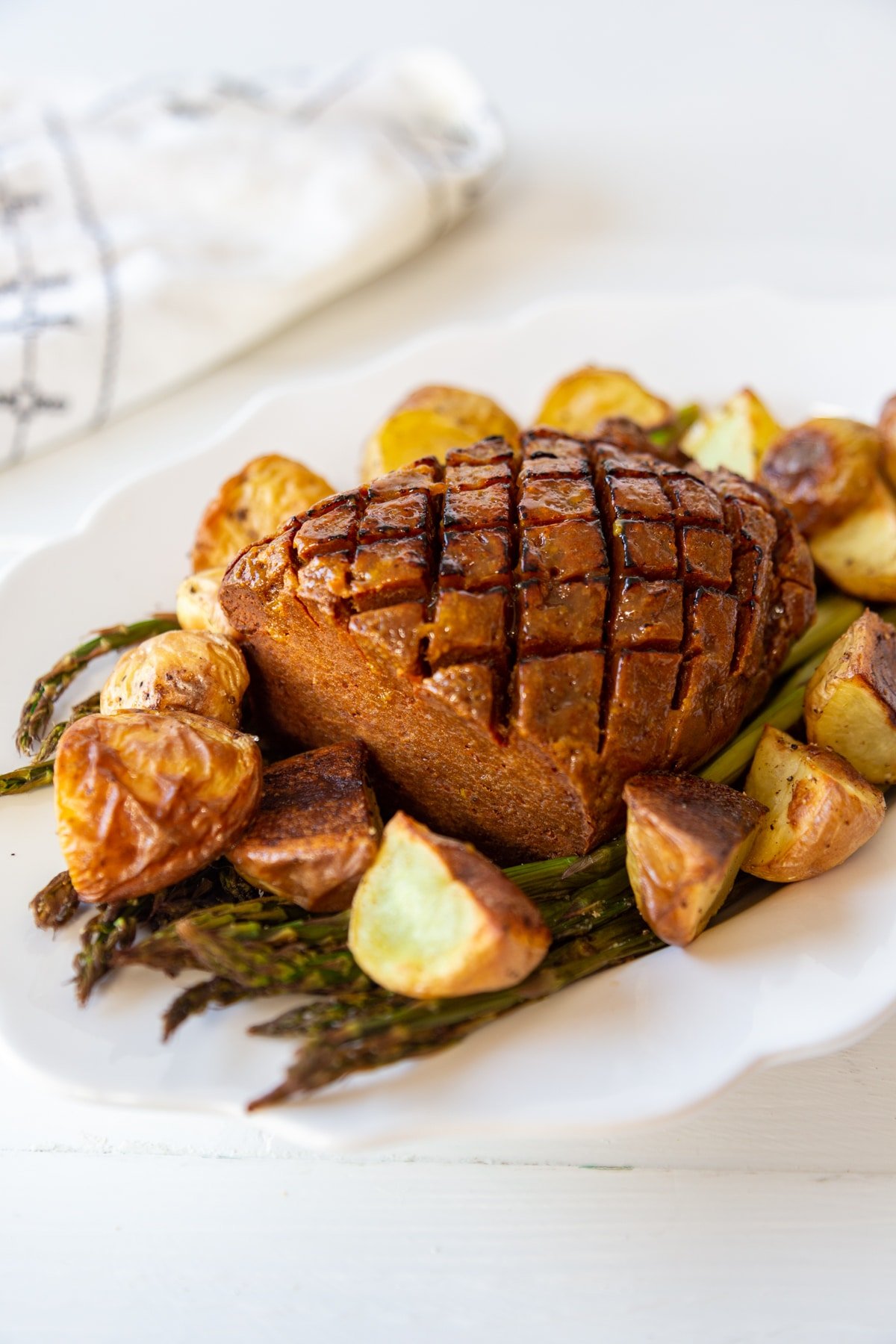 This post may contain affiliate links which won't change your price but will share some commission.
Hi there! We're Linda and Alex, the mother daughter duo and creators of Veganosity. Thanks for visiting us, we're so happy you're here. If you're looking for Southern inspired vegan comfort food recipes, you've come to the right place.
We love vegan comfort food and we're really good at making it. Take a tour through our site and you'll find all of the recipes that scream, stretchy pants required!
The good news, they're all plant-based recipes, so you don't need to feel guilty eating them. Now sit back, relax, and eat happy. 🙂
Also, in case you didn't know, we're published cookbook authors. We've written two vegan cookbooks that will help you make amazing vegan BBQ (you don't even need a grill) and everyday meals, from breakfast to dessert.
Click on the titles to check them out. GREAT VEGAN BBQ WITHOUT A GRILL
and THE ULTIMATE VEGAN COOKBOOK
.
Why Do Vegans Eat Food That Mimics Meat?
We are vegan for the animals. We don't want to do harm to any living creature, so we stopped eating and wearing them.
Having said that, we weren't raised vegan and didn't give up eating animals until we were adults, so there are many foods that we developed a strong taste for.
We also appreciate the memories and traditions that are attached to certain foods. That's why we created Veganosity. We wanted to make being vegan easy for you.
If we can help you keep your favorite foods and traditions alive, while keeping animals alive, then you will enjoy and want to stay vegan. It's a win-win for everyone.
It's as simple as that.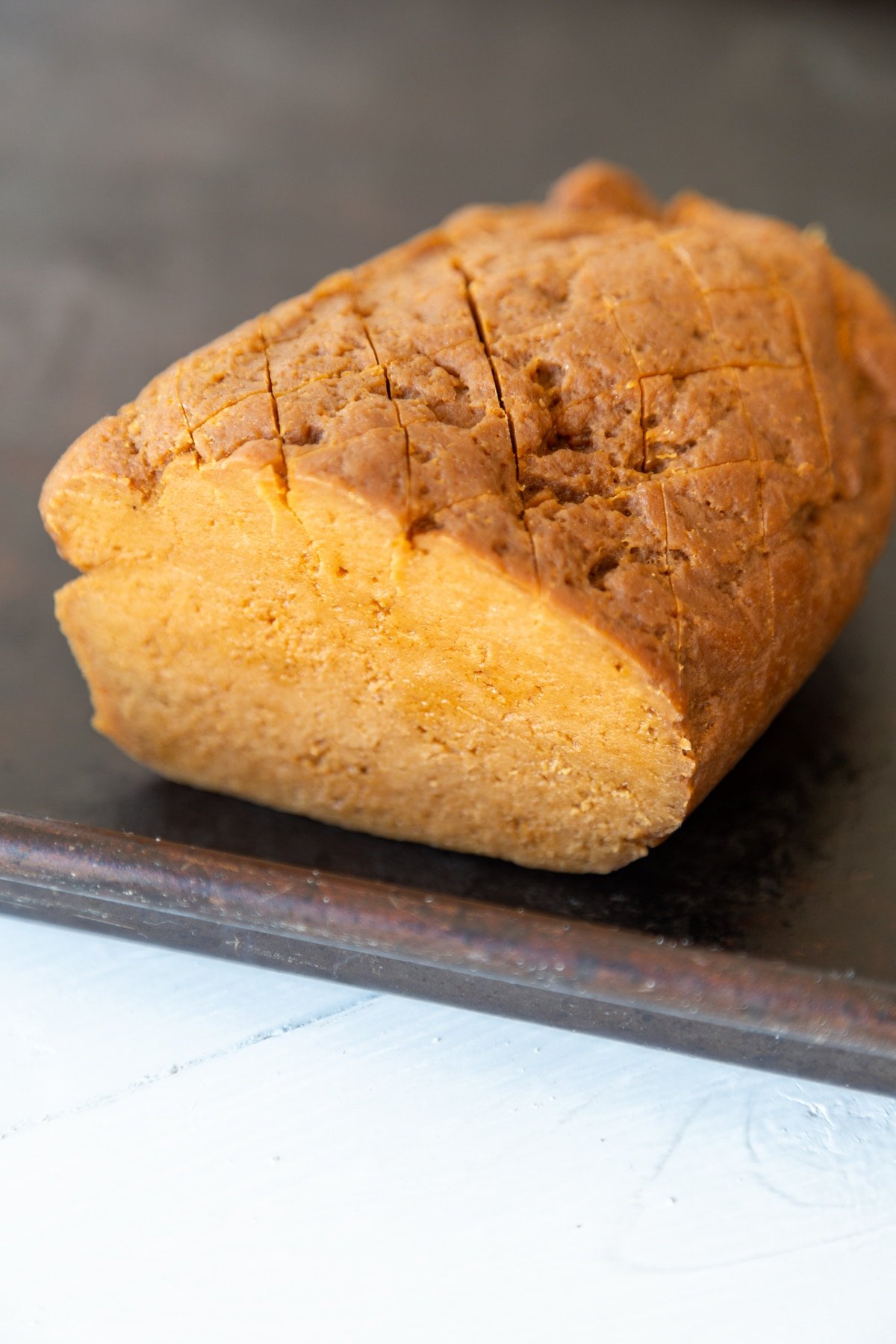 What is Seitan?
We created our vegan ham roast with seitan, which is made from vital wheat gluten.
Vital wheat gluten is the main protein of wheat. It's a sticky gluten product that is perfect for making meaty vegan recipes.
While it's not suitable for those with gluten intolerances or allergies, it's a great low carb plant-based source of protein.
There is no substitute for vital wheat gluten when it comes to making vegan meat.
Read more about vital wheat gluten here.
Vegetarian Ham for Your Holiday Meal
If you're a new vegan, we understand how difficult it can be to get through the holidays.
Between not knowing what to eat and all of the questions and snarky comments from relatives, it can be a confusing and overwhelming time.
Fortunately, we understand, and this is why we work so hard to make your life easier.
We don't believe that you should have to give up your favorite holiday foods, you just have to make them plant based, such as our seitan ham.
This vegan holiday roast tastes as wonderful as it looks, and believe it or not, it's so easy to make.
How to Make It
On its own, vital wheat gluten has a strong flavor and aroma, and that's why we add a variety of spices and condiments to this recipe.
We don't want you to take a bite of a basic seitan roast, we want you to take a bite of vegan ham. There's a difference.
To get that flavor and texture, we added tofu, a beet, liquid smoke, maple syrup, and several spices.
The tofu lends a tenderness to the roast, the beet adds color and is important to the flavor, and because ham is sweet, smoky, and salty, we included liquid smoke, maple syrup, and lots of spice.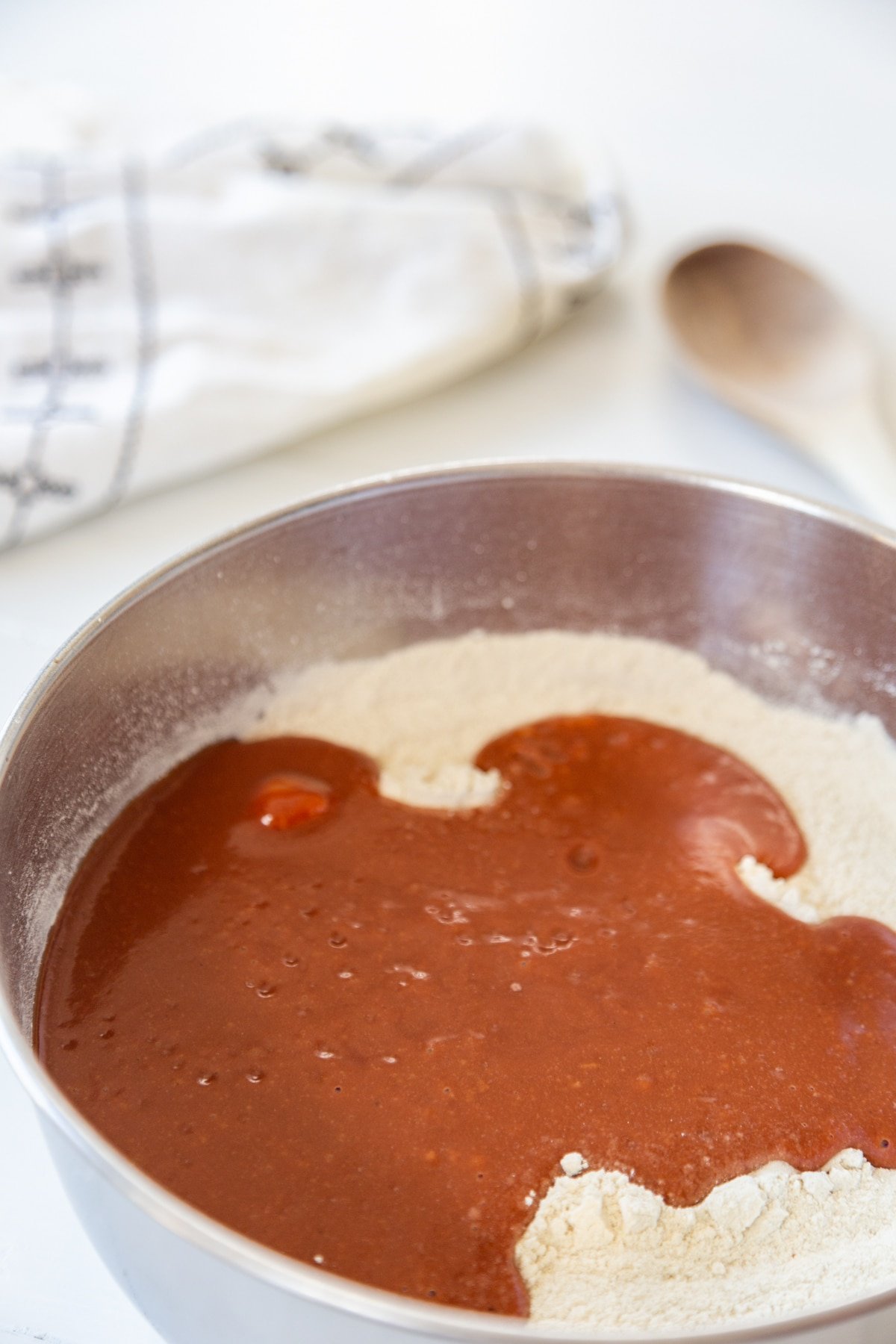 STEP ONE
You'll want to stir the blended liquid ingredients into the dry ingredients until it forms a solid ball.
If the mixture is too wet or too dry, slowly add more water or wheat gluten until the seitan firms up.
Once it's firm, remove it from the bowl and knead it for 6 minutes. This activates the gluten and gives the roast a good texture. Don't be tempted to shorten the kneading time.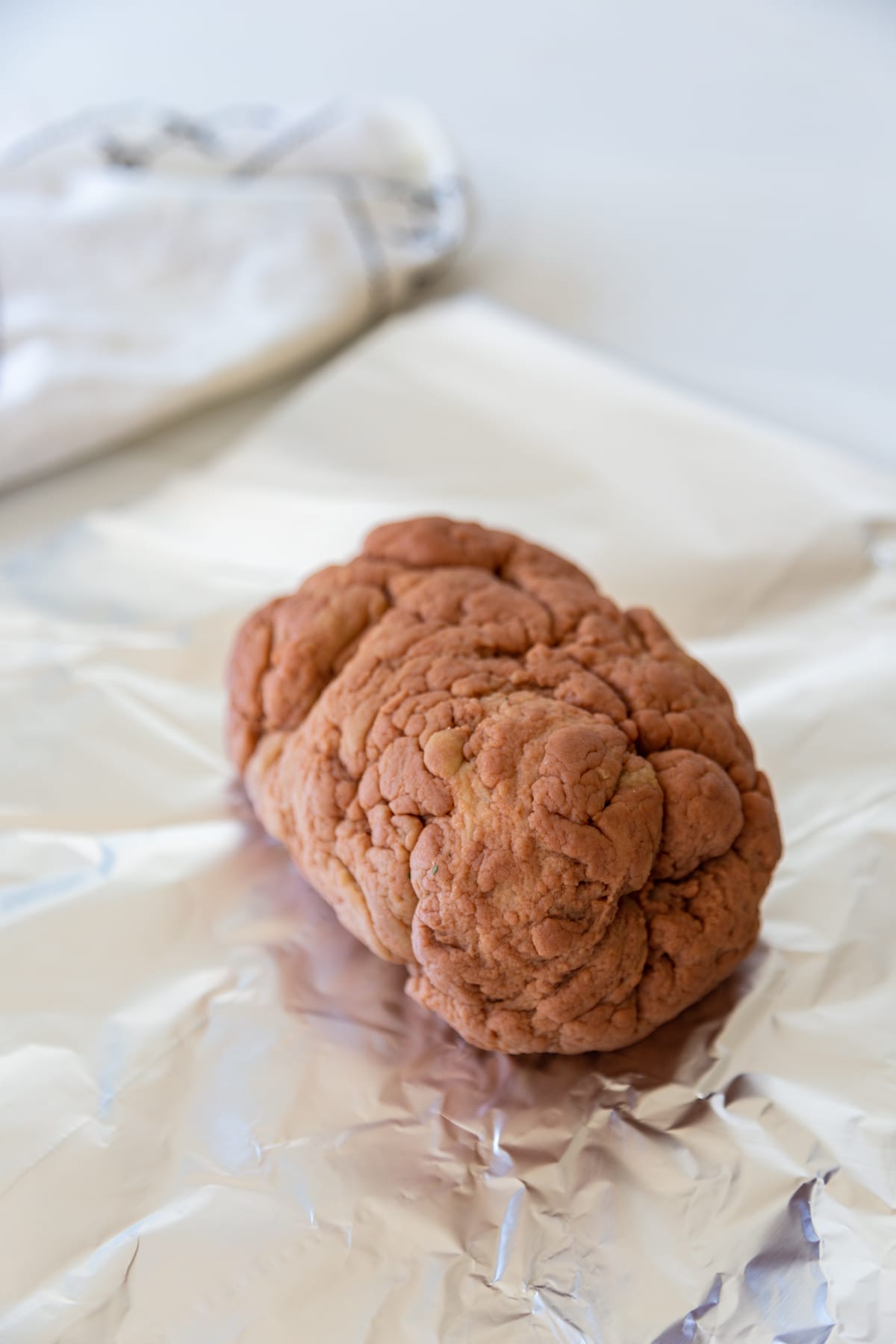 STEP TWO
Form the roast into a log and wrap it in parchment paper or foil and steam it in a steamer basket (cover the pot) for 45 minutes.
STEP THREE
While the roast is steaming, make the maple mustard glaze.
If you want to make the roast look really authentic, score the top into a lattice pattern, then brush the glaze over the ham and bake it for 20 minutes.
NOTE: To prevent the bottom of the roast from getting too crispy, bake it on a rack over a roasting pan.
Brush another coating of glaze over the ham and serve hot.
What is Liquid Smoke?
It's literally smoke that has been condensed into liquid form. Some brands will add flavoring, such as molasses, vinegar, and salt.
There are some sources that claim that it isn't safe to consume, and there are others who say that it's fine. To read more about it, click here.
We don't use it often, and we don't worry about it when we do. You should decide for yourself whether or not you want to consume it.
Liquid Smoke Substitution
You can use smoked paprika, just keep in mind that the paprika is smoked in a smoker, hence the smoky flavor.
For this recipe, we prefer the taste of liquid smoke and smoked paprika.
Remember, smoked foods also get a bad rap, so it's really up to you to decide which is better for you.
PIN ME FOR LATER!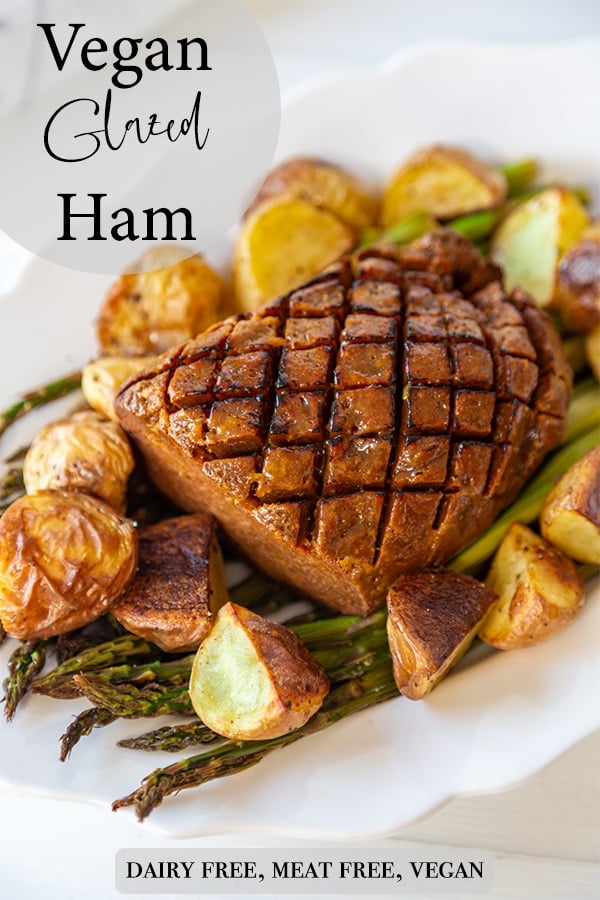 How Should You Store it?
We recommend storing it in the refrigerator for up to 5 days. It actually tastes even better, and the texture improves after a day in the refrigerator.
You can also freeze it for up to 3 months. Thaw overnight in the refrigerator and wrap or cover and heat through in a 350˚F (176˚C) oven.
More Vegan Meat Substitutes You'll Love
Make our vegan ham recipe and let us know what you think. We love to hear from you! And, don't forget to take a picture of your gorgeous creation and tag us @veganosity on Instagram.
Let's connect on Instagram and Twitter. You'll get a peek into our everyday lives in our stories and see what we're sharing in our feed.
And, don't forget to SUBSCRIBE to the blog so you never miss a recipe. Scroll below the recipe or in our side bar to become a Veganosity subscriber.

This post may contain affiliate links which won't change your price but will share some commission.
Vegan Seitan Ham
This easy vegan ham with a maple mustard glaze is a sweet, smoky, salty, delicious main course that's perfect for a holiday meal or Sunday dinner.
Print
Pin
Rate
Ingredients
1 ½

cups

Vital Wheat Gluten

We use Bob's Red Mill

1

cup

tofu

1

small cooked red beet

1

tablespoon

red miso

1

tablespoon

olive oil

½

cup

tamari

2

tablespoon

vegan Worcestershire sauce

⅓

cup

water

2

tablespoon

ketchup

1

tablespoon

yellow mustard

1

tablespoon

liquid smoke

3

tablespoon

maple syrup

1

teaspoon

onion powder

1

teaspoon

garlic powder

2

teaspoon

smoked paprika

Glaze

1

tablespoon

vegan butter

2

tablespoon

yellow mustard

¼

cup

maple syrup

¼

teaspoon

ground cinnamon

⅛

teaspoon

ground cloves
Instructions
In a large mixing bowl, whisk the 1 ½ cups of vital wheat gluten, 1 teaspoon onion powder, 1 teaspoon garlic powder, and 2 teaspoon smoked paprika.

In a blender or food processor, blend the 1 cup tofu, 1 small cooked beet, 1 tablespoon red miso, 1 tablespoon olive oil, ½ cup tamari, 2 tablespoon vegan Worcestershire sauce, ⅓ cup water, 2 tablespoon ketchup,

1 tablespoon yellow mustard, 1 tablespoon liquid smoke, and 3 tablespoon maple syrup for 1 minute.

Pour the wet ingredients into the dry and stir until the mixture becomes solid. Slowly add more water or wheat gluten if the mixture doesn't become solid.

Knead the dough for 6 minutes (this is important for texture, don't skimp on the time). It will become stretchy. Form it into a log and wrap it in foil or parchment paper.

Steam it in a pot with a steamer basket for 45 minutes.

Preheat the oven to 375˚F (190˚C).

FOR THE GLAZE

In a small saucepan, stir the 1 tablespoon vegan butter, 2 tablespoon yellow mustard, ¼ cup maple syrup, ¼ teaspoon ground cinnamon, ⅛ teaspoon ground cloves over medium heat until boiling. Reduce the heat and simmer for 10 minutes, stirring often.

Remove the ham from the foil or parchment and place in a rimmed baking pan (See Note), score the top of the ham (optional) and brush with the glaze.

Bake for 20 minutes. Brush with another layer of glaze and serve.
Notes
NUTRITION DISCLAIMER
To prevent the bottom of the roast from getting too tough, bake it on a rack over the roasting pan.
Nutrition
Serving:
3
oz
|
Calories:
229
kcal
|
Carbohydrates:
31
g
|
Protein:
20
g
|
Fat:
3
g
|
Saturated Fat:
1
g
|
Sodium:
849
mg
|
Potassium:
154
mg
|
Fiber:
2
g
|
Sugar:
12
g
|
Vitamin A:
266
IU
|
Vitamin C:
5
mg
|
Calcium:
92
mg
|
Iron:
3
mg
PIN ME FOR LATER!