A delicious and healthy Vegan Pesto & Portobello Flatbread that is so easy and quick to make. The flatbread is homemade too!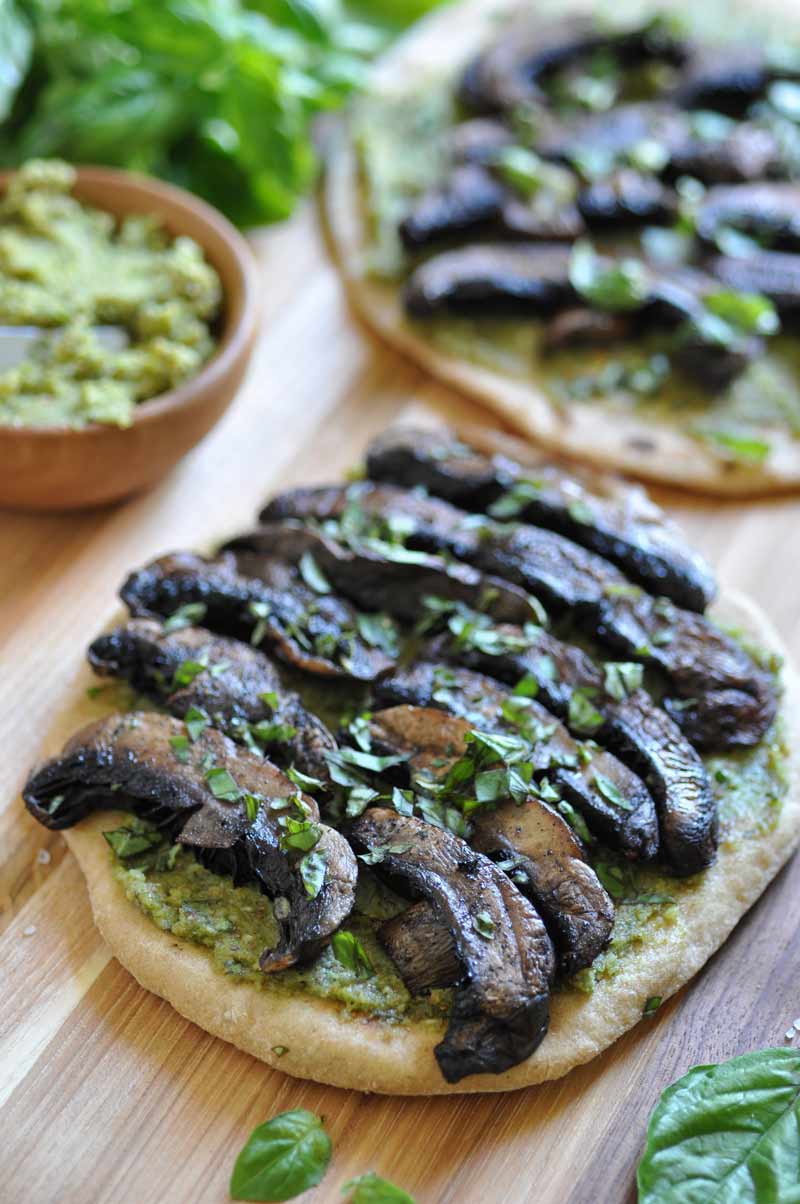 Remember my last recipe? That delicious, garlicky, chewy homemade flatbread I shared with you last week? It just got fancy. As I mentioned in my last post, I recently had a delicious Portobello flatbread at Marcus Lemonis' restaurant. The mushroom flatbread recipe on the menu included cheese and sausage, which I asked the chef to omit, so mine was a two-ingredient dish, flatbread and shrooms. It was still delicious, but I knew I could make a veggie version that was spectacular, and I did.
After much experimenting, I found the perfect base to rest the Portobello mushrooms on. Pesto! The gorgeous green pesto makes the best partner for those meaty mushrooms. The creaminess and flavor compliments the umami taste of the Portobellos, and when you stack the crispy and chewy (yes, you get both), soft pesto, and tender mushrooms, you get a pleasant texture and flavorful combination that's hard to beat.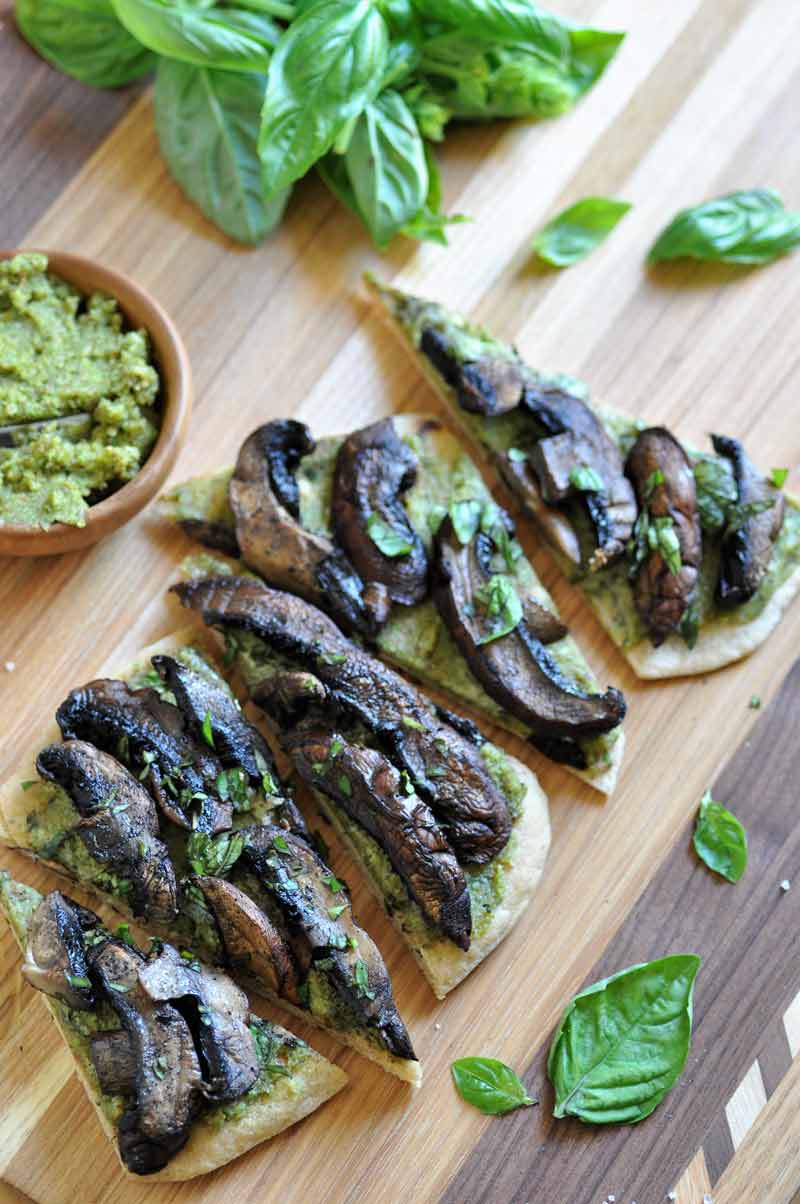 HOW TO MAKE VEGAN PESTO & PORTOBELLO MUSHROOM FLATBREAD PIZZA
First you need to take about 15 minutes to make the vegan flatbread. It's so easy, so don't go out and spend a lot of money on packaged bread.
Preheat your oven to 375°F (190°C).
Slice and saute the mushrooms with a bit of olive oil and minced garlic.
Make your pesto. Choose from this one, this one, or this one.
Spread a layer of pesto on the flatbread, layer the mushrooms over the pesto, place on a baking sheet and bake for 10 minutes.
Eat until your heart's content.
This easy and tasty flatbread with mushrooms and pesto is so easy to make, and it makes a great meal or appetizer. You can be sure that I'll be making these for my next happy hour!
Whip up a few of these and let me know what you think in the comments.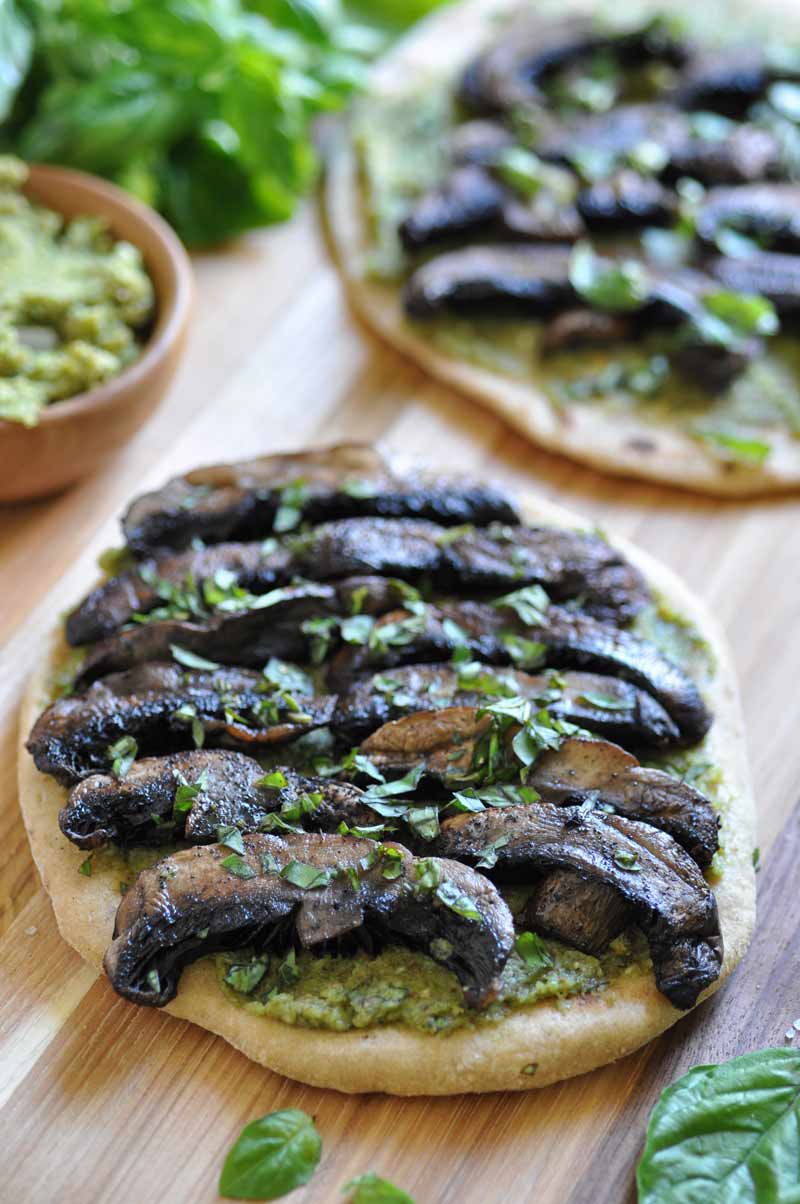 Let's connect! Hop on over to our Facebook page and give it a like, and follow us on Instagram and Twitter, and follow us and share this and other Veganosity recipes on Pinterest. We'd be so grateful if you did. If you like this recipe and can't wait to see what we're going to share next, subscribe to Veganosity. Just fill in the subscription box above our picture in the top right corner of the page. And, Alex and I love hearing from you, please leave a comment and let us know what you think of our recipes.
Vegan Pesto & Portobello Flatbread
Homemade vegan flatbread with tender and meaty Portobello mushrooms and a savory pesto. Make it a meal or an appetizer.
Print
Pin
Rate
Servings:
4
, 6 inch (15 cm) round flatbreads
Ingredients
1

batch of flatbread.Click here for the recipe.

1

tablespoon

15 ml extra-virgin olive oil

24

ounce

680 g sliced portobello mushrooms

3

garlic cloves

minced

Salt and pepper to taste

1

cup

125 g pesto, This one,This one, or This one.

½

cup

20 g fresh minced basil
Instructions
Make the flatbread.

Heat a large skillet on medium-high heat and add the oil. When the oil is hot add the mushrooms and cook until they release their water and are soft and dark brown. Add the garlic and cook for two minutes. Remove from the heat.

Preheat the oven to 375°F (190°C)

Make the pesto and spread a thin layer over the flatbread and layer the mushrooms over the pesto. Place on a cookie sheet and bake for 10 minutes.

Sprinkle with the minced basil.

Enjoy!