Pesto is the ultimate comfort sauce, and our Healthy Single Serving Oil-Free Pesto Sauce is so good that you could eat it by the spoonful without feeling one bit guilty. It's made with only four simple ingredients and zero saturated fat. Dig in!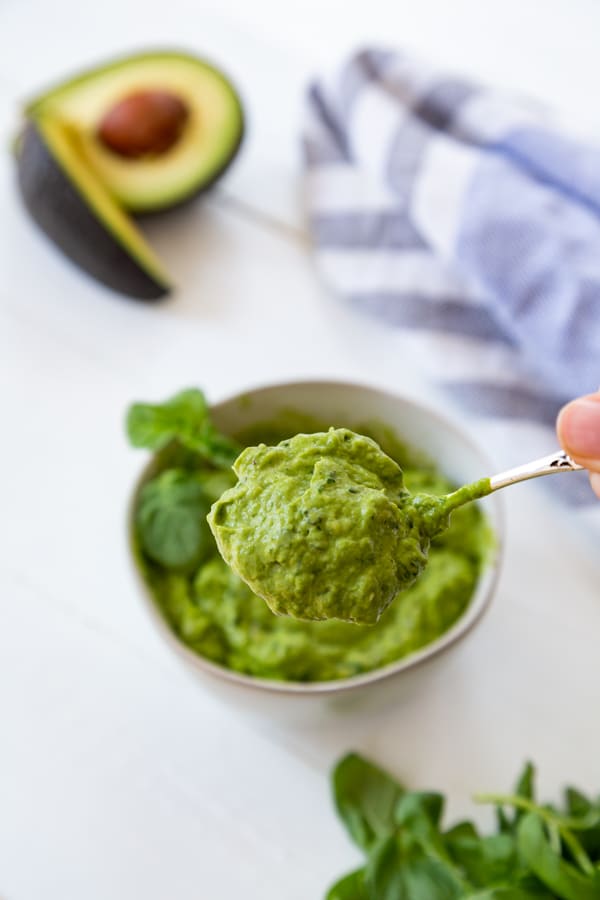 Published August, 2015 - Modified March, 2019. This post may contain affiliate links which won't change your price but will share some commission.
Hi there! Thanks for visiting us, we're so happy you're here. If you're looking for Southern inspired vegan comfort food recipes, you've come to the right place.
We love vegan comfort food and we're really good at making it. Take a tour through our site and you'll find all of the recipes that scream, stretchy pants  required!
The good news, they're all plant-based recipes, so you don't need to feel guilty eating them. Now sit back, relax, and eat happy. 🙂
Healthy Single Serving Oil-Free Pesto Sauce That's Easy and Delicious! 
Please indulge me while I brag on my smart as a whip, health conscious, and beautiful daughter. Alex is the one who inspired me to become a vegan, to cook with less oil, to lift heavier weights, and—for this I'm eternally grateful—create Veganosity. She's also the mastermind of this easy, creamy, and healthy single serving OIL-FREE pesto.
If you've been following us for a while, you know that we're all about vegan comfort food and eating. We adore things like, lasagna, enchiladas, and BBQ, and we've proven time and time again that you don't have to give up your favorite foods just because you stopped eating animal products.
WE CREATED THIS ONE SERVING OIL-FREE PESTO RECIPE FOR TWO REASONS
So you could make a fresh serving of pesto whenever you needed one. You don't have to store the leftovers because there won't be any.
If you can't or won't eat oil, this recipe is for you!
CAN YOU MAKE OIL-FREE PESTO WITHOUT PARMESAN CHEESE? 
Yes you absolutely can, and it's every bit as delicious.
We are pesto connoisseurs and we have several different pesto recipes on our blog. Check these out:
Carrot Top and Almond Pesto
Classic Vegan Walnut Pest
Vegan Pea & Mint Pesto
As you can see, we step outside of the box when it comes to making pesto. You don't have to use expensive pine nuts, parmesan cheese, and olive oil to make a delicious pesto sauce. There are so many awesome alternatives.
WHAT INGREDIENTS CAN I USE TO MAKE OIL-FREE PESTO? 
If you check out the recipes above you'll see that you can use carrot tops, peas, mint, almonds, and walnuts to make pesto. For this oil-free pesto recipe, we used the following ingredients:
Avocado
Garlic
Lemon
Basil
Nutritional Yeast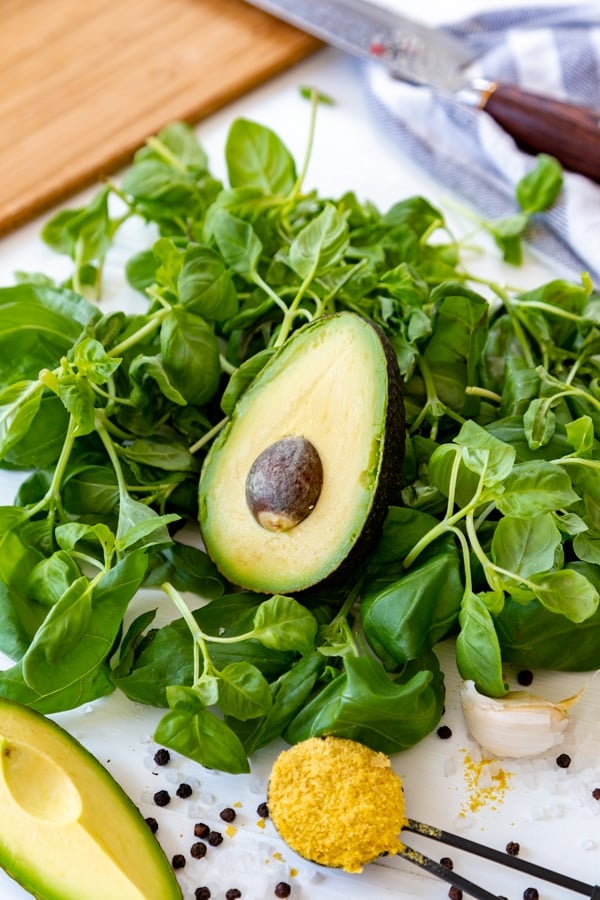 Avocado makes the pesto creamy and replaces the olive oil.
Garlic, lemon, and basil are the ingredients that make this recipe taste like classic pesto.
Nutritional yeast is a great substitute for Parmesan cheese because it has a cheese like flavor.
Now, we do add a bit of water to make the pesto the consistency of a sauce, and we added a bit of sea salt and black pepper for extra flavor. It's totally up to you.
WHAT IS NUTRITIONAL YEAST? 
Nutritional yeast is in the same family as the yeasts used to make bread, beer, and kombucha. The difference is that unlike baker's and brewer's yeasts, nutritional yeast isn't active. You can't use it to make dough rise and you can eat it before cooking.
It's also fortified with B vitamins, including B12, protein, vitamins and minerals, and antioxidants. It's good stuff.
We like to use it in pesto and other savory recipes because it has a cheesy, nutty, umami flavor.
Read more about it HERE.
WHY THIS RECIPE WORKS
Avocado is naturally creamy and has a similar mouth feel as olive oil. When you blend it with a bit of water, it makes a great oil substitute.
The addition of garlic and salt to the recipe, which are two mainstay ingredients in pesto.
The nutritional yeast takes the place of the Parmesan. It has a cheesy flavor and the texture is similar to a finely grated cheese.
Lemon ensures that the avocado won't brown and it gives a slight tang to the pesto.
HOW CAN I MAKE OIL-FREE PESTO FOR ONE?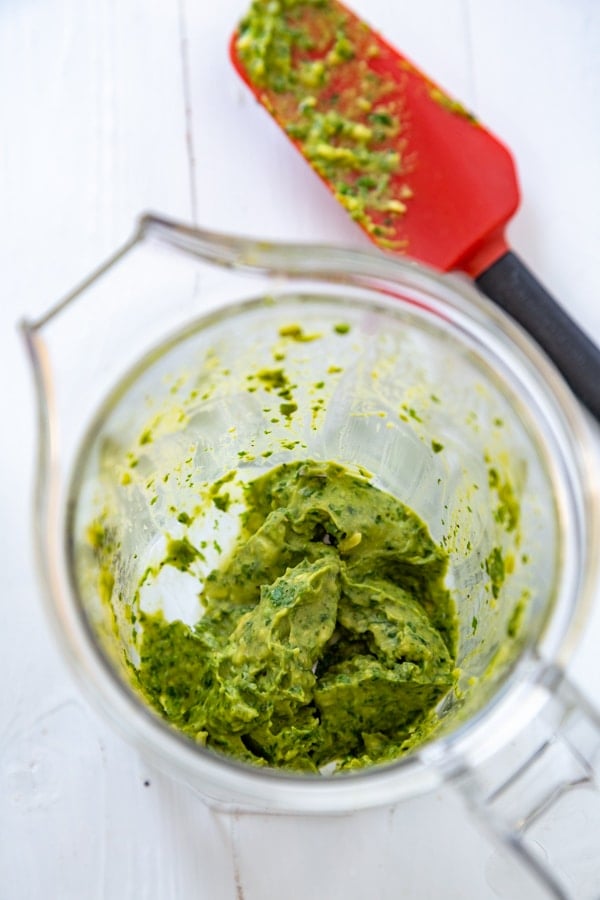 STEP ONE
Quarter an avocado, peel it, and put it in a blender.
STEP TWO
Add the nutritional yeast, basil, lemon, garlic clove, and salt and pepper.
STEP THREE 
Blend until the basil breaks down and the sauce is creamy, adding the water 1 tablespoon at a time until you get the consistency you desire.
WHAT TO DO WITH THE REMAINING AVOCADO
Slice and put on top of a salad.
Make guacamole.
Turn it into raw chocolate pudding.
WHAT CAN I SERVE PESTO WITH? 
There's no wrong way to eat pesto. You can put it on almost anything to add flavor, and here are some of our favorite ways to eat it:
Smear it on top of crusty bread and make a sandwich.
Toss it in pasta for a savory dish.
Make bruschetta with it.
Spread it on flatbread and top with meaty Portobello mushrooms.
TIPS AND SUBSTITUTIONS TO HELP YOU MAKE THE PERFECT VEGAN PESTO
TIPS
Use a blender or a small food processor to make this. The basil needs to be broken down into super small pieces, and this is really the best way to do this. We use this blender. Click the photo to learn more.
If you don't have a blender, you can use a small food processor. We tried using our 11 cup processor but there wasn't enough avocado to make it work.
Add 1 tablespoon of water at a time until you get the consistency that you're looking for. 1 tablespoon will make a thick sauce, 3 to 4 will make it much thinner.
Include a bit of salt and pepper for added flavor.
For best results, eat it as soon as you make it or within a few hours.
Feel free to double, triple, or quadruple the amount of avocado and basil if you want to make it for more people. Just don't double, triple, or quadruple the garlic and nutritional yeast or it will turn out too strong in flavor.
Add two garlic cloves if you quadruple and a few extra teaspoons of nutritional yeast as you go and taste it to see if you would like more.
SUBSTITUTIONS
If you don't like nutritional yeast, feel free to substitute with vegan Parmesan cheese. We love Violife brand and Go Veggie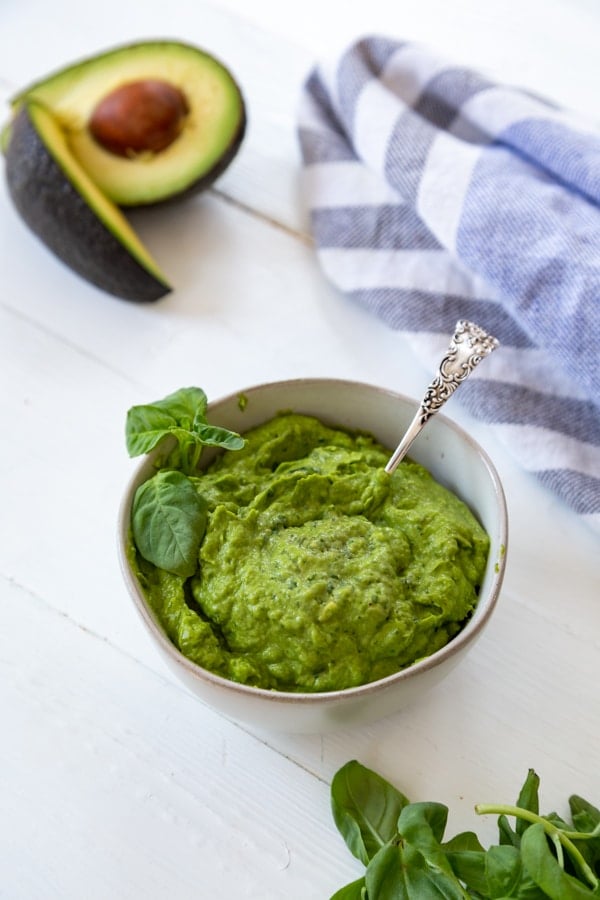 Make our vegan oil-free pesto and let us know what you think. We love to hear from you! And, don't forget to take a picture of your gorgeous creation and tag us @veganosity on Instagram.
Let's connect! Hop on over to our Facebook page and give it a like, and follow us on Instagram and Twitter, and follow us and share this and other Veganosity recipes on Pinterest.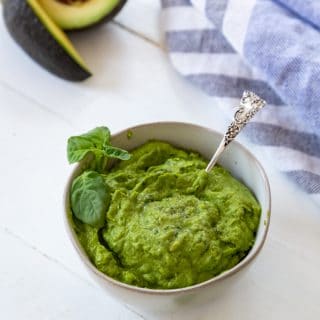 HEALTHY SINGLE SERVING OIL-FREE PESTO SAUCE!
A creamy, delicious, and healthy oil-free pesto for one, made with four simple ingredients!
Print
Pin
Rate
Ingredients
¼

avocado

1

garlic clove

1

tablespoon

nutritional yeast

1

cup

basil leaves

1

teaspoon

lemon juice

1 to 4

tablespoon

water

see note

Salt and pepper to taste if desired
Instructions
Put ¼ of the avocado, 1 cup basil, 1 garlic clove, 1 teaspoon lemon juice, and 1 tablespoon nutritional yeast in a food processor or blender and blend. Add the water 1 tablespoon at a time until you get the desired consistency. Add salt and pepper to taste.

Enjoy!
Notes
To preserve the remaining portion of the avocado - squeeze some lemon juice on the rest of the avocado and seal it up tight with plastic wrap. It will stay fresh for the next day and you can use it for guacamole, or a sandwich, or a salad, or just eat it as is with a little balsamic vinegar drizzled on top.
If it turns slightly brown overnight, just slice off the top. No big deal. You could also just mash the avocado, mix in a bit of lime juice, put it in an airtight container, put a layer of plastic wrap on the avocado and then put a bit of water on the plastic to prevent air from oxidizing it, cover it and keep it in the fridge for up to three days.
To make a large batch of pesto - use the entire avocado, add and extra two to three teaspoons (taste and add to get the right amount) of nutritional yeast, two to three (add and taste so it's not overpowering) garlic cloves, three more cups of basil leaves, extra salt and pepper to taste, and as much water as it takes to whip it into the perfect texture.
Substitution - If you don't like nutritional yeast, feel free to substitute with grated vegan parmesan cheese.
Nutrition
Serving:
20
g
|
Calories:
120
kcal
|
Carbohydrates:
9
g
|
Protein:
6
g
|
Fat:
8
g
|
Saturated Fat:
1
g
|
Polyunsaturated Fat:
1
g
|
Monounsaturated Fat:
5
g
|
Sodium:
6
mg
|
Potassium:
482
mg
|
Fiber:
6
g
|
Sugar:
1
g
|
Vitamin A:
1340
IU
|
Vitamin C:
12
mg
|
Calcium:
55
mg
|
Iron:
2
mg