Greg's Lemon and Dill Potato Salad is packed full of flavor and easy to make with only 8 SIMPLE INGREDIENTS. It makes a great side dish to take to a party.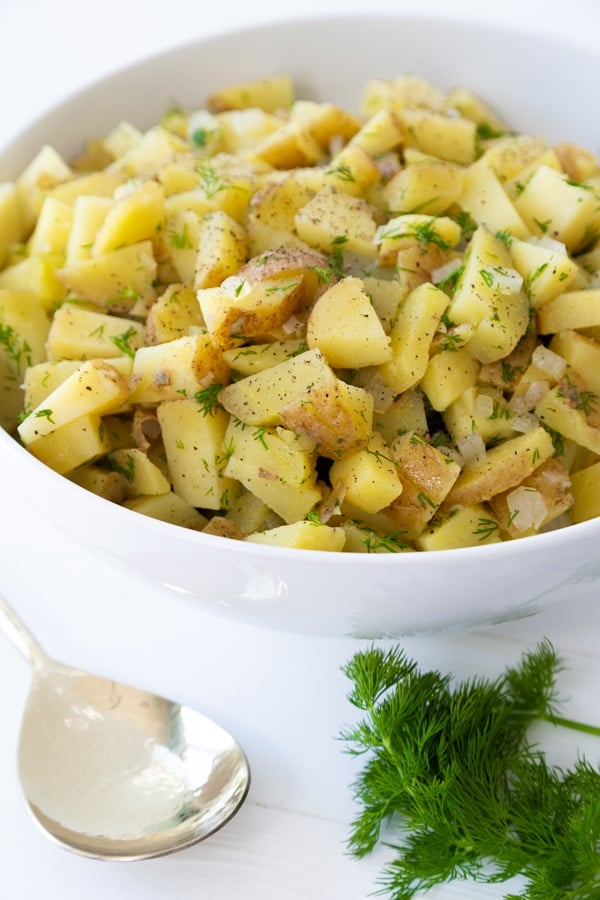 Published April, 2014 and Modified April, 2019. This post may contain affiliate links which won't change your price but will share some commission.
Hi there! Thanks for visiting us, we're so happy you're here. If you're looking for vegan comfort food recipes, you've come to the right place.
We love vegan comfort food and we're really good at making it. Take a tour through our site and you'll find all of the recipes that scream, stretchy pants required!
The good news, they're all plant-based recipes, so you don't need to feel guilty eating them. Now sit back, relax, and eat happy. 🙂
POTATO SALAD WITH LEMON AND DILL THAT'S EASY AND DELICIOUS
This recipe has been a family favorite for years. We call it Greg's Potato Salad because it's The Breakfast King's claim to fame.
Although we love it at any time of year, this lemon and dill potato salad recipe frequently makes an appearance in the summer months, next to a steaming pile of grilled corn and sticky sweet BBQ Ribz!
The tender potatoes soak up the tangy tart lemon dressing and the fresh dill, making this easy mayo-free potato salad a popular side dish at every party.
HOW DO YOU MAKE POTATO SALAD WITHOUT MAYONNAISE?
I'm just going to put it out there, my (Linda's) husband is horrified by the thought of mayo. He loathes everything about it, which is why he only makes potato salad with a lemon and vinegar dressing.
If you're like him, and even if you're not a mayo hater, you're going to LOVE this recipe. The layers of flavors in this salad are on point!
WHY THIS RECIPE WORKS:
We only use Yukon Gold potatoes because they have a delicate skin, a creamy texture and a buttery flavor.
The finely chopped Vidalia onion lends a delicate sweetness to the salad.
Finely chopped celery adds a crunchy texture.
Our lemon dressing is tangy and tart, which pairs perfectly with the dill.
Fresh dill elevates the flavor profile and completes the potato salad.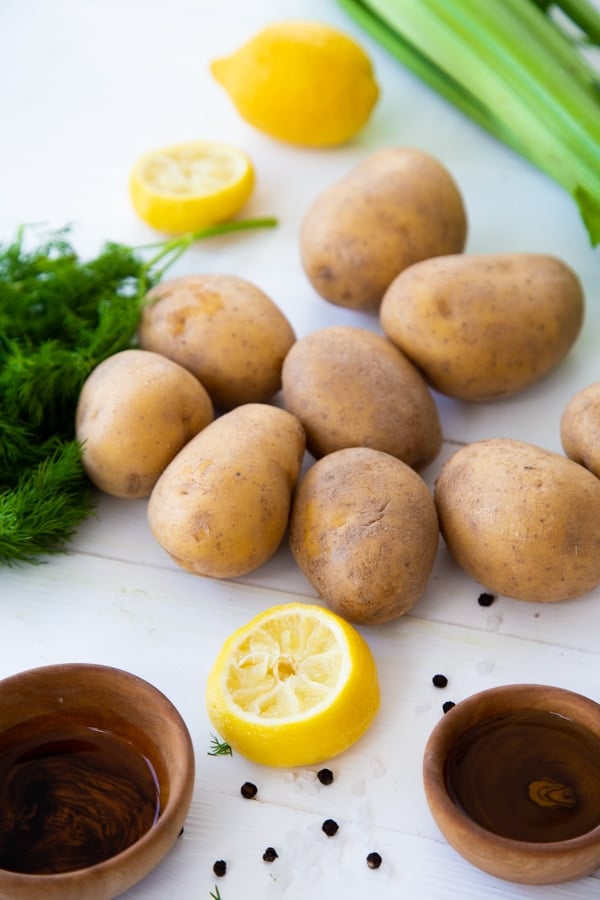 HOW DO I MAKE POTATO SALAD WITH DILL AND LEMON JUICE?
Step One
First things first, scrub six medium to large Yukon Gold potatoes and remove any dark brown spots. I love the buttery yellow of the Yukon gold potatoes we use. They add to the beauty of this salad
Step Two
Cook those potatoes! Start them off in cold water and bring the water to a boil and cook for approximately 15 minutes (add the onions once the water has been boiling for five minutes) and then pierce them with a fork to check to see if they're ready.
They should be fork tender, not too firm and not too soft. Keep checking every few minutes until they're the consistency you want.
We love this stock pot for making potato salad and pasta because you can just lift the potatoes out of the heavy pot of water and let the water cool before pouring it out. It's so much safer than lifting a heavy pot of boiling water to drain the water. Click the picture for details.

Step Three
When the potatoes are done, drain the water and put them in a large salad bowl and let them sit for 15 minutes.
Once the potatoes are cooled, cut them into 1-inch cubes and gently fold in the the fragrant dill, celery, and zesty lemon dressing, along with salt and pepper to make this fresh and easy vegan side dish.
We love this salad bowl. It's so clean and simple.

TIPS & TRICKS FOR MAKING THE PERFECT POTATO SALAD
Use Yukon Gold potatoes because of their delicate skin and creamy texture.
Choose firm potatoes that don't have any green on them. Green indicates solanine, which occurs when the potato is exposed to light. It makes the potato taste bitter and can cause an upset stomach.
Put the potatoes in a large pot and cover with cold water and bring to a boil. Starting the potatoes in cold water will ensure that they cook evenly.
Chop the onion into small pieces! No one wants big chunks of onion in their potato salad.
Make sure that you use a SWEET Vidalia onion.
Don't skimp on the dill, and make sure it's super fresh.
Taste the salad dressing and add more lemon if you think it needs it. Everyone has different tastes, so make it your own.
Set a timer for 15 minutes once the water starts to boil.
TOP TIP
Put the whole potatoes in a large pot and cover them with cold water, then bring the water to a boil. Don't cut them first or put them into the water after it's boiling.
WHY DO I HAVE TO START THEM IN COLD WATER AS WHOLE POTATOES?
You want the potatoes to cook evenly.
If you cut them first

The cooking time will be inaccurate and the potatoes will turn out mushy.

If you put the potatoes right into to hot water

Chances are that you're going to end up with some potatoes that are too mushy, and some that need more time to cook.
HOW DO I TELL IF MY POTATOES ARE DONE?
When the alarm goes off, use a fork or a paring knife to test to see if the potatoes are done.
If the fork easily pierces the potatoes, they're done.
If you have to use a little force to insert it, then let them boil for two minutes and test again.

Keep cooking in two minute increments until they're done.
Keep in mind, you don't want them to be too soft, like they would be if you were going to mash them. They should be tender, yet slightly firm, not mushy.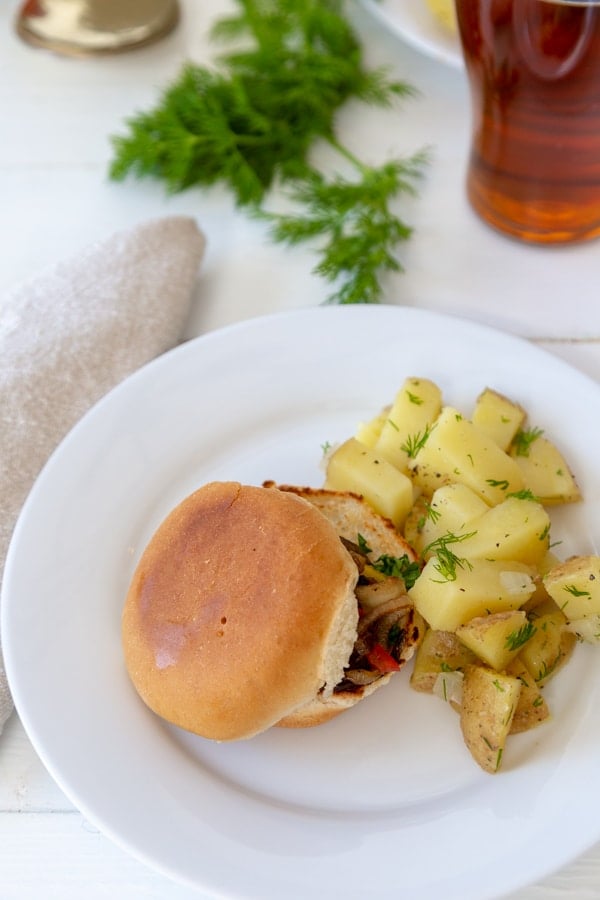 WHY ARE YUKON GOLD POTATOES ARE A GOOD CHOICE FOR POTATO SALAD?
We love using Yukon Gold for potato salads, roasting, and mashing, and here's why:
They have a thin, delicate skin so you don't have to peel them. The skin isn't tough and adds an extra layer of texture.
Their flavor is rich and buttery.
Because they have a medium starch content they have a lovely creamy texture.
That golden color makes for a beautiful salad, especially when paired with bright green dill.
WHAT SHOULD I SERVE WITH POTATO SALAD?
While we could make a meal out of this, it's always good to have a main dish to go with it. LOL! Here are some suggestions:
Spicy Black Bean Quinoa Burgers
Smoky Southern-Style Meatless Meatloaf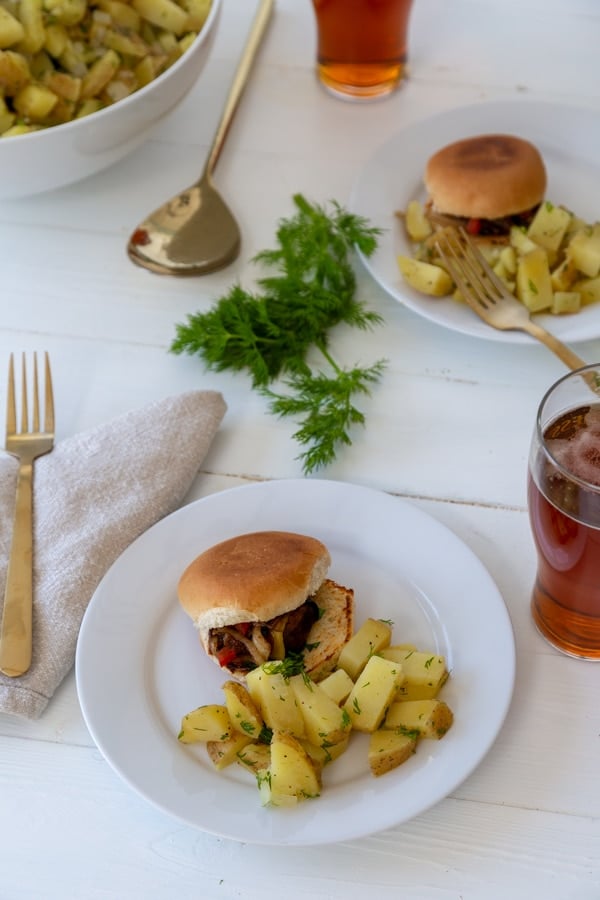 Make this and let us know what you think. We love to hear from you! And, don't forget to take a picture of your gorgeous creation and tag us @veganosity on Instagram.
Let's connect! Hop on over to our Facebook page and give it a like, and follow us on Instagram and Twitter, and follow us and share this and other Veganosity recipes on Pinterest.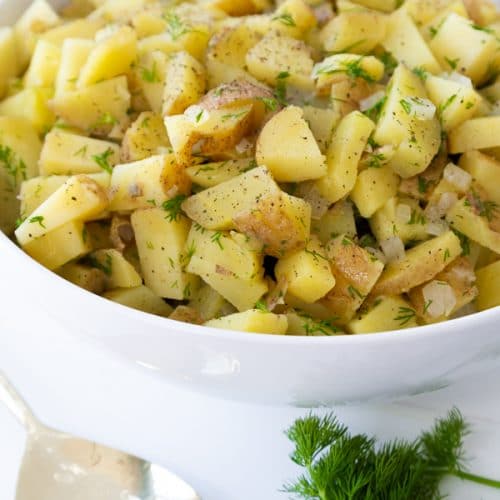 GREG'S LEMON AND DILL POTATO SALAD
Creamy Yukon Gold potatoes with a tangy lemon dressing and fresh dill. It's easy to make and so delicious! Perfect for a party.
Print
Pin
Rate
Ingredients
6

medium Yukon gold potatoes

see note

1

medium Vidalia onion

finely diced

2

celery stalks

finely diced

¼

cup

dill

chopped, see note

Salt and pepper to taste
For the Dressing
2

tablespoon

lemon juice

3

tablespoon

white balsamic vinegar

1

teaspoon

sugar

3

tablespoon

extra-virgin olive oil

Salt and pepper to taste
Instructions
Scrub the potatoes clean (remove any dark brown spots) and place in a large pot, cover with water and bring to a boil. Set a timer for 15 minutes once the water comes to a full boil.

After the potatoes have been boiling for five minutes add the onions.

When the timer goes off, insert a fork or a paring knife into the potatoes. If the potatoes are fork tender, remove them from the water and let them sit in a large bowl for 15 minutes. If it takes some pressure to to get the fork to pierce the potatoes, cook for another 2 minutes and test again. Keep cooking in 2 minute increments until the potatoes can be easily pierced with a fork then drain in a colander and put them in a large bowl and let sit for 15 minutes.

Once the potatoes have cooled, cut them into 1-inch cubes and gently fold in the celery, dill, and dressing until combined.
For the Dressing
In a small bowl or jar, whisk the 2 tablespoon lemon juice, 3 tablespoon vinegar, 1 teaspoon sugar, salt and pepper to taste, and 3 tablespoon olive oil until the salt and sugar is dissolved. Pour over the potatoes, celery, and dill and gently stir until the potatoes are covered in the dressing.

For best results, chill for an hour then serve.

Enjoy!
Notes
Makes 6 to 8 one cup servings.
We use Yukon Gold Potatoes because they have a delicate skin and a creamy texture. Make sure to choose heavy and firm potatoes with a smooth skin and no green spots. Green potatoes contain solanine, which is bitter in taste and can cause a stomach ache in some people.
Cook the potatoes whole and cover them in cold water. Don't cube them first or put them in boiling water or the potatoes won't cook evenly.
Feel free to add as much dill as you like. This is your potato salad.
The Nutrition Facts are an estimate only.
Nutrition
Calories:
181
kcal
|
Carbohydrates:
25
g
|
Protein:
4
g
|
Fat:
7
g
|
Saturated Fat:
1
g
|
Cholesterol:
0
mg
|
Sodium:
31
mg
|
Potassium:
786
mg
|
Fiber:
4
g
|
Sugar:
3
g
|
Vitamin A:
210
IU
|
Vitamin C:
24.8
mg
|
Calcium:
67
mg
|
Iron:
5.8
mg