Creamy, chocolatey and comforting pudding that's dairy and soy free. Avocados make the perfect base for this delicious dessert.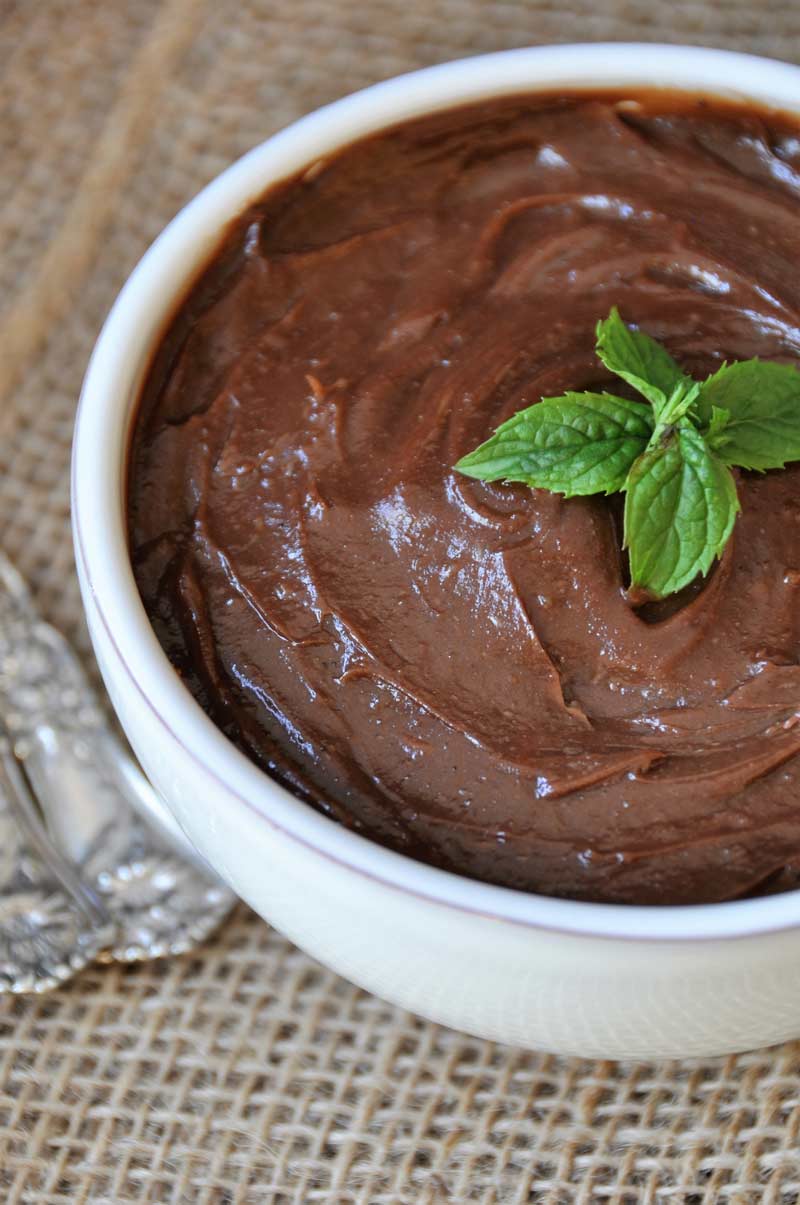 Pudding lovers rejoice! Here's one of the easiest, silkiest, richest and most delicious vegan chocolate pudding recipes ever!
Okay, the hyperbole is a bit thick today, but man, this five ingredient raw vegan chocolate pudding is pretty freaking awesome!
I ate spoonful after spoonful of this velvety pudding while I was trying to think of ways to improve upon it, but I couldn't think of anything that would make it better. It was so simple and perfect, just as I remembered chocolate pudding from my childhood. Only this recipe isn't anywhere near the same. This one is SO much healthier.
Instead of a heavy cream cholesterol bomb, this raw chocolate pudding is made with cashews, almond milk, a little sugar, vanilla, and a pinch of sea salt for good measure. Oh, and there's cocoa in it, because, it wouldn't be chocolate pudding without that little ingredient.
It must be the fall air, because my nesting instinct is in full force right now. I'm loving my kitchen again, and I'm all about decorating and making things cozy. Are you feeling the same way? It's pretty awesome. I'm embracing the smells of cinnamon, nutmeg, pumpkin, and apple. And yes, I realize that chocolate pudding doesn't fit in with this theme of aromas, but it does say comfort, and that seems to be my word of the season.
Okay, so you know that this chocolate pudding recipe made out of cashews is raw and that it only takes five simple ingredients, so how can it get any better? Ready to have your mind blown? It takes less than five minutes to make!! That is worthy of two exclamation points.
To make this blender chocolate pudding you must soak the cashews for at least a few hours to ensure that they get really soft and whip up into the smoothest dessert ever. You don't want little pieces of nuts in your pudding. Or maybe you do? It wouldn't be the worst thing, but I prefer mine as smooth as a baby's bottom.
Once the cashews have absorbed the water and are squishy and plump, drain them and put them in a high powered blender. Add the cocoa powder, vanilla, sugar—you can use maple syrup—sea salt, and almond milk, and blend them all together until they look like this.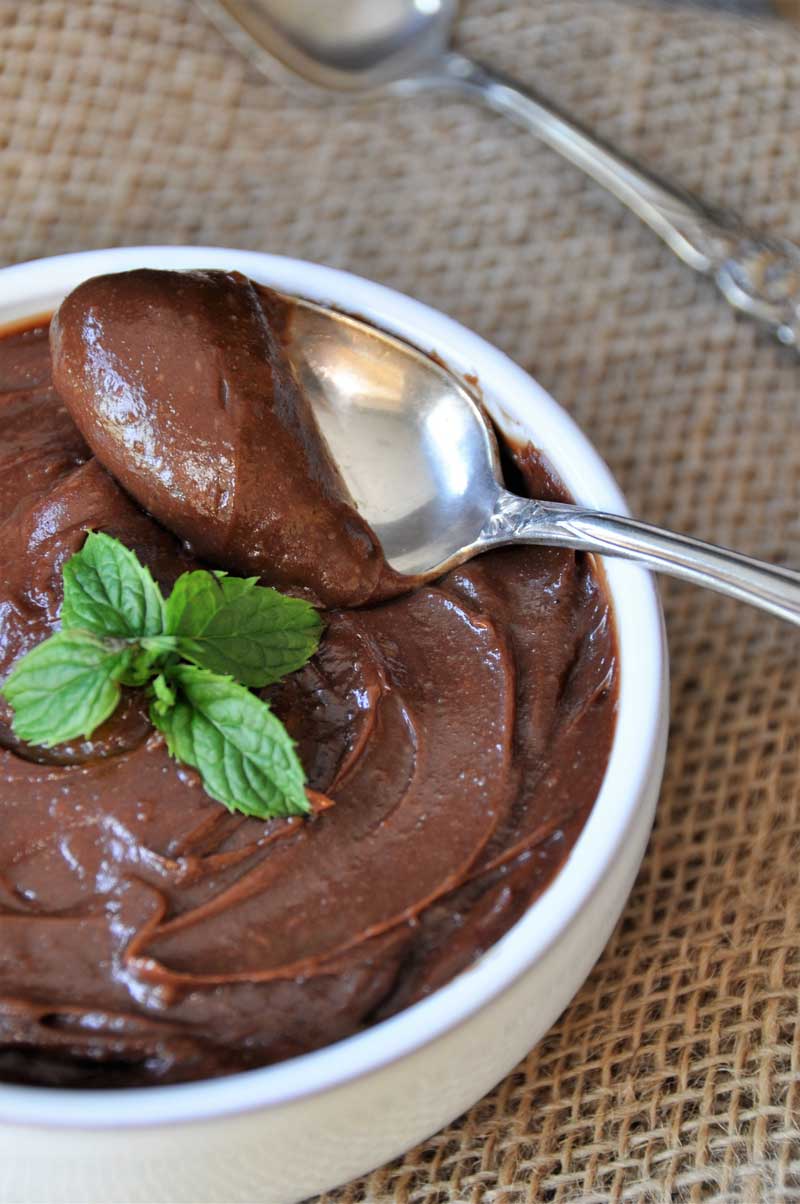 Looks good! Just a note, high powered blenders tend to heat things up when they work hard, so at first your raw vegan chocolate pudding will taste a little warm. If you want yours cold, put it in the refrigerator for a while.
This is the kind of dessert that you can feel good about eating. I actually spread some on my toast, like Nutella, and it rocked. You could also dip fruit it in. The sky's the limit when it comes to this chocolate treasure.
Notes on the Sweetener: I used unbleached sugar to make this. You could use maple syrup, agave, or any other sweetener that you like. If you use something other than sugar make sure to add it slowly and taste as you go. The maple syrup will change the taste of the pudding a bit, so make sure you like maple before adding it.
Notes on the Almond Milk: Like the sweetener, you can use any plant-based milk that you like. Because different brands of milk contain different amounts of water, add a half of a cup and add more as you need it. My pudding was nice and thick, if you want yours to be thinner then add a little more.
Let's connect! Hop on over to our Facebook page and give it a like, and follow us on Instagram and Twitter, and follow us and share this and other Veganosity recipes on Pinterest. We'd be so grateful if you did. If you like this recipe and can't wait to see what we're going to share next, subscribe to Veganosity. Just fill in the subscription box above our picture in the top right corner of the page. And, Alex and I love hearing from you, please leave a comment and let us know what you think of our recipes.

Raw Vegan Chocolate Pudding – Soy and Avocado Free
Velvety chocolate pudding that's vegan and you don't have to cook! Soy and avocado free!
Print
Pin
Rate
Ingredients
2

cups

of raw cashews – soaked in water for at least three hours

1

tablespoon

of pure vanilla extract

2

tablespoons

of sugar or sweetener of choice

2

tablespoons

of cocoa powder

A pinch of ground sea salt

½ to ¾

cups

of almond milk or any plant-based milk
Instructions
When the cashews are plump and squishy, drain the water and rinse them. Put them in a high powered blender along with the vanilla, sugar, cocoa powder, salt, and a half of a cup of almond milk. I have a Blendtec blender and I used the "soup" setting in the "whole foods" section. Blend the ingredients until they're thick and creamy. If you need to add more milk add it by the tablespoon so it doesn't become watery. Scrape the sides so you don't get any pieces of nuts in the pudding. You want it to be perfectly smooth and creamy.

Store in an airtight container in the refrigerator for up to a week.

Enjoy!
Nutrition
Serving:
0.5
cup
|
Calories:
250
kcal
|
Carbohydrates:
31
g
|
Protein:
13
g
|
Fat:
32
g
|
Saturated Fat:
6
g
|
Polyunsaturated Fat:
5
g
|
Monounsaturated Fat:
18
g
|
Sodium:
32
mg
|
Potassium:
526
mg
|
Fiber:
3
g
|
Sugar:
14
g
|
Vitamin A:
5
IU
|
Vitamin C:
1
mg
|
Calcium:
30
mg
|
Iron:
5
mg