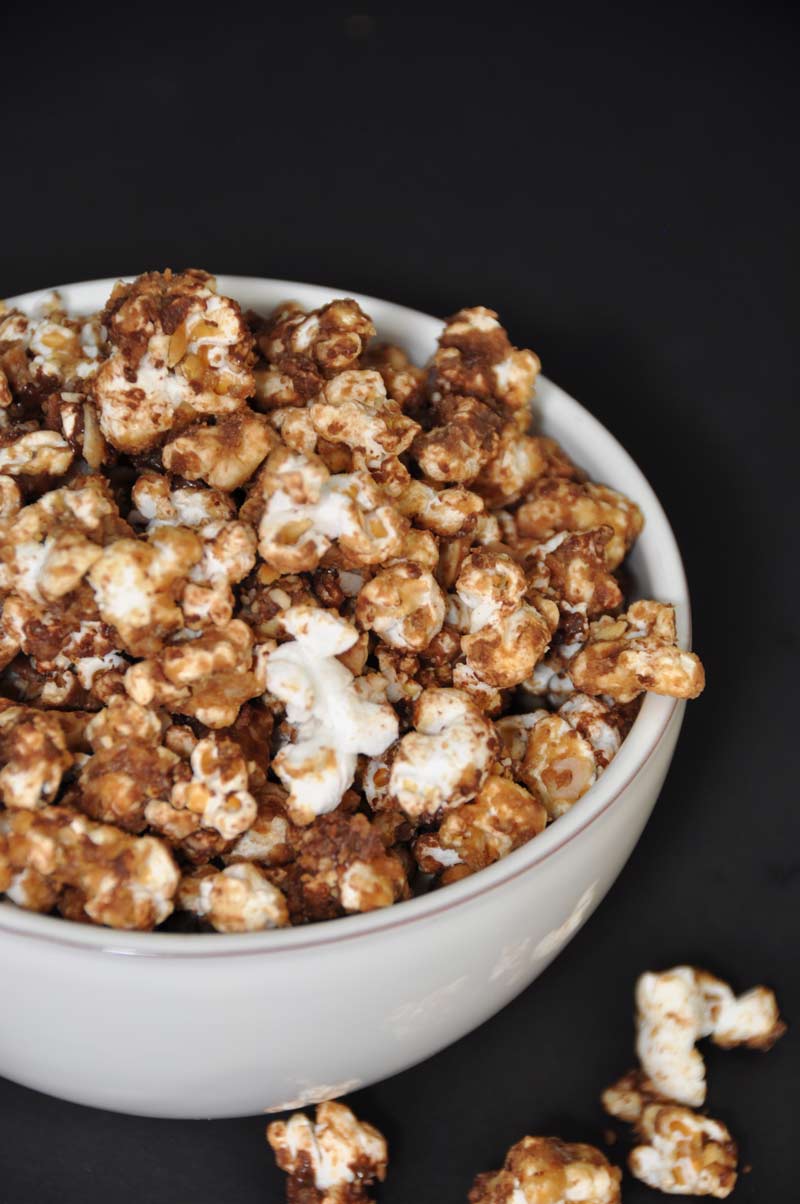 Popcorn Covered in Chocolate and Peanut Butter with Roasted Cashews and Coconut
Snacking season officially begins on Saturday, so let's welcome it with chocolate and peanut butter covered popcorn with roasted cashews and coconut!
Why is Saturday the first day of the season of noshing? College football and the US Open (okay, tennis began this week, but this weekend is when it gets good) begin this weekend, and you're going to want some fun food to add to the excitement of the games.
Can you think of anything more game oriented than popcorn? Nachos, maybe, BBQ, okay, but popcorn and sports are like peanut butter and jelly, a tried and true tradition. However, you don't have to settle for traditional buttered popcorn, you can get a little fancy with it and take your munchies to a new level of yum.
For those of you who prefer savory, you need to try this rosemary popcorn, and for those of you who love CHOCOLATE, this sweet combo is for you.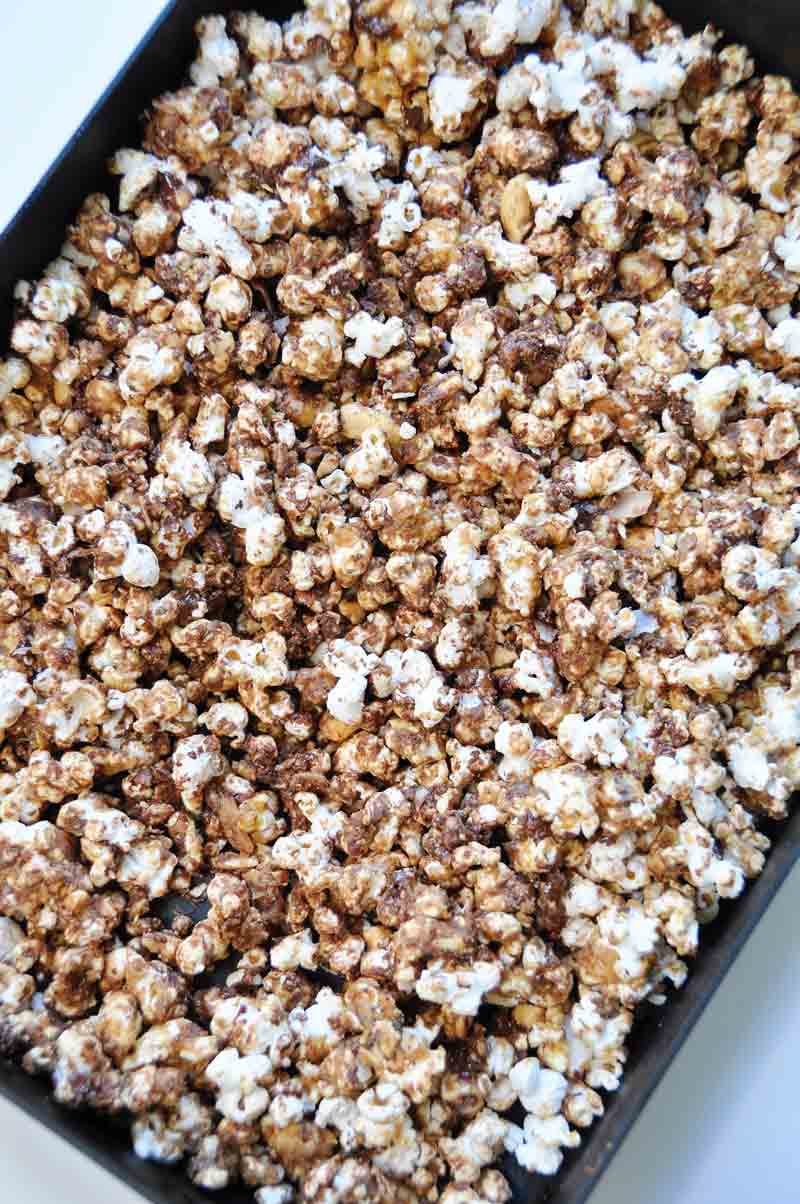 Chocolate covered popcorn with peanut butter, roasted cashews, and coconut is like eating a handful of Peanut Butter Cups and Almond Joy (even though the nuts are different) candy bars without the artificial ingredients. In fact, this popcorn could actually be considered a health food, because it's made with whole foods and sweetened with maple syrup instead of refined sugar. Take another handful and smile, y'all!
For those of you who've been following my blog for a year or more, you know that I'm a rabid college football and tennis fan. I live for my three favorite NCAA football teams from the opening game until the last one of the season. So can I hear a ROLL TIDE, a LET'S GO HAWKS, and a GO BUCKY?!
This Saturday you'll find me in my family room with my husband, dogs, and peanut butter and chocolate covered popcorn cheering on the Wisconsin Badgers at 11:00 am, the Iowa Hawkeyes at 2:30 pm, and the Alabama Crimson Tide at 7:00 pm. EEEK!!!! I'm so excited I can barely stand it. Sadly, my dogs sense my enthusiasm, and they know that mama gets a little lot boisterous when she watches sports. Gizmo is already planning his exit strategy and dreading the team outfits that he WILL be wearing.
Whether you're planning on watching football, tennis, your kid's soccer games, or binging on Stranger Things (I'm obsessed) this weekend, you'll want to have a bowl of this delicious chocolate, peanut butter, cashew, and coconut popcorn to keep you company. The popcorn is air popped, and did you know that if you don't pop it in oil it's actually considered a healthy snack? That means that this popcorn recipe starts with a good base and just gets better. The peanut butter and roasted cashews add protein and other nutrients, the coconut adds aminos and more, and the dark chocolate adds antioxidants, you get the picture.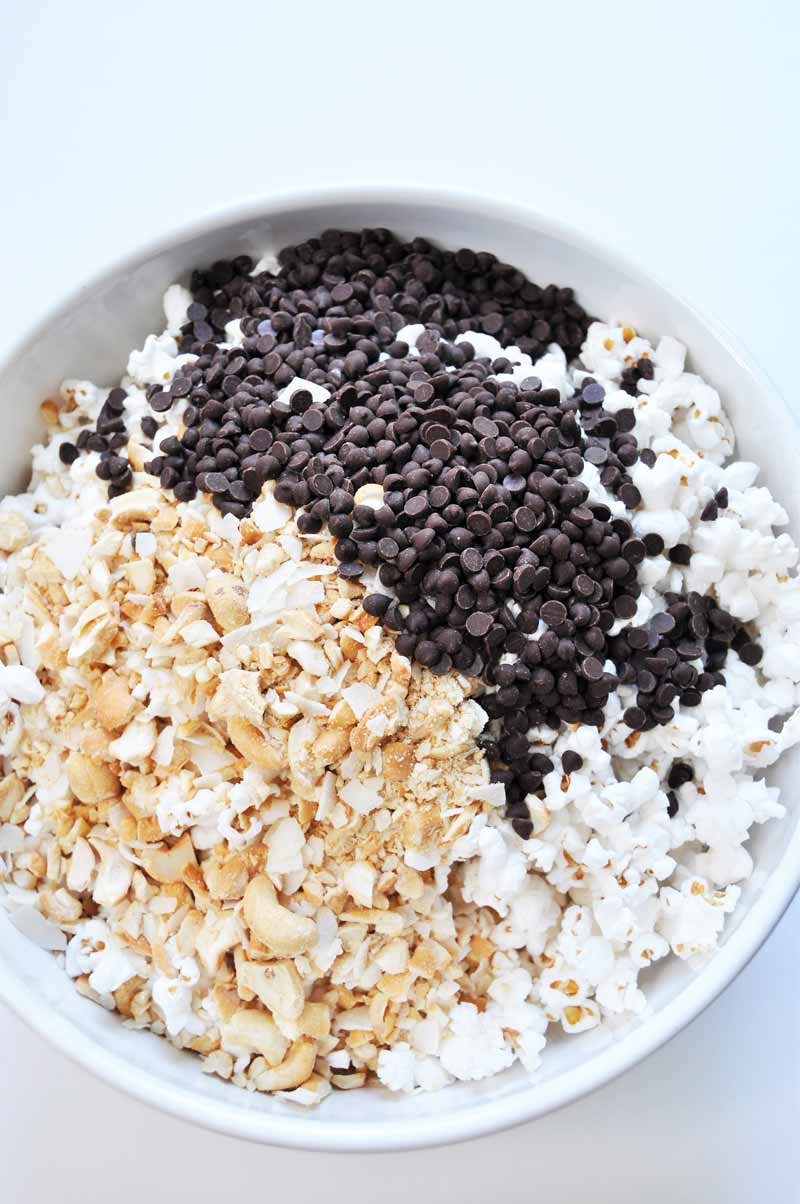 If you're not into college football—gasp—or snacking this weekend, then put this recipe in your back pocket and consider making peanut butter and chocolate popcorn balls for your next party, or make them with your kids for a healthier Halloween snack. Just stick a cute decorative straw in them and turn them into a popcorn ball pop.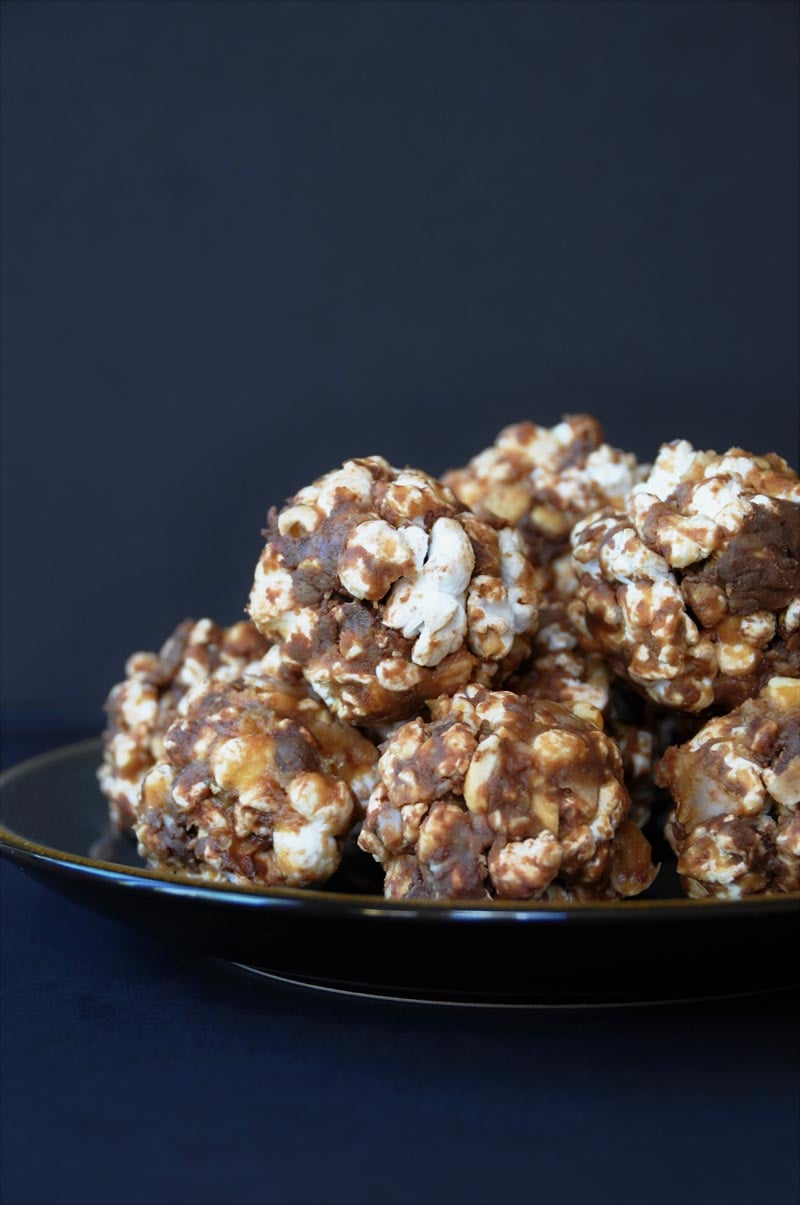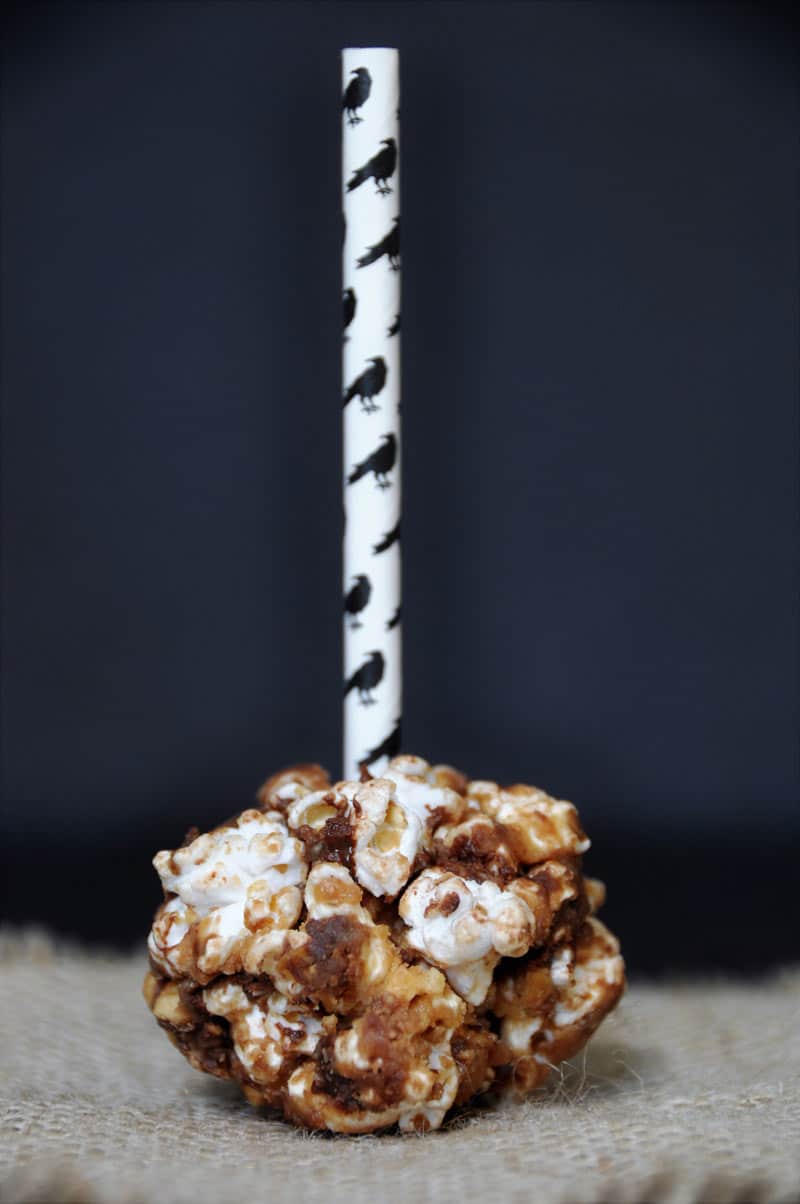 Notes on Making Popcorn Balls: Because this recipe is made with maple syrup, not refined sugar, it takes a little extra effort to get the balls to stick together. Make sure you work with them when the ingredients are warm (not hot, I don't want you to burn yourself). If they cool off and won't stick together put the popcorn mixture in a warm oven and heat until it's warm enough to form a ball and cool enough to handle safely.
Notes on the Popcorn: Whenever you add something in liquid form, such as the melted peanut butter and maple syrup mixture, the popcorn will lose some of its crunch, please take that into consideration before comparing it to store bought flavored popcorn that's coated with artificial ingredients that make it hard and crunchy. This is better for you and your teeth.
Do us a favor, we want to show the world that plant-based foods are delicious and exciting. So let's connect and share all of this awesomeness with the world. Hop on over to our Facebook page and give it a like, and follow us on Instagram and Twitter, and follow us and share this and other Veganosity recipes on Pinterest. We'd be so grateful if you did. If you like this recipe and can't wait to see what we're going to share next, subscribe to Veganosity. Just fill in the subscription box above our picture in the top right corner of the page. And, Alex and I love hearing from you, please leave a comment and let us know what you think of our recipes.
Yields Approximately 8 cups
Peanut Butter and Chocolate Popcorn
15 minPrep Time
3 minCook Time
18 minTotal Time
Ingredients
½ cup popcorn seeds – unpopped
1 and ½ cups of roasted cashews – chopped
1 cup of unsweetened coconut flakes – chopped
1 heaping cup of natural peanut butter
2/3 cup of pure maple syrup
1 teaspoon of ground sea salt
2 teaspoons of coconut oil
2 cups of dark chocolate chips (I use Enjoy Life brand)
Instructions
Pop the corn in an air popper if available, otherwise pop the traditional way. Put the popcorn in a large bowl or a large roasting pan.
In a small saucepan bring the peanut butter, coconut oil, and maple syrup to a low boil and stir until smooth and creamy. Remove from heat.
Chop the cashews and coconut flakes into large pieces in a food processor or with a knife.
Add the cashews and coconut flakes, and chocolate chips to the popcorn and pour the peanut butter mixture on top. Add the salt and gently stir the ingredients together until they're thoroughly combined. Spray the spoon with a thin layer of oil if it sticks.
If you're making popcorn balls form the balls and press firmly until they stick together. Spray a thin layer of oil on your hands to prevent sticking. NOTE: Maple syrup doesn't stick as well as liquefied refined sugar or melted marshmallows so be patient. They will stay together, you just have to work with them. If the mixture becomes too cool to form balls place the popcorn in a warm over (275°) and let it warm up until you can form the balls but it's not too hot to handle.
Let the popcorn and/or balls sit out for a few hours to harden. Store in an airtight container for up to three days. I prefer to refrigerate mine just to be safe.
Enjoy!
7.8.1.2
355
https://www.veganosity.com/peanut-butter-and-chocolate-popcorn/