LOADED! That's what this tray of nachos is. Loaded with peppers, onions, beans, cashew cheese, tomatoes, and cilantro. This is what football fans want in front of them when they're cheering on their favorite team. Am I right?
This loaded vegan nacho recipe was created by me, for you, and all of the football fanatics who are salivating for the season to start so they can start munching these bad boys down their gullets.
Let's do this!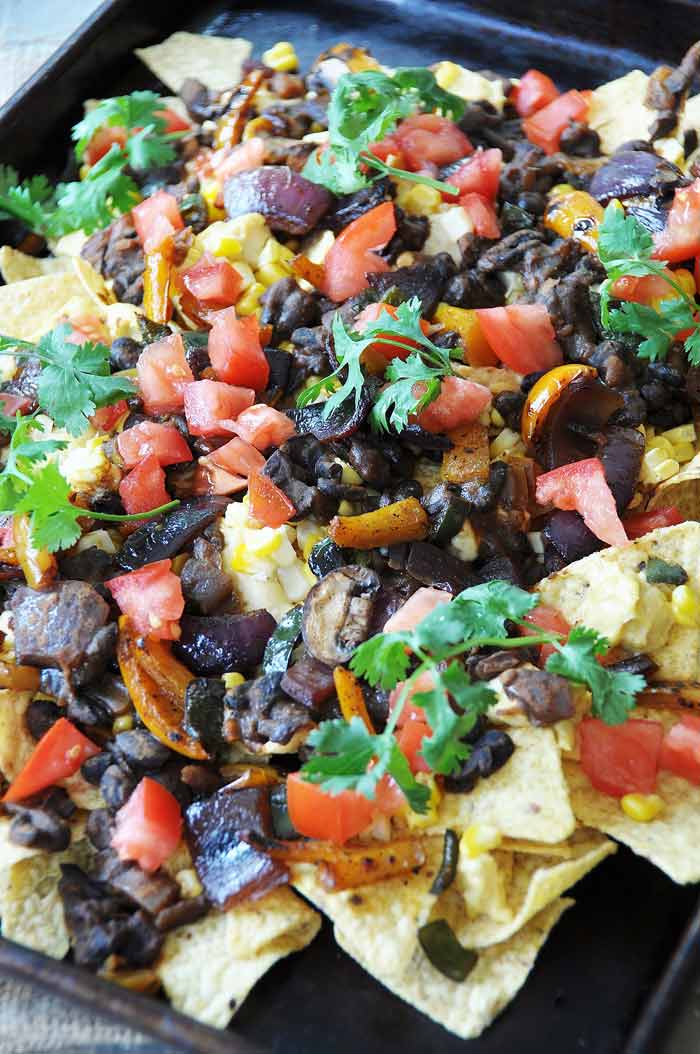 Saturday is kick-off day for me and my family. Our beloved Hawkeyes play first, followed by our equally beloved Crimson Tide who will be kicking some cheesehead booty in Dallas, Texas. And just so you know, I just turned a lot of family and friends against me with that statement. Thank God my husband is a huge Bama fan because his alma-mater is Wisconsin. Also, I grew up in cheese land, so I can say that. #RollTide!
LET'S GO HAWKS!
ROLL TIDE ROLL!!
In just two days I'll be stuffing my face with these veggie and black bean nachos while spraying chips all over the floor with my hoots and hollers. I can't wait.
This recipe is a result of leftovers from a fabulous Mexican meal that I made this week. I always make a big batch of beans so I have them on hand, and I chopped too many bell peppers, mushrooms, and onions for the quesadillas that I made, so I thought, hey, these would be great on nachos. Boy, oh boy, I wasn't wrong.
You can use store bought vegan cheese or you can whip up a batch of vegan cheese in three minutes, pour it all over the chips, then load on the veggies and beans and pop them in the oven to heat it up. Sprinkle with a hearty helping of diced tomatoes and cilantro and that's it. It looks like a billion bucks and tastes like a billion and one.
Today's post is going to be short and sweet because I have to go make dinner. So while I'm cooking you take notes on these nachos and make them for your game day snack. You won't be disappointed.
Tell me:
Are you psyched for football season?
What team do you cheer for?
Nachos or chips and dip?
Loaded Vegan Nachos
Nachos loaded with vegan cheese, black beans, and spicy veggies.
Print
Pin
Rate
Ingredients
1

teaspoon

of avocado oil

1

bag of corn chips

1

can of black beans – drained and rinsed well

1

red onion - diced

1

yellow bell pepper – seeded and diced

1

jalapeno pepper – seeded and coarsely chopped

1

cob of corn – cut off the kernels

1

cup

of baby bellas – thinly sliced

3

teaspoons

of chili powder

½

teaspoon

of cayenne pepper

2

teaspoons

of cumin

2

teaspoons

of salt

Black pepper to taste

1

large tomato – seeded and chopped

½

cup

of cilantro leaves

Vegan cheese of your choice or make my cashew cheese http://www.veganosity.com/eggless-dairy-free-chili-rellenos/
Instructions
Preheat the oven to 350°

For the beans:

Put the beans in a medium sauce pan and cover with water and bring to a boil. Reduce the heat to low boil and add 2 teaspoons of chili powder, ¼ teaspoon of cayenne pepper, 1 teaspoon of cumin, 1 teaspoon of salt, and black pepper to taste. Cook the beans for twenty minutes or until the water evaporates, stirring occasionally. Set aside.

For the vegetables:

Heat the oil on medium heat in a large skillet and spread evenly over the bottom of the pan. Add the baby bellas and cook until browned and slightly soft. Remove from the pan and set aside. Add the onion, bell pepper, jalapeno, corn, and the remaining spices and cook until the onions are translucent and the peppers are soft. Put the mushrooms back in with the vegetables and stir them around in the pan. Set aside.

Spread the chips on a rimmed backing sheet and sprinkle the cheese over the chips, spoon the beans and the veggies over the cheese and chips and bake for 8-10 minutes, making sure not to burn the chips. Sprinkle the fresh tomato and cilantro on top.

Enjoy!