Homemade vegan cinnamon rolls are so worth the time to make. They're puffy, gooey, and so delicious!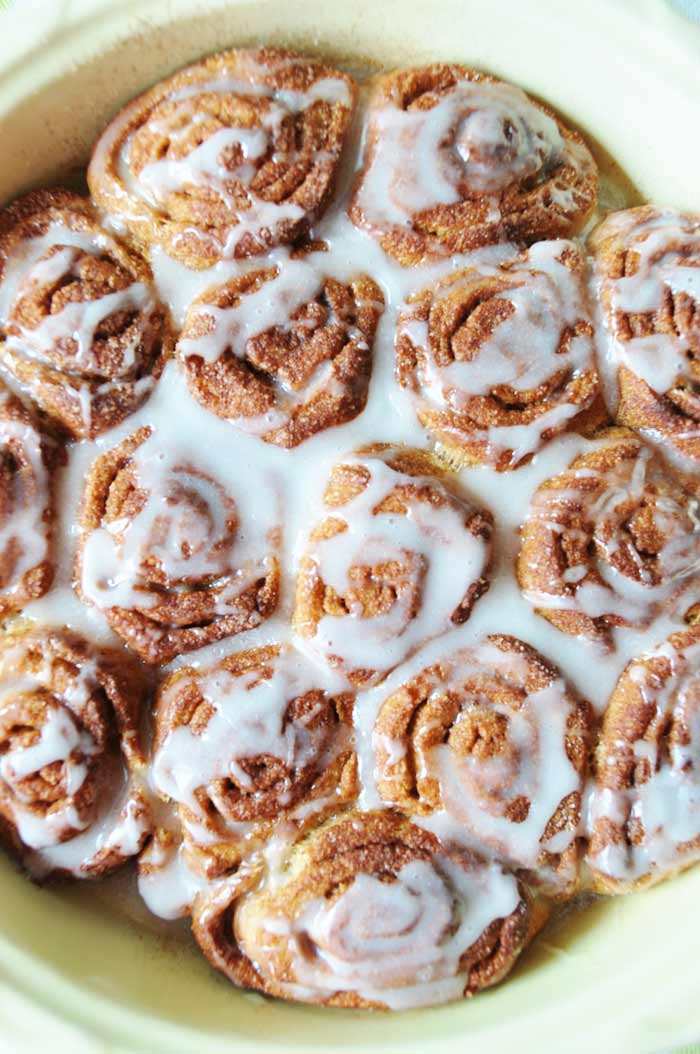 Sweet spirals of sugary goodness. These are what Sunday mornings are made of.
Everything about these homemade vegan cinnamon rolls whispers, slow down, have another cup of coffee, and enjoy the ones you're with. That's exactly what my guy and I did while making these pretty little things.
There is something so sexy about a man in a baseball cap making gooey cinnamon rolls in the morning. The only thing that could have made the scene better would have been watching him do pull ups while they were baking. But I digress.
These homemade vegan cinnamon rolls are what sweet dreams are made of. They're not too sweet, and they're just sweet enough. Unlike my man, who is really sweet, and funny, and charming, and as handsome as the glaze on this sweet roll.
Wait…what? Stop, just stop it Linda.
We had a lot of fun making our homemade vegan sweet rolls. While Mr. M whisked, kneaded, rolled, sliced, and drizzled, I clicked away with my camera. Some of the pictures didn't turn out so great because the lighting in our kitchen isn't optimal, but I did my best to edit them, so forgive the quality of the step by step photos.
HOW TO MAKE HOMEMADE VEGAN CINNAMON ROLLS
Making homemade cinnamon rolls is a process. You need to set aside the time to make them, and Sunday mornings are perfect because you can slow it down and enjoy each step, and the smell of your kitchen as they bake up all puffy and warm.
STEP ONE
Start with almond milk, vegan butter or coconut butter, and a package of active dry yeast.
You need to use active dry for this to work, instant active or rapid rise will not give you the best results. Warm the milk and butter to one hundred to one hundred and ten degrees (don't overheat or you'll kill the yeast).
When the butter is completely dissolved whisk the yeast into the milk, then the sugar and salt, and keep whisking until it begins to foam. This will take approximately five to ten minutes.
STEP TWO
Now pour the milk and yeast mixture in a large bowl and stir the flour into the mixture until it turns into a ball. Knead it a bit and then cover it and let it rise for about thirty minutes. While you're waiting for the dough to rise have another cup of coffee, read the paper, or find another entertaining activity to keep you occupied 😉
The dough has risen! Let the fun begin.
STEP THREE
Roll the dough on a non-stick surface until it's about a quarter of an inch thick and liberally sprinkle with cinnamon sugar.
STEP FOUR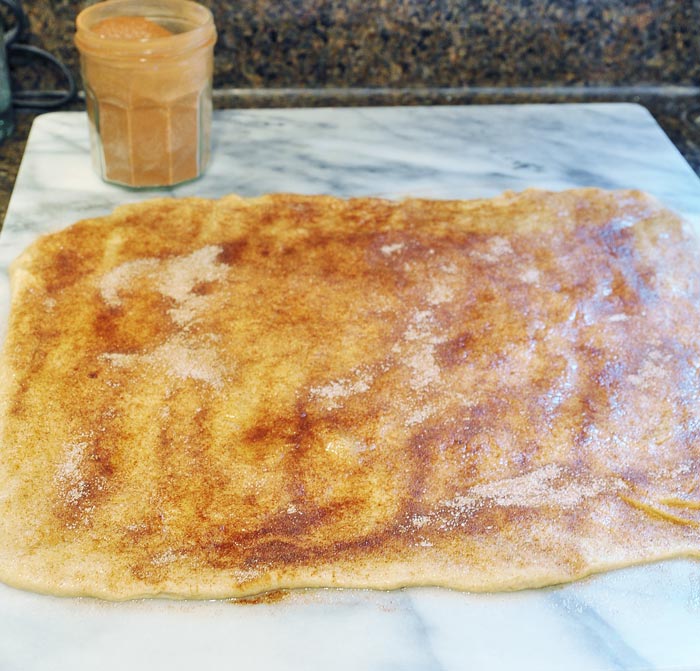 Roll the long side of the dough up like this.
STEP FIVE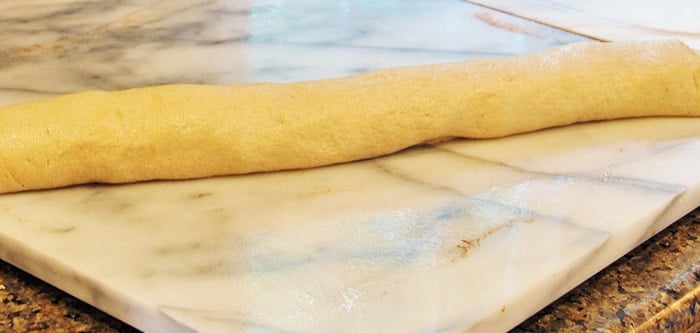 Sprinkle cinnamon sugar on top.
STEP SIX
Slice into two inch pieces.
STEP SEVEN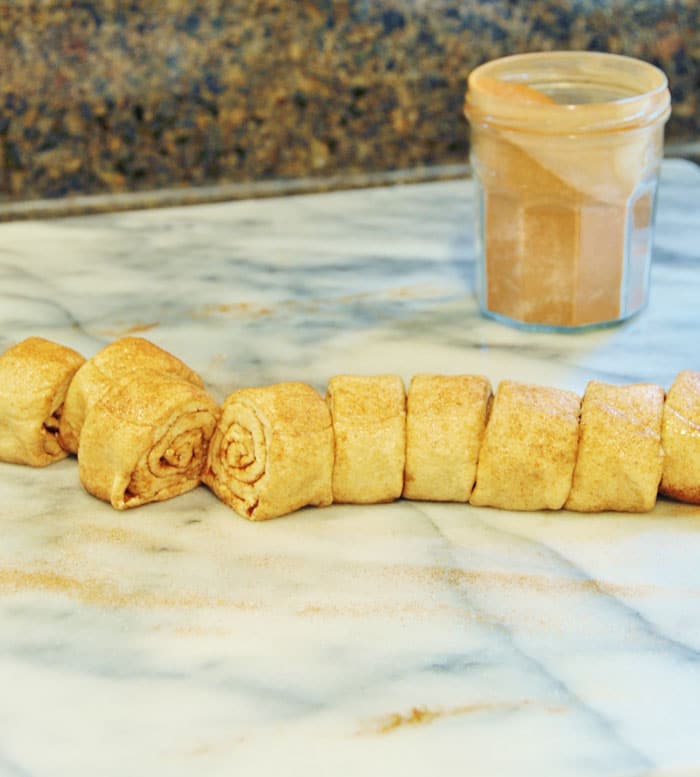 Arrange all nice and pretty in a pie or cake pan.
STEP EIGHT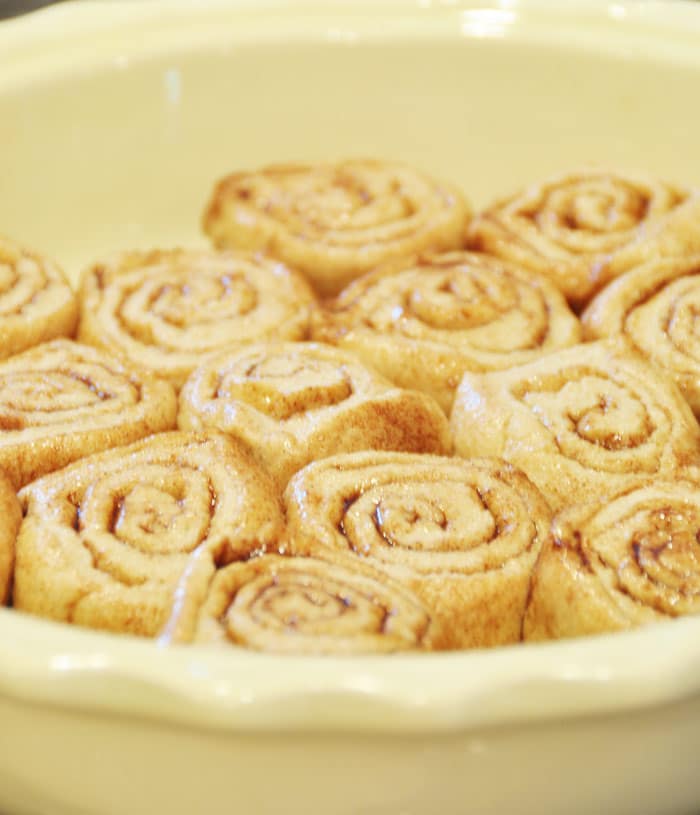 Roll it, butter and sugar it, roll it again, sprinkle it, slice it, lay it, bake it, glaze it, and eat it. Rinse and repeat. JK, don't rinse and repeat.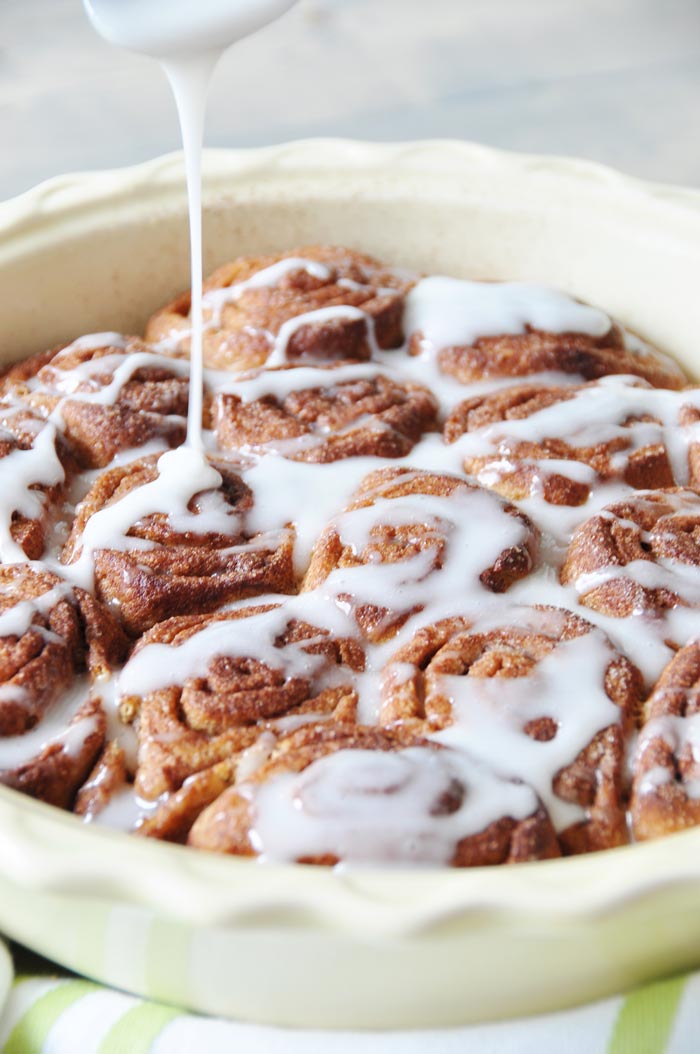 These are going to rock your morning. I promise.
Homemade vegan cinnamon rolls are part of our Christmas morning brunch. I know, I know, I've been holding both of my arms out and digging my heels in to hold fall back, so what the heck am I doing mentioning Christmas?
I'm a preparer, a planner, a traditionalist, and I want you to pin this recipe for later so that you can make them for your holiday brunch. And don't think that you have to do all of this work the morning of, because you don't.
CAN YOU PREPARE CINNAMON ROLLS THE NIGHT BEFORE BAKING THEM?
You can put the rolls in the refrigerator overnight and bake them in the morning. Sweet!
But don't wait until December to make these. Take them for a test run this weekend and come back and let me know what you thought.
DO YOU WANT TO GO VEGAN BUT DON'T KNOW HOW?
CLICK THE PICTURE BELOW TO JOIN!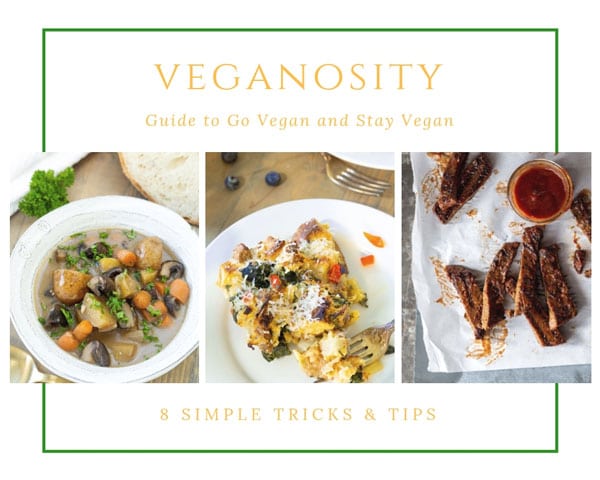 We've created a FREE 8 Day Vegan Starter Kit with tips and tricks to help you go and stay vegan. Just subscribe to our weekly Newsletter to get it.
Tell me:
Are you ready for fall or do you want more summer?
Have you ever made cinnamon rolls from scratch?
Do you love watching a man cook as much as I do?
VEGAN CINNAMON ROLLS
Warm, gooey, puffy, delicious homemade vegan cinnamon rolls.
Print
Pin
Rate
Ingredients
2

cups

of all purpose flour

use a gluten free blend to make it gluten free

1

teaspoon

of coconut sugar

¼

teaspoon

of finely ground sea salt

1

package of active dry yeast

1

cup

of almond milk

2

tablespoons

of vegan butter or coconut butter + 1 tablespoon

divided

½

cup

of coconut sugar or white sugar and 2 tablespoons of ground cinnamon mixed together

Glaze

1

cup

of confectioners' sugar

⅓

cup

almond milk
Instructions
Preheat the oven to 375° and grease a round cake pan with vegan butter or coconut butter

Warm the almond milk in a small sauce pan over medium-low heat. When the milk is warm add the vegan butter or coconut butter and stir until it's completely melted. The milk mixture should be between 100-110 degrees to activate the yeast, if it's too hot it will kill the yeast so be careful not to overheat.

Remove the milk from the stove top and whisk the yeast into the milk mixture, then whisk in the sugar and salt. Keep whisking until it begins to foam. This should take approximately ten minutes.

Pour the milk and yeast mixture into a large bowl and hand stir the flour into the mixture until it forms a ball. It will be slightly sticky.

Remove the dough from the bowl and pour a tiny amount of vegetable oil in your hand and coat the dough so it doesn't stick to your hands. Knead the dough for one minute and roll it back into a ball. Put it in the cake pan, cover with a clean towel, and let the dough rise in a warm place for thirty minutes.

When the dough has risen roll it our flat on a clean non-stick surface and brush it with one tablespoon of melted vegan butter or coconut butter. Sprinkle with the cinnamon sugar. Roll the long side up and sprinkle the top with cinnamon sugar. Use a serrated knife and gently slice into two inch pieces. Arrange the pieces sliced side up in the cake pan and bake for 25 minutes or until golden brown.
Glaze:
Mix the powdered sugar and the almond milk together until it's thin enough to drizzle over the rolls. Add more milk if it's not thick enough or more sugar if it's too thin.

Enjoy!
Notes
The Nutrition Facts are an Estimate only.
Nutrition
Calories:
154
kcal
|
Carbohydrates:
29
g
|
Protein:
1
g
|
Fat:
3
g
|
Saturated Fat:
0
g
|
Cholesterol:
0
mg
|
Sodium:
77
mg
|
Potassium:
48
mg
|
Fiber:
0
g
|
Sugar:
16
g
|
Vitamin A:
65
IU
|
Calcium:
11
mg
|
Iron:
0.8
mg