Never buy flatbread from a store again! My homemade No Yeast Vegan Garlic Flatbread only has 4 ingredients and takes 15 minutes to make.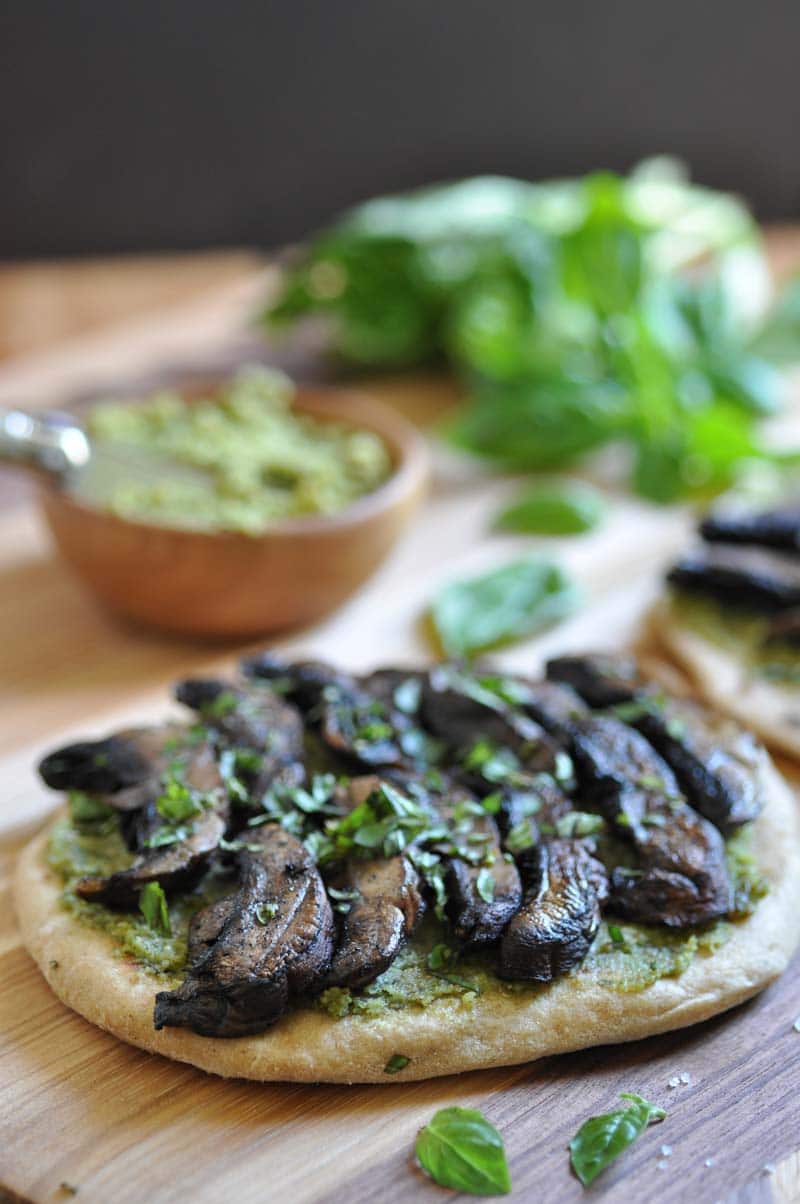 You might think that it's easier to buy a package of flatbread and be done with it. I used to think that too, until I challenged myself to make my own. Let me tell you what I learned: Doing a load of laundry takes longer, and is harder, than making a batch of homemade flatbread. Truth.
You know what else is harder than making your own flatbread? Finding packaged bread that's vegan and/or not filled with crap. When you add the ease of making your own with the difficulty of finding a store-bought bread that you'd actually want to put in your body, plus the cost of a package of bread, the choice is pretty clear. Make your own flatbread!
My grocery store was out of the one vegan flatbread brand that they carry, and I really wanted to recreate a Portobello mushroom recipe that I had at Marcus Lemonis' (you know, the guy from Shark Tank) restaurant. Because I'm not the patient type, I went home and started working on my own flatbread. I mean, how hard could it be? True flatbread is made with four simple ingredients, flour, baking powder, salt, and water. My first batch was a combination of just that, and it wasn't what I was hoping for. It was too dry, too brittle, and bland.
Round two turned out better, I added more baking powder, more salt, and garlic powder for flavor. Like I said, it was better, but not great. It was still too dry and brittle for my tastes.
As they say, the third time's a charm, and it certainly was in this instance. I increased the garlic powder and I added extra-virgin olive oil to give it some moisture, or fat. It was fabulous. The olive oil not only created a perfectly chewy texture, it also added a nice taste. I was hooked. My homemade vegan flatbread was not only delicious, it literally took me fifteen minutes to make six pieces of bread. It took me longer than that to go to the grocery store.
HOW TO MAKE HOMEMADE VEGAN YEAST-FREE FLATBREAD
It's so darn easy!
Whisk the flour, baking powder, salt, and garlic powder together in a mixing bowl.
Add the olive oil and water and stir until it forms a ball of dough.
Put the dough on a floured surface and knead it for about one minute.
Tear off golf ball size pieces and roll them into flat discs on a floured surface.
Cook them in a dry skillet for about ninety seconds to two minutes per side.
For extra flavor, brush with a bit of olive oil, sprinkle sea salt and minced herbs on top.
See, can you even handle how easy this is? Trust me, try making these and you'll never go store bought again.
My homemade vegan flatbread is also bendable, so you can use them as a wrap or a tortilla if you want. You can also dress them up with a billion different veggie arrangements and bake them in the oven. In fact, I'm going to share my very delicious Portobello mushroom flatbread recipe with you on Saturday. Get excited!
In the meantime, make a stack of yummy garlic flatbread so they're ready to go. You can freeze them so you always have them on hand.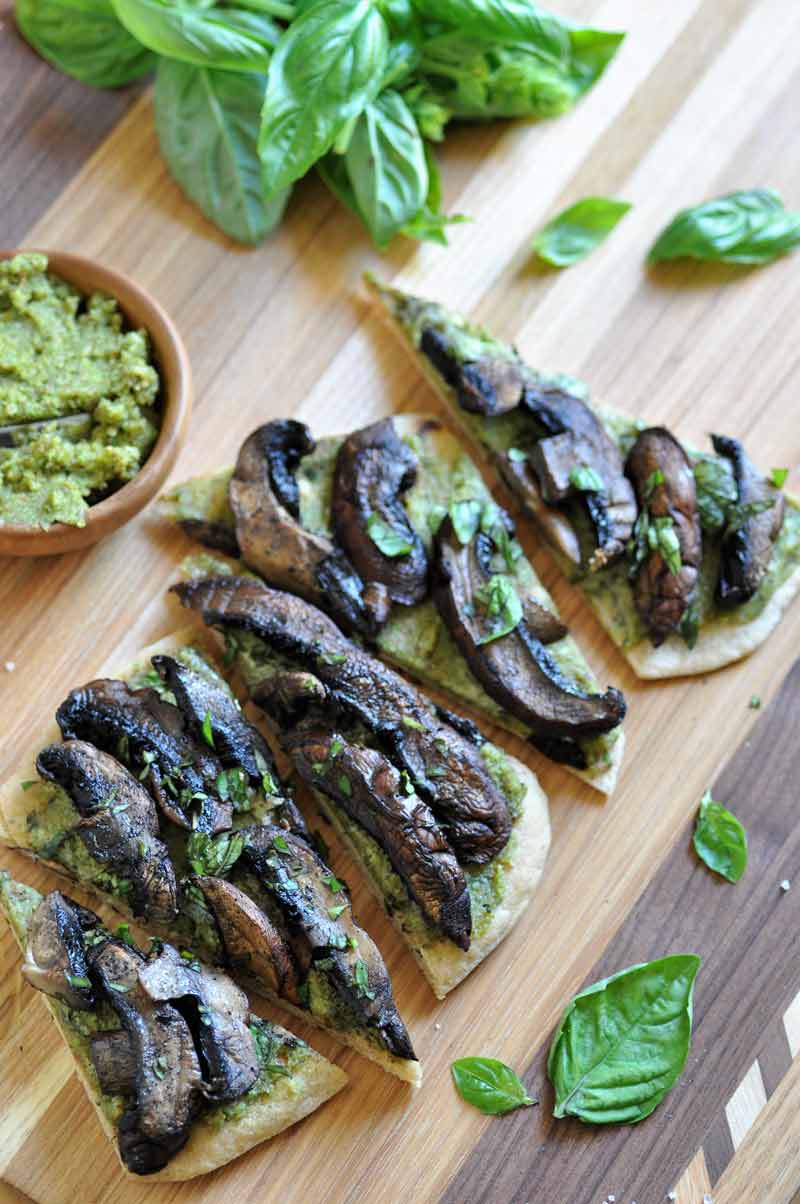 Let's connect! Hop on over to our Facebook page and give it a like, and follow us on Instagram and Twitter, and follow us and share this and other Veganosity recipes on Pinterest. We'd be so grateful if you did. If you like this recipe and can't wait to see what we're going to share next, subscribe to Veganosity. Just fill in the subscription box above our picture in the top right corner of the page. And, Alex and I love hearing from you, please leave a comment and let us know what you think of our recipes.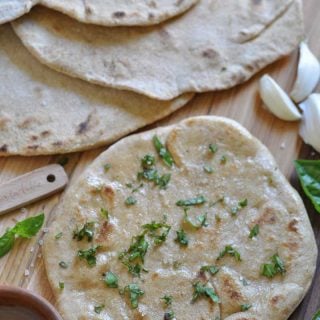 No Yeast Vegan Garlic Flatbread
Homemade flatbread that you can make in 15 minutes! So easy and so delicious!
Print
Pin
Rate
Ingredients
2

cups

white whole wheat flour plus extra for rolling.

2

teaspoon

baking powder

½

teaspoon

ground sea salt

1

teaspoon

ground garlic powder

Ground black pepper to taste

2

tablespoon

extra-virgin olive oil

½

cup

water
Instructions
In a large bowl, whisk the flour, baking powder, sea salt, and garlic powder, and black pepper together until well combined. Add 2 tablespoon (30 ml) olive oil, and water (add more if needed) and stir until it becomes a solid piece of dough. (See Note) Remove from the bowl and knead on a clean floured surface until it becomes stretchy and smooth, approximately 1 to 5 minutes.

Flour a smooth surface and tear off a golf ball size piece of dough (see note) and form a ball with your hands. Roll the dough out into a thin disc. Repeat with remaining dough.

Heat a large skillet on medium-high heat (the skillet should be dry, no oil necessary) and add one piece of flat bread dough. Cook for one minute and flip and cook for another minute. Remove from heat and repeat with the remaining dough.
Notes
If the dough is sticky, sprinkle a bit of flour on top and knead it until it becomes stretchy and malleable. Depending on the moisture content of your flour and the humidity of your home, you might have to knead it for up to 5 minutes. Don't keep adding more and more flour, just trust the process of kneading. 
Brush with a bit of olive oil and sprinkle with sea salt and minced herbs for a lovely appetizer.
Store in an airtight container for up to 3 days.
Freeze in a freezer safe container for up to 2 months. Thaw in the refrigerator. 
Nutrition Disclaimer
Nutrition
Serving:
90
g
|
Calories:
196
kcal
|
Carbohydrates:
33
g
|
Protein:
4
g
|
Fat:
5
g
|
Saturated Fat:
1
g
|
Polyunsaturated Fat:
1
g
|
Monounsaturated Fat:
3
g
|
Sodium:
197
mg
|
Potassium:
185
mg
|
Fiber:
1
g
|
Sugar:
1
g
|
Vitamin C:
1
mg
|
Calcium:
65
mg
|
Iron:
2
mg