A delicious and healthy gluten-free Chickpea Salad with Easy Lemon Dressing that takes less than 20 minutes to make!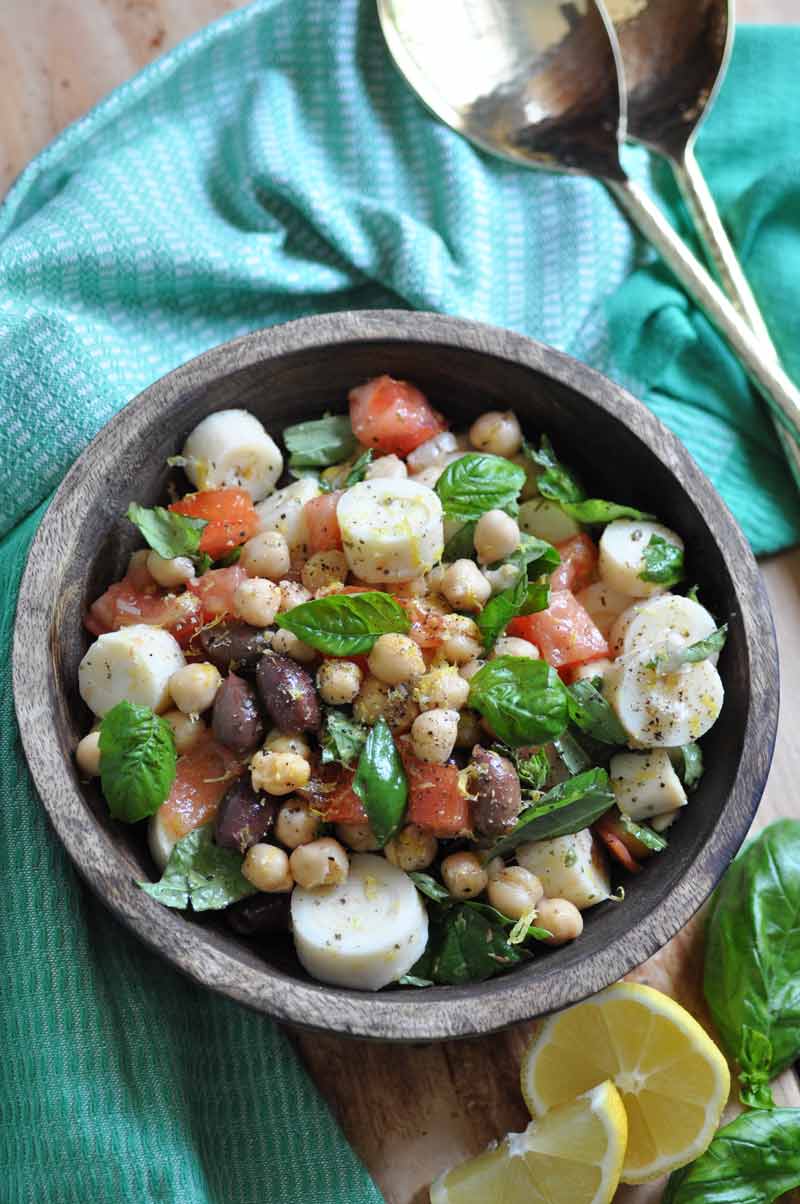 This isn't your ordinary chickpea salad folks. This one is loaded with so many goodies that your taste buds will think they've turned into party poppers. Just take a look at the textures in that bowl. And the colors, oh the pretty colors.
EASY MEDITERRANEAN VEGAN RECIPE
If you love Mediterranean food, then this gluten-free chickpea salad with kalamata olives and palm hearts salad is going to steal your heart.
Every bite offers an explosion of flavor; there are big pieces of tangy palm heart, savory olives, juicy tomatoes, creamy chickpeas, and fresh peppery basil leaves, all topped with a tart lemon dressing that's so easy to make.
This isn't just a salad, it's a meal, and it's a meal that takes less than twenty minutes to make. Now do I have your attention?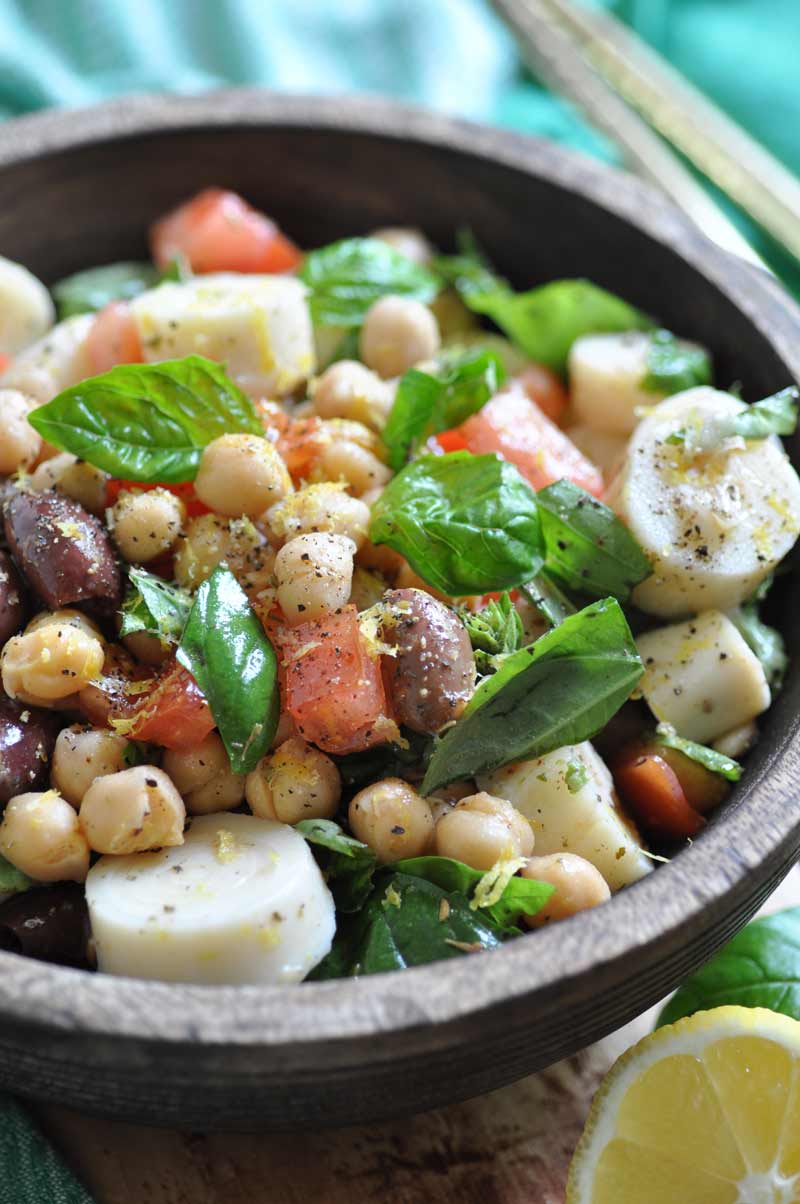 HOW TO MAKE A HEALTHY AND QUICK CHICKPEA SALAD
It's so easy it's almost stupid. Almost. The only thing that prevents it from being a salad for dummies is that it's so healthy and delicious, all the smart people will make it.
FIRST
Make a batch of chickpeas or open two cans and drain and rinse off the brine. Keep the brine, aka aquafaba, and make these.
SECOND
Slice the palm hearts, Dice the tomato, Chop some fresh basil, and toss them in a large bowl with the chickpeas.
THIRD
Whip up the lemon dressing and fold the chickpeas, palm hearts, tomato, basil, olives, and dressing together until combined. Grate some fresh lemon zest on top, sprinkle some pink Himalayan salt over the salad, and add freshly ground black pepper to taste.
NOTE: Don't skip the lemon zest, it makes the salad!
Eat it!
See, I told you this was super easy.
HOW DO YOU COOK DRIED CHICKPEAS? 
FIRST
Rinse then soak. They must soak for at least six hours before you boil them. They will expand as they absorb the water.
SECOND
Drain and rinse.
THIRD
Boil for approximately 90 minutes. Once you've rinsed the beans, put them back in the pot and cover with several inches of fresh water and bring to a boil. Reduce the heat to a low boil and cook for approximately 90 minutes, or until the beans are the texture you desire.
To learn more about cooking dried beans, click here.
WHAT SHOULD I SERVE WITH A CHICKPEA SALAD? 
Serve it with a warm and crunchy baguette and some crisp white wine for the perfect summer comfort food dinner.
This Vegan Tomato and Spinach Tart could be the main course and the salad would make a lovely side dish.
These "Honey" BBQ Ribz would be awesome with it.
And don't forget to make enough so you can have some for lunch the next day.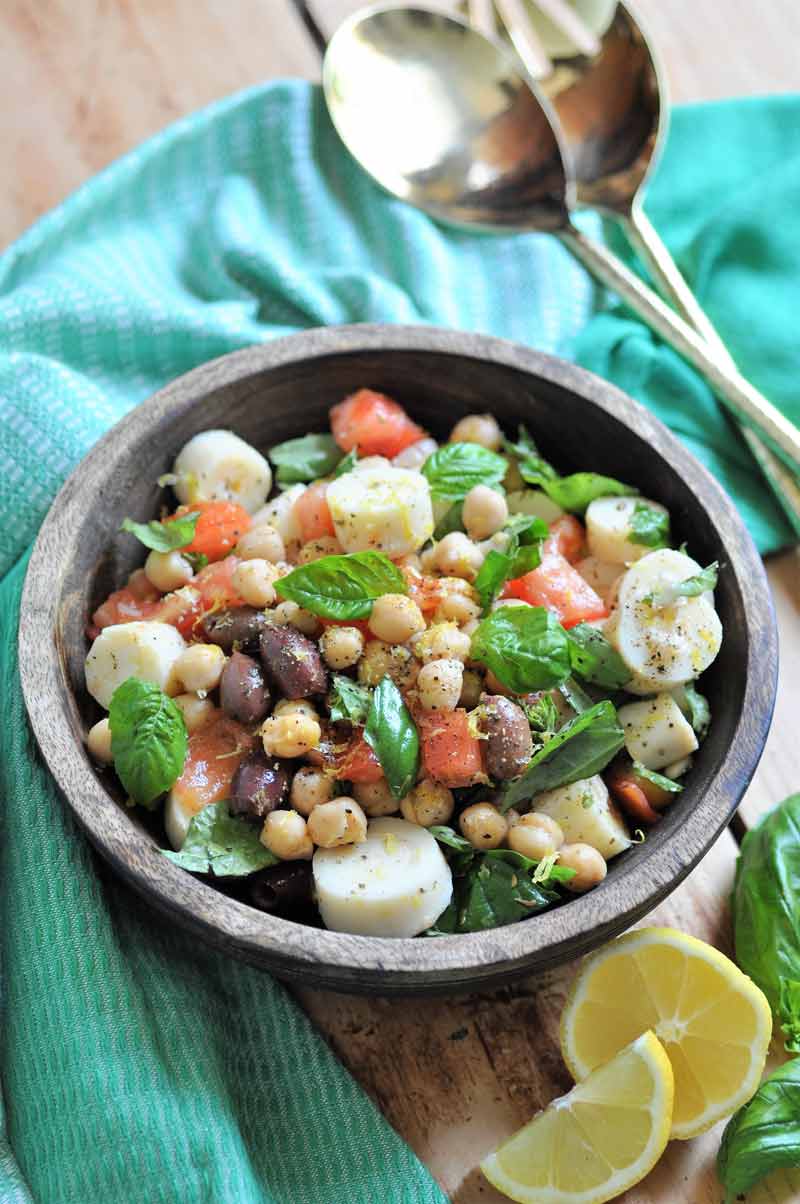 Let's connect! Hop on over to our Facebook page and give it a like, and follow us on Instagram and Twitter, and follow us and share this and other Veganosity recipes on Pinterest. We'd be so grateful if you did. If you like this recipe and can't wait to see what we're going to share next, subscribe to Veganosity. Just fill in the subscription box above our picture in the top right corner of the page. And, Alex and I love hearing from you, please leave a comment and let us know what you think of our recipes.
Yields 6 Cups
Chickpea Salad with Easy Lemon Dressing
A healthy and fresh salad that is hearty enough to make a meal. Filled with protein packed chickpeas and Mediterranean vegetables, with a bright and tangy lemon dressing.
20 minPrep Time
20 minTotal Time
Ingredients
30 oz (850 g) of cooked chickpeas
1 (25 oz [708 g]) jar of palm hearts, sliced into 1-inch (2.54 cm) pieces
2 large tomatoes, seeded and diced
2 cups pitted Kalamata olives
1 cup coarsely chopped fresh basil
Zest from one lemon
Ground pink Himalayan sea salt
Ground black pepper to taste
FOR THE DRESSING
Juice from 1 large lemon, approximately 1/3 cup (80 ml)
1 tbsp (15 ml) white wine vinegar
1 tbsp (15 ml) extra-virgin olive oil
1 ½ tsp (.8 g) Italian seasoning, crushed
Ground sea salt and black pepper to taste
Instructions
TO MAKE THE DRESSING
Whisk the lemon juice, vinegar, olive oil, Italian seasoning, salt, and pepper together until well combined
TO MAKE THE SALAD
In a large bowl, fold the chickpeas, palm hearts, tomatoes, olives, basil, and dressing together until combined. Grate the lemon zest on top, sprinkle a thin layer of the pink Himalayan sea salt over the salad, and add black pepper to taste.
Enjoy!
Notes
Don't skip the lemon zest, it makes the salad.
7.8.1.2
437
https://www.veganosity.com/easy-chickpea-salad-with-easy-lemon-dressing/